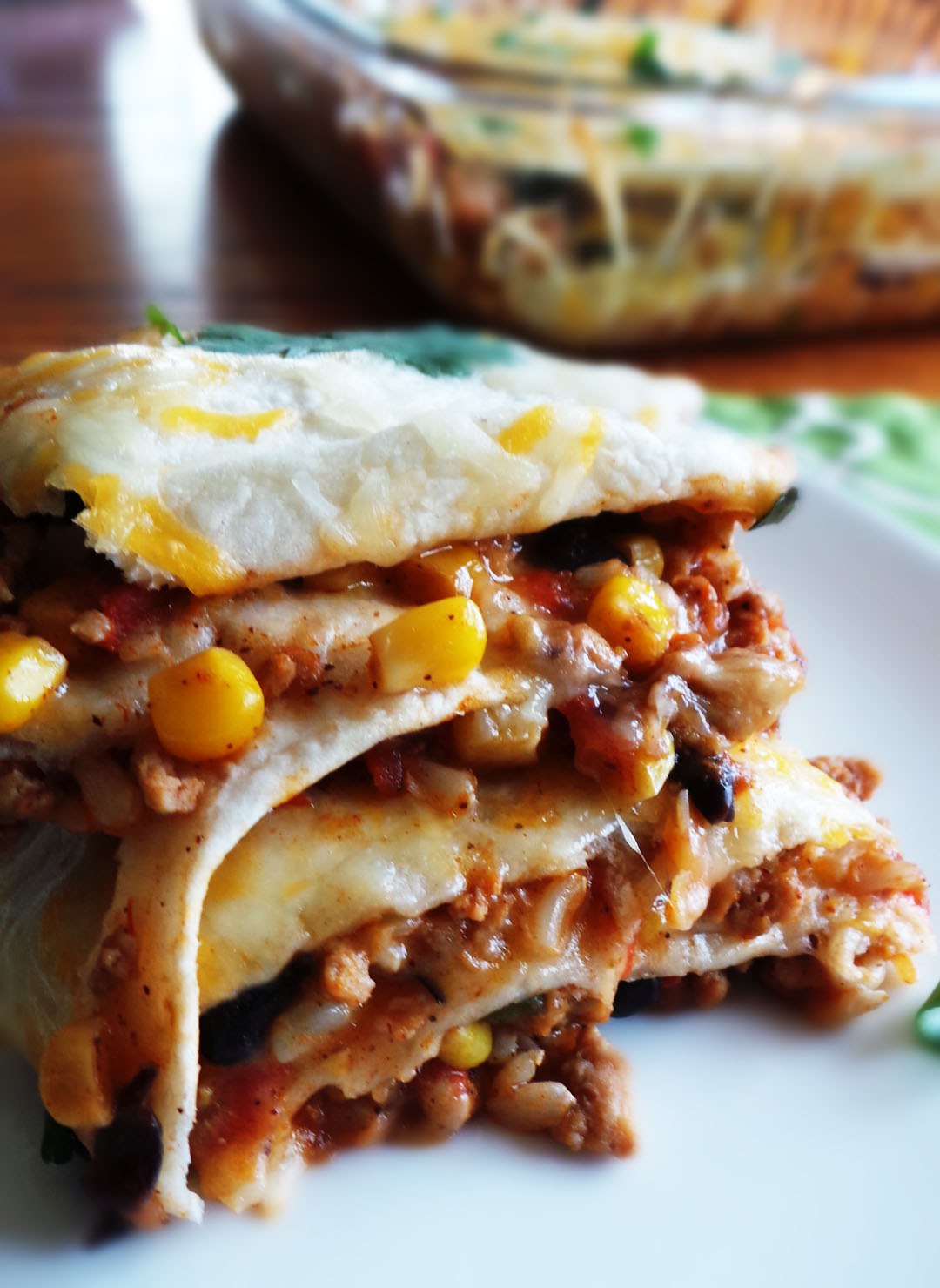 Mexican Lasagna. It's like a layered burrito. It's like a burrito without the mess. Exactly what I need. It's Heaven on Earth, people.
You know what I love about Mexican dishes? You can do whatever you want to them. Corns, beans, no corn, no beans. Green chilies, jalapenos, topped with cilantro or scallions, or fresh ingredients like tomatoes, lettuce, and avocados.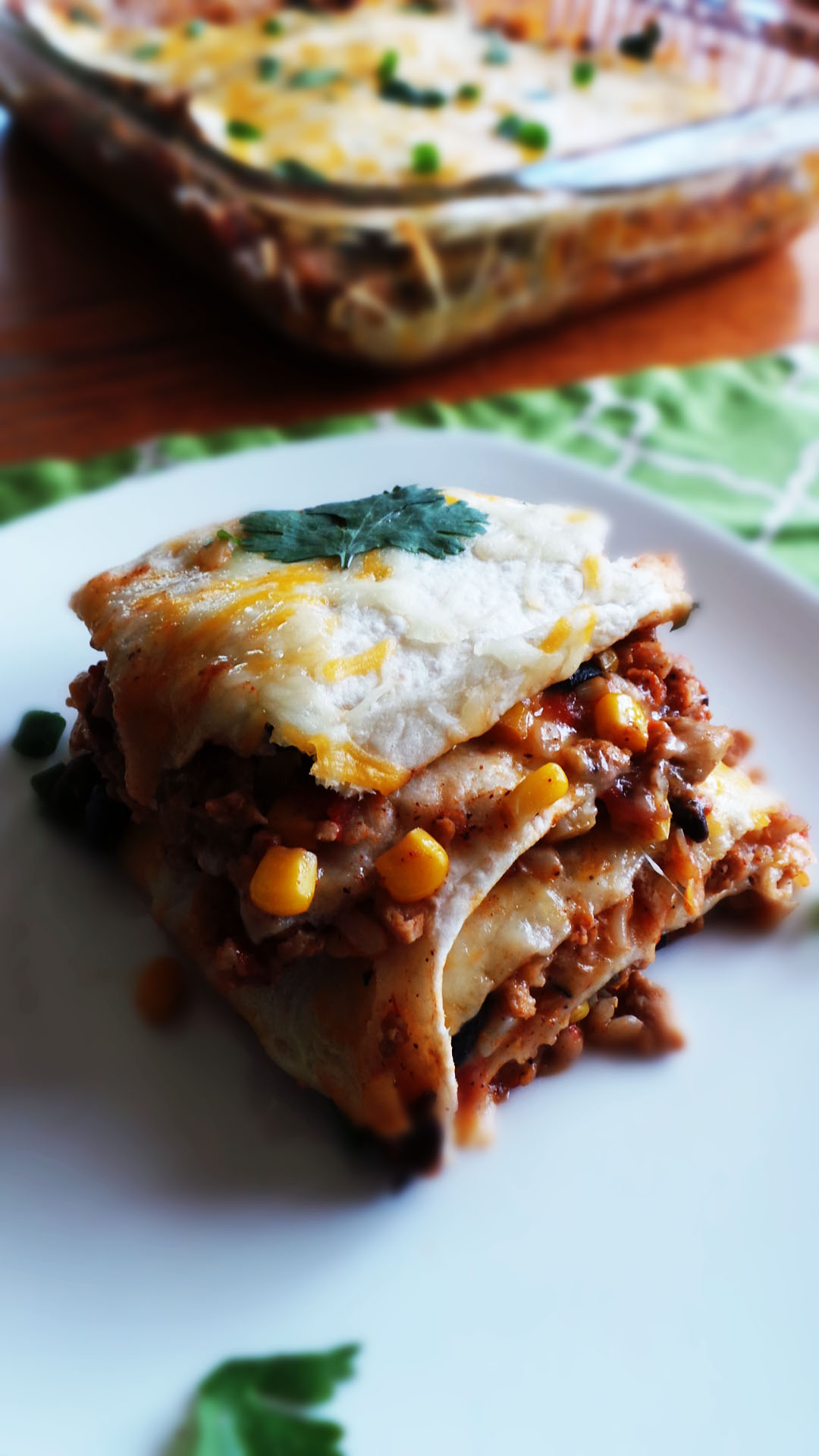 I used lighter ingredients for a lighter dish. Ground chicken instead of ground beef, low-fat cheese blend, and brown rice. I wanted the burrito feel and you can't have a burrito without the rice, you feel me?
So really, do whatever you want with this. If you have a jar of salsa on hand use that for the meat filling , if not, use a large can of diced tomatoes. Frozen corn works just as good as canned corn. Spinach tortillas! Ooh the possibilities are endless.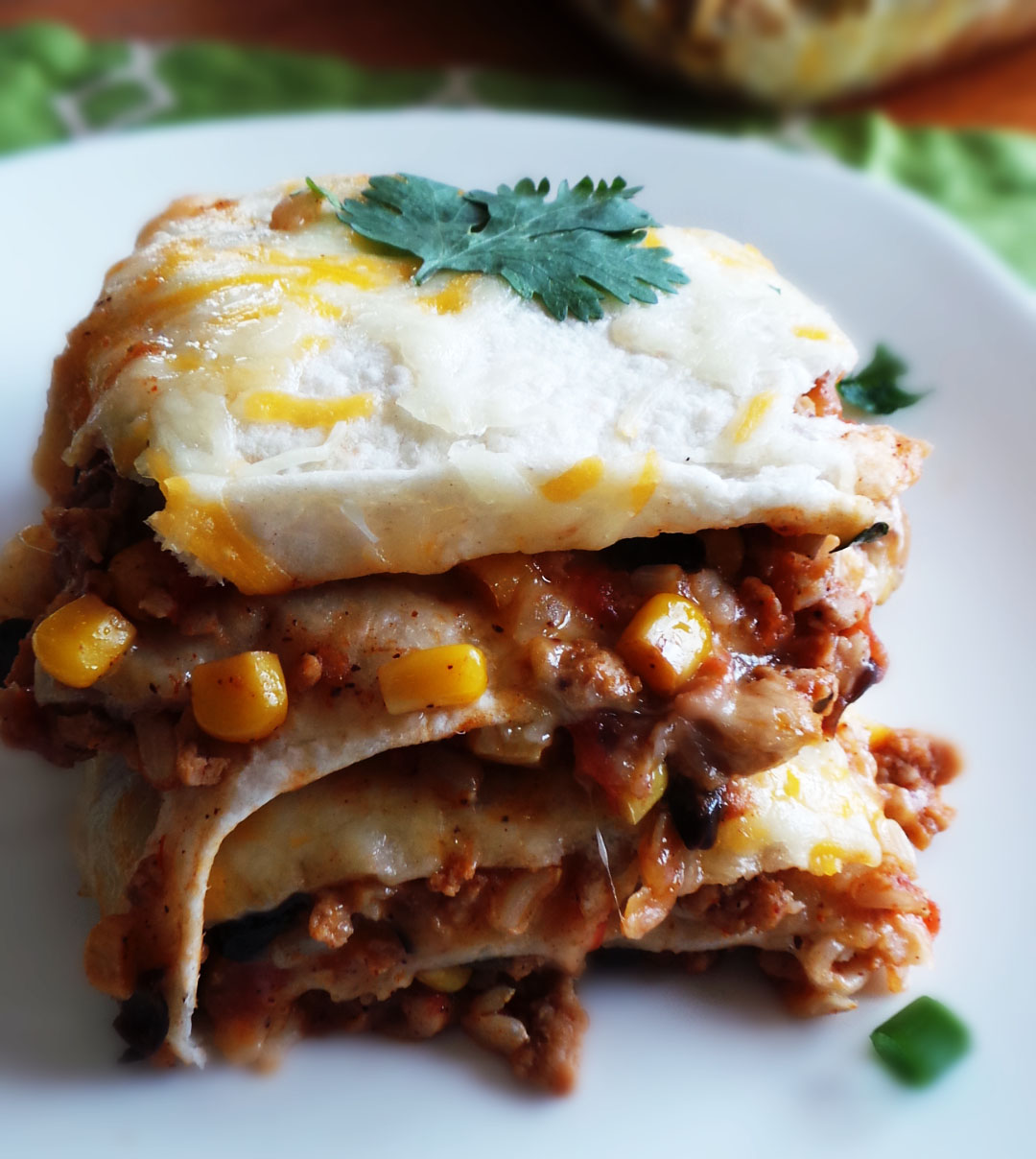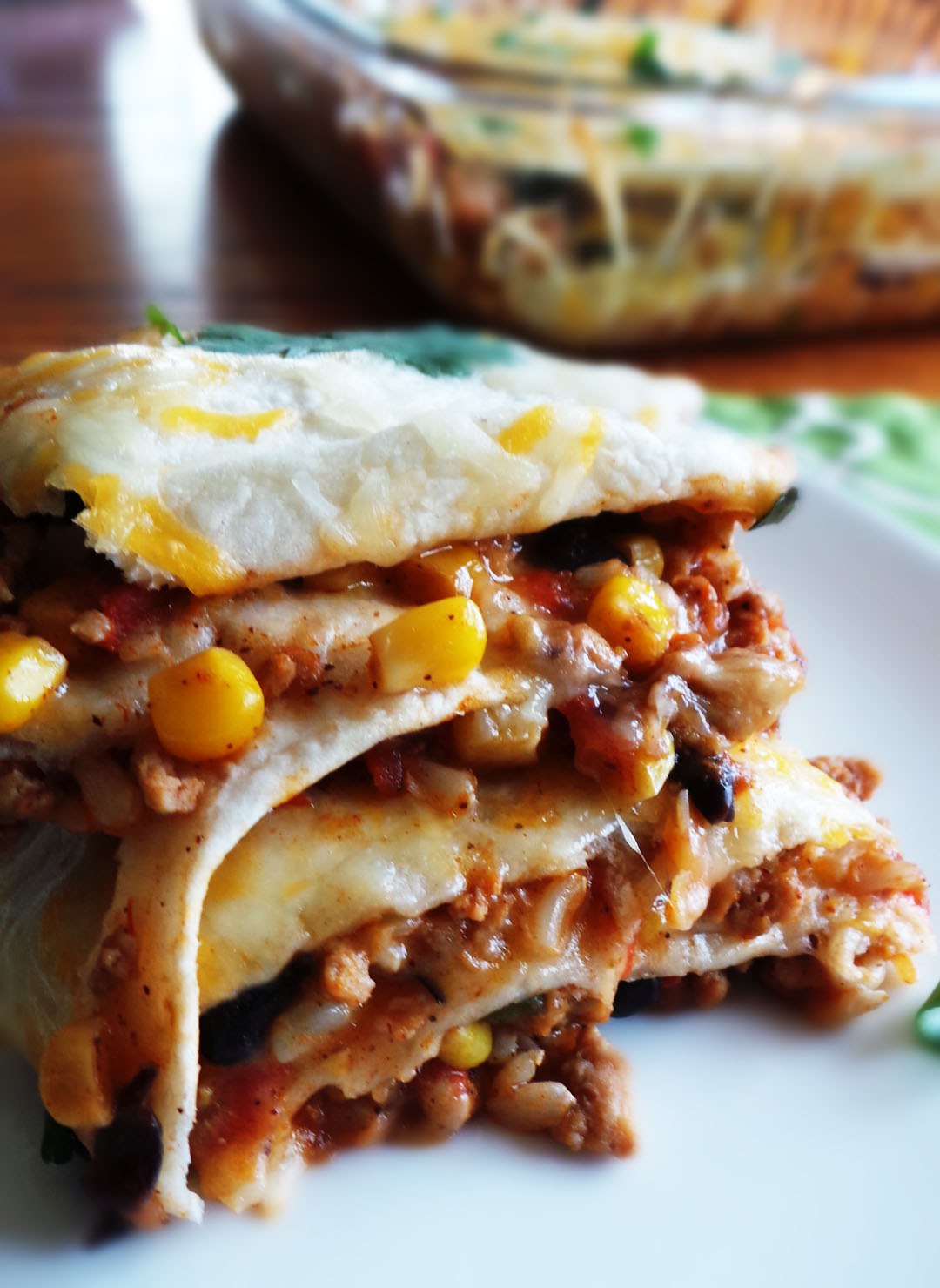 Mexican Lasagna
2013-11-17 12:09:32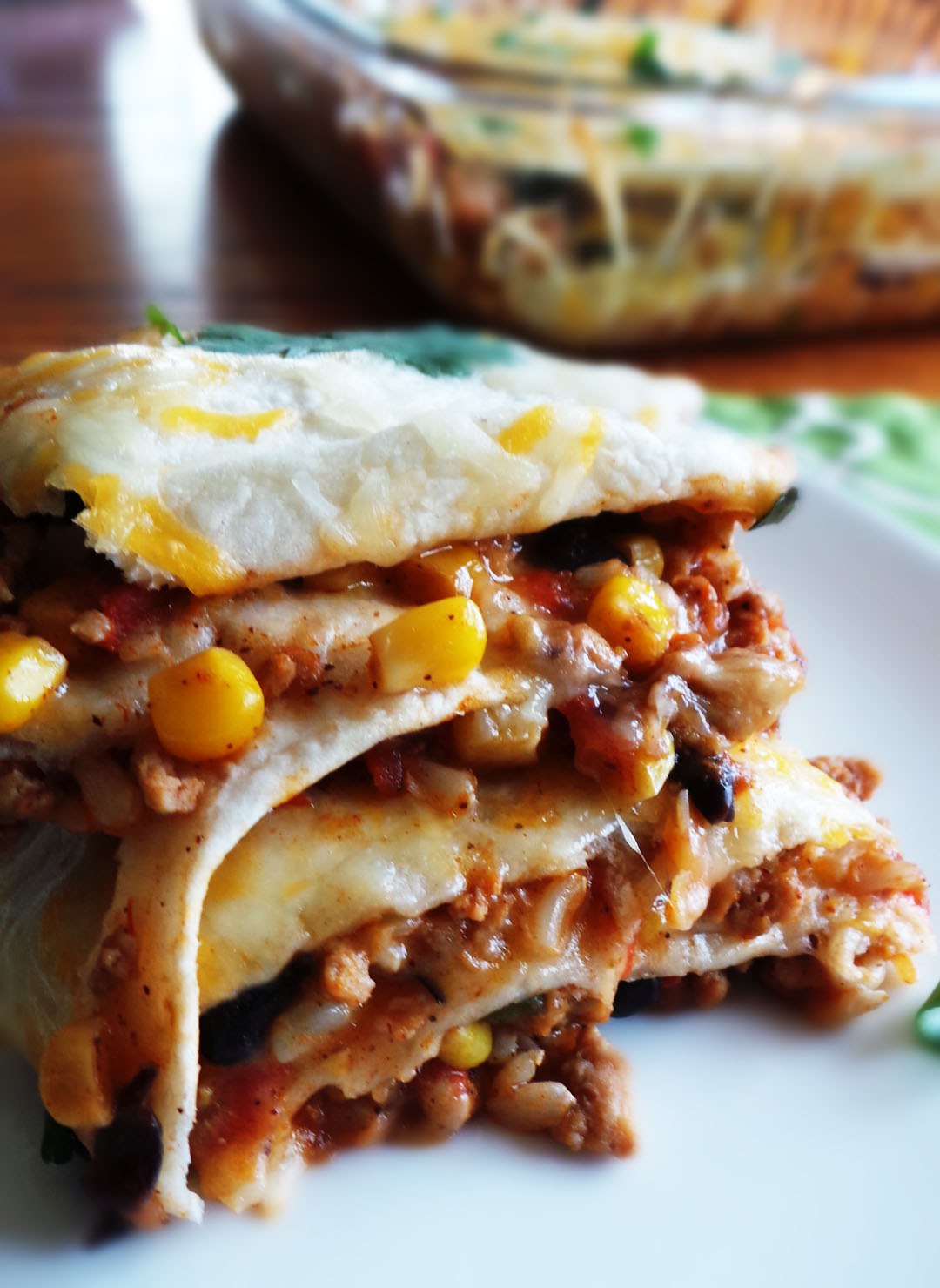 Serves 12
Ingredients
6 Flour tortillas
2 c. Low-fat Mexican cheese blend (1 package)
2 lb. ground chicken
1 small jar salsa of choice (or 32 oz. can diced tomatoes)
1 small onion - small dice
1 jalapeno - diced
2 T. canola oil
2 T. chili powder
2 t. cumin
1/2 t. salt
1 can corn - drained
1 can black beans - drained
1 c. cooked brown rice
Cilantro & scallions for garnish (optional)
Sour cream (optional)
Instructions
Preheat oven to 350
In a large pot, sweat the onions and jalapenos in the canola oil over medium heat. Once tender, add the ground chicken and cook until no longer pink.
Add the seasonings, corn, beans, salsa, and rice. Stir until all ingredients are combined.
In a 9 x 13" baking dish, layer 1/3 of the meat, 2 tortillas, and 1/3 of the cheese. Continue until your dish is fully layered.
Bake for 15-20 minutes until the cheese has melted.
Top with cilantro and scallions and serve with sour cream.
Notes
There may be plenty of meat filling left over, save and serve over lettuce for a healthy lunch!
http://www.vodkaandbiscuits.com/
[shopeat_button]