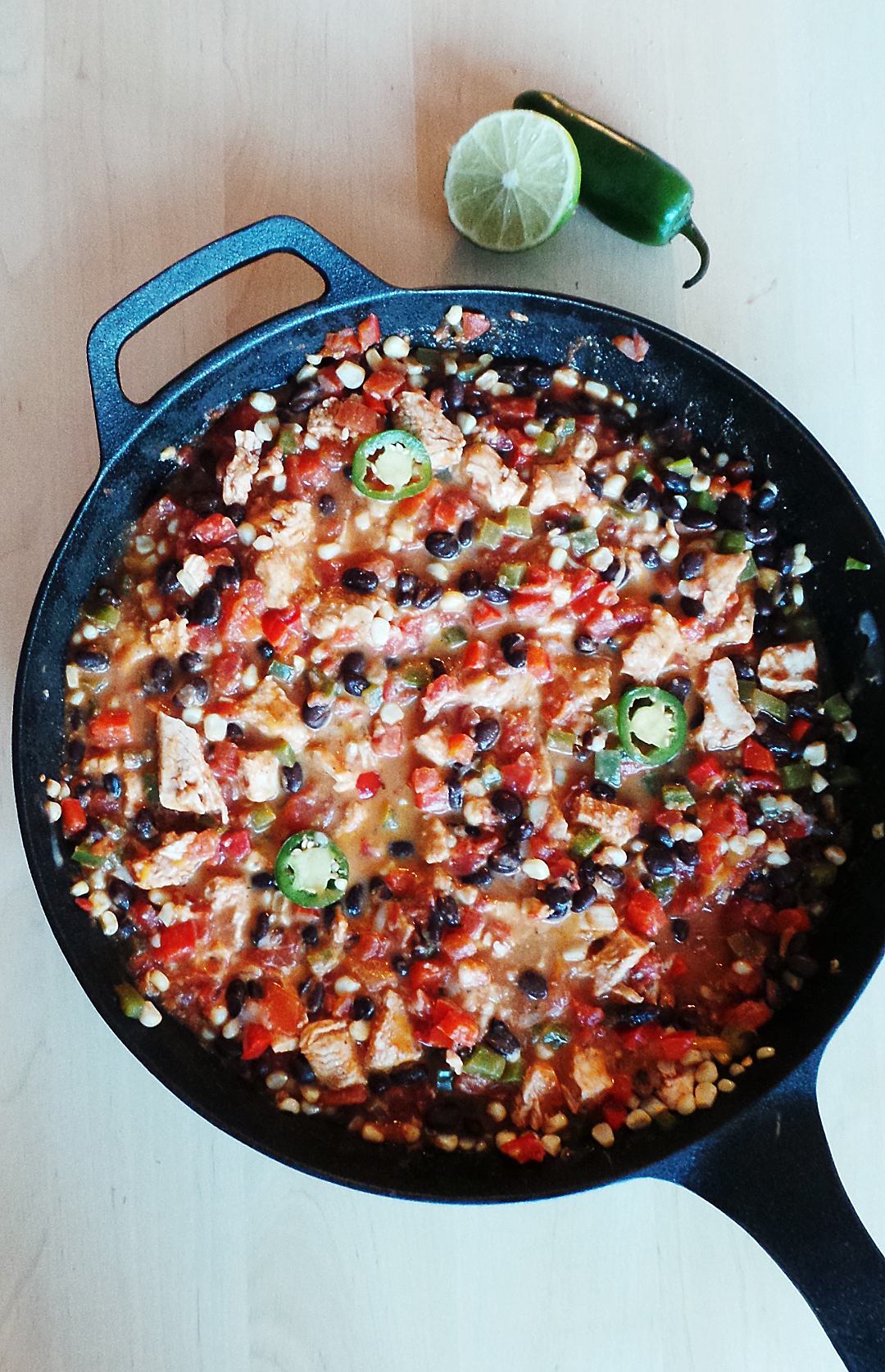 …because that's exactly what they are, my favorite nachos ever. I started making these at school and soon enough they became my roommate's crave, then the go-to party dish, and now my go-to breakfast lunch dinner meal. Nachos for breakfast? Who's judging? These are the healthiest yet cheesiest, prettiest yet messy nachos you will ever lay your hands on.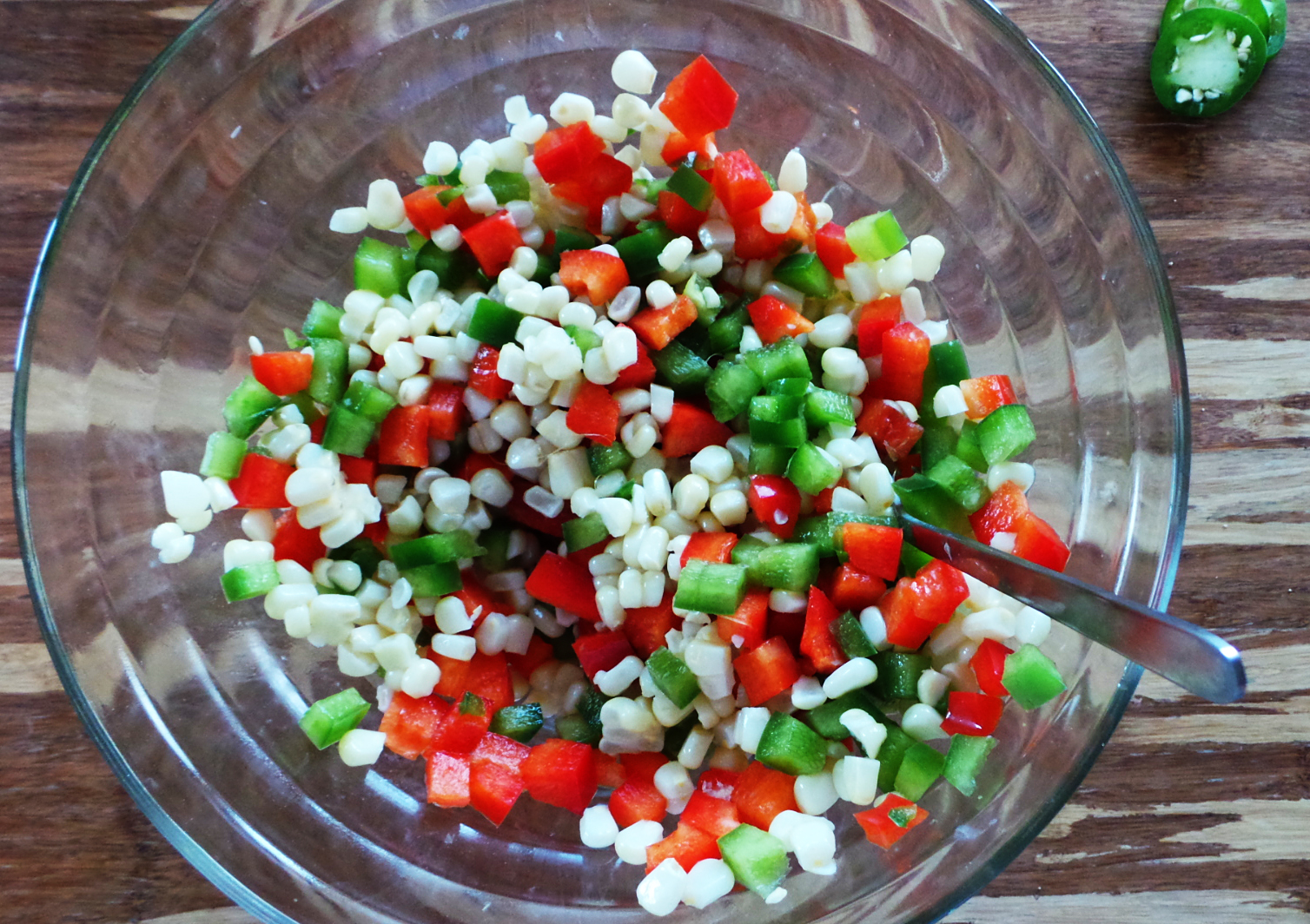 For your vegetables all you'll need is 1 red bell pepper, 1 green bell pepper, and 1 jalapeno. Dice those babies up, but try to avoid touching the jalapeno seeds because ouch. I combine the pepper blend with the corn and get those all hot and ready in the skillet. I try to cook them long enough to have a little charred color, but not long enough for the peppers to become too soft.
From here it's simple, add the beans, chicken, the tomatoes in the sauce, wait for it to simmer, then sprinkle with an unnecessary amount of cheese.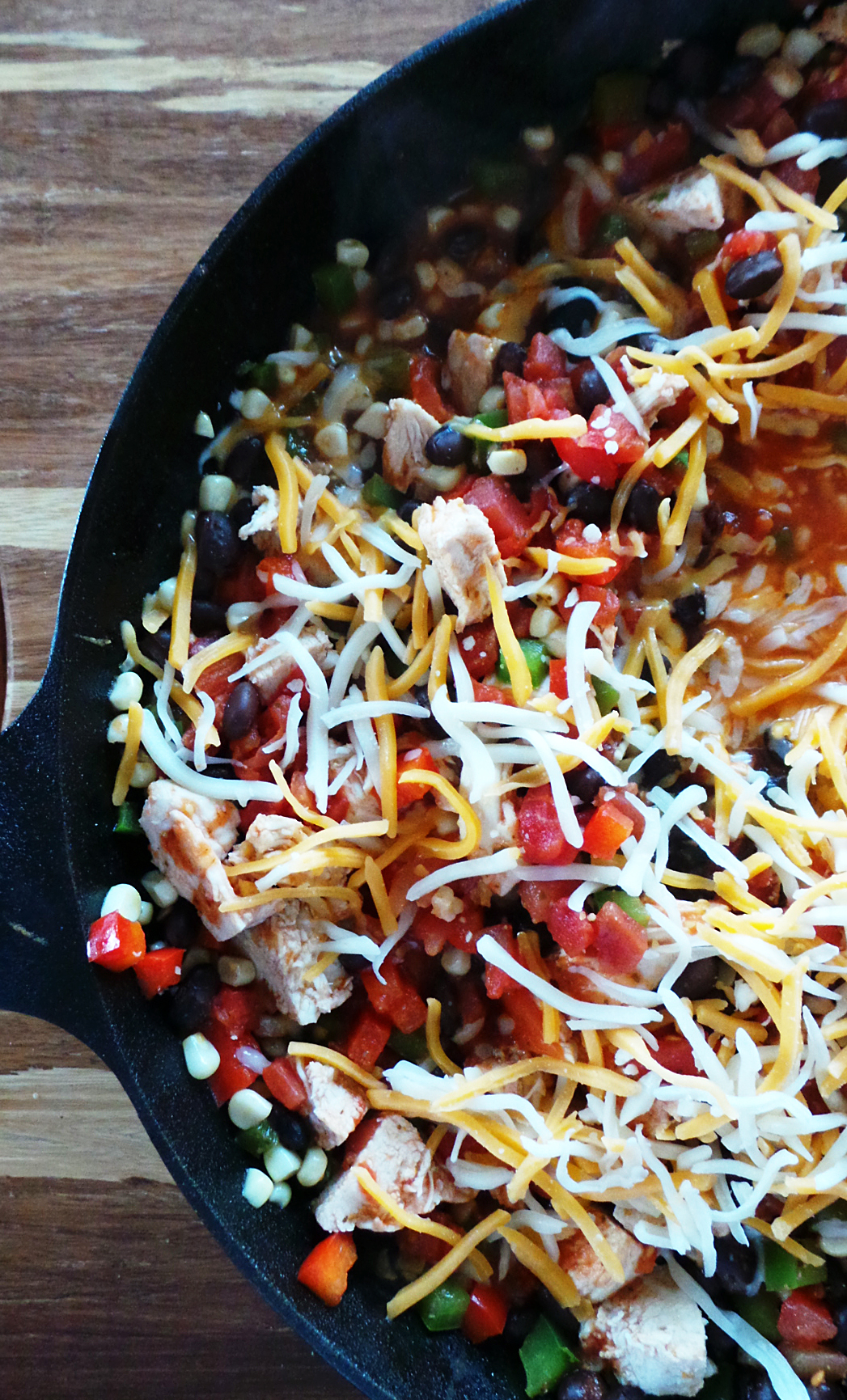 The cheese then does something magical to this. This dish is not this dish without the cheese. This is the part where I grab my chips, pile this ish on top, and lose track of time.
Oh, and about the chips, I highly recommend Tostitos Artisan Roasted Garlic & Black Beans. Like realllly really recommend.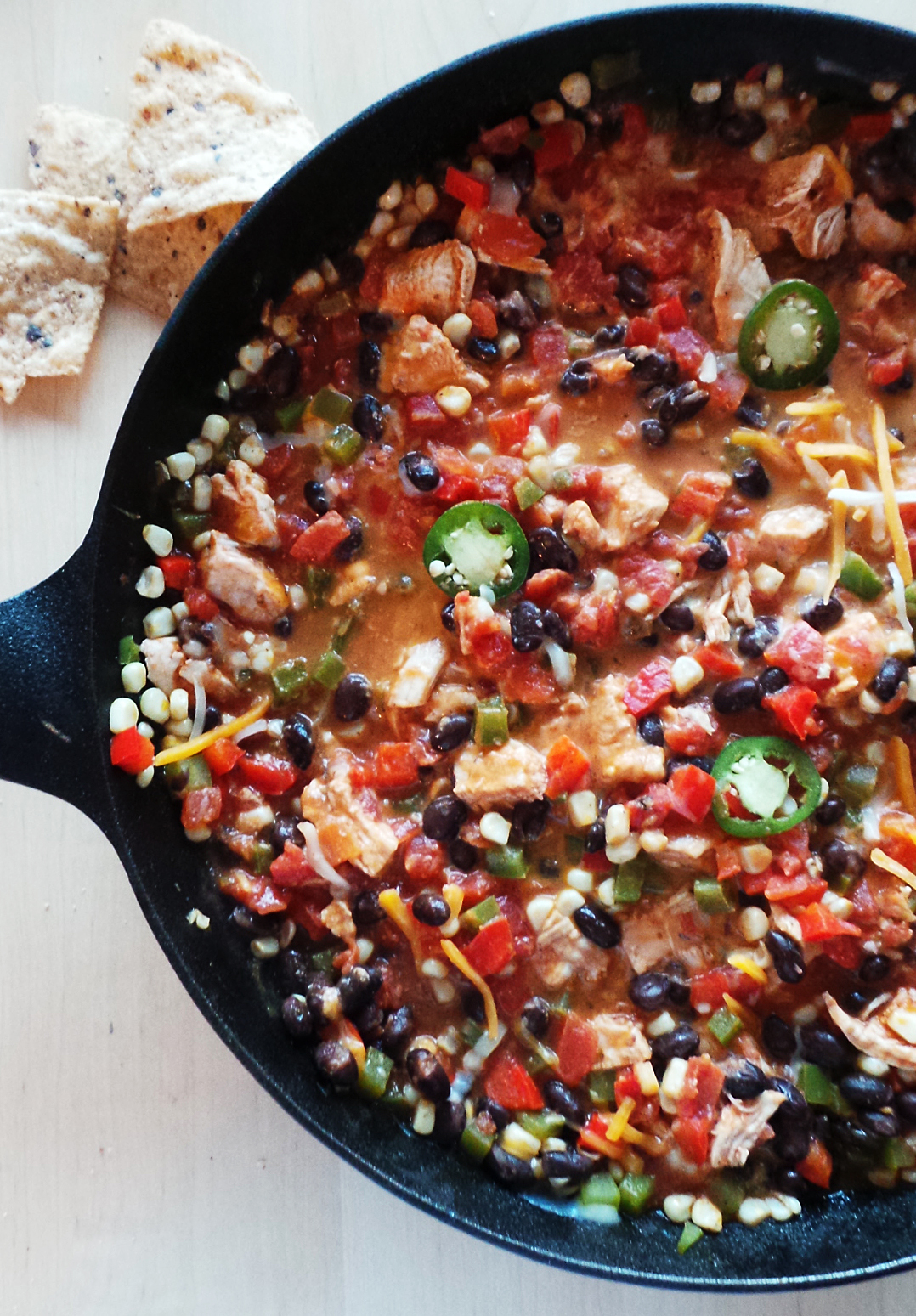 There's no right or wrong way to eat these. Pile this on top of your pile of chips, make it less of a nacho and more of a dip, or take the healthier route and make Nacho Stuffed Peppers. Either way, I know you'll enjoy these. By the way, Super Bowl is coming up and I heard you're looking for the perfect party dish? Enjoy!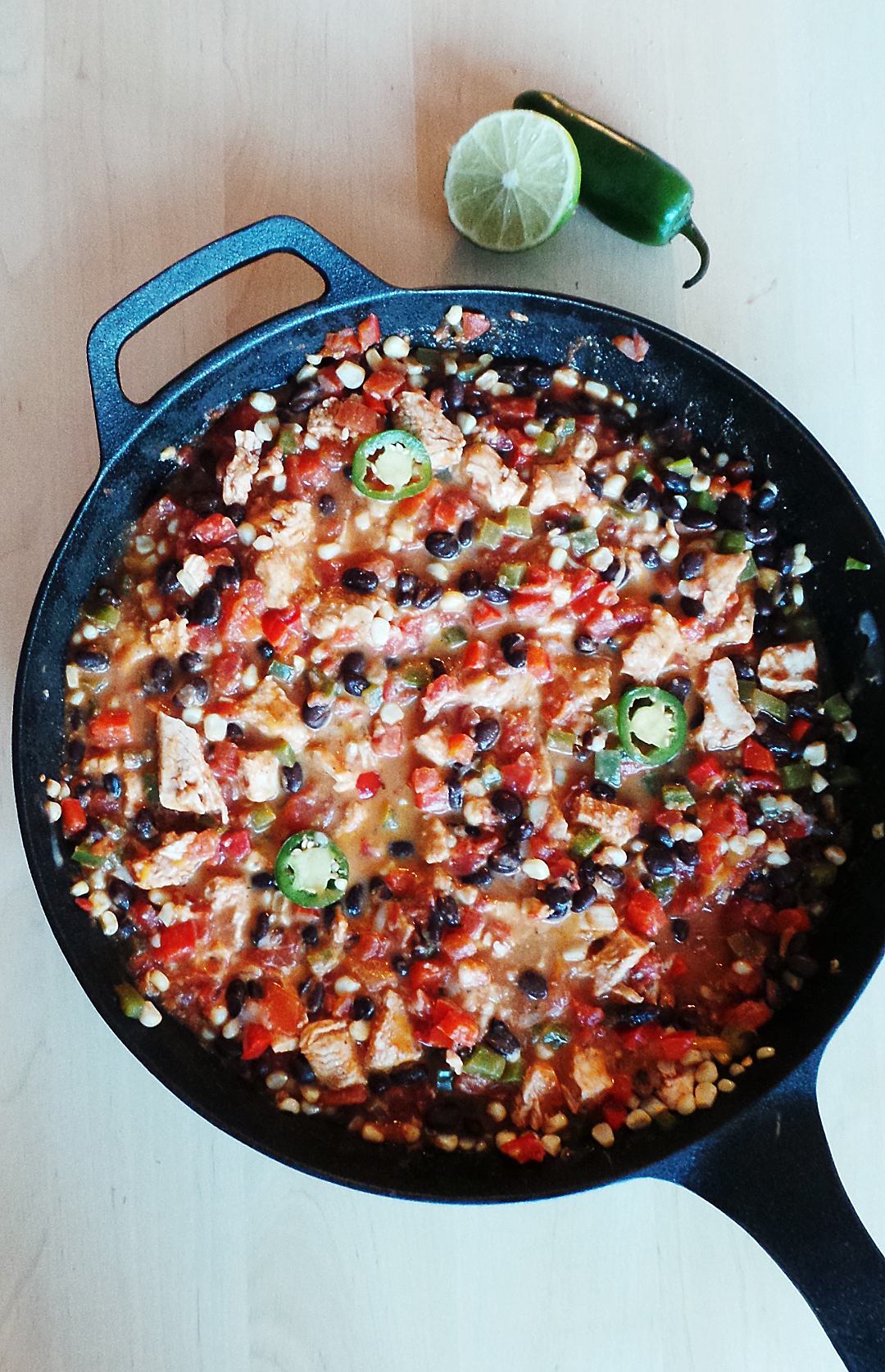 My Favorite Nachos Ever
2014-01-08 19:19:17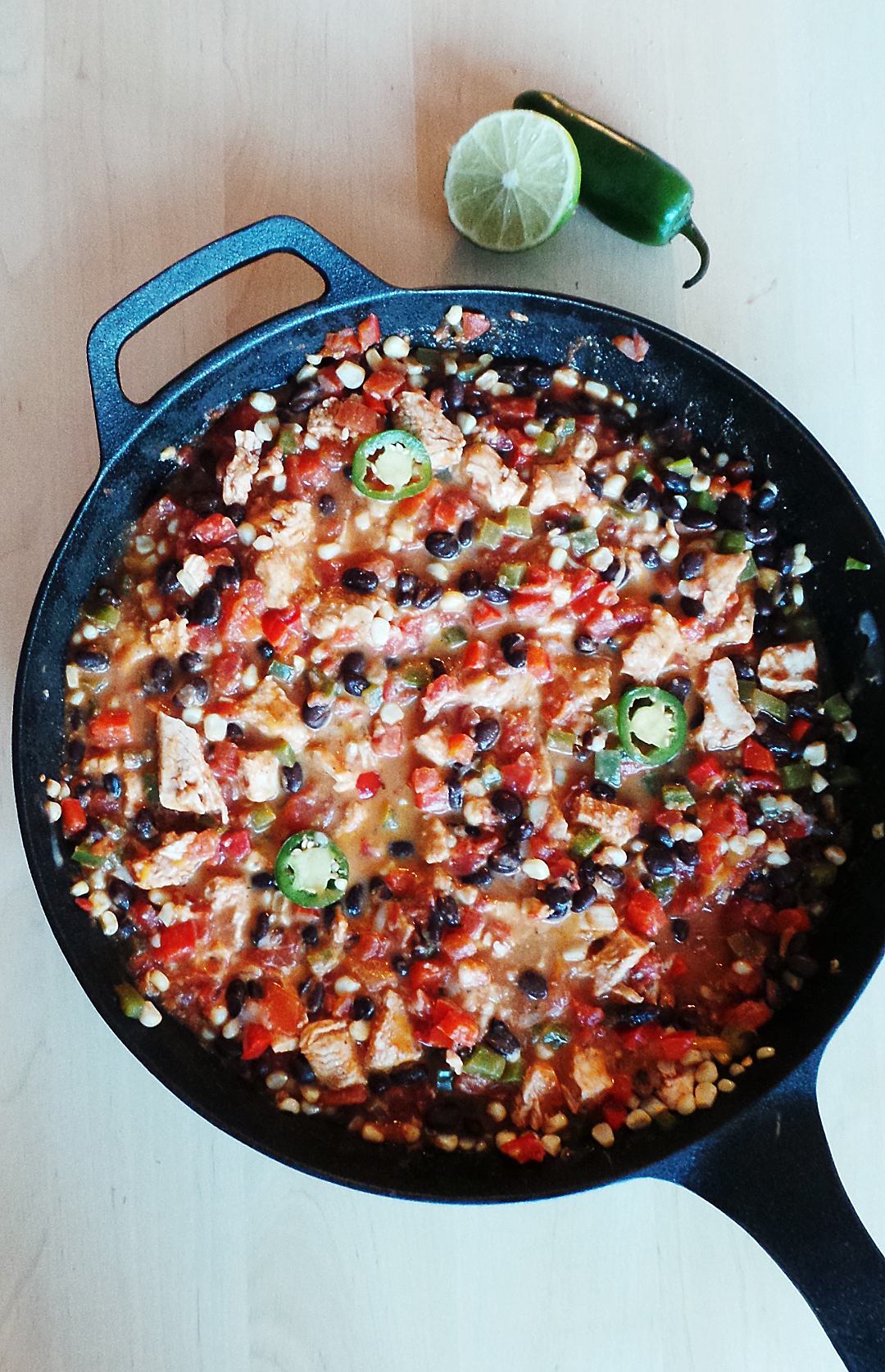 Serves 6
Loaded cheesy nachos filled with fresh and hearty ingredients, a definite crowd pleaser! Perfect for an appetizer or party dish.
Ingredients
1 red bell pepper
1 green bell pepper
1 jalapeno
2 15 oz. can diced tomatoes (preferably w. green chilies)
1 can corn, drained (or 2 cobbs fresh corn)
1 can black beans, drained
1 cup cooked chopped chicken (preferably from rotisserie chicken)
1 cup shredded low-fat Mexican blend cheese (or Pepper Jack)
Tortilla Chips as needed
Instructions
Remove the seeds and ribs from all the peppers and cut each into small dice. Transfer to a bowl.
Add the corn to the bowl of peppers or if using fresh corn, just cut the corn from the cobb and add.
Heat a tablespoon of olive oil over medium heat in a large skillet. Once hot, add the peppers and corn. Cook for about 5-6 minutes, until peppers are just soft.
Add the beans, chicken, and both cans of tomatoes with the sauce.
Bring to a simmer then stir in the cheese.
Season with salt and pepper to taste
Toast chips if preferred and serve over chips!
Notes
Add adobo sauce with canned chipotles for extra spicy nachos, or find the diced tomatoes with chipotle peppers included (some stores have them).
http://www.vodkaandbiscuits.com/
[shopeat_button]