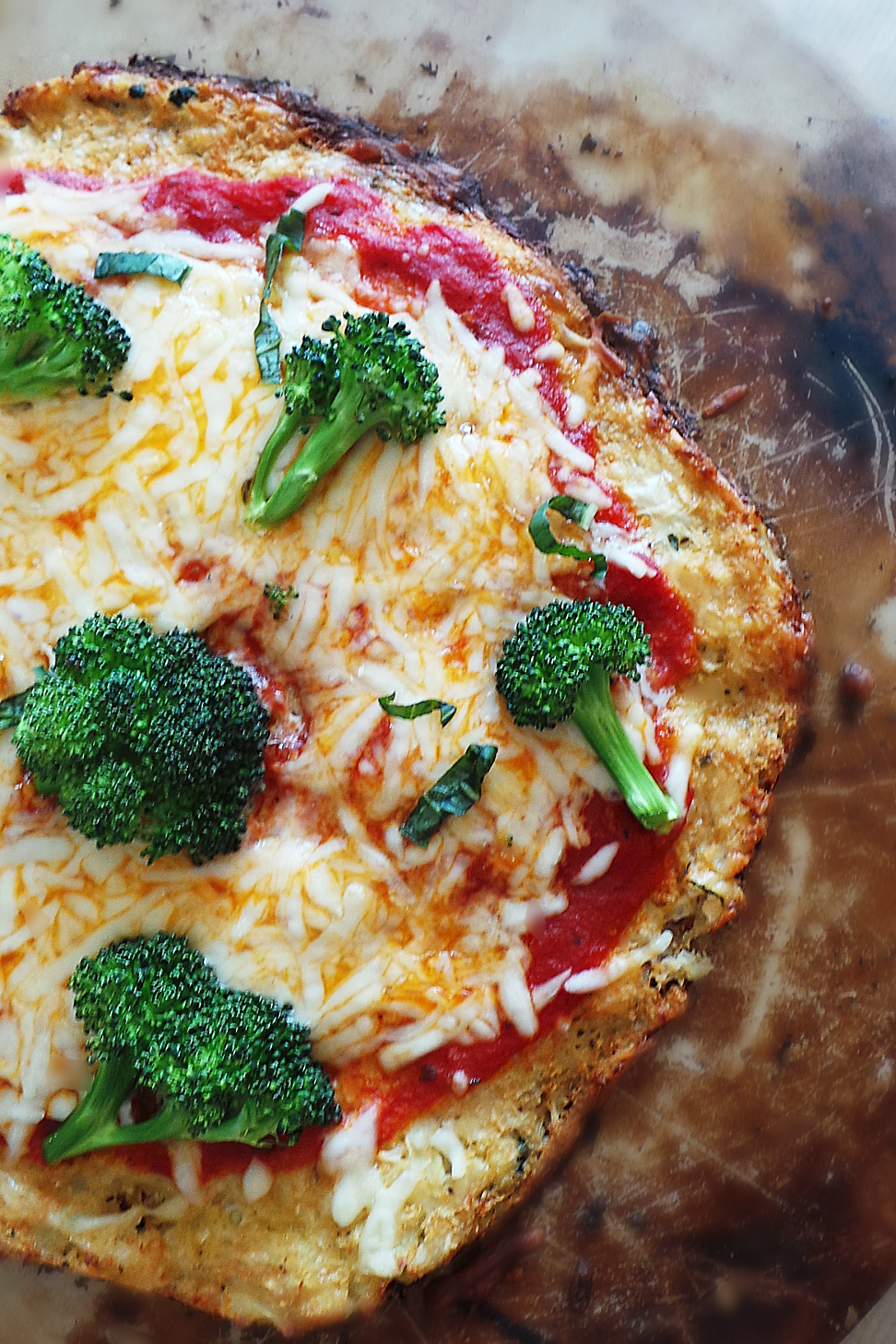 Happy post-Valentine's week! Who else ate more than one assorted chocolate box for themselves? Not only is this the week where all the leftover chocolate goes on sale, but this is the week where every female complains about the ridiculous amount of candy they ate and OH I AM ONE OF THEM. Aside from my chocolate chant, I hope everyone had a wonderful Valentine's weekend. Alone or not, I've always loved this holiday because it's a good excuse to eat and make whatever I want and with that being said, now I need vegetables.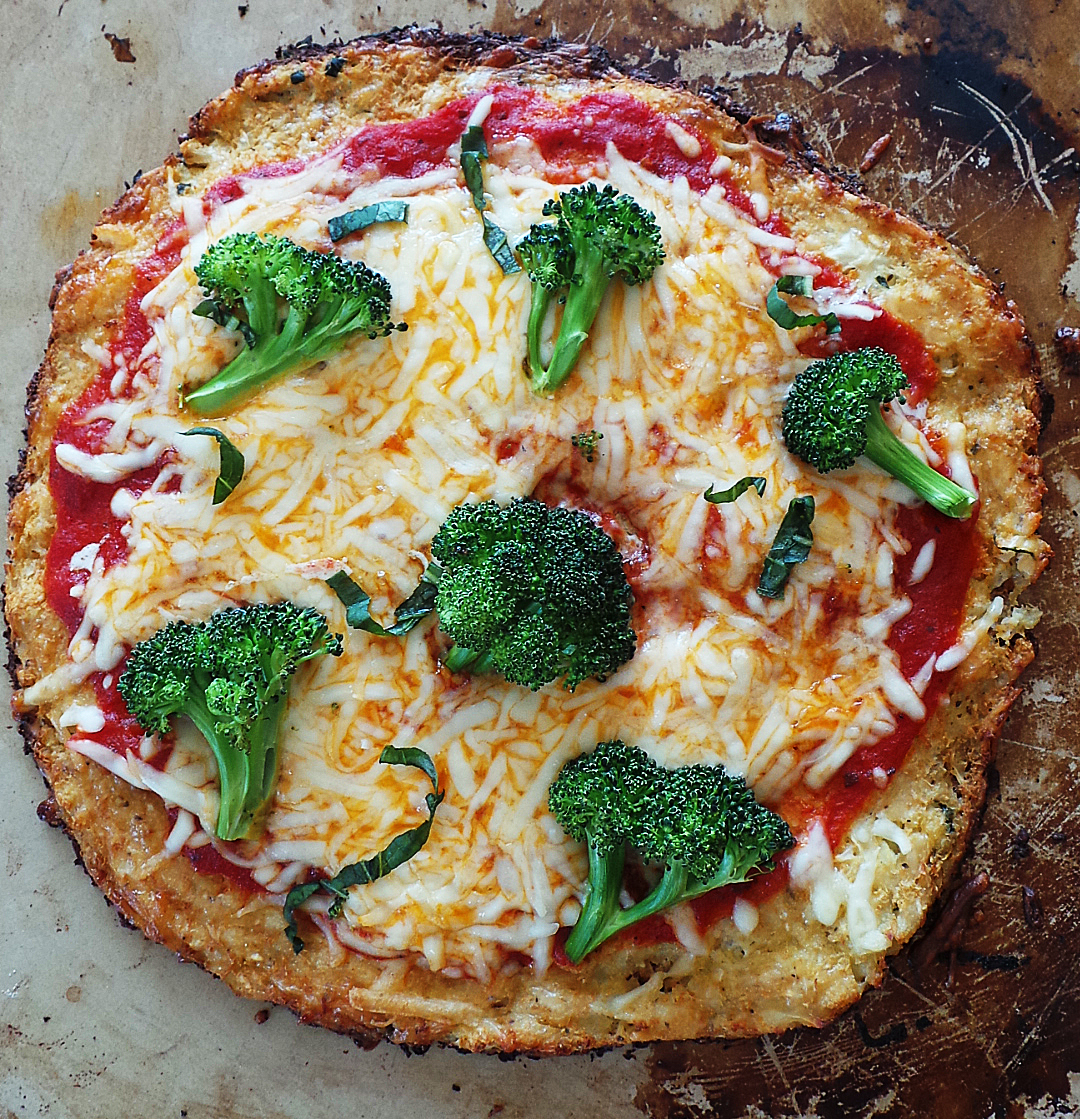 With some left-over snow storm food, I decided to whip up a cauliflower pizza. Everyone on Pinterest rants and raves about not only cauliflower pizza, but cauliflower rice, Alfredo sauce, and a bazallion other replacements that I just can't happen to think of. When I first heard of a pizza crust made with cauliflower I was a little confused but more inspired. Now that I've made and tried it, the idea is brilliant. Thank you – you carb-free angel for discovering this.
This pizza is simple, but does take a little time to put together. It's important to break down the cauliflower so all you're left with are the big florets. That gets pulsed in the food processor, microwaved, then squeezed dry. The cauliflower is then mixed with cheese and egg to bind and seasonings and fresh herbs for taste. This is more wet than your typical pizza dough, so shaping is much easier if the crust is pressed to its shape. It's par baked, then topped with pizza sauce and toppings of choice before being baked a second time. I broke it down here:
1. Prep the cauliflower
Wash & dry cauliflower head. Remove the chunky green leaves, then cut the head in half to cut off the thick white stem.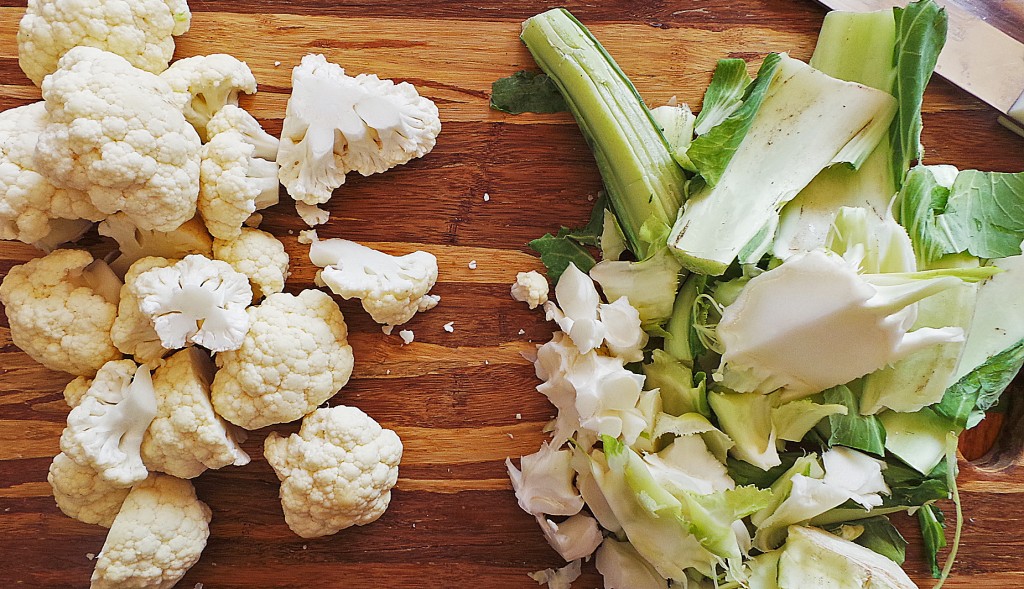 2. Pulse
Pulse the cauliflower until it reaches a rice-like consistency.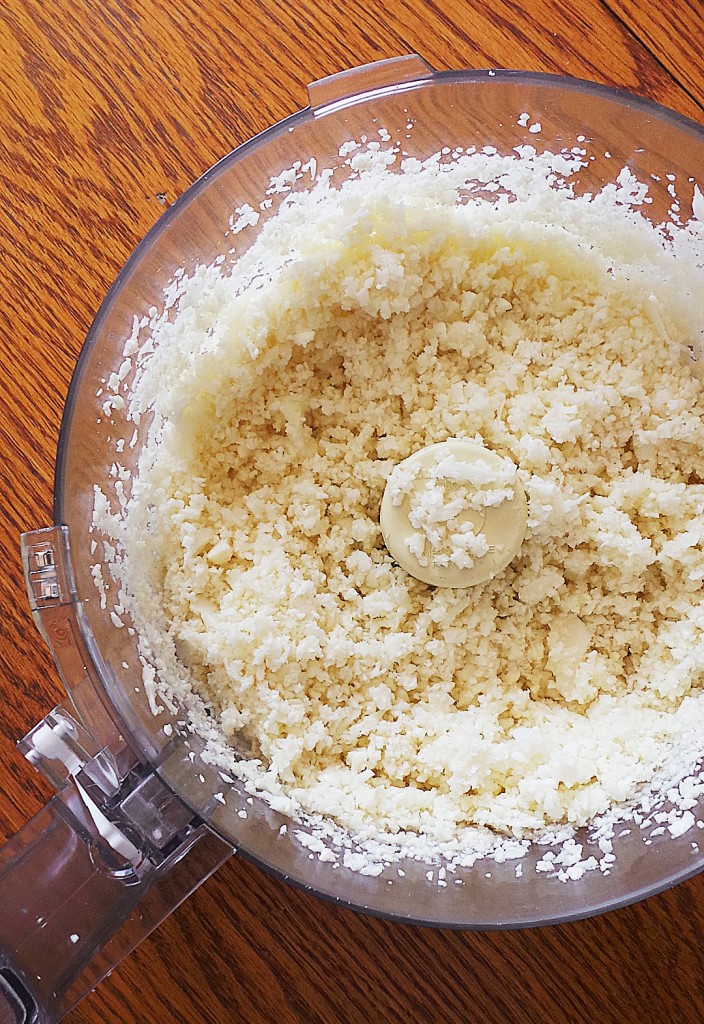 3. Microwave & Squeeze
Transfer to a microwave safe bowl and microwave for 4 minutes. Dump all that into a kitchen towel and squeeze as hard as you can to remove as much moisture as possible. Work it. Work it hard.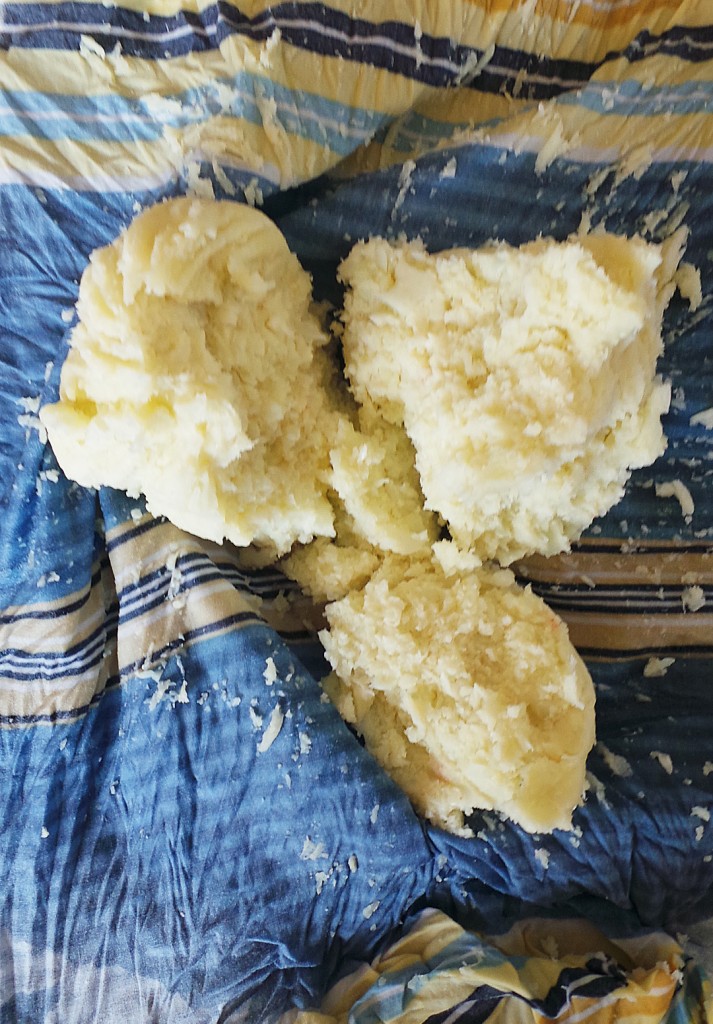 4. Mix
Once it's cool enough to handle, add the egg, cheese, and seasonings.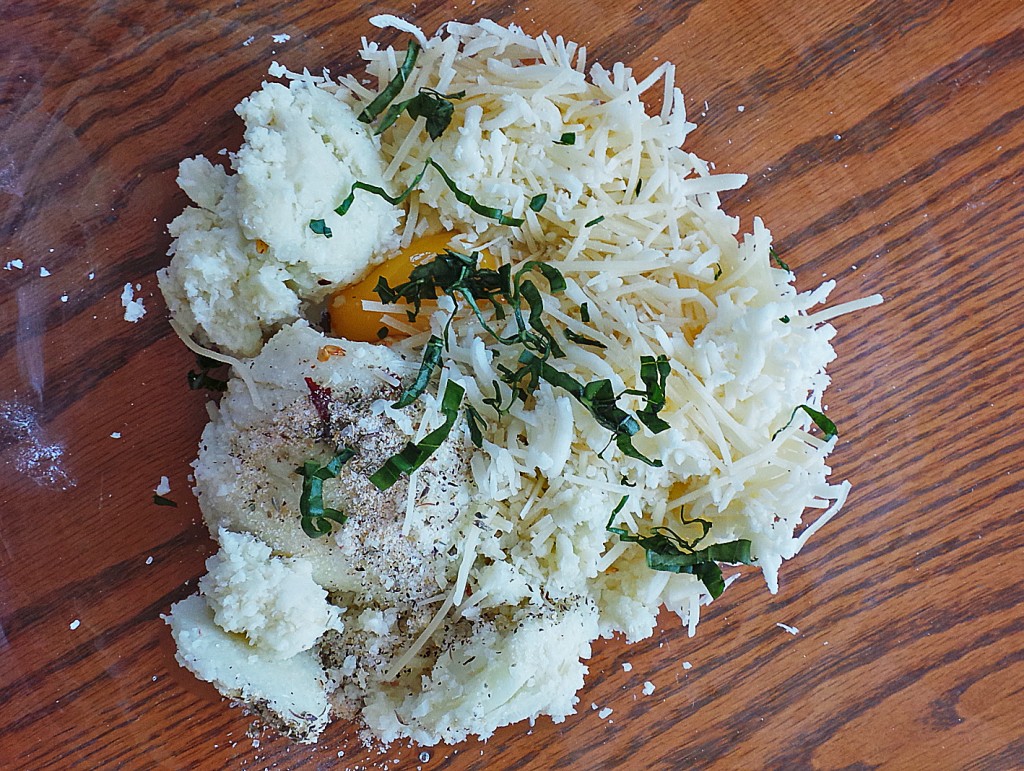 5. Shape
Press out the "dough" to form a circle pizza shape. If it's too wet, use a dry towel to help press it out.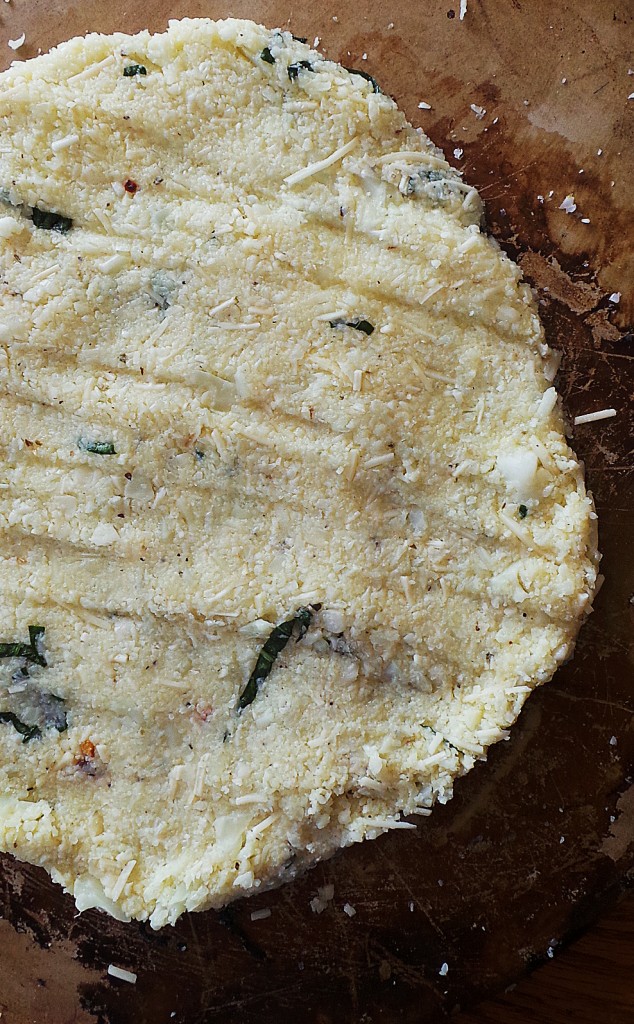 6. Bake
Bake the crust for 20 minutes, then top with pizza sauce, cheese, and desired toppings, and bake for an additional 10 minutes! Pizza time!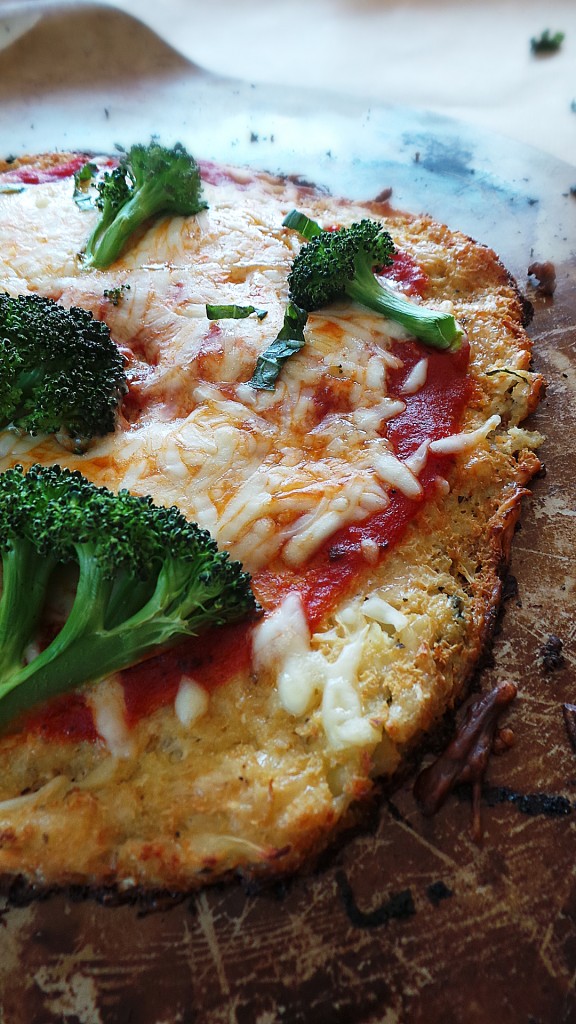 Now I must warn you, you have to know what you're biting into before tasting this. If you expect a New York style pizza, you'll be highly disappointed. This is made with cauliflower, so just as you'd expect, you will taste cauliflower. I topped mine off with my super easy pizza sauce, mozzarella cheese, and broccoli. I can assure you that whatever your creative little mind tops this off with, it'll be the best dang cauliflower you ever had.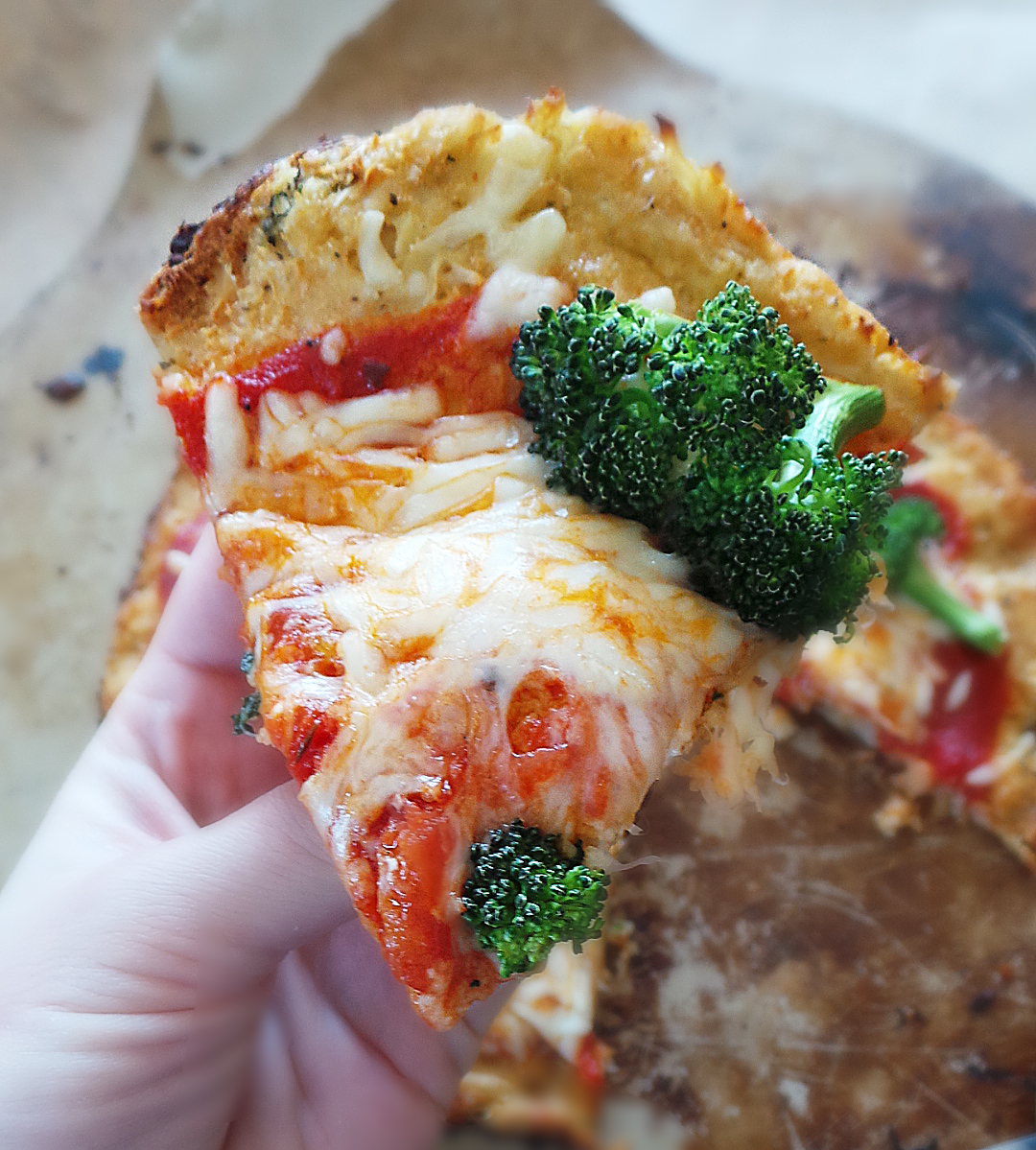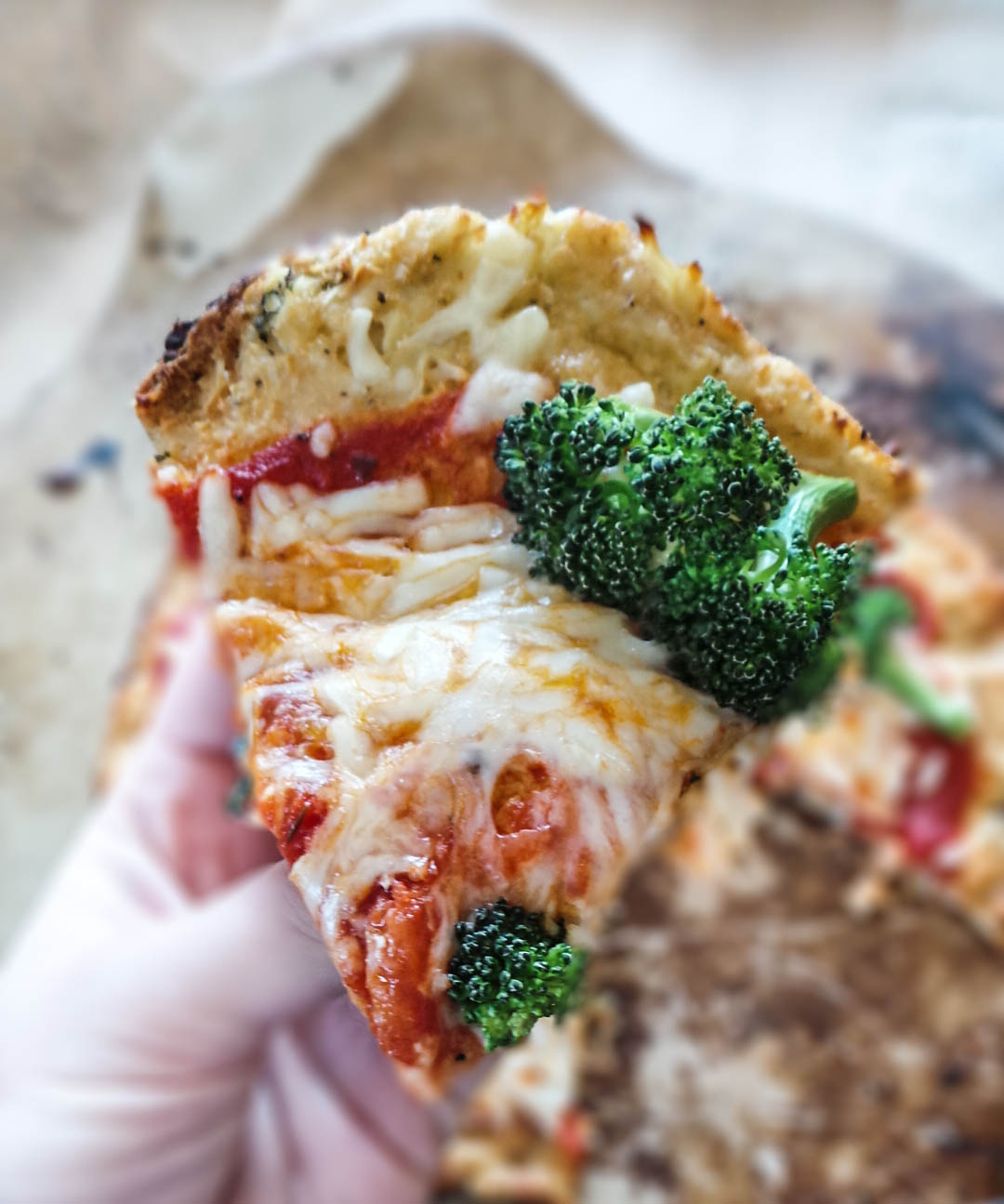 Cauliflower Crust Pizza
2014-02-17 13:55:02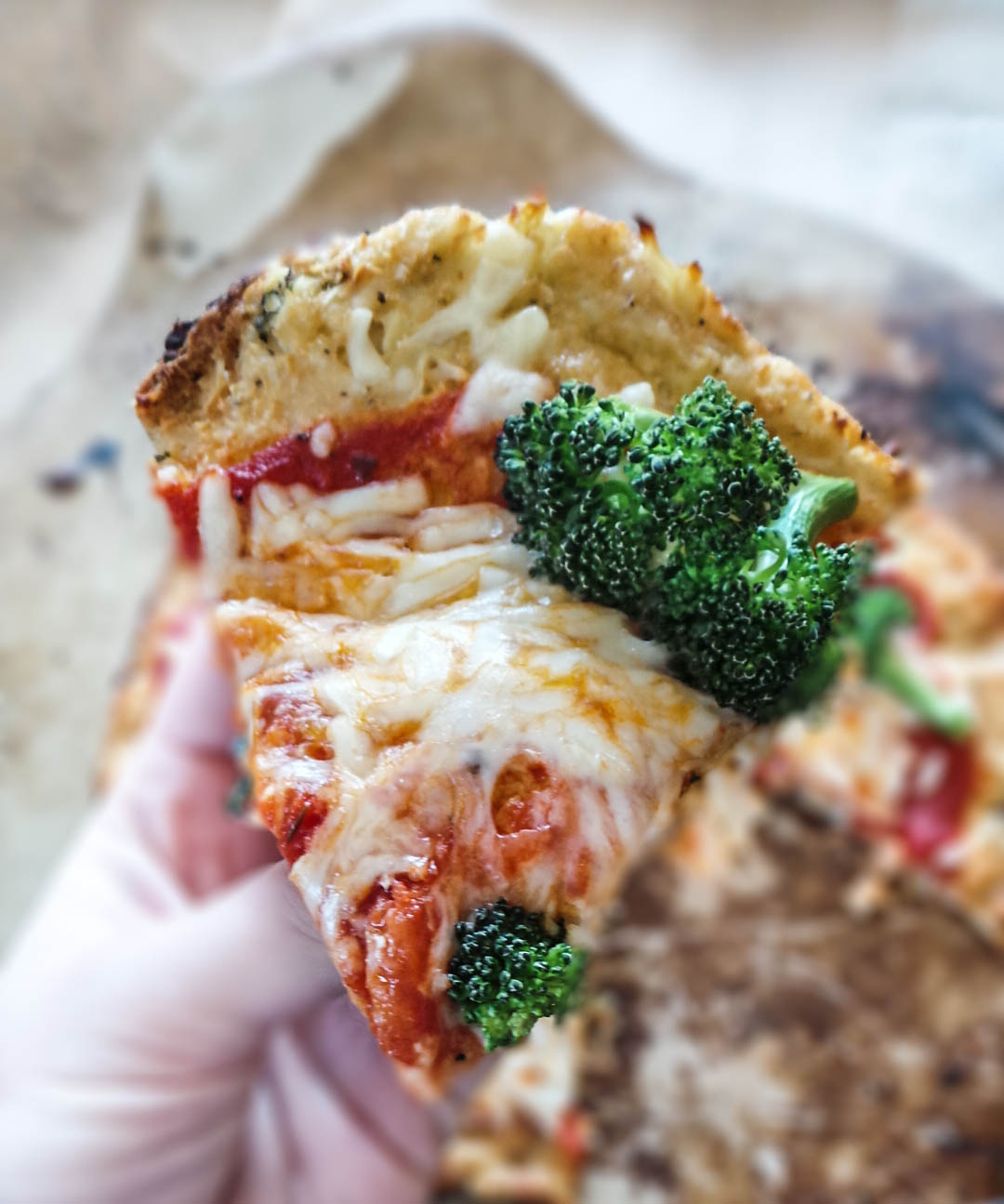 Serves 8
A low-carb, low-fat, healthy alternative to pizza!
Nutrition Facts
Amount Per Serving
* Percent Daily Values are based on a 2,000 calorie diet. Your Daily Values may be higher or lower depending on your calorie needs.
Ingredients
1 head cauliflower
1 egg
1/4 c. shredded Parmesan
1/4 c. low fat shredded mozzarella
3-4 fresh basil leaves
1 t. oregano
salt & pepper to taste
pinch red pepper flakes
Toppings
Pizza sauce (check notes for link)
Mozzarella cheese
toppings of choice
Instructions
Preheat oven to 400
Remove the chunky green leaves from the cauliflower head. Cut the head in half lengthwise (this just makes it easier to cut off the stem). Remove the stem and any other thick fibers attached to the florets.
Lightly wash and dry with a paper towel. Place florets in a food processor and pulse until rice-like. If you don't have a food processor, use a box grater!
Place the cauliflower in a microwave-safe bowl and zap for 4 minutes. Once cool, transfer to a kitchen towel and squeeze out as MUCH moisture as possible. Squeeze it good!
Add to a bowl with the egg, cheese, and seasonings. Combine and form a ball with your hands.
Press the ball out to form a pizza shape. If still wet, use a dry kitchen towel to help shape.
Place on a pizza stone and bake for 20 minutes or until the bottom is brown and crispy.
Take out of the oven and top with pizza sauce, cheese, and toppings of choice. Bake until cheese has melted and the crust is golden brown on the edges (10 minutes).
Notes
http://www.vodkaandbiscuits.com/2014/02/17/simple-pizza-sauce/
Vodka & Biscuits http://www.vodkaandbiscuits.com/