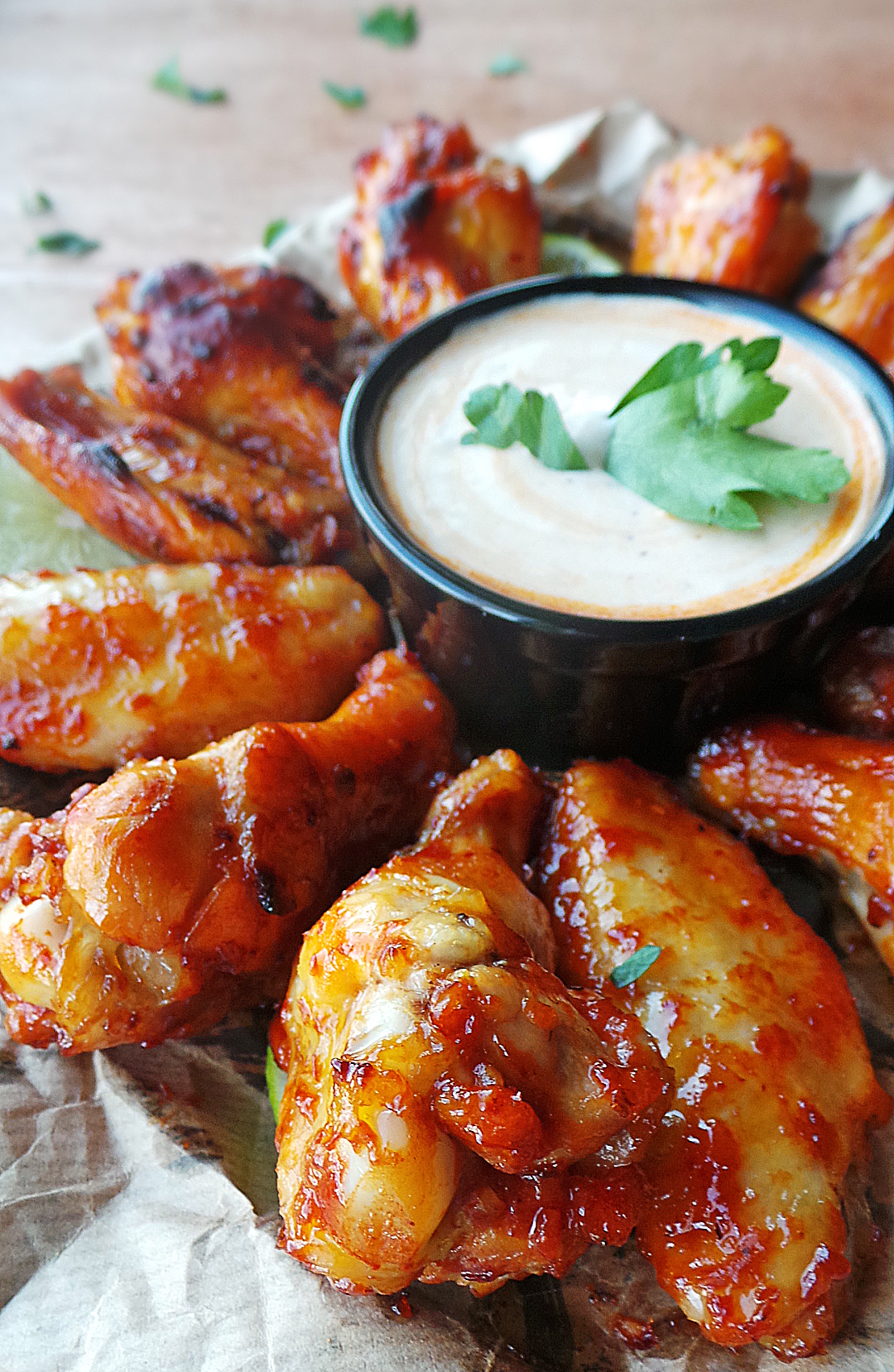 *long sigh*
We're over winter! Although my legs look like they have a house to haunt, and I haven't had a pedicure in who knows how long, just as much as I'm not ready to wear shorts and flops, I totally am. Who feels me?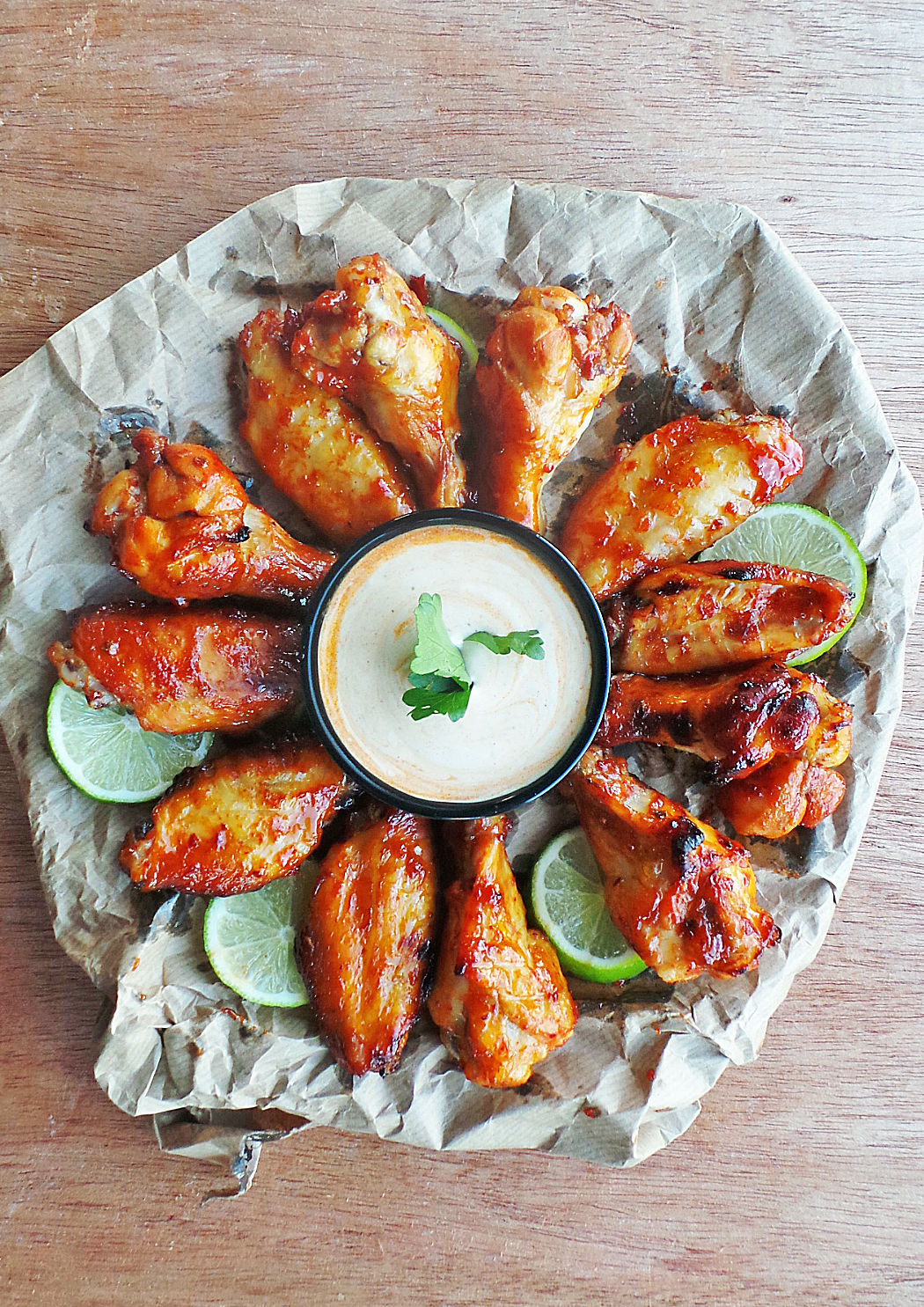 There is nothing I like more than stepping outside and getting a whiff of the succulent smokey barbecue. What a better way to celebrate the sunny-n-seventies-BBQ weather than to make some?
If you noticed, I haven't posted much this week. With life and school and two jobs fksdfhkdjfjlkd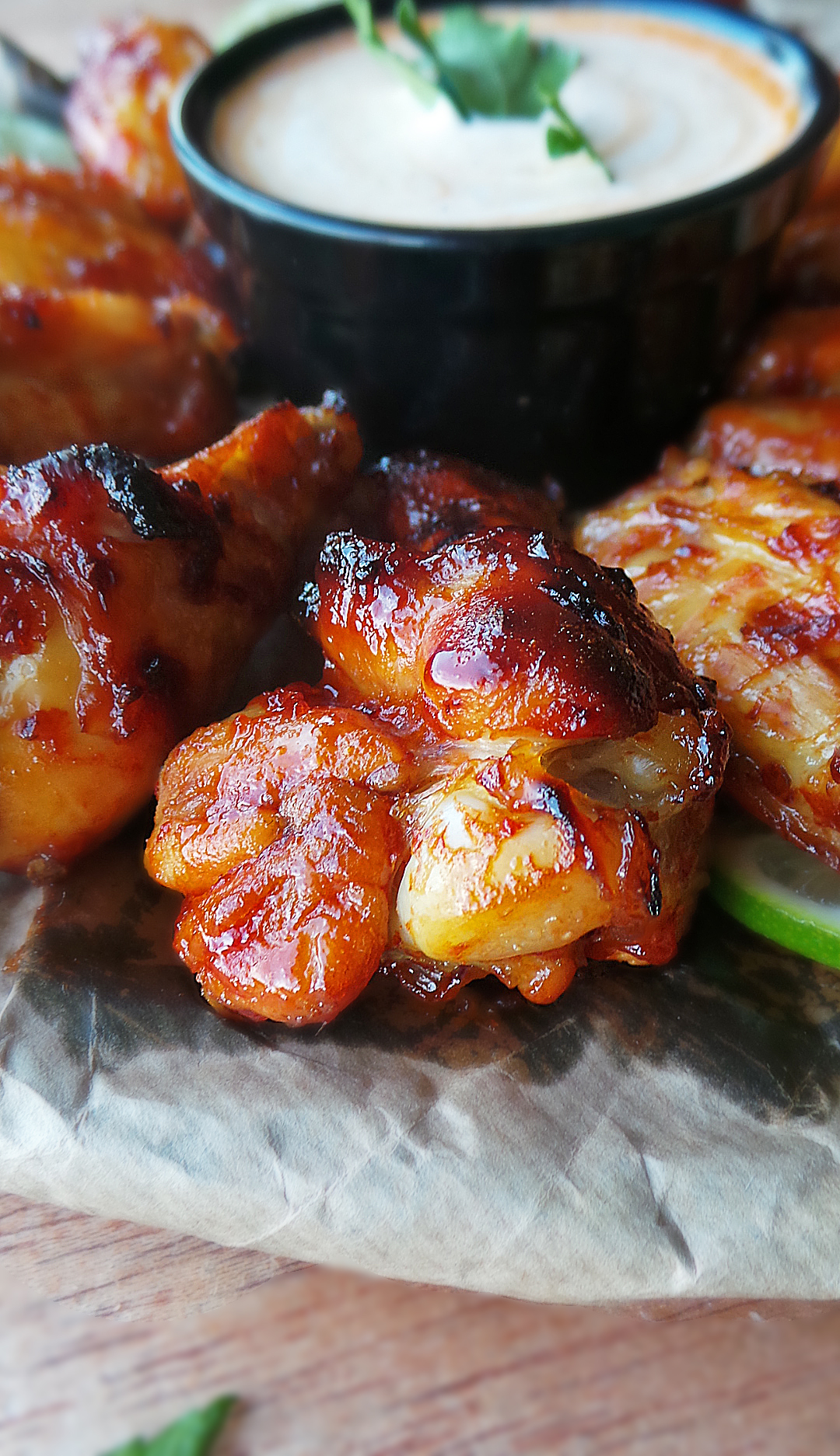 …that's right! I got a new job! I was torn between keeping silent or sharing the news, but I can't hold it in. I'll be doing food stuff and working with Baltimore's most respected chefs – holy moly hard work pays off! So let's go back, what better of a way to celebrate this beautiful weather and a grateful opportunity?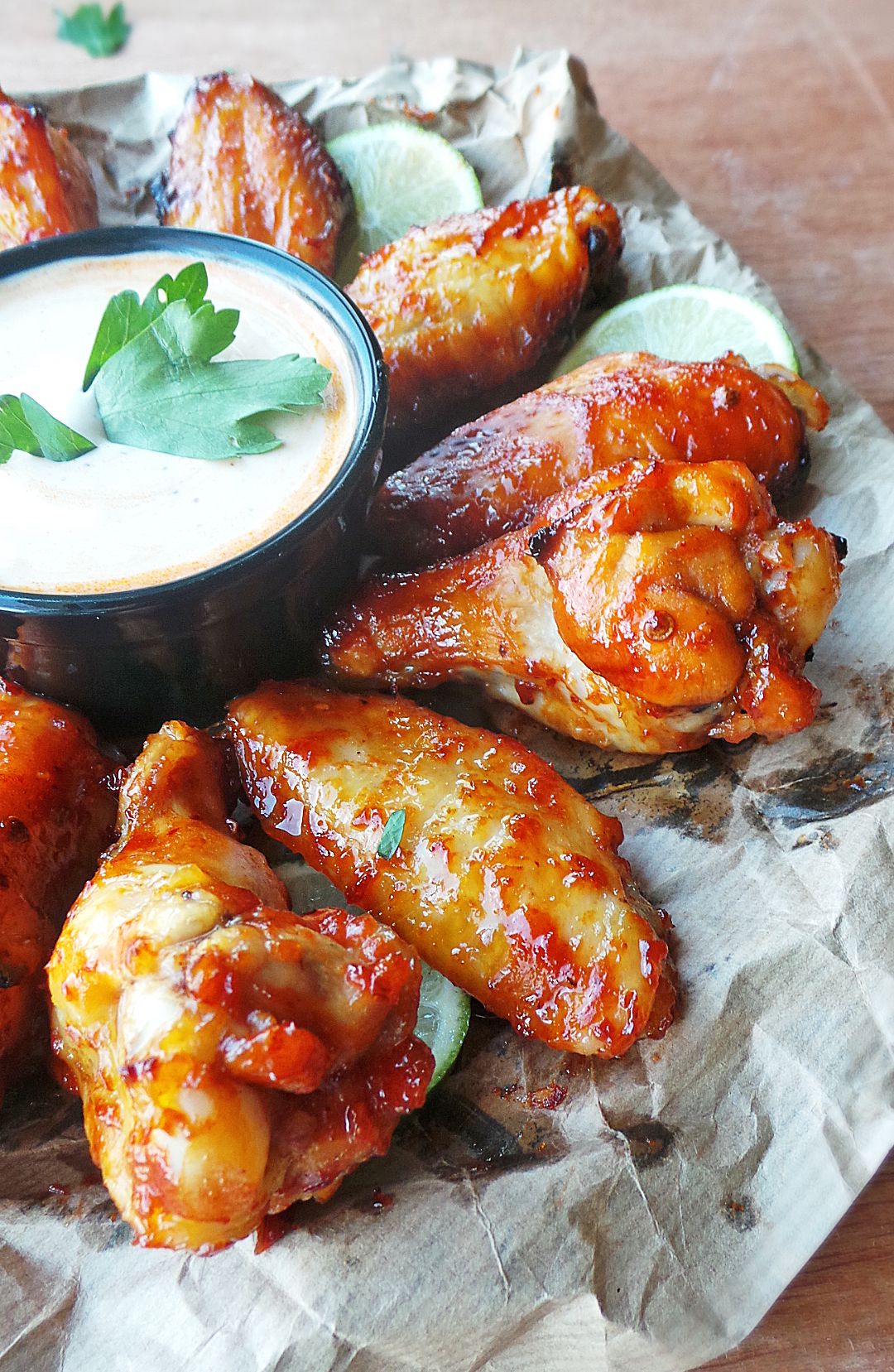 – BBQ.
I had pork ribs in mind and as you can see these aren't pork ribs. I want them with a sweet and spicy barbecue marinade, but didn't want to use the ribs as a test-run. I decided to choose a less-expensive protein for the first whirl and safe to say it was a hit.
I'm confident with this marinade, so go ahead and use it for a slab of ribs or easily make these Sweet Chipotle Glazed Wings. Let's be real – who can pass up on wings? This marinade has yums like chipotle peppers, fresh orange and lime, ginger, honey, and ketchup – which gives it the barbecue-spin off.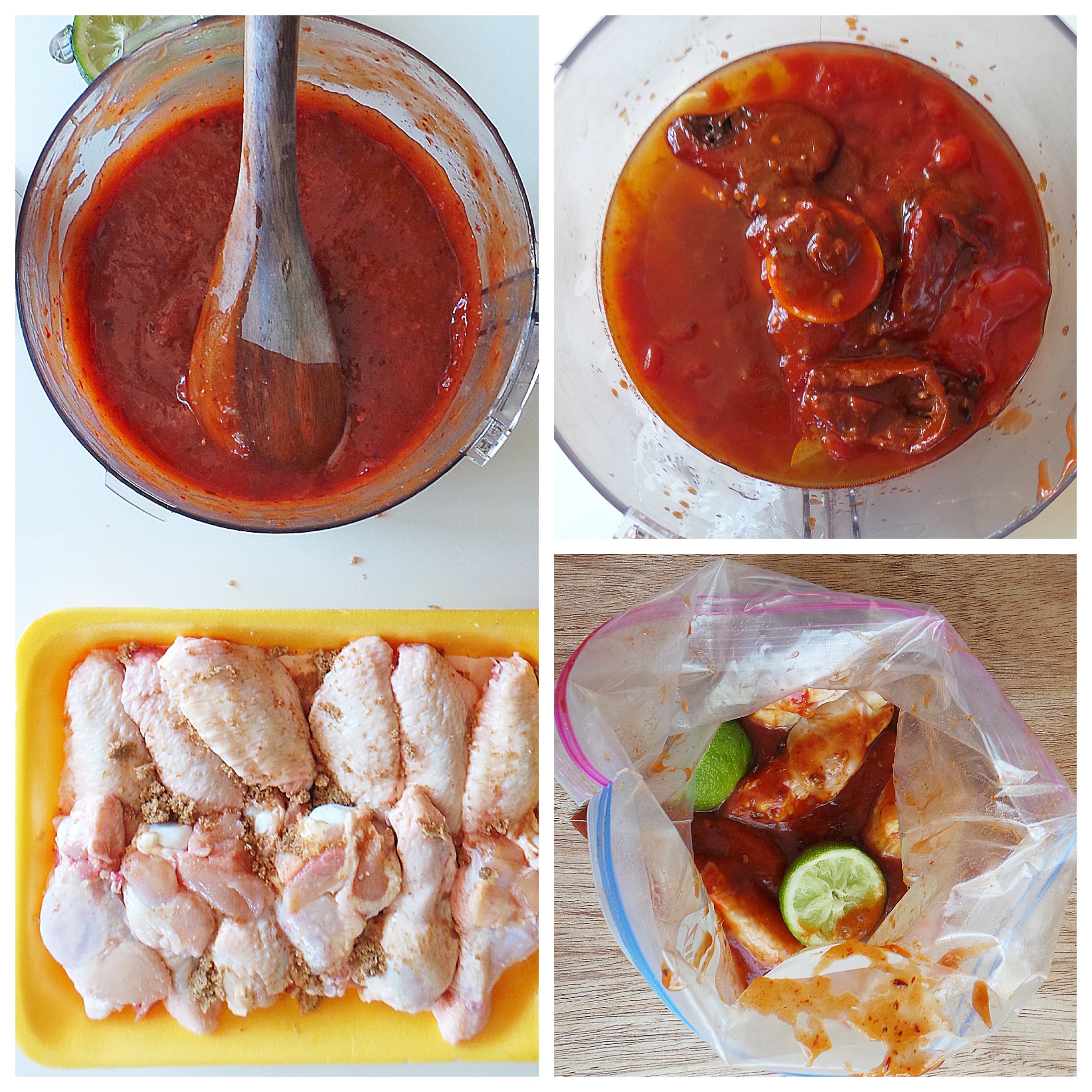 I let my wings sit in the marinade for at least two hours and then went ahead and baked em' up. Baking wings is much healthier than frying and even though you won't get that crispy skin, you still get some crispy ends. I baked mine at high heat for 40 minutes, rotating and checking often. It's best to bake on a wire rack inside a baking sheet lined with foil, that way the wings won't bake in their own fat. I didn't feel the need to baste, but if I were to I would have poured the remaining marinade into a saucepan and bring to a boil. That's another reason I like baking wings, they don't dry out as fast. Dry wings are harrible.
For a dipping sauce I used one individual cup of non-fat Green yogurt, Ranch powder seasoning, and a teaspoon or so of adobe sauce.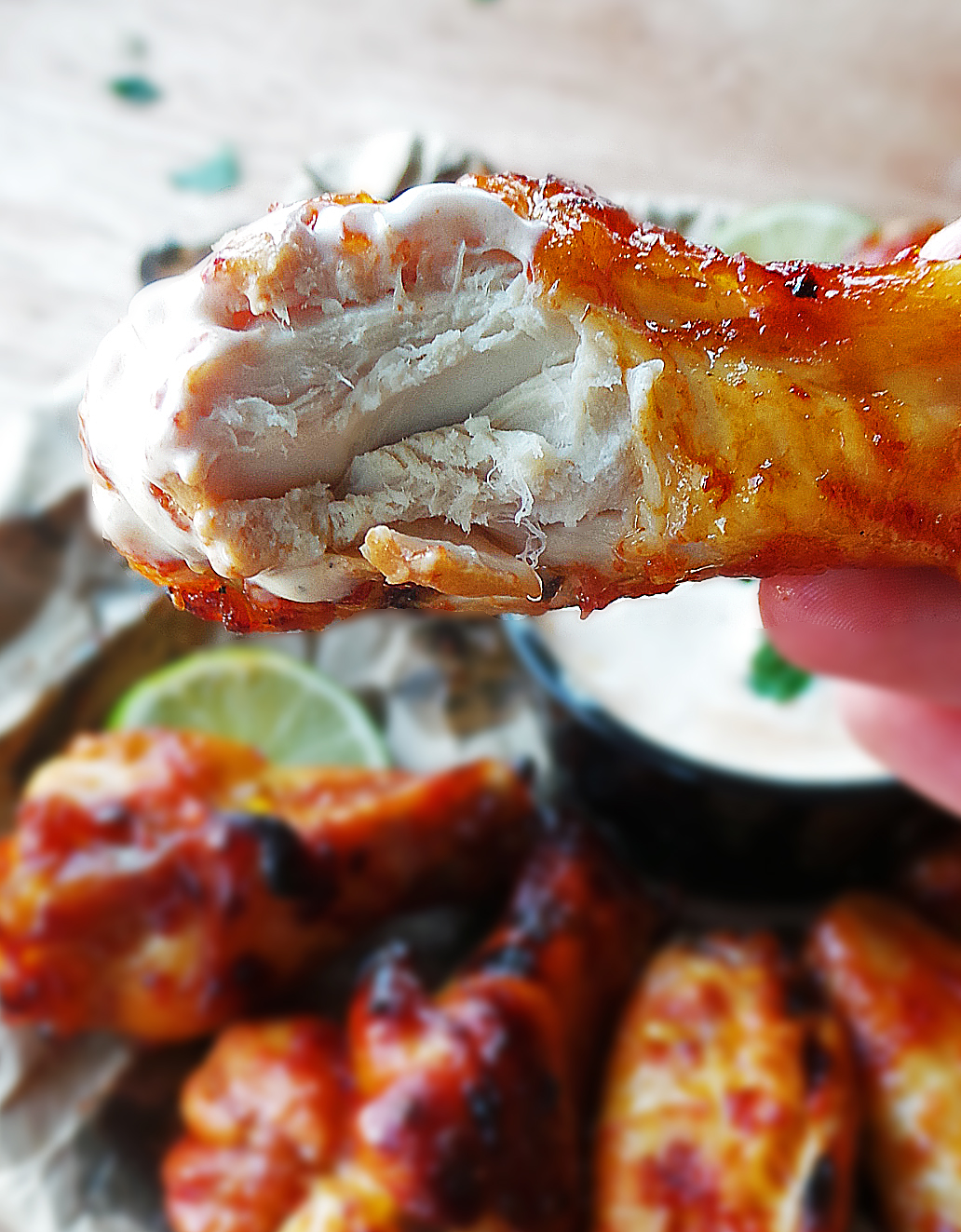 With all of this beautiful weather, I think these wings make one hell of an appetizer. They're full of spice and tang and with a dip in that light Chipotle Ranch, they're kinnnnda addicting.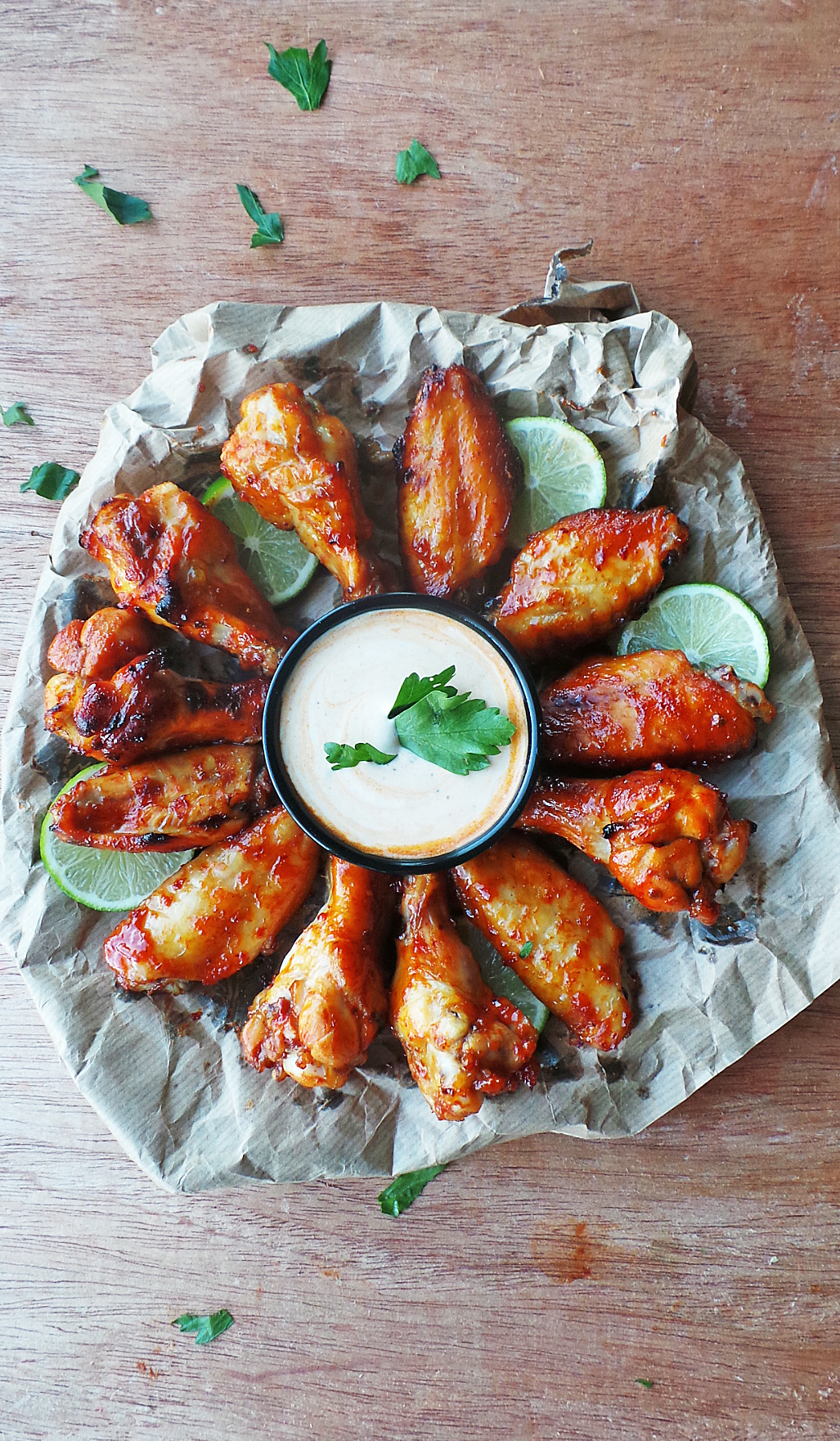 Chiptole Glazed Wings
2014-04-11 06:39:28
Serves 6
Ingredients
2 lbs. chicken wings
1 T. brown sugar
For the marinade
1 c. ketchup
1/2 c. honey
3 chipotle peppers in adobe sauce
1 lime - juiced
1 orange - juiced
1" fresh ginger root - skin peeled back, chopped
For dipping
6 oz. (3/4 c.) Non-fat Greek Yogurt
1 teaspoon (or more) Ranch Powder Seasoning
1 teaspoon (or more) adobe sauce
Instructions
Uncover the chicken wings and sprinkle with brown sugar.
In a food processor, combine the remaining ingredients for the marinade. Adjust amount of honey or chipotle for sweetness/hotness.
Transfer to a ziplock bag with the orange and lime peels. Add wings. Seal and toss to coat the wings. Place in fridge and marinade for 1-2 hours.
Preheat oven to 425
Cover a baking sheet with aluminum foil and place wire rack over sheet. Lay the wings over the wire rack 1" apart. You may need two baking sheets.
Place in oven and bake 40-45 minutes, rotating with tongs half way through.
The wings will be crispy and browned by the end of cooking time.
For the dip, combine yogurt, Ranch powder, and adobe sauce until mixed.
Garnish with lime wedges and cilantro. Serve with celery.
http://www.vodkaandbiscuits.com/
[shopeat_button]