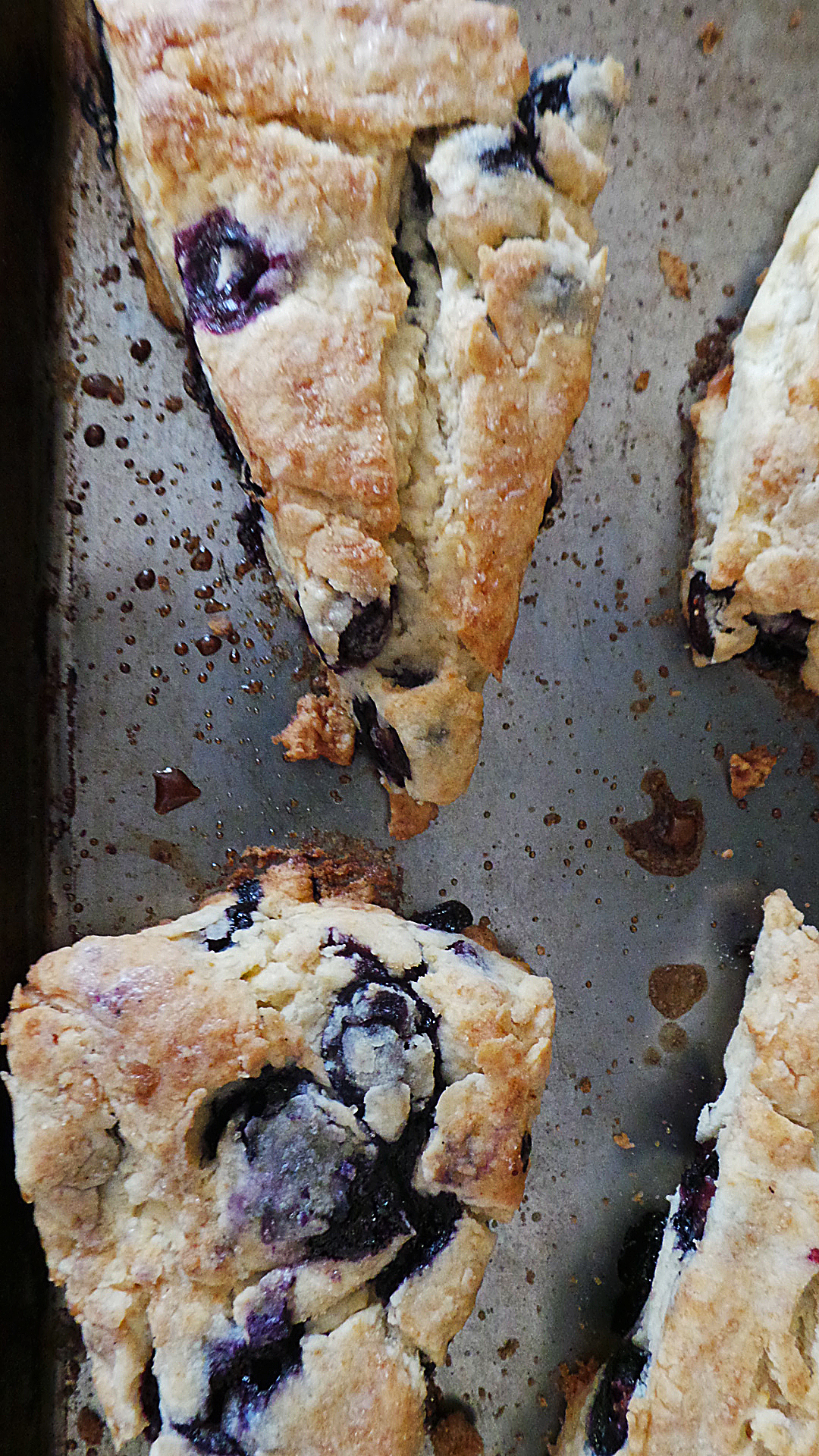 Mother's Day is sneaking up on us and what says Happy Mother's Day better than a big plate of warm scones?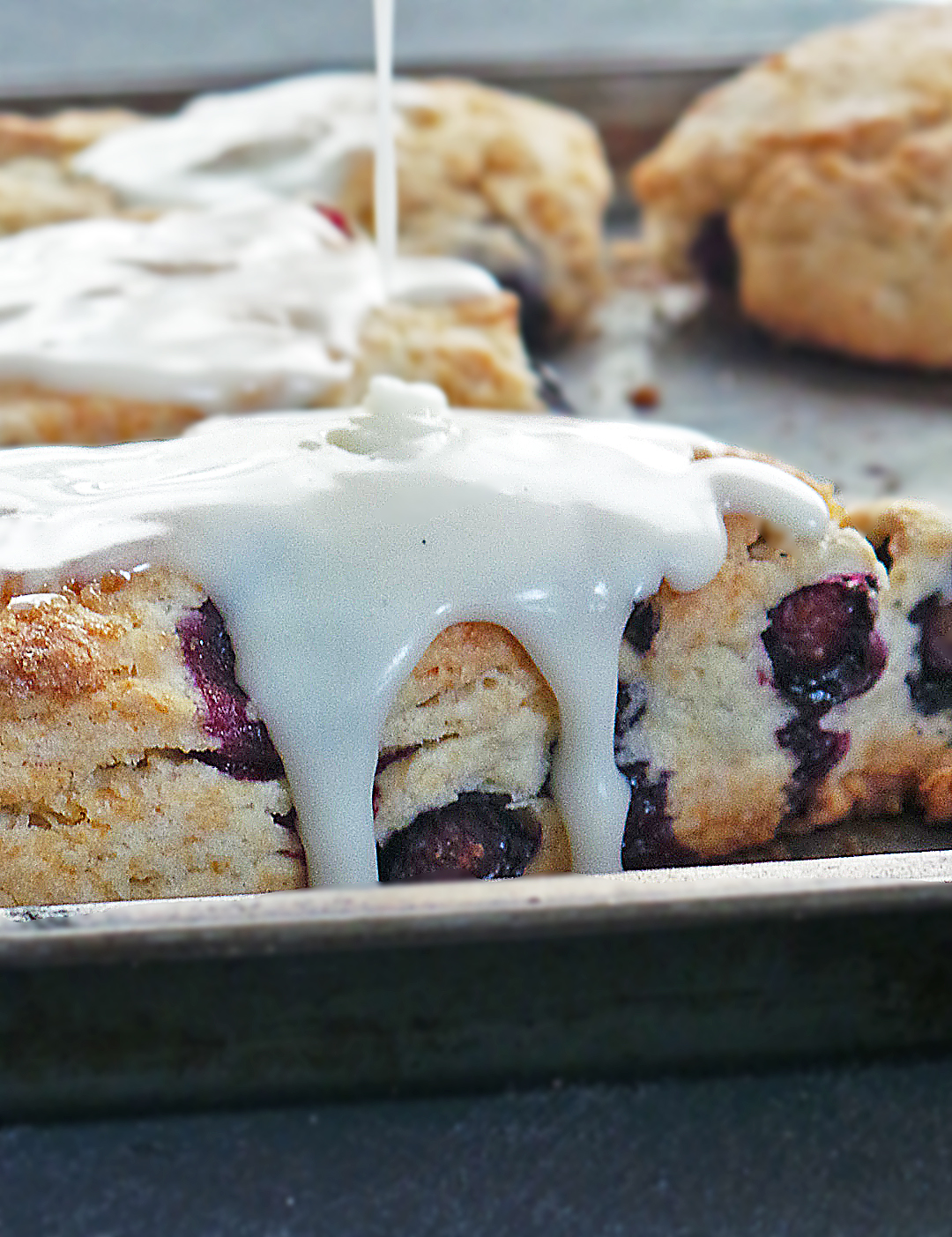 I'm not making these for mom only because between the both of us, one tray of 8 scones turned into an almost empty pile of crumbs. I think we are both scone-d out and here's why: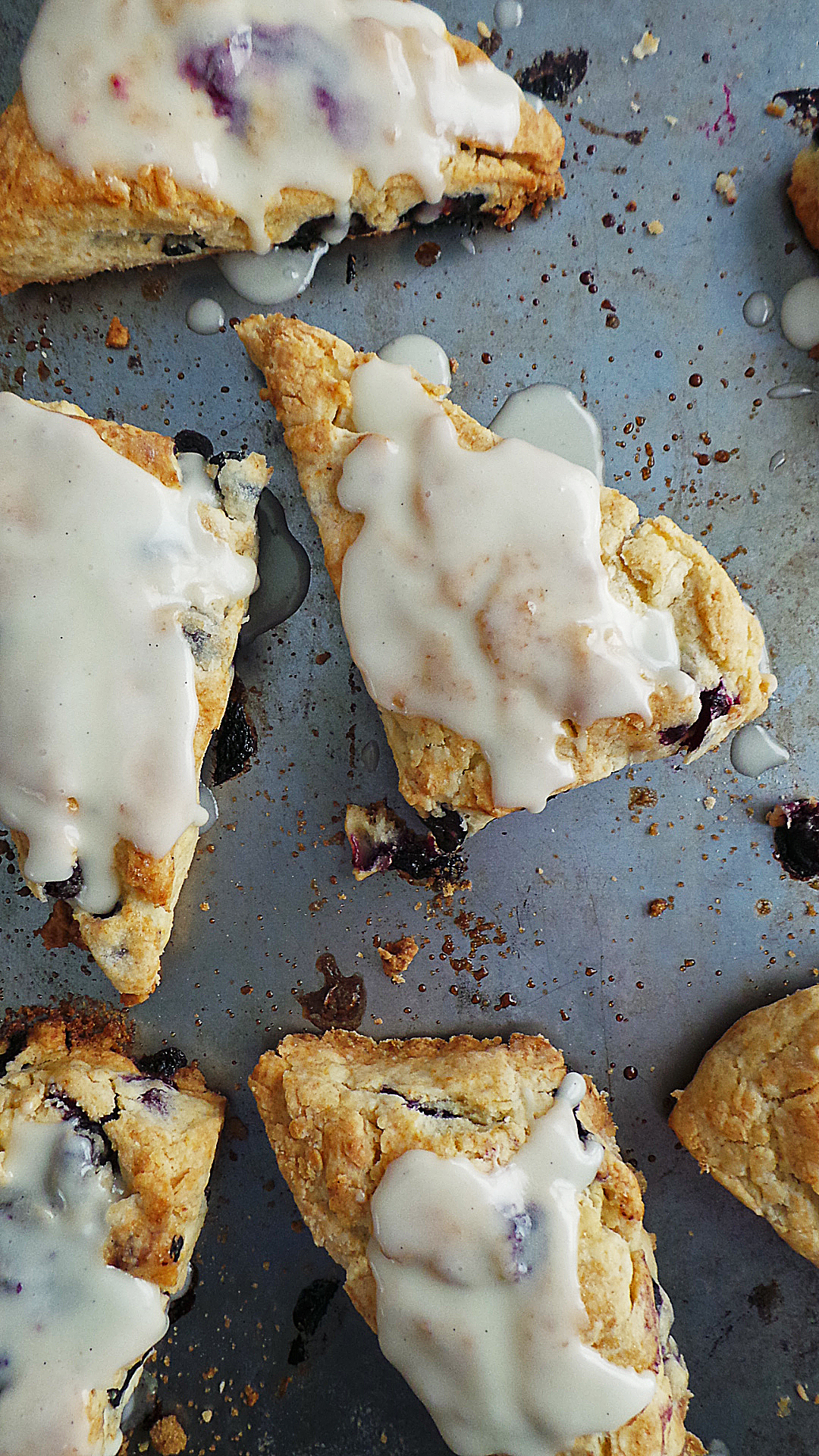 I've been on the hunt for a really good scone recipe and for now the hunt is over. I stumbled across this recipe and with outstanding reviews, I couldn't resist. What I love about this recipe – and scones in general – is they're nothing but pantry ingredients and a little bit of fruit. They make an awful lot for barely any money and not to mention they're incredibly scrumptious.
These scones are quick to whip up, easy to bake, and have the house smelling delicious. A total win in my book. I was able to make 8 large scones, but easily they could be made into 16 mini (and nutrition info. would half-wahoo!)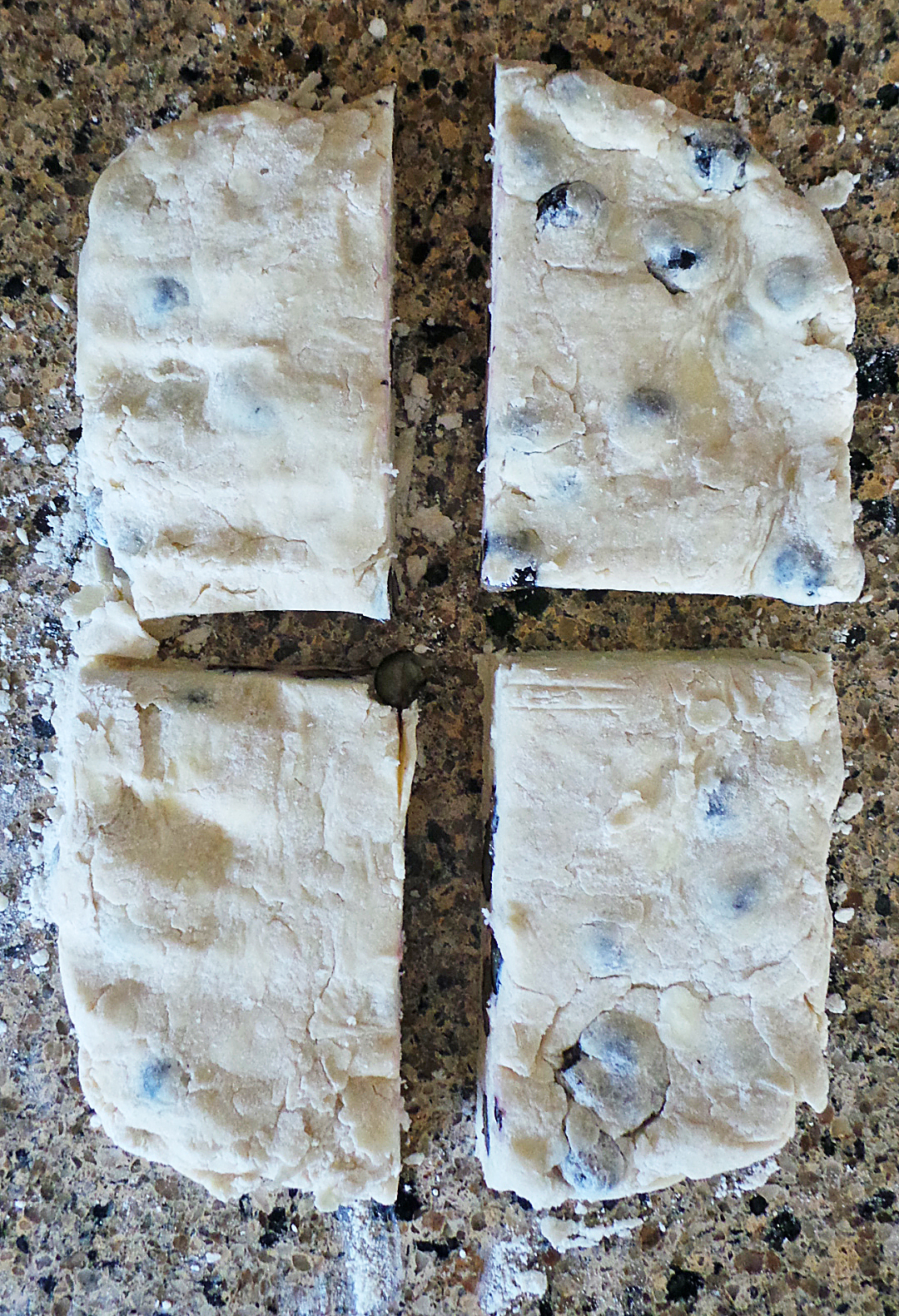 I topped mine with a little brown sugar to get a nice golden shimmer. When you bite into them it's not surprising how buttery and flaky they taste – considering their aroma. I think the trick to the moist crumb has to do with the heavy cream. Whenever I've made scones, I used either 2% or even almond milk and neither have ever made it onto the blog. I wouldn't recommend skipping the heavy cream, I mean it's a holiday after all right mom?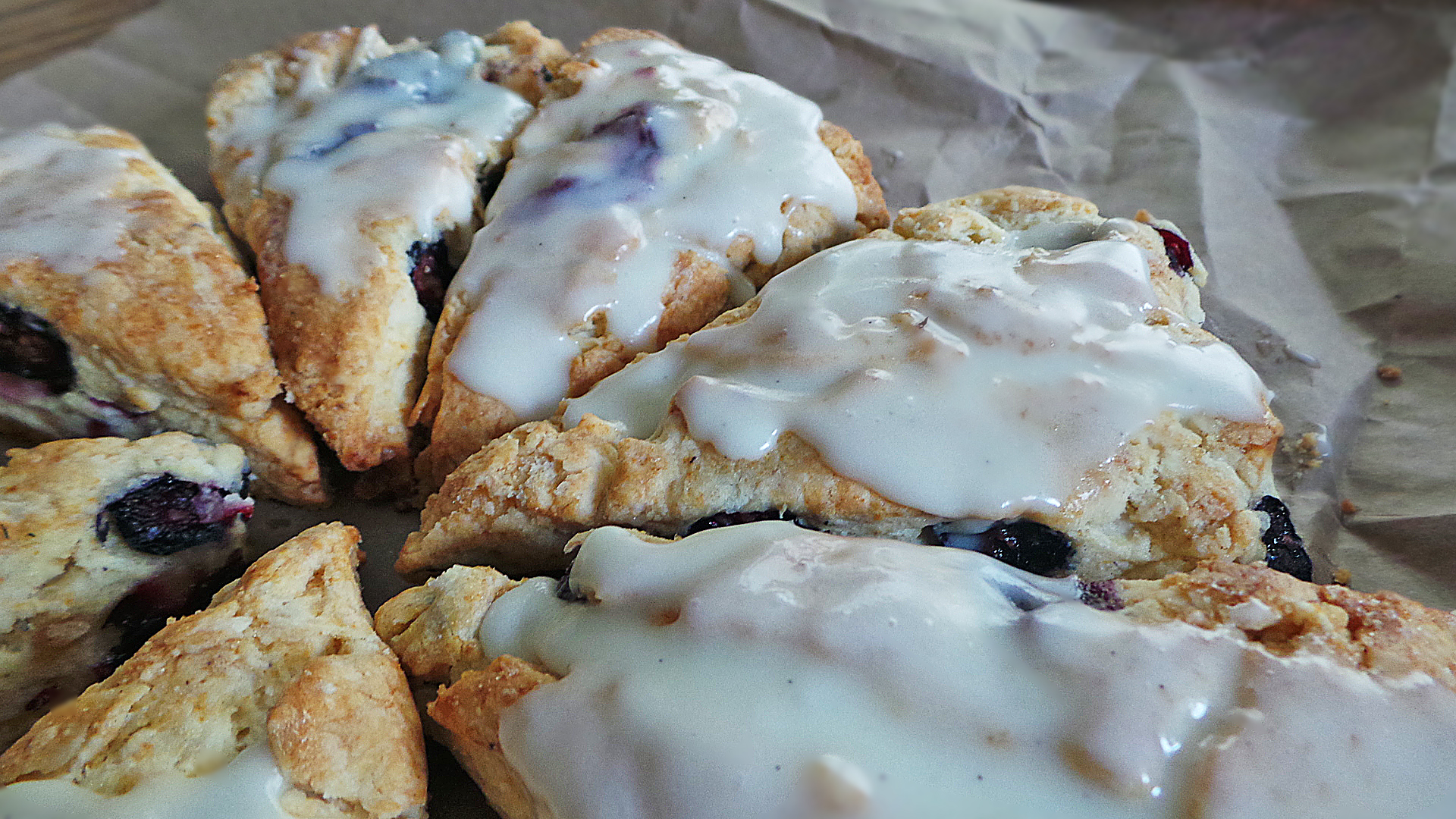 The trick to avoiding blue batter is mixing the blueberries into the soft flour mix and then adding the heavy cream. The blueberries coat with the flour which almost protects them from bleeding out. What makes these even more special is the glaze that coats them. While they were baking, I took a small amount of heavy cream and soaked it with a vanilla bean and pods. I slowly added the spiked cream to powdered sugar just until I reached a good consistency. Easily use extract or fresh lemon juice. Oooh I bet orange would be good too! Whether these are for mom, yourself, or maybe it's your turn to bring breakfast into work, these will make anyone feel special. Happy Mother's Day, mom!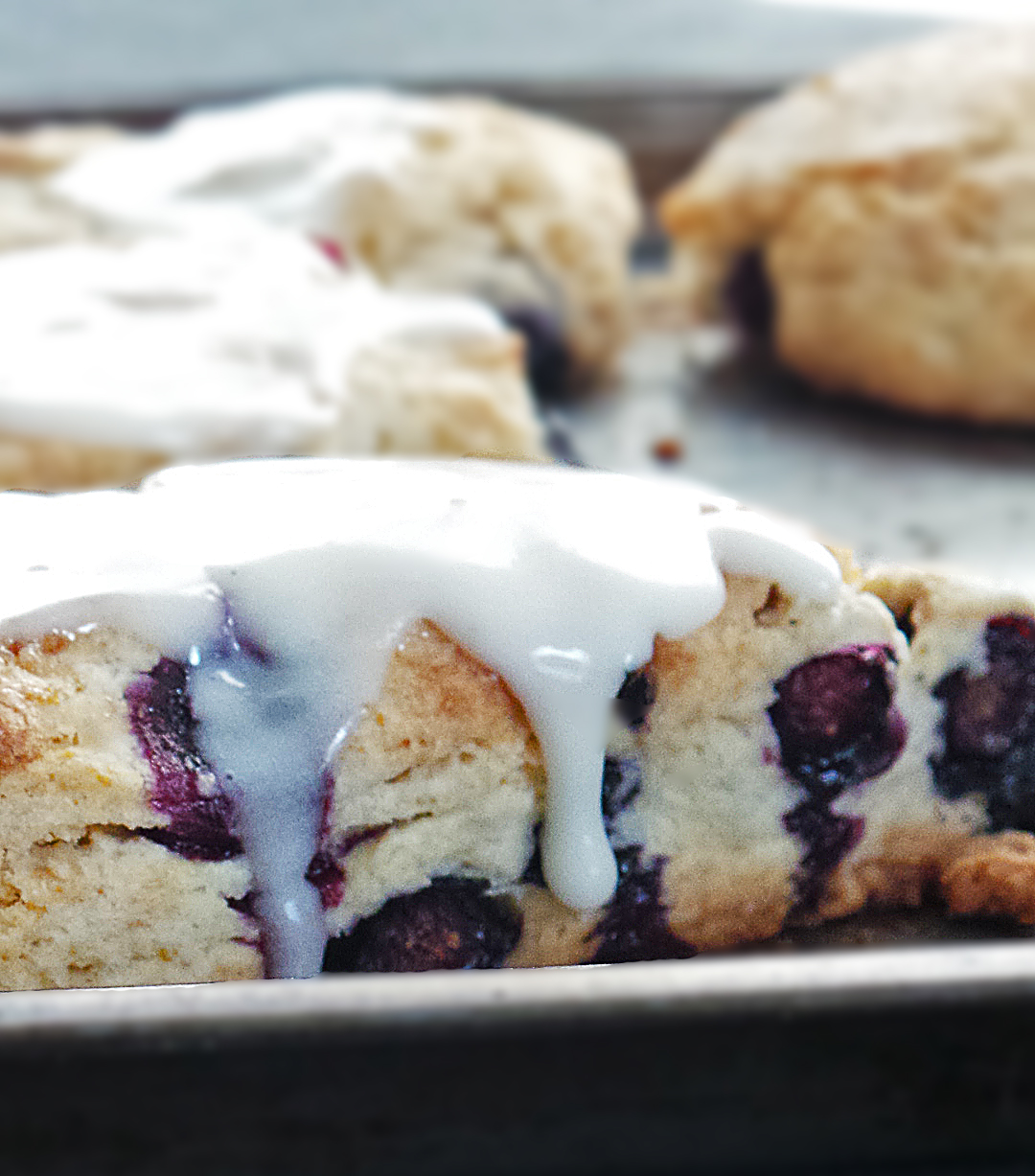 Flaky Blueberry Scones w. Vanilla Infused Glaze
2014-05-05 19:57:23
Serves 8
For the scones
2 cups all-purpose flour
1 tablespoon baking powder
1/2 teaspoon salt
2 tablespoons sugar
5 tablespoons unsalted butter, cubed, cold
1 cup fresh blueberries
1 cup heavy cream, plus more for brushing
Brown sugar as needed (optional)
For the glaze
1/2 c. powdered sugar
1/4 c. heavy cream
1 vanilla pod
Instructions
Preheat oven to 400 degrees
For the scones
Sift together the flour, sugar, baking powder, and salt.
Using a pastry cutter or two forks, cut in the cubed and cold butter until the butter is fully incorporated and resembles pea sized crumbs. It's important for the butter to be cold, I like to plop mine in the freezer for a few minutes after I've cubed it!
Add the blueberries and toss to coat in the flour. Make a well in the center and pour in the cream. Gently fold together just until batter forms. Treat these like biscuits, do not overwork the dough!
Lay on a floured surface and press into a rectangle. Cut the dough in half, then in half once more to create four squares. Cut each square in half on a bias to create a triangular scone shape.
Lay on ungreased baking sheet and sprinkle with brown sugar. Bake for 30 minutes or until golden brown, checking frequently (every oven is different). I brushed mine with heavy cream (recipe below) 1-2 times while baking!
For the cream
Cut the bean in half and scrape the beans into the heavy cream. Add the pod into the cream and let sit for 5-10 minutes to soak up the flavors.
Slowly add the cream, a tablespoon at a time, to the powdered sugar. Stir to create glaze. The glaze should not be too runny, but hold it's shape (about two tablespoons worth of cream).
Use the leftover cream to brush on top the scones.
Once scones have finished baking and cooled, spoon over glaze and allow to drip down.
Enjoy 🙂
Notes
Easily make 16 smaller scones by cutting squares in half one more time. This will produce smaller scones and also reduce nutrition information by half.
http://www.vodkaandbiscuits.com/
[shopeat_button]