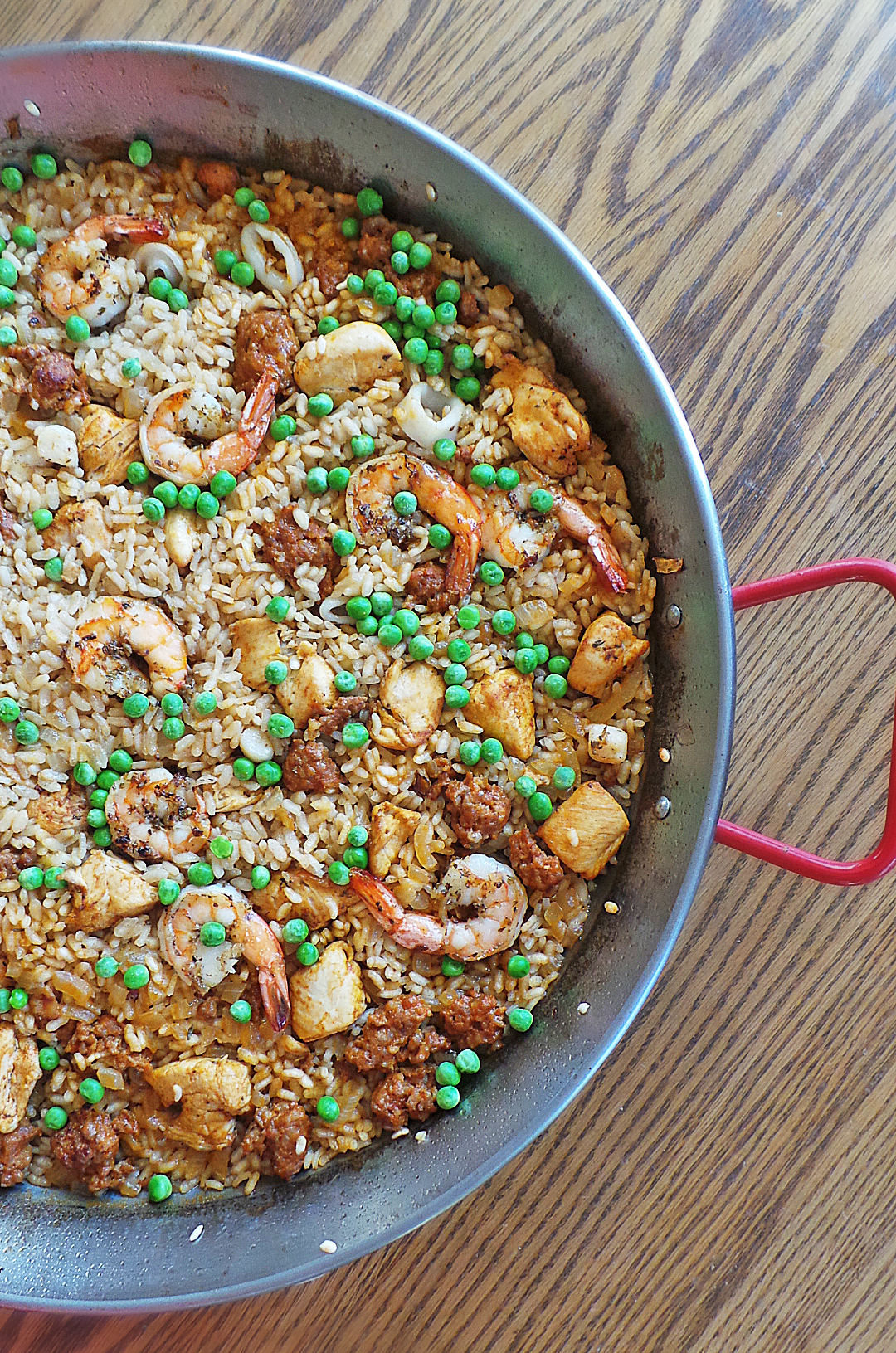 Bare with me because this post was not originally intended for the blog- as you'll see with the lack of photos I normally take. Although I must admit, editing was a breeze. Also bare with me because I'm kinda freaking out about my finals tomorrow so if you see any words jumbled up, it's my shaky hands typing away. Am I the only one who looses sleep over hollandaise?
Although my nerves are all tangled up and getting the best of me, knowing you will have this recipe puts me at some sort of ease. I made this paella for mom on Mother's Day last weekend simply because this is one of her favorite dishes. Paella is a Spanish rice dish loaded with all sorts of proteins ranging from seafood, sausage, pork, and poultry. The first time I had paella was at Tio Pepe's, a little high end Spanish restaurant in Baltimore deemed a special treat.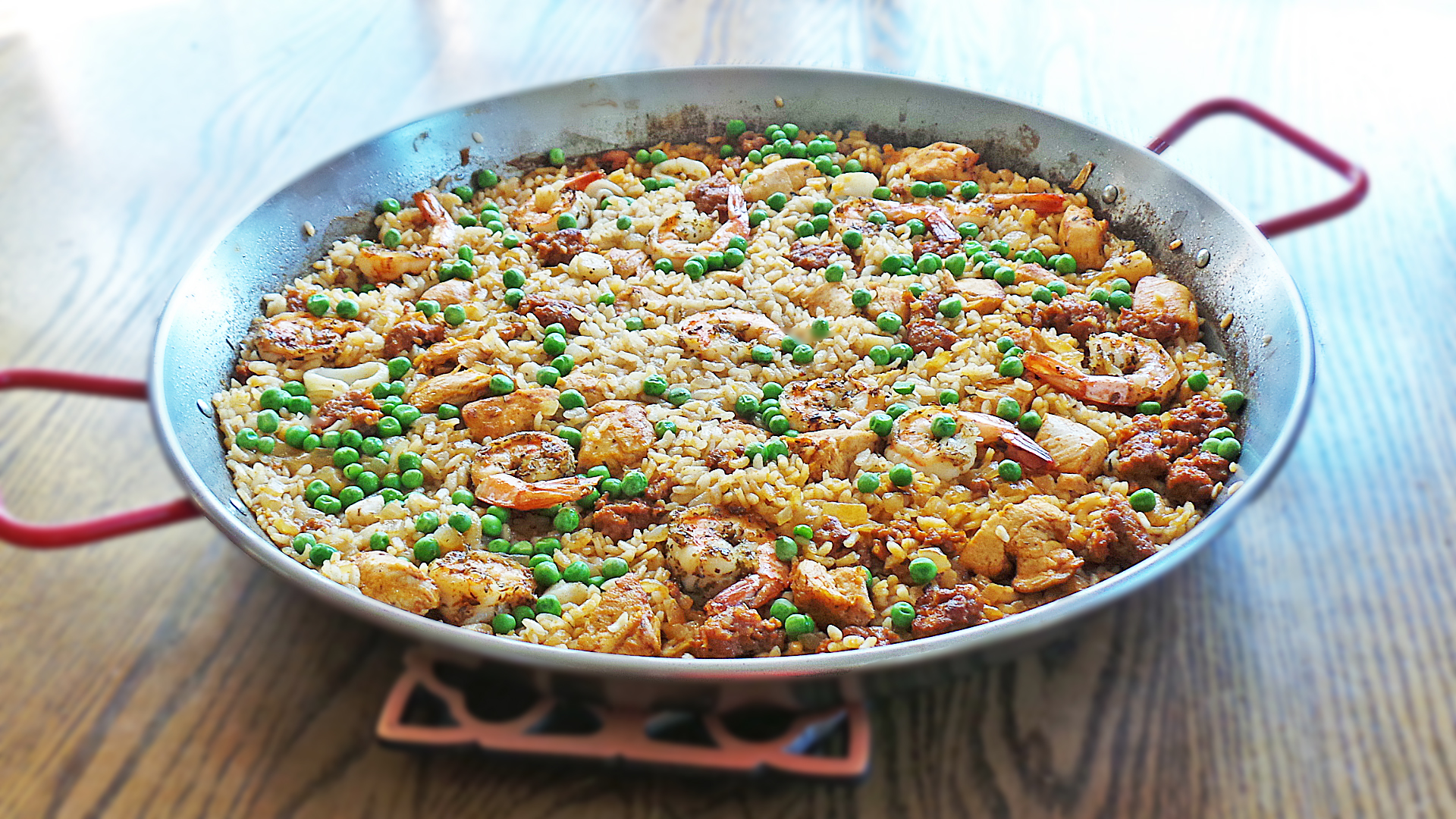 When they brought out the paella dish I was completely overwhelmed. I felt like Adam Richman sitting there staring at this enormous plate of rice topped with clams, mussels, shrimp, FOUR chicken thighs, a whole lobster, chorizo, pork, AND calamari. Forget the dish, can you imagine what the bill was like? That is why Tio Pepe – although you are one hell of a treat – I see you once a year (if I'm lucky). I honestly never considered making paella at home until I discovered mom had a paella pan buried away and that I didn't actually have to buy the entire seafood market to make it.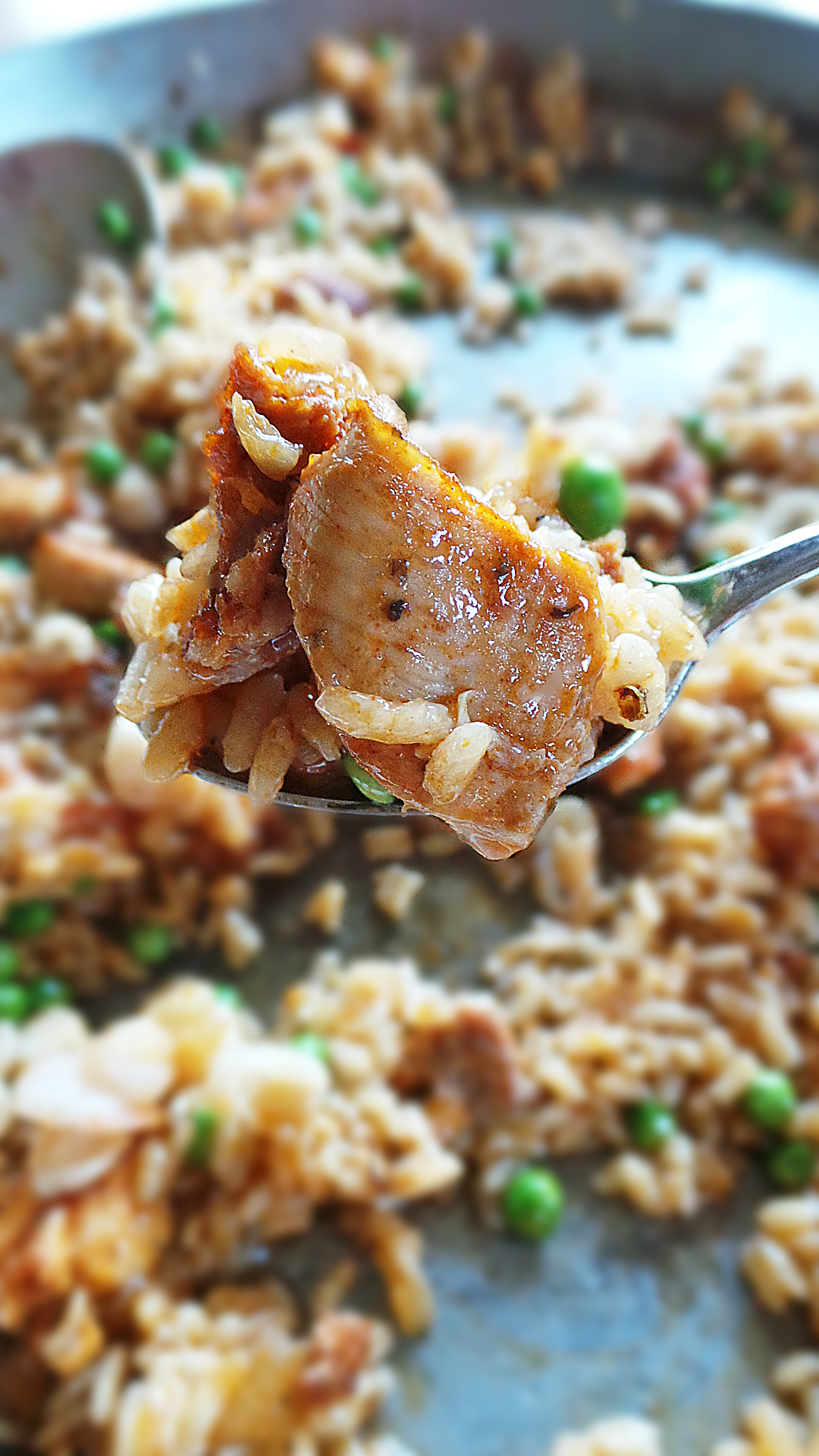 I wanted to make this year's Mother's Day extra special and with a few weeks to prepare a recipe, I came up with this. Needless to say, although this isn't necessarily a wallet or waist friendly recipe, mom wouldn't stop talking about this which means I would be an awful person not to share. The cool thing about making this at home is you can control what goes in, which ultimately means you can control how much the dish costs. This is totally my version, so don't ding me for not being traditional. There's no rules in the kitchen anyways, right? I kept it rather simple, no clams or fancy spices like saffron. The most you'll see in this dish is a sweet smoky paprika and dried oregano. Sure you can bump up the flavors and add extra protein, make this dish YOURS.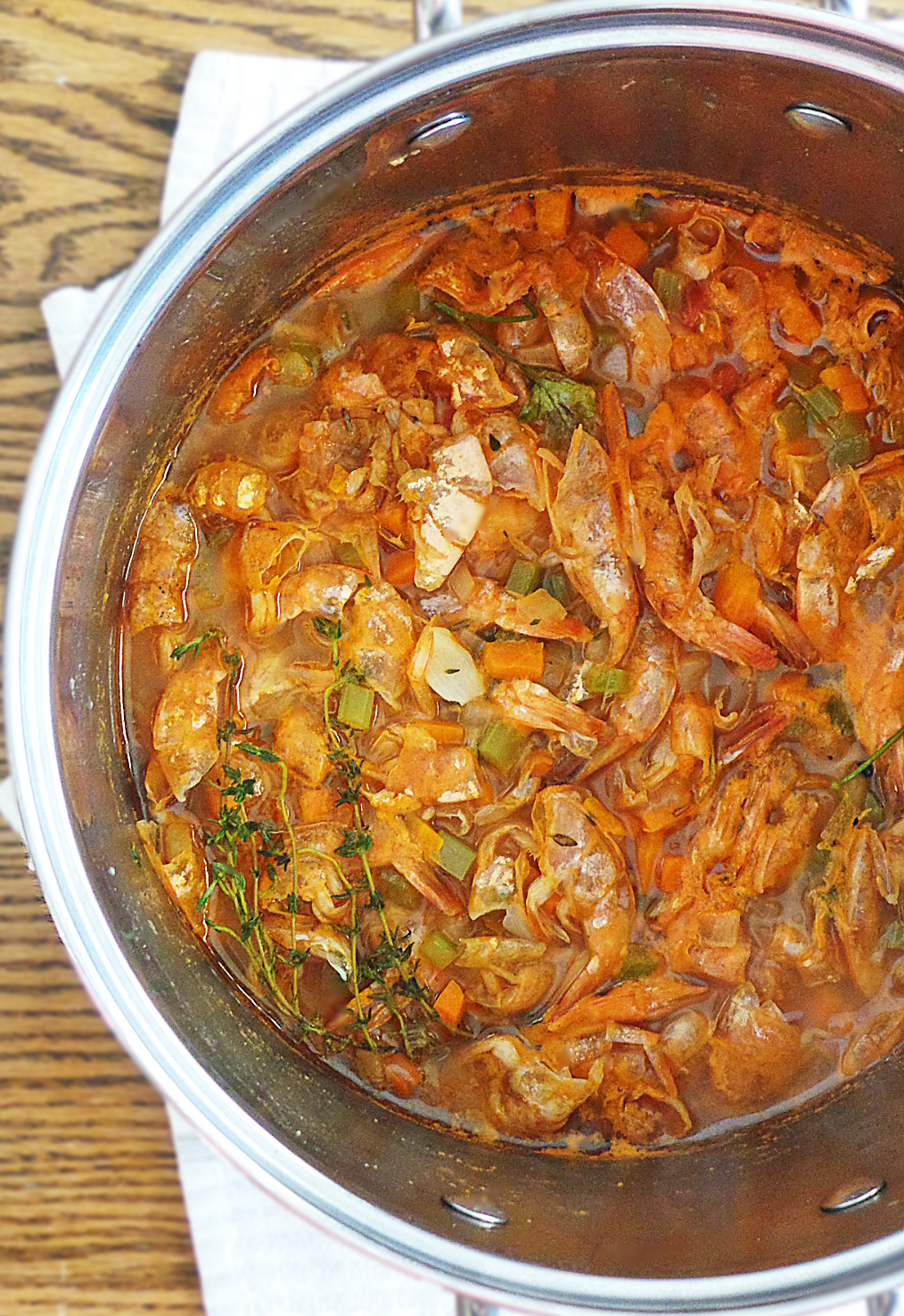 One thing I do recommend is making a shellfish stock and using short grain rice. The combination of the starchy creaminess of the aborrio rice and rich shellfish stock make this dish so depth in flavor it is almost indescribable. The stock is simple to prepare and once you make it the first time, you'll be buying shrimp just to save up the shells. It's nothing more than shrimp shells, mirepoix, tomato paste, water, wine, and a few seasonings. You throw it all together and let it do it's thing for 30 minutes. A half hour stock? I'll take it!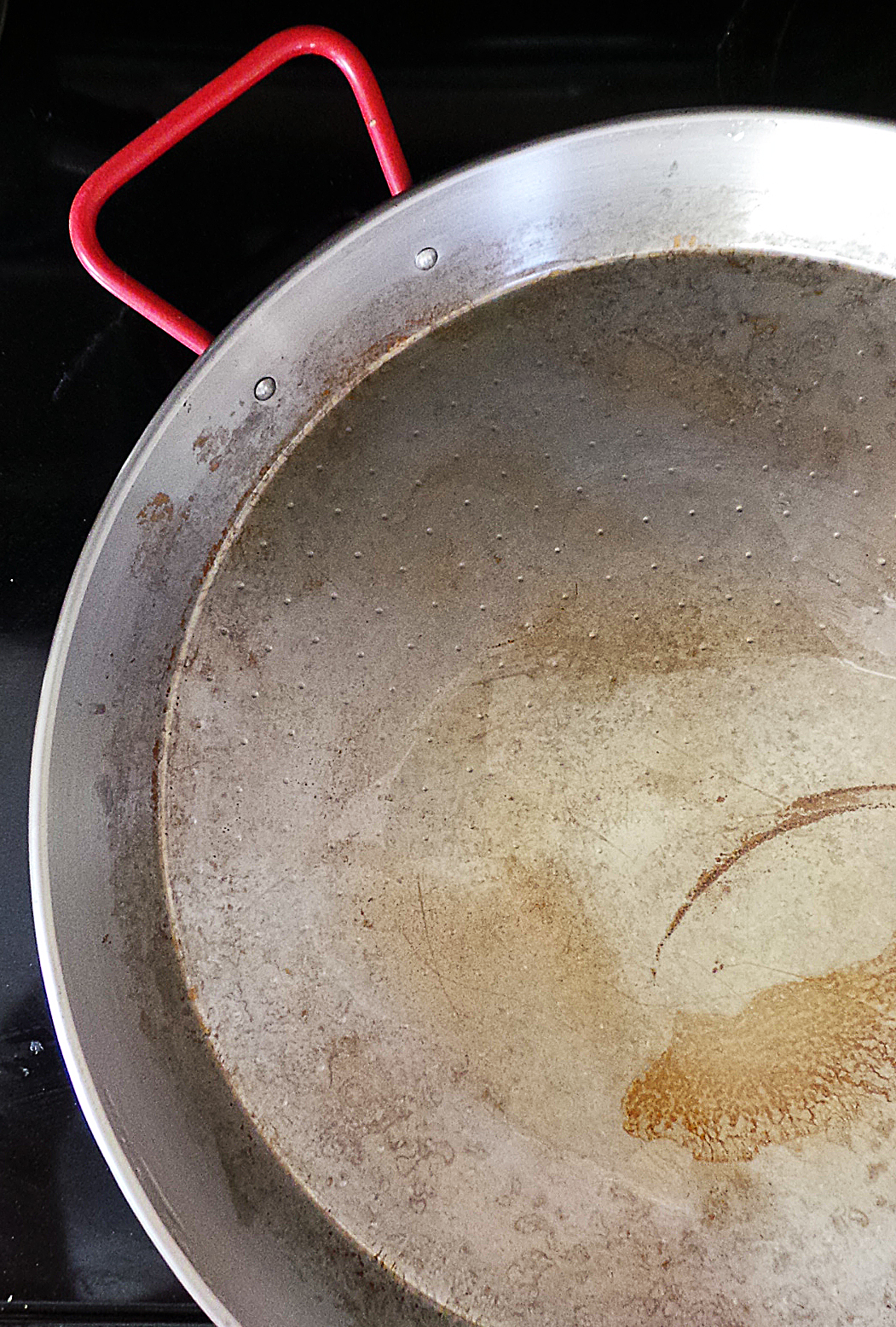 I used the paella pan for this dish, but REALLY you don't need one. I mean if you are going to make paella often, it's probably better to invest in one. If this is a one time occasion, you can get away with a flat bottomed skillet. The paella pan is large and flat with super short sides, which is convenient for uniform cooking, but inconvenient for the stove top. If you do use a paella pan, make sure you are constantly rotating the pan that way you can distribute the heat. A lot of people are frightened with paella because you can't just toss everything in the pan and cook it together. Each protein has a different cooking time and although there are several different ways to execute this dish, I'll give you my way and some suggestions for proteins I didn't use.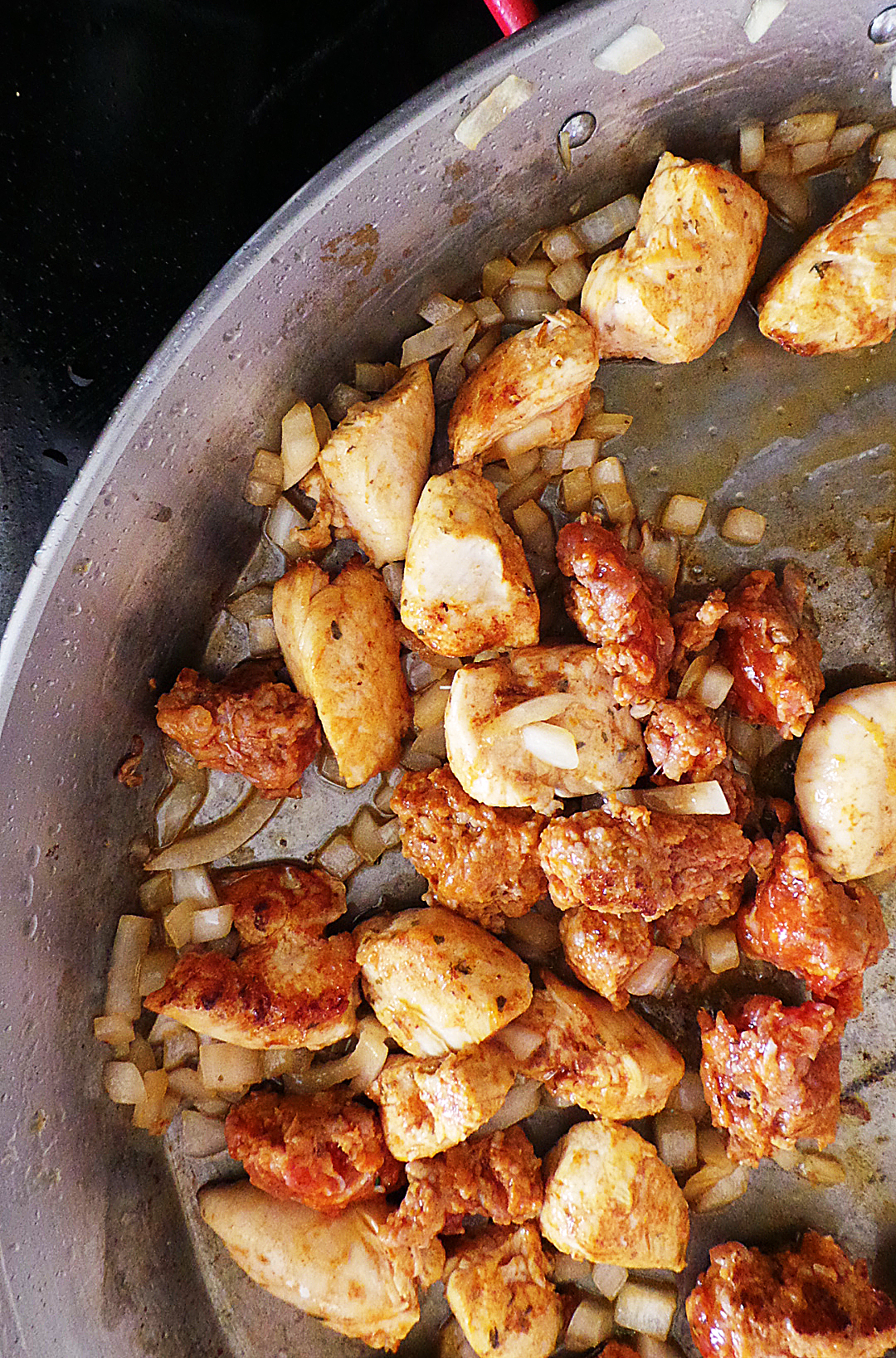 Basically what I did was brown the chicken, threw in the chorzio, onions, garlic, and a little more seasonings. Once I was comfortable with those, I tossed in two cups of the rice and let it toast up a bit in the fat and flavor. I added four cups of the shellfish stock, which was awesome because the recipe yields exactly one quart, then popped it in the oven for 10-15 minutes until the stock was completely absorbed! If you wanted to cook the shrimp and clams or mussels with the rice, add it in before all of the stock has absorbed (after about 5 minutes). You don't want to put it in right away because the seafood will overcook and become tough and rubbery. Yuck. Honestly what I did was saute the shrimp in a separate pan as well as a seafood medley I picked up at Trader Joe's. I think for presentation purposes the shrimp looks much better with a nice sear on it – same for scallops too! Just before serving I took about 1/2 cup of frozen peas and quickly cooked those up to sprinkle on top of the paella. The peas are not only fun to eat, but they add a vibrant color.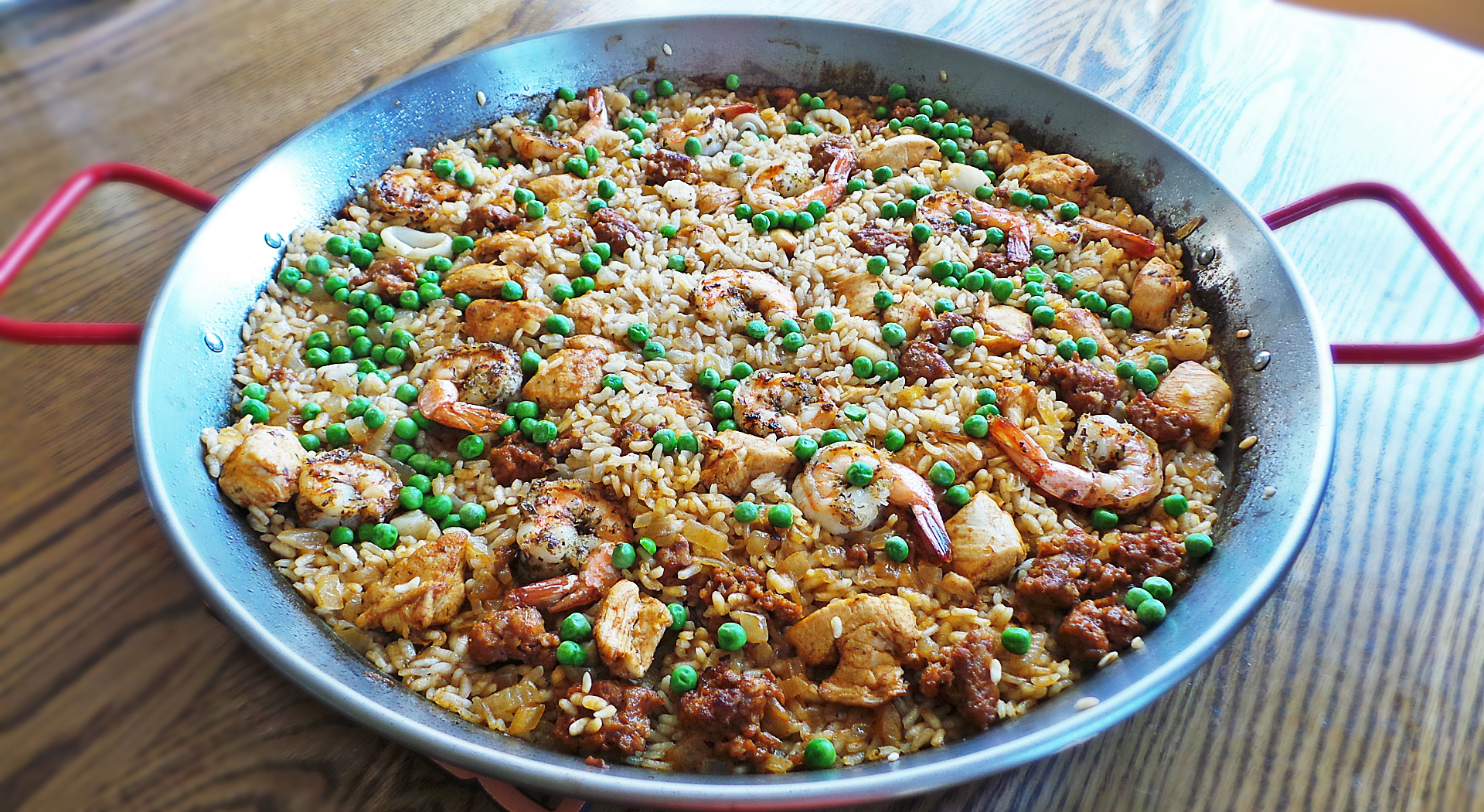 The combination of the rice, stock, aromatics, and seasonings used in the dish will have your house smelling like a gourmet restaurant. Sure you might have spent a few extra bucks on this meal, and maybe you had to hang out in the kitchen a little while longer to keep an eye on everything, but after your first bite I guarantee you would do it all over again.
Shellfish Stock
2014-05-14 13:06:07
Serves 4
A delicious and quick stock made with shrimp, lobster, or crab shells. Use this as a base for rice dishes or add in a seafood medley and make a Cioppino!
Ingredients
Shells from 1 lb. of shrimp (save shrimp for paella)
2 carrots - small dice
2 stalks celery - small dice
1 small onion - small dice
3 cloves garlic - smashed
1/3 c. tomato paste
1 1/2 qt. water
1/2 c. white wine
1/2 t. black peppercorns
3 springs thyme
3 parsley stems
oil as needed
Instructions
In a medium sized stock pot, heat about 2 T. of olive or canola oil over medium heat. Once hot, add the shrimp shells, carrot, celery, and onion. Saute for about 4 minutes. You want a little color, but you don't want to scorch the vegetables.
Add in the garlic and cook until fragrant. Add the tomato paste and stir to coat. Cook out the paste for 1 minute.
Add the water, wine, seasonings, and herbs.
Bring to a simmer for 25-30 minutes. You should be able to see the line where the stock has reduced, it shouldn't be any larger than one inch.
Strain through a chinois or fine strainer. The stock should yield to 1 quart. Freeze, eat, or save for delicious paella - yum!
http://www.vodkaandbiscuits.com/
My Ultimate Paella
2014-05-14 13:22:44
Serves 6
Ingredients
1 lb. chicken breasts
2 links chorzio sausage
1 onion - small dice
2 cloves garlic - minced
2 c. arborrio rice
4 c. shellfish stock
1 lb. shrimp
1/2 lb. scallops - optional
1/2 c. cooked green peas (steamed, boiled, or microwaved)
sweet smoked paprika - as needed
dried oregano - as needed
kosher salt - as needed
canola oil - as needed
Instructions
Preheat the oven to 350
Cut the chicken breasts into 1" cubes and toss in a bowl with the paprika and dried oregano. I used about a generous spoonful of each. Let it sit in the fridge in the marinade for a good few minutes. While the seasonings are out, go ahead and season the scallops and shrimp the same way!
Heat the paella pan with about 2 T. of oil (or more) over medium heat. Add the chicken and cook until a nice golden color develops. The paella pan is super large, so be sure to rotate the pan often so the heat can evenly distribute!
Once a nice color is achieved, remove the sausage from the casing and place in pan with onions. Cook until onions are translucent and have picked up color from the fat and seasonings (4 minutes). The sausage will go from pink to light brown.
Add the dry rice and toss to coat. Toast for a minute.
Add the stock and bring to a boil. This is where it's crucial to move the pan around the burner, ensuring that the entire pan heats up.
Cover with a large lid or aluminum foil and place in the oven. If using clams or mussels, add them to the paella about 5 minutes after first placing in the oven. You can also add the shrimp at this time too, but they won't have a sear on them. The shrimp will be firm and pink and the mussels will be opened once ready.
If you do want to have a nice color on the shrimp (my preference), heat some oil in a small saute pan over medium heat. Once hot, add the shrimp and cook 2 minutes on each side until pink and seared. You can do the same for the scallops, except I recommend dusting with a little flour at first.
Remove the paella from the oven after 10-15 minutes. You want all of the liquid to be completely absorbed. If you cooked the seafood sepearatly, scatter around the pan with the peas.
Pour yourself a nice glass of white wine and go eat!
http://www.vodkaandbiscuits.com/
[shopeat_button]