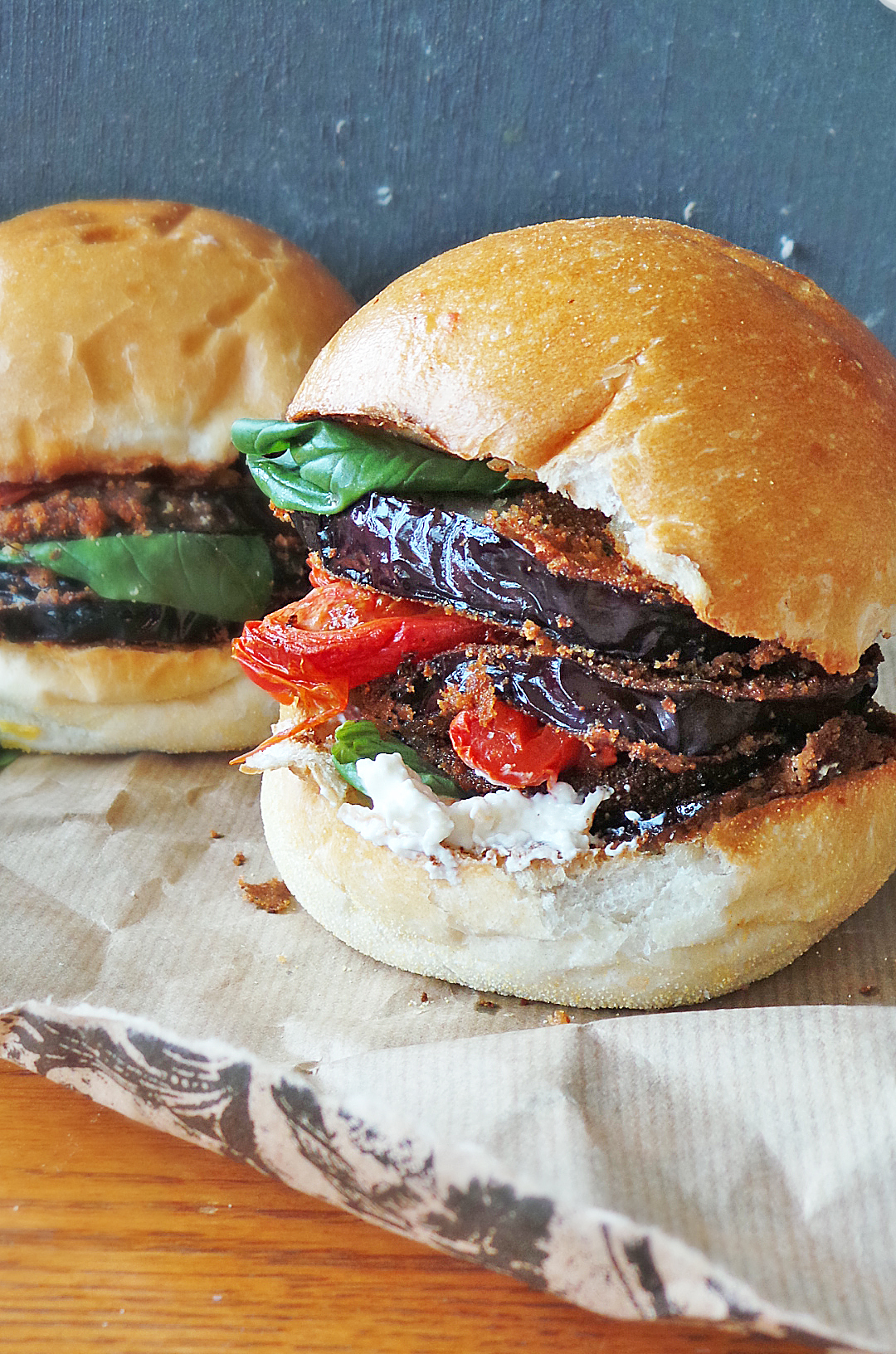 Happy Memorial Day! I hope everyone isn't as full as I am, but as I like to say – I'm 5 lbs. happier after every holiday. Lots of exciting things happened since my last post, one being my first year of culinary school is done-zo! One down, one more to go! As many of you may know, I graduated from my four-year last May and struggled with the decision to pursue my degree or follow my passion for cooking. After my first and one longgggg year of culinary school, I am utterly confident I made the best decision. My knowledge and appreciation for food has grown extensively and I am e-c-s-t-a-t-i-c to see what the next year brings.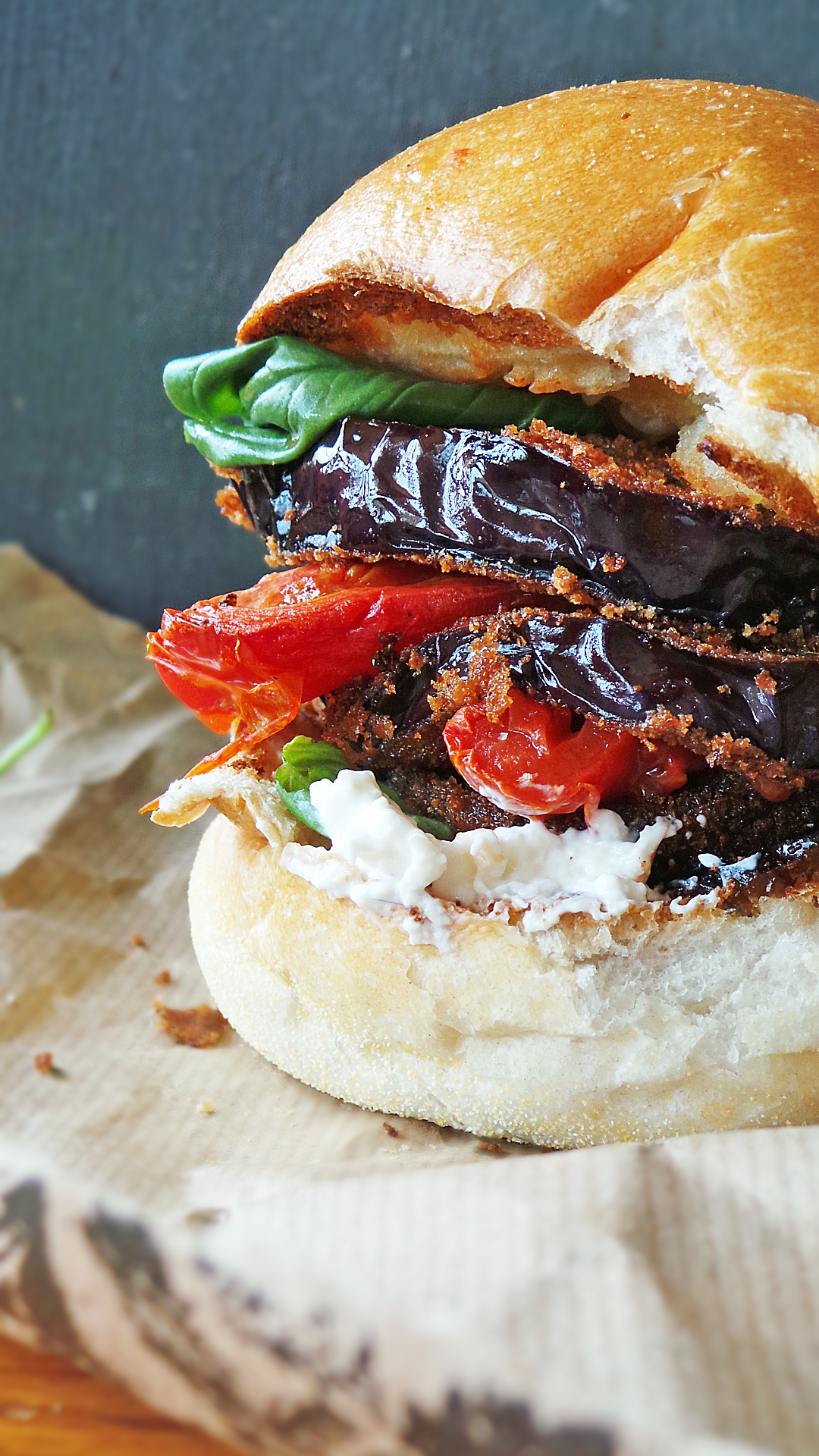 I also just got back from my first (and probably only) mini vacation this summer. As of right now I don't have any crazy plans, other than catering to a bazillion weddings which I am thrilled for! The boyfriend and I have been talking about a trip to Chicago to watch our Orioles play and I'm kinda crossing my fingers on that one. This past weekend I had my annual trip to Ocean City, a two hour trip from my little hometown. The bestfriend and I got dolled up, ate a little, drank a little, and beached a lot!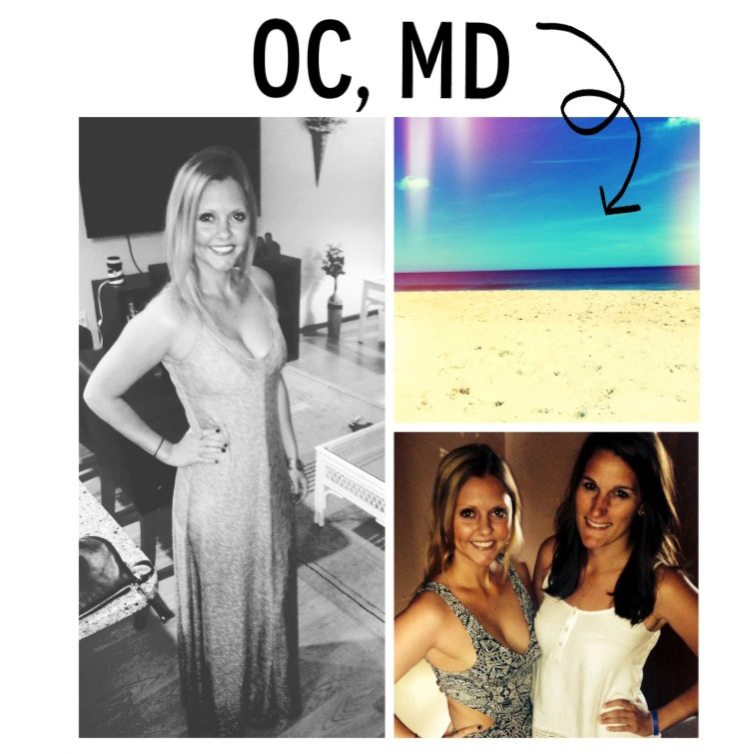 After hours of soaking up the sun, it's not uncommon for us to unwind pass out back at the beach house. It's usually then when we're watching Food Network unable to move because of our burns saying to each other the things we would do for whatever goodness was cooking up. It was also then when I was on the brink of half-asleep watching Jeff Mauro's deconstructed version of an eggplant Parmesan sammy. It just so happens that two hour stretch from my house to the beach (and vise-versa) is nothing but farm land with a produce stand every mile or so. I knew that if I wasn't attending any cookouts today or cookin' for a crowd, I HAD to stop for some fresh tomatoes and eggplant so I can recreate that dangerously delicious sandwich.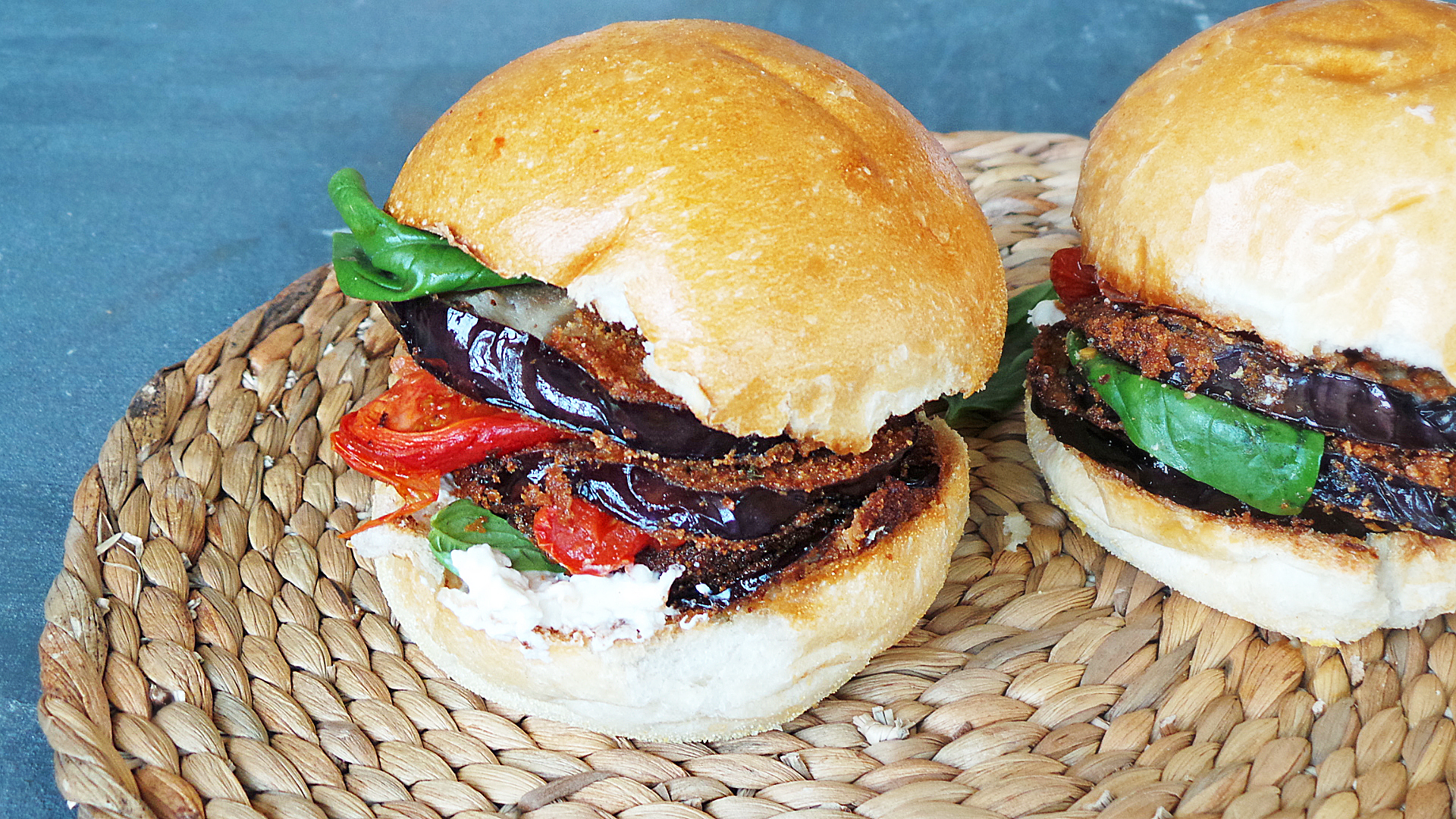 annnd that is exactly what happened! One large eggplant, a few plump Roma tomatoes, and a trip to the special cheese isle later – the sandwich I saw on TV and imagined since, came to life. I fried up some eggplant rounds then piled it high on buttery garlic toasted buns and topped it off with fresh basil, sweet roasted tomatoes, and creamy cheese.
THE TOMATOES THOUGH.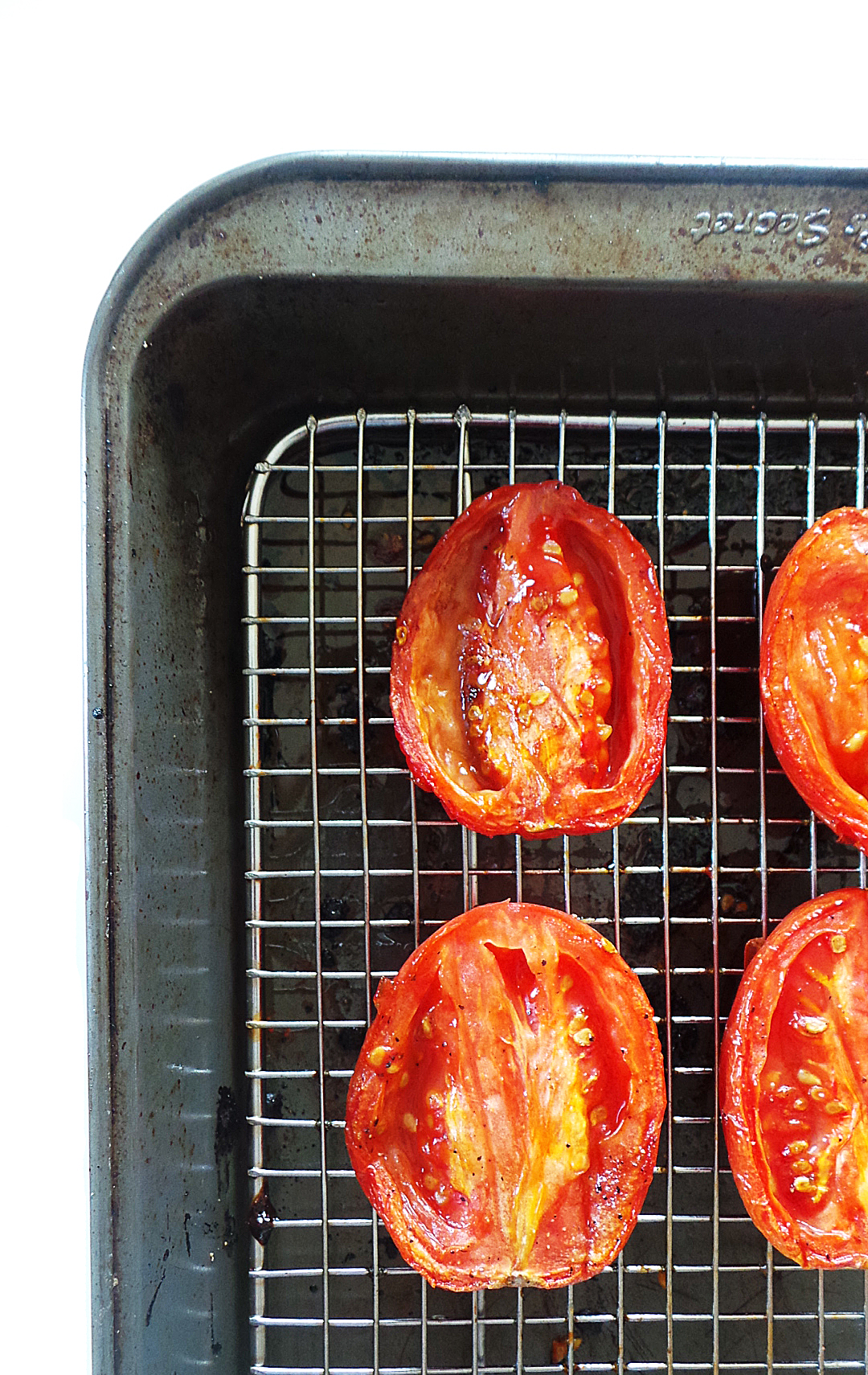 Forget the taste for a minute, but the freakin' smell! I tossed these tomatoes in some olive oil, salt, pepper, and brown sugar. After thirty minutes in the oven you can blow out your candles because these tomatoes will do the job. Their sweetness combined with the crisp basil, crunchy seasoned eggplant, creamy Burrata cheese, and toasted warm buns have me forreal upset that these are all gone. OH THE MEMORIES.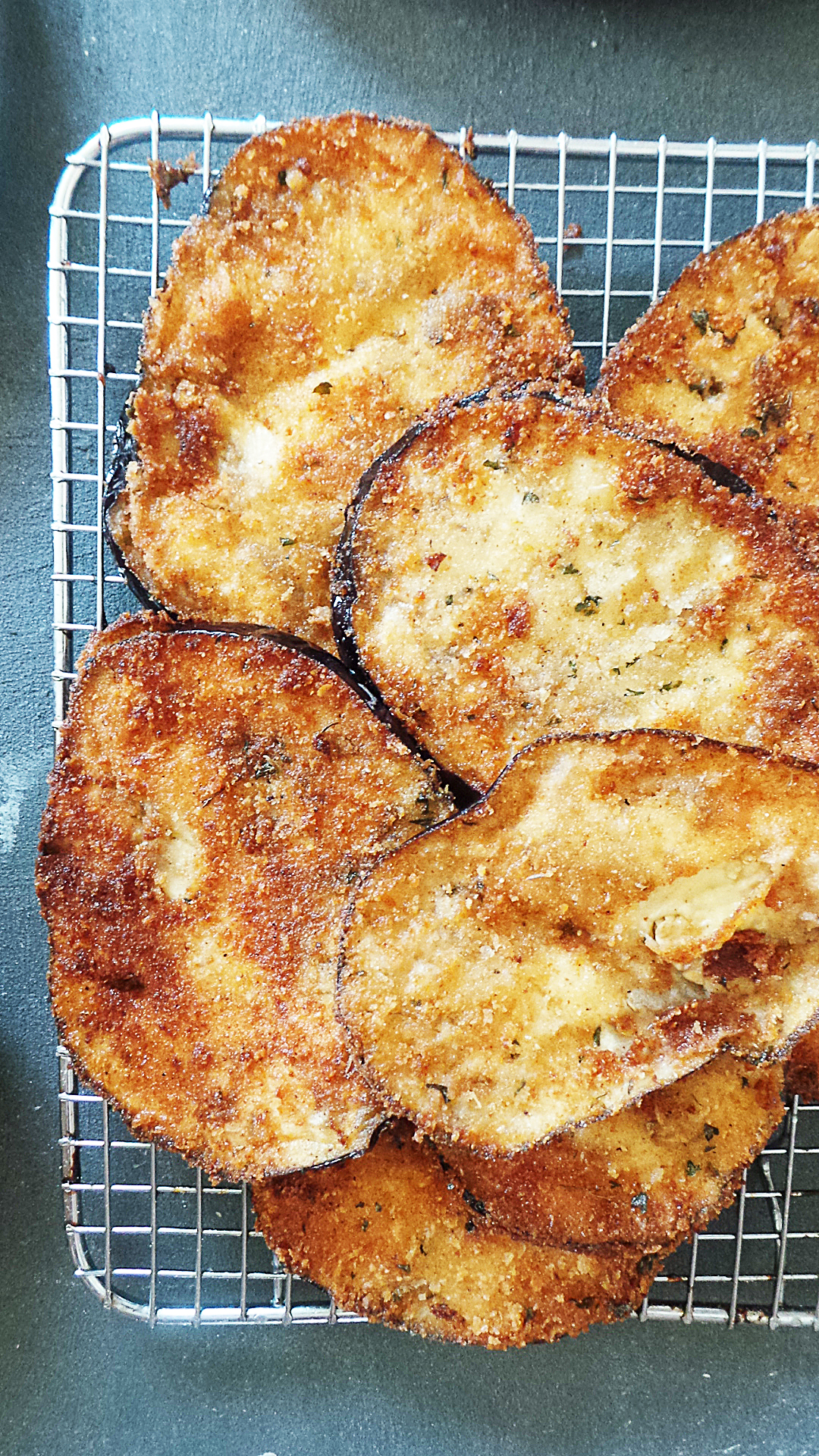 As for the eggplant, it's important to always salt for at least thirty minutes before cooking. It's funny because when cooking we always want to avoid sucking out the moisture, but here we totally want that. The water that sweats out will help the eggplant cook better and even help dilute some of the bitter juices the seeds can sometimes create. It's ALWAYS SUPER DOOPER important to wash and dry the eggplants after it's done "sweating" because the salt will blow your buds away. Taste buds and real buds.
I dipped them in a beaten egg and gave them a good coating in Italian breadcrumbs before transferring to the oil. I always buy plain breadcrumbs and season them with dried parsley, garlic powder, onion powder, pepper, and whatever else I feel like tossing in. Always give your bread crumbs a little taste before using them and adjust as needed!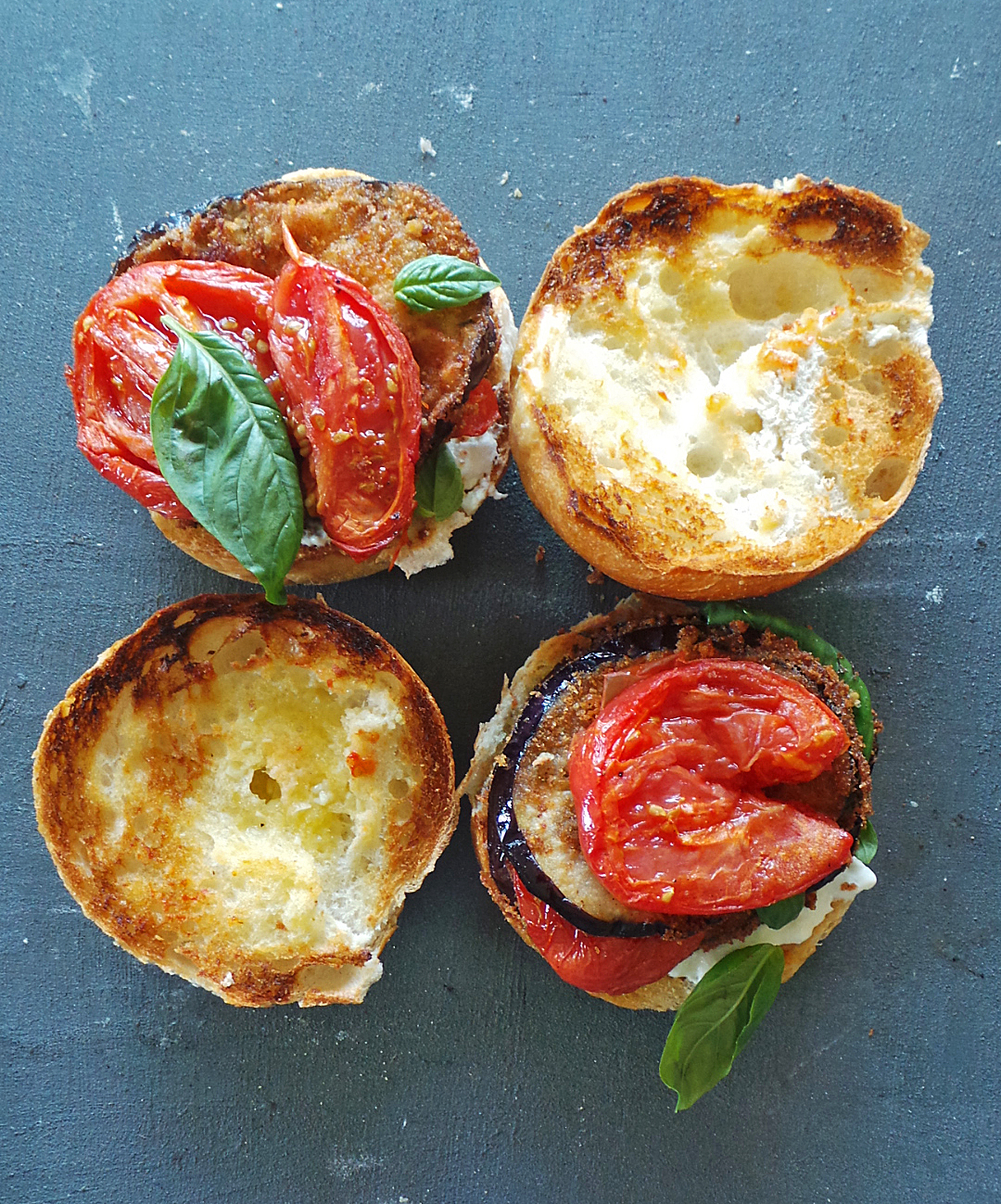 As for the cheese, I used creamy delicious Burrata. It should be in every specialty cheese isle in a majority of grocery stores, so you should have no problem finding it! It's basically a combo of mozzarella and cream, giving it a soft desirable texture. Although it's more spreadable than mozzarella, it is a few extra bucks so don't hesitate to use mozzarella, but definitely don't skip out on the cheese. Since I did spend that extra dollar or two on the cheese, I used my favorite trick for the bread. If your grocery store has a bakery, there should be a case displaying donuts/breads/etc. My grocery store (as well as several I've been to) sell individual AND DELICIOUS buns for incredibly cheap. One big bun is $.30. If I know that I'll be making four sandwiches, that's a few bucks less than the bag I'd typically think to buy.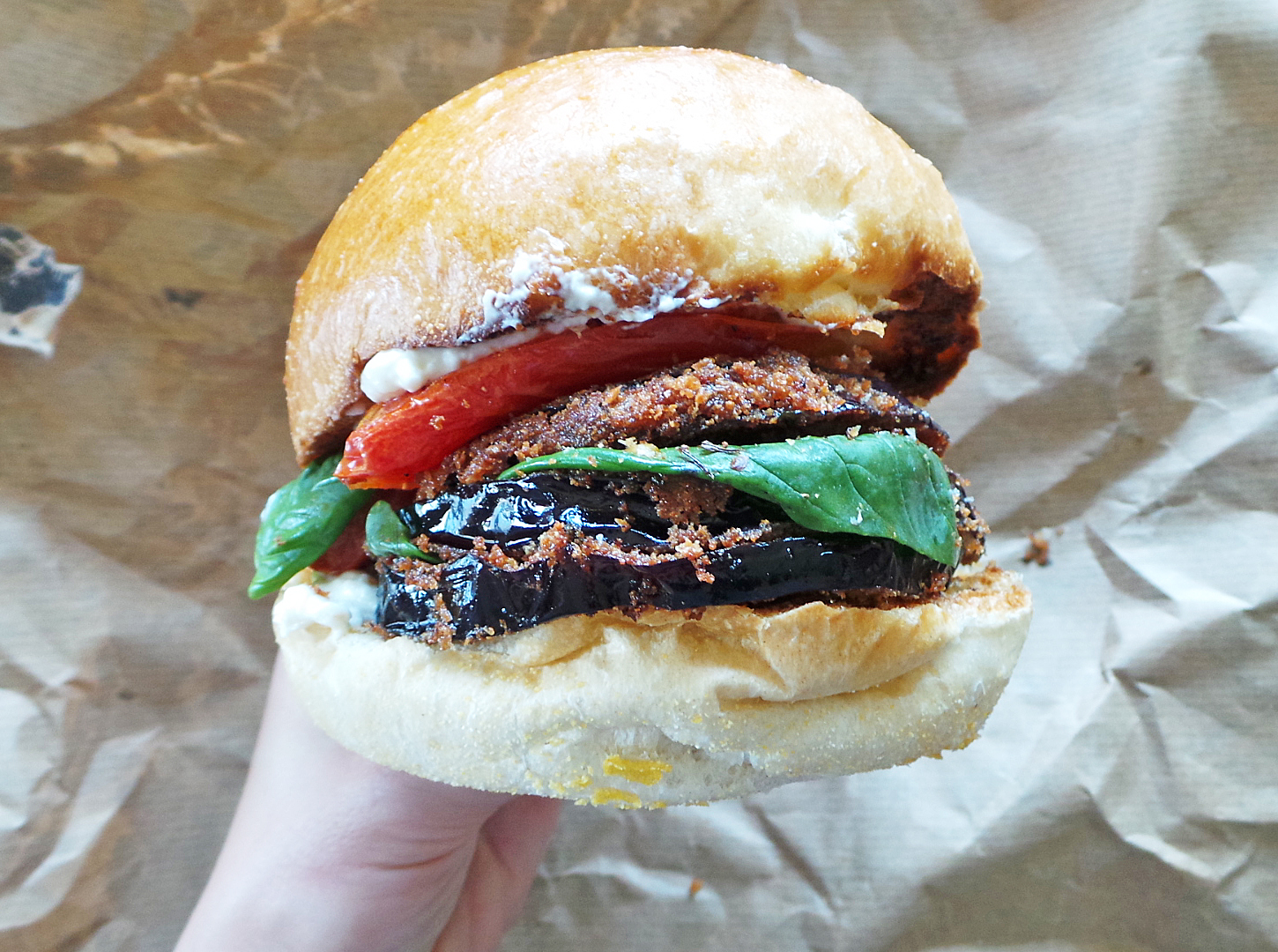 Once you build your sandwich you'll smell the aromatic combinations of all the flavors you just built and that first bite seriously will not come soon enough. I'm not even afraid to admit that I had one of these made and gone within 3 freakin' minutes. Go deconstruct!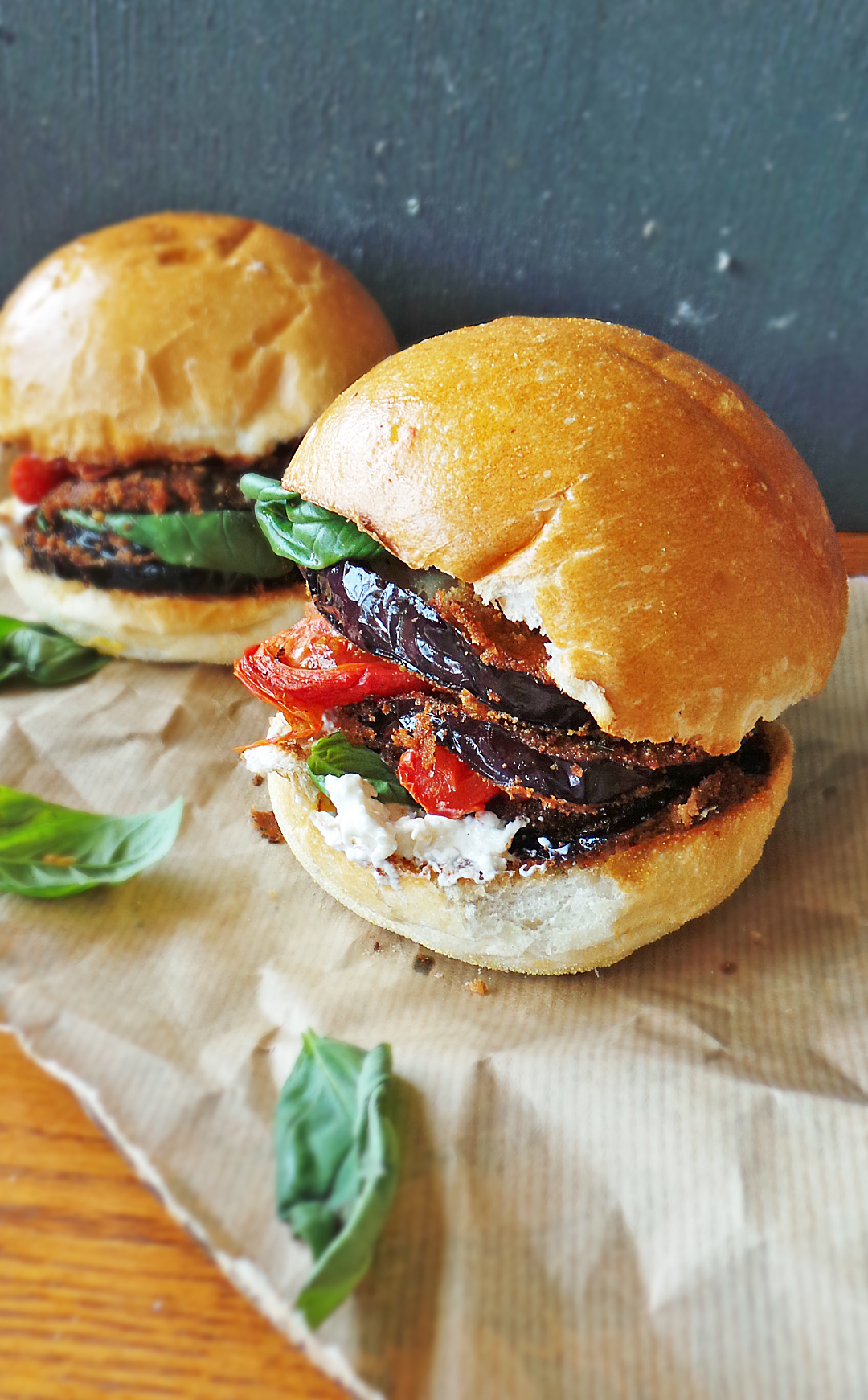 Deconstructed Eggplant Parm. Slider
2014-05-26 18:58:26
Serves 4
For the tomatoes
4 Roma tomatoes - cut in half, stems removed
2 T. brown sugar
salt and pepper as needed
olive oil as needed
For the eggplant
1 eggplant - ends removed, cut into equal rounds
kosher salt as needed (roughly 1/2 tablespoon)
1 c. Italian breadcrumbs
1/2 c. panko breadcrumbs (optional)
1 egg - beaten (ouch)
canola oil for frying
The sandwich
1 round burrata cheese
fresh basil
2 T. butter
1 clove garlic, minced
4 big buns
For the tomatoes
Preheat oven to 350
Coat the tomatoes in just enough oil to give them a nice rub. Toss in the brown sugar and a sprinkle of both salt and pepper. Place on a baking sheet and "roast" for 1 hour until the skin is wrinkly and the tomatoes are nice and juicy.
Once finished, set aside to allow to come to room temperature. Until the time comes, start the eggplant!
For the eggplant
Generously salt each eggplant round on both sides. Allow to sit and sweat for thirty minutes.
RINSE AND DRY eggplants. You must wash all that salt off!
Gather your dipping station with the beaten egg and breadcrumbs.
Add enough oil to coat 1/2" of a frying pan and heat to medium heat. To see when the oil is hot enough, drop a few crumbs in and once it sizzles, it's ready.
Dip the eggplant rounds into the egg, then the crumbs, then transfer to the oil and cook 1-2 minutes on each side until browned.
Transfer to a plate coated with a paper towel and repeat.
For the sandwich
Melt the butter in a small saucepan and add the minced garlic. Brush onto each half of every bun and place under the broiler for 1-2 minutes until toasty...yum!
Create the sandwich by spreading a layer of cheese, then topping with eggplant/tomato/basil.
Indulge and ENJOY!
http://www.vodkaandbiscuits.com/
[shopeat_button]