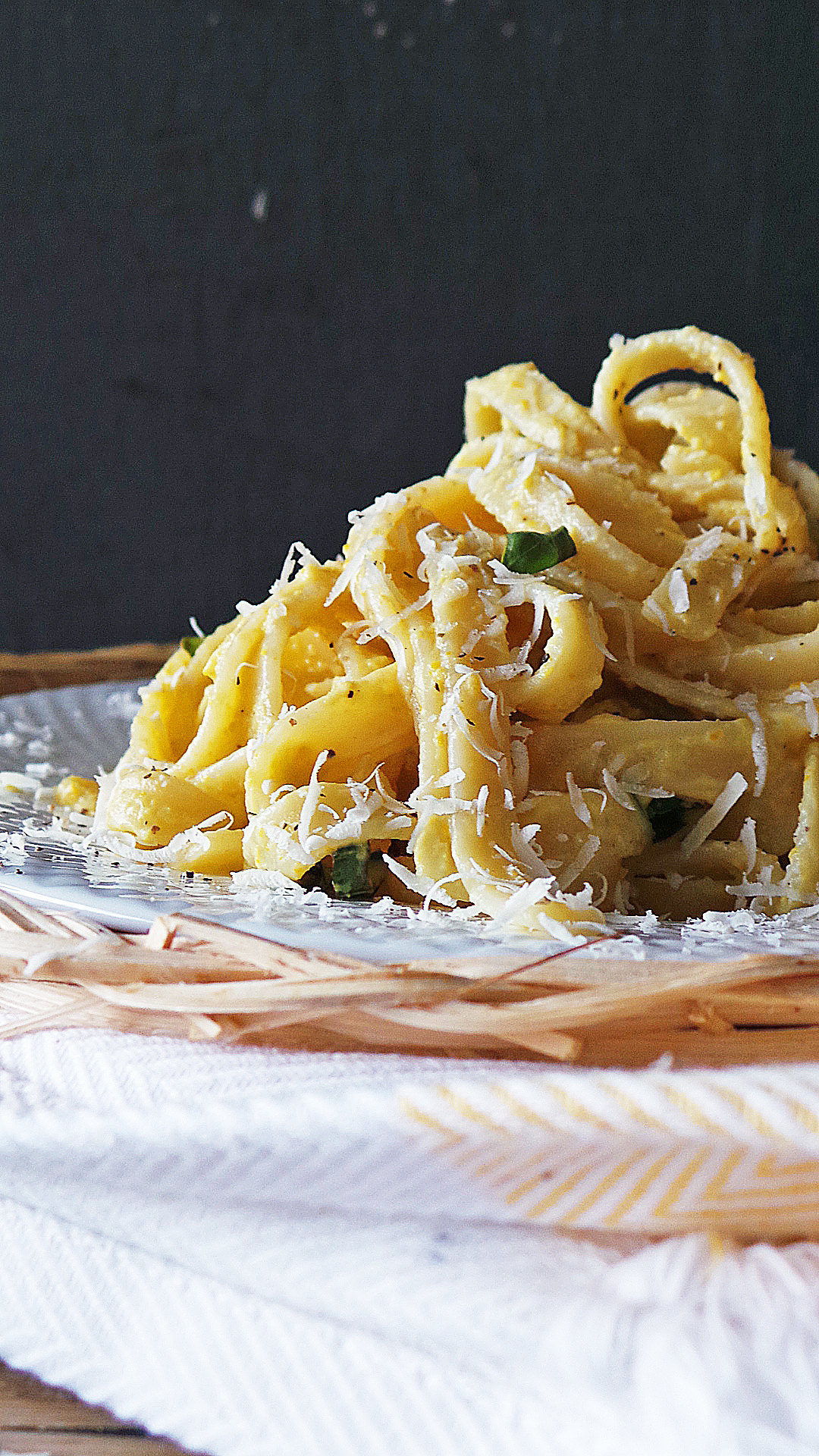 One of the pleasures of being a foodie is everyone telling me their current food obsession. Whether they traveled here and saw this, their favorite restaurant released a new special, or saw a mouth-watering picture on Instagram – people tell me it all and I love it. Recently my dad's girlfriend Liz was telling me about a pasta dish she had a few weeks ago. After five minutes of pasta talking, I knew it was something memorable. She went on to describe her gnocchi covered in a delectable creamy squash puree. With it being the middle of summer, I instantly started thinking of sweet yellow squash. I visioned the plump gnocchi, the yellow cream sauce, slivers of Parmesan, and basil chiffonade.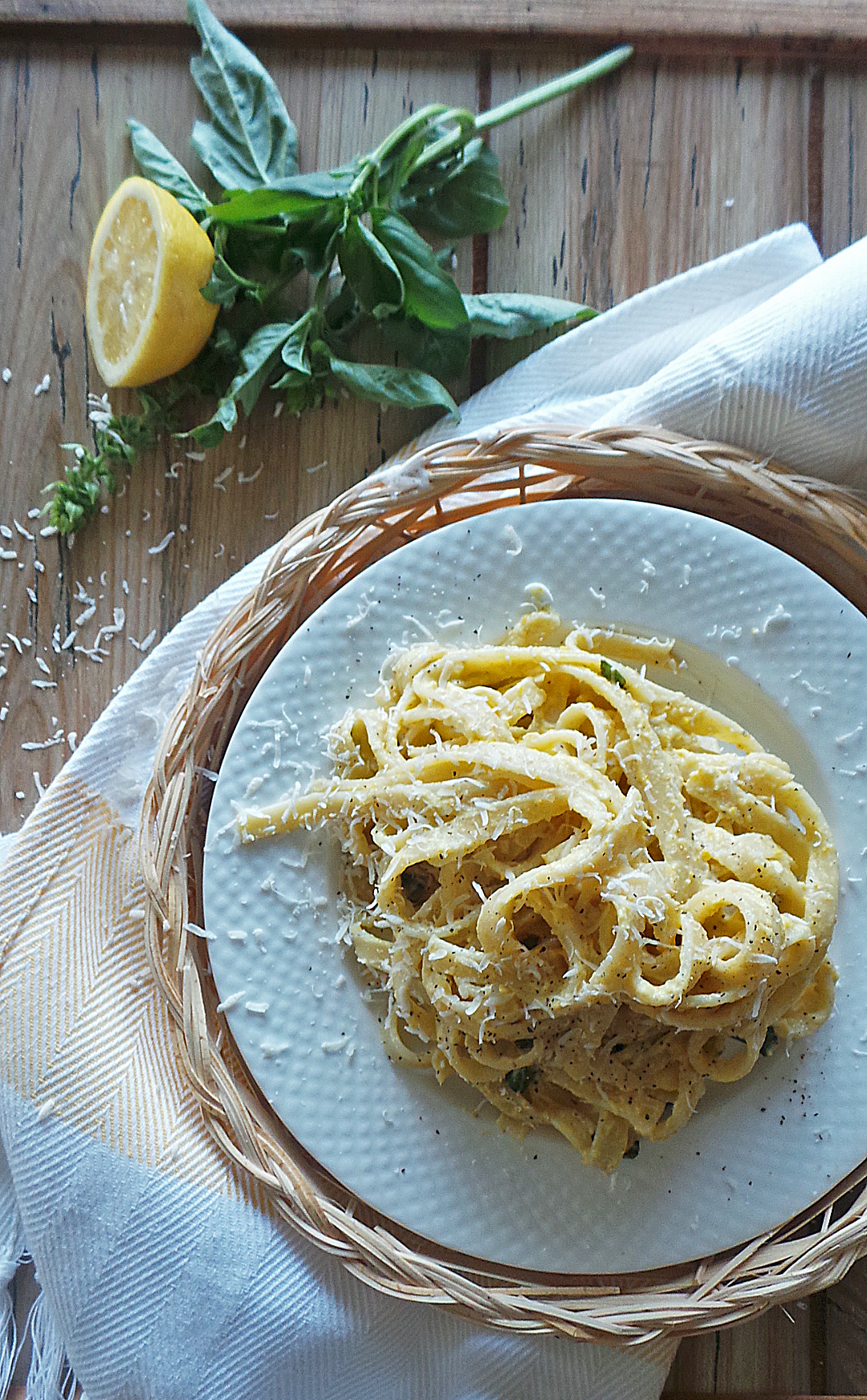 She went on to describe how she would recreate the dish. I realized we weren't on the same page after she had mentioned seasoning with cinnamon and nutmeg. Come to find out, the sauce she savored was made with a butternut squash. Um, yum right? I gotta tell ya, one of the best pasta dishes I've ever had was at a little restaurant in Miami. Butternut stuffed ravioli with a hazelnut cream sauce. DROOLING EVERYWHERE. I'm just going to throw it out there, anything butternut squash and pasta related is the best thing ever.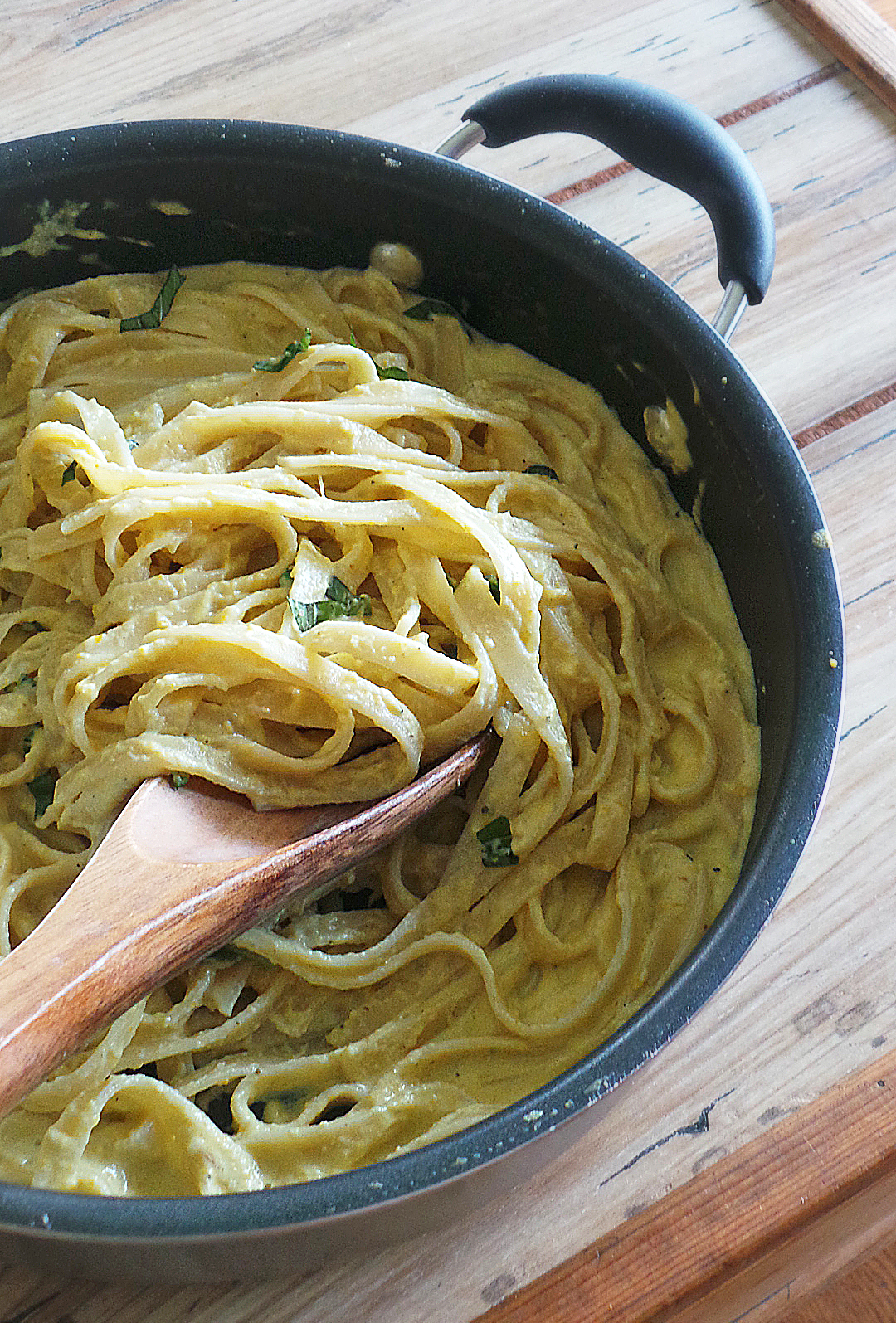 Although my eyes were wide opened hearing her describe her dinner, my mind was sold on those visions. I instantly began creating a summer squash cream sauce and long story short, that's how this happened.
I cut up two large yellow squash and chopped up a half of an onion. Seasoned, cooked, and seasoned those a little more before adding in a touch of white wine. Of course you always want to cook with a wine you want to drink, so go ahead and taste the wine before splashing it in. And by taste I mean pour yourself a glass.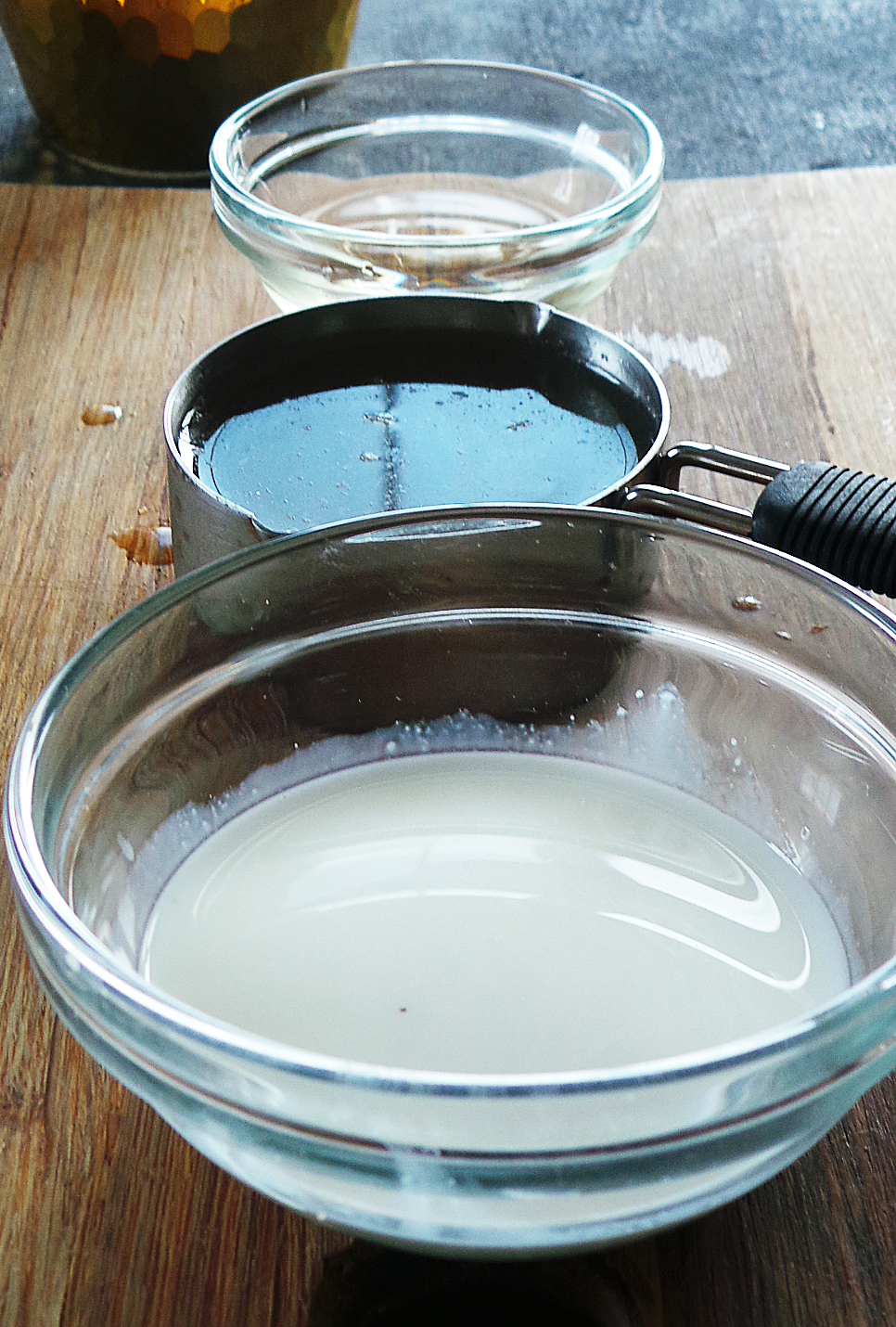 After the vegetables soaked up the wine or as my chef would say – once the vegetables are au sec (culinary term for nearly dry), I pureed it up, then added it back to my pan with homemade chicken stock and a splash of light cream. I measured all of my liquid out to have on hand next to the stove, but I recommend leaving out your carton of stock or cream, just to play with the consistency a little. Next to my sauce, I had my fettuccine noodles boiling away. Instead of draining the noodles, I like to give them a shake or two and transfer right from the water to the sauce. The pasta water helps to thin out the cream sauce just a tee bit. Plus swirling the pasta in the sauce just makes it that much more special.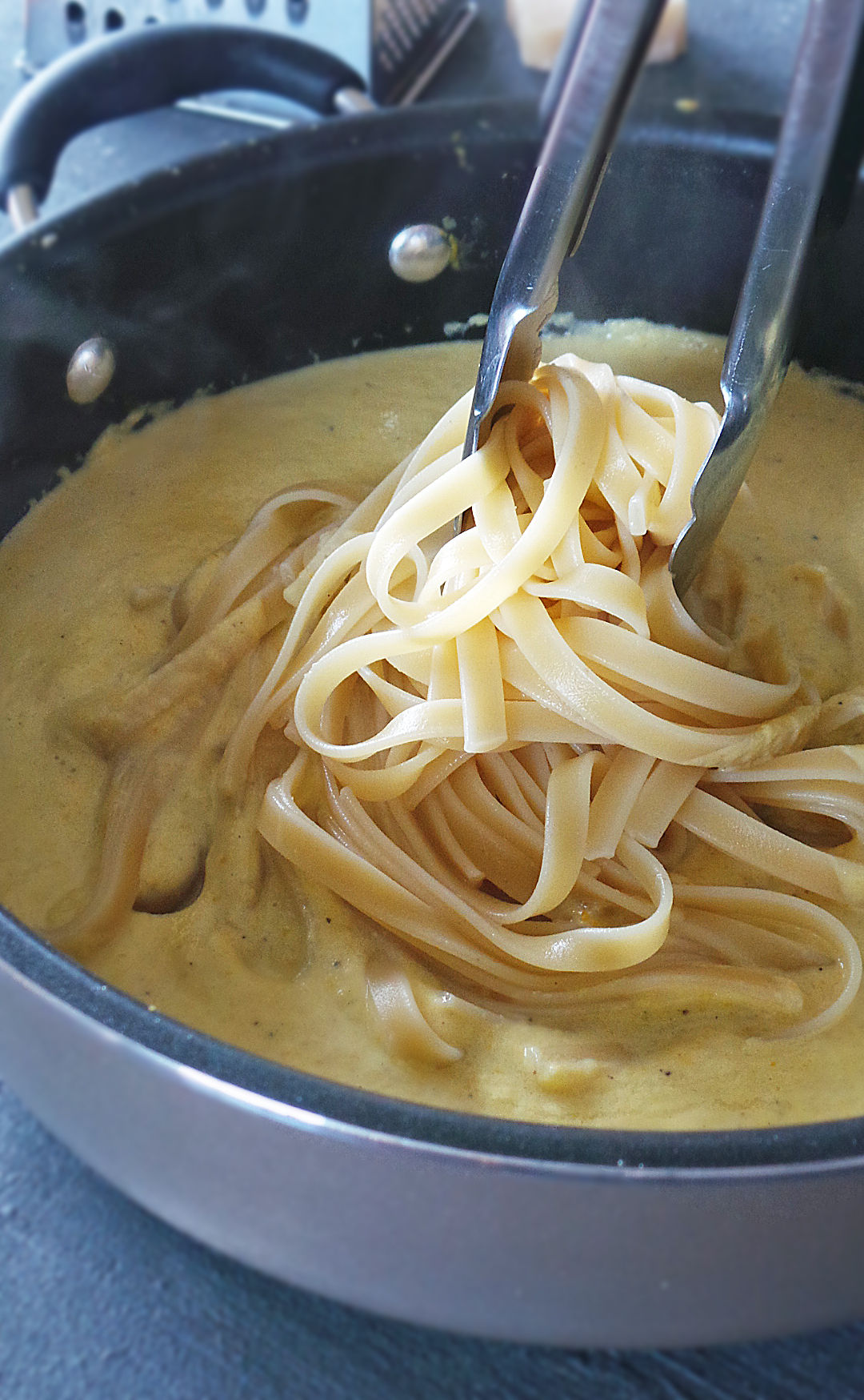 To garnish I added a squeeze of fresh lemon juice, basil chiffonade, and Parmesan fresh off the block. The sweet summer squash pairs wonderfully with lemon, Parmesan, and basil. Believe me, you and your nose will know.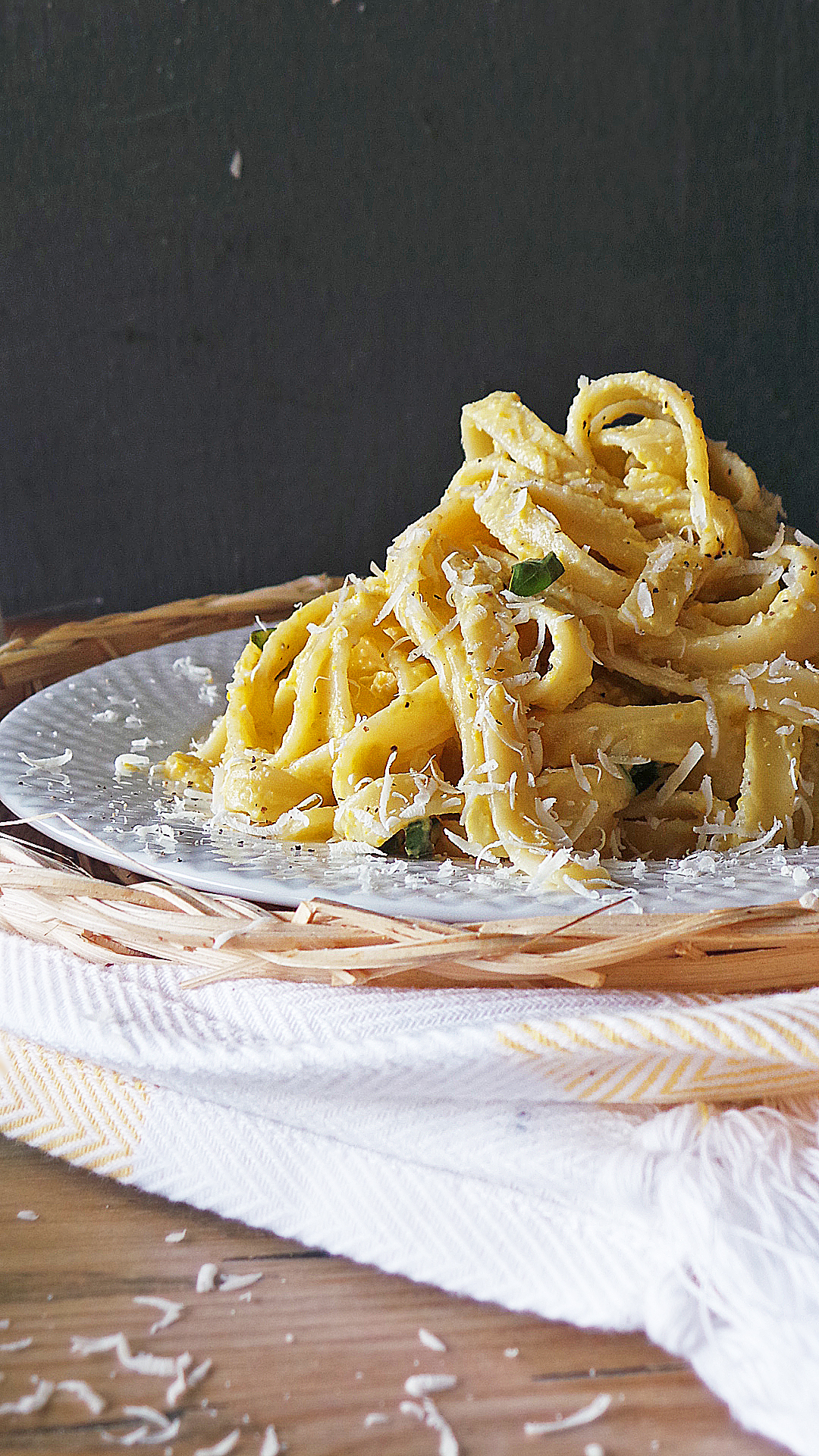 To make this EXTRA special, serve it with lobster or seared scallops. Ugh, why didn't I think of that ahead of time? Did I just think of another excuse to make this? I think so.
Creamy Summer Squash "Alfredo"
2014-07-14 19:43:25
Serves 6
Ingredients
8 oz. fettuccine pasta
1 T. olive oil
2 yellow squash - medium dice
1 small onion (or half of large) - medium dice
salt as needed
pepper as needed
1/2 t. dried oregano
3 T. white wine (I recommend Chardonnay)
1/2 c. chicken stock
1/4 c. light cream (plus more if needed)
Optional garnish
Freshly squeezed lemon juice
Parmesan fresh off the block
Basil
Instructions
Bring a large pot of salted water to a boil. Add the noodles and cook until al dente.
In the mean time, drizzle the oil in a large pan and heat to medium high heat. Add the onions and season with salt and pepper. Cook for about 2 minutes until translucent.
Add the squash and season with the oregano and a little more salt and pepper. Building flavor baby!
Cover with a lid to "sweat" the vegetables, mixing around every minute.
After about 4-5 minutes, add in the wine and cook another minute until it's nearly dry.
Transfer to your blender and puree until smooth. If it's too thick, add in a splash of chicken stock.
Transfer back to the pan and add the stock and cream. Stir and maintain heat. Taste and season to your preference. You can adjust the thinness with the cream/stock, but also remember the pasta water will help thin it out!
About the pasta, once the noodles are ready, lift a generous amount with tongs and allow excess water to drip back into the pot. Transfer to the cream sauce and repeat until all the noodles are in the sauce.
Twirl and swirl then plate.
Add a squeeze of fresh lemon juice before serving and garnish with Parmesan and basil.
Enjoy!
Notes
If you don't want to use cream, you can use milk and reduce the sauce until thickened.
https://www.vodkaandbiscuits.com/
[shopeat_button]