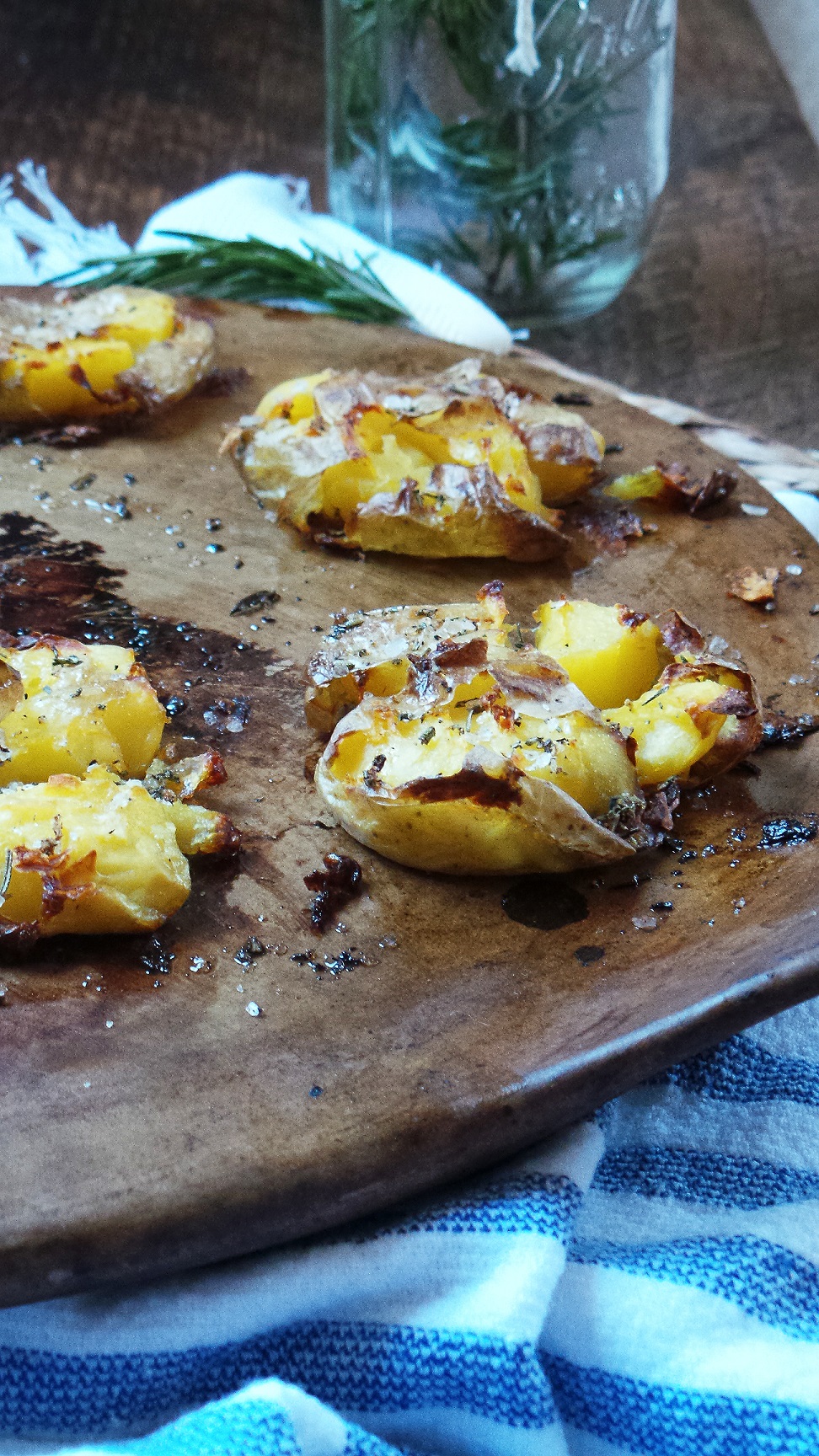 I feel like there is no nice way to say smashed potatoes, but that's okay because there really is no nice way to make them.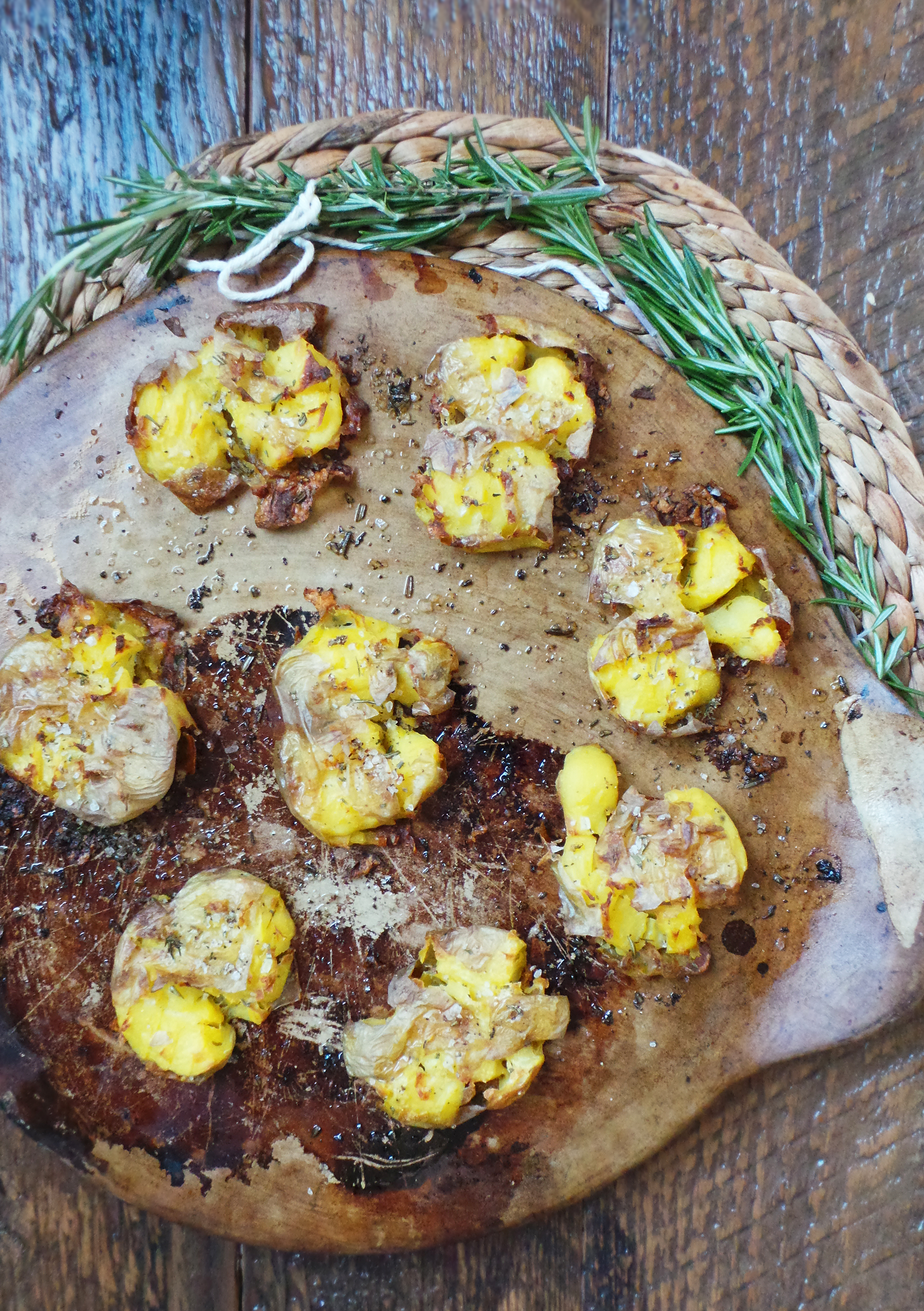 Potatoes are overwhelming. How many times do you stand there staring at your sack (of potatoes) figuring out what you're going to do with them? I don't blame you, there's so many things you can do with a potato. Mashed, baked, twice baked, grilled, fried, roasted, sauteed, I hate making decisions so as much as I love them, I hate them. Instead of building up all of your anger, just smash them and call it a day.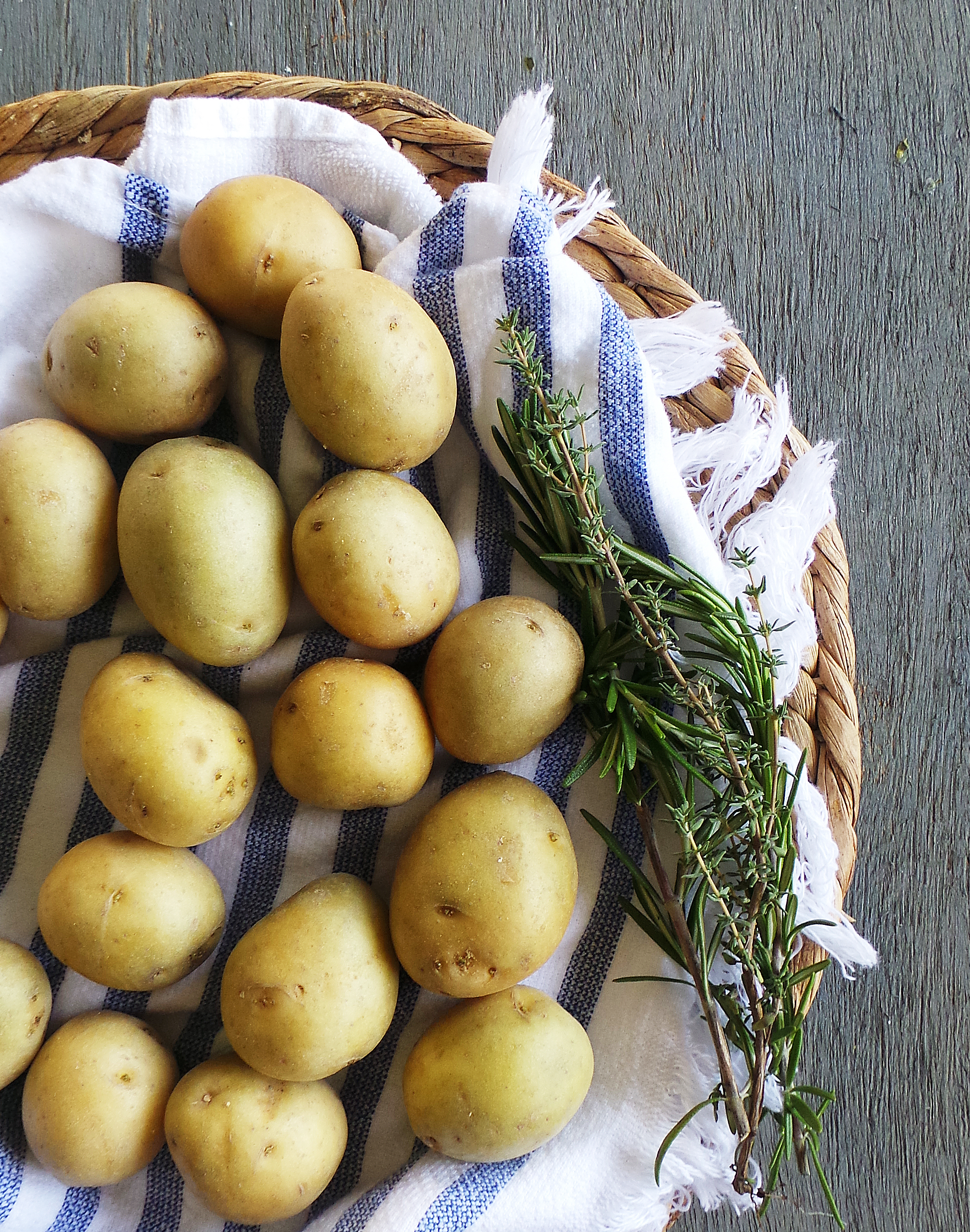 I really don't hate potatoes, or making them, but before I get nice let's not forget to mention the millions of types of potatoes out there. Sweet, red, white, yellow, russet, petite, blue, purple, fingerling, AND MORE. To make it easier, they generally fall between two categories: mealy or waxy. Mealy potatoes (like a russet) have thicker skin, high starch, and low sugar. They're best for baked potatoes or frying. Since they're so low in sugar, they don't burn easily in the fryer which results in a perfectly cooked (and addictive) French fry. Waxy potatoes (like red or new) have much thinner skin and are much higher in starch. Because of that, they hold their shape better, which makes them ideal for roasting or boiling.
For this recipe you'll want to use a waxy potato. Use whatever type you'd like though, I just used New potatoes because they're so tiny and cute I couldn't even resist.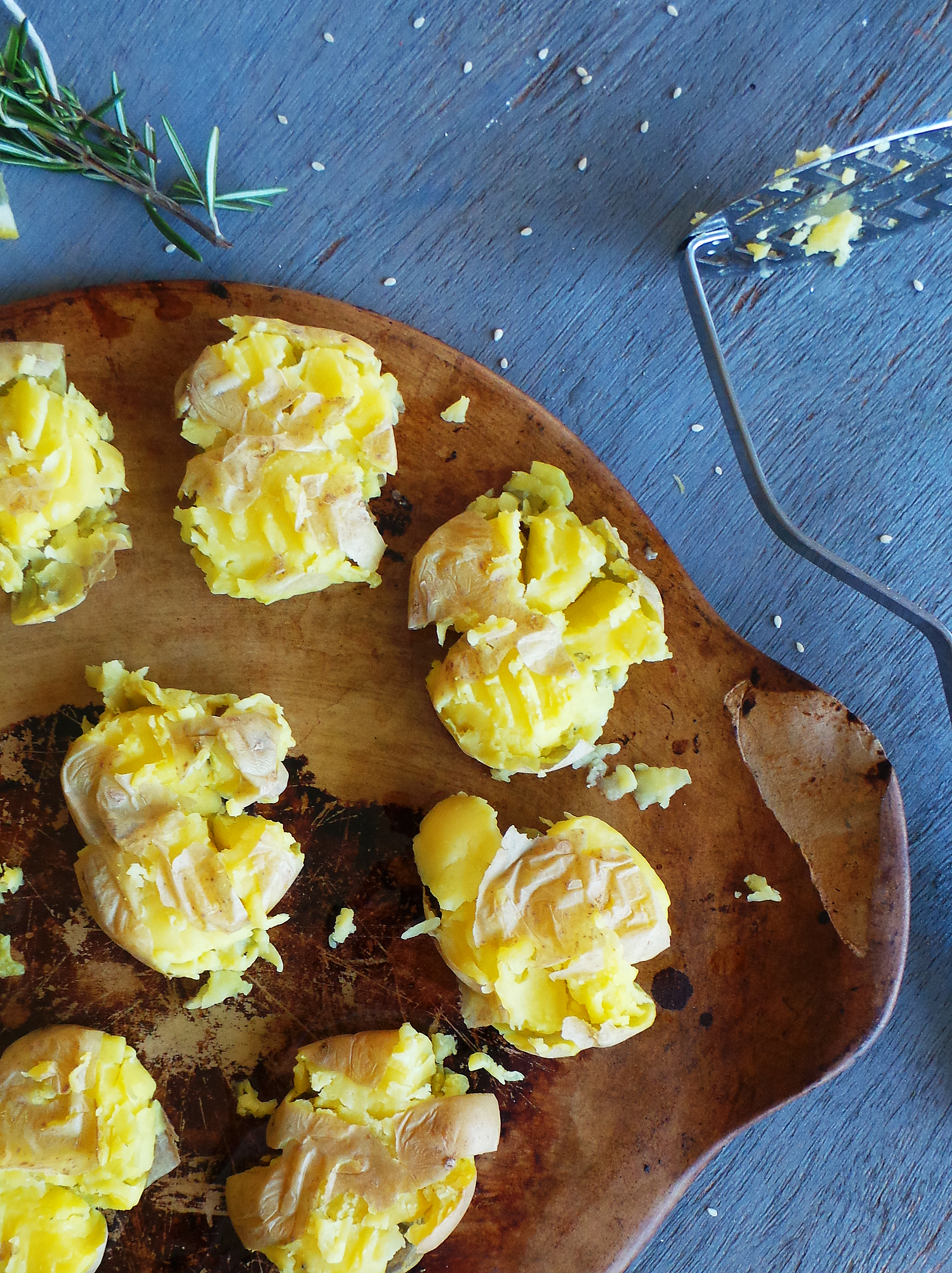 In order to get them tender enough to smash, you gotta boil them in salted water for about 10 minutes. I always add two extra to the pot because I can't help myself from eating a boiled potato. A little sprinkle of sea salt and boy I can go to town. Speaking of the salt, the seasoning can make or break a potato. I either go with Old Bay or an herbed sea salt.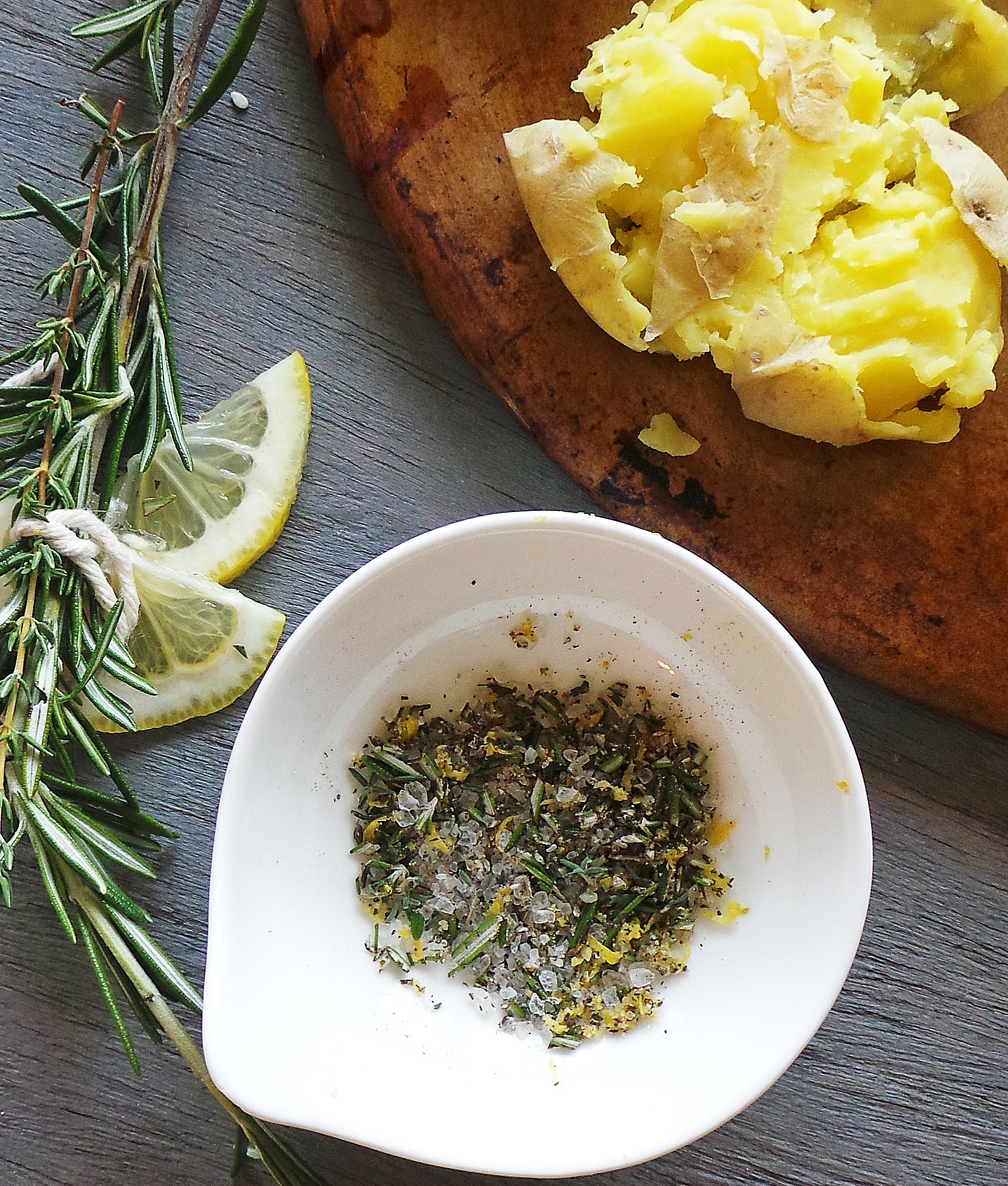 Today I used a combination of fresh rosemary, fresh thyme, sea salt, pepper, and lemon zest. Grind the herbs up in your mortar and pestle or mince it with your chef's knife, either way will do the job. This mix won't just make your potatoes the best potatoes ever, it'll brighten up any dish (especially fish).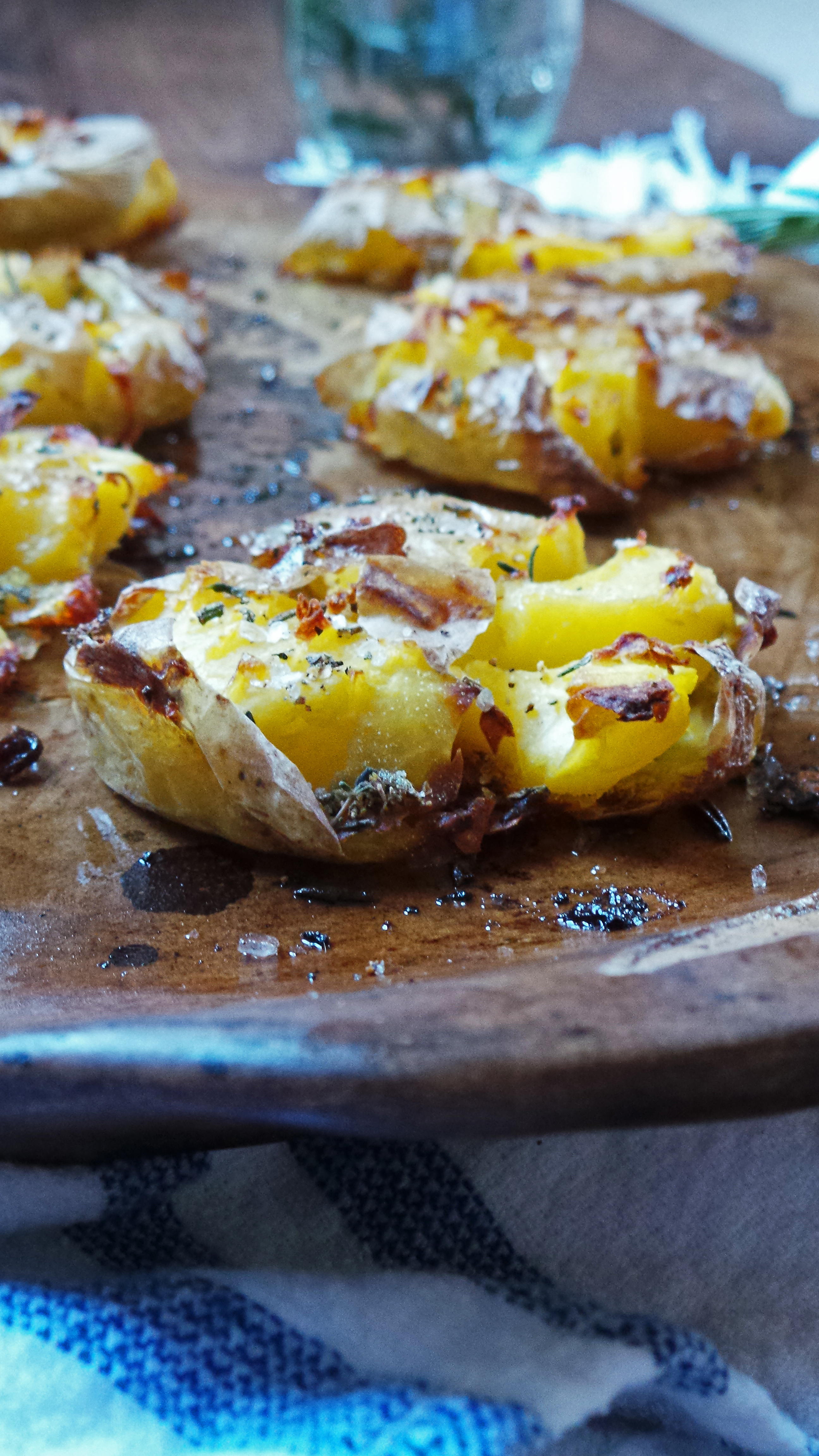 After the potatoes are boiled, all you do is lay them on a baking dish with a sprinkle of olive oil and give them a not so gentle smash. You can either use a potato masher or two forks. Call your kids into the kitchen and have fun with it! Drizzle them with a little more olive oil, sprinkle with the salt blend, and slide in the oven for 20 minutes.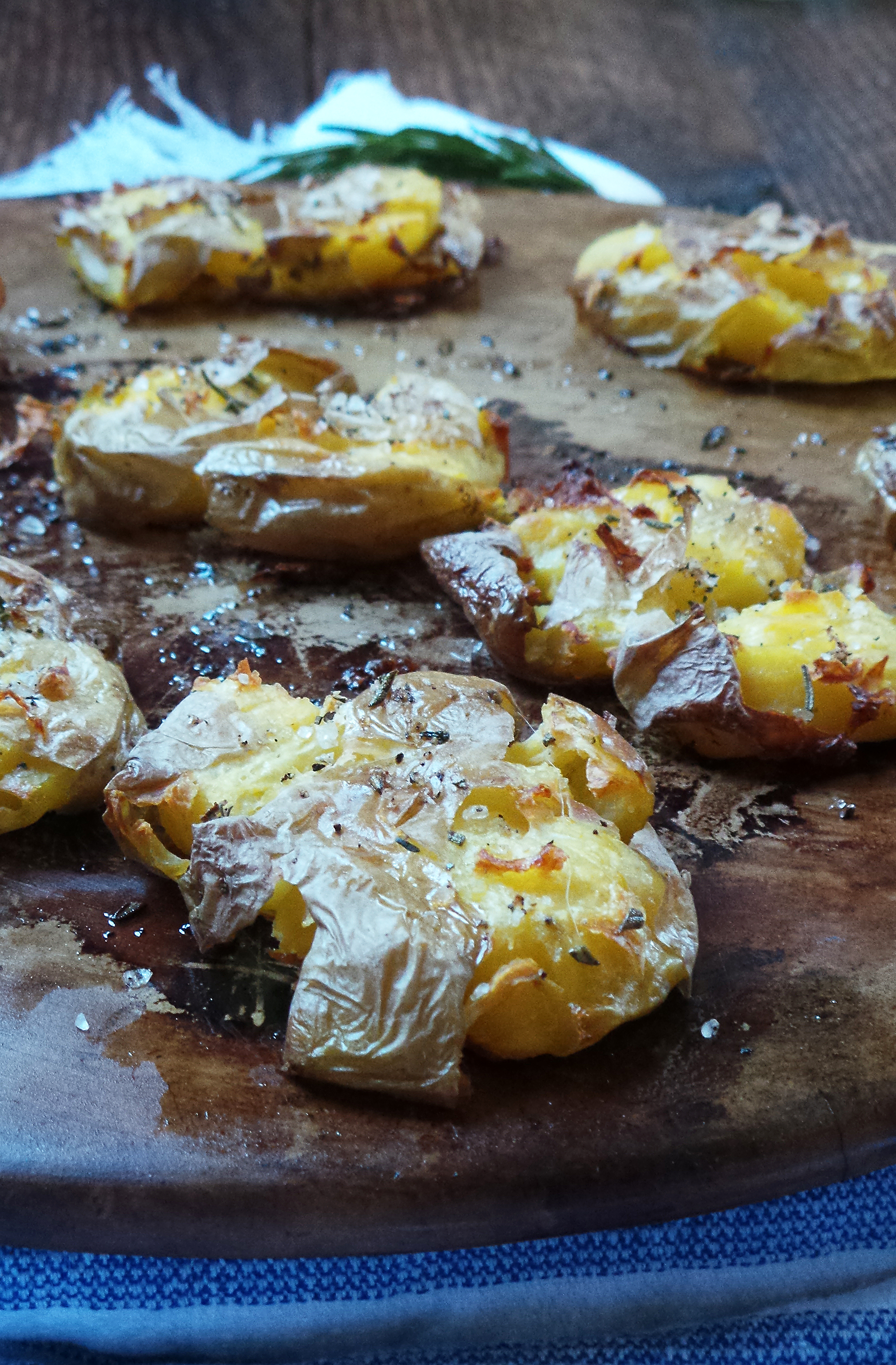 When they come out of the oven your house will not only smell amazing, but your mouth will be drooling. These are everything you want in a potato, crispy and creamy. These pull apart perfectly with your fork, which is great for those who like to combine their foods. Let me tell you, a piece of smashed potato and steak on your fork with a dip of sour cream. WHAT CAN BE BETTER? Or you could place these on a plate with some ketchup and enjoy as chips. You'll have fun with these, I know I did. Enjoy!
Smashed Herbed Potatoes
2014-08-08 09:29:27
Serves 4
Ingredients
1 lb. waxy potatoes
olive oil as needed
sea salt as needed
fresh cracked pepper as needed
1 spring fresh rosemary - leaves removed and chopped
1 spring fresh thyme - leaves removed and chopped
zest of 1 lemon
Instructions
Preheat oven to 450
Bring a large pot of salted water to a boil and add the potatoes. Boil until fork tender, about 10 minutes. Keep checking!
In the meantime, combine sea salt, pepper, fresh chopped herbs, and lemon zest for a seasoning blend.
Drain potatoes and dry with a towel.
Drizzle olive oil on a baking dish or stone. Add the potatoes, scattering about 1" apart.
Using a potato masher, mash each potato until flat like a cookie. Don't kill it though.
Drizzle with some more olive oil and the sea salt blend.
Place in the oven and bake for 20 minutes or until golden crispy.
Enjoy with ketchup or sour cream!
http://www.vodkaandbiscuits.com/

[shopeat_button]