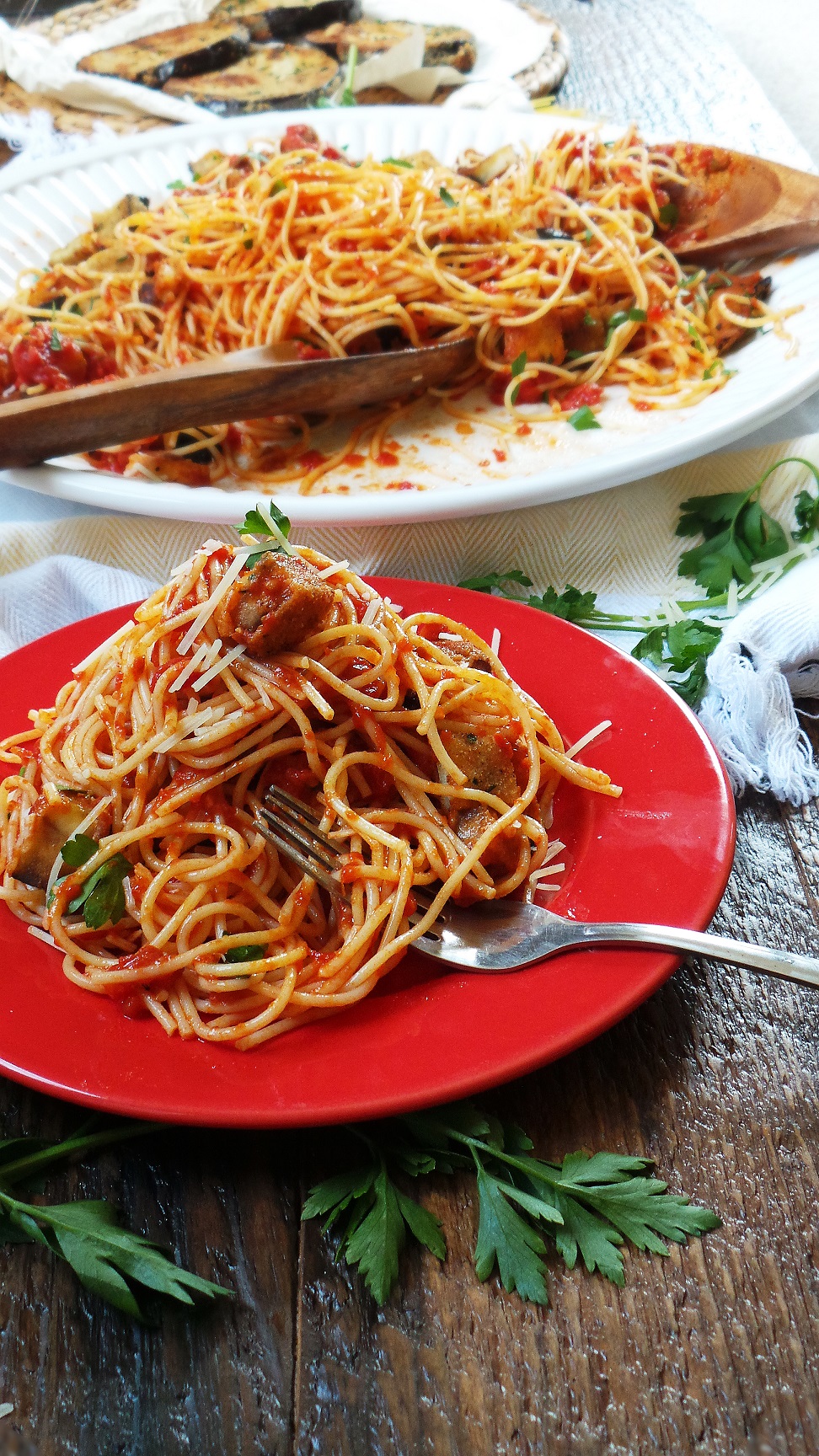 Eggplant Parmesan is amazing. Cheesy, sauce-heavy, 2 lb. plate of Eggplant Parmesan in the middle of August isn't so amazing. Who am I kidding, of course it is, but the point is – do I really feel like indulging in a Winter-satisfied meal when even at the near end of Summer, I'm still complaining about my bathing suit?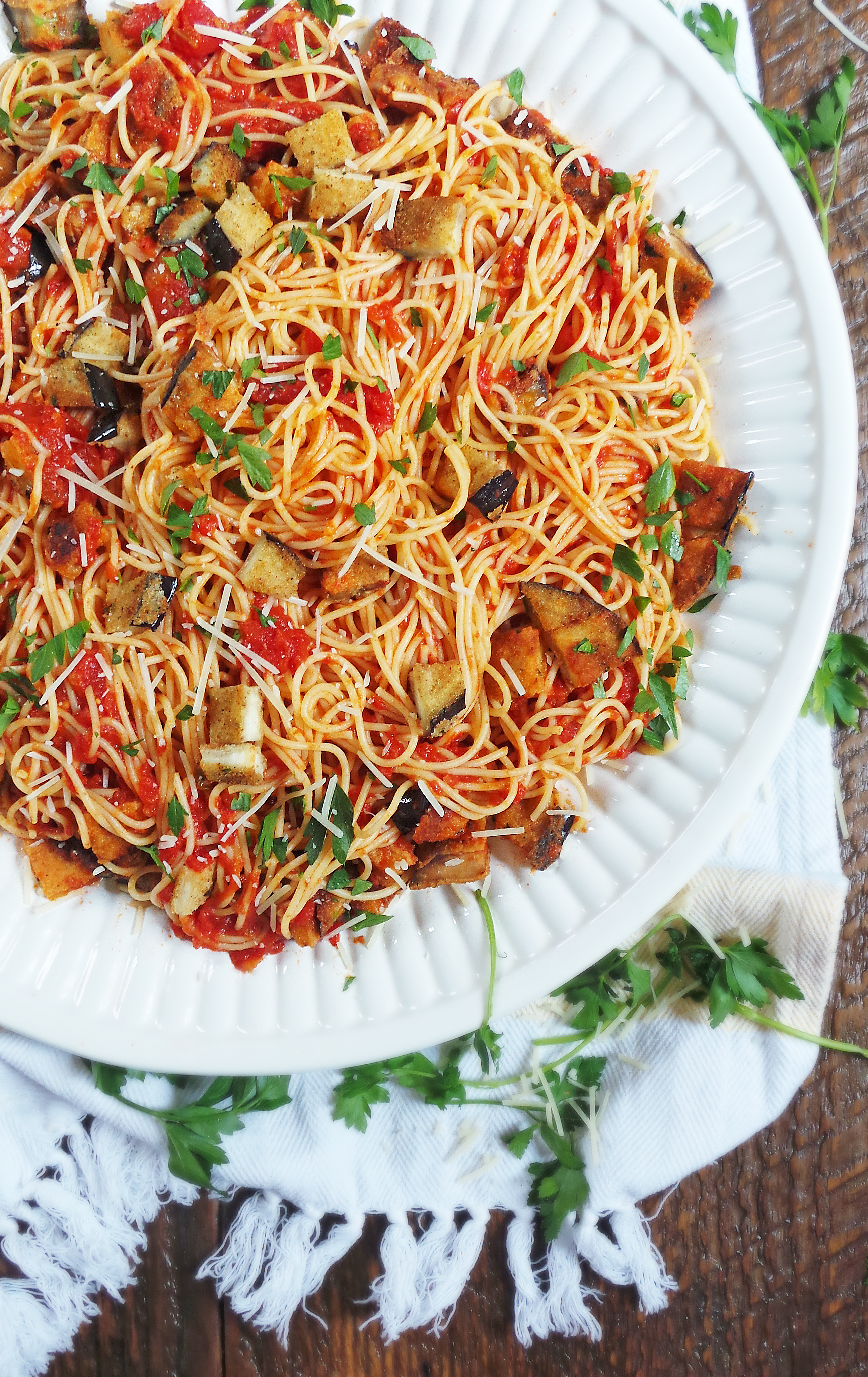 This recipe is for all those who want to enjoy a big fat plate of Eggplant Parmesan year round, just do so in the scorching hot sun happily. Basically you'll see everything in this dish that you would at your favorite Italian restaurant – the fried eggplant, the pasta, the cheese, and the sauce. The only difference here is the sauce is added in generous amounts, the eggplant is chopped in, and everything is tossed together. Let's get in this mess.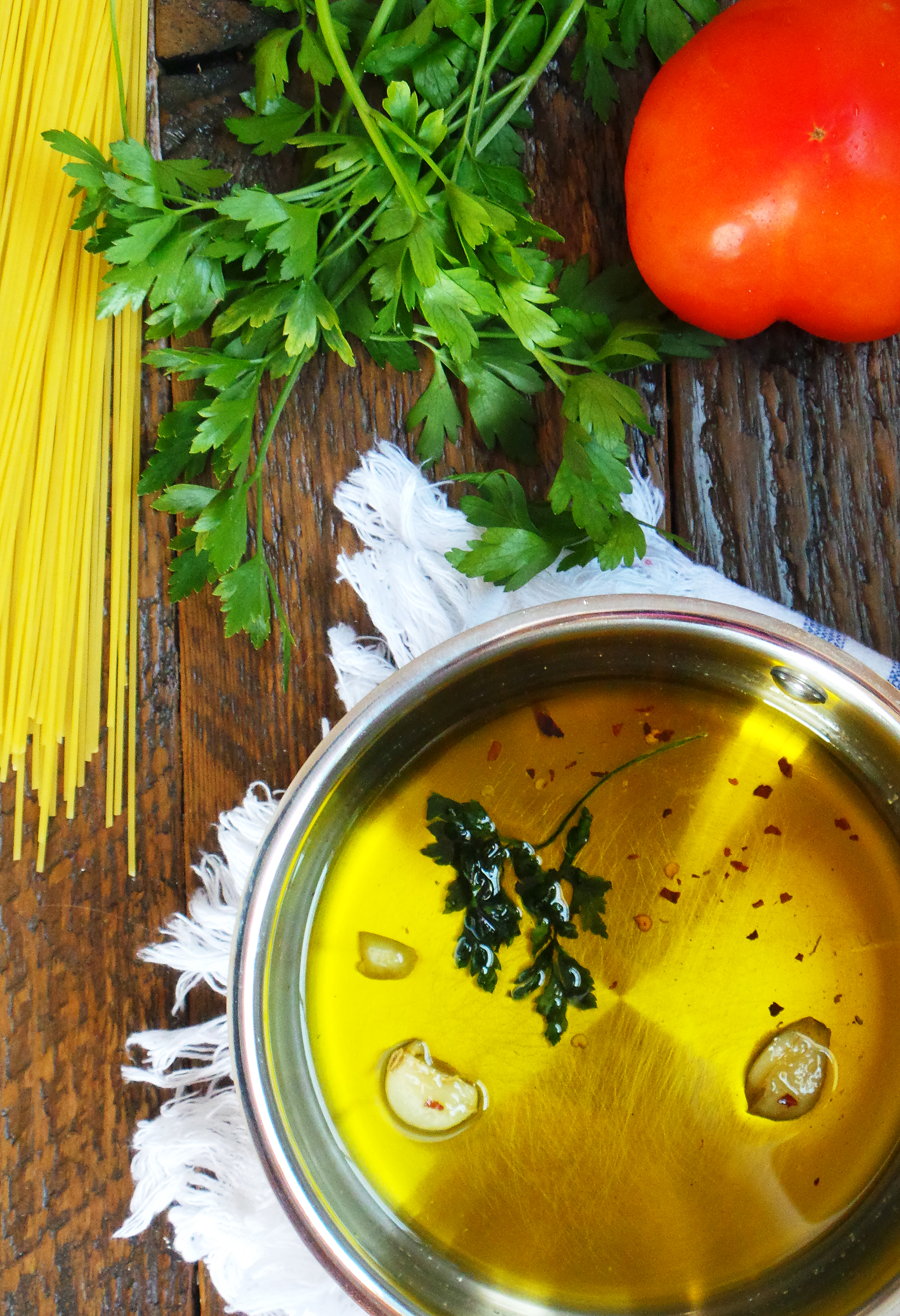 There may seem like a lot of components to this because eh well, there is. There's the sauce, the noodles, and the eggplant. I'm writing this recipe based on my sauce, which you can see in better detail here, so really it's the sauce, the noodles, the eggplant, and the oil.
Now I'm horrible and still use canned tomatoes in midst of tomato season. Those San Marzanos though, how can I not? Basically all I do is dump a big ol' can of San Marzanos in a pot and allow it to reduce for 25 minutes. In a separate small sauce pan, I add a small amount of oil with some garlic cloves, a pinch of red pepper flakes, and fresh herbs. I cook it gently until the garlic browns and wa-la, infused olive oil! I strain it then add it to the pasta sauce with some chopped fresh tomatoes just before serving. This is actually my sauce for any red pasta. It's simple, just like a tomato sauce should be!
The key to infused olive oil is maintaining the low heat. Olive oil has an incredibly low smoke point, you wouldn't want that or the garlic and red pepper bitters to burn! Oh and about those tomatoes. My city's Italian market sells a 32 oz. can of San Marzanos for $3 less than my grocery store. Sold.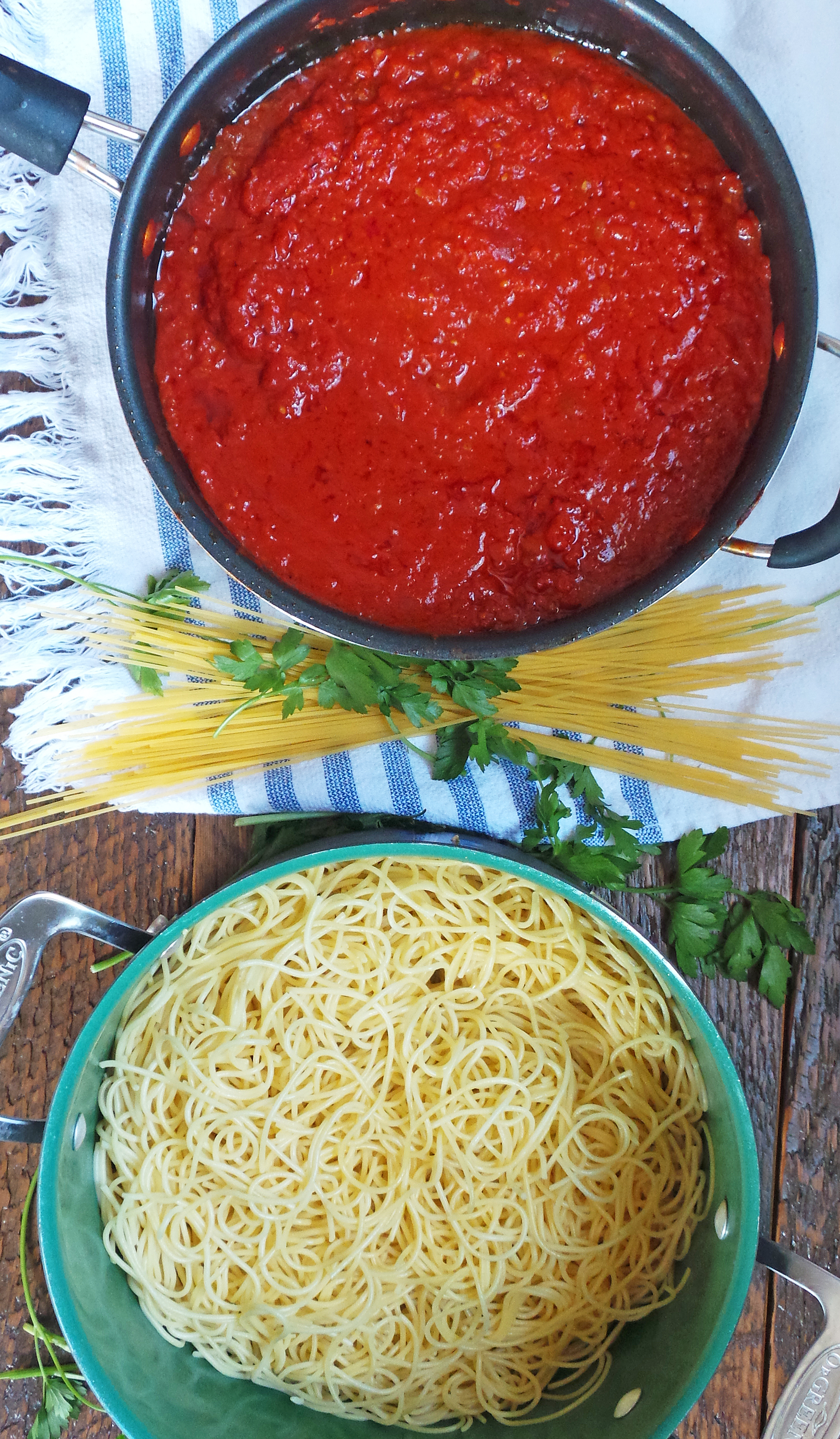 While the sauce is doing it's thing, I cook up my noodles in salted water. Before straining, always save at least three cups of the pasta water. It's starchiness is perfect for thinning out the sauce and also giving the drained noodles the perfect amount of moisture to keep from sticking!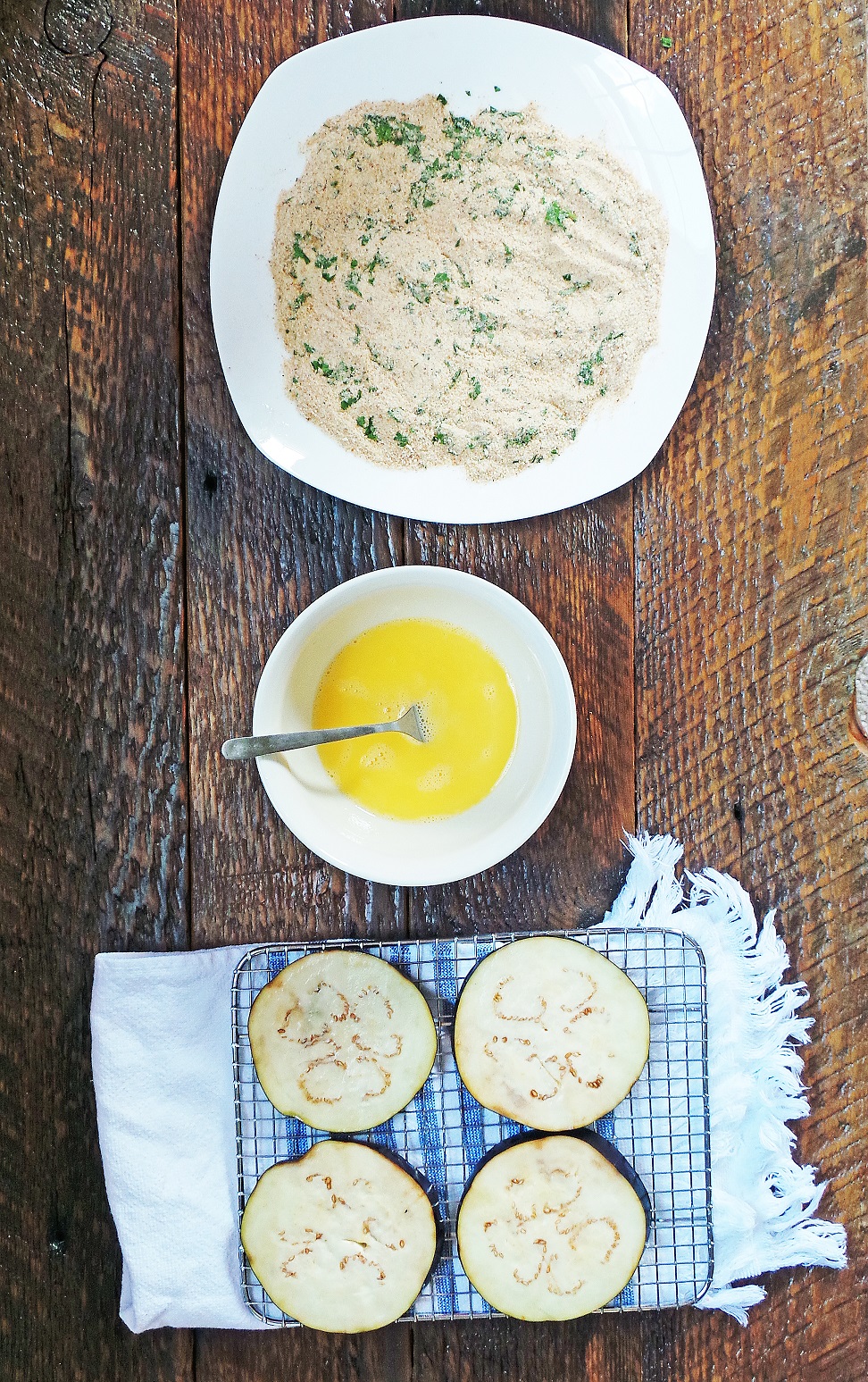 Actually let me back track a little. The absolute first thing I do is cut my eggplant rounds, sprinkle with salt, and let them sweat for thirty minutes. Your eggplants will sweat out moisture, which will help them not only cook better, but taste better. Think of them as sponges. If you don't let them sweat, they'll absorb all your oil. Gross. All that salt will also suck out the nasty bitter juices. Nasty. In order for this to happen, you can't be shy with the salt. Just make sure after that half hour you rinse your rounds or else you'll be getting a real taste of sodium.
When it comes time to fry, I like to have my dipping station as close to the stove as possible. That way all I have to do is use one hand to dip the rounds in egg wash, breadcrumbs, then to my pan of oil. We're not deep frying, so don't go crazy on the oil. Just add enough to cover the surface of the pan! Throw in a little breadcrumbs and once they start to sizzle, it's hot and ready for you.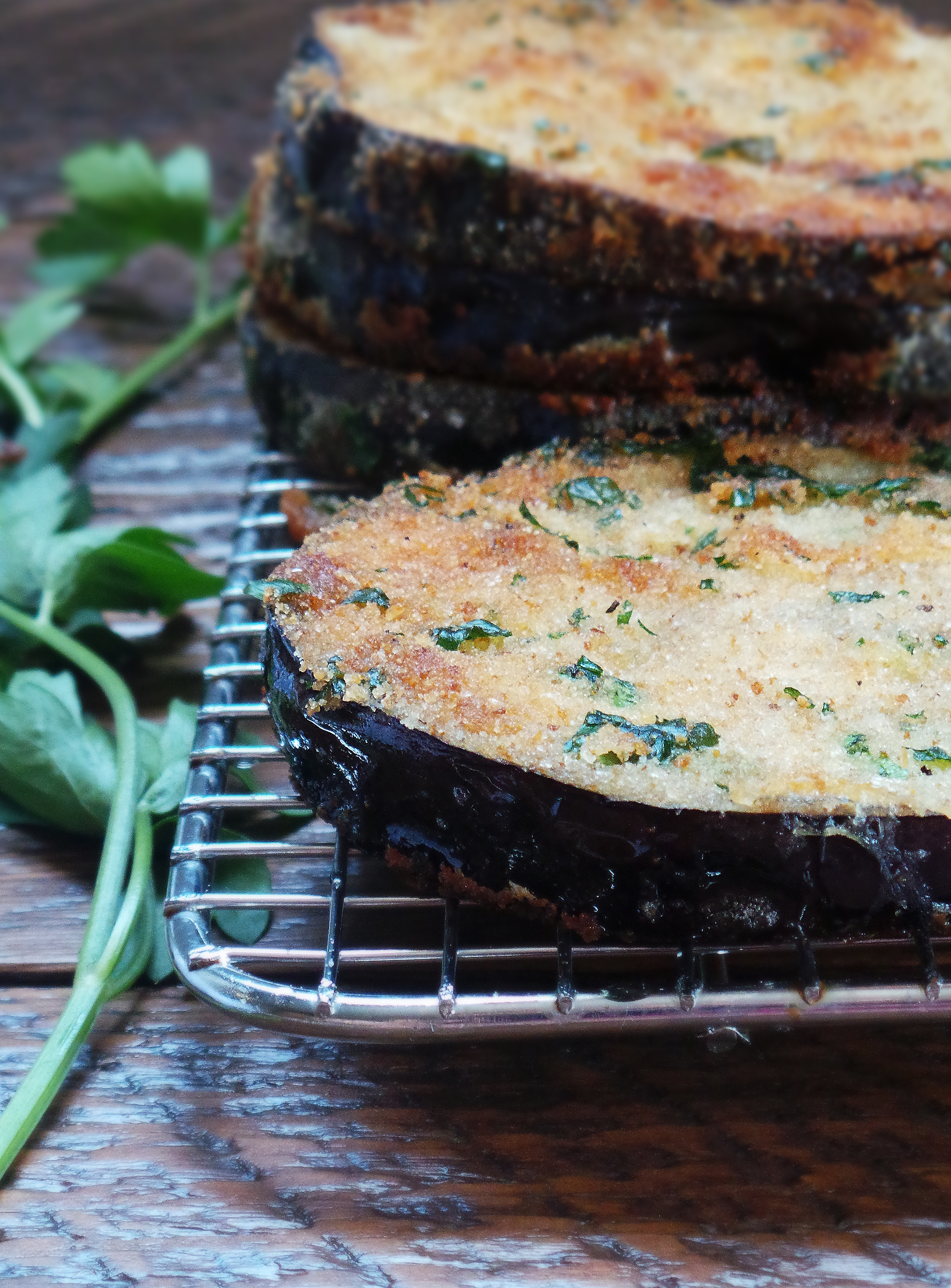 For the breadcrumbs I fancied up some plain ones. I added fresh parsley, garlic powder, salt, and pepper. You be you though!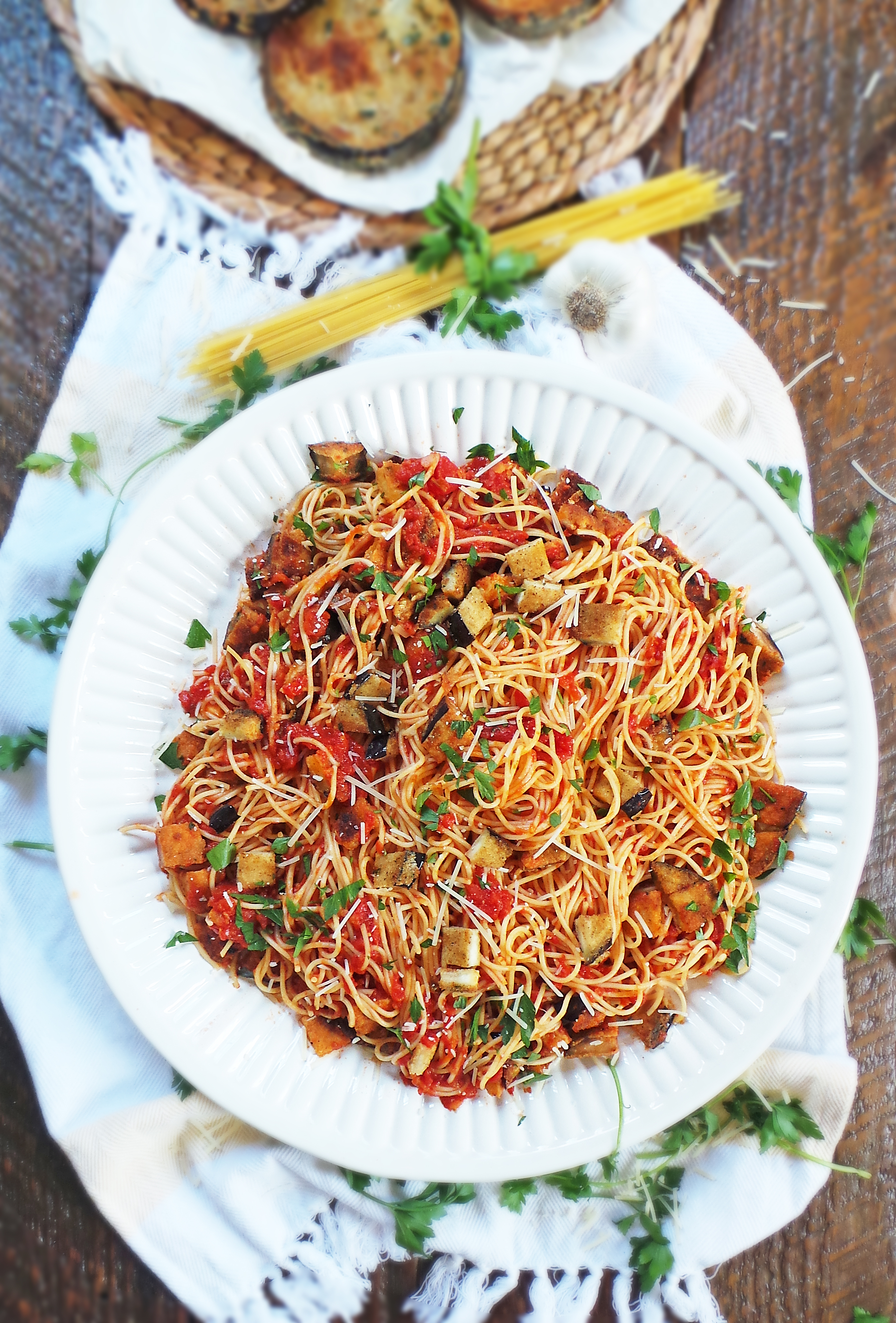 Once all your eggplant is fried, chop it up, toss everything together, garnish with some fresh parsley and a little cheese, then watch your day instantly become better. Enjoy!
Twisted Eggplant Parm Pasta
2014-08-15 15:35:33
Serves 6
For the eggplant
1 eggplant - cut into rounds
1 c. breadcrumbs (seasoned to choice)
2 eggs - beaten well
kosher salt as needed
canola oil as needed
For the pasta sauce
32 oz. can whole peeled San Marzanos
2 ripe tomatoes - chopped
1/4 c. olive oil
3 gloves garlic - smashed
pinch red pepper flakes
2 stems of fresh parsley with leaves attached
For the pasta
1 lb. spaghetti noodles
For the eggplant
Lay the eggplant rounds on a baking sheet and sprinkle with a large pinch of kosher salt on each side. Don't be shy. Let that sit for 30 minutes.
Rinse and pat completely dry. Fill a large pan with enough oil to cover the surface and heat to medium high heat.
Throw in a little breadcrumbs to check for temperature. Once they sizzle, it's ready! Dip the rounds into the eggwash, then breadcrumbs, then the oil. If you're feeling bad, add some grated Parmesan to the breadcrumb mix. Mhm. Cook two minutes on each side. Place on a plate lined with paper towels to drain.
Once they're all fried, chop up!
For the pasta sauce
I like to make this while the eggplant is "sweating"
Add a small amount of oil to a pot and heat to medium. Add the canned tomatoes and smash with a potato masher (or spatula).
Bring to a simmer and reduce for 25 minutes.
In the meantime, heat the olive oil in a small saucepan with the pepper flakes, garlic, and herbs. Cook on medium-low until the garlic starts to brown. Maintain the heat, you don't want it to burn! Strain and add the oil to the reduced tomatoes with the chopped tomatoes. Allow that to hang out for another few minutes.
For the pasta
Cook the pasta noodles in a large pot of salted water until al dente. Reserve some of the pasta water before straining, as you might want to use it to thin out your sauce!
Toss the strained noodles, chopped eggplant, and pasta sauce together. Enjoy!
Optional garnishes: fresh parsley, basil, Parmesan cheese
http://www.vodkaandbiscuits.com/
[shopeat_button]