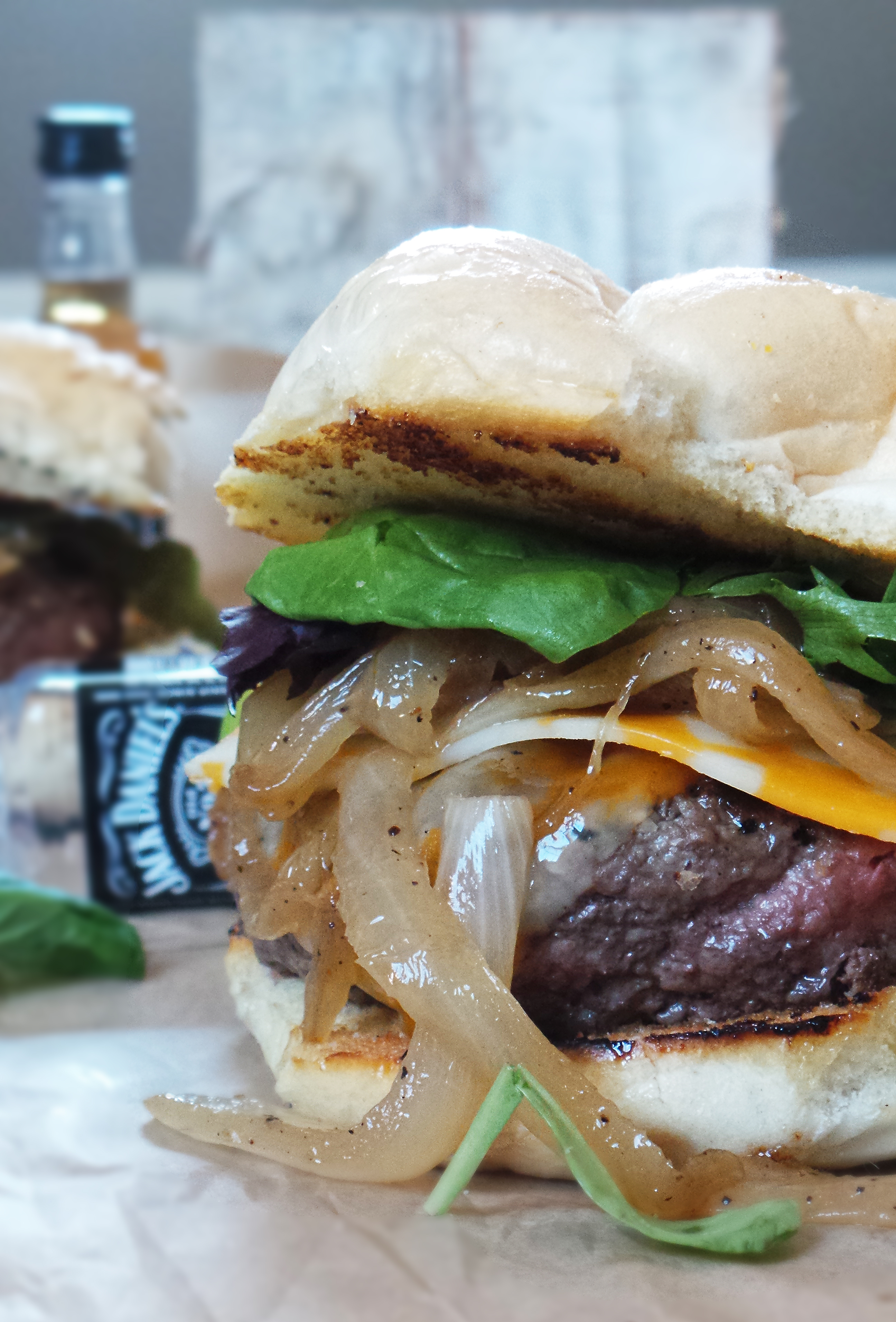 Juicy bison burgers with Colby Jack cheese topped with sweet & spicy Whiskey glazed onions, fresh field greens, and toasted buns. LAWD.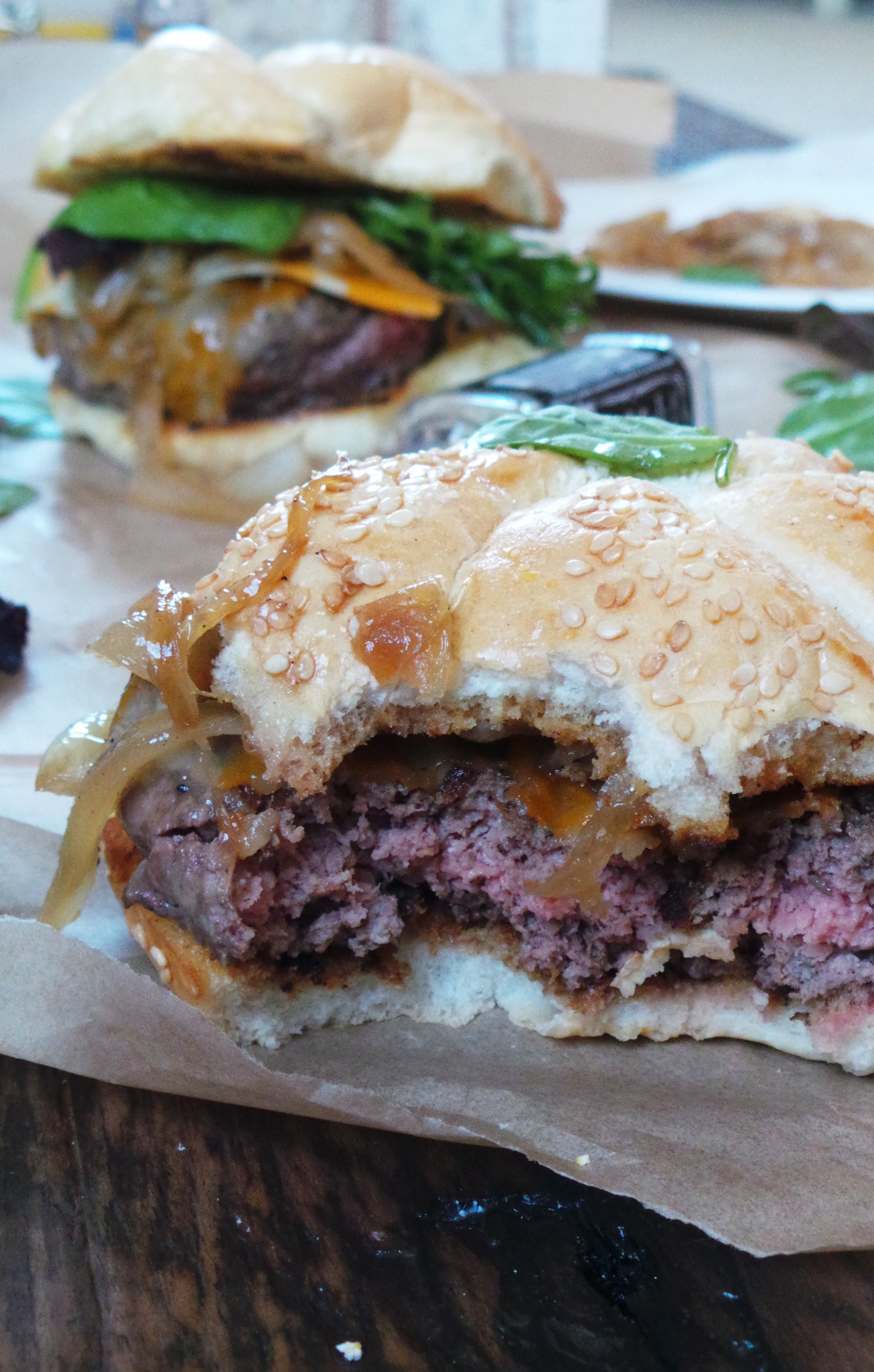 I'm so proud of this post because I've been studying the perfect bison burger for over a month. If you've never cooked with bison, now is the time. Take some notes and run to the store, because this NEEDS to be your next meal. I think it's time I think of a new tag line.
I've been anticipating this post for a while now. Not even kidding when I tell you this has been on the back of my mind for over a month. In fact leaving work today I told my chef "FINALLY making those bison burgers tonight" and he had no idea what I was talking about because it's been that long. I used some new knowledge of bison, my personal burger techniques, and a few advice from my chefs at work to create this inspiring meal.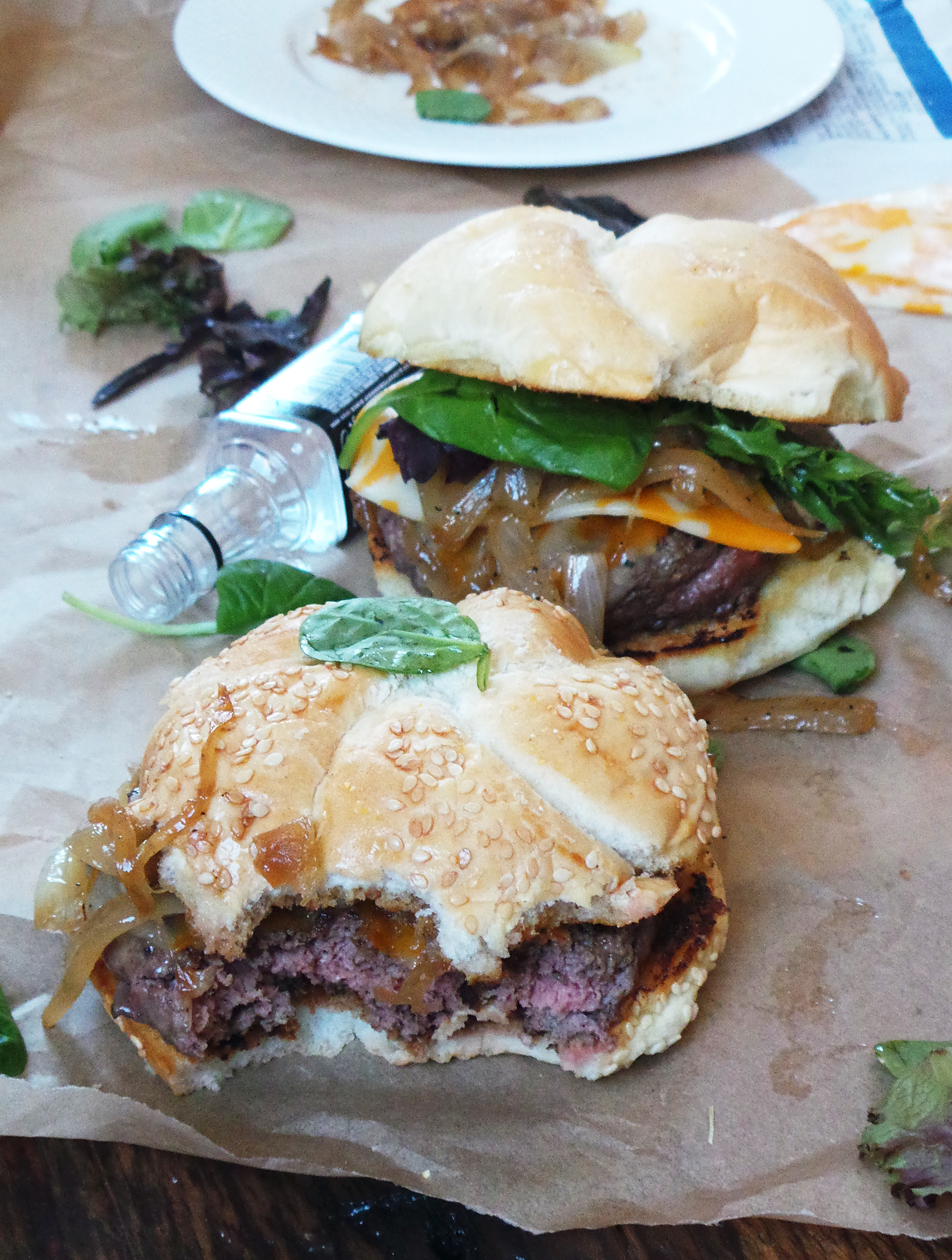 Although burgers made from bison & beef are entirely different, hence one's from a buffalo and the other a cow, I treat them pretty much the same. I won't get into too much detail, because I've done that in my Beyond Basic Burger post, but I'll get into it briefly.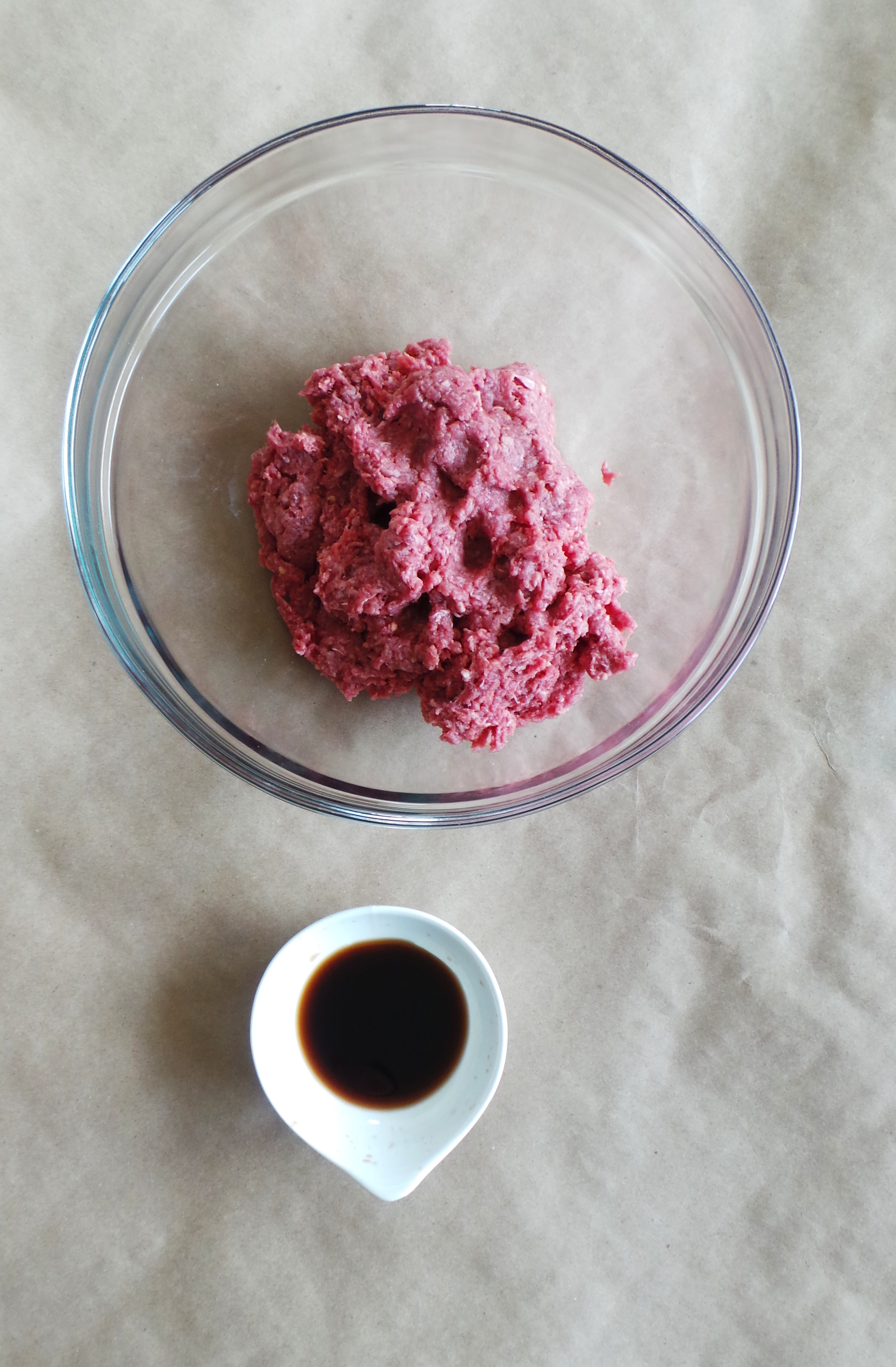 I don't like adding much to my meat because I'd rather handle it as little as possible. The more yums added in, the more you gotta mix and disturb the meat. THAT'S TOTALLY ME THOUGH. Every cook feels different about burgers, which is why I like them so much. Anyways, Buffalo has such an interesting flavor. It's mildly "gamey" and if cooked properly, it's juicy and freaking delicious. I added a tablespoon of Worcestershire sauce, barely mixed it up, then shaped my patties.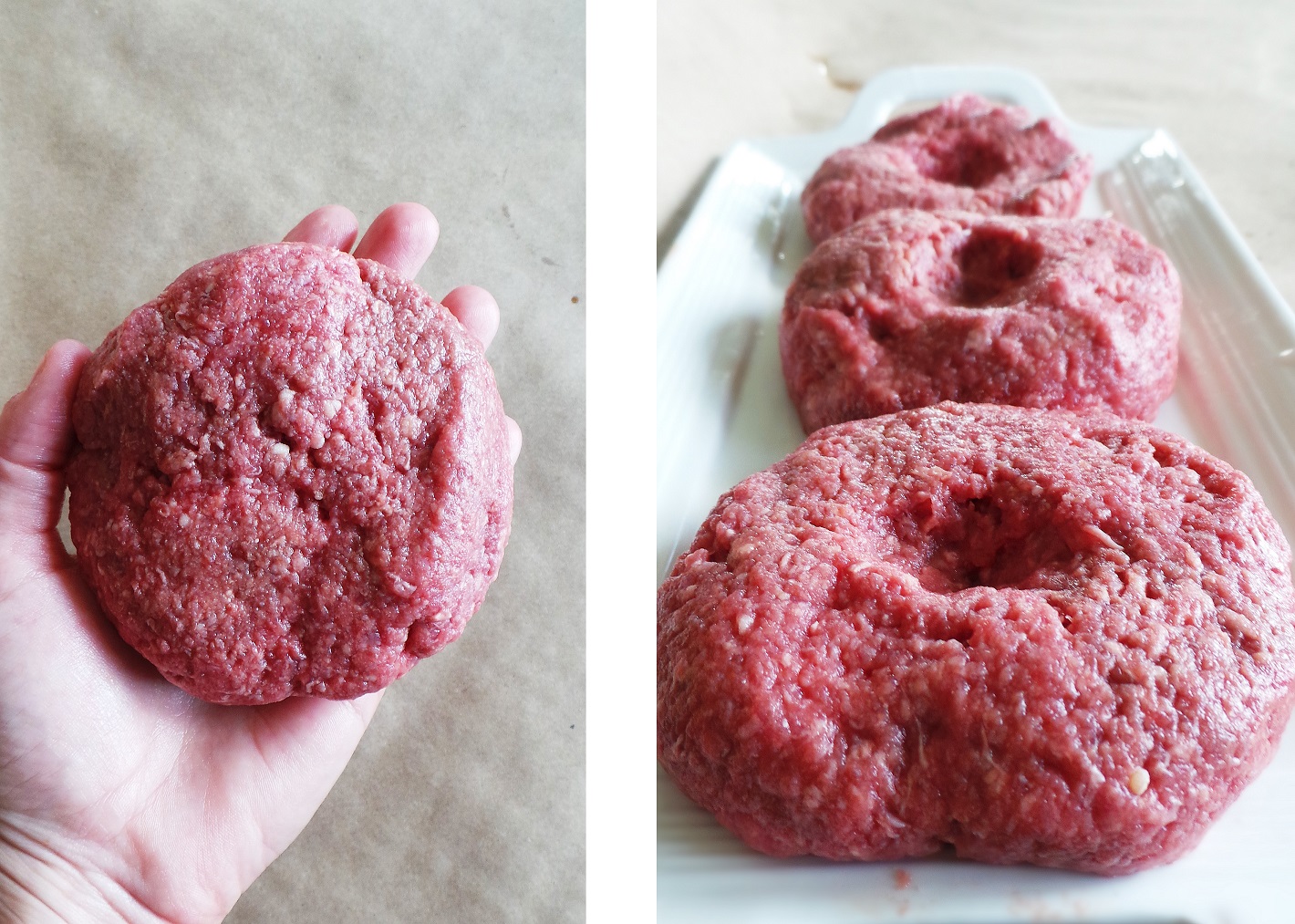 The Worcestershire is there only to enhance the flavor. I didn't add any salt and pepper to the meat because I do that right before hitting the grill. I do this for taste and I swear the salt gives it a nice sear. AGAIN, TOTALLY ME. I've heard ground thyme goes great with bison and a little dash of hot sauce. Do your thing! I indent my burgers in the center just so it cooks evenly. Often when shaping the center is bigger than the edges which means the edges will be done quicker than the center. Just another thing I do. I also allow the burgers to relax or nap in the fridge just so it can absorb some of the seasonings a little better.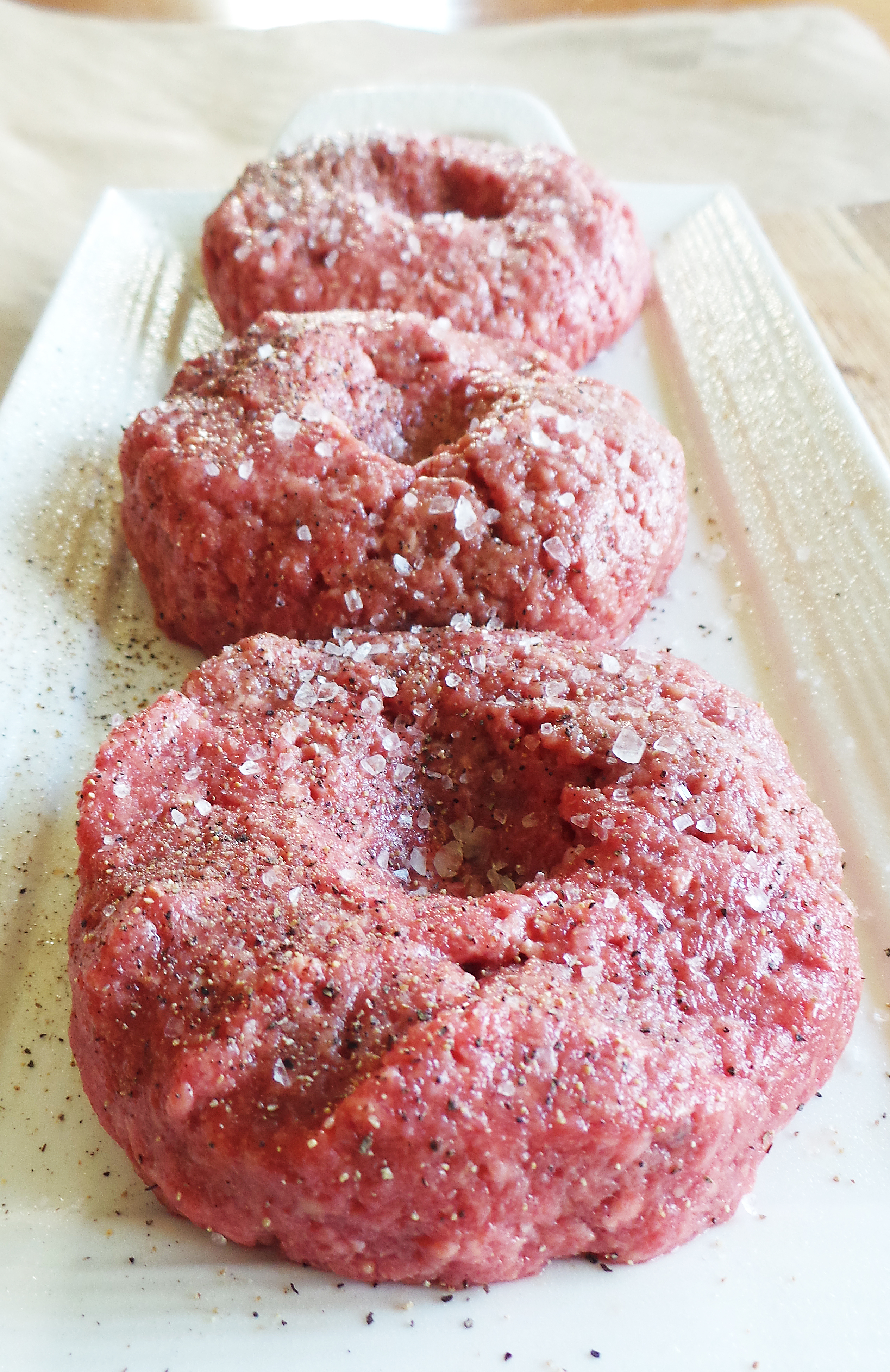 The next part is the best part: cooking. Bison is super lean, which is another factor differentiating bison from beef. When you're cooking a beef burger, all that goodness that drips down and most likely flares your grill up is the fat. Since burgers are much fattier, they have a little more to spare. I go over the tricks in my burger recipe to avoid loosing controllable fat, which for the most part apply to these bison patties.
Since we don't have much fat to spare, bison burgers are served usually medium or medium-rare and therefore not cooked as long. They only have about 6 minutes total on the grill, so I like to make sure my grill is medium-high heat, oiled, and ready to do some work. If the grill is too hot your burgers will scorch. Medium-high flame is perfect for a nice sear! If you don't feel like crankin' up your grill, use an indoor grill OR your cast iron skillet. That baby can sear a burger sometimes better than a grill can! Like I said, these take about 6 minutes total (3 on each side), so don't go anywhere. I only flip my burgers once and after the first flip is when I add my cheese. Resting is crucial! Since you just cooked a perfect juicy burger, you want it to chill out and take a minute to distriubte the juices. Let it hang out for a few minutes, perfect timing to toast your buns!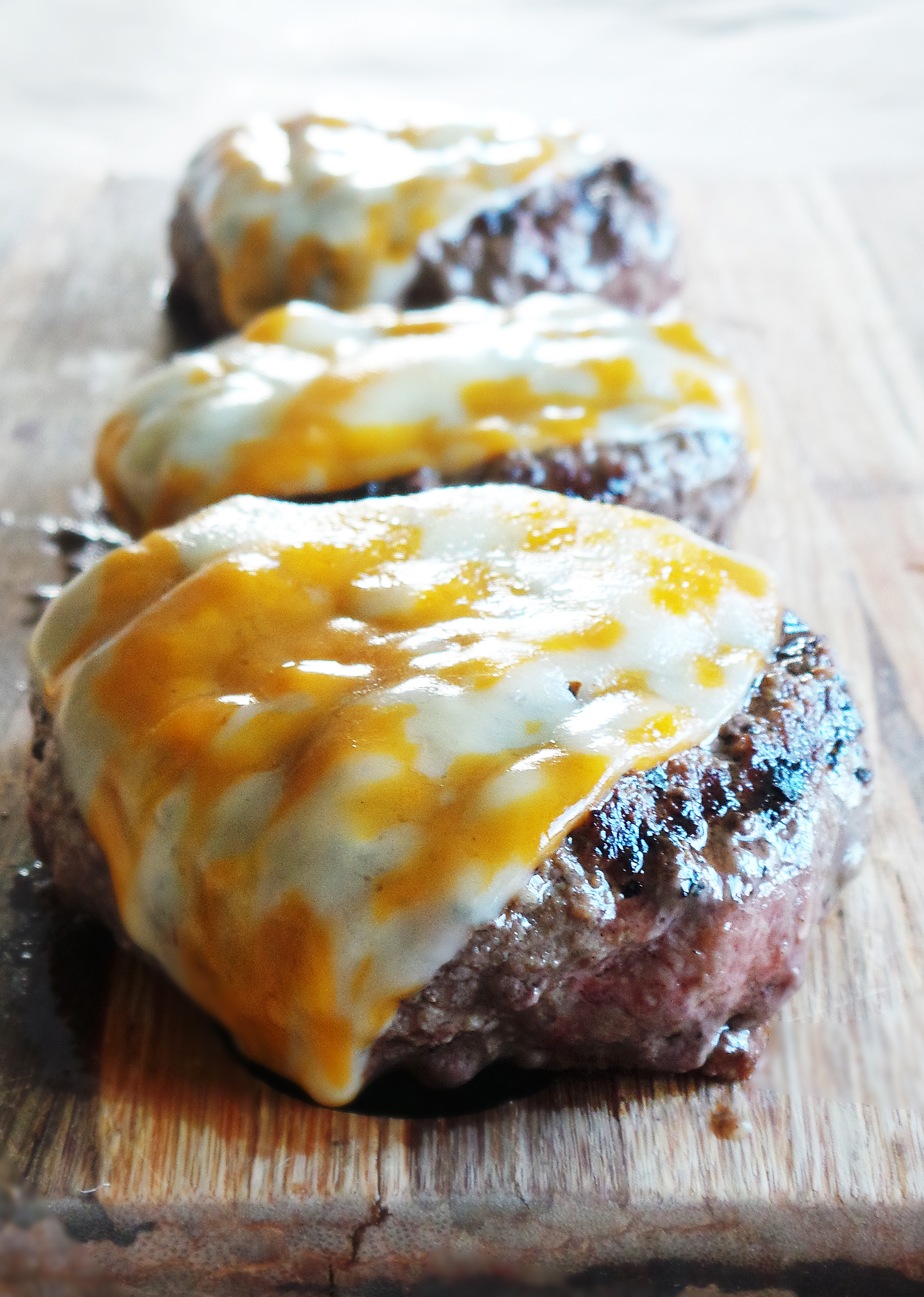 Speaking of the buns, there is nothing that compares to a toasted Brioche roll. If you're not cooking for a crowd (like me, who only cooks for 2), go to your grocery store's breadbox and pick out individual buns. I get mine for thirty cents each! Also, instead of buying an entire pack of cheese, ask for a couple slices at the deli! That right there will save you $5 which you could put towards your bison! I like to toast my buns in the leftover onion yums. CAN WE TALK ABOUT THE ONIONS.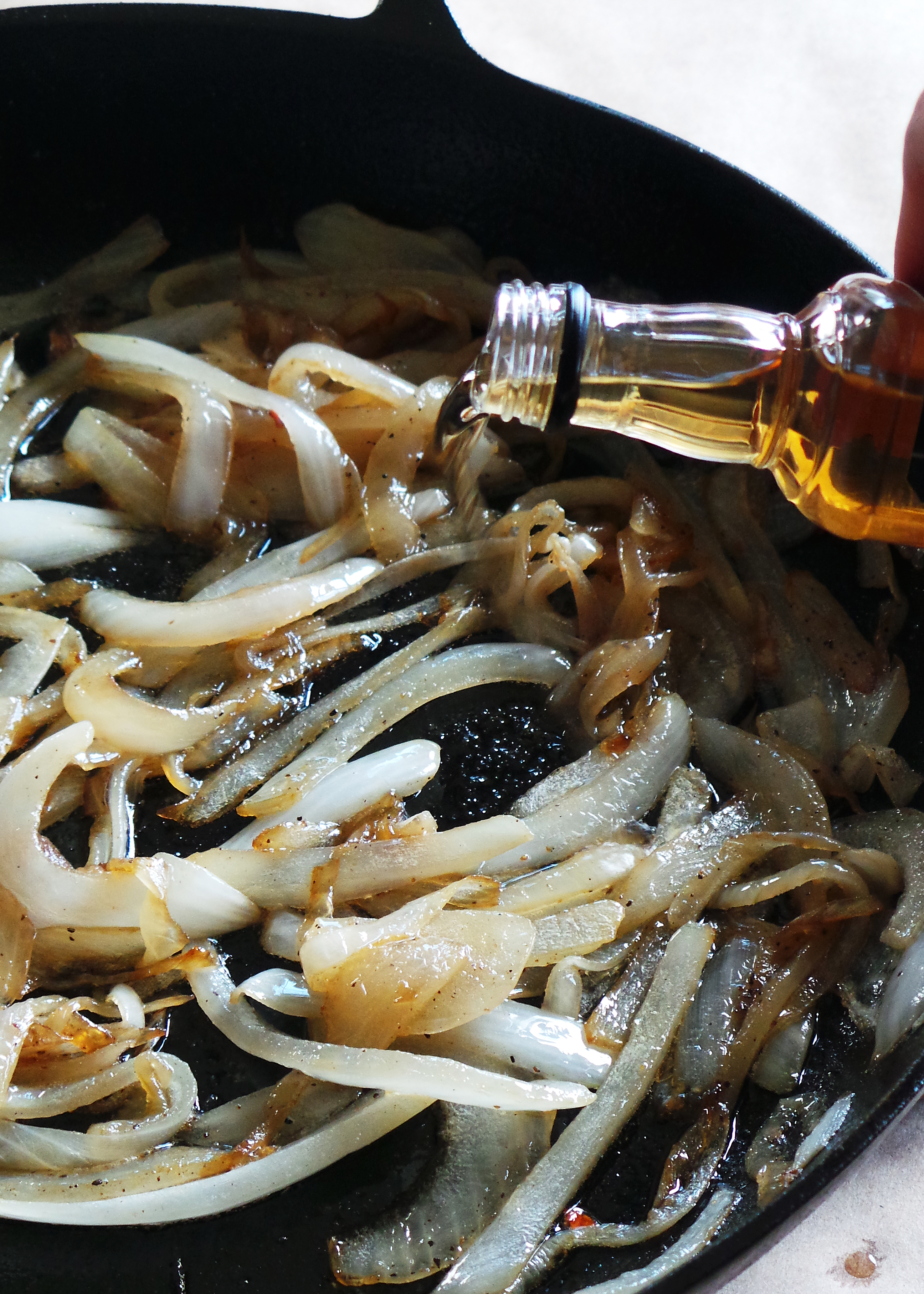 They're almost the best part. I caramelized onions, added some brown sugar and red pepper flakes, then added a very necessary amount of whiskey. Onions are basically sugar which is why when cooked low and slow, they turn into a caramel color. Kinda like the sauce, KINDA cool. Once the brown sugar is added and melted it gives the onions a sweet syrupy glaze. I added in a pinch of red pepper flakes because nothing is better than sweet and heat. Just before pulling them off the flame I poured in some Jack Daniels. Let that cook out for a minute or two and listen quietly as you'll hear John Wayne roll over in his grave.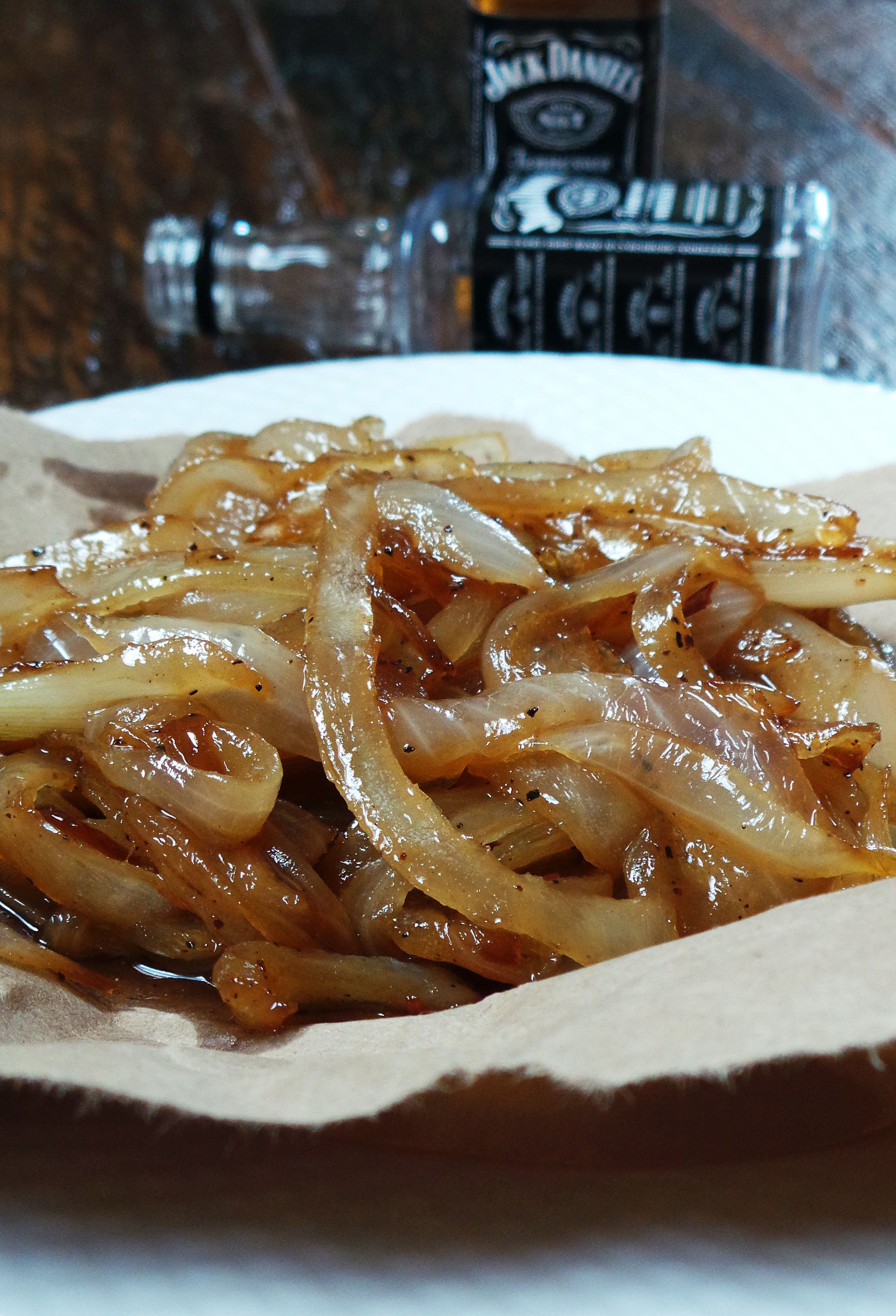 Do you blame him though?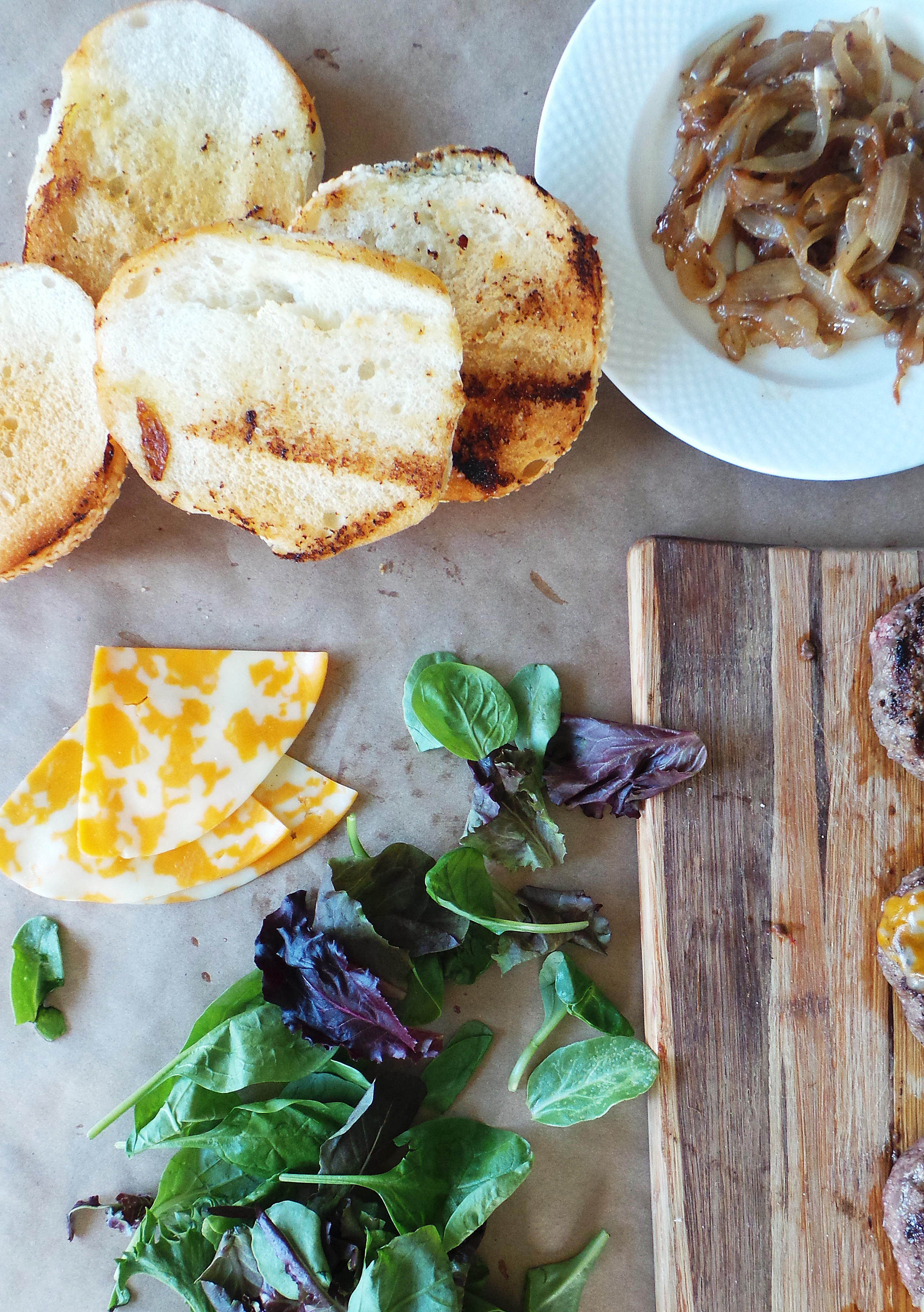 After the onions are done, don't clean out the pan! That's what I use to toast the buns and YES YOU NEED TO. It takes this to a whole new level. The burger is so flavorful and juicy that you won't even need a sauce, especially with a bite of the glazed onions. Build your burger, take a bite, and feel like a badass because you're eating THE BEST buffalo burger ever. Enjoy!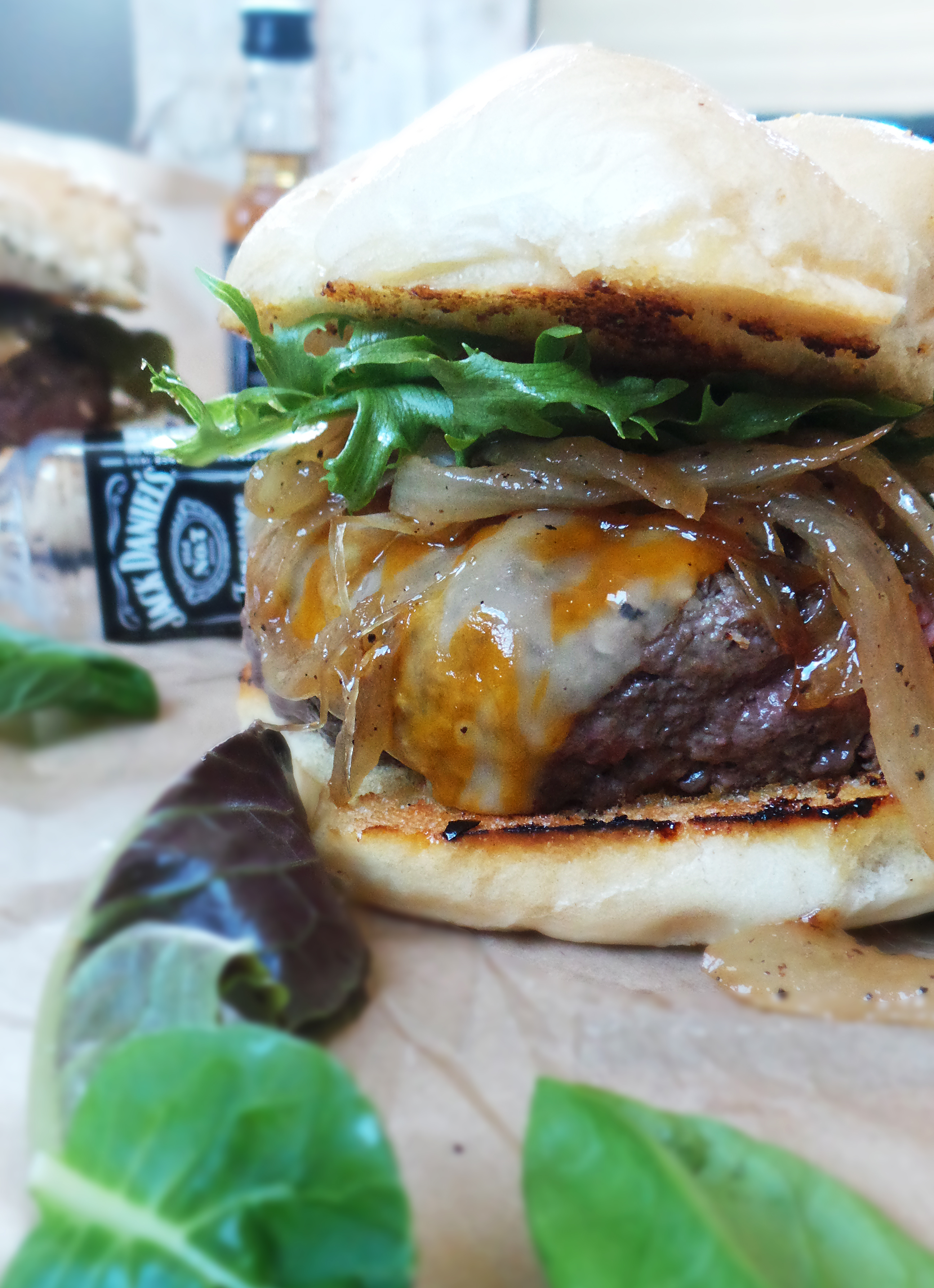 Bison Burgers with Drunken Onions
2014-08-28 16:59:04
Serves 4
For the bison burger
1 1/2 lb. ground bison
1 T. Worcestershire sauce
salt and pepper as needed
canola oil as needed
4 slices Colby Jack cheese (or whatever you want)
4 Brioche rolls
Field Greens
For the onions
1 large white onion - julienne
1 T. olive oil
2 T. butter
1 T. brown sugar
pinch red pepper flakes
1/2 oz. Whiskey
For the burgers
Add the meat and Worcestershire to a bowl and barely mix. Be gentle with the bison! Divide the meat into four 6 oz. portions and shape into patties. I like to form with my palms and use my thumb to shape (if that makes sense).
Indent each patty and place in the fridge until ready to grill.
Once ready to grill, fire up the grill to medium high heat. Oil one side of the burgers (the side you'll grill first) and generously season with salt and pepper.
Lay on the hot grill (oiled/seasoned side down) and grill for three minutes. Just before flipping, brush with oil and season once more.
Flip and cook the other side for three more minutes. Add cheese at this step if desired! This gives a nice juicy medium burger. The FDA recommends serving at 160, but to me that's a little well done for bison.
Serve with toasted buns, Whiskey onions, and greens!
For the onions
Melt the butter and oil in a cast iron skillet (or any skillet) over medium-low heat. Add the thin onion slices and cook for 20 minutes, stirring occasionally.
The onions will be browned and caramelized. I like to add a littleee bit more butter, reduce the heat , and cook another 10 minutes.
Add the sugar and red pepper flakes and cook 5 minutes until the sugar has melted and the onions are glazed. Add the Whiskey and allow to cook out 2 minutes until the whiskey has been absorbed.
The onions can be made a day ahead!
http://www.vodkaandbiscuits.com/
[shopeat_button]