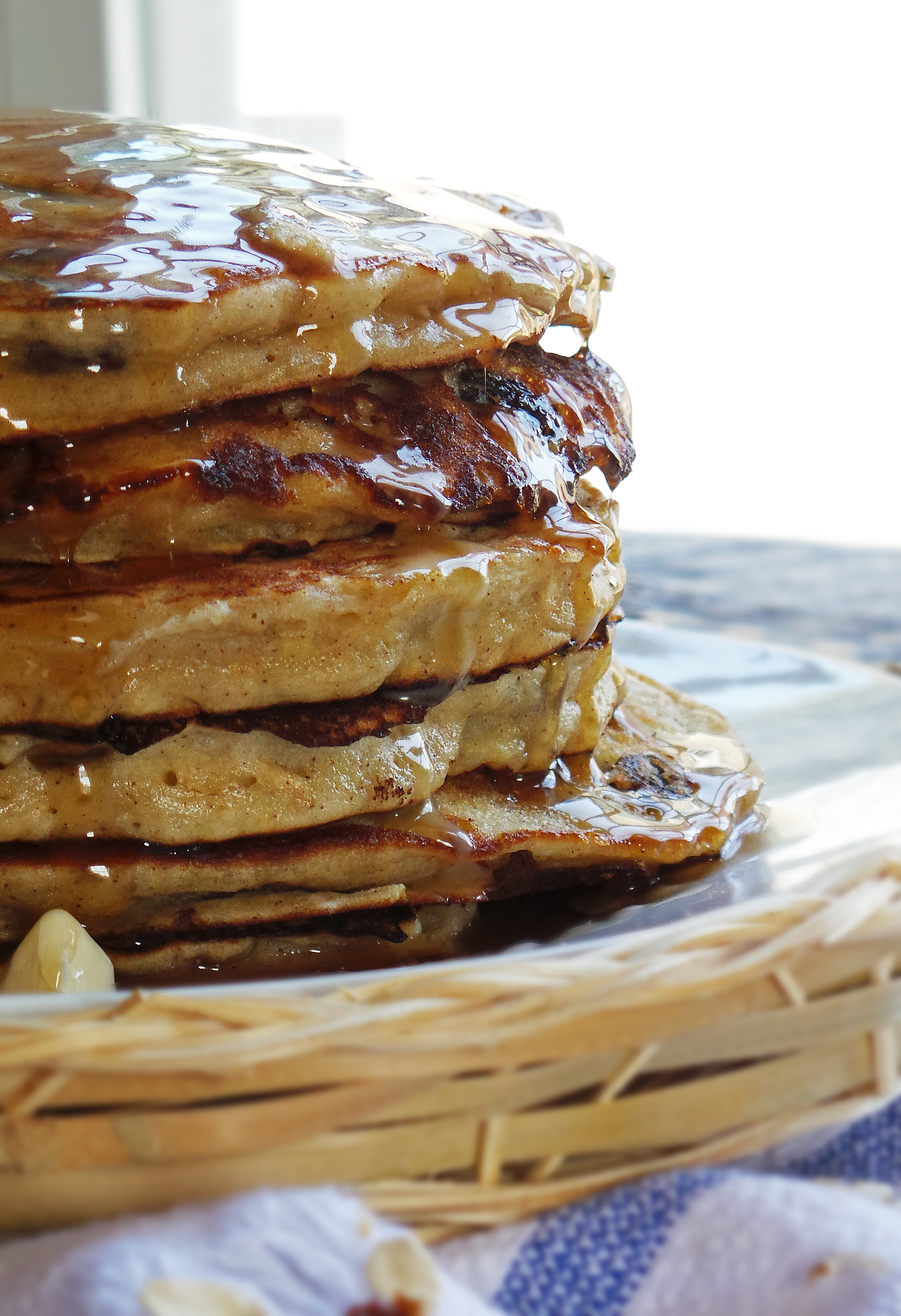 If you follow my Instagram, you know it's been a hectic week. With three weddings with Sascha's last weekend, one approaching this weekend, and styling on set of Baltimore Bride (!!!!!), things have been – uh – crayze. I'm planning on making a post about what happens in my frenzied life outside of Vodka & Biscuits, but then again I've also been planning on posting these for a week. That's where things are at right now and I APOLOGIZE.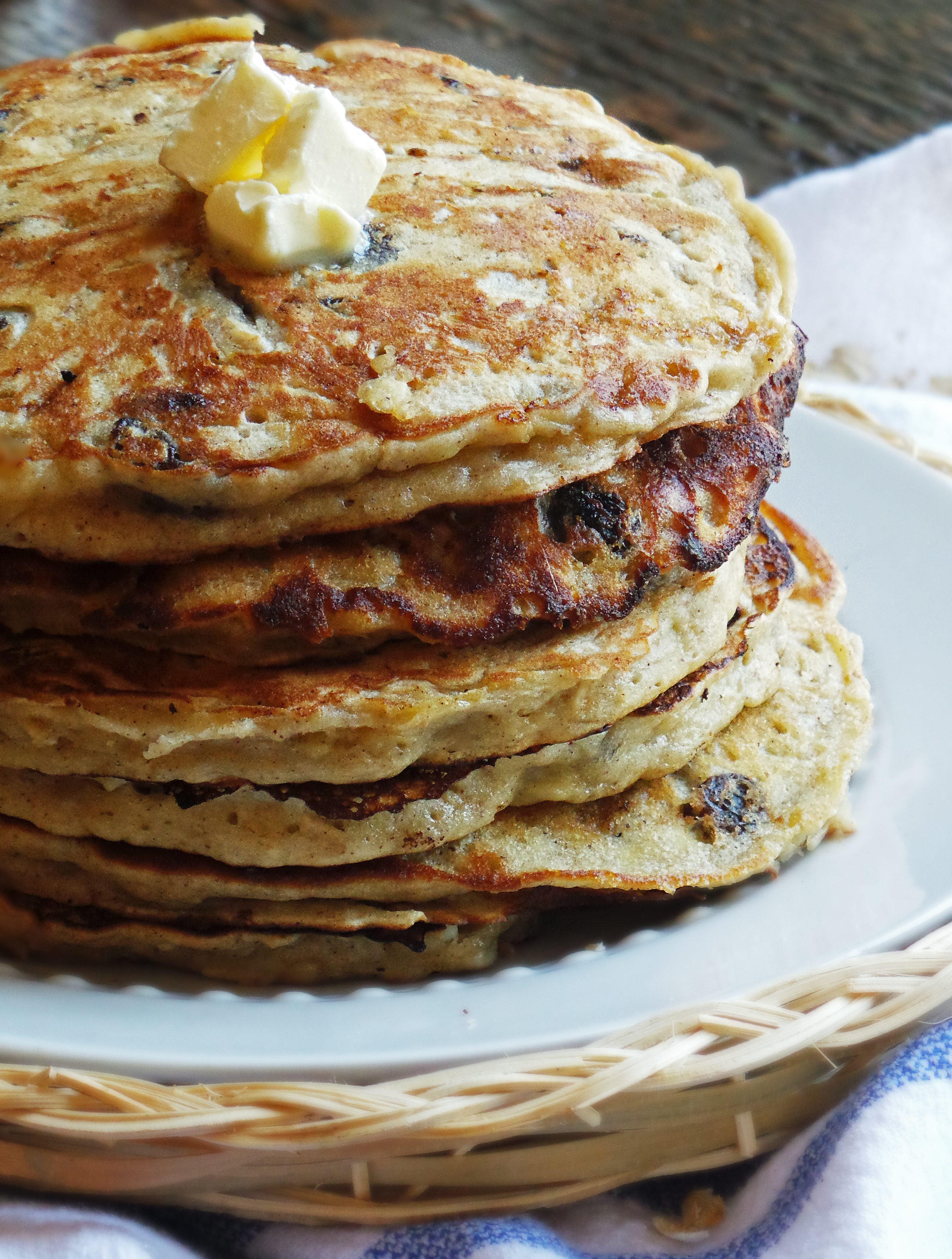 I came across this recipe on the Food Network App and once I read Oatmeal Cookie Pancakes, there was no turning back. Who is the hungry genius who formed these two combinations together? I believe in a good breakfast because it's probably the only thing that will get my butt out of bed in the morning, and you wouldn't believe how fast I woke up to make these. So good I didn't even wait til next breakfast to finish all 6 of them.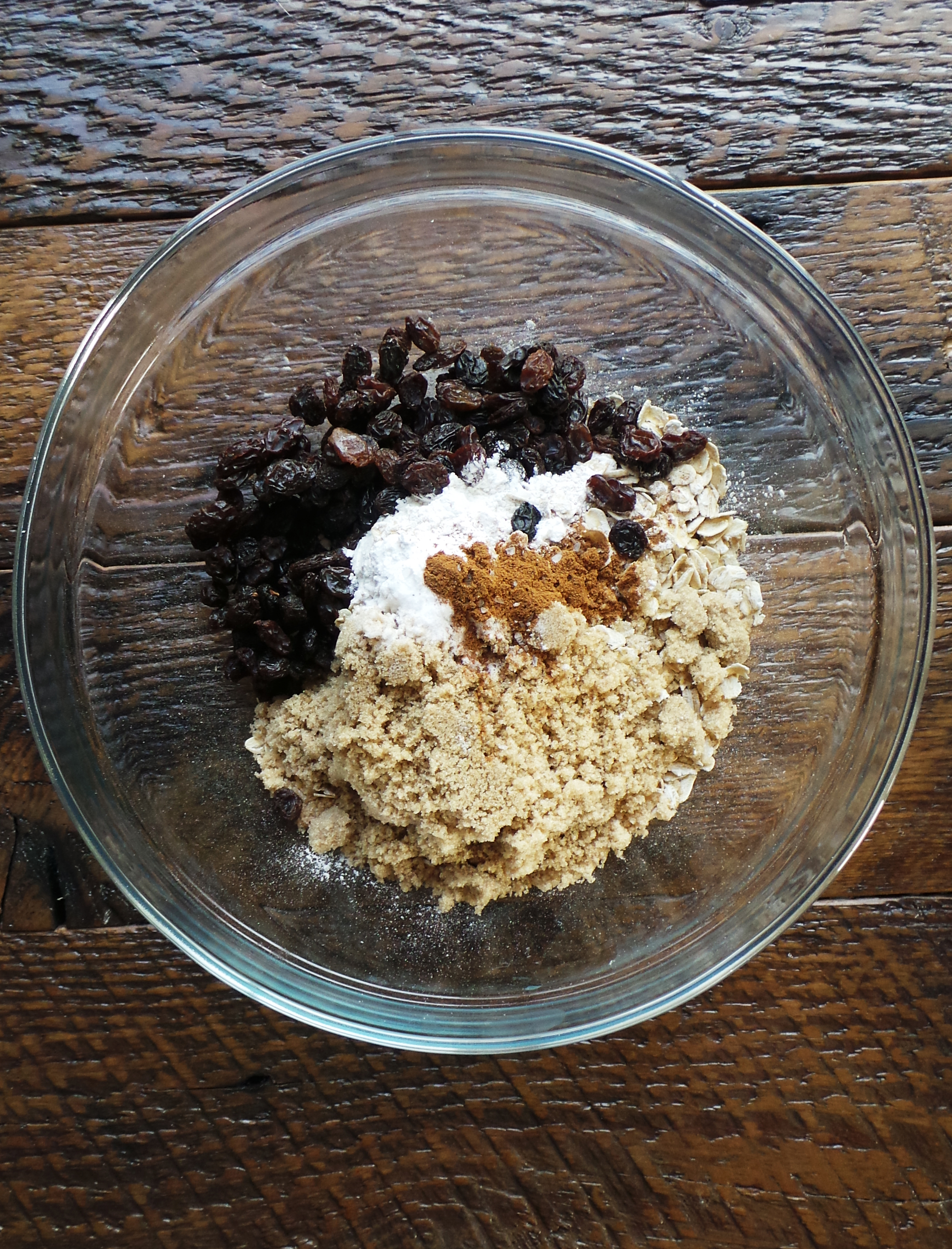 Everything you would find in an oatmeal cookie, you'll find here in the pancake. Opposed to the cookie, the pancakes are softer, drenched in syrup, and TEN TIMES BETTER. In fact, a friend I shared these with surprised herself because she doesn't even like breakfast foods yet devoured this.
Basically you treat these as your typical pancakes, mixing the dry ingredients in one bowl and the wet in another. The dries today included flour, oats, leaveners (baking soda/powder) , brown sugar, cinnamon, and raisins. The wets included low fat milk, greek yogurt, mashed bananas, and a little splash of vanilla. Nothing too crazy! The original recipe contains sour cream, whole milk, eggs, nuts, and butter. Take a look at the two and use what you have on hand! Creating pancake batter is nothing special, and you don't have to know how to bake to make (thank gawd). Just mix the wet into the dry, fold with a spatula, then make the pancakes!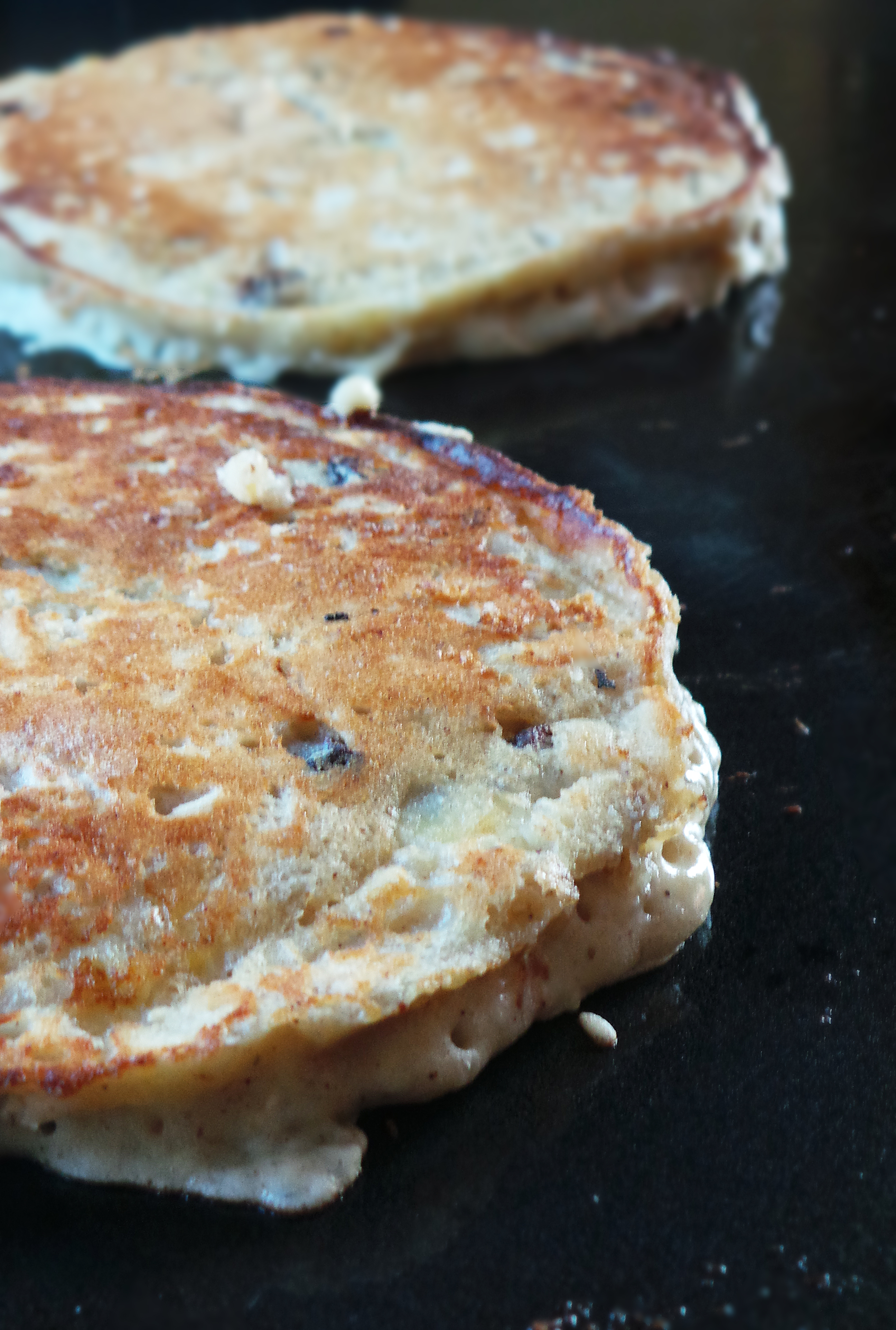 I think folding with a spatula decreases the chance of overmixing and creating tough pancakes. Nobody has time for a tough pancake. When it comes time to cook, I heat up my griddle to about 325 degrees and use a combination of non-stick cooking spray and butter. The butter helps form a nice crust on the pancakes and gives them extra umph. HOWEVER, the butter can easily burn especially since I like to add more butter after each pancake, so really unless you're willing to time/temp control, it's kinda risky. A good solution is melting butter and adding to the wet ingredients!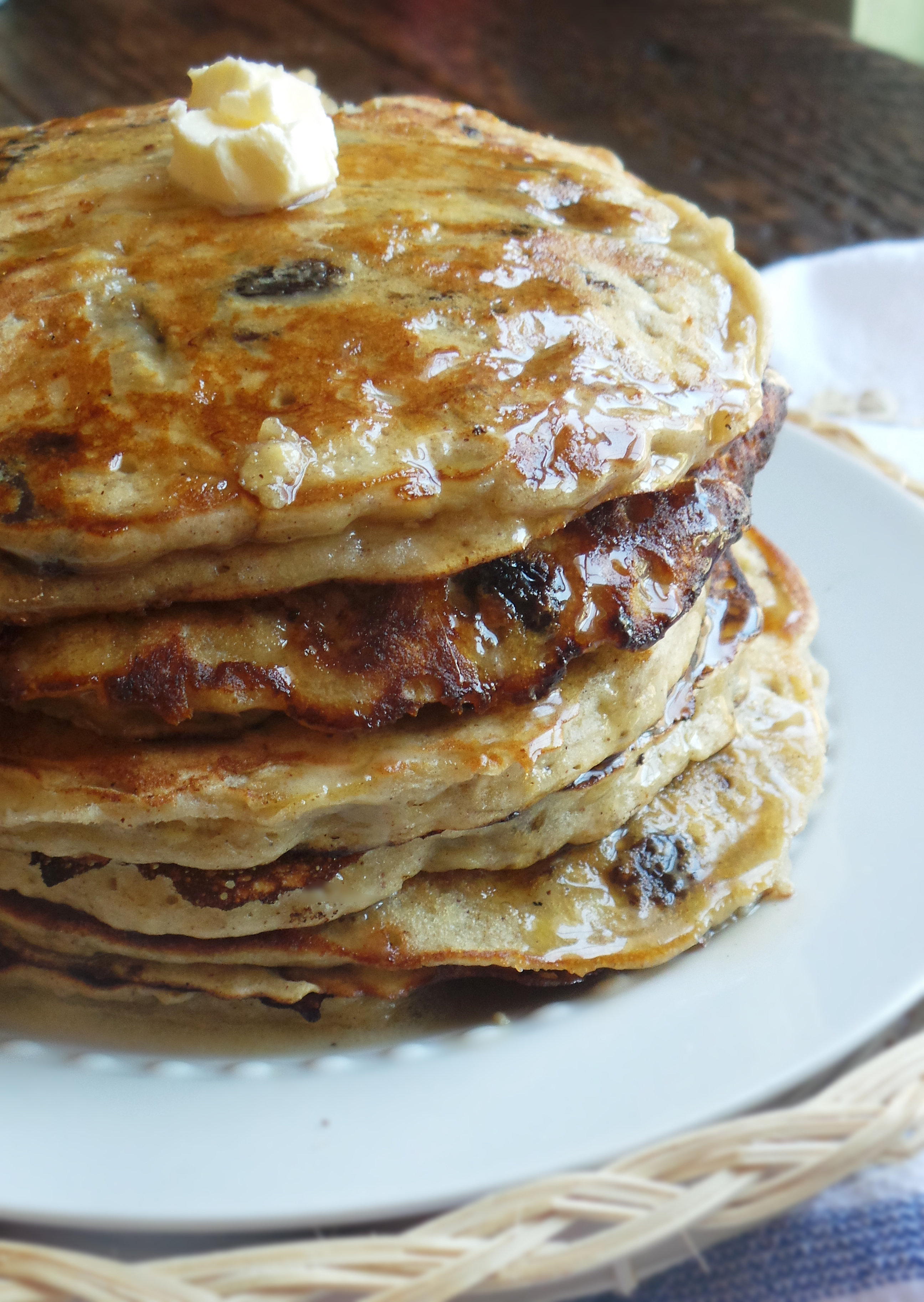 I made six large pancakes with the batter and they were GONE just like that. You can make these smaller and yield more or just double the batter. Topped with a dollop of butter and syrup these babies are none the less addicting.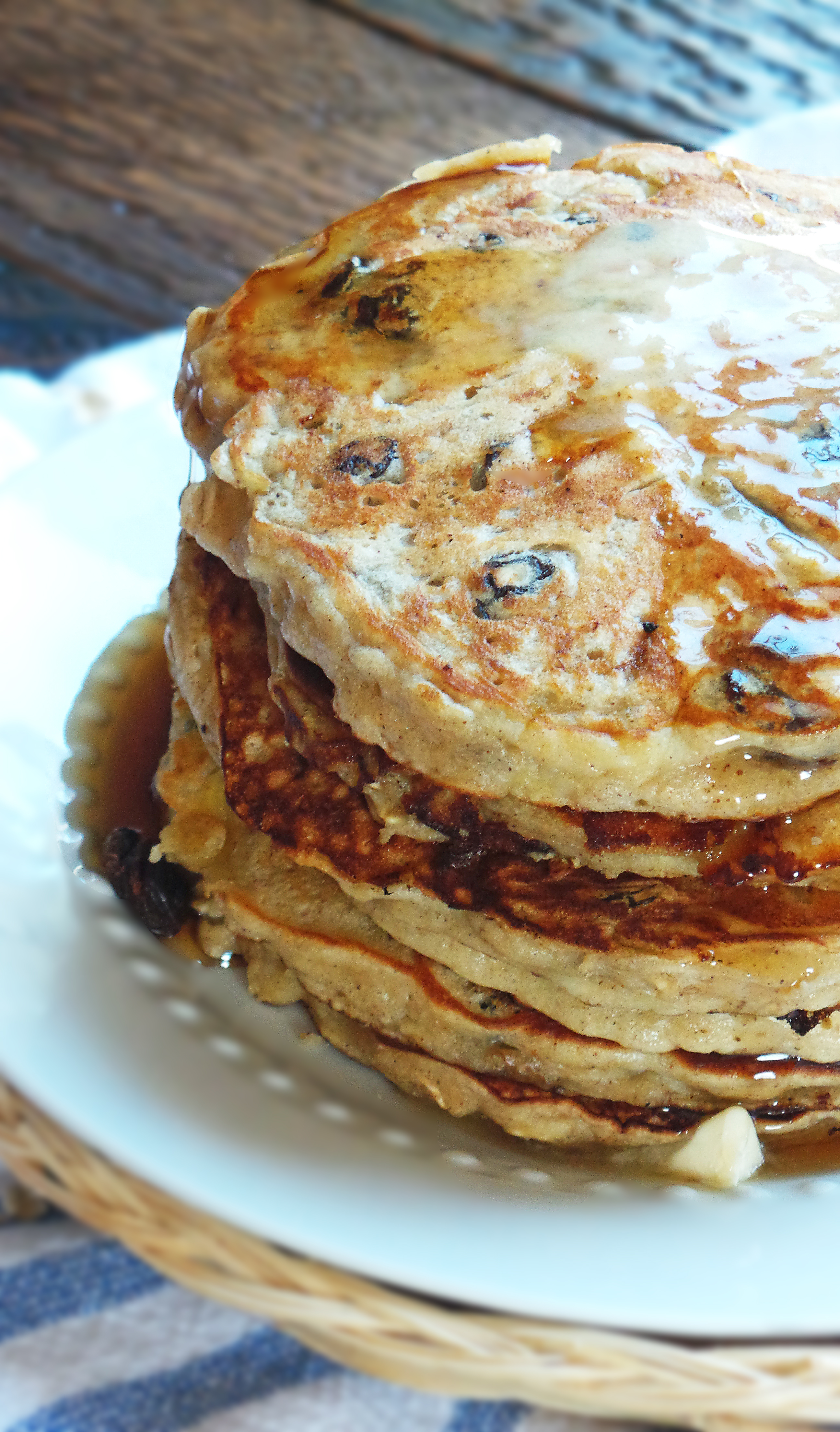 The banana and Greek yogurt help keep them moist and add some nutrition, score. The raisins are juicy, the cinnamon is prevalent, just everything from the taste and texture make these my new favorite way to eat pancakes. Now stop what you're doing and go make these. Enjoy!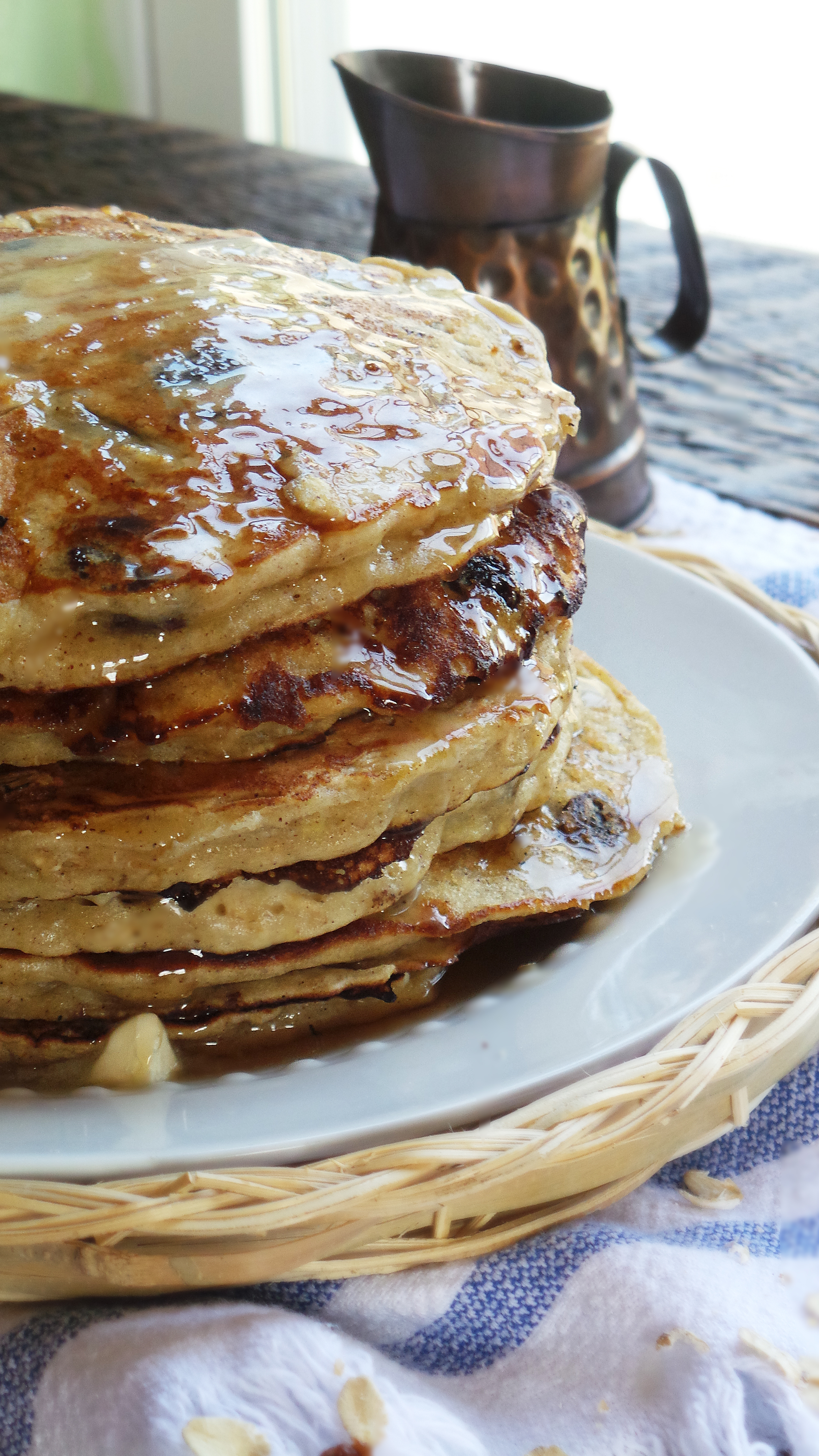 Oatmeal Cookie Pancakes
2014-09-09 10:19:18
Serves 6
Ingredients
1 c. flour
1 c. old fashioned oats
1/2 c. brown sugar
2 t. baking powder
1/2 t. baking soda
1 t. cinnamon
1/2 c. raisins
3/4 c. non fat Greek yogurt
3/4 c. low fat milk
2 eggs
1 t. vanilla extract
2 extra ripe bananas - mashed
Instructions
Combine the first seven ingredients and mix to combine.
In a separate bowl combine the wet ingredients and mix until the eggs are beaten. Add the wet to the dry and fold with a spatula until combined. I stop folding once there's no flour at the bottom of the bowl!
Heat your griddle to medium high heat and spray with cooking oil and dollop with butter (optional). Using a ladle, spoon the batter into the shape of a pancake.
Allow to cook 2 minutes on each side, flipping once the edges are firm and there's bubbles (signs the baking powder is doing it's job!).
Cook on the other side another 2 minutes. Serve with butter and syrup and enjoy!
http://www.vodkaandbiscuits.com/

[shopeat_button]