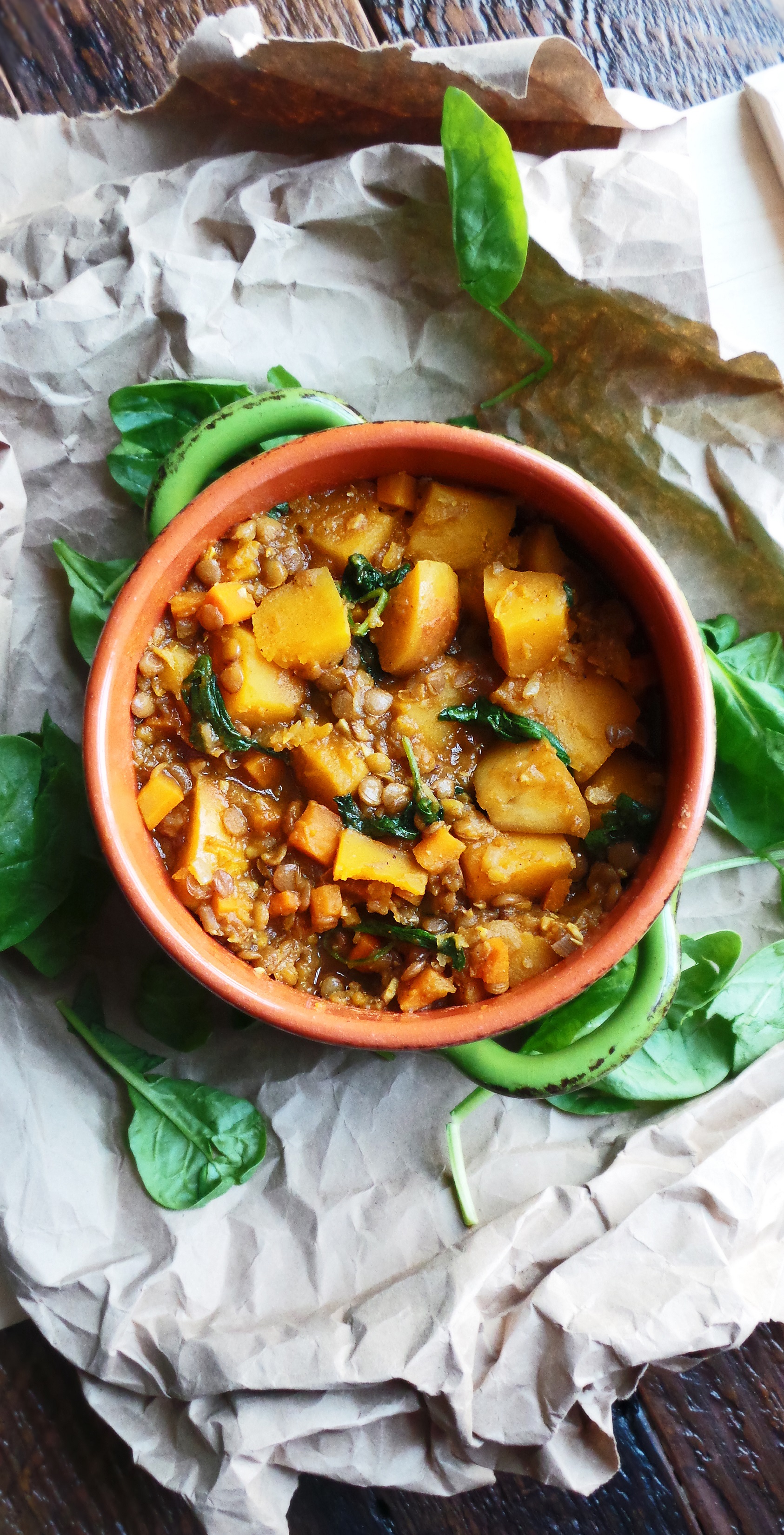 …with apples and spinach and spicy and everything else that makes you all giddy because the season we've all been waiting for is finally here. My nails are already colored for fall, I'm currently wearing a burgundy plaid shirt, and I just finished my second enormous bowl of stew filled with Fuji apples and butternut squash. Have I been waiting for this season for ten months? YAH.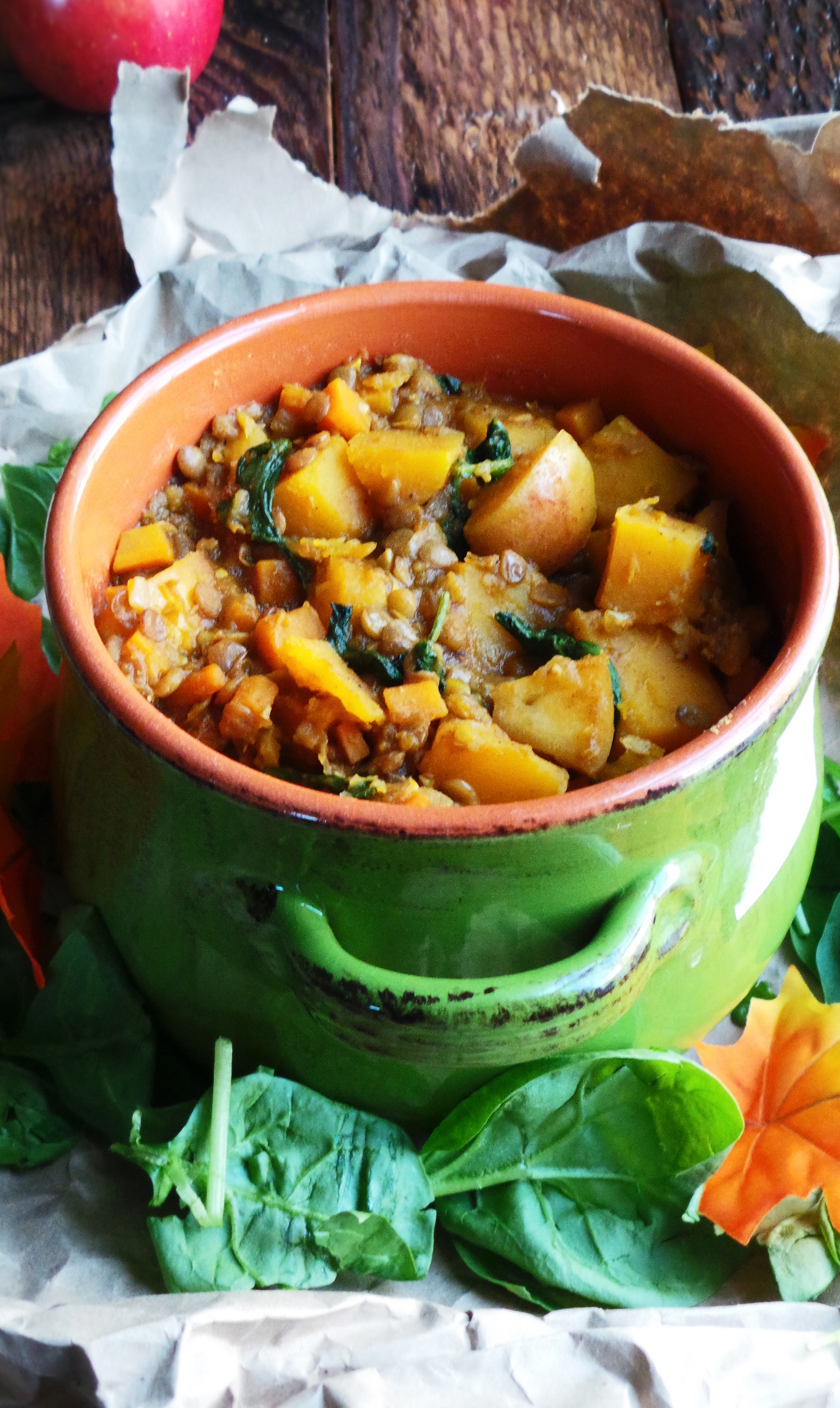 Fun flavored coffee, beautiful trees, and backyard fires with hot tub parties – it's finally here! I'm so excited and lucky for you, I'm sharing my excitement this week through some of my favorite fall favored recipe, starting with Chef Chloe's Curried Butternut Squash, Apple, and Lentil Stew.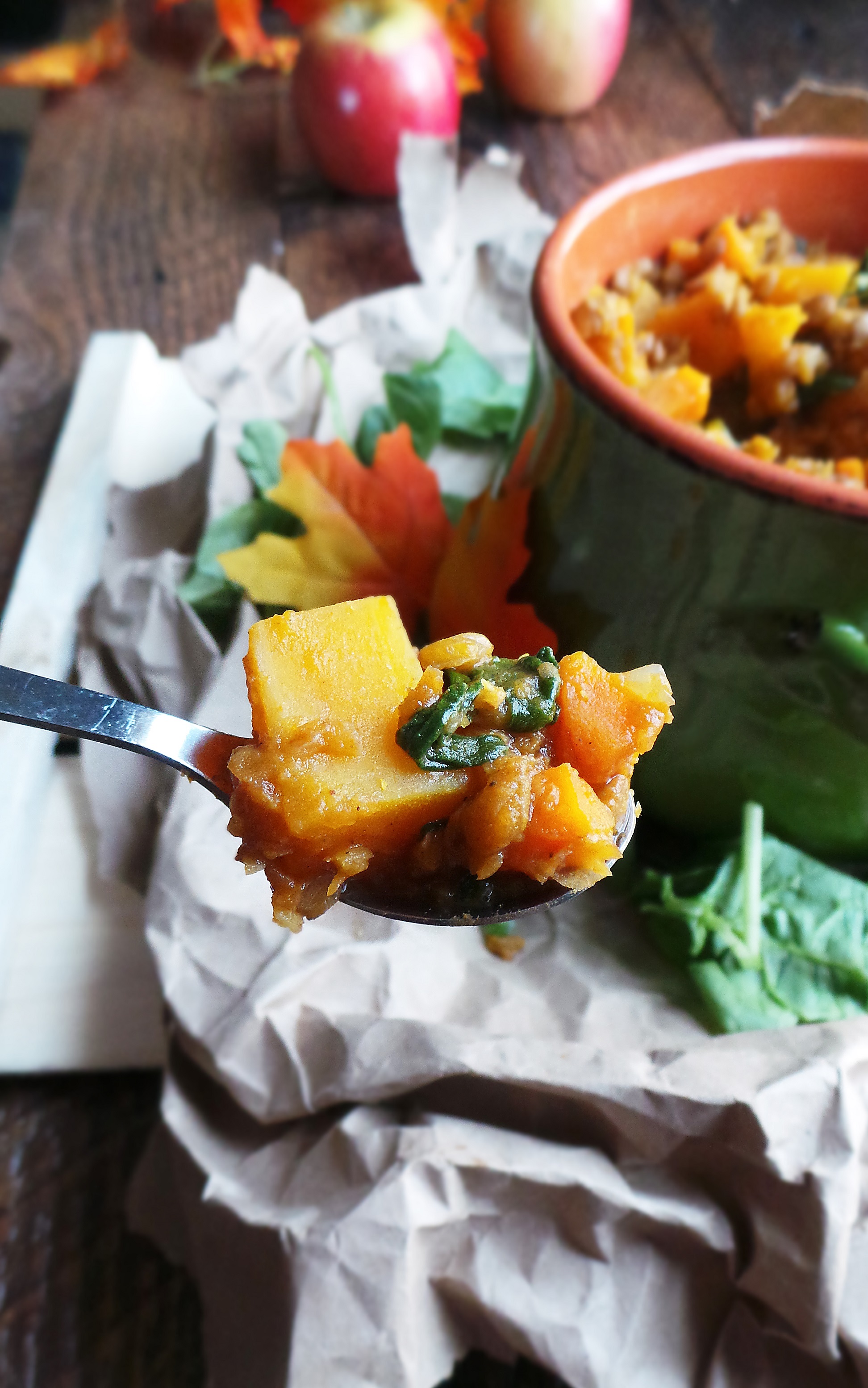 I made this for the first time last year and fell in love. It's simple, fresh, filling, smells DIVINE, and vegan! You know what that means? Healthy baby. The vegetables and aromas in this dish range from butternut squash, seasonal apples, carrot, fresh spinach, ginger, and more.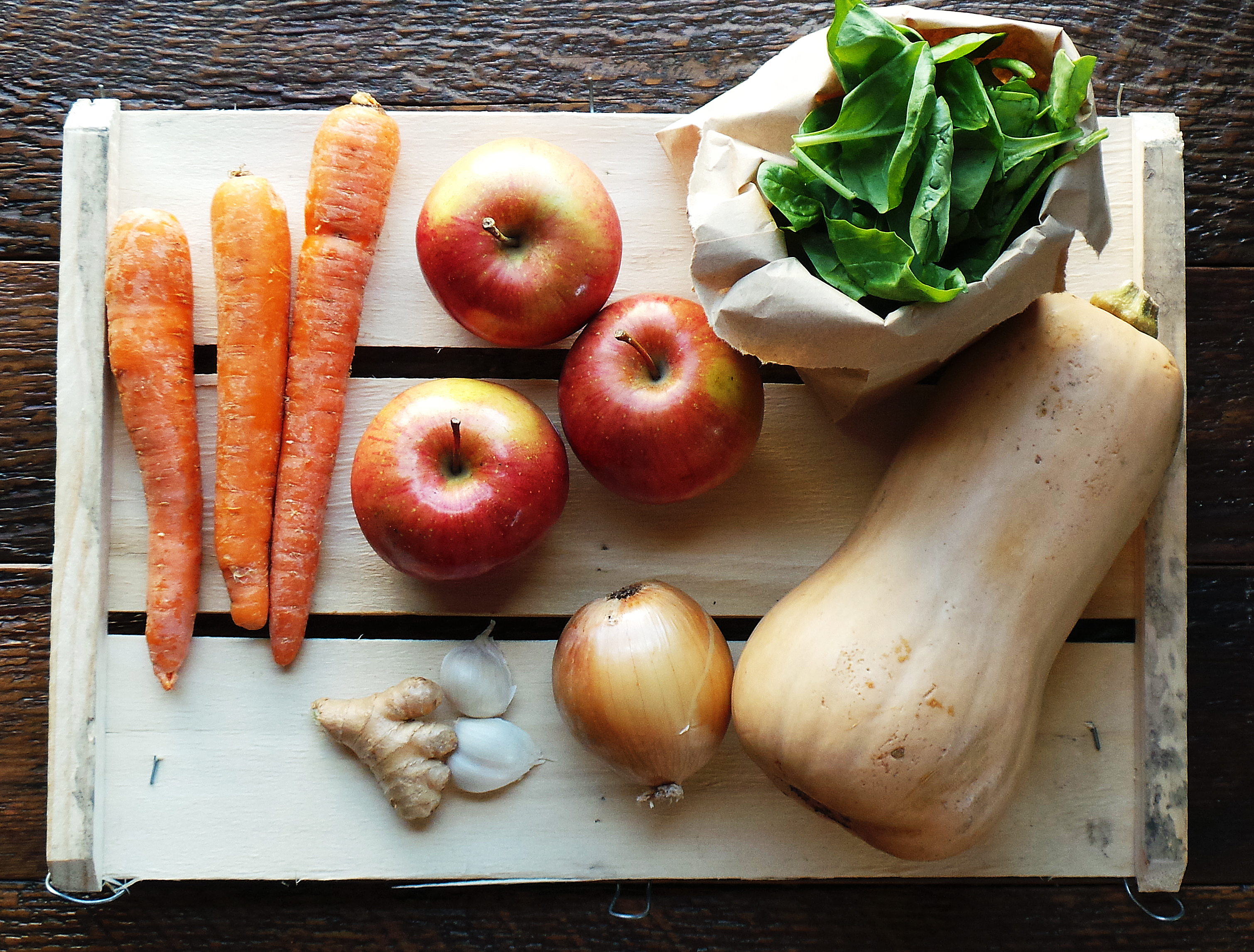 The only ingredients not pictured are vegetable broth, lentils, seasonings, and tomato paste. Speaking of, you know how annoying buy a small can of tomato paste is when all you really need is a tablespoon right? Well next time scoop out the remaining paste and spread a tablespoon out on a piece of parchment and freeze! You'll never have to waste and keep re-buying tomato paste. Little life hacks complete me.
The hardest part of this dish is the prep. Turn up some jams, clean your cutting board, and allow yourself a good 10 minutes to cut them veggies. Once the carrots, onions, squash, ginger, garlic, and apples are cut – it's time to cook. The carrots and onions are cooked first over medium high heat with the lid on. Keeping the lid on will trap the steam and sweat the vegetables, cooking them without adding color. The aromatics, tomato paste, and curry powder are added after a few minutes and then cooked out. I always like to cook out the tomato paste for a minute or two, it rids any pasty tasty shiz. That makes sense, right?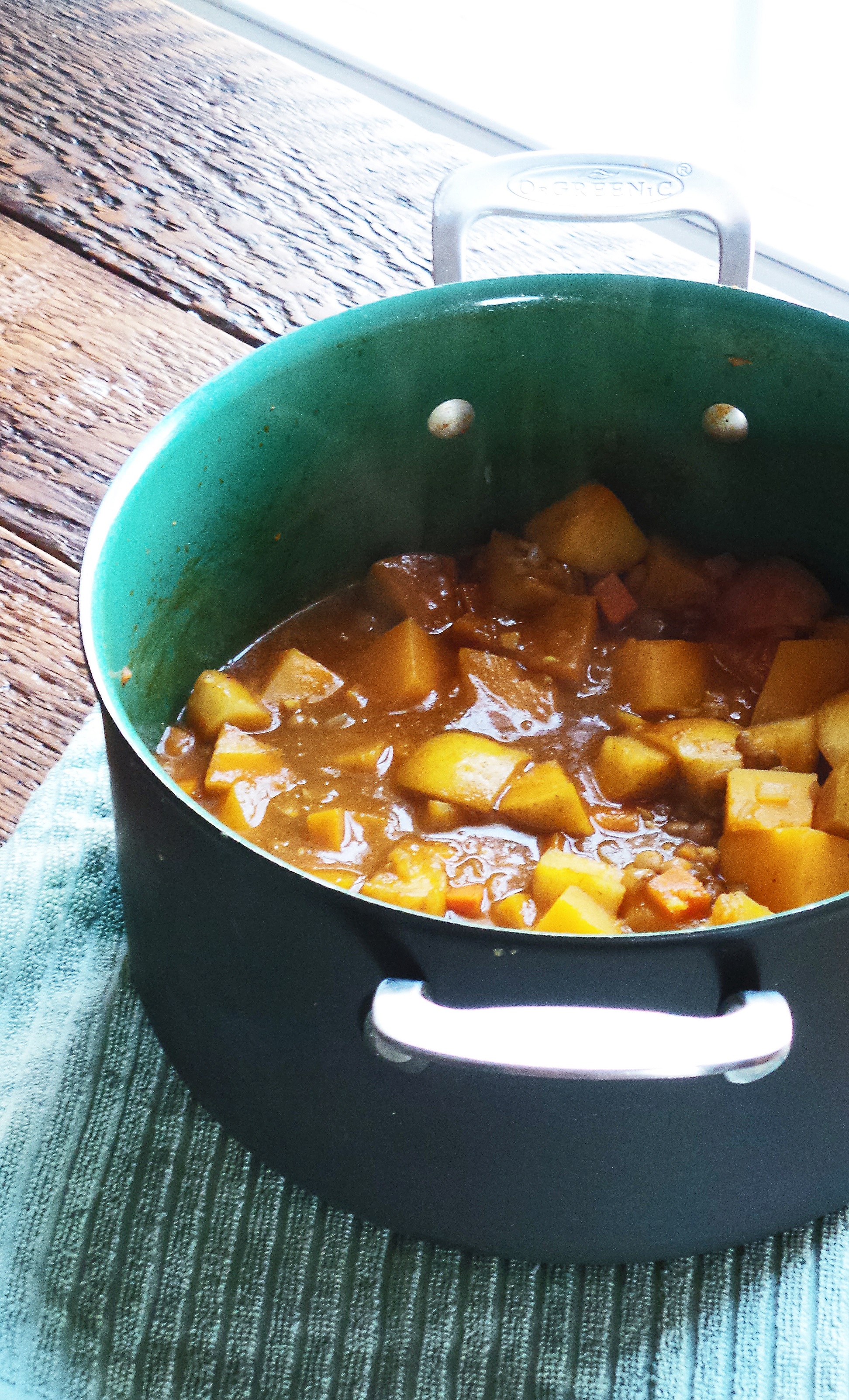 I then add the broth and lentils and bring it to a simmer for 20 minutes. After the lentils are cooked, the squash and apples are stirred in and cooked til tender, about 20 more minutes. Just before serving I stir in some fresh spinach and watch as magic happens.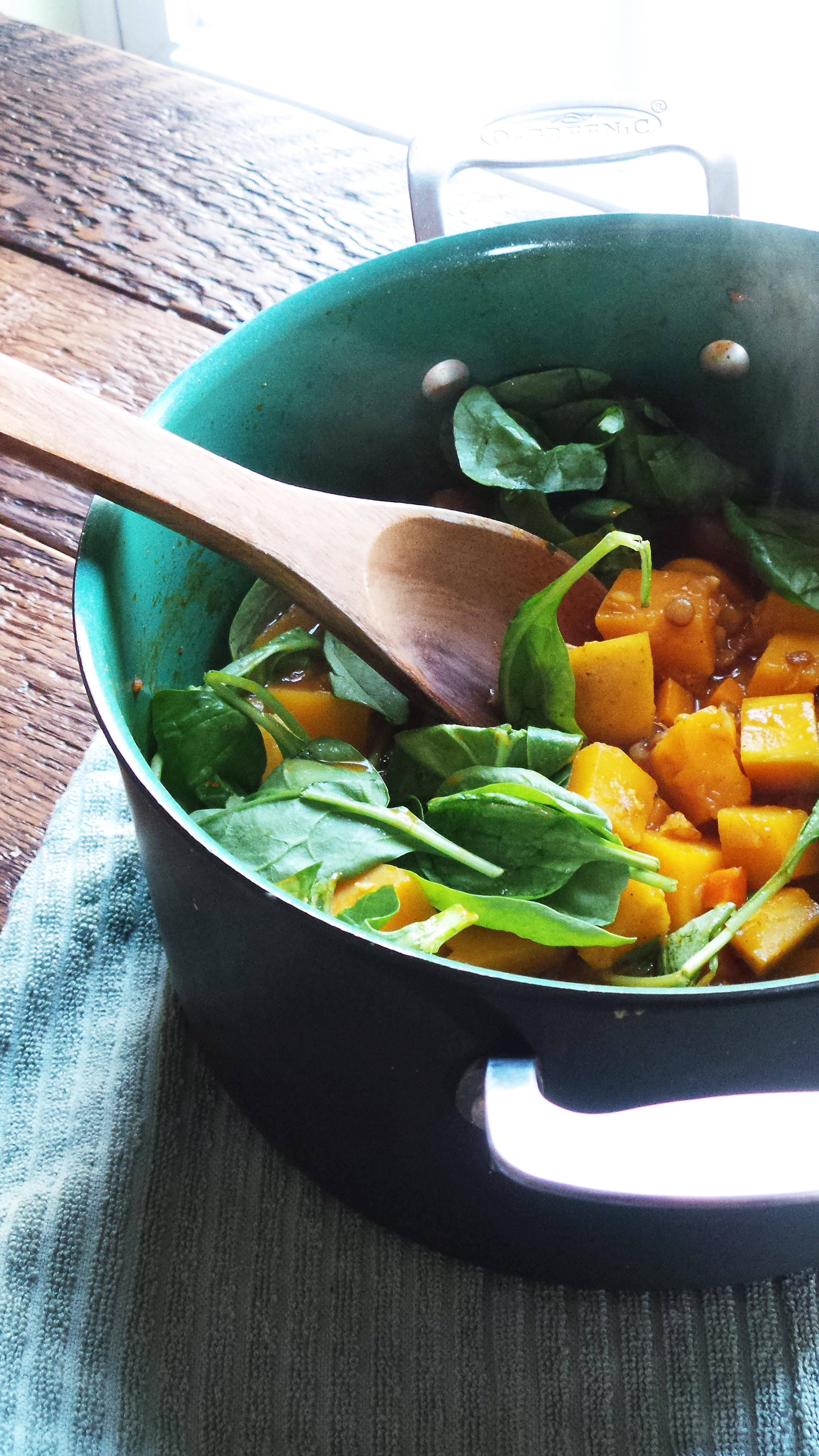 Magic as in the spinach instantly wilts and adds a bang of color.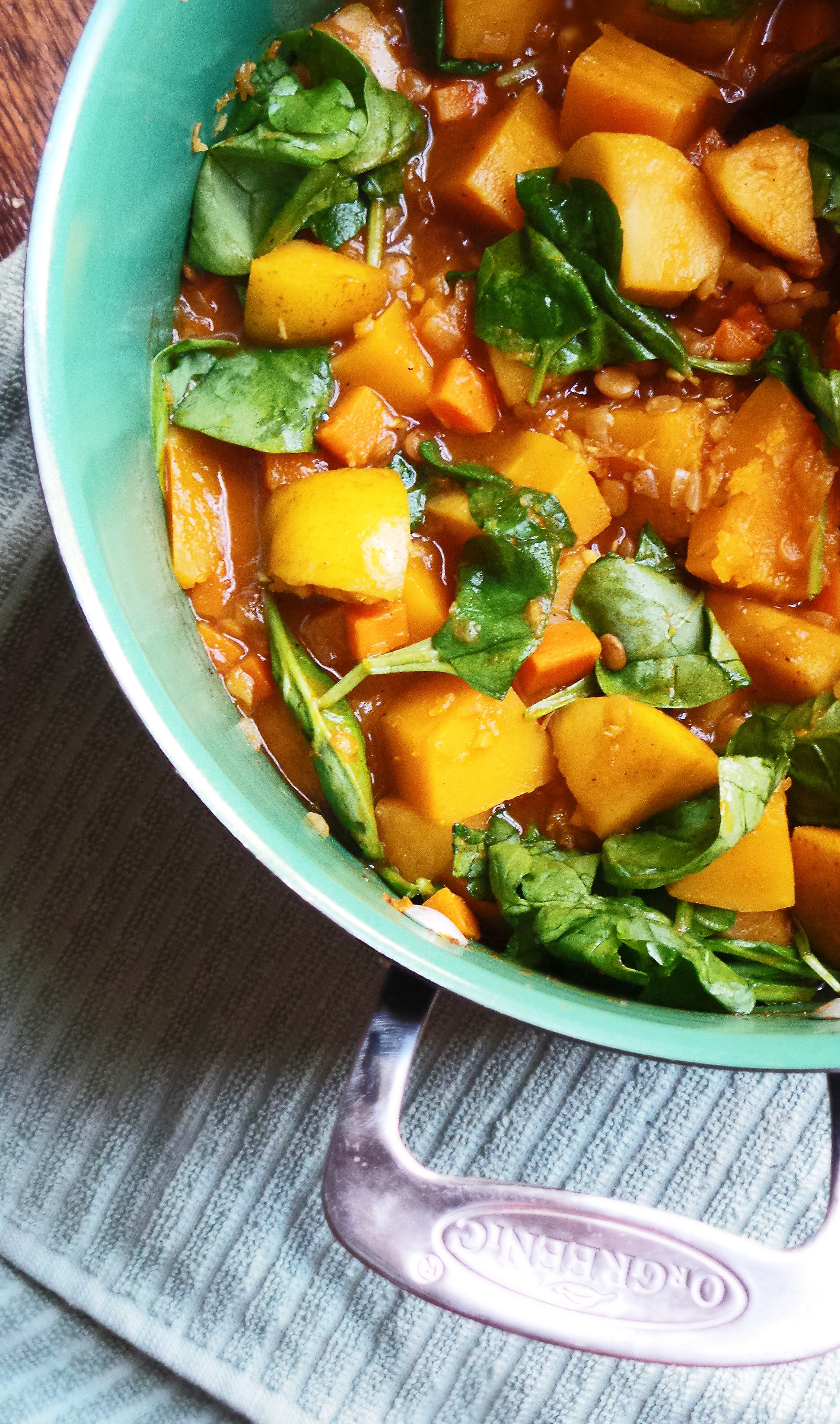 Everything in this dish is warm and comforting and perfect for fall. I added a pinch of cayenne because spicy curry makes me drool. The squash and apples are tender, the carrots are perfectly sweet, the lentils add a healthful filling touch, and the spinach adds the perfect crunch. This is exactly what I've been missing in life. Go make this.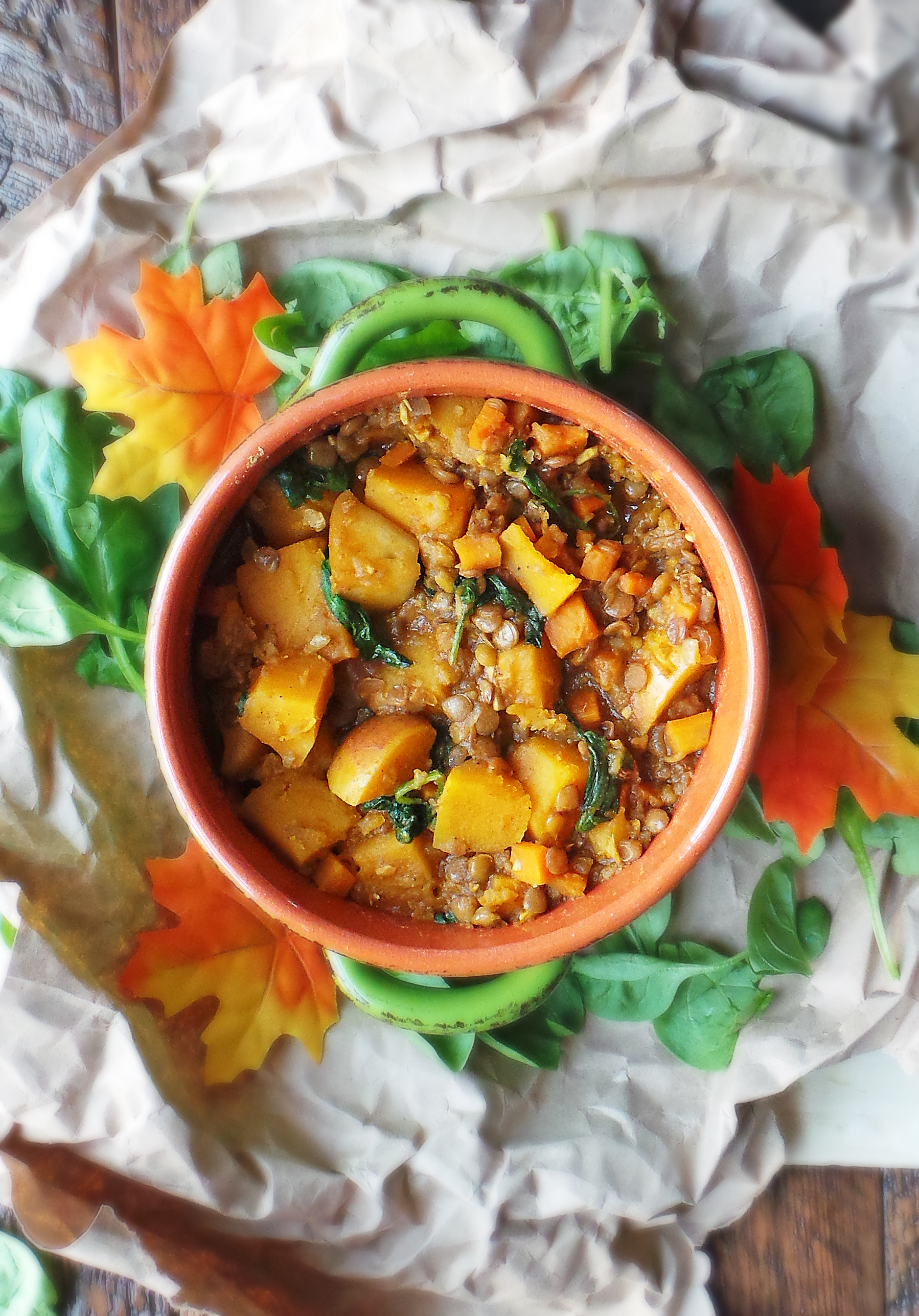 Curried Butternut Squash and Lentil Stew
2014-09-22 16:47:30
Serves 4
Ingredients
1 white onion - small dice
2 large carrots - peeled, small dice
3 cloves garlic - minced
1 teaspoons ginger - minced
1 tablespoon tomato paste
1 tablespoon curry powder
1/2 cup dry lentils
2 1/2 cup vegetable broth (plus more if needed)
1 butternut squash - peeled, medium dice (about 4 cups)
2 Fuji apples - medium dice (I left my skin on)
2 c. fresh spinach leaves
pinch cayenne pepper
salt and pepper as needed
2 T. olive oil
Instructions
In a large pot heat the oil to medium high heat. Add the onions and carrots and cover with a lid. Cook for 3-4 minutes, stirring occasionally until the onions are translucent. Keeping the lid on will sweat the vegetables, making them tender without caramelizing!
Add the ginger, garlic, tomato paste, curry powder, and a generous sprinkle of salt and pepper. Cook until fragrant, about 1 minute.
Add the lentils and broth and bring to a boil. Cover and bring to a simmer. Simmer for 25 minutes.
Add the apples and squash, stir, and cover/simmer for 20 minutes or until fork tender. I added about 1/4 c. more broth after adding the apples/squash.
Taste for seasoning. I added a pinch of cayenne for spice and some more salt. Before serving, stir in the spinach until wilted.
Enjoy!!!
Notes
Depending on the size of your squash, you may need to add one-two more cups of stock to the stew, depending how much liquid is left after letting the squash simmer for the first 10 minutes.
Adapted from Chef Chloe
http://www.vodkaandbiscuits.com/
[shopeat_button]