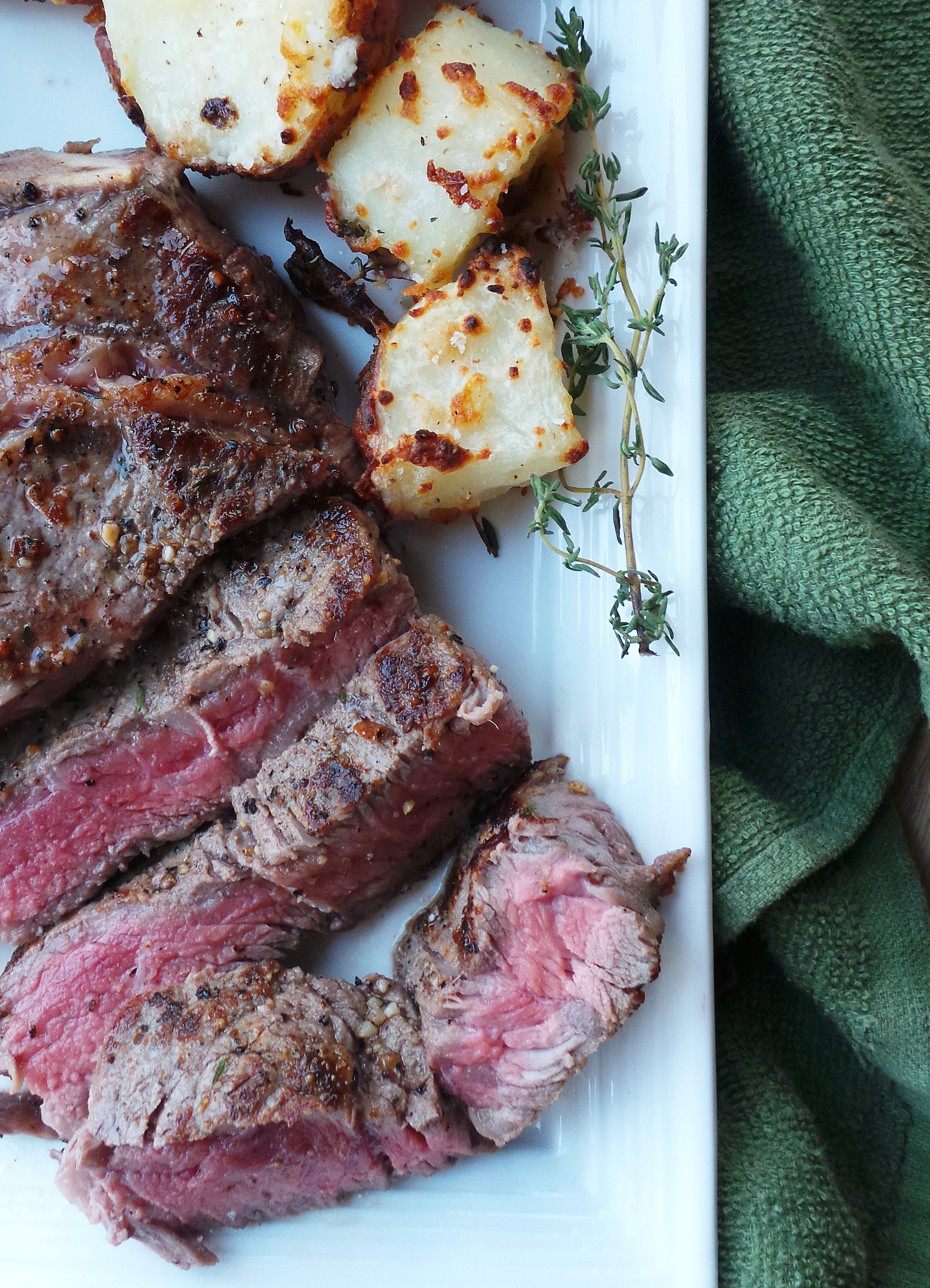 I'm here to take make your week nights better, one steak & potato recipe at a time. What's so special about this steak and these potatoes? Technique. Technique leads to flavor and flavor leads to friends.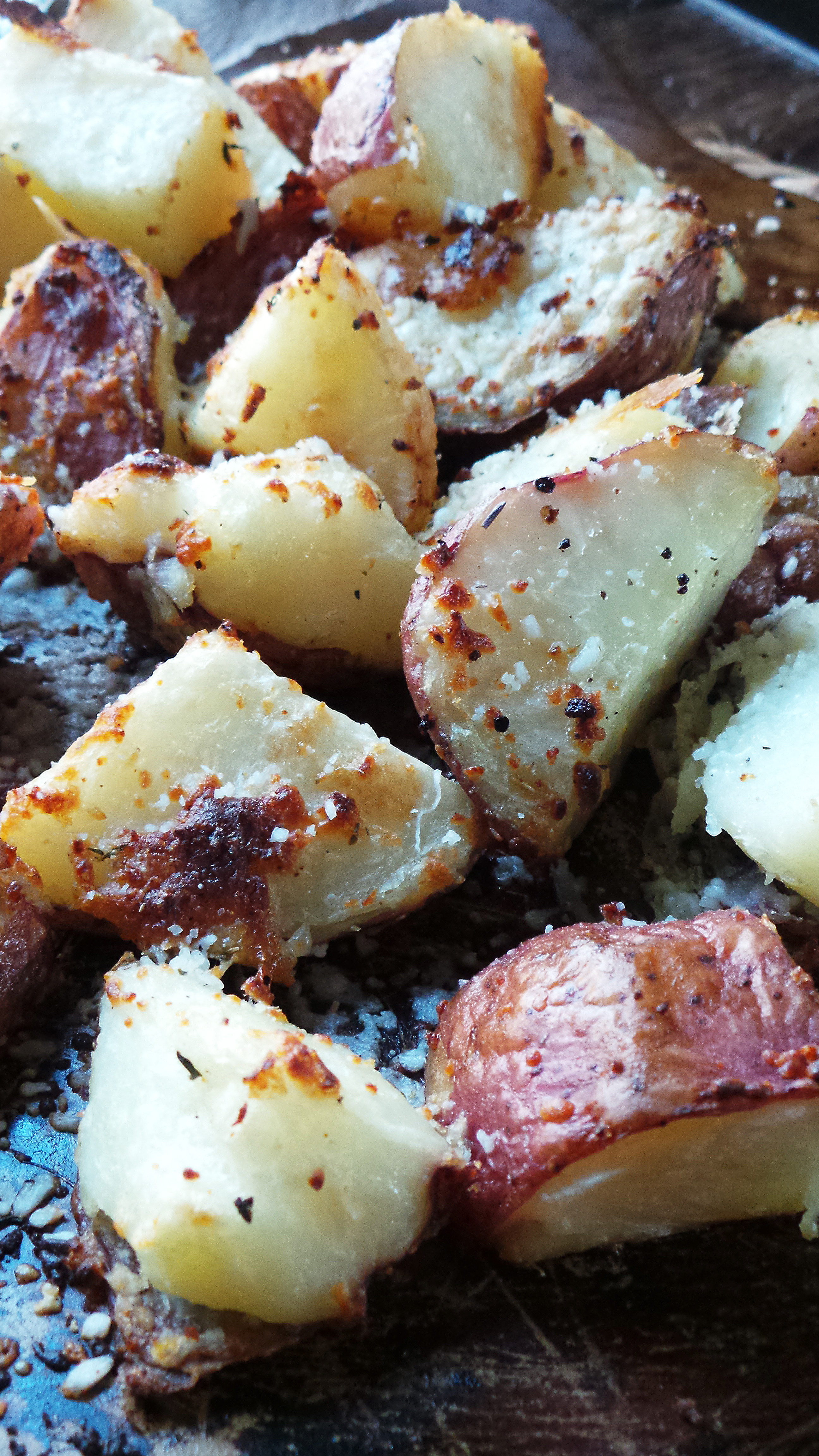 I crave red meat at least once a week. I want a man to light up my face the way a medium rare steak can, or a burger piled high with yums. Or a shoe store. Nothing lights up my face like a shoe store.
Of course I'm always down for a night out at my favorite steak house, but that can get pricey. With a few cooking techniques and methods you can make a juicy steak at home just as good for half the price. I paired my steak with Parmesan crusted potatoes and let me just say, every last bite was gone.
Let's start with the steak.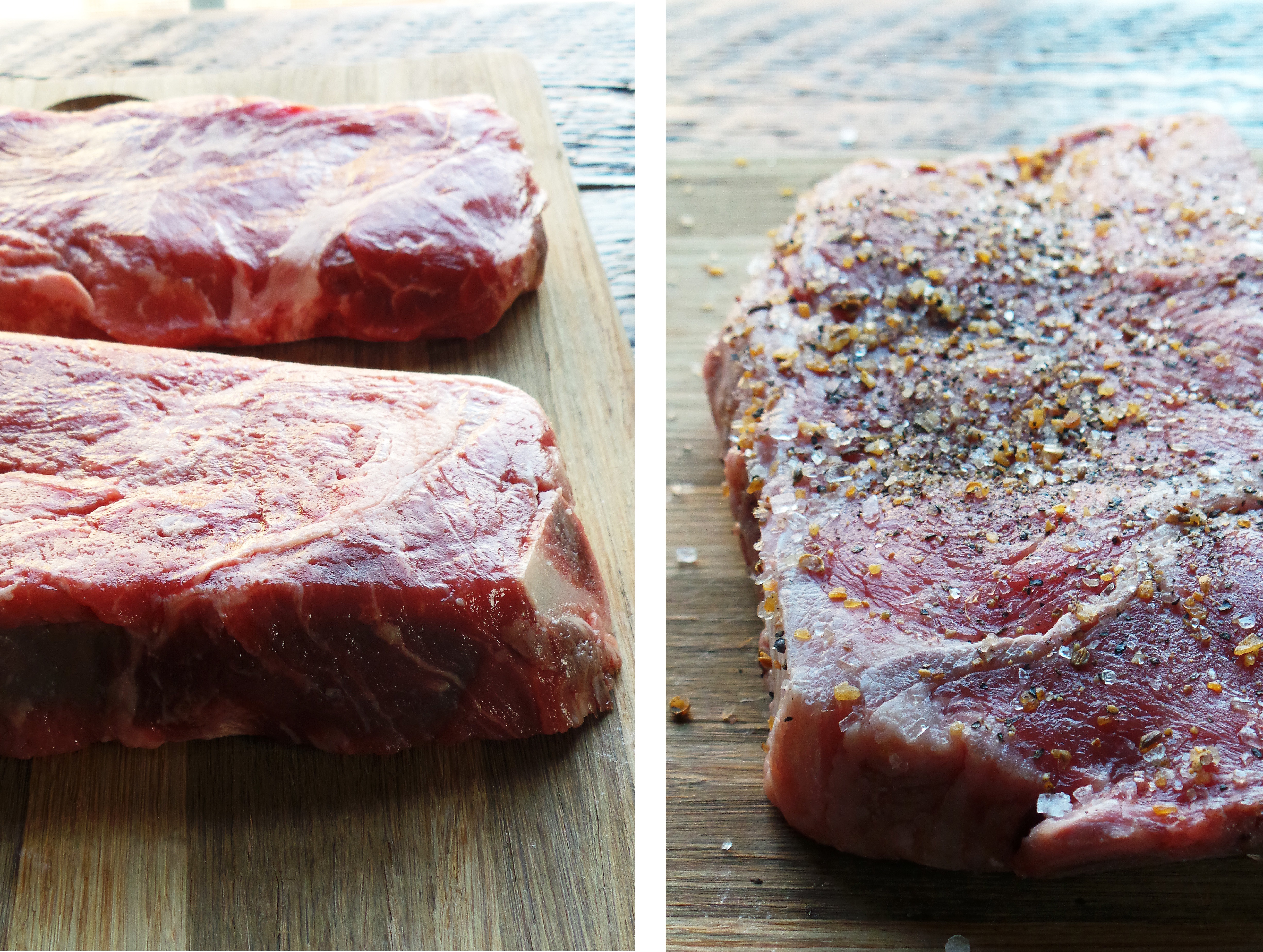 I like working with a strip because it's flavorful, tender, and can be found at a decent price. I always recommend looking up a few local grocery store's circular before planning out your menu for the week, it's all about the bang for your buck. The New York Strip is located in the short loin of the cow and if you've ever had a T-Bone steak, you may be familiar. The T-Bone steak is really two cuts of meat attached by a T shaped bone, hence the name. When the bone is removed, you have a piece of tenderloin (yum) and a cut known as the New York Strip.
The Strip (also known as a Kansas City Strip or top loin) is shaped almost like a rectangle. Fat, wide, and long, similar to a Rib Eye. What's the difference? Rib Eye steak is located near the rib (imagine that) and tends to have more fat marbling (that pretty white design that runs through the steak). With more marbling, the steak remains juicy and tender throughout cooking. They both are delicious cuts of meat, but if you're trying to keep things on the lighter side – I'd stick with a strip.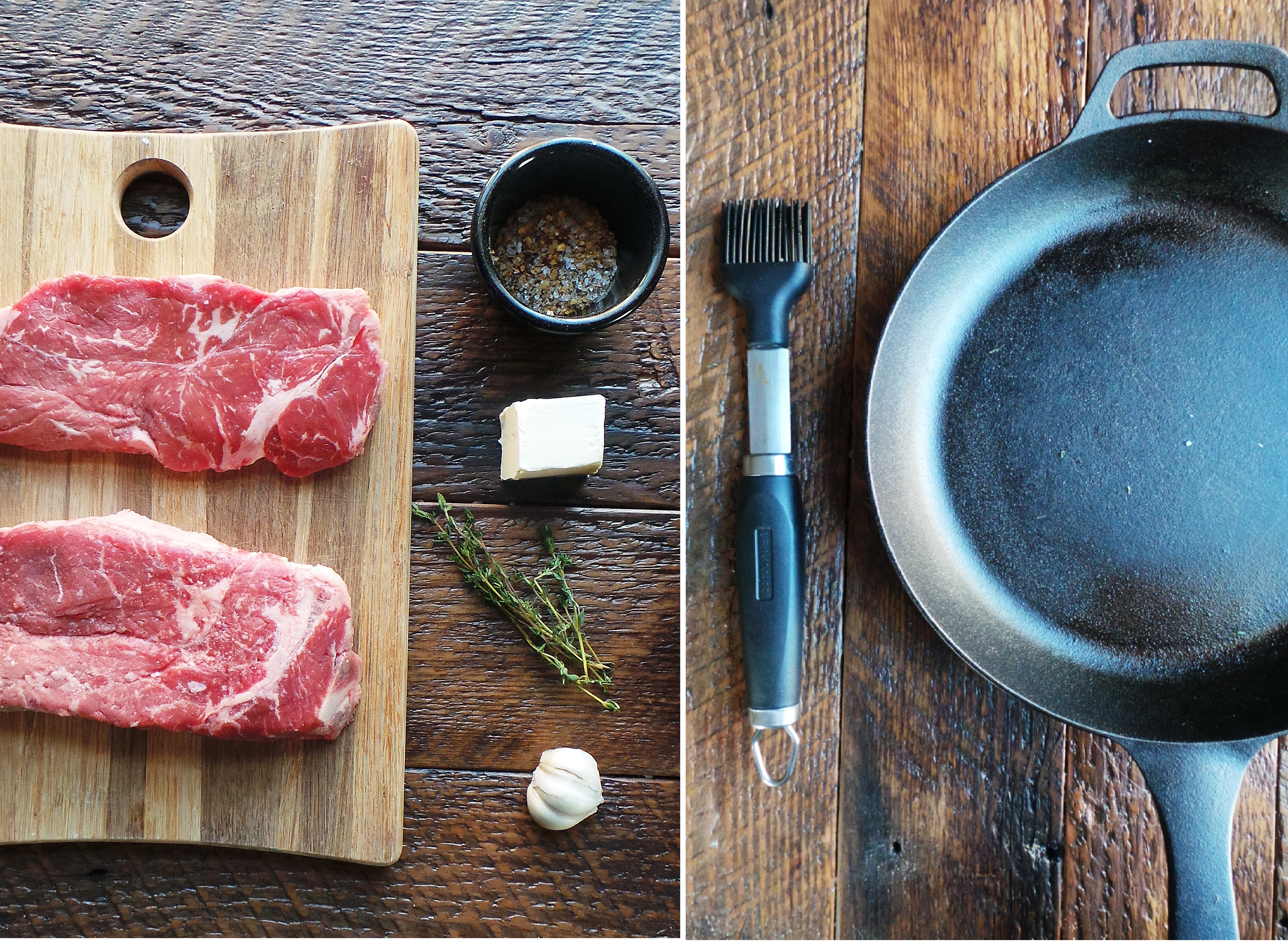 When it comes to the cooking method, I prefer either the grill or a nice pan sear in the cast iron. The grill is fun because well, do I really need to explain? Nothing can beat a smoky flavor and hatch-marks from the grill, however let's be real – come 6pm on an October evening in Maryland, you know it's nippy out.
I love both cooking methods, so when the cold weather blows over I don't even bother breaking in the grill. In fact, pan searing gives us more option to build and enhance the flavors of the steak. Many people say a good steak should flavor itself, but in my opinion even the best of cuts need a little work. That's just me though.
It's crucial to allow the steak to come to room temperature for thirty minutes before cooking to ensure even cooking. You wouldn't want the outside cooked while the inside is still cold. Since the steak doesn't cook fast, I like to have all my flavor enhancing yums next to my side. The oil, butter, the garlic, and the herbs. Basically what I do is scorch my cast iron on high heat. Since we're cooking inside and there will most likely be smoke, I like to not only brush the steak with oil, but brush the skillet with oil where I think I'll place the steak.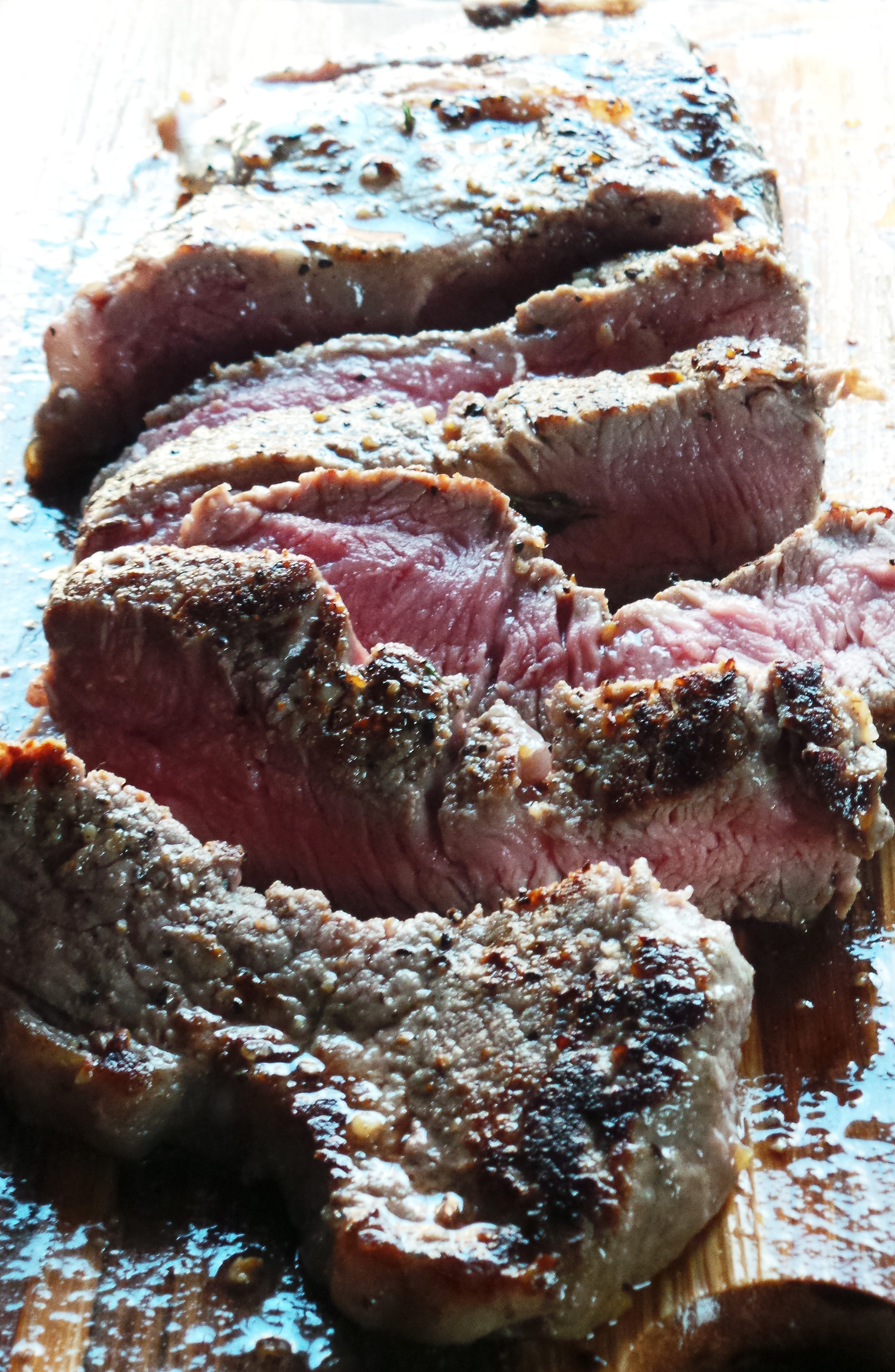 Just before hitting the skillet, I season the steak with a generous amount of kosher salt and pepper. If I have some Montreal seasoning on hand, I'll throw some of that on. A good smoky steak rub can make up for the grill too! In fact, if you have a smoking gun (can be sold at any cookware store), break that baby out. I cook the steak 5 minutes on each side at high heat, then lower the heat to medium low and toss in butter, garlic, and fresh thyme. The smells are just indescribable at this point.
I let that do it's thing for another two 2 minutes, take it off the heat, allow it to rest for 5 minutes, then eat away. The steak is perfectly seared, juicy, tender, and filled with flavor. The salt, the pepper, the buttery garlicky goodness. I wouldn't change a single thing. My recipe makes a medium rare steak, but go ahead and cook yours the way you desire. If you like it medium, add an extra minute to each side and so forth. If you're not sure, just stick in your meat thermometer. Medium Rare registers between 130 and 135, and Medium registers 140-145. Something along those lines.
Follow those guidelines and you'll have a pan seared steak to die for. Don't have a cast iron skillet? Just use a heavy bottom skillet! Now to the potatoes.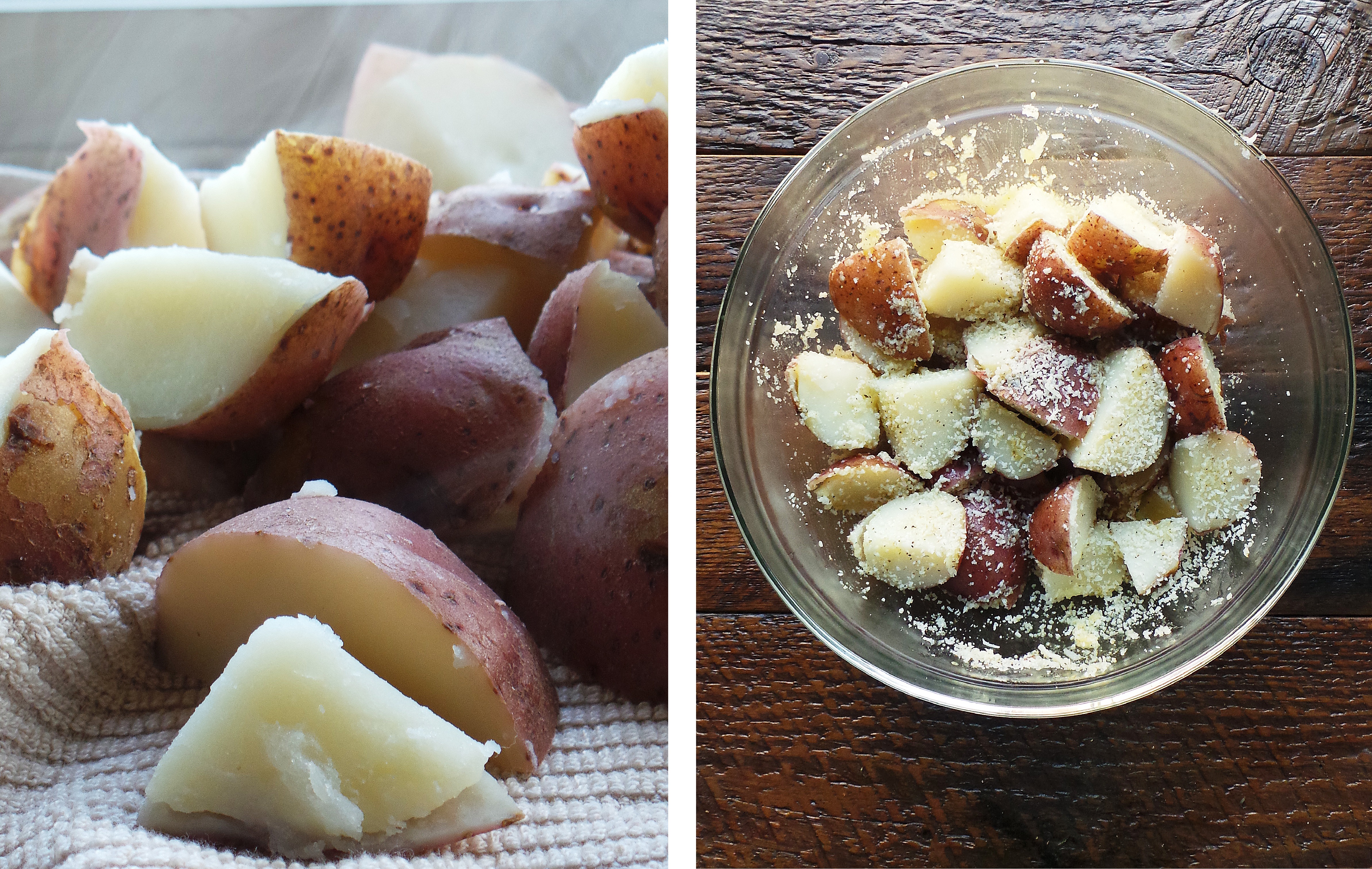 These are simply amazing and hopefully will change the way you forever roast potatoes. Basically I chop a bunch of red potaotes (any waxy potato will work fine), chopped them into quarters, boiled until fork tender, then tossed in a blend of seasoned cheesy holyness, then cranked the oven and baked away.
I'm all about buying cheese in block form and grating it myself. I took this a step further by grating Parmesan cheese, then adding it to my processor and pulsing until it was fine. I added a bunch of Oregano, fresh cracked pepper, and garlic powder to the cheese and mixed it in with my par cooked potatoes. I'd be lying if I said I didn't have a plateful here AND IT'S NOT EVEN DONE COOKING.
I then transferred the potatoes to a baking sheet, sprinkled more cheese, cranked the heat, and baked for 15 minutes until golden. Since we previously cooked them, they're perfectly creamy in the center and crispy oven fried on the out. The cheese, the seasonings, you can taste it all. Even the picky brother said damn, kick ass potatoes.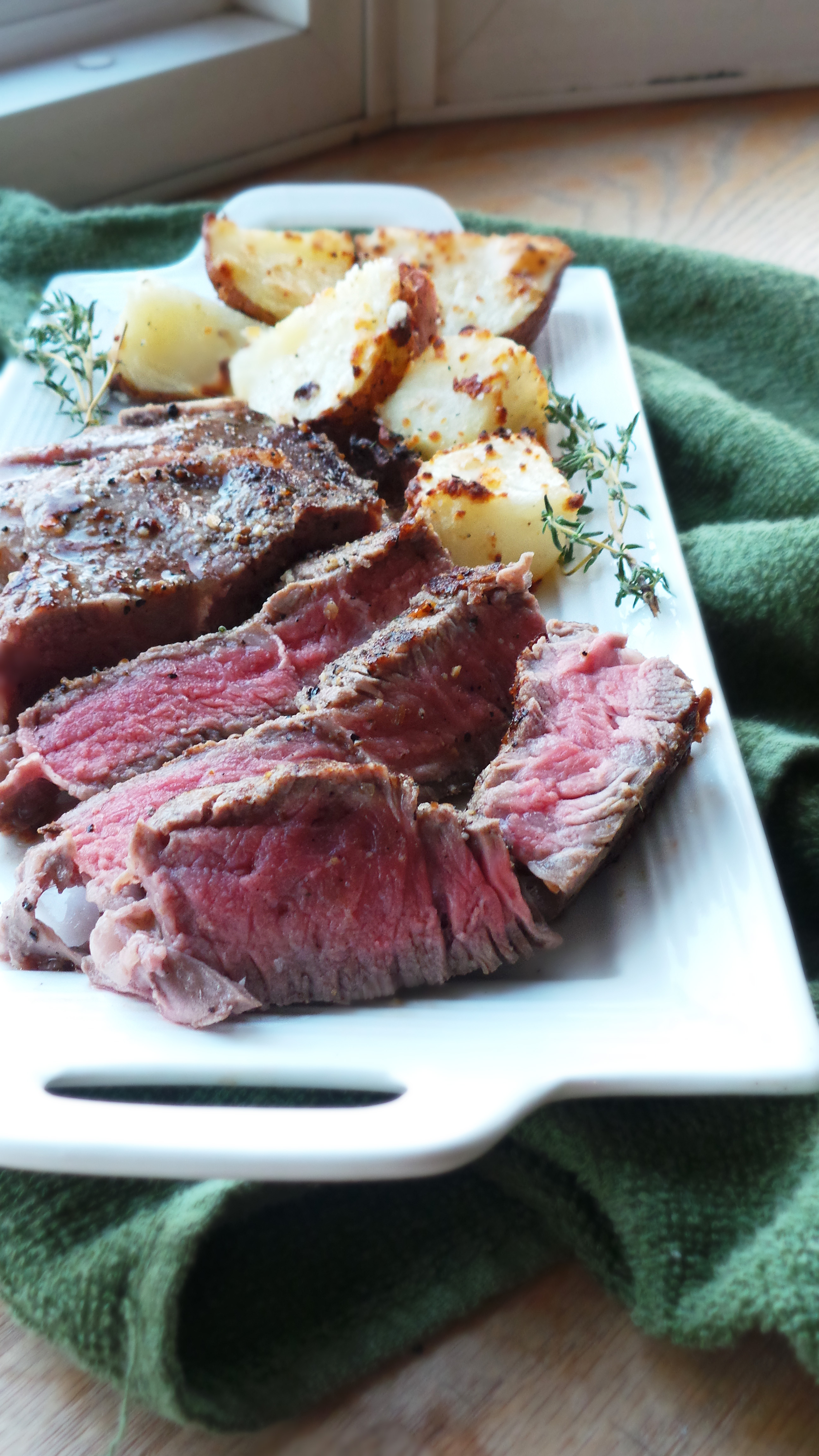 Now with these recipes I'll never be deprived of red meat again. Or potatoes, but I'm not even going to start with my carb cravings.
Pan Seared New York Strip Steak
2014-10-07 17:27:57
Serves 2
Ingredients
2 Boneless New York Strip Steaks
1 T. canola oil (or any high smoke point oil, like vegetable)
2 cloves of garlic - peeled
2 T. butter
1 sprig thyme (rosemary works well too!)
Kosher salt and pepper as needed
Instructions
Allow the steaks to rest at room temperature for 20 minutes before cooking.
When it's time to cook, heat your cast iron (or heavy bottom skillet) over high heat. Brush oil where you think you'll be placing the steak. This keeps better control on the smoke!
Brush the steaks with oil and season with salt, pepper, and whatever else you have on hand (Montreal, mhm).
Cook 5 minutes on each side. Lower the heat to medium low and add the garlic, thyme, and butter. Use a new and clean brush to baste the steak with the butter. Allow that to do it's thing for 2 minutes. This cooks a medium rare steak, you can add more cooking time for medium or medium well.
Remove from pan and rest for 5 minutes before serving.
To cut, cut against the grain (the natural vertical lines that run through the straight). This will break up any chewy fibers 🙂
http://www.vodkaandbiscuits.com/
Parmesan Crusted Potatoes
2014-10-07 17:38:54
Serves 4
Ingredients
1 lb. red potatoes - washed, quartered
1/2 c. freshly grated Parmesan cheese
seasonings of choice (garlic powder, oregano, pepper, salt)
Instructions
Preheat oven to 375
Bring a large pot of salted water to a boil and add the cut potatoes. Boil until tender, about 6-7 minutes.
While those are cooking, add the cheese and seasonings to a processor and pulse until fine. Add to a bowl.
Remove the potatoes from the water and pat dry. It's easiest to just drain and place on a towel and gently dry without breaking apart any of the skin (the best part).
Gently toss the potatoes in the bowl of cheese and transfer to a baking sheet. Drizzle with olive oil. Totally optional, but you can add some more cheese here! Sprinkle with kosher salt and bake in the oven for 15 minutes or until golden crispy.
Notes
Any waxy potato can be substituted (New, Small white round, etc.) Yukon Gold are medium starchy but can be substituted.
http://www.vodkaandbiscuits.com/

[shopeat_button]