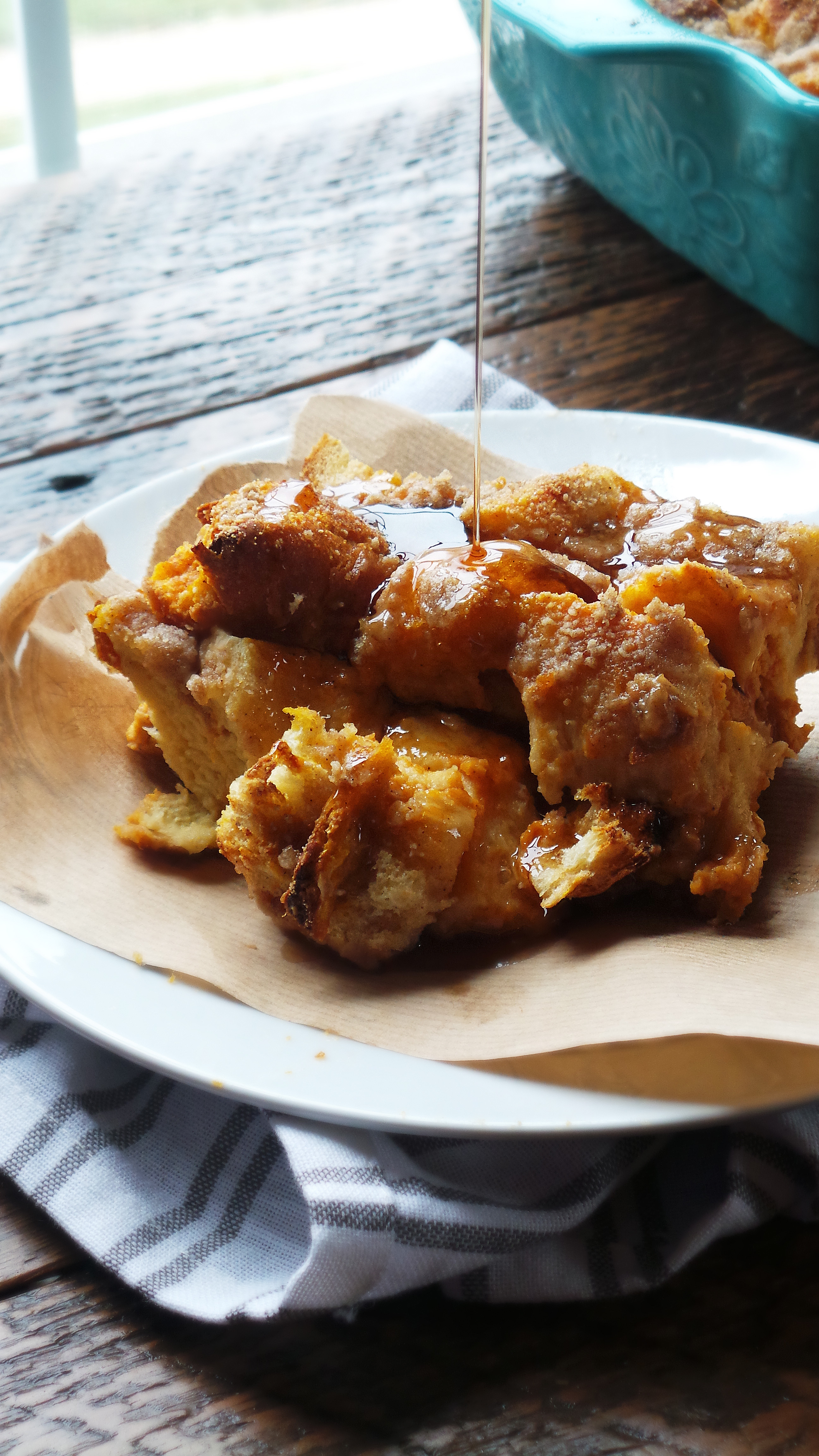 Holy French toast talk about the perfect way to start your day.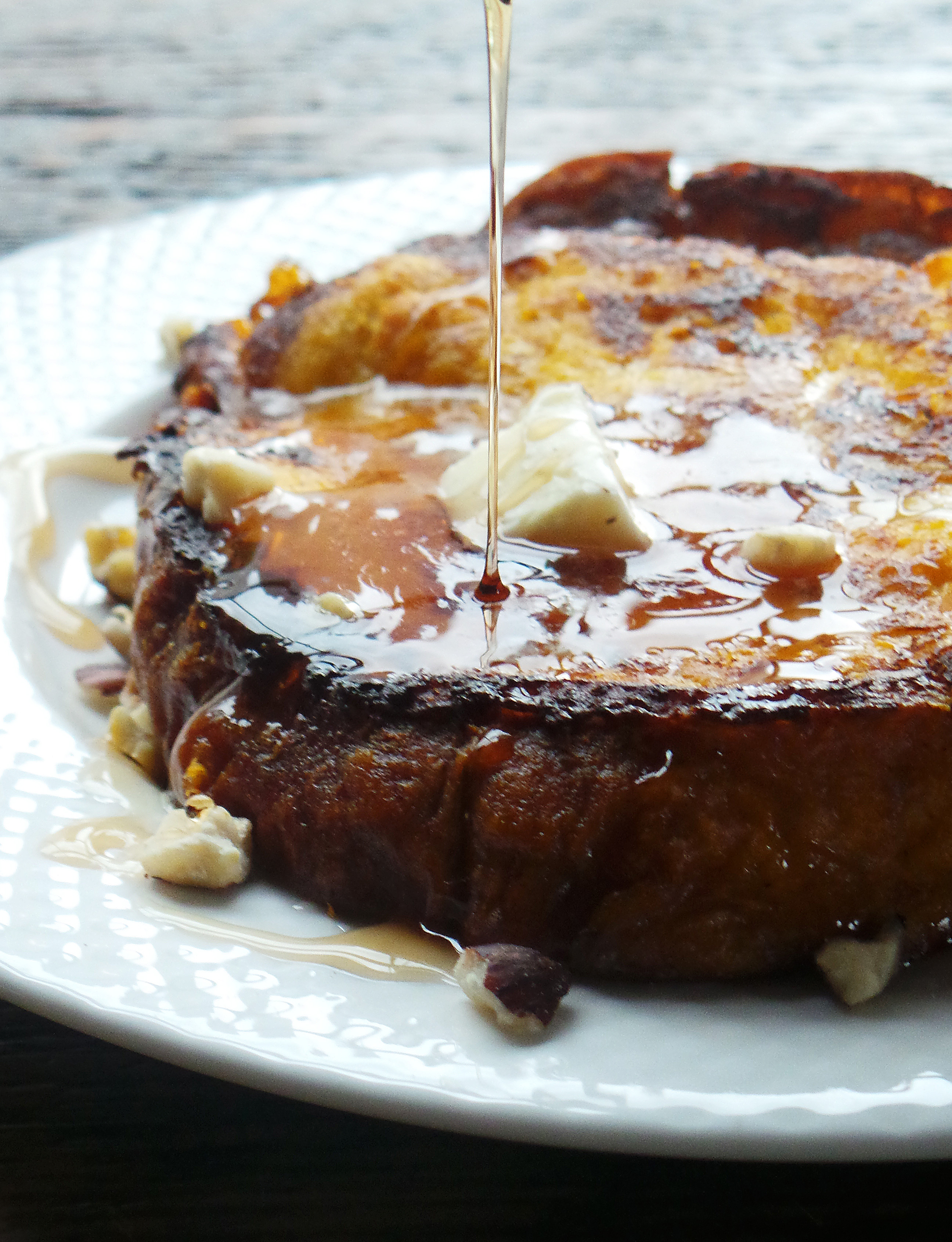 I'm a sucker for all things breakfast, especially when it comes to French toast. Every last bite is worth the guilt you feel after eating bread fried in butter then topped with sugar, basically. I decided to switch things up a bit and add a little pumpkin, seasonally appropriate seasonings, and bake instead of fry. Interesting to say the least.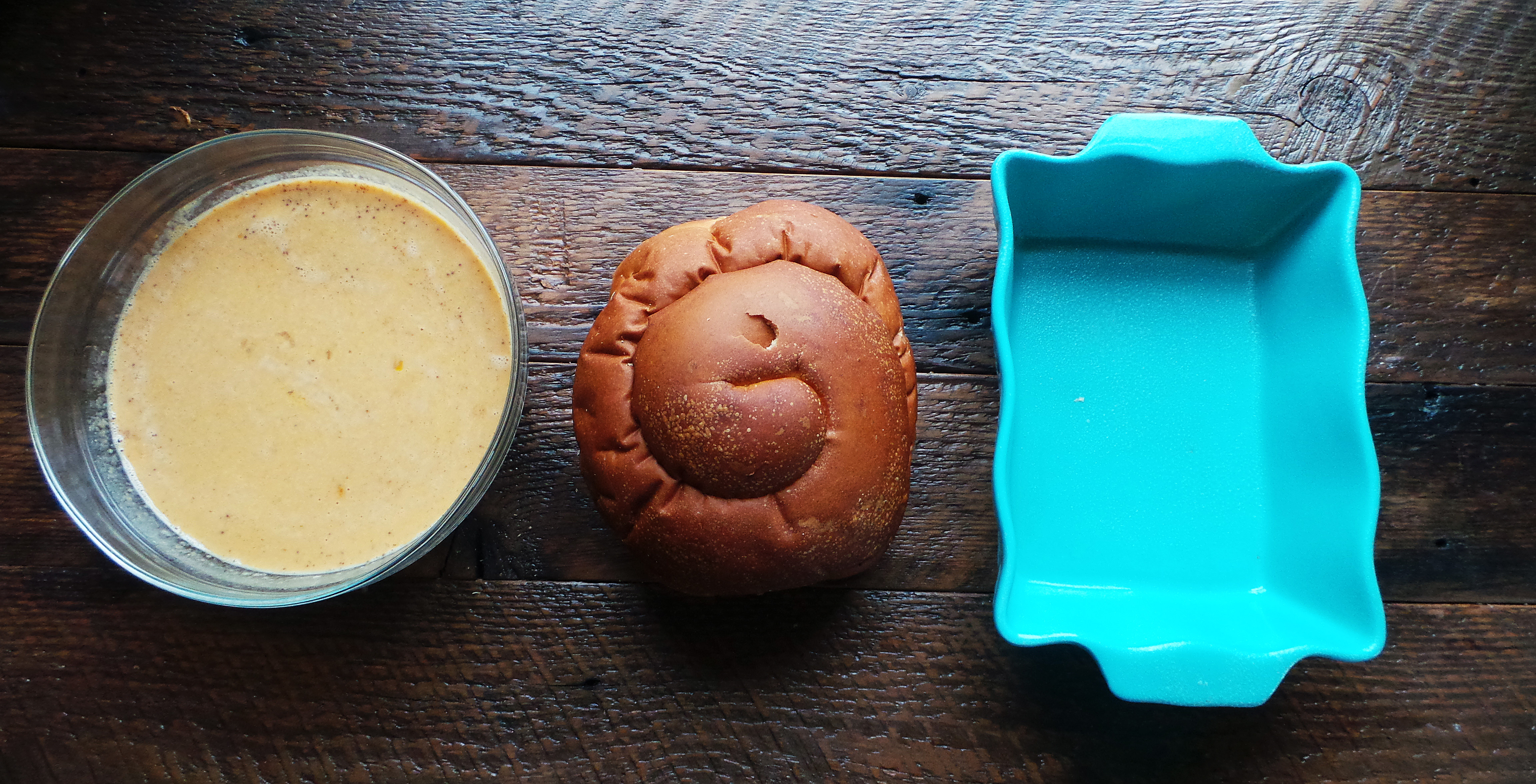 This recipe really requires nothing special other than a can of pumpkin and Challah bread. People go crazy over French toast made with Challah and I TOTALLY GET IT. This stuff is sweet, soft, and ideal for the dish. Defiantly use it.
I wanted to bend the rules a bit and try a French toast bake for the first time. I see it all over Pintrest and was so curious to the hype. I cut up my bread, threw it in my baking dish, whipped up the mix, poured it over top, and patiently waited an hour.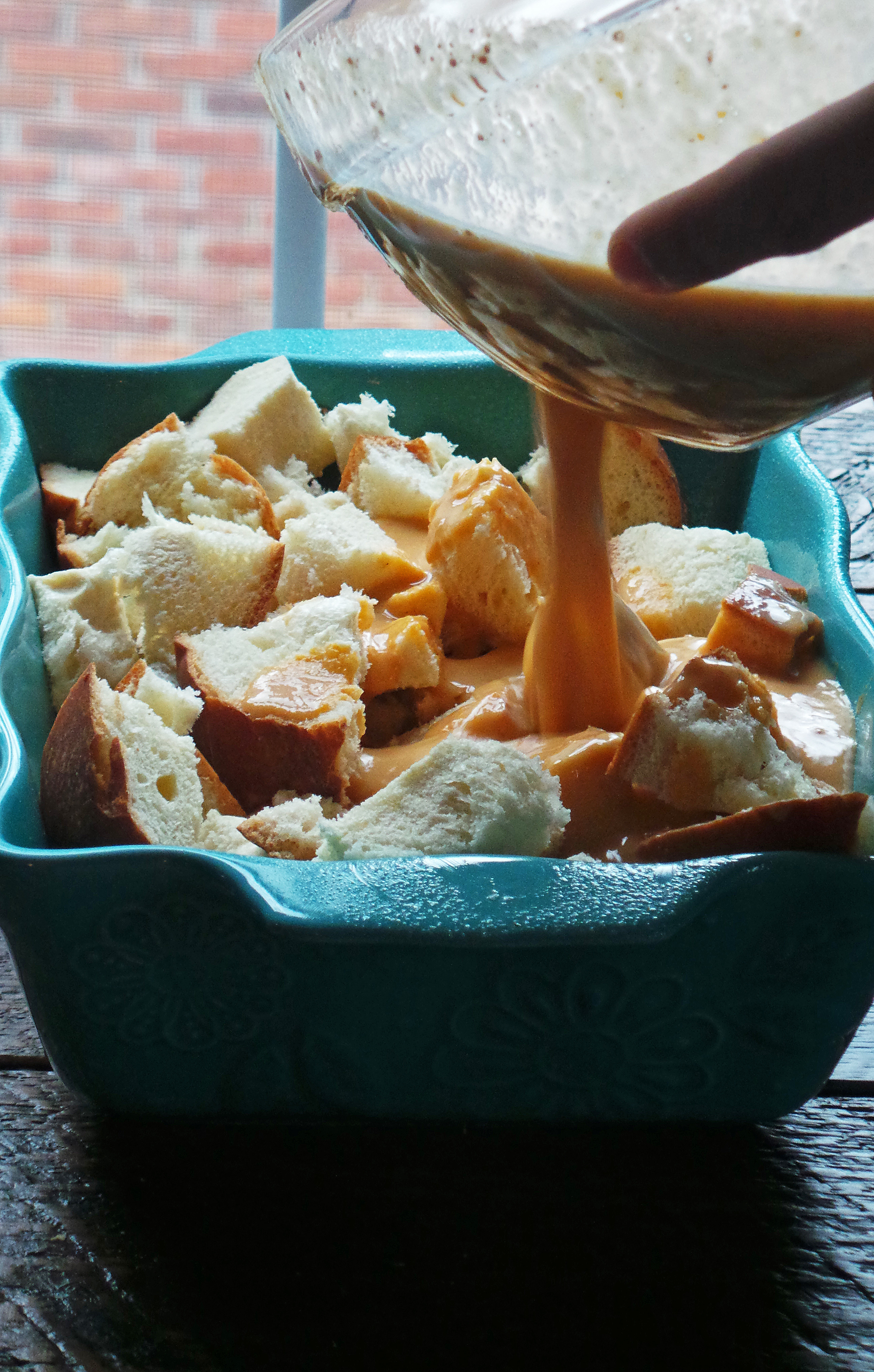 Don't let me forget to mention the strudel! A quick combination of brown sugar, flour, and butter made the perfect topping for the bake.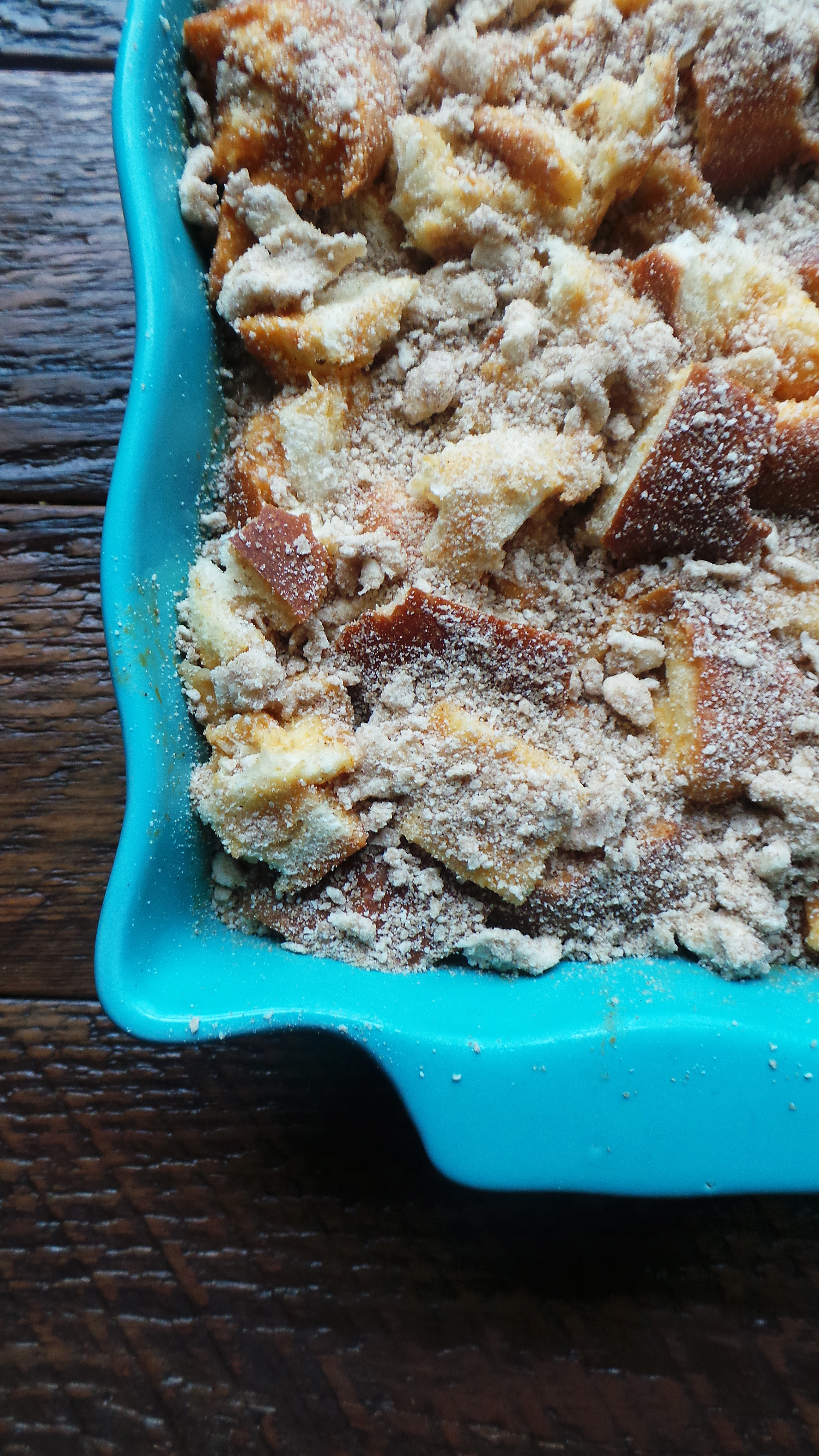 One hour later my kitchen smelled like the perfect combination of breakfast and Fall. I couldn't help but pull off a piece of crispy bread from the top. I was so impressed I immediately dug in. The closer I got to the bottom of the bake, I went from yay to nay. Let me just say, this is absolutely delicious. The flavors are there and I will always have this recipe on hand. HOWEVER, I don't think the bake is for me.
Growing up, every summer I would look forward to my friend's grandmother's "bread pudding." At least that's what I always thought it was, now years later I know it was really her homemade banana pudding folded with crushed vanilla wafers, confusing me for bread. That was my first impression of bread pudding and when I had the real deal, the bread soaked in custard and baked until set, I wasn't nearly as impressed. Typing out, it's hard to compare actual pudding to a bread custard – both being creamy and having nearly the same texture. Maybe it's a hot vs. cold thing, I dunno. Long story short, I'm not sold on bread pudding and this is what the bake reminded me of. Now, a plate full of the crispy top worked for me.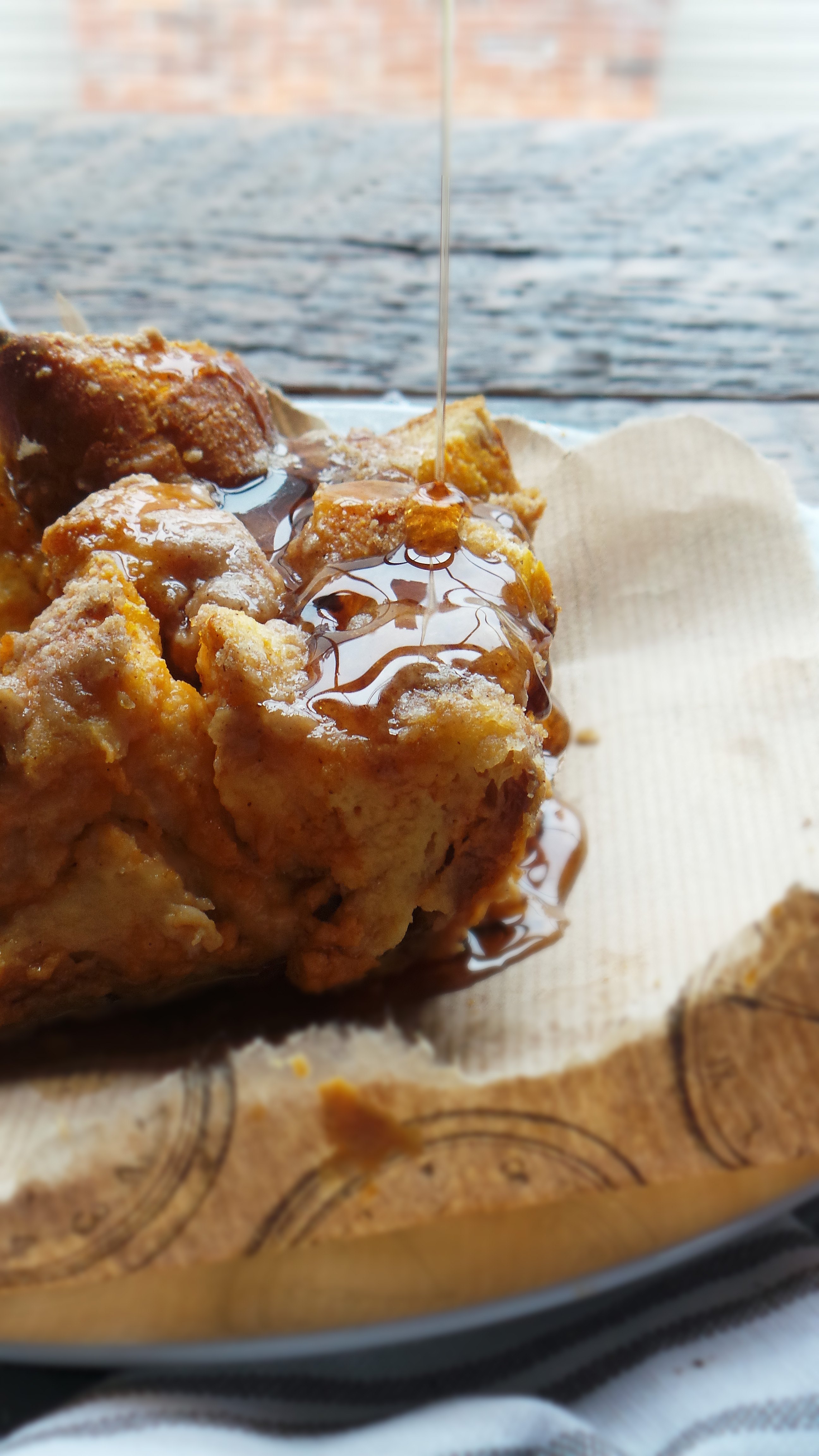 Now of course me being impatient I didn't want to wait an hour to try this stuff out, so I purposely saved a few whole slices of Challah bread and mix. I fired up my frying pan with butter and a touch of oil, dipped the bread, and fried for 2 minutes on each side. A sprinkle of hazelnuts and warm syrup and both dad and I were hovering over this plate wishing there was more. That's saying a lot for a man who never touches French toast.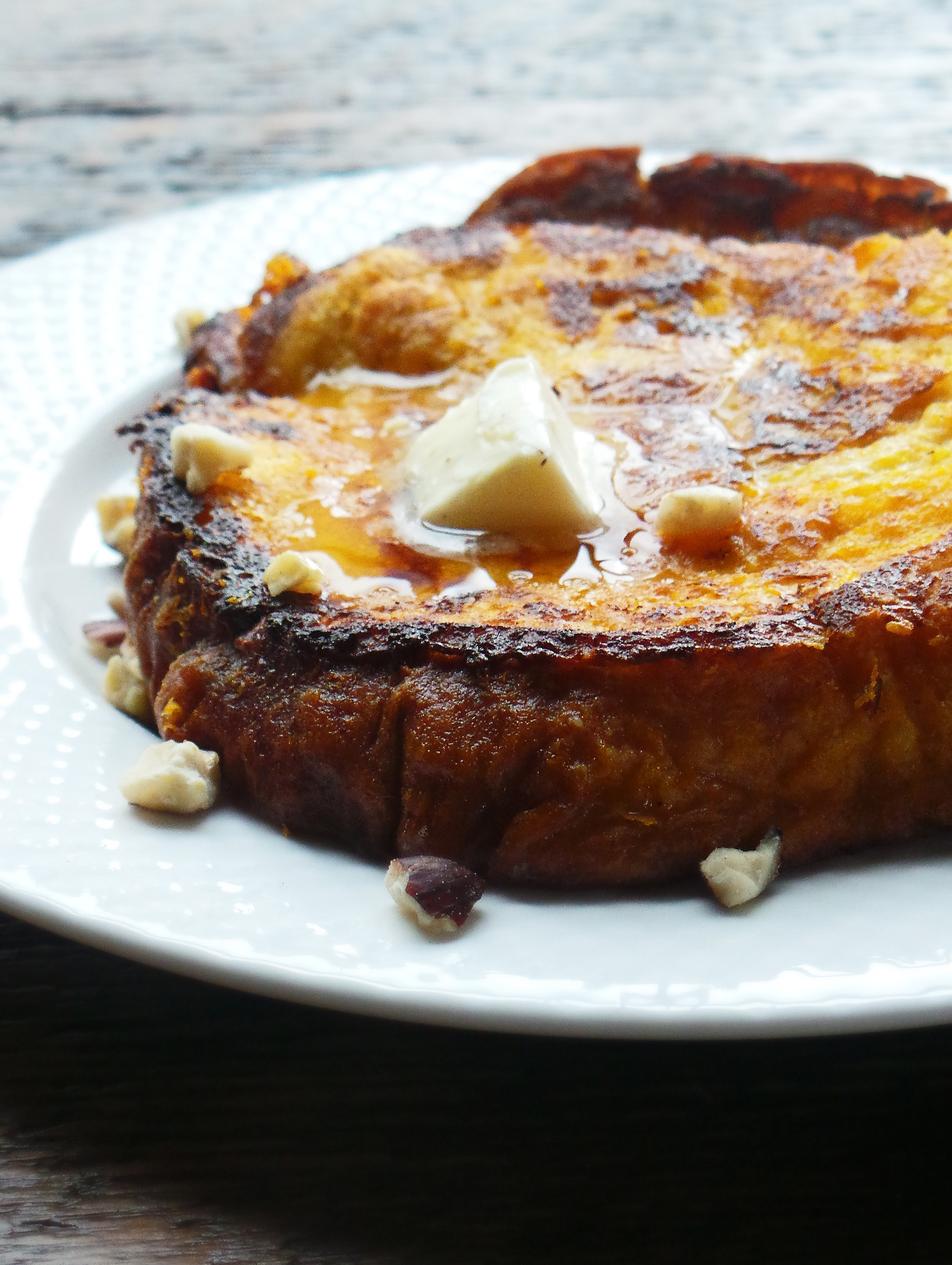 I didn't name the recipe French Toast Bake because I'll leave the way you decide to cook it up to you. You know my recommendation, but of course you do you! I'll include the bake in the recipe, however if you want to make this the traditional way, just reduce the amount of mix by more than half and whip out some butter and your frying pan. Enjoy!
Pumpkin Spice French Toast
2014-10-12 07:00:14
Serves 6
French Toast spiced with pumpkin made into a bake or the traditional way!
Ingredients
1 large loaf of Challah bread, cut into cubes
6 eggs
2 1/2 cups of low fat milk (you can use Almond for a lighter twist)
1 c. canned pumpkin
2 t. vanilla
1/3 c. brown sugar
1 t. pumpkin pie spice
For the strudel
1/2 c. flour
1/2 c. brown sugar
1/2 t. pumpkin pie spice
1/4 t. kosher salt
1/2 stick butter - cold and cubed
Instructions
Preheat oven to 350
Spray a baking pan with baking spray and add the bread.
In a large bowl beat the eggs and milk until the eggs are mixed. Add the pumpkin, vanilla, sugar, and spices and mix until combined. Pour over the bread.
In a separate bowl, make the strudel by combining the flour, sugar, salt, and spice. Add the cold butter and cut with two forks or a pastry cutter until the butter is in pea sized chunks. Sprinkle over the bread.
Bake for 45 minutes to 1 hour or until set.
Serve with toasted hazelnuts (optional) and warm maple syrup. Enjoy!
Notes
As you'll read in the post, I preferred the recipe done the traditional way. To do so, slice the Challah bread into 1 1/2" slices, dunk in the batter, and fry 2 minutes on each side over medium heat in melted butter. YUM.
http://www.vodkaandbiscuits.com/

[shopeat_button]