Holy meatball madness.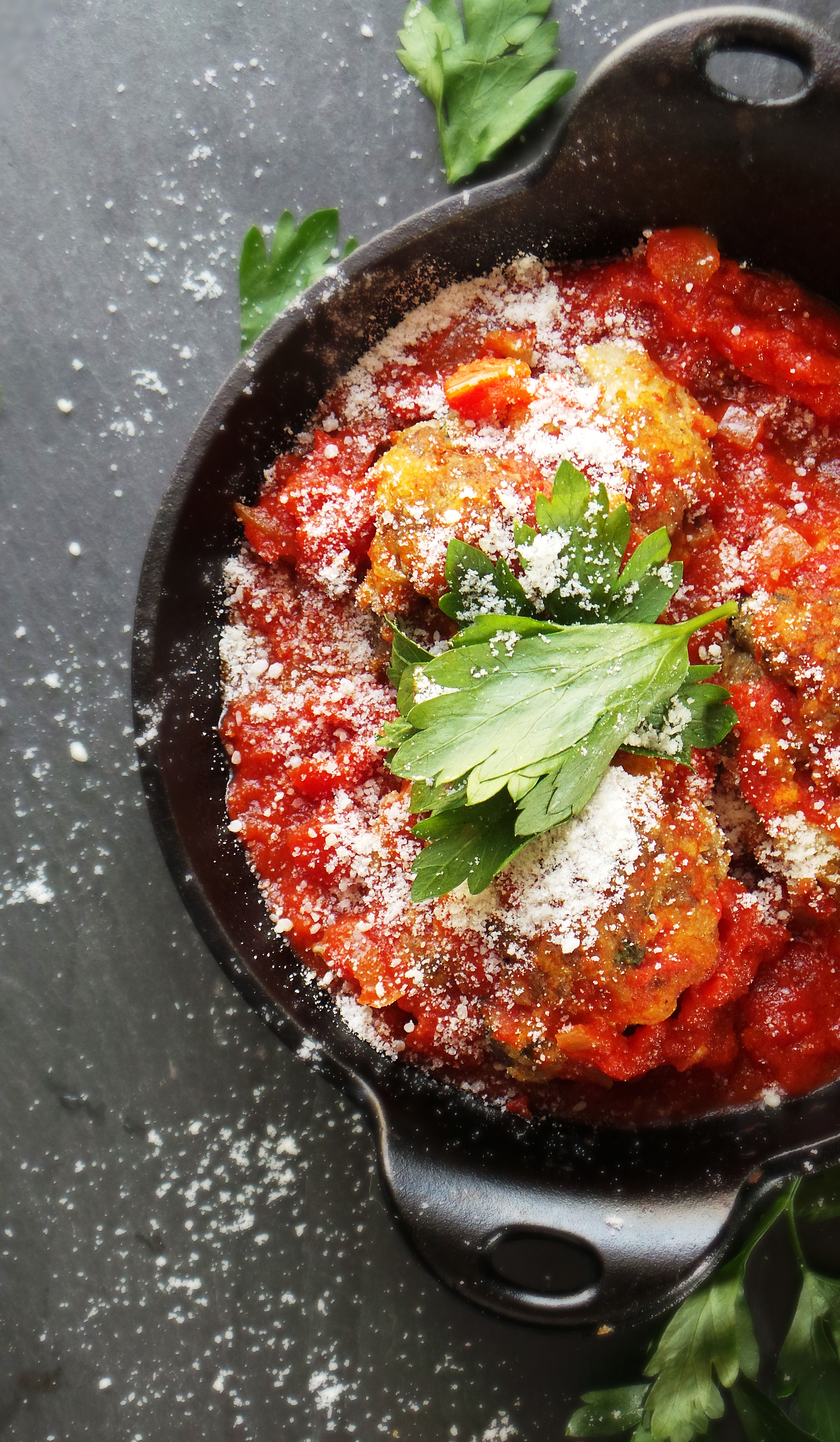 Sit down Subway, me and my meatball sub are here to take over. A sub inspired sandwich that'll guarantee you a meaty mouthgasm in every bite. My simple yet flavorful tomato sauce atop toasty fresh buns, smashed herbed meatballs, and melty mild Provolone cheese. Are you ready for this?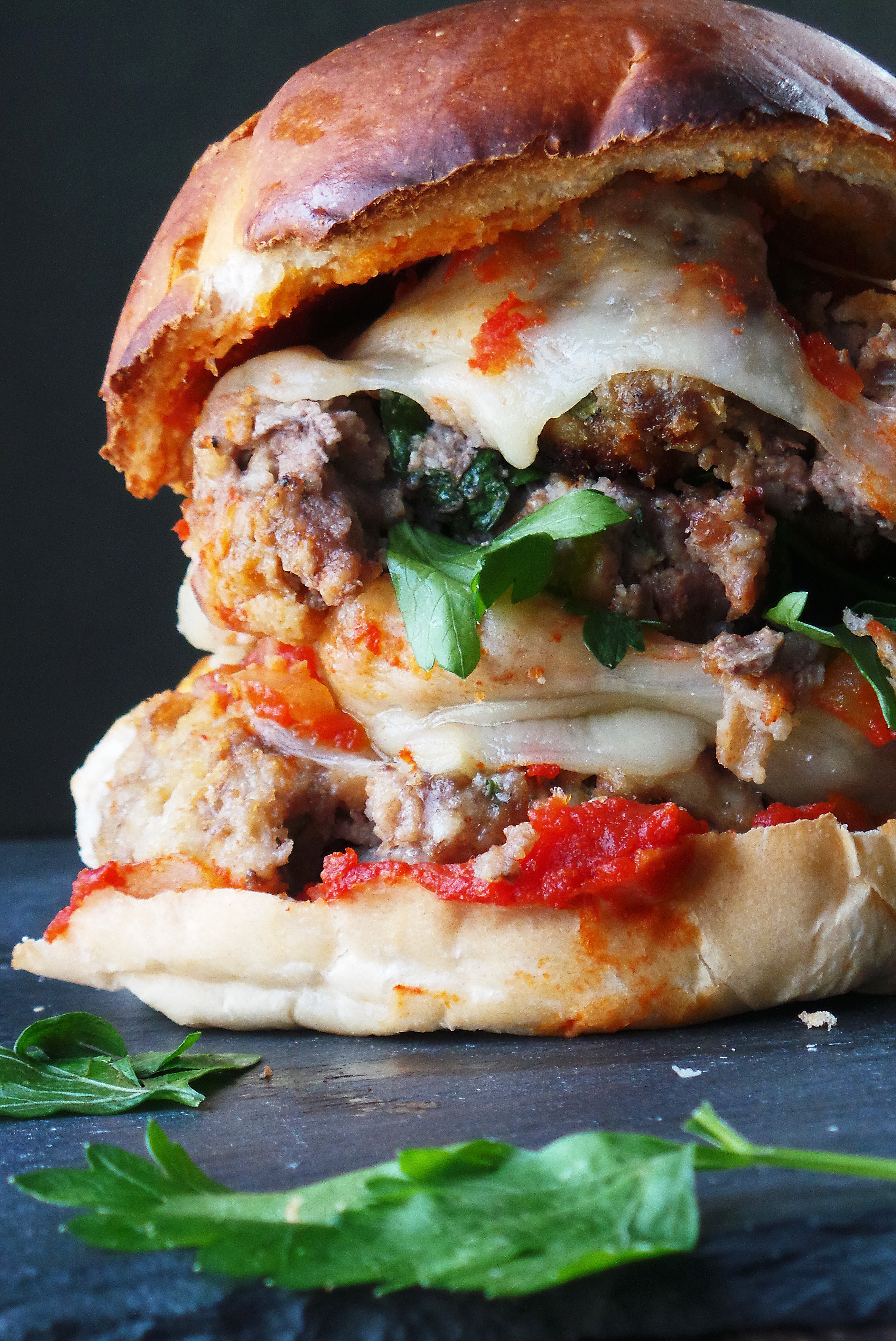 The trick to the most insane meatball sandwich is smashing the meatballs to ensure a taste in every bite. Before we get there, let's talk about these meatballs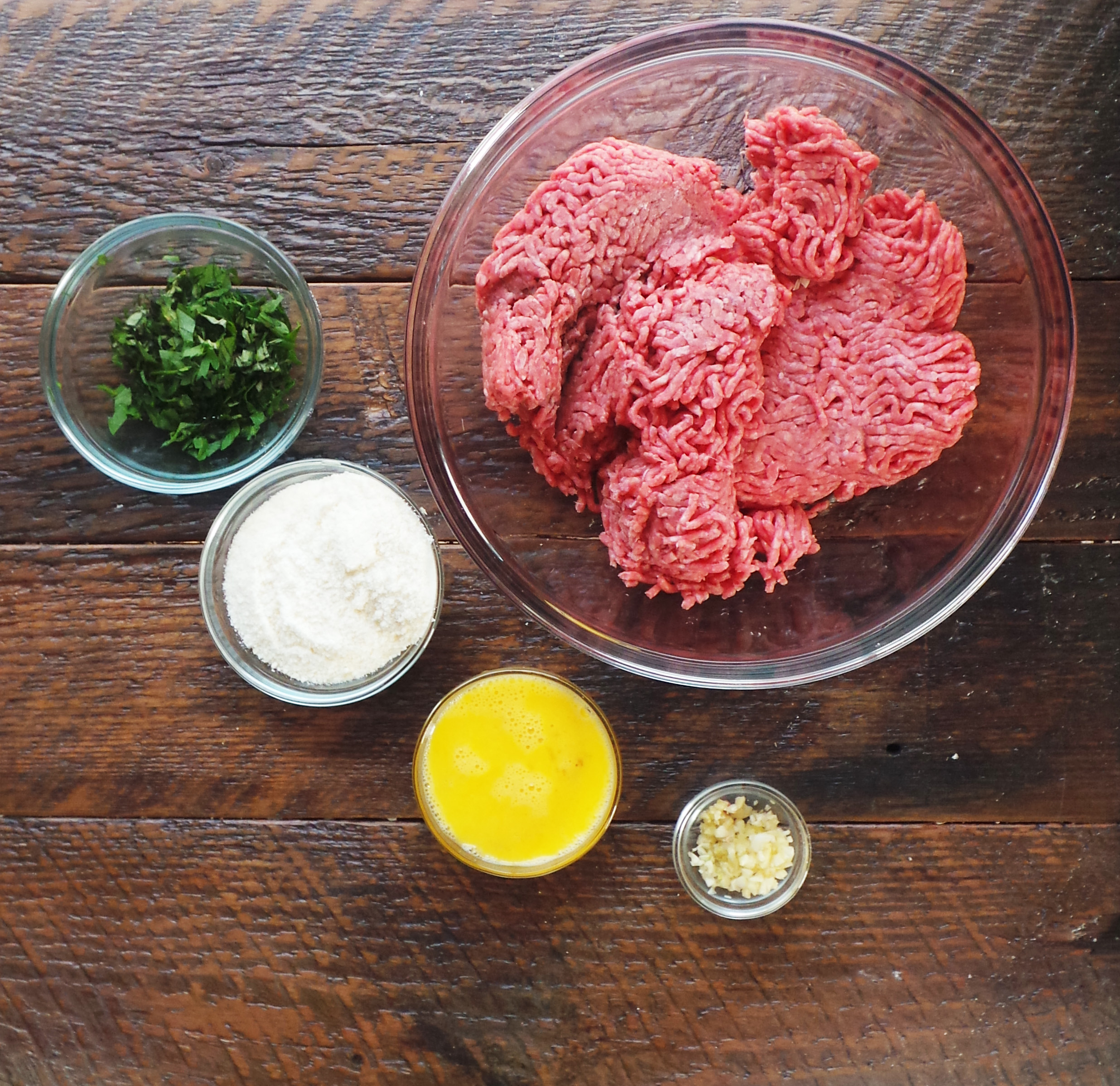 These meatballs are a mental recipe adapted from a Saturday morning Food Network binge with my little touch. Flavorful ground chuck mixed with garlic, beaten eggs, fresh herbs, grated Parmesan cheese, an array of seasonings, and a homemade breadcrumb.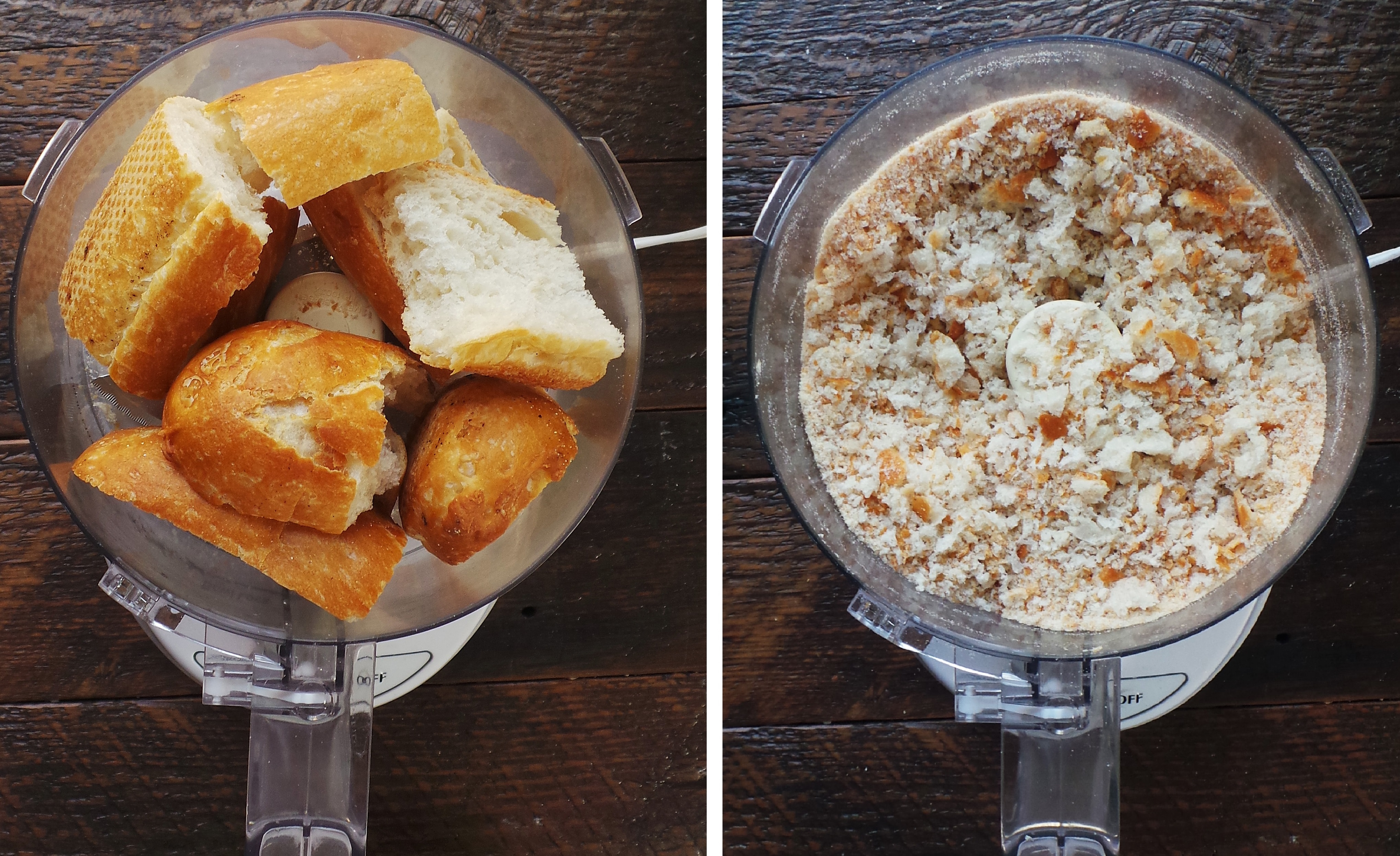 Once you've used this trick once there is no going back. I take a loaf of French bread, cut a quarter of it off, and throw it in the oven for a couple minutes to get it nice and toasty. I then pulverize it in the food processor to create tiny bread crumbs. It doesn't stop there though. Before mixing the meat, I add a cup of milk to the crumbs and let that chill out for a second.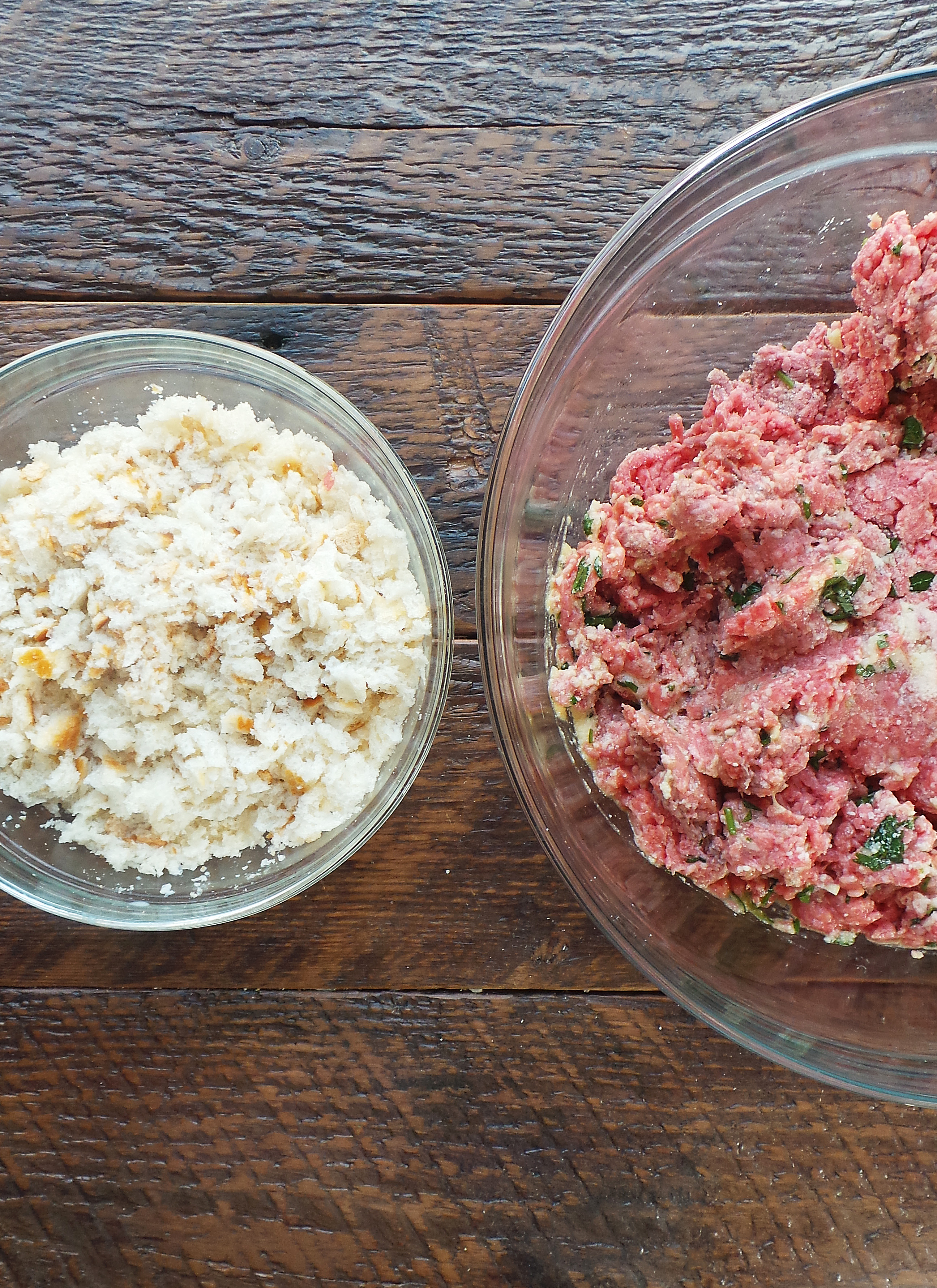 The addition of the milk-soaked breadcrumbs takes these meatballs from a 9 to a 10.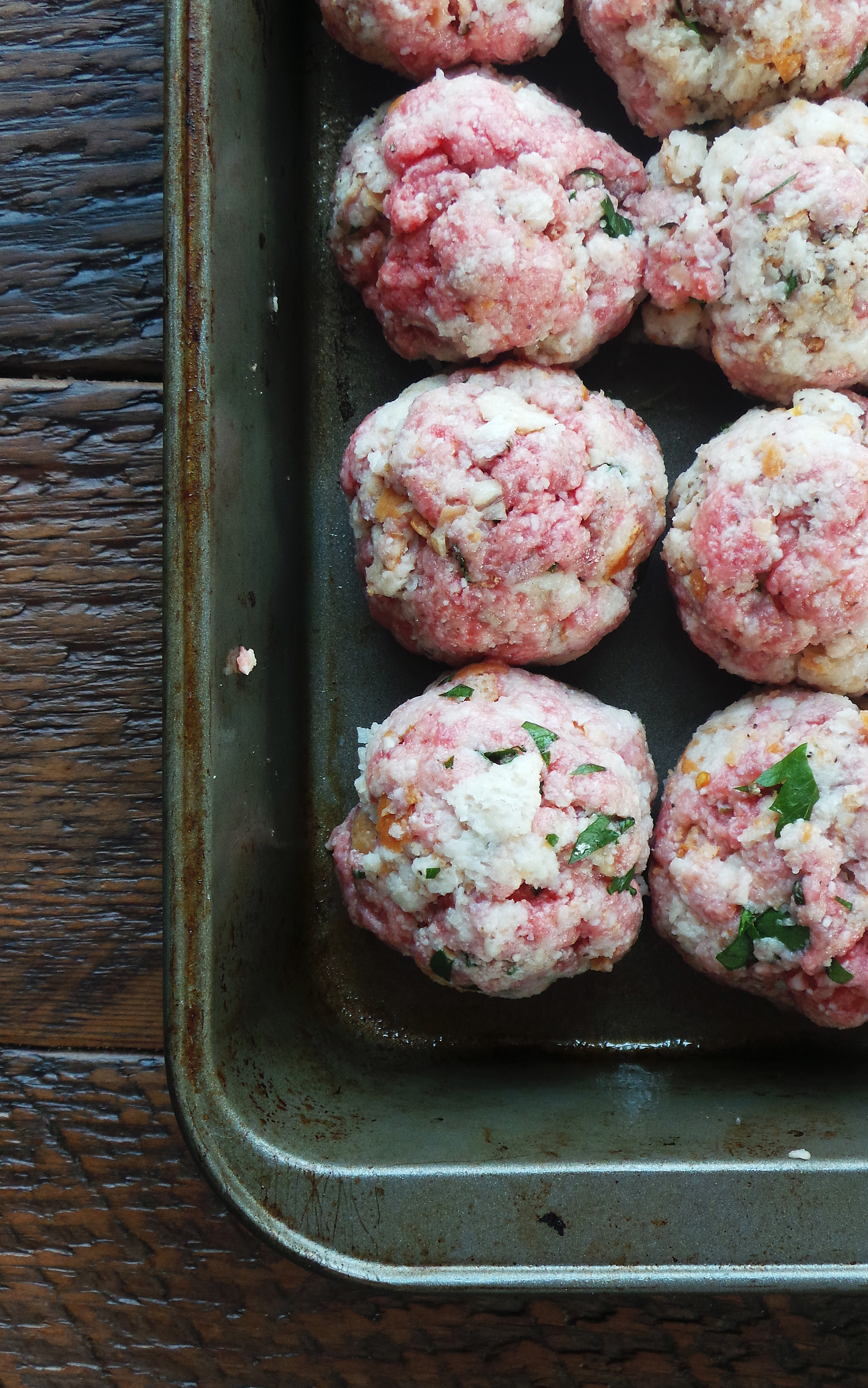 The ground chuck is fatty and flavorful on it's own, so the extra yums we added are bonus. The breadcrumb helps aid in moisture, giving each bite a delicate texture. After being shaped, some bread crumbs will break through the surface and after baked, those crumbs get all crispy and beautiful. Mhm. Before I go on with the meatballs, I have to mention the tomato sauce.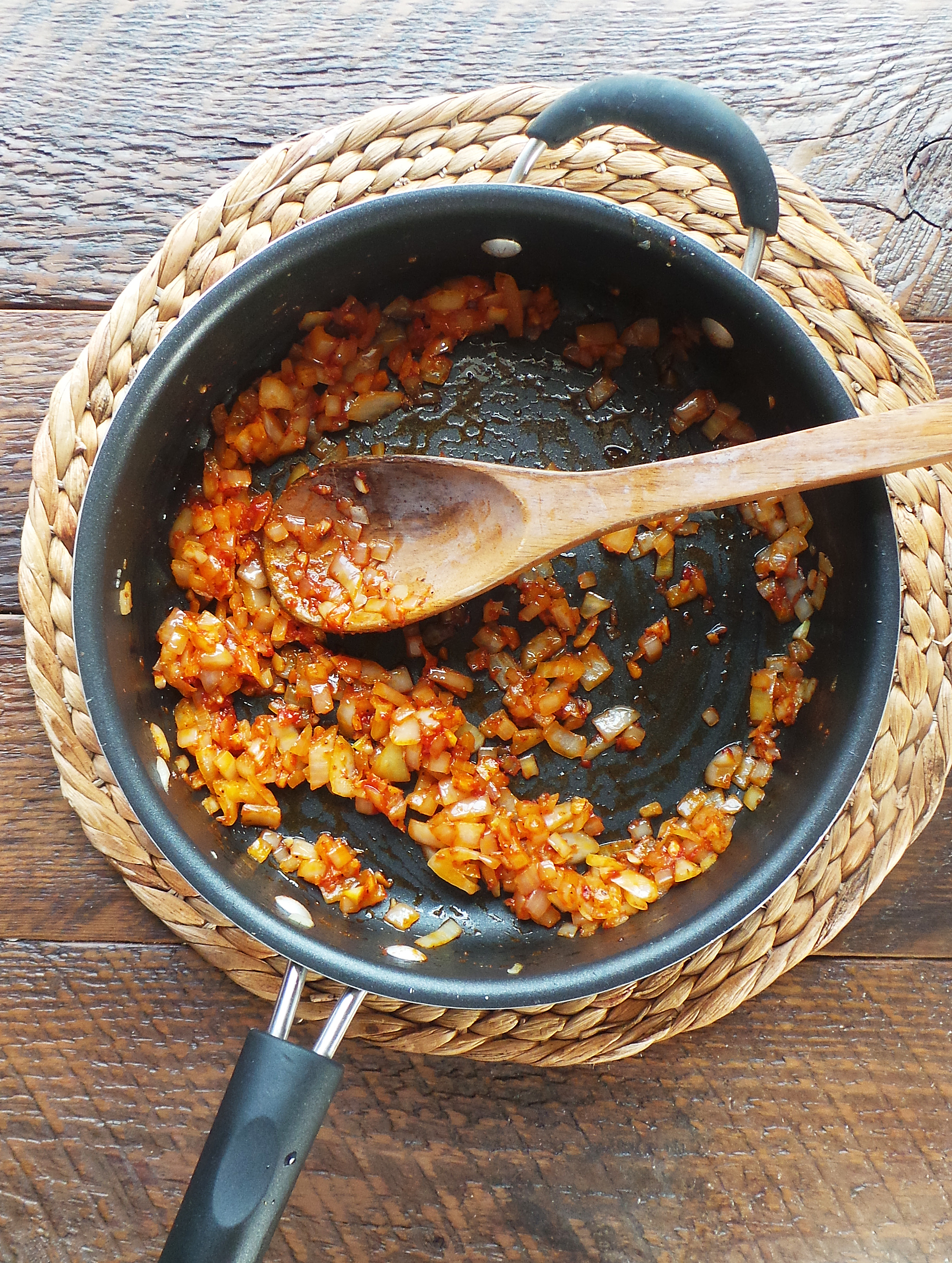 Tomato sauce should never be a long list of ingredients, therefore I keep mine relatively simple. Here all I did was saute a chopped onion and minced garlic seasoned with garlic salt, pepper, dried oregano, and red pepper flakes. Always season your sauces from start to finish! I then add two tablespoons of tomato paste and allow that to cook out for a few minutes. Similar to flour, tomato paste has a raw flavor that'll dilute once cooked out. To that I add a big ol' can of the most delicious San Marzano whole peeled tomatoes. Gosh I love those things.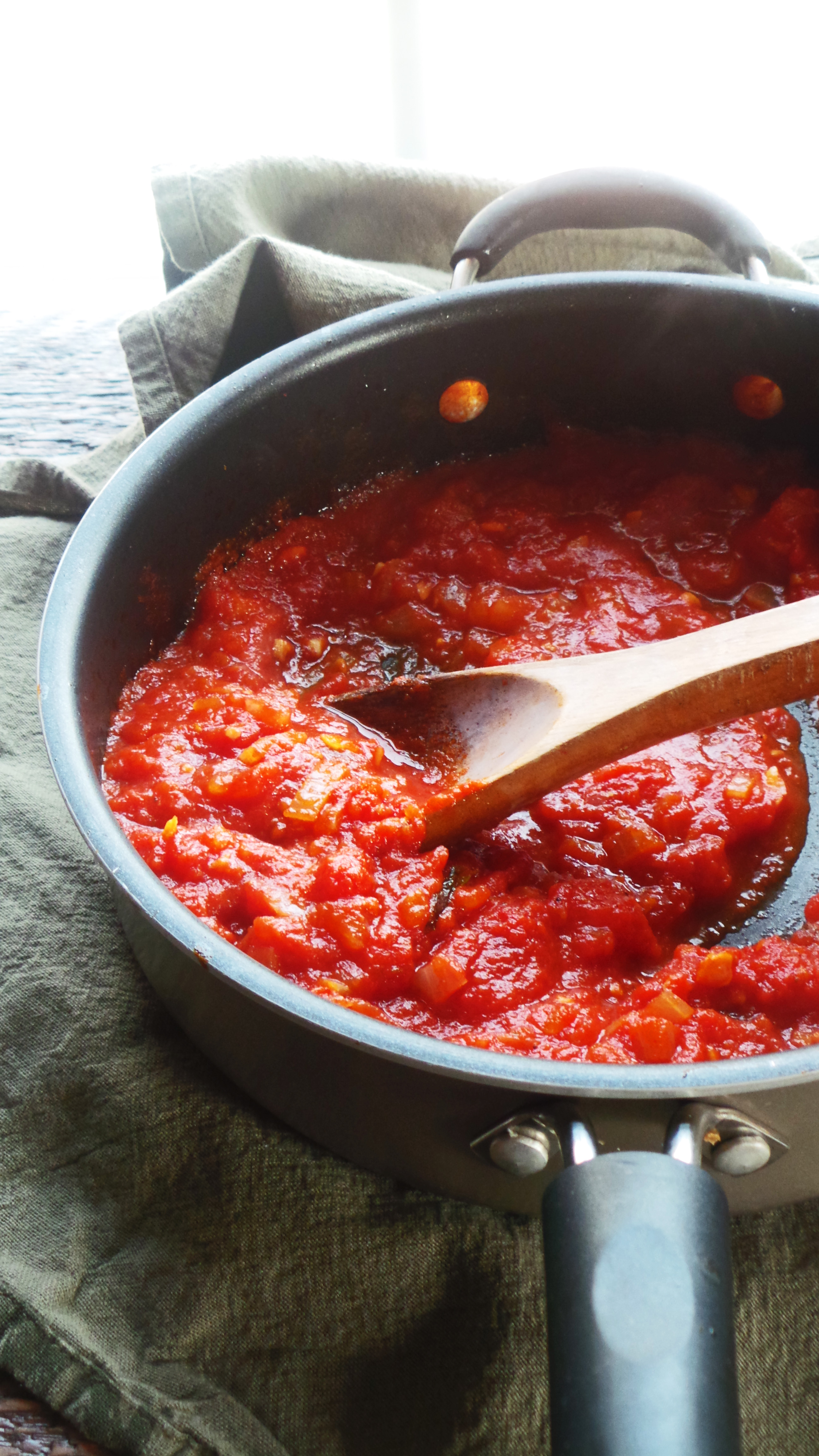 I mash that up a bit, throw in some fresh basil, and allow it to simmer for a while. After about 25 minutes on the heat, it'll become thick and delicious. Just add a little water to thin it up and maybe a dash of olive oil. There's nothing like this sauce I promise you. I like to start the sauce as soon as the meatballs go in, because 25 minutes at 400 is what it'll take for these to come out crispy and golden.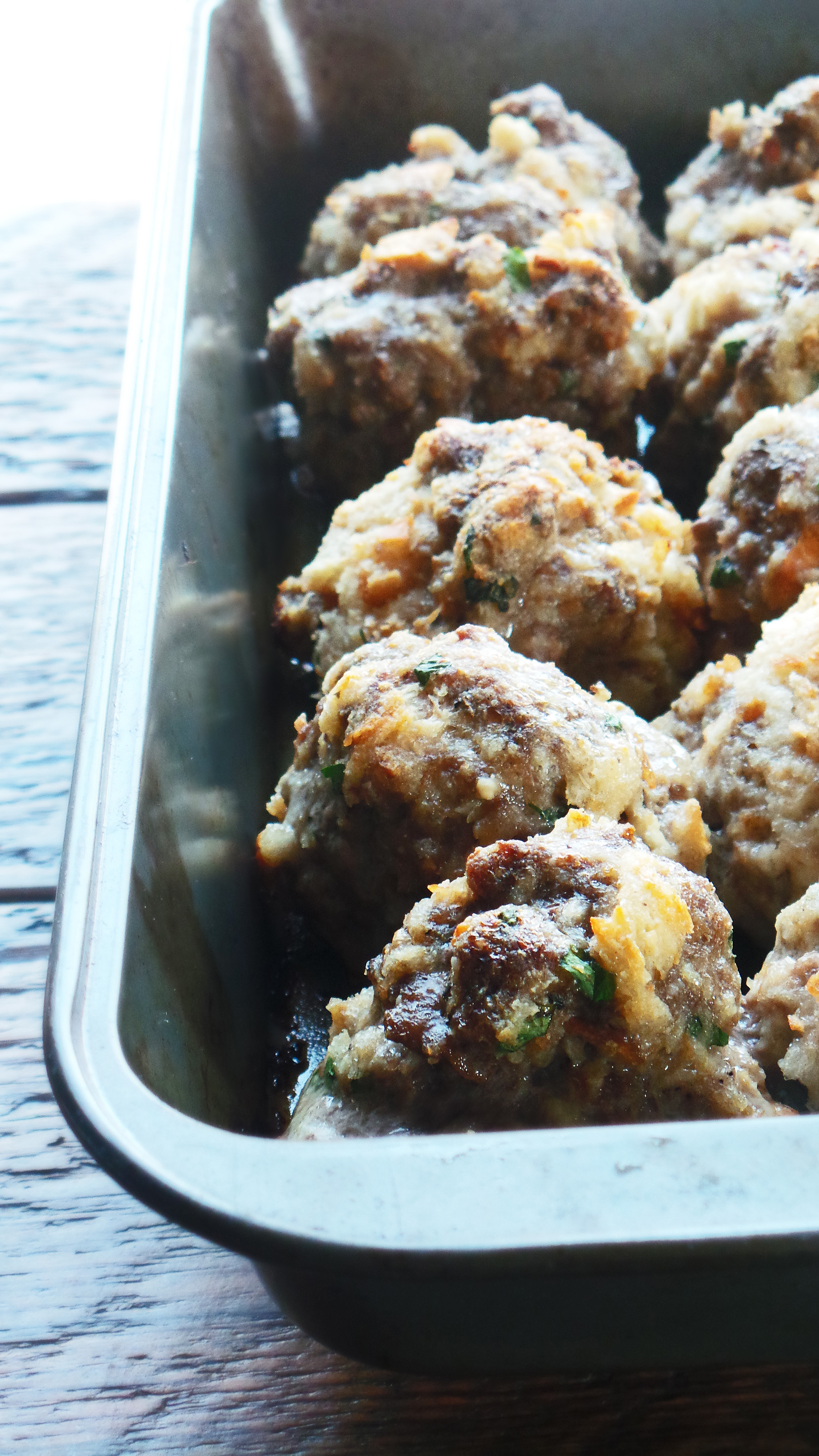 Crispy and golden is an understatement. Once your meatballs and sauce are finished – it's time to get dirty.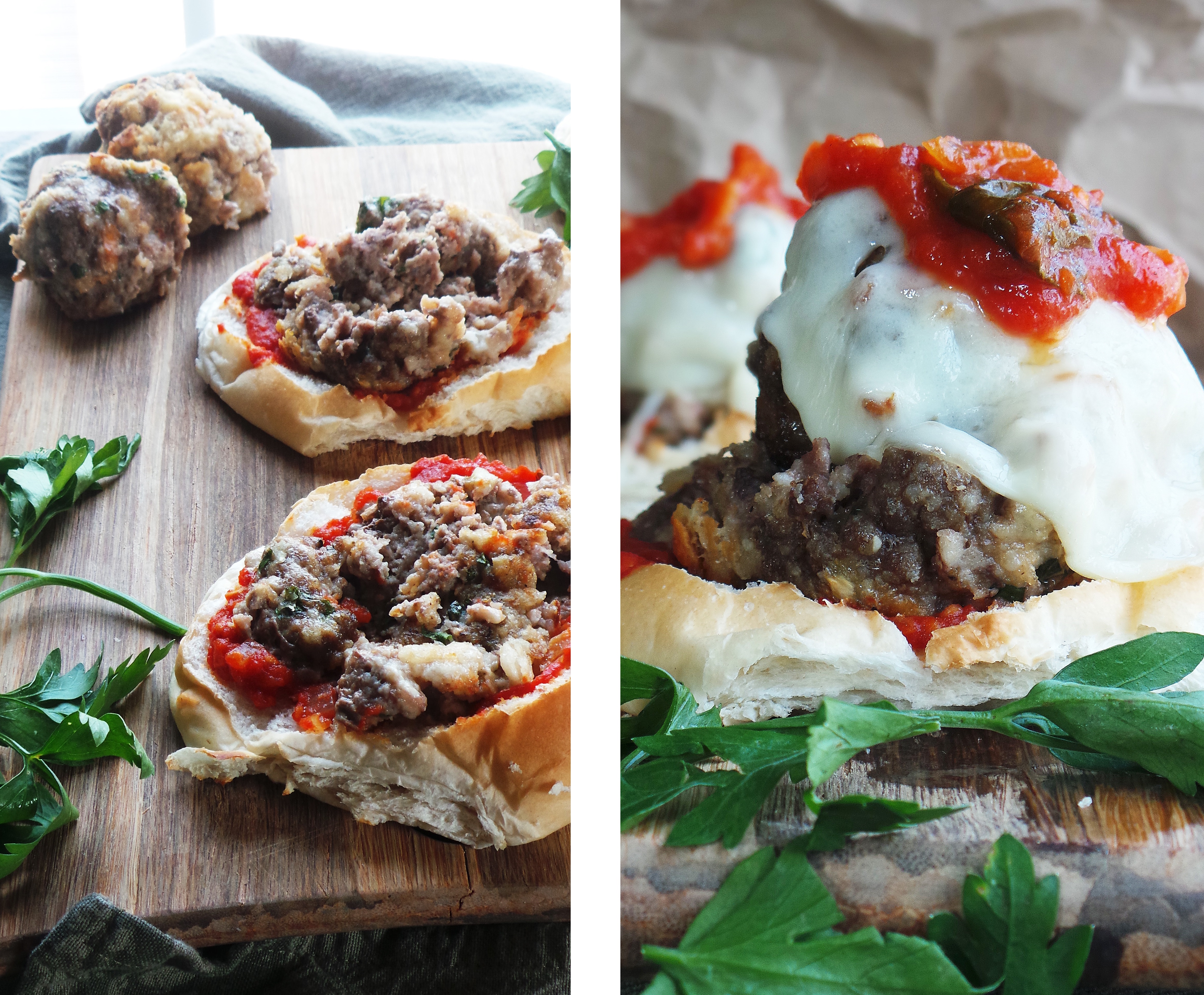 Scout out your local grocery store's bread box because every once in a while you'll find a winner. I found globe roast beef buns that I couldn't resist. I knew I had some buns to toast and cheese to melt so after taking out my meatballs, I kept the oven on. The trick is to get the bottom bun nice and toasty to hold a good amount of sauce, then top with a meatball. You know how annoying eating a meatball sub can be especially since half of the sandwich you're only eating sauce and bread. Here I smash my meatball flat, top with another meatball, smash that one slightly, top with a slice of Provolone cheese, and stick it in the oven until the cheese melts.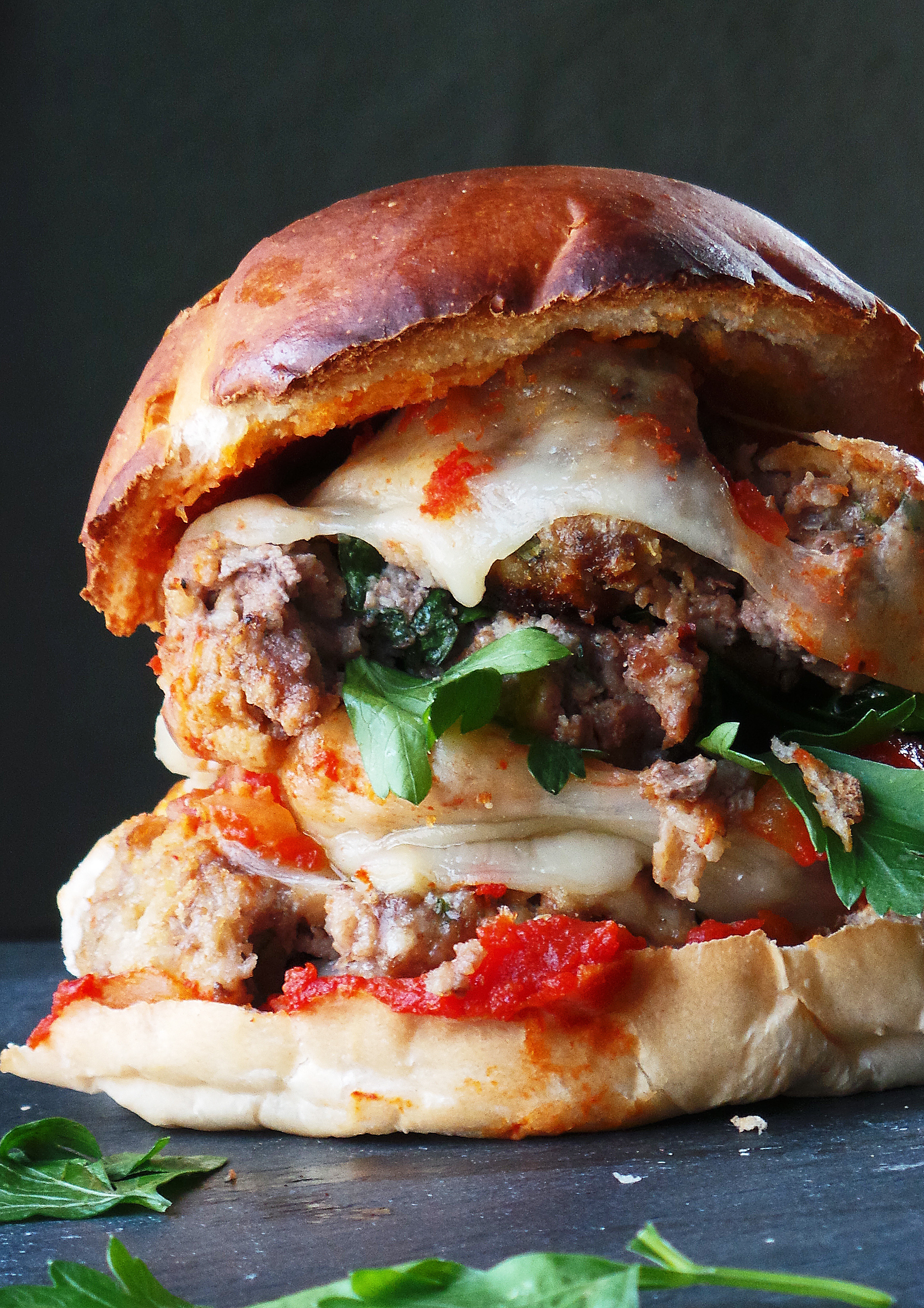 Top that off with your top bun and you have yourself one hell of a mega meatball sandwich. Everything in this recipe is made to compliment each other and for sure it does. I may or may not of had one of these for breakfast this morning. Don't tell.
Mega Meatball Sandwiches
2014-11-09 16:29:45
Serves 10
For the Tomato Sauce
28 oz. can San Marzano whole peeled tomatoes
1 onion - small dice
3 garlic cloves - minced
2 T. tomato paste
4 fresh basil leaves
red pepper flakes - pinch
dried oregano as needed
salt and pepper as needed
2 T. olive oil
For the Meatballs
2 lbs. ground chuck
1/2 c. finely grated Parmesan Reggiano cheese
2 eggs - beaten
2 garlic cloves - minced
1 handful of fresh parsley - chopped
4 basil leaves - chopped
salt, pepper, red pepper flakes, dried oregano as needed
1/4 loaf of French bread
1 c. low-fat milk
For the Mega Meatball Sandwich
2 meatballs
Brioche rolls
Tomato sauce
Provolone cheese
For the Tomato Sauce
Heat the oil in a skillet over medium heat. Once hot, add the onions and garlic. Season with salt, pepper, dried oregano, and red pepper flakes and cook until soft, about 3 minutes.
Add the tomato paste and mix until combined. Allow the tomato paste to cook out for a minute. The onions will be a pretty brick red!
Add the whole tomatoes with the juices and the basil leaves and mash with spatula or potato masher. Bring to a gentle simmer and allow to cook for 25 minutes covered.
Add water to fix the consistency before serving. Taste to season!
For the Meatballs
Preheat the oven to 400
Prepare the breadcrumbs by slicing the French bread and placing in the oven for a few minutes until hardened. If you have stale bread, use that! Transfer to a food processor and pulse until breadcrumbs form. Combine with the milk and set aside.
Add the fresh herbs, garlic, beaten eggs, Parmesan, and however much of the seasonings you prefer to the meat. Mix until just combined. Add the breadcrumb/milk mix and combine without overmixing.
Spray a baking sheet with non stick spray or line with parchment paper. Using 1/4 c. of meatball mix, shape the meat into round meatballs. Arrange snug in baking sheet and bake for 25-30 minutes until crispy and brown.
For the Mega Meatball Sandwich
Leave the oven set at 400
Cut the rolls in half and stick in the oven until crispy. Remove the bottoms and spread a spoonful of tomato sauce. Add a meatball and flatten until evenly spread. Add one more meatball and top with cheese. Transfer back into the oven until cheese is melted. You may want to remove the top half, it might be a little too toasty.
Once the cheese is melted, remove from oven, add a little more sauce and top with other bun.
ENJOY!
Notes
You can always add shredded Parmesan to a food processor or blender to get it extra fine!
http://www.vodkaandbiscuits.com/
[shopeat_button]