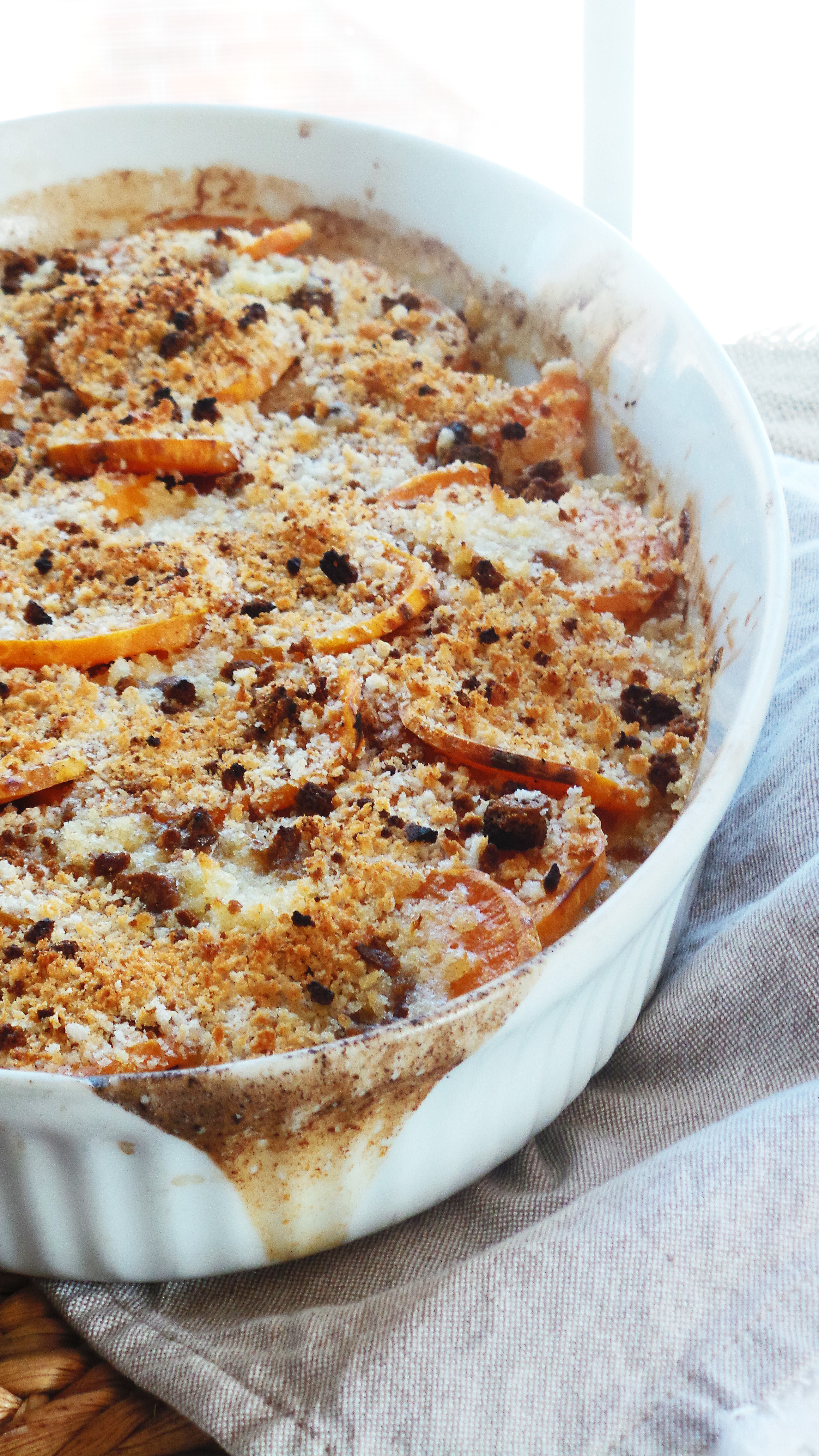 Bringing the Internet yet another sweet potato recipe, but I reallllly think you'll like this one.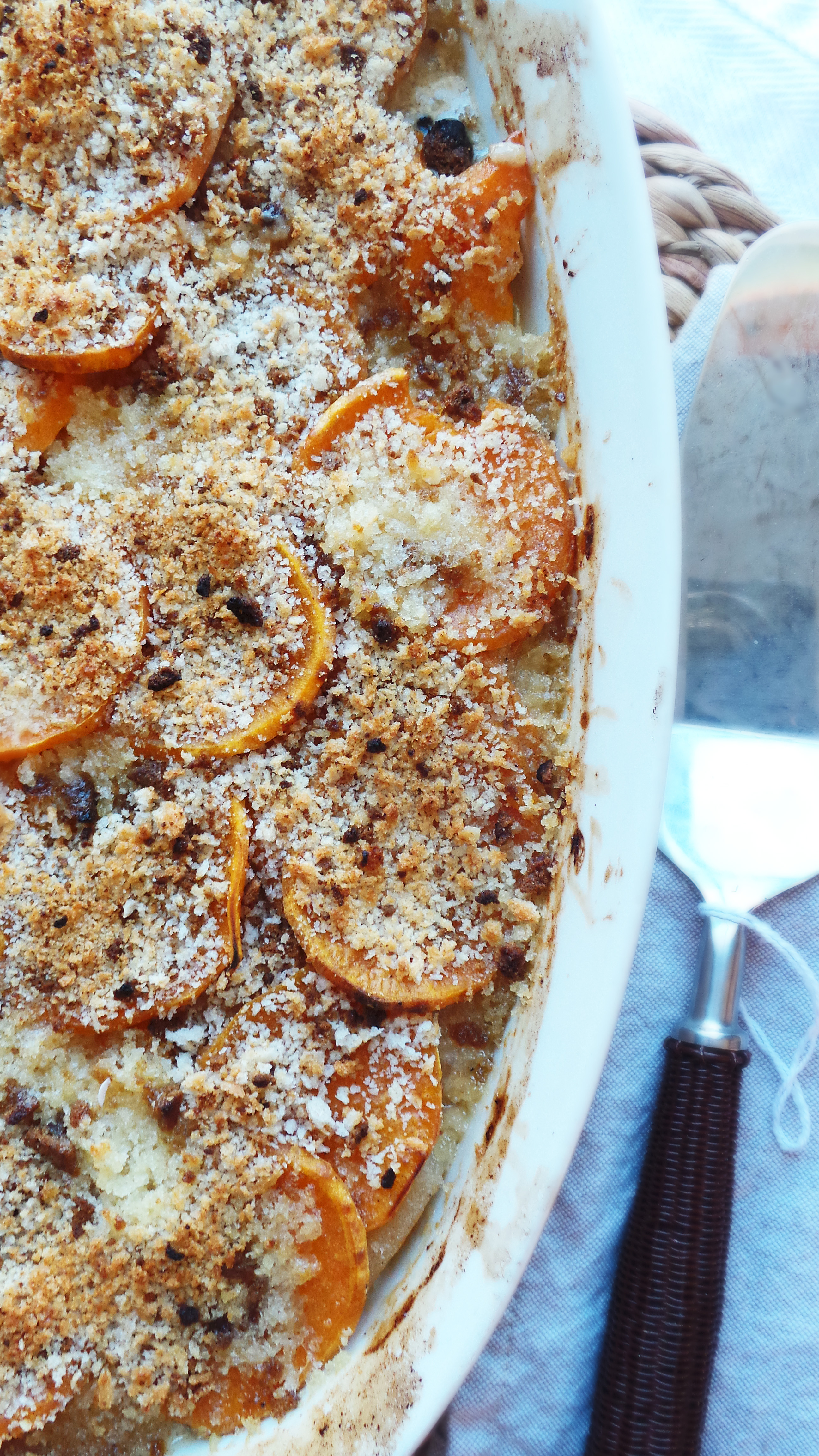 I'm about to come in strong with thanksgiving recipes, of course less than a week before the holiday when you probably already have your menu planned out. Bleh, I need to work on this timing thing. Hopefully the recipes I'll be posting these next few days are simple enough to pull last minute if you are indecisive about what to bring to the table.
Last weekend I took a trip to Charleston and on my flight I swamped myself with cooking magazines. I came across Wolfgang Puck's Sweet Potato & Apple Au Gratin and HAD to make it. Adding my little touch, I bring you this ahmazeball au gratin recipe.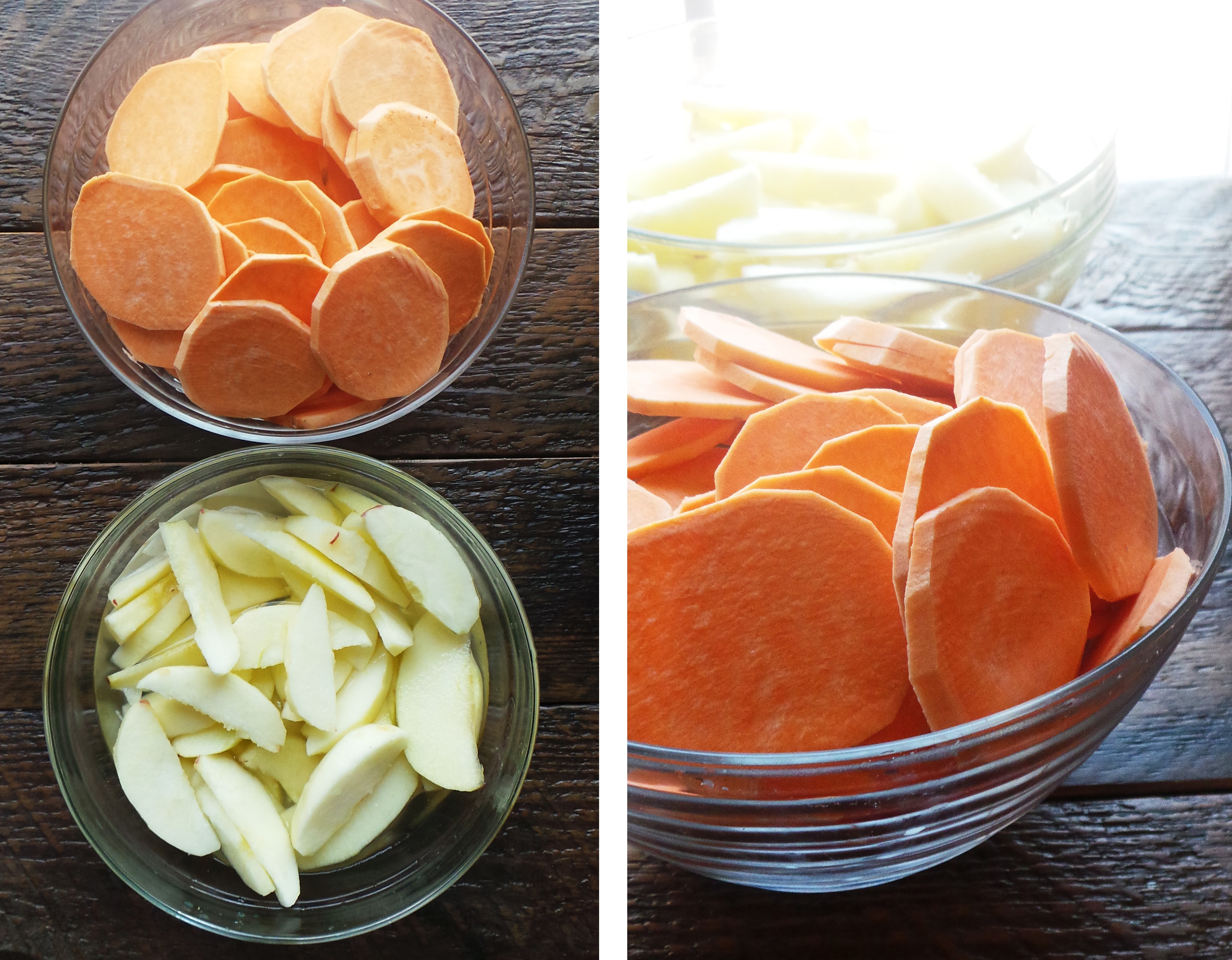 This recipe contains nothing more than a few sweet potatoes, apples, heavy cream, seasonings, and bread crumbs. Simple. The prep is the most time consuming. but if you have the proper tools, it's really not that bad. I sliced my sweet potatoes on a meat grinder, but you can use your mandoline or food processor with the chopping blade attached. Whenever I'm cooking apples, I like to cook a variety. I used Fuji and Gala, sliced those into 16 slices per apple, and threw them on the stove with some butter to give them a nice caramelized color.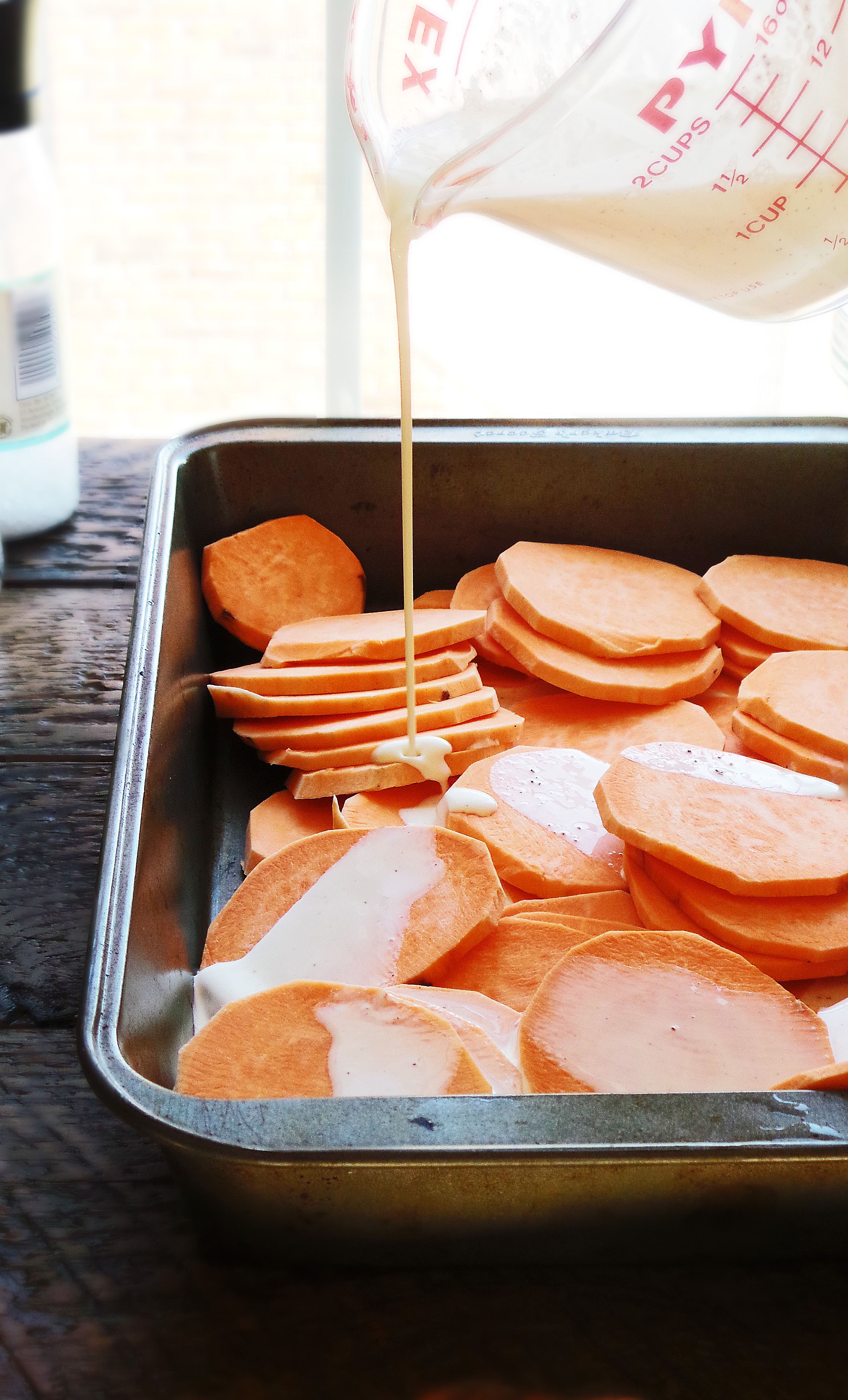 Cooking the apples over the stove isn't required, but totally worth it. Something about cooking them in butter does wonders. While those are cooking the potato slices are soaked in a seasoned heavy cream. Ah, nothing quite like ruining any chance of nutrition!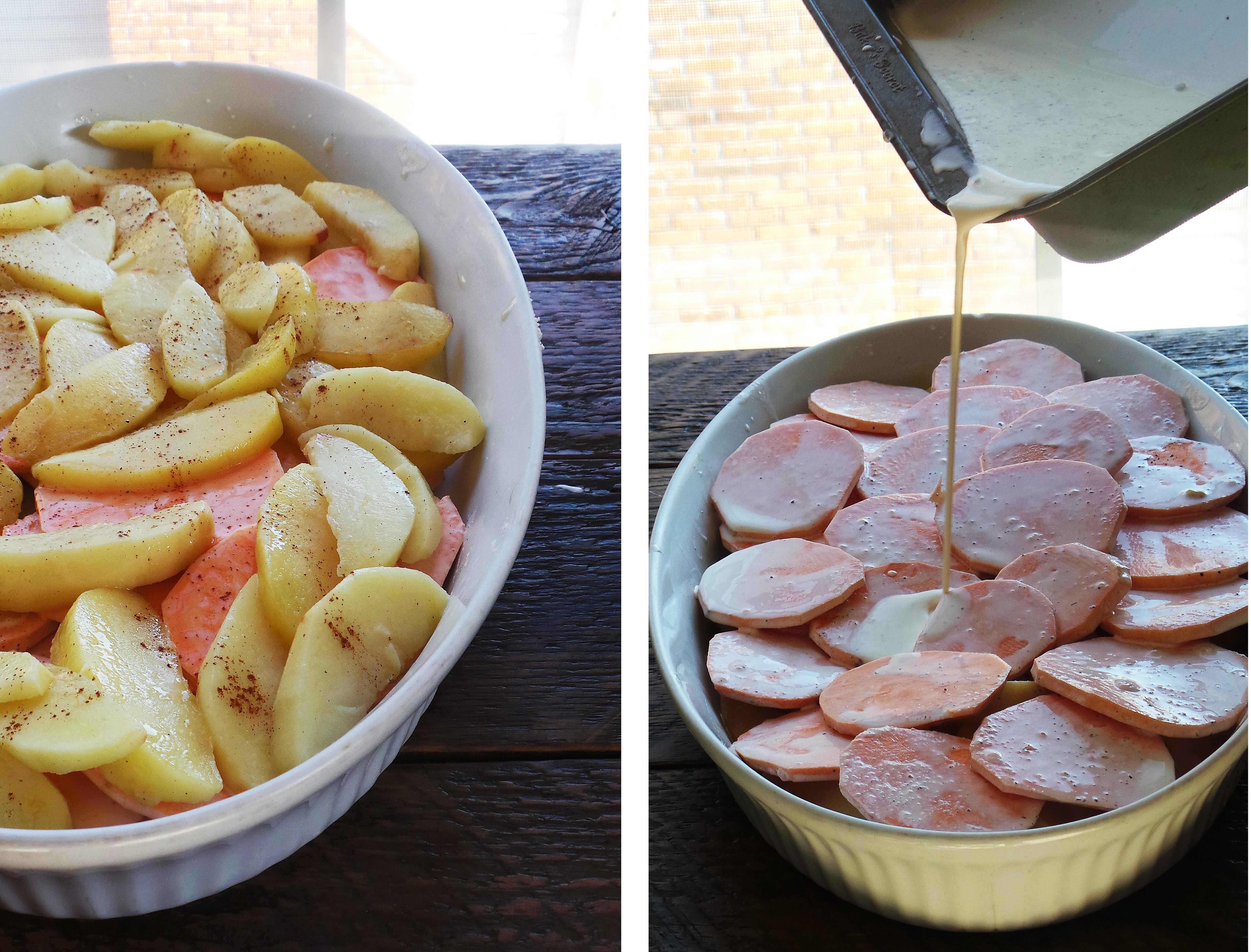 I found that the amount of potatoes and apples used were the perfect amount to fill my au gratin dish. No need for any more or any less!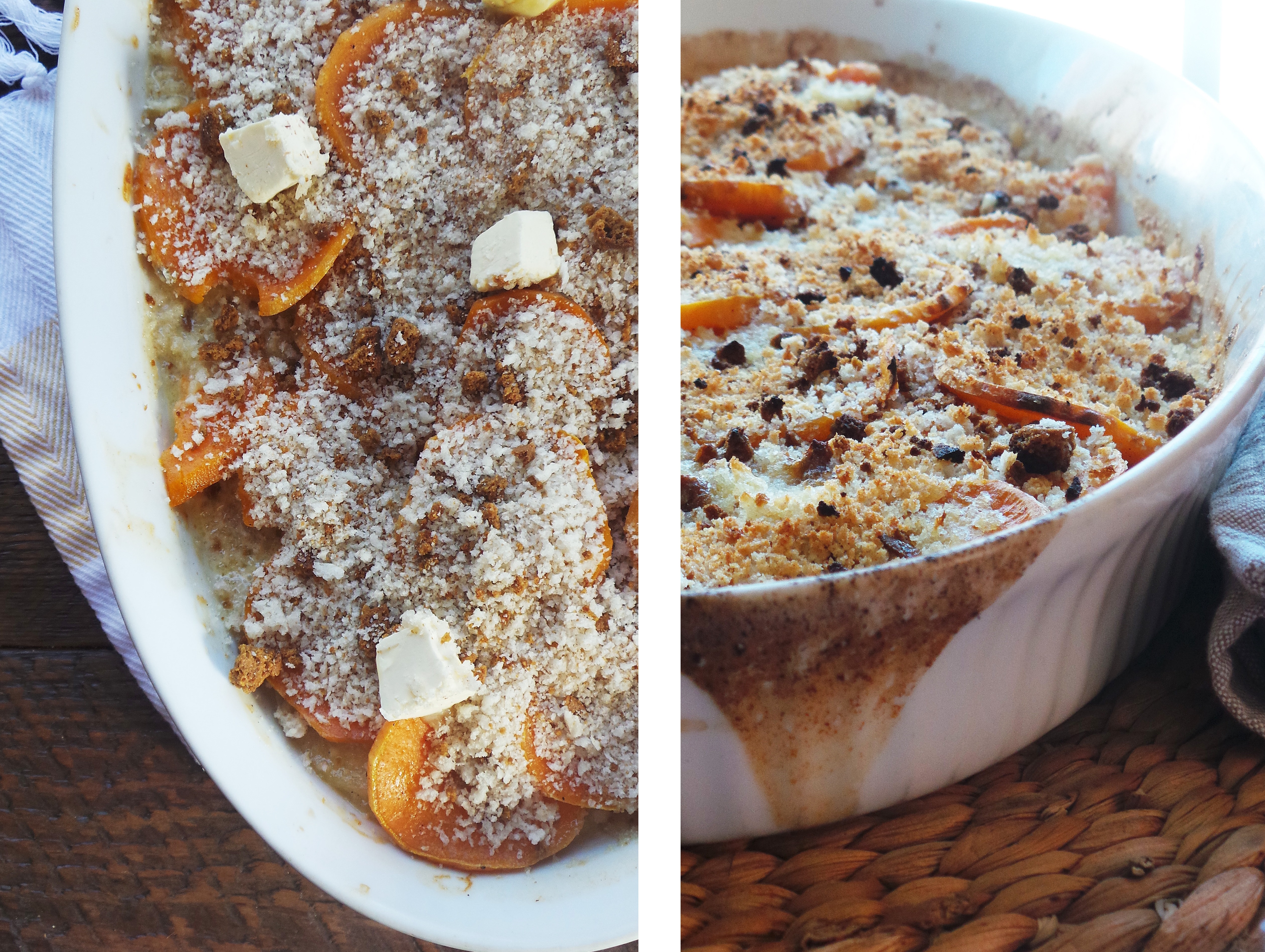 After the au gratin is layered, bake it for an hour at low heat, then top with breadcrumbs and bake at a much higher heat for only a few minutes. I used a combination of panko crumbs and ginger snap cookies, LOVED the ginger snaps. I think the panko crumbs were a little too aggressive and crunchy, so next time I'd probably use a soft French loaf and make my own. I'll leave that up to you though.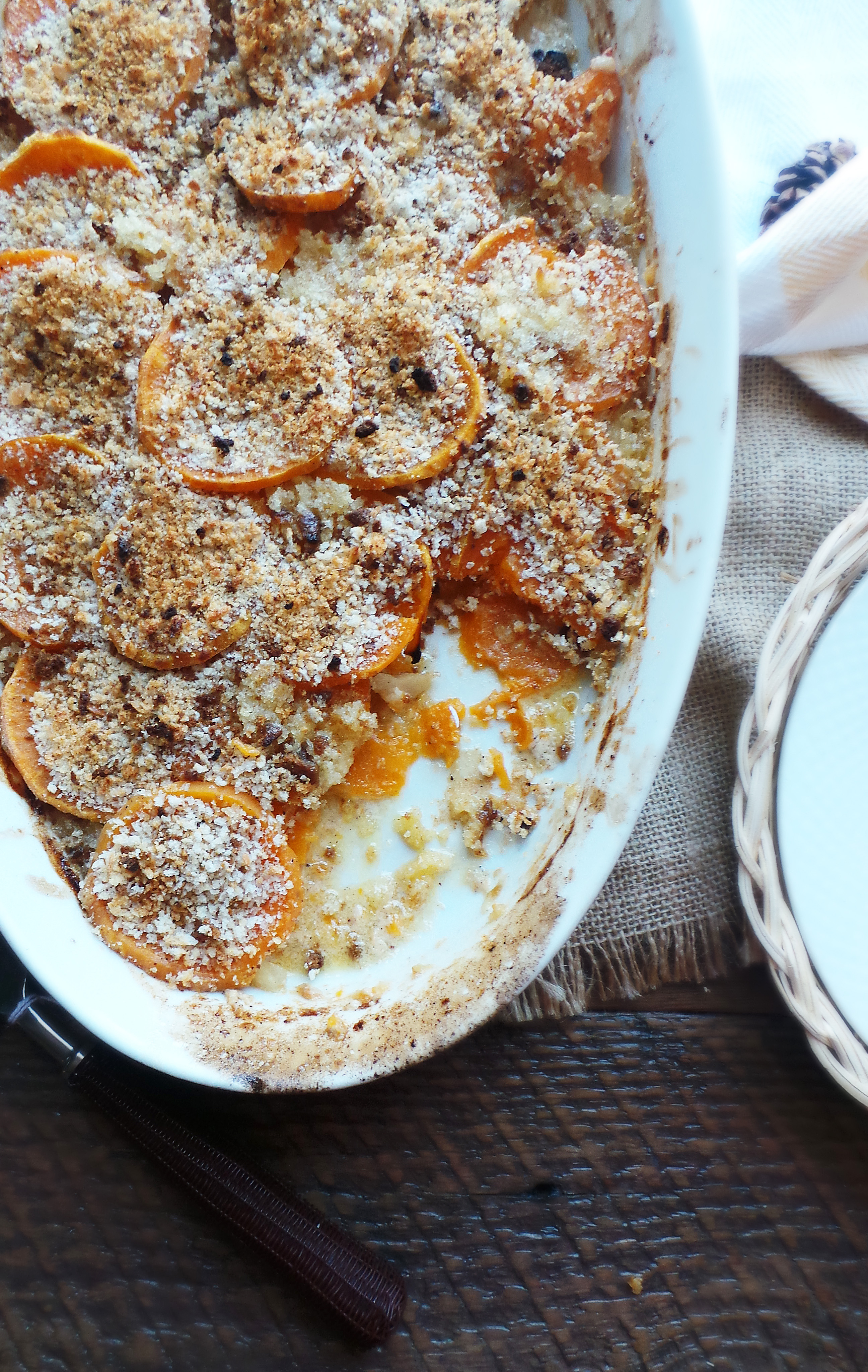 I loved this recipe so much. It smells incredible and tastes like it should have been on the Thanksgiving dinner table three years ago. Finally someone is bringing sweet potatoes without the marshmallows. Delicious, but it's time for a change. The apples and potatoes have the perfect tender bite and the cream cooked down to the perfect consistency. This dish isn't over powering like you find with many au gratin recipes, so you'll feel comfortable with it on your plate. The earthiness of the potatoes compliments the buttery sweet apples in every bite. I wouldn't skimp out on the ginger snap bread crumb because that just takes it to a whole other level. I really hope you make this.
Sweet Potato & Apple Au Gratin
2014-11-23 07:19:17
Serves 8
Ingredients
3 large sweet potatoes - peeled, sliced to 1/8"
3 apples of choice* - peeled, cored, sliced into 16 slices
1 1/2 c. heavy cream
salt and pepper as needed
nutmeg and cinnamon as needed
1/2 c. breadcrumbs
1/4 c. crushed ginger snap cookies
1/2 stick of butter - divided
Instructions
Preheat oven to 350
Melt two tablespoons of the butter in a large skillet. Add the apple slices and cook until color starts to form, about 10 minutes. I added a dash of sugar here because I'm bad.
Lay the sweet potato slices in a baking sheet and pour over the heavy cream. Sprinkle with salt, pepper, nutmeg, and cinnamon. Season to your preference! Mix with hands to make sure all of the potato slices are covered in cream.
When the apples are finished, butter the bottom of an au gratin dish. Layer 1/2 of the potato slices into a single pattern. Top with the apples, then layer with the remaining half of the potatoes. Pour over the remaining heavy cream.
Cover with foil and bake for 1 hour.
Combine the breadcrumbs and ginger snaps in a bowl. Remove the dish from the oven and crank the oven to 500. Discard the foil. Sprinkle over the breadcrumbs evenly and dot with the remaining butter.
Add back to the oven for another 3-4 minutes or until the breadcrumbs are browned (keep a close eye out!).
Allow to cool slightly before serving.
Notes
Use a combination of apples, like Fuji or Gala. Having an apple slicer tool makes prep much easier as well.
If your au gratin seems "runny" after the one hour, don't freak out. After the bread crumbs are added, baked once more, and then slightly cools, it will thicken up.
Adapted from Wolfgang Puck
Adapted from Wolfgang Puck
http://www.vodkaandbiscuits.com/
[shopeat_button]