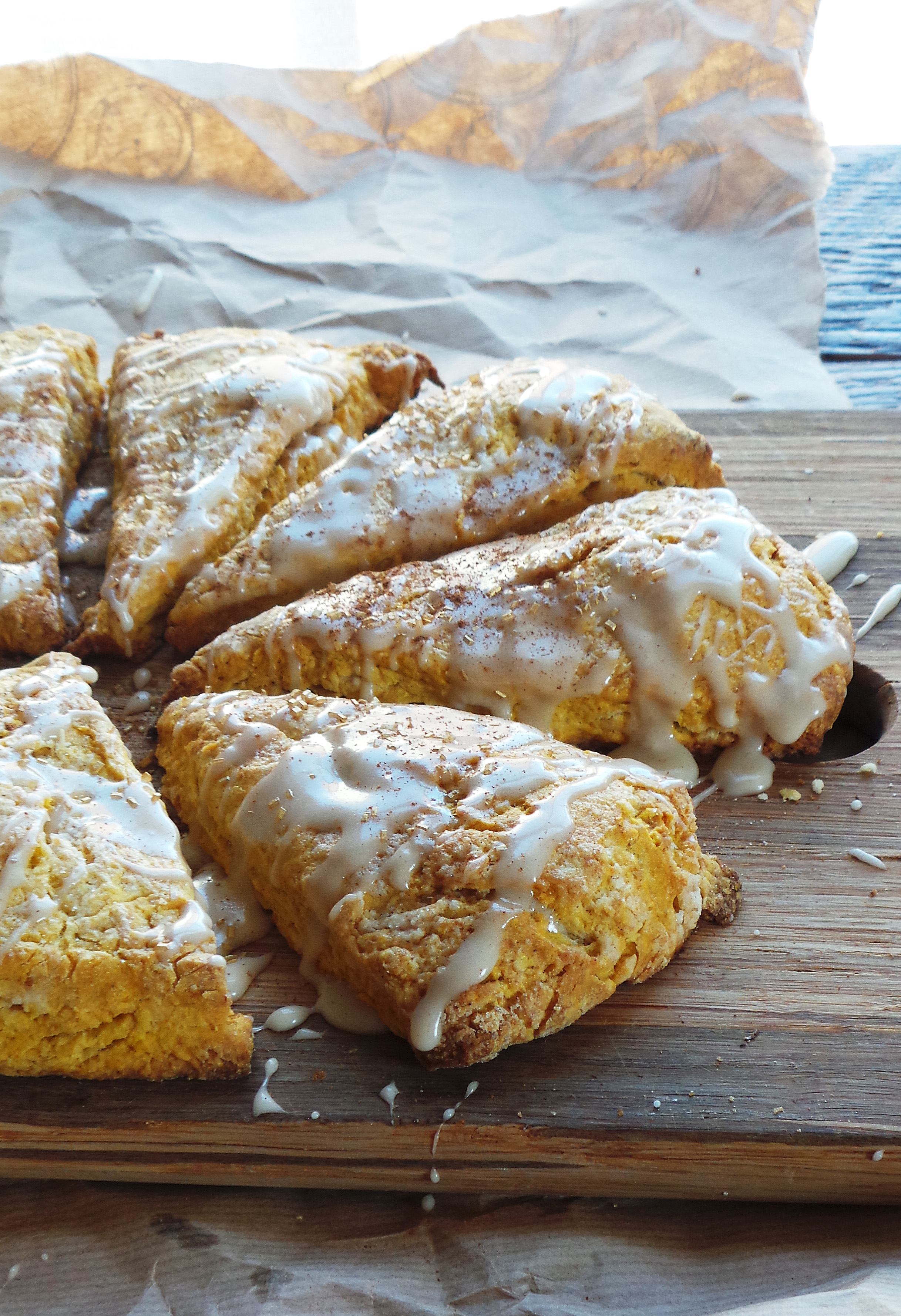 Hey pumpkin pie scones topped with maple glaze, WHAT'S UP?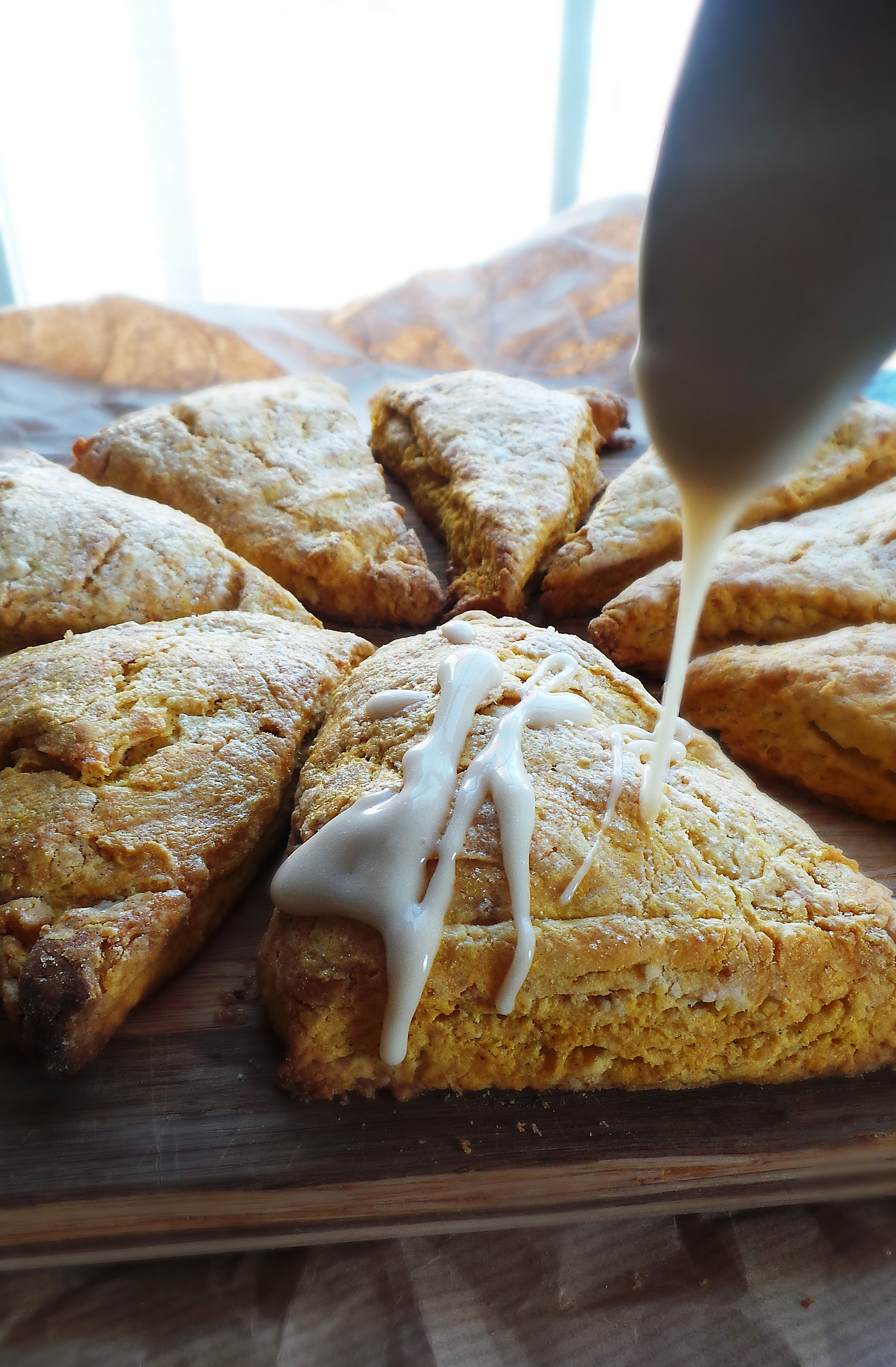 I am all about scones and I am all about pumpkin, which means I am all over these. I used my go-to scone recipe and added a twist of fall – perfect for Thanksgiving. Take your mind off pie for a second, I think the Thanksgiving dessert table needs some of these.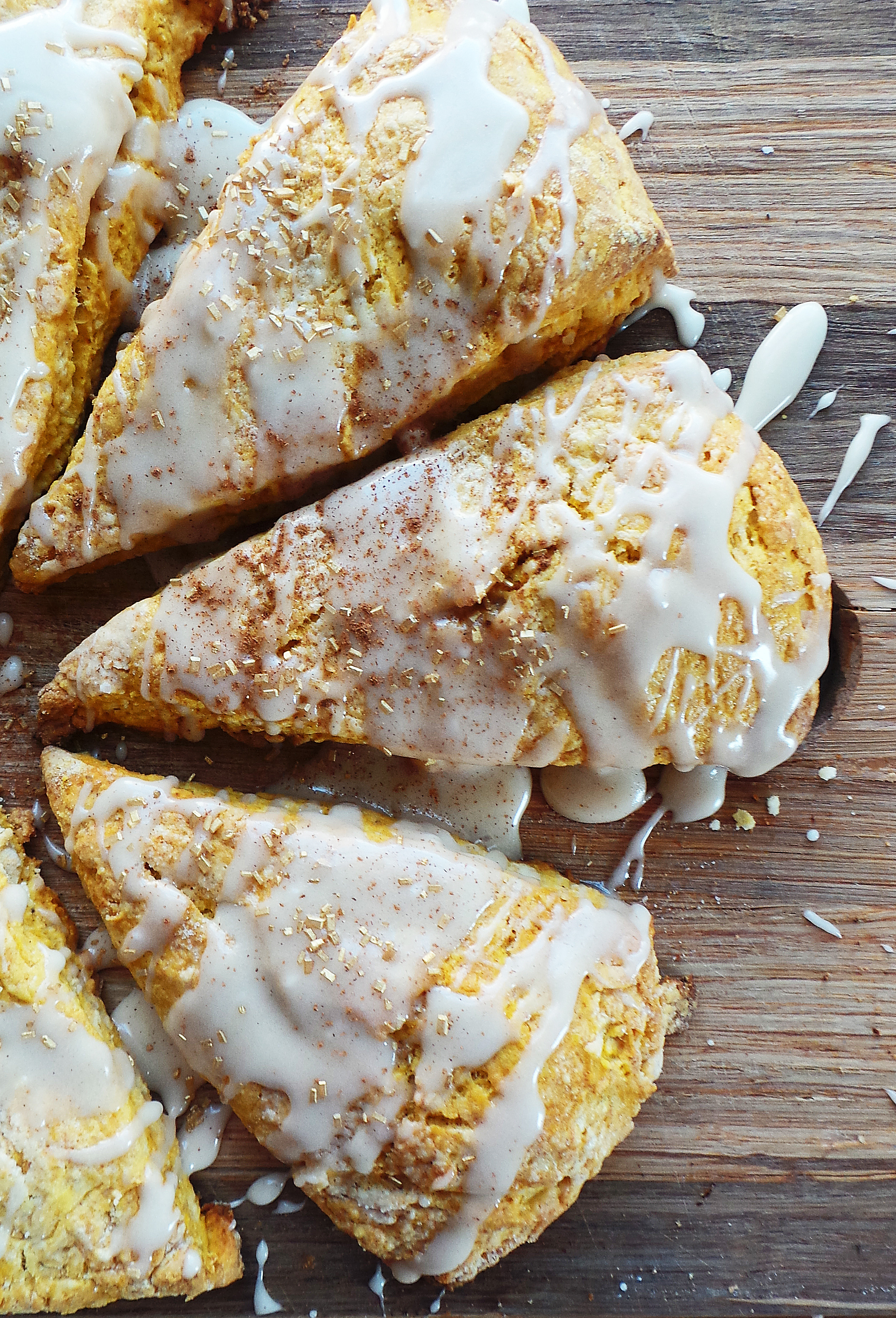 Made with minimal pantry ingredients, a little heavy cream, and half a can of pumpkin, these treats are so simple to make and quite fun to eat. I can't imagine ending my day's feast any other way than with a spiced scone and warm cup of coffee. And then swearing that I'm never eating again while my mouth is half full of scones.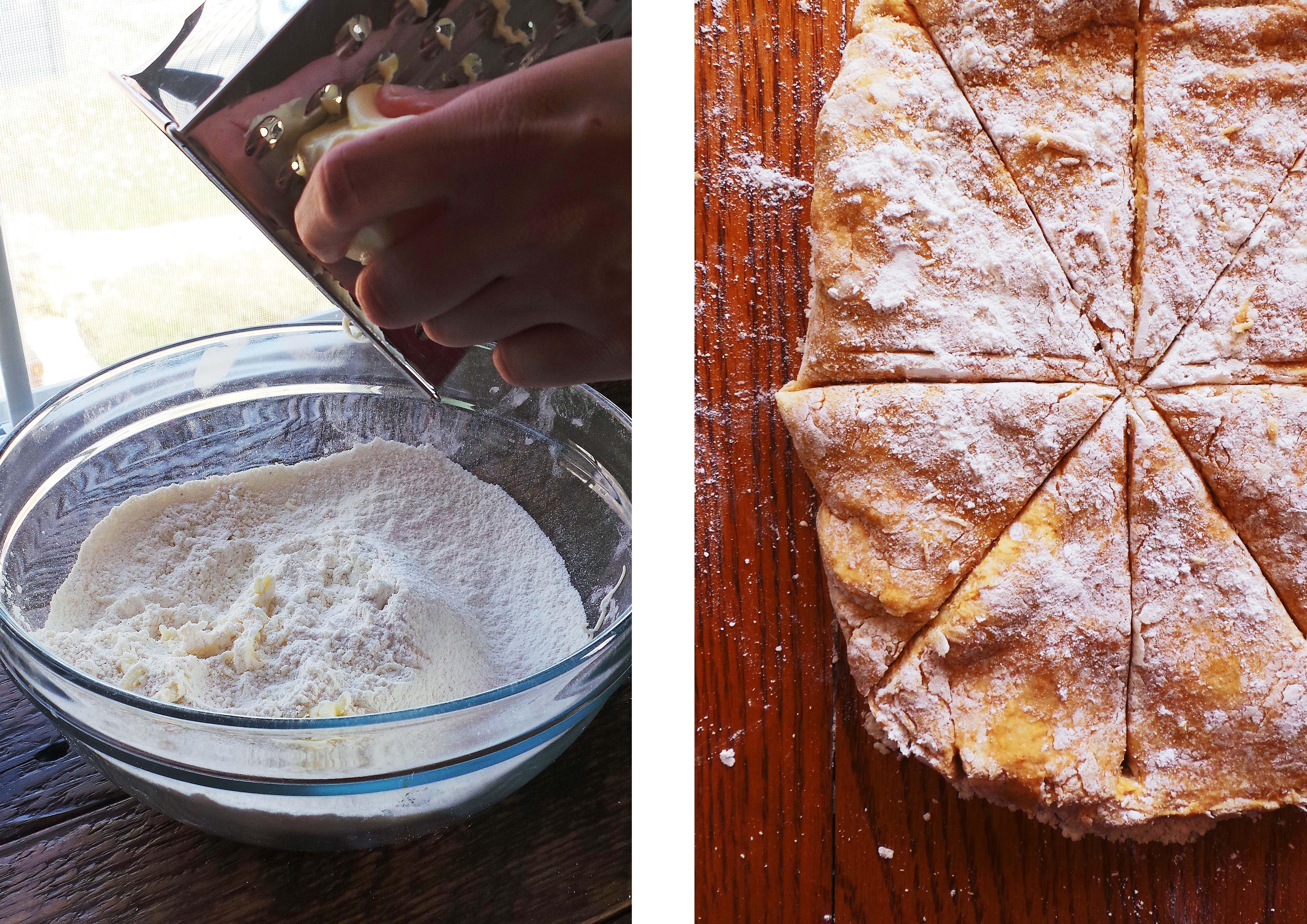 If you've never made scones, you'll be quite surprised how easy they are. Like biscuits, there's minimal ingredients and no special tools needed. I love it. The first step is sifting together the dry ingredients, then cutting in cold butter, shaping, cutting, baking, indulging. I read in a magazine that grating the cold butter into the flour makes it much easier to "cut." I decided to try it out and now my hands, grater, and dish washer hate me. Probably not going to do that again.
After the pumpkin and cream are mixed in, it's all a matter of shaping the dough and cutting out the scones. I always shape my dough into a rectangle before cutting that in half, then cutting diagonal triangles to form scones. You could also shape the dough into a circle and cut it like a pizza, either way you'll get some bangin' scones.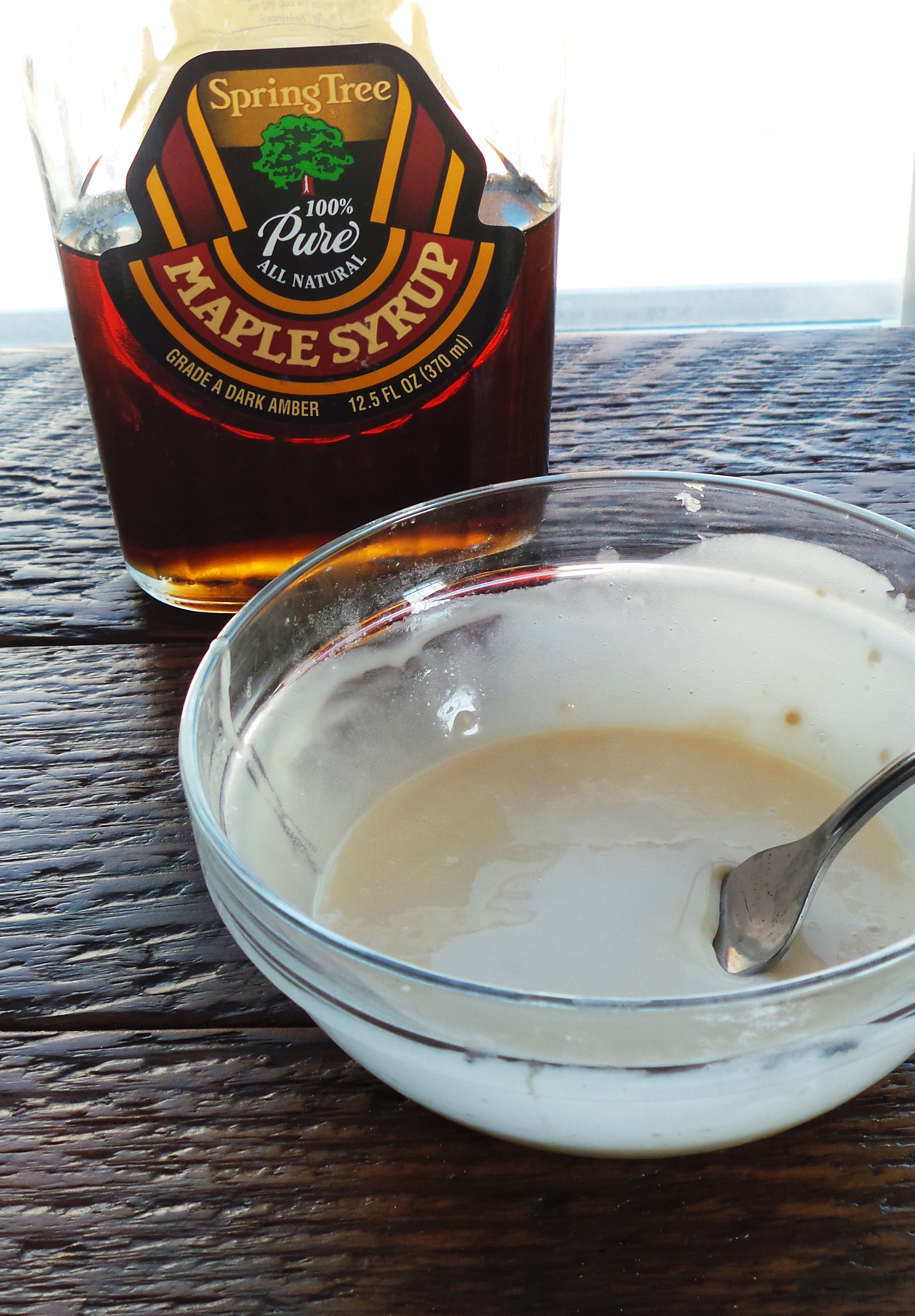 If pumpkin pie scones wasn't enough to reel you in, let this maple glaze do the trick. I think I found the key to happiness guys. Don't skip this stuff.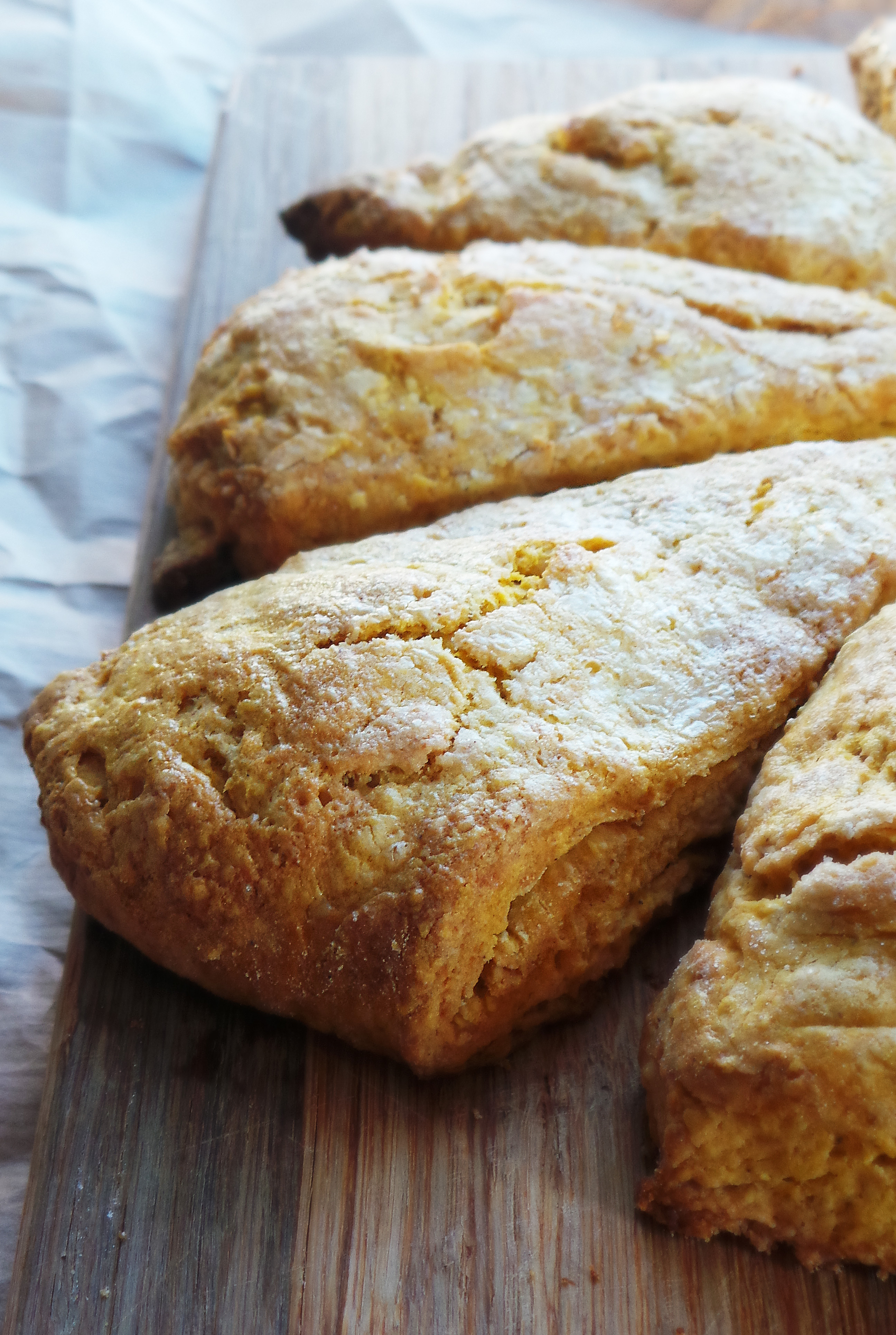 The scones take about 30 minutes to bake, which was the perfect amount of time for me to run and get some coffee. Did you know of all things I can make, I can't brew a cup of coffee TO SAVE MY LIFE. I don't know what I do wrong, but I destroy it. Completely hopeless. Even those electric K cup machines somehow don't work for me. I finally gave up and accepted that the coffee god did not bless me.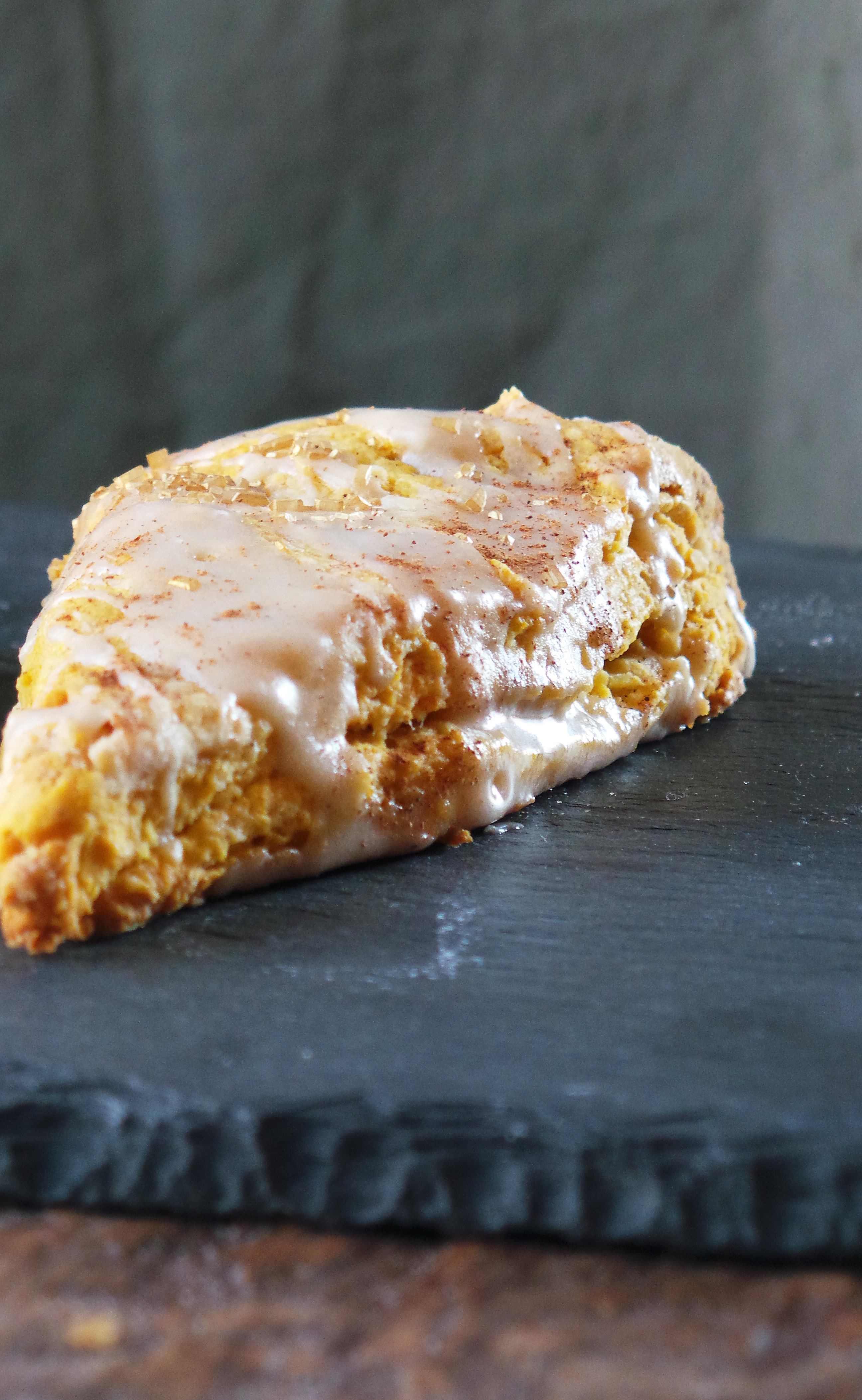 There's nothing worse than a dry scone and you defiantly won't have to worry about that with these. The pumpkin and the cream provide the perfect amount of moisture to keep these soft in each bite. The scone has a subtle sweetness which goes great with the maple glaze. Before the glaze hardens, sprinkle some cinnamon or baking sugar. I had some gold sugar flakes on hand and they made these pop. If you want something different yet easy, that no one will expect but everyone will love, I think you should make these for Thanksgiving. If you haven't checked out my Sweet Potato and Apple Au Gratin, head over there for another Thanksgiving inspired dish.
PS: Check out my Flaky Blueberry Scone recipe and swap the blueberries for cranberries!
Enjoy!
Pumpkin Pie Scones
2014-11-23 18:45:53
Serves 8
For the scones
2 c. all-purpose flour
1 T. baking powder
1 t. pumpkin pie spice
1/2 t.salt
1/4 c.sugar
5 tablespoons unsalted butter, cubed, cold
1/2 c. canned pumpkin
1/2 c. heavy cream, plus more for brushing
For the glaze
1/2 c. powdered sugar
heavy cream as needed
maple sugar as needed
cinnamon as needed
Instructions
Preheat oven to 400
Sift together the flour, baking powder, spice, salt, and sugar.
Using a pastry cutter or two forks, cut in the butter until well distributed into pea sized chunks. The smaller the butter is cubed, the better!
Add the cream and pumpkin and mix until combined. Don't overwork it!
Lay on a floured surface and press into a rectangle. Cut the dough in half, then in half once more to create four squares. Cut each square in half on a bias to create a triangular scone shape.
Lay on a greased baking sheet and brush with excess heavy cream.
Bake for 30 minutes.
Top with glaze and sprinkle with cinnamon. Enjoy!
For the glaze
Add the powdered sugar to a bowl. Add a small amount of maple sugar and heavy cream and mix until combined. Keep adding the syrup and cream in small amounts until desired consistency is achieved. Top on cooled scones and sprinkle with cinnamon.
http://www.vodkaandbiscuits.com/
[shopeat_button]