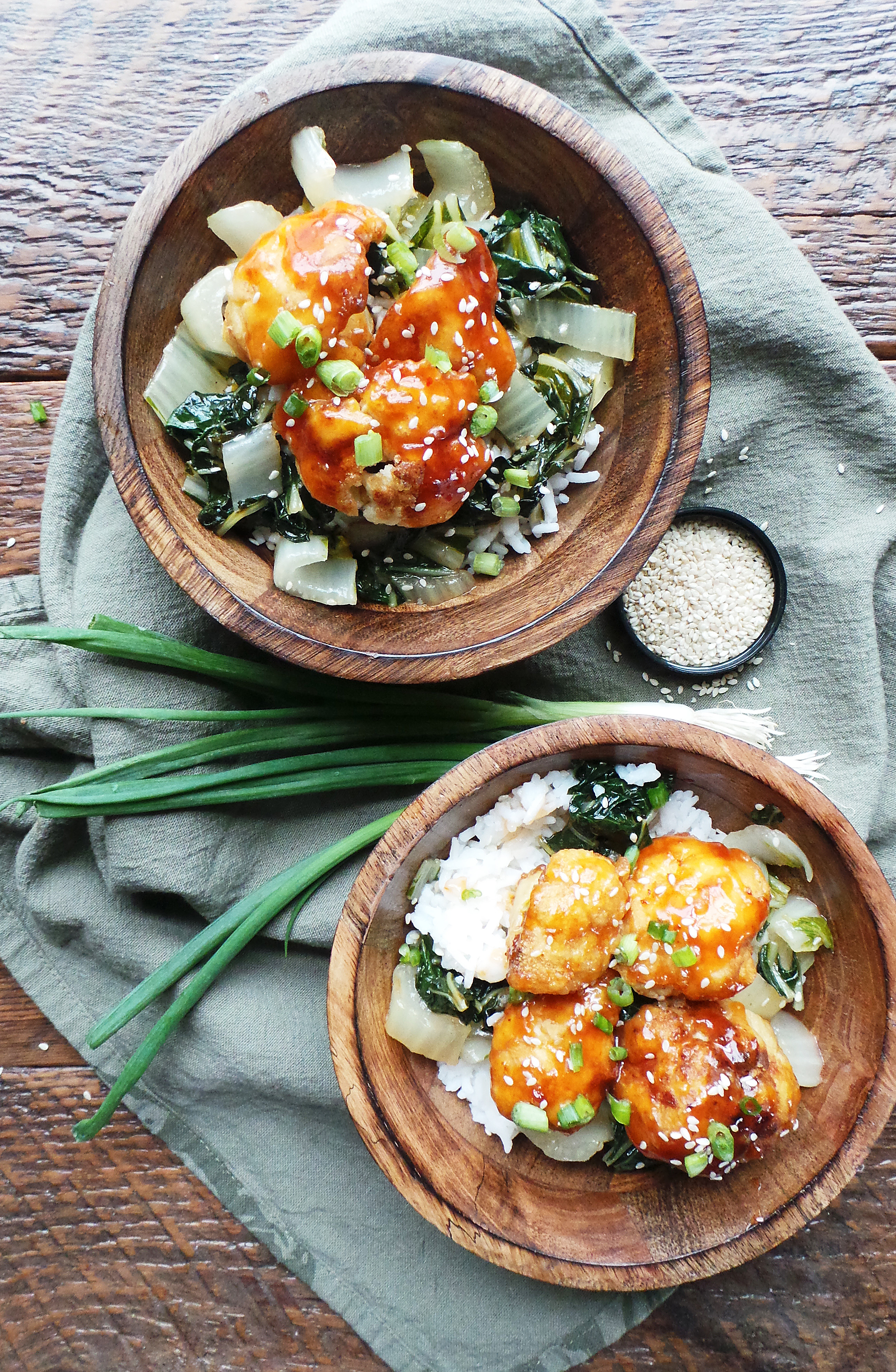 Sweet and Sour Cauliflower, I'm a poet and didn't know it.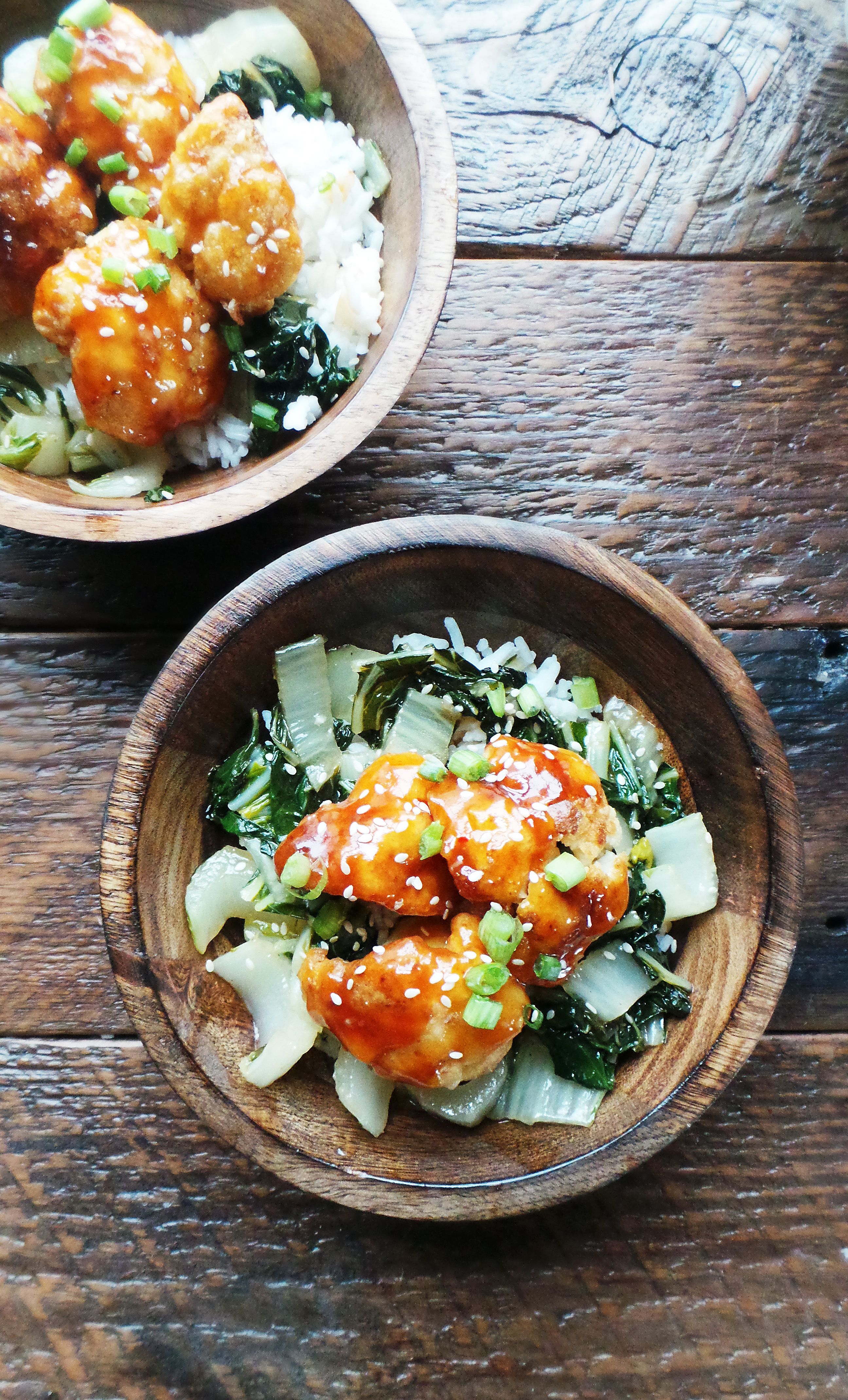 This is the second best thing to ever happen to cauliflower. The first you ask? Pizza crust. That's a whole different discussion. This dish was inspired after seeing a gorgeous snapshot of General Tso Cauliflower on a late night Insta-binge. I tracked down the recipe and a few days later I began to create my own. I'm all about this dish for so many reasons, lemme start with the sauce.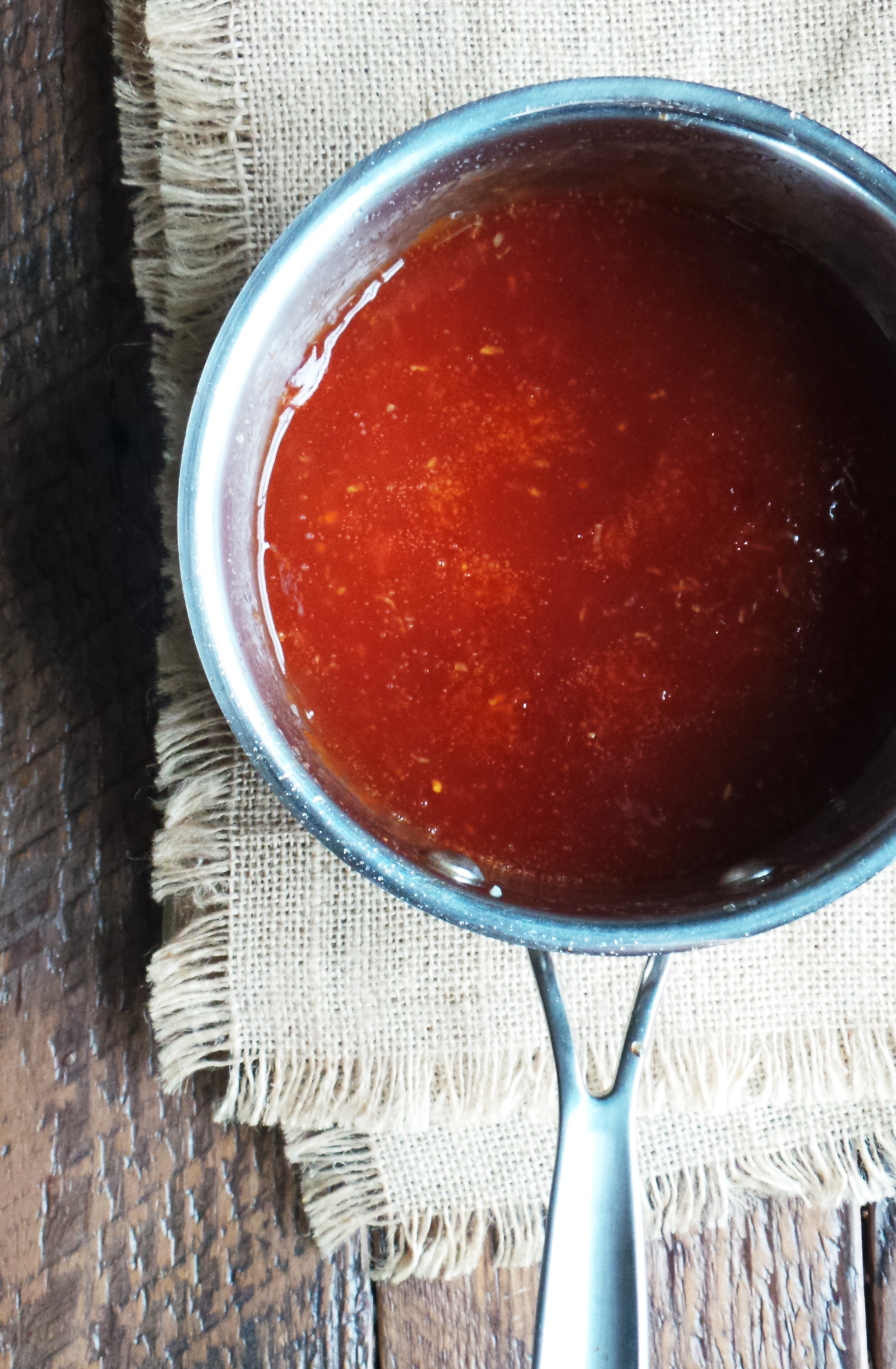 This isn't the first time Sweet & Sour sauce appeared on the blog, in fact it was one of my earliest
recipes
. It's so simple and contains nearly all staple ingredients. The one or two ingredients that you may not have – like pineapple juice – can be found for less than $1. Double the sauce and freeze for later because as you'll see, this not only pairs good with chicken and shrimp, but CAULIFLOWER.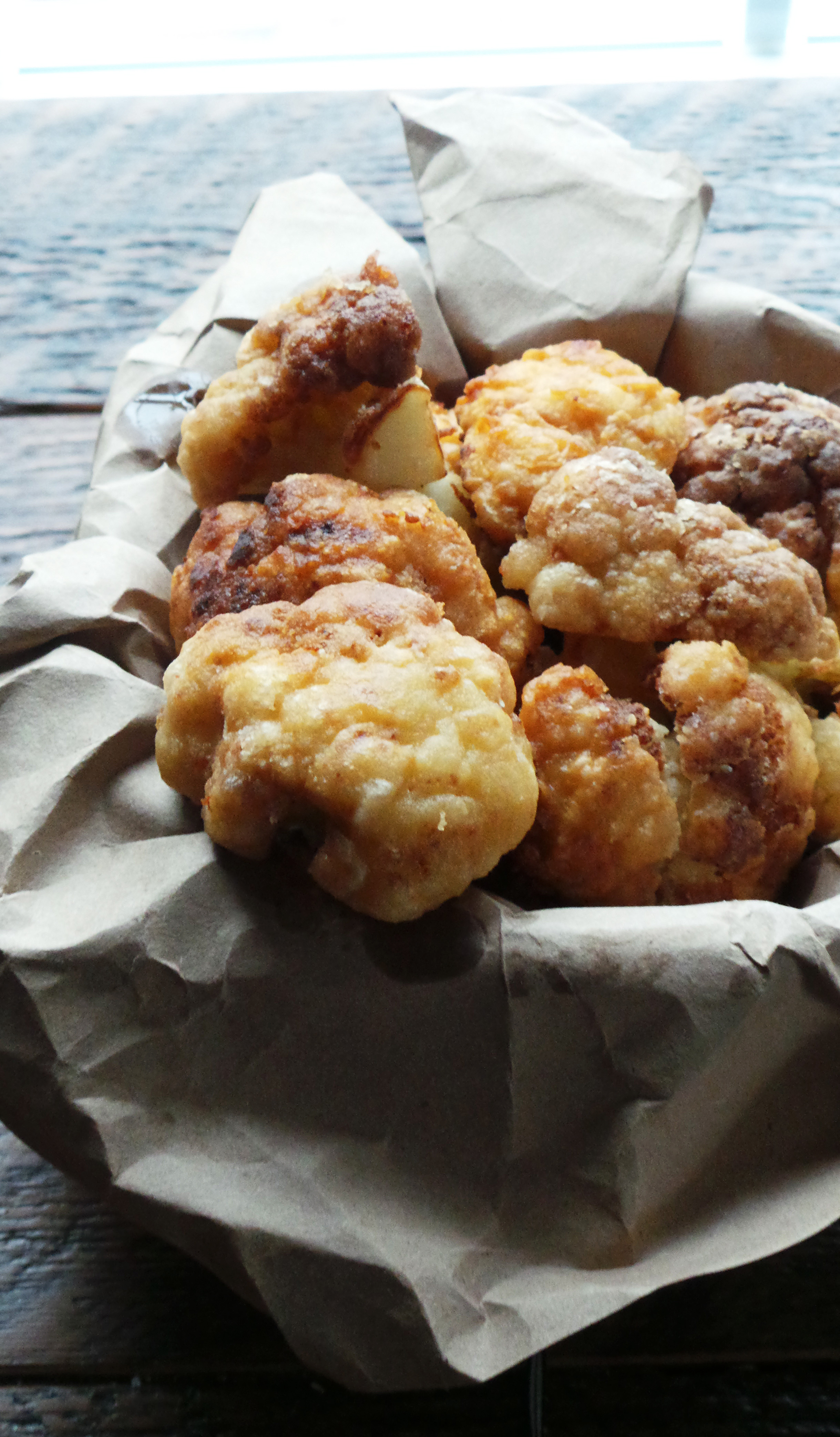 Did I mention this is totally vegetarian? There is an egg so I can't rule it vegan, but I'm sure there's way to make that happen. After the cauliflower has been cut into florets, I let it sit in an egg wash/cornstarch mix that's been flavored with sesame oil and soy sauce. Now if you're rolling your eyes at the sesame oil in the recipe I feel you. It's expensive and rarely used especially if you don't cook oriental dishes often. But I gotta say Home Goods has the hookup for this stuff and it's totally worth it. I then dip the florets in flour and plop it in a pot of sizzlin' oil. I almost never deep fry anything. Fill up a sturdy pot with 1″ of oil and just toss and turn the food until it's crispy on all sides. It's a little more time consuming, but does save a boat load of oil.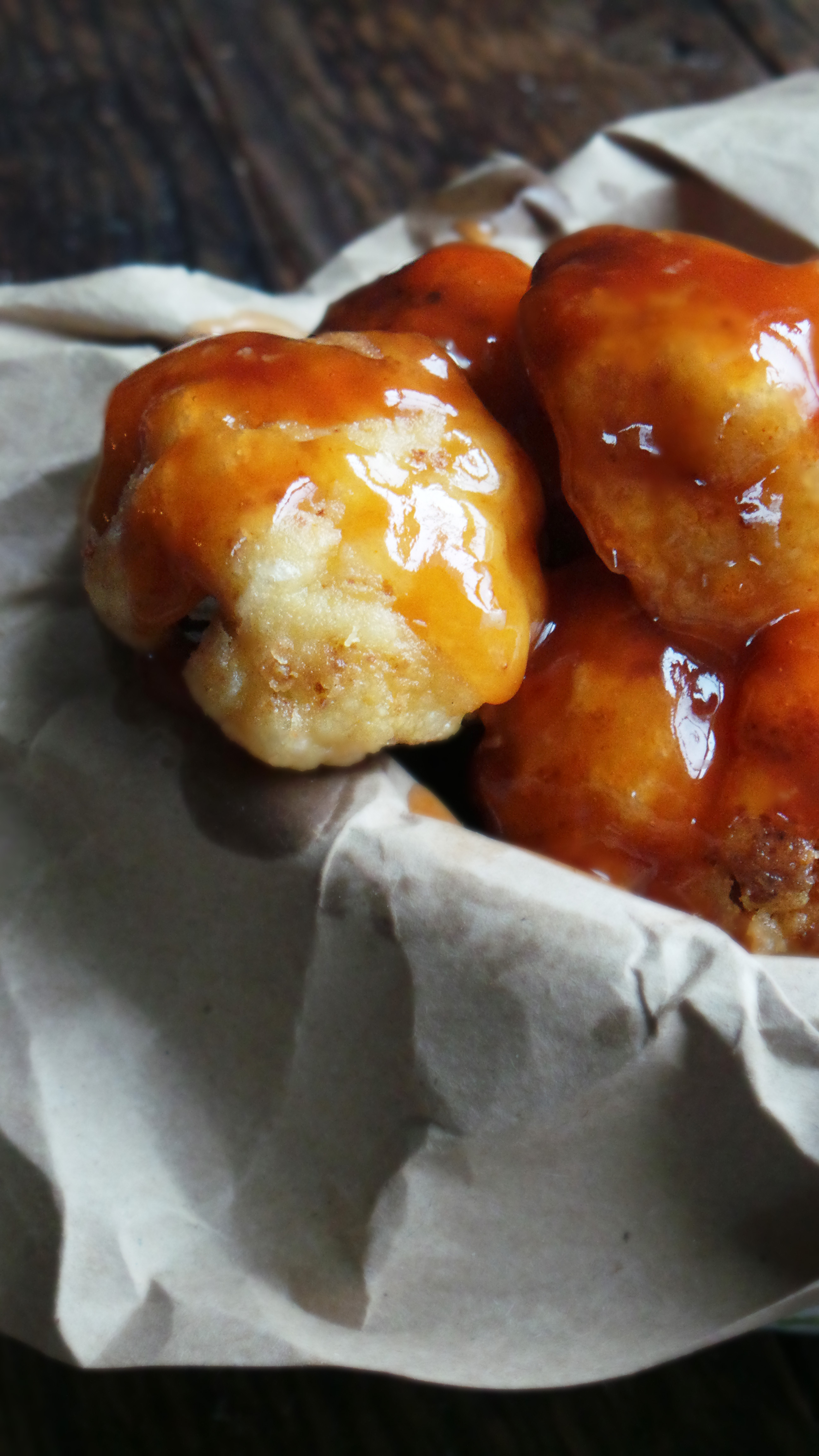 Almost everyone I know who doesn't like cauliflower doesn't like it because of the texture. You'll get a soft piece of cauliflower, but it'll have such a nice crispy layer of – uh – fry? The cornstarch helps with the crispyness and the extra step of the flour just ensures it. When you make this, invite over your anti-cauliflower friends and FORCE THIS DOWN THEIR THROAT.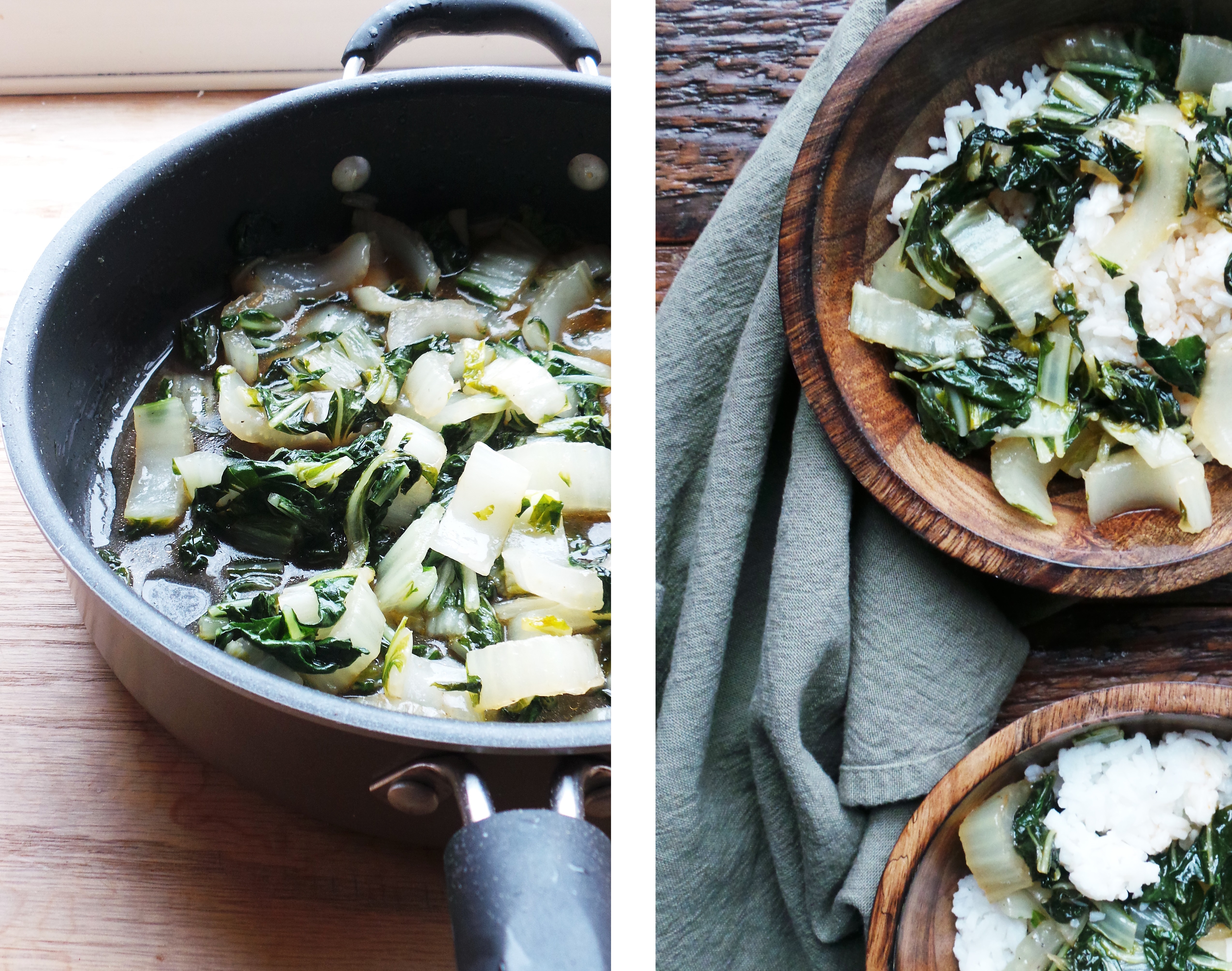 I served mine over a bed of sauteed bok choy and white rice. Of course this is optional but I say do it because bok choy rocks. If you've never worked with bok choy, it's super simple. All you have to do for prep is remove the root stem and cut 1″ pieces using the entire plant from stalk to leaves. I cook the thick white stalk for a few minutes before adding the chopped leaves because the white part takes a little longer. I only added salt and pepper and a finishing touch of the sweet and sour sauce, but feel free to jazz it up with some minced garlic or ginger. Give it a little kick with some red pepper flakes. Kinda wishing I did that.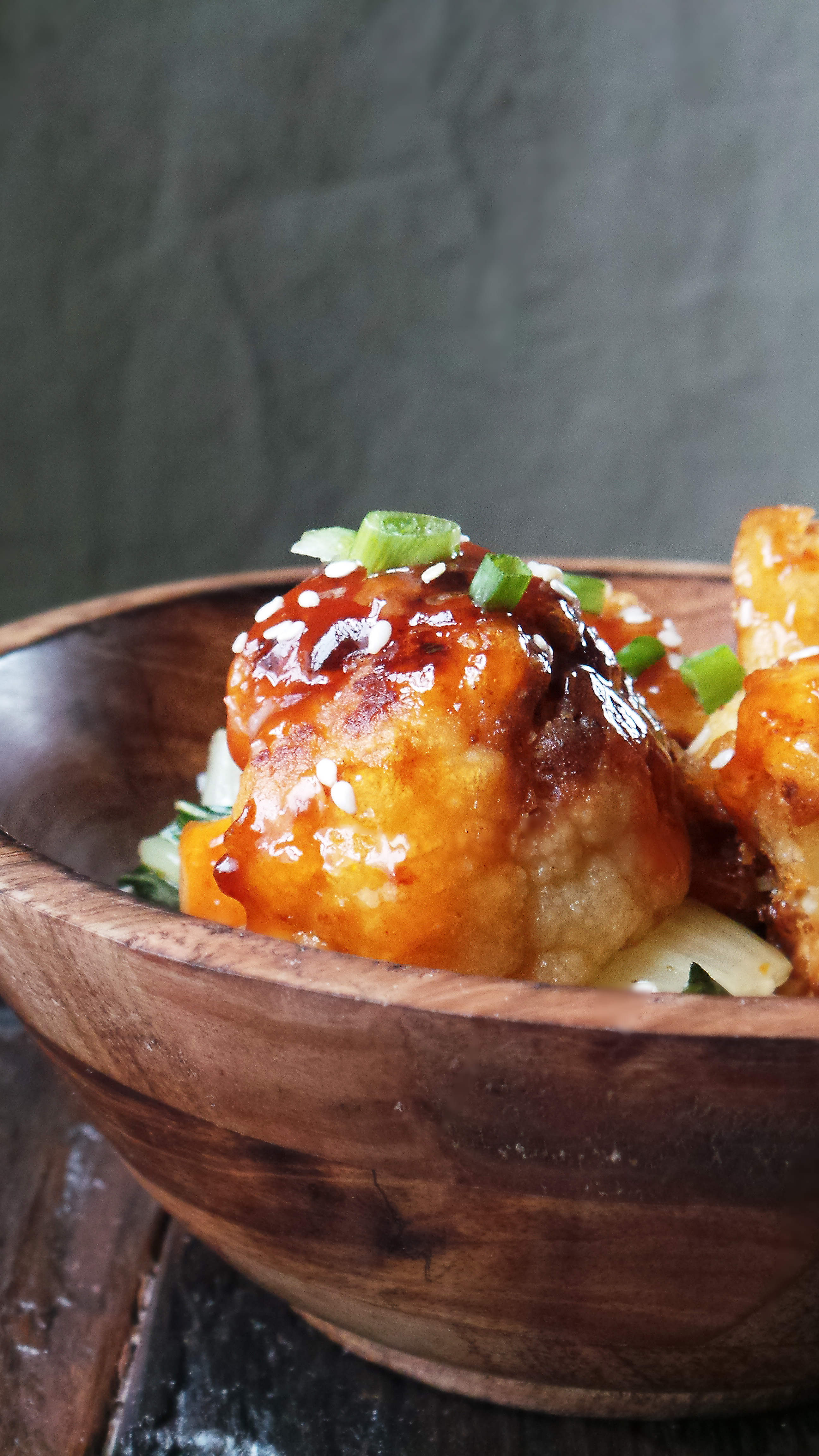 This meal is so comforting and flavorful you'll probably never order take-out sweet & sour again. The sauce has the perfect balance of sweet, spicy, and tangy. I love cauliflower, so the cauliflower itself is delicious – but the whole fried texture thing took it to the next level. Served over some wilted/kinda crunchy/super scrumptious bok choy and you have yourself a meal. I guess the only bad thing about this is the fried cauliflower wouldn't make good leftovers, but that's anything fried. The sauce in this recipe really could make 4 servings, so you will have some leftovers especially if you only use 1 cauliflower head (which will feed about 2 people). You can either save up the sauce or use two heads of cauliflower to serve four. I realllly realllly reallly want you to make this.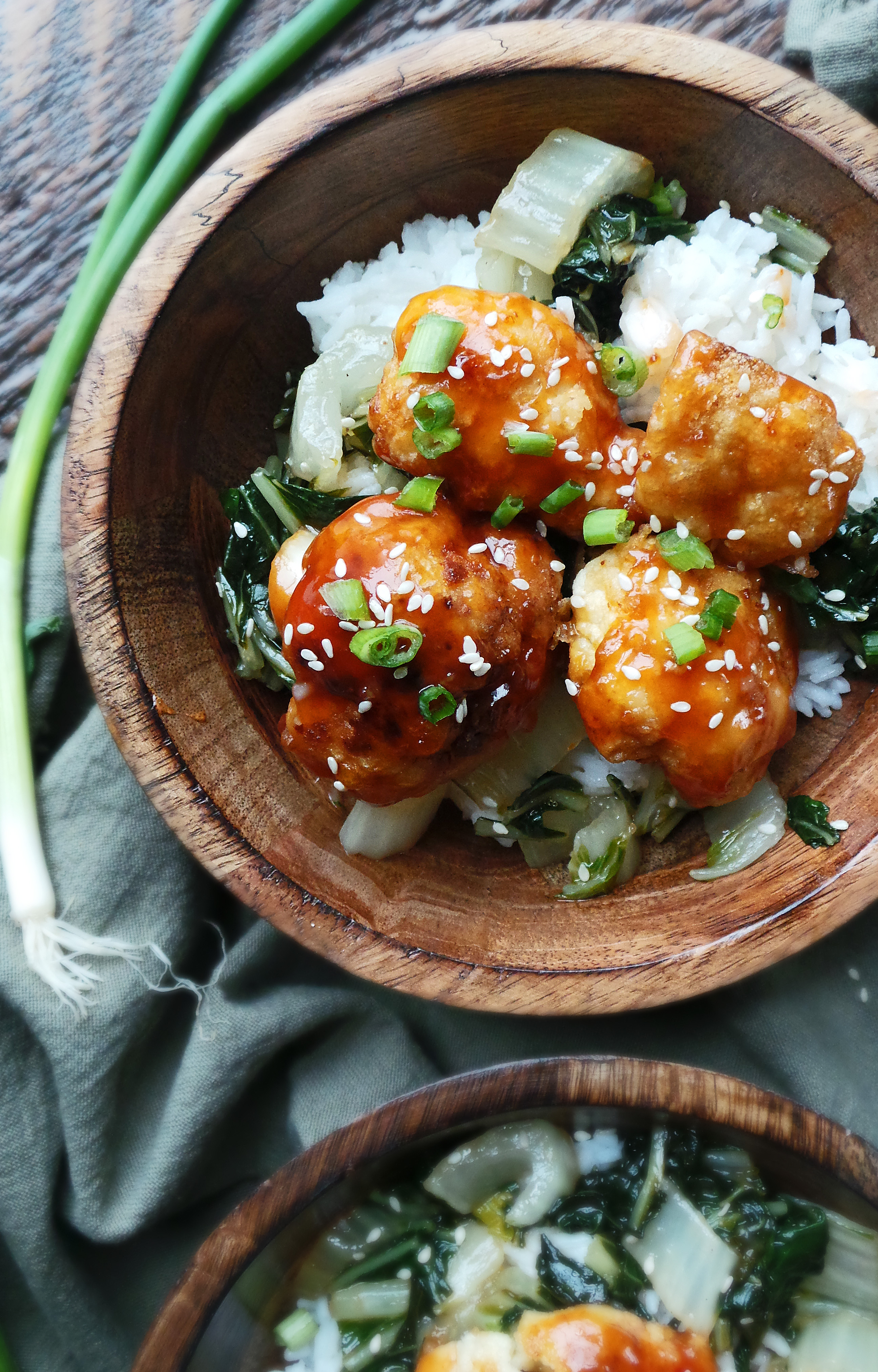 Enjoy!
Sweet and Sour Cauliflower
2014-12-07 16:39:24
Serves 4
For the sauce
1 c. granulated sugar
1/2 c. ketchup
1/2 c. pineapple juice
juice of 1 large orange
1/4 c. white vinegar
2 TBS. soy sauce
2 tsp. minced ginger
2 tsp. minced garlic
pinch of red pepper flakes
1/4 c. water
1/4 c. cornstarch
For the cauliflower
1 head of cauliflower - cut into small florets
1/3 c. cornstarch
2 t. sesame oil
3 T. soy sauce
1 egg
1/2 c. flour
canola oil for frying
For the bok choy
1 stem bok choy
salt and pepper
oil as needed
For the sauce
Mix the cornstarch and water and stir until combined and resembles milk. This is your slurry used to thicken the sauce.
Combine the remaining sauce ingredients in a small sauce pan and stir to combine. Bring to a simmer. Whisk in the slurry and simmer until thickened. Keep warm until needed.
For the cauliflower
Mix the cornstarch, egg, soy sauce, and sesame oil until combined. Pour over the cauliflower florets and toss to cover each floret. Allow to sit for 10-15 minutes.
Fill a sturdy pot with 1" of oil and heat to medium high heat. Once hot, shake the floret to remove any excess eggwash and dip in flour. Transfer to the hot oil and cook 2 minutes on each side until crispy. Repeat frying 4-5 florets at once or however many your pot can hold.
Transfer to a plate lined with paper towel to absorb excess oil. Toss with desired amount of sauce. Serve over steamed rice and bok choy.
For the bok choy
Rinse and dry the bok choy. Remove the root stem and discard. Starting at the white stalk, cut 1" pieces all the way to the green leaves.
Add the white stalk pieces to a saute pan hot with oil. Saute the stalks for a few minutes or until tender. Toss in the chopped leafy greens and saute until wilted. Season with salt, pepper, and two tablespoons of the sauce. Add some red pepper flakes, garlic, or ginger if you'd like!
Notes
Garnish with sesame seeds and scallion for extra yums.
http://www.vodkaandbiscuits.com/