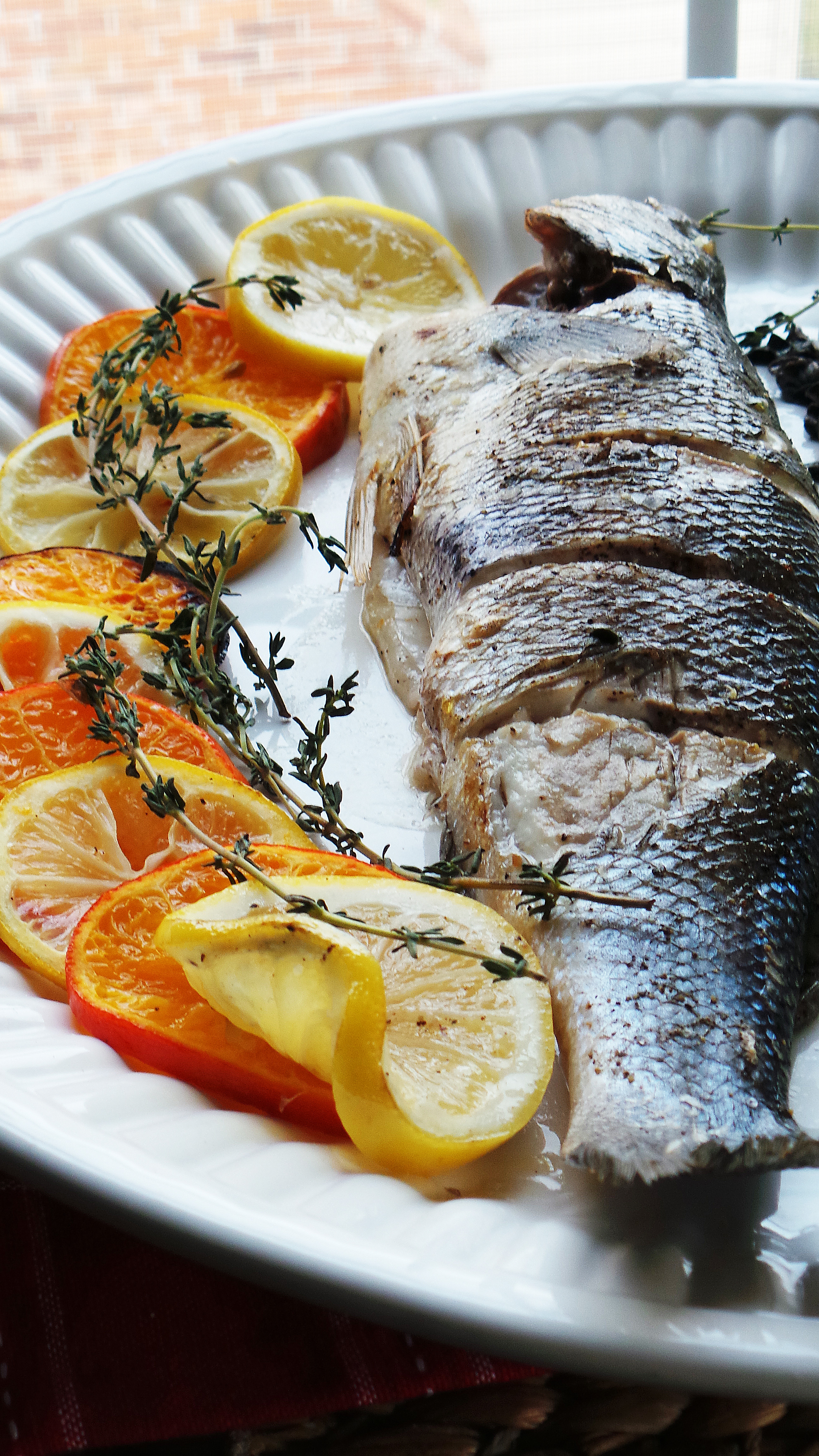 Nothing like creating your holiday menu five days before Christmas right? Better yet, four days because I'm cookin' Christmas Eve. Better late than never.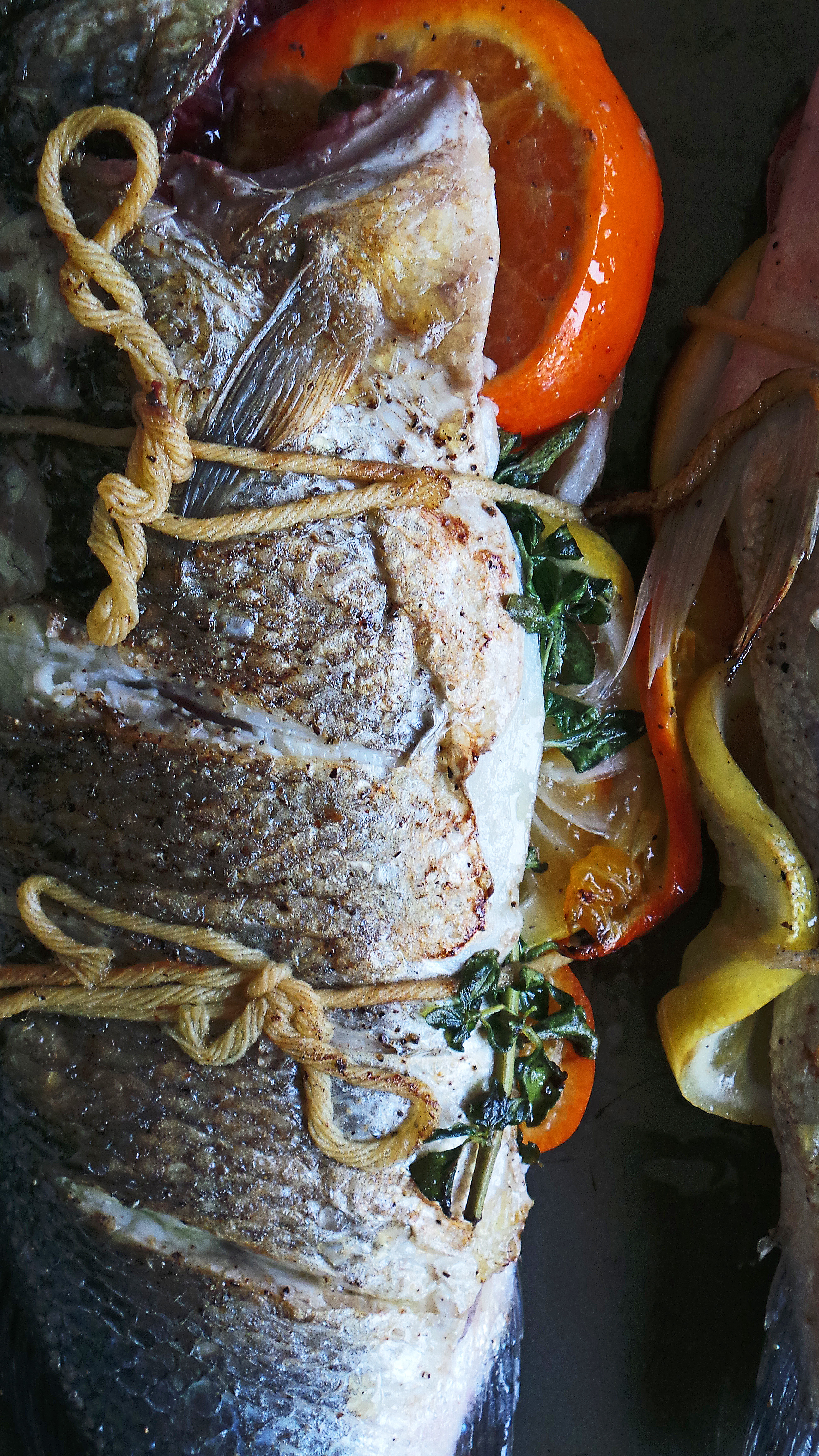 The least I could do is a quick recipe run on some items that'll have a first time appearance on this year's table, like this whole roasted citrus infused SCRUMPTIOUS branzino. Mom and I have been talking about doing a very traditional English Christmas dinner. Of course we've been sharing ideas for a month now, but OF COURSE nothing has been set in stone and probably won't be for another three days AKA CHRISTMAS EVE. The Henry women at their finest.
We wanted to do things as traditional as can be – like a Martha Stewart 1988 Christmas magazine traditional. That means roasted tenderloin, figgy pudding, trifle, you get where I'm going with this. At first I thought this idea was totally bizarre, especially being the fusion foodies we are. The more I thought, the more I caved in. Why not twist things up a bit? Surfing through mom's collections of old holiday magazines, I became inspired by a whole roasted fish. What says 1988 Martha Stewart Christmas better than a display of fish surrounded by endless wedges of citrus. Although Branzino is found in Italian cuisine, it is a common Christmas dish and delicious – or should I say delizioso.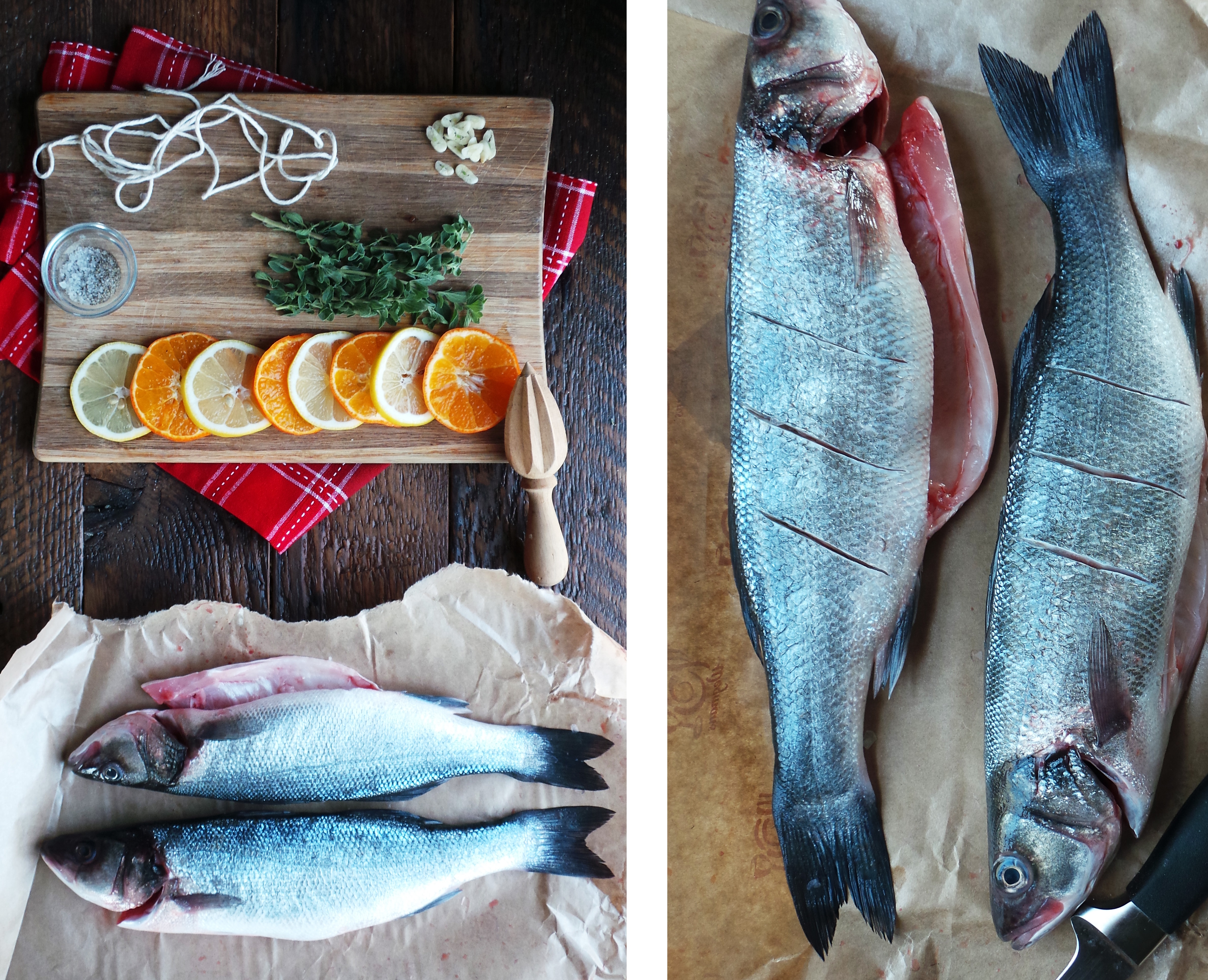 Branzino is a European Seabass mild and delicate in flavor with few bones, making it ideal for roasting whole. The first grocery store I went to (Wegmans) had it on hand for $9 a pound, so it can be easily found. In fact it's one of the more common fish that you can still buy whole. My advice is purchasing your fish from a reliable seafood market or grocery store and purchasing no more than one day before cooking. The fish should already come scaled and have an open cavity, so really the only prep you'll need to do is score the skin. Use a sharp boning or Chef's knife to make three incisions on each side of the fish to ensure even heat penetration while roasting.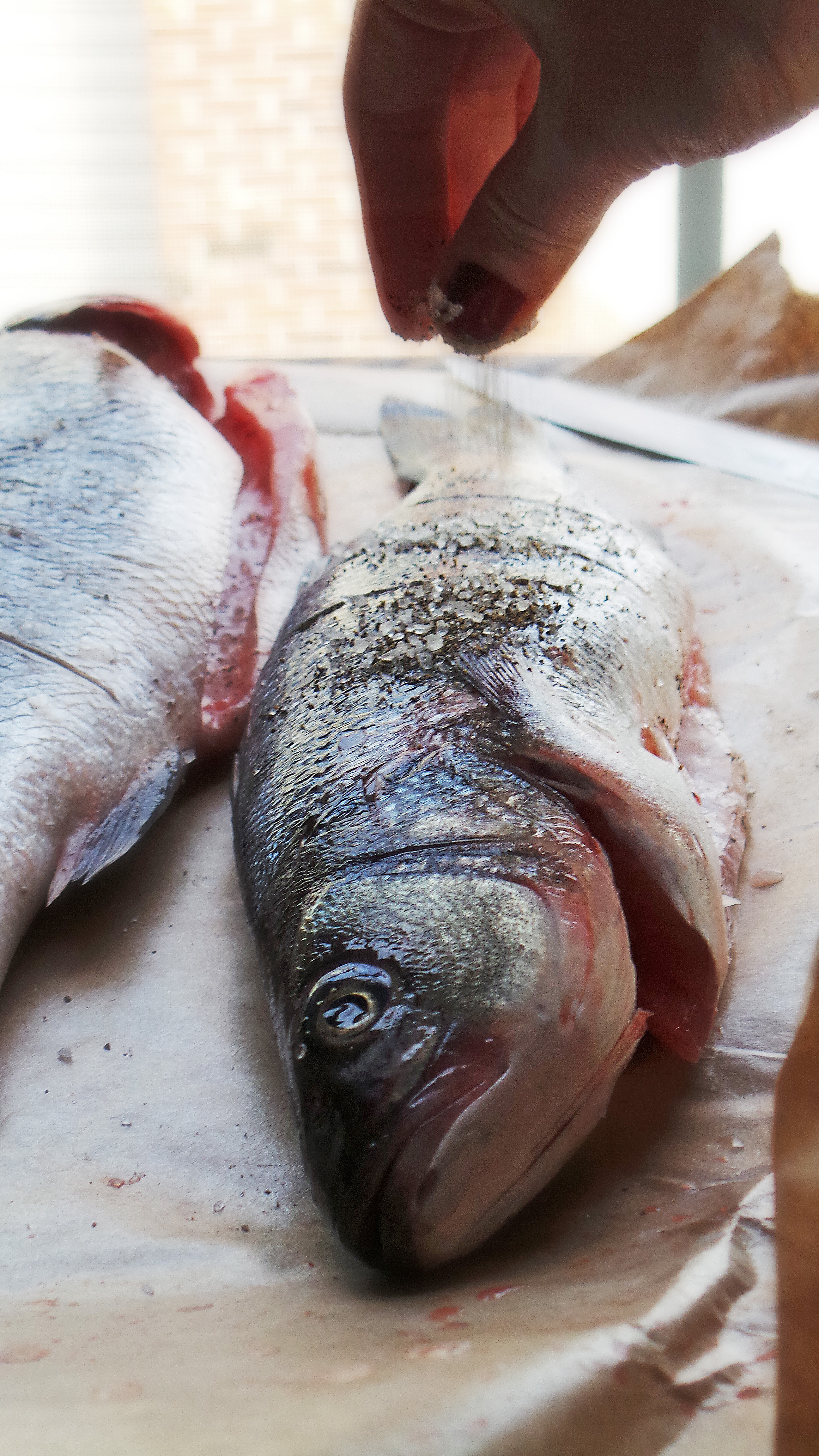 The fish is then seasoned inside and out, and stuffed with the season's freshest citrus. I used a combination of lemon and tangerine slices and topped with slivers of garlic and fresh oregano. Use rosemary, thyme, or whatever herbs you have on hand!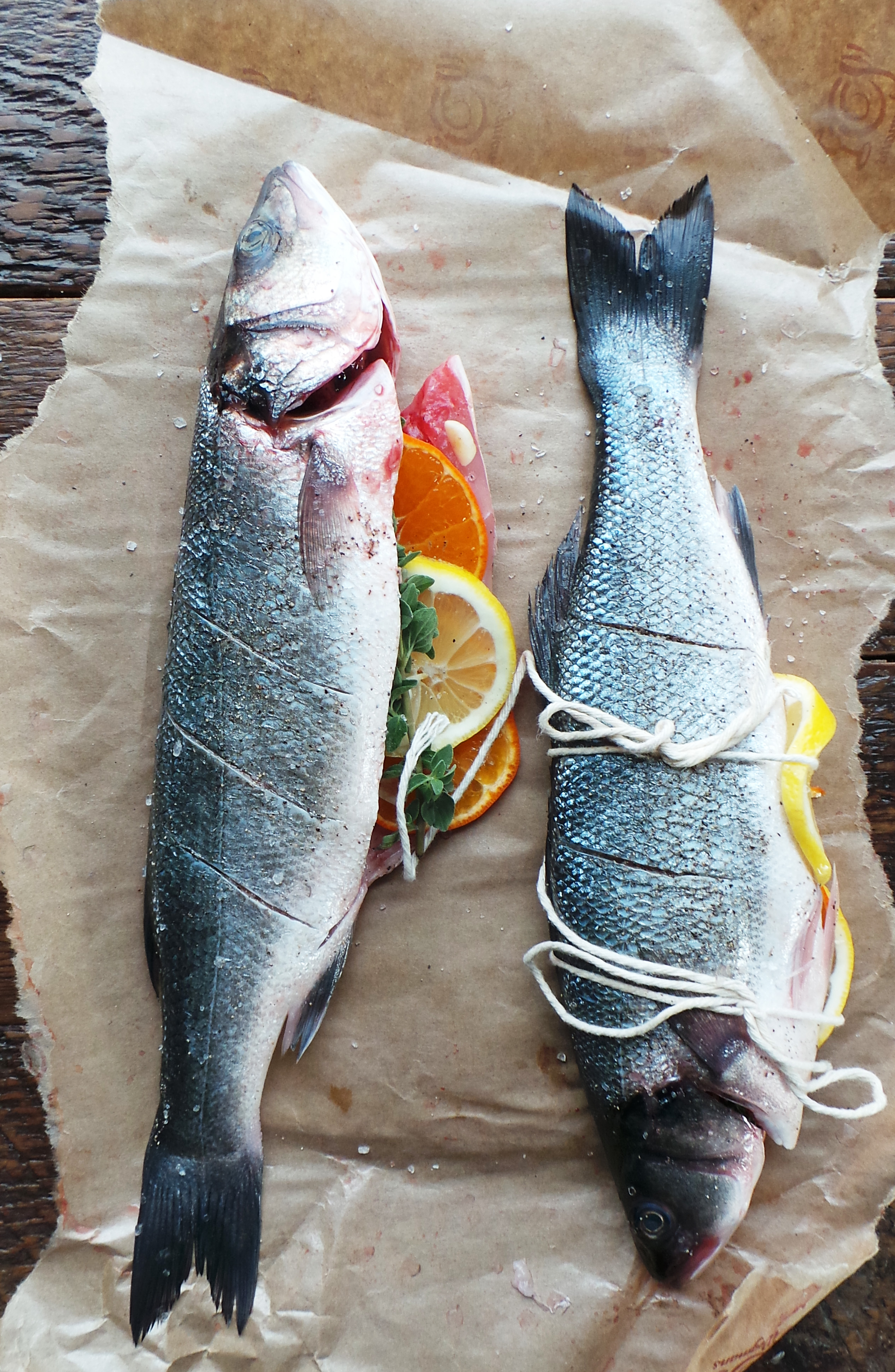 I seared mine first to lock in some flavor then finished with a quick 15 minutes in the oven. Your kitchen will soon be deceived as a five star restaurant. Everything from the smell to the presentation will have people thinking you're a master cook, because you are of course. Roasting the fish whole really does lock in moisture and with the help of the citrus, you'll be cookin' up one juicy tender fish. It's lean, has great flavor, can be thrown together in less than thirty minutes, AND you're taking advantage of citrus season – why not add this to your Christmas menu?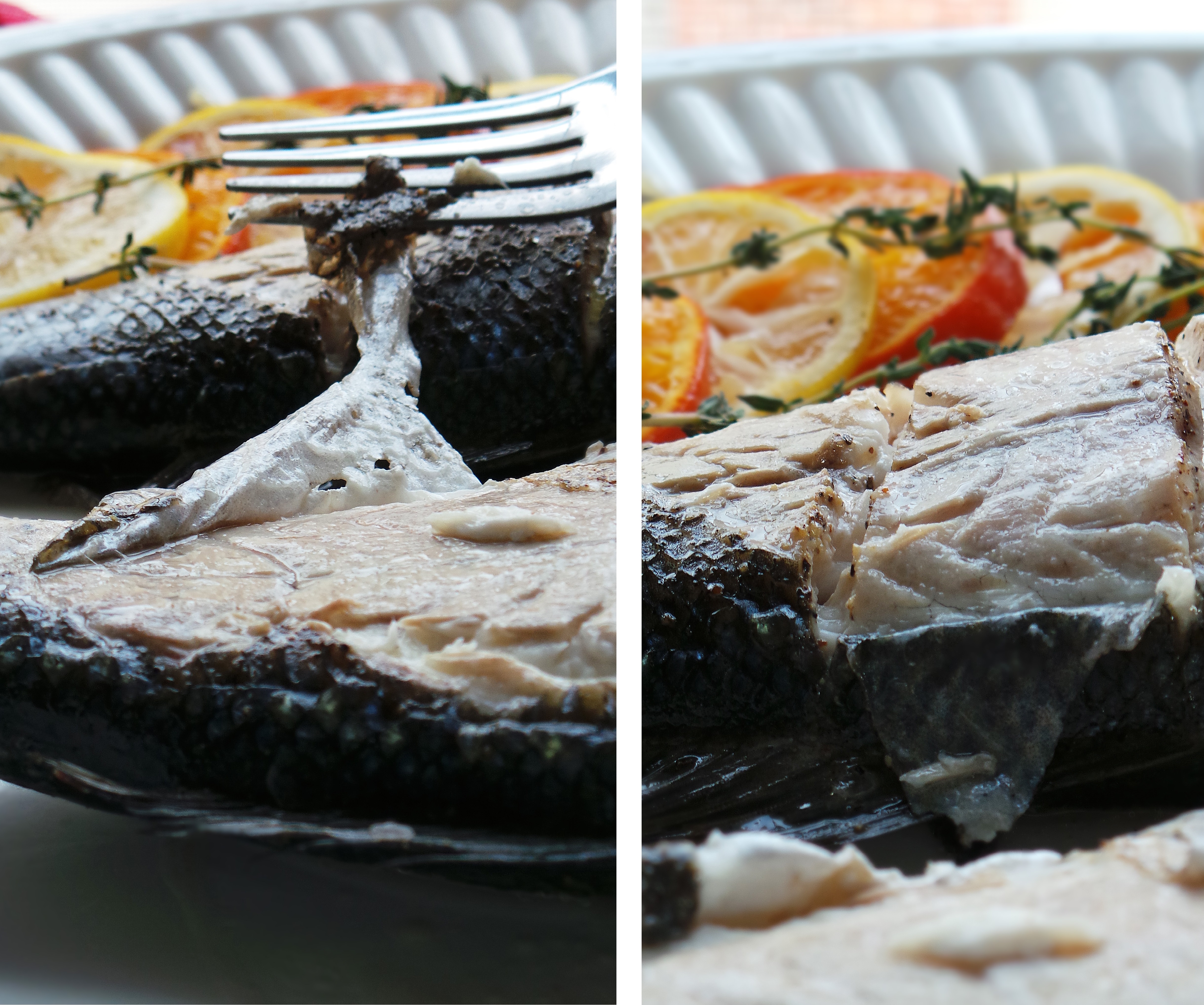 I'm going to end up serving a few whole fish on a beautiful wooden plank garnished with citrus wedges and herbs. I'll wait for guests to gather around to peel back the skin for presentation purposes. Speaking of, all you have to do is wedge in your fork to grab some of the skin and roll back. It'll come off so easy! When serving, pick straight from the filet. Most of the bones lie in the main fish bone, so you'll only be risking a few stragglers in the filet. I was so surprised that between my two fish, I only had to fish three small bones. No pun intended.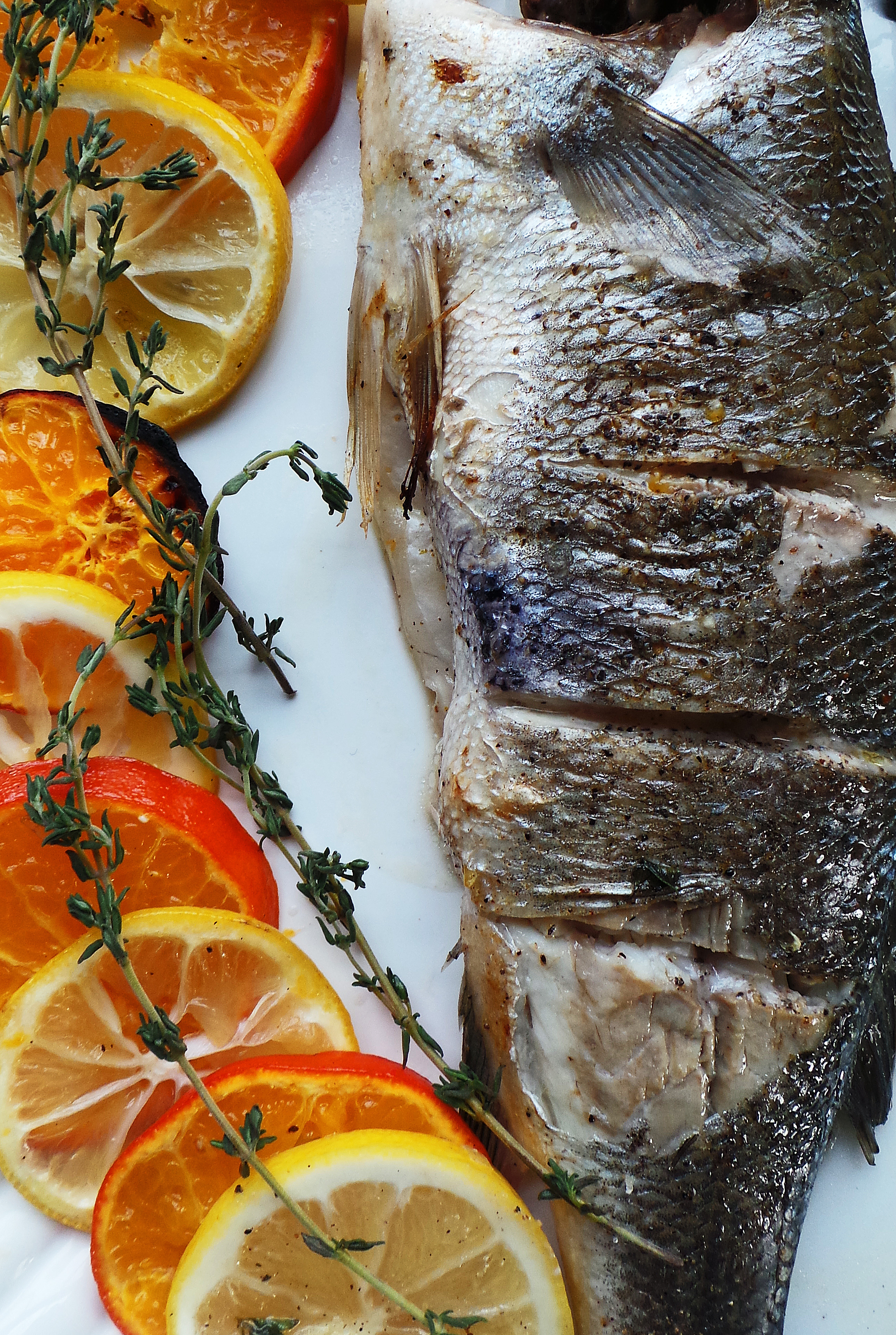 Christmas dinner is one of so many reasons to look forward to such a great holiday – adding this fish only adds to my excitement. Happy holidays peeps!
Whole Roasted Citrus Infused Branzino
2014-12-21 14:45:19
Serves 4
Ingredients
2 Whole Branzinos - scaled, cavity open (should come already prepared)
2 tangerines - sliced
1 lemon - sliced
3 garlic cloves - sliced
2 bunches fresh oregano
salt and pepper as needed
olive oil as needed
Butchers Twine
Instructions
Preheat the oven to 400 degrees.
Wash and pat each fish dry. Score the fish by cutting three shallow diagonal lines on each side of the fish.
Season both the insides and out with salt and pepper. Stuff the cavities with the tangerine slices, lemon slices, sliced garlic, and fresh oregano. Tie each fish with butchers twine to keep all the yums inside.
Heat about 2 tablespoons of oil in a large skillet to medium high heat. Once hot, sear the fish until golden, about 3 minutes on each side. Remember, no color - no flavor!
Transfer to a baking pan that has been sprayed with cooking spray or lined with foil. Squeeze over any excess juice from the citrus and drizzle with olive oil. I added my extra slices to the baking pan too! Bake for 12-15 minutes until firm and flaky.
Garnish with more slices and fresh herbs. Enjoy!
http://www.vodkaandbiscuits.com/