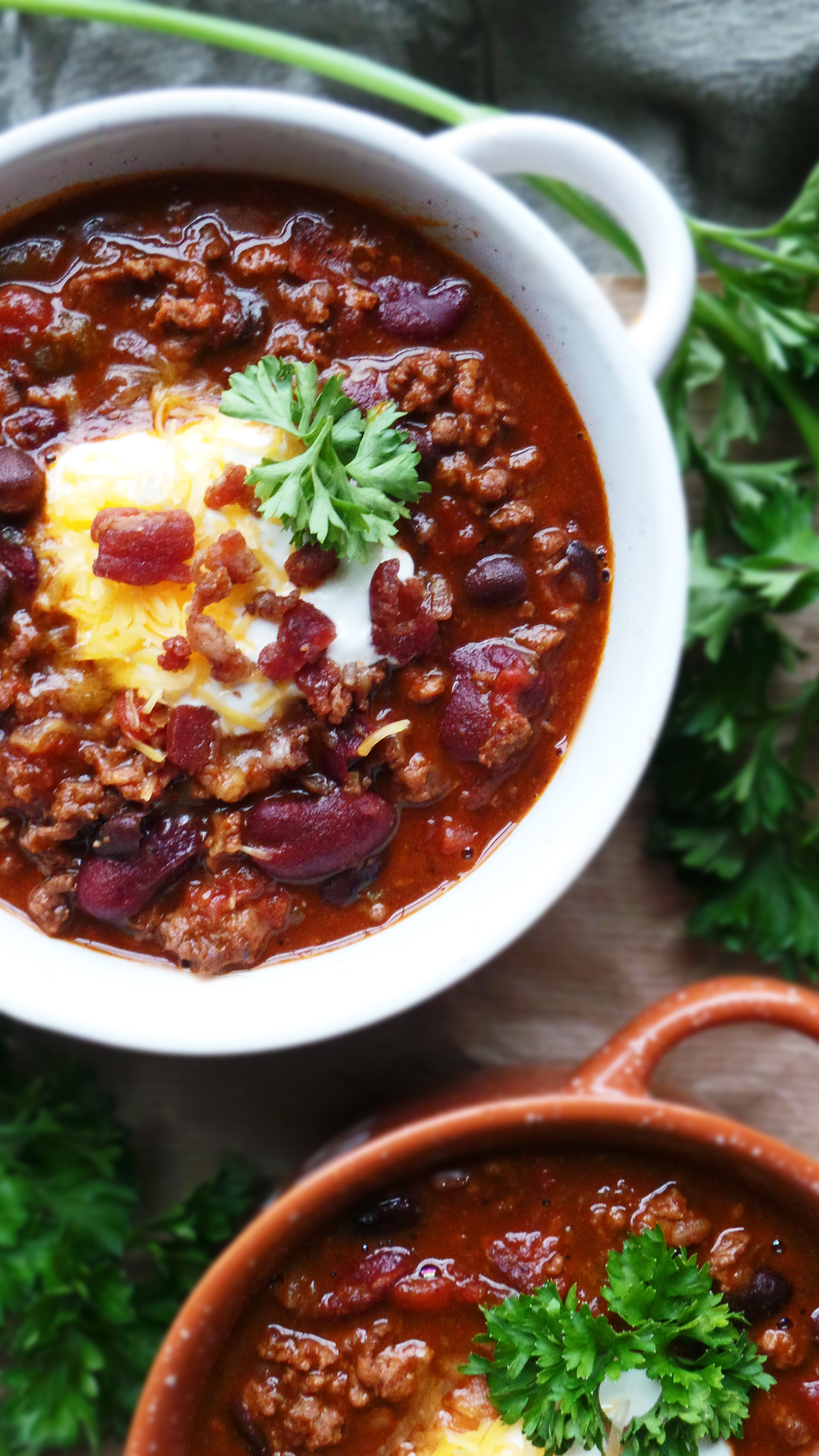 THE WAY TO A MAN'S HEART – or not because clearly I haven't figured that out yet.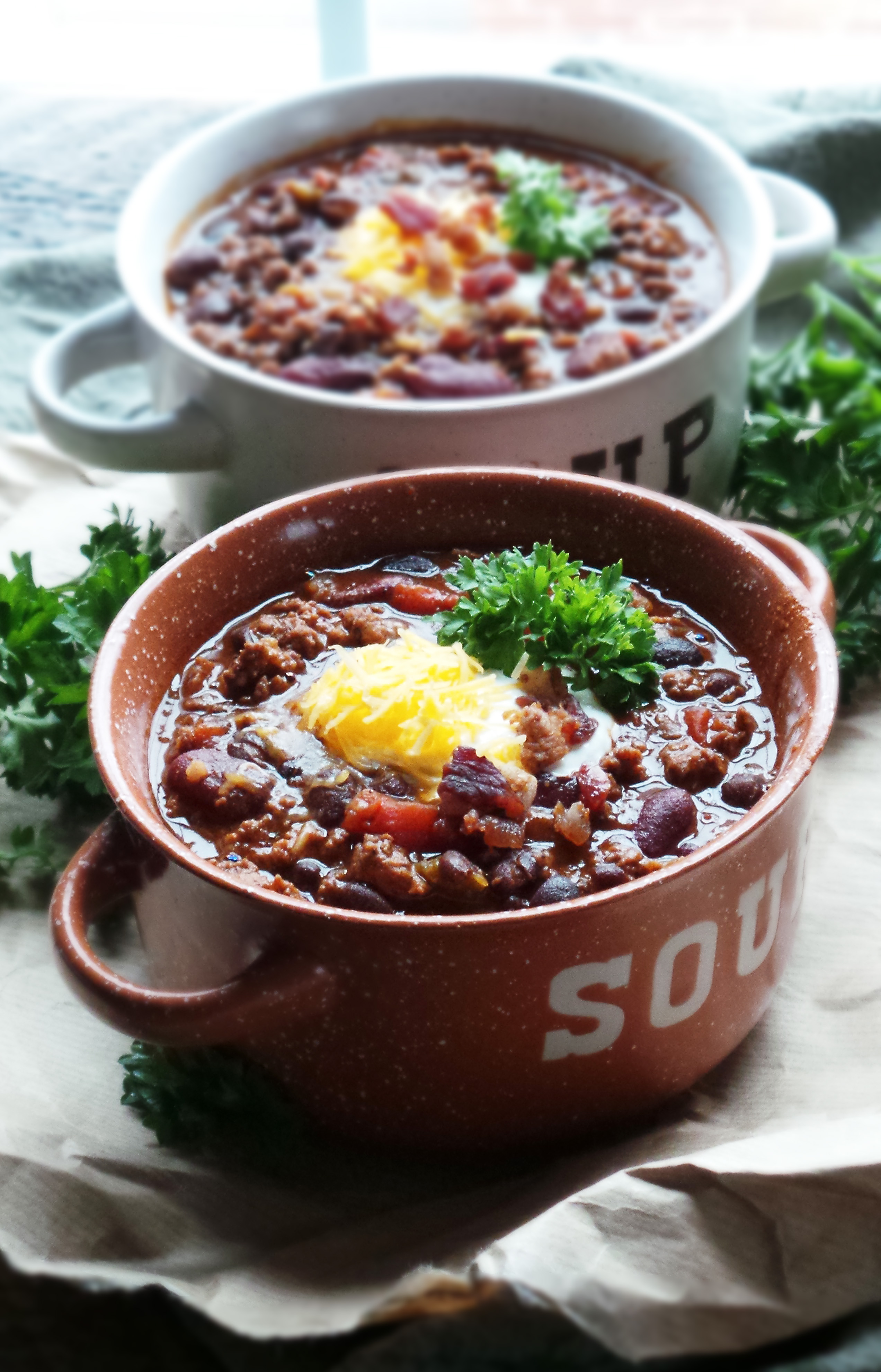 Before I jump in this let me just tell you how I feel about chili. I'm such a fan of this meaty beany stew (that sounds awful I know). You can make this hearty and healthy with lean meat like turkey or chicken, you can make this simple as ever with five ingredients, or you can make this as meaty and boozey as a man's dream. I'm being reckless (or happy that the Raven's have a shot at the Superbowl) so I decided to make this with two cuts of pork, beef, and the deepest darkest ale I could find.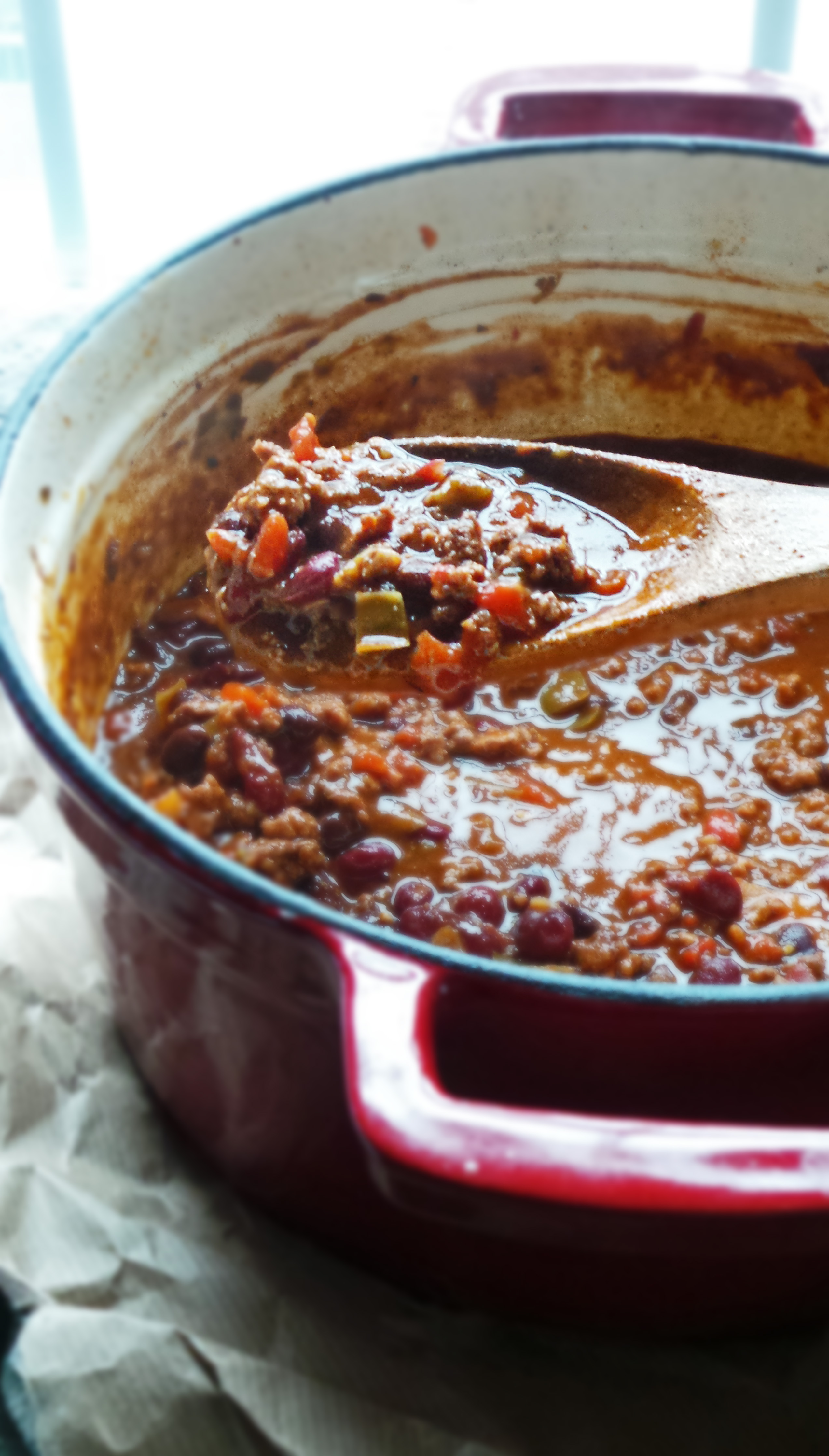 Football Sundays tend to be at my house so this isn't the first time I made this for my friends. They loved it so much I posted a quick recipe a few months back on Vodka & Biscuits' Facebook page, so if you're a follower this may seem familiar. With Superbowl near approaching and everyone just CRAVING a bowl of chili, I thought what best than to give it it's own post? So here we are. I'm going to break down the three components in which I feel make a badass bowl of chili. Let's start with:
THE MEAT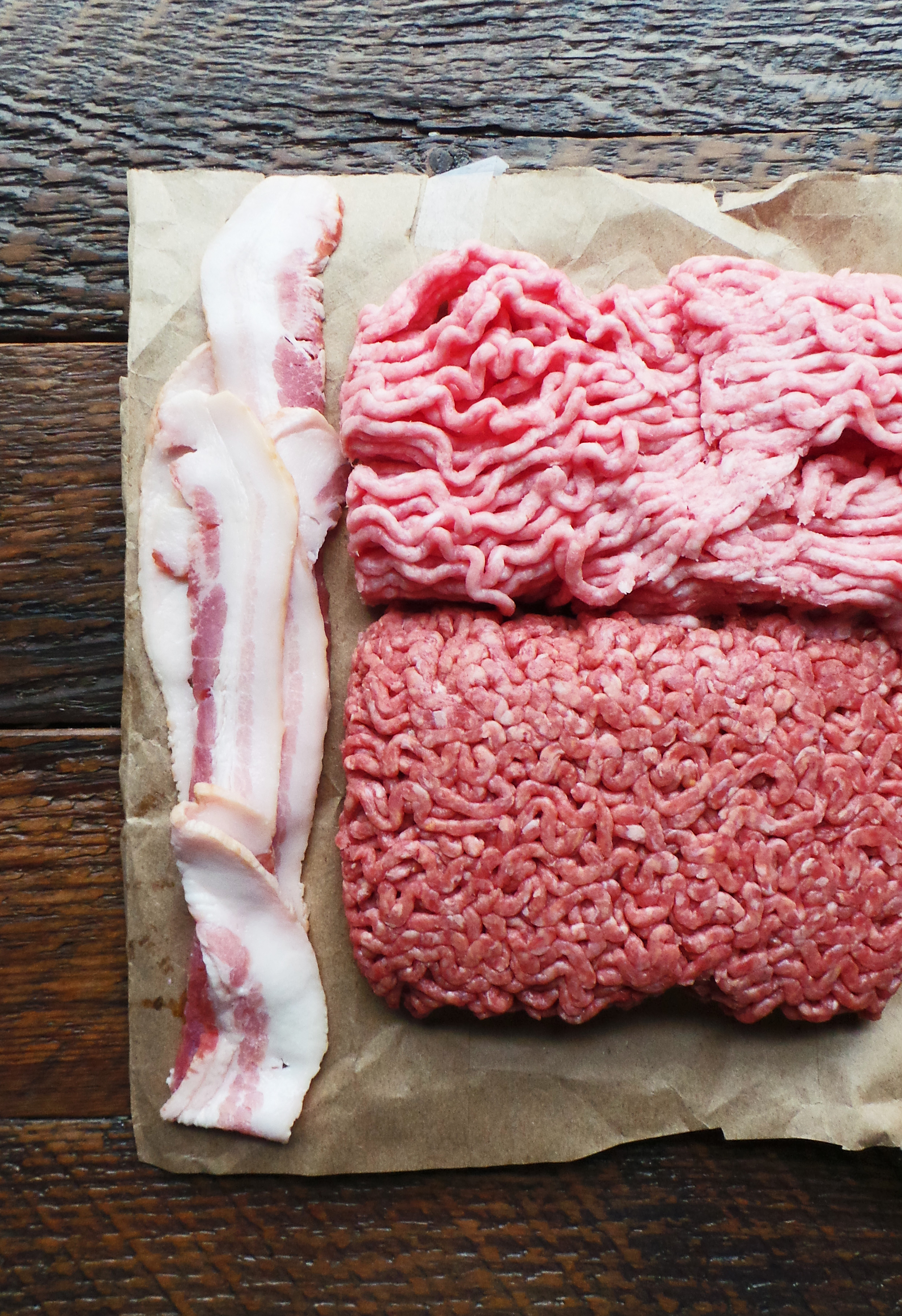 I used a combination of bacon, ground pork, and ground 80/20 beef. You can use whatever cut of meat you like, heck if you have a grinder ground your own! I've seen some recipes use short rib as their chili meat. That can get pricey but I'm drooling just thinking about it. If you want to keep things light, use ground chicken or turkey and cook in oil instead of bacon fat. Oh did I mentio we use bacon fat in this recipe? We'll get to that.
THE SEASONINGS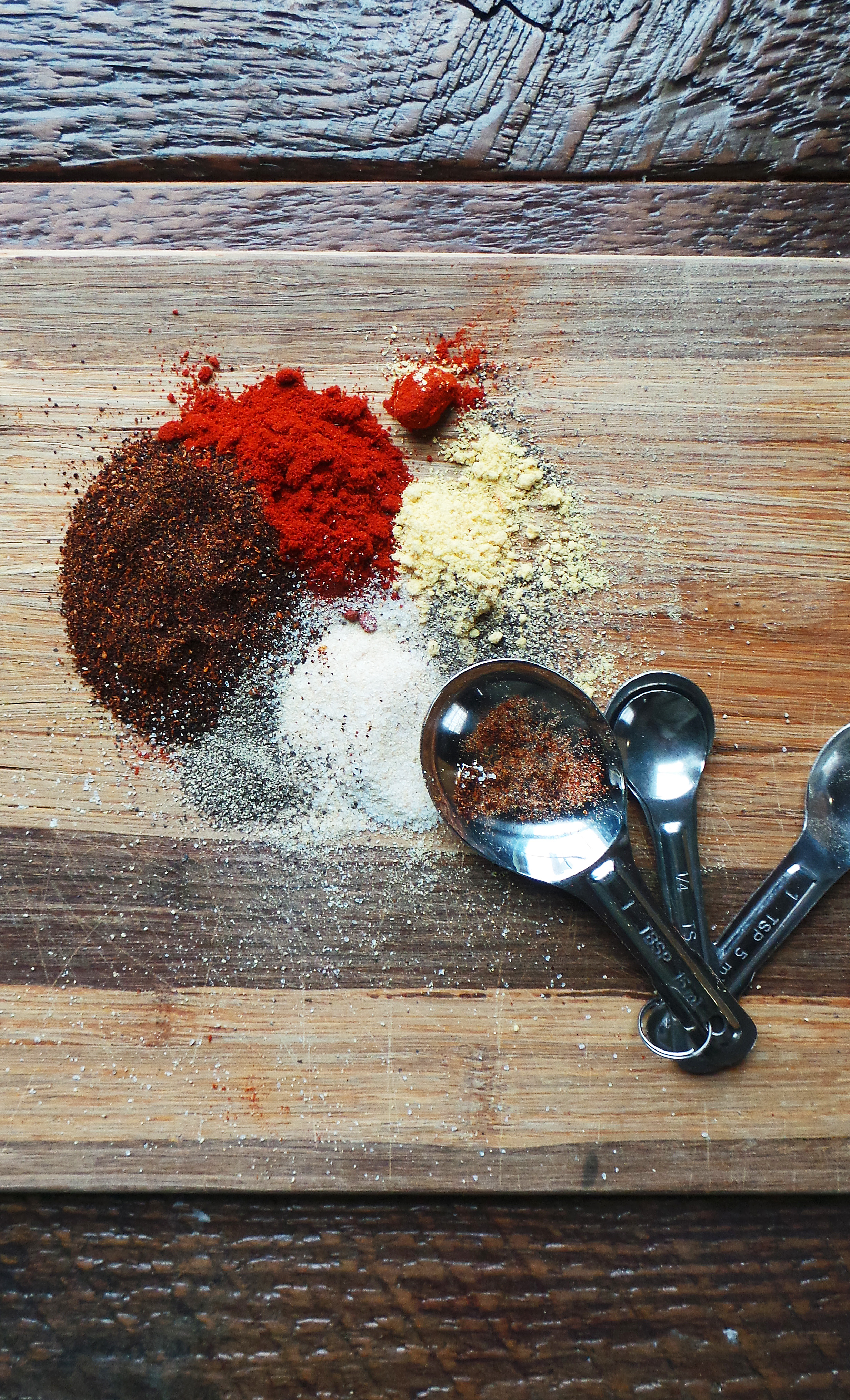 In my recipe I use a spice blend of chili, paprika, garlic salt, and fresh cracked pepper. It's smoky, aromatic, and compliments the flavors of the meat. If you have a packet of chili seasoning, go head and use that. The seasonings also help give the chili it's rich color. I have a secret ingredient that I add just before serving, but you'll have to read the recipe for that (wink).
THE YUMS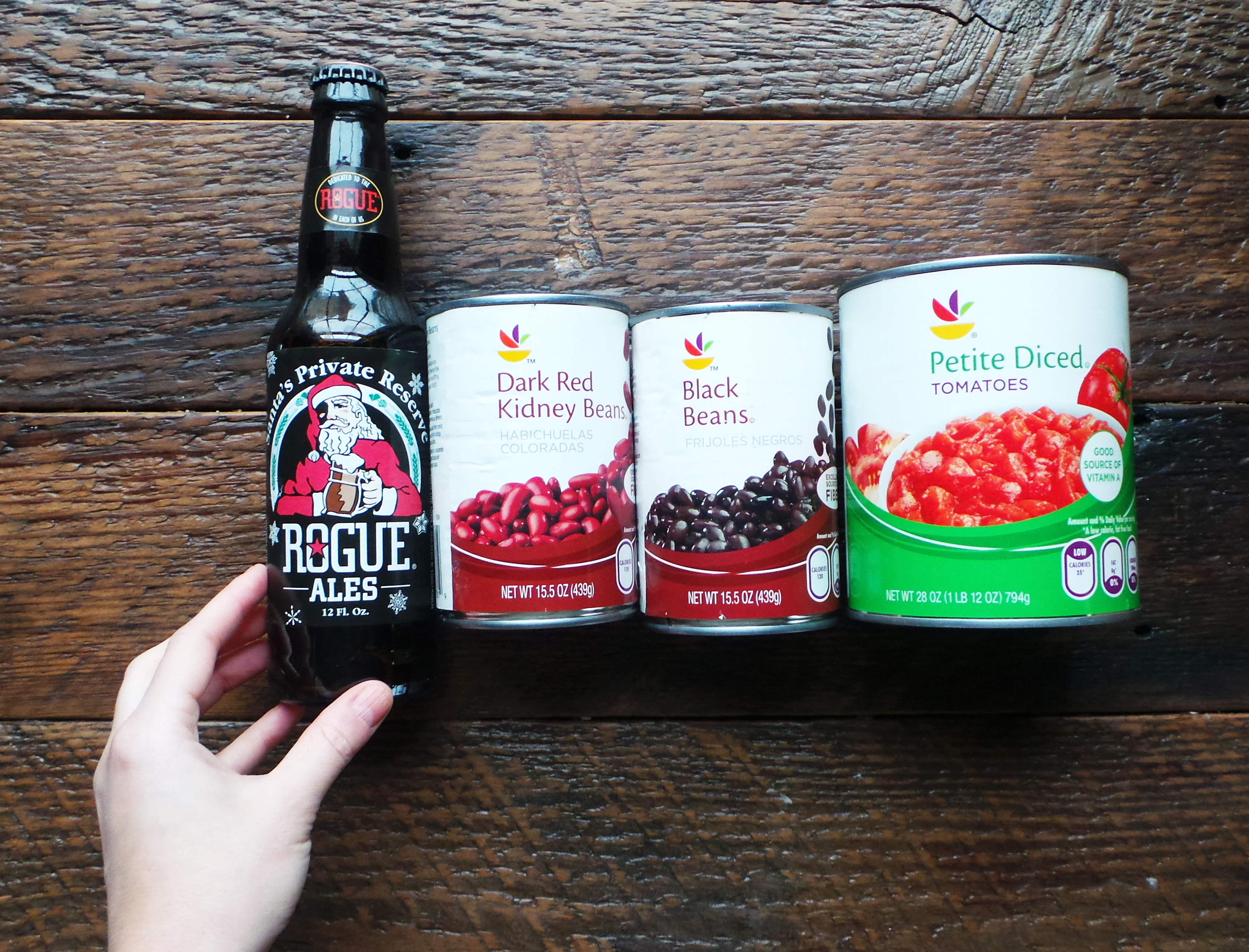 The third factor in chili are the yums. I'm talking the onion, bell pepper, a whole lotta' beans, tomatoes, and the yummiest of them all: booze. Find a liquor store with an individual beer selection and pick out a dark stout or ale. The trick is to finding a beer so good you have a hard time putting it down throughout cooking. I've used what I had on hand before (Budweiser) and the chili still came out delicious. In fact if you're not a fan of bitter beers, I'd stick with something more light like Bud.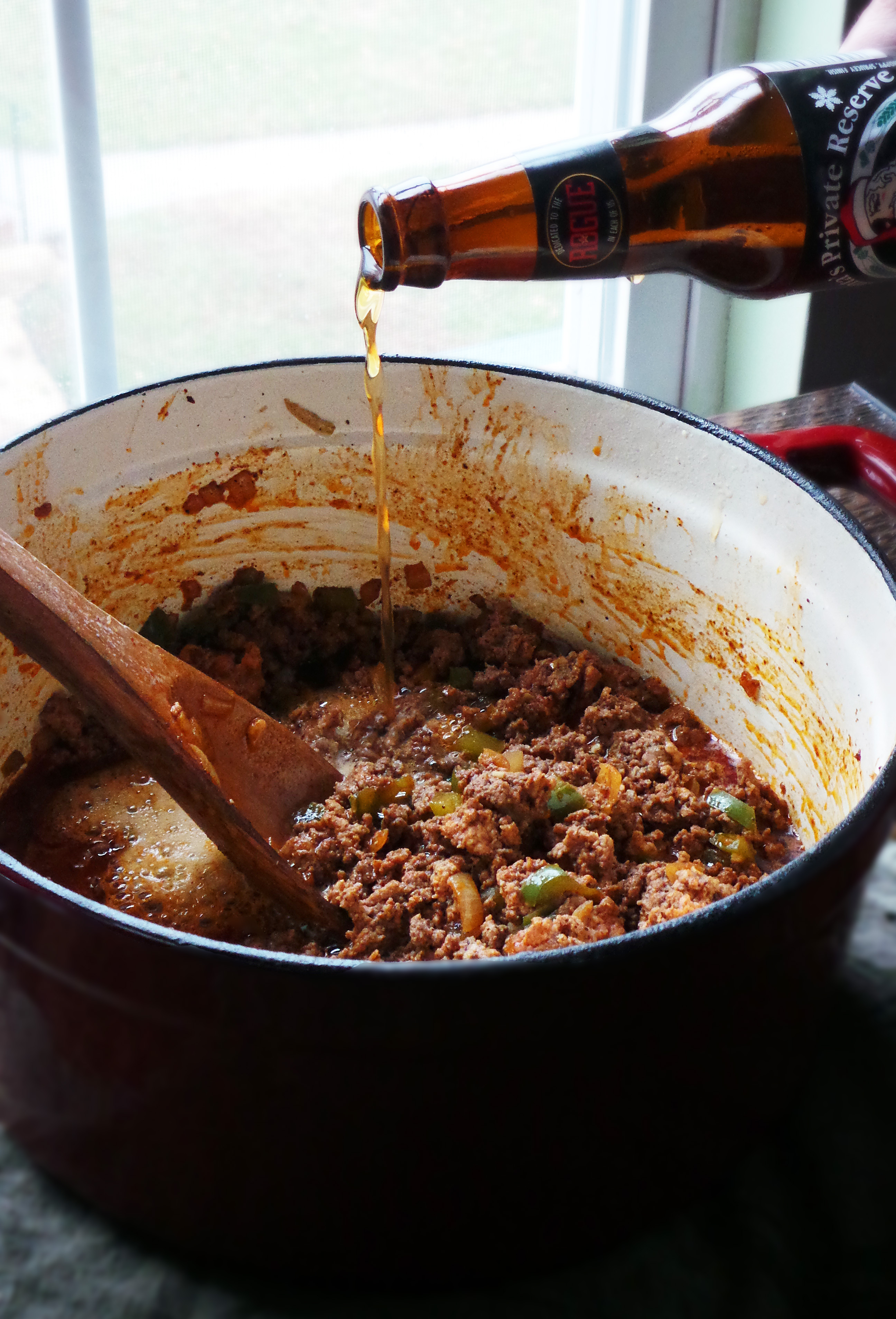 This recipe requires your attention for the first 10 or 15 minutes, then you have a couple of hours to do non-kitchen stuff. It's nothing more than rendering some bacon, sauteing the onion and pepper, flavoring, browning the meat, deglazing, then adding in all the other yums mentioned above and letting it do it's thing for at least two hours. Do-able, right?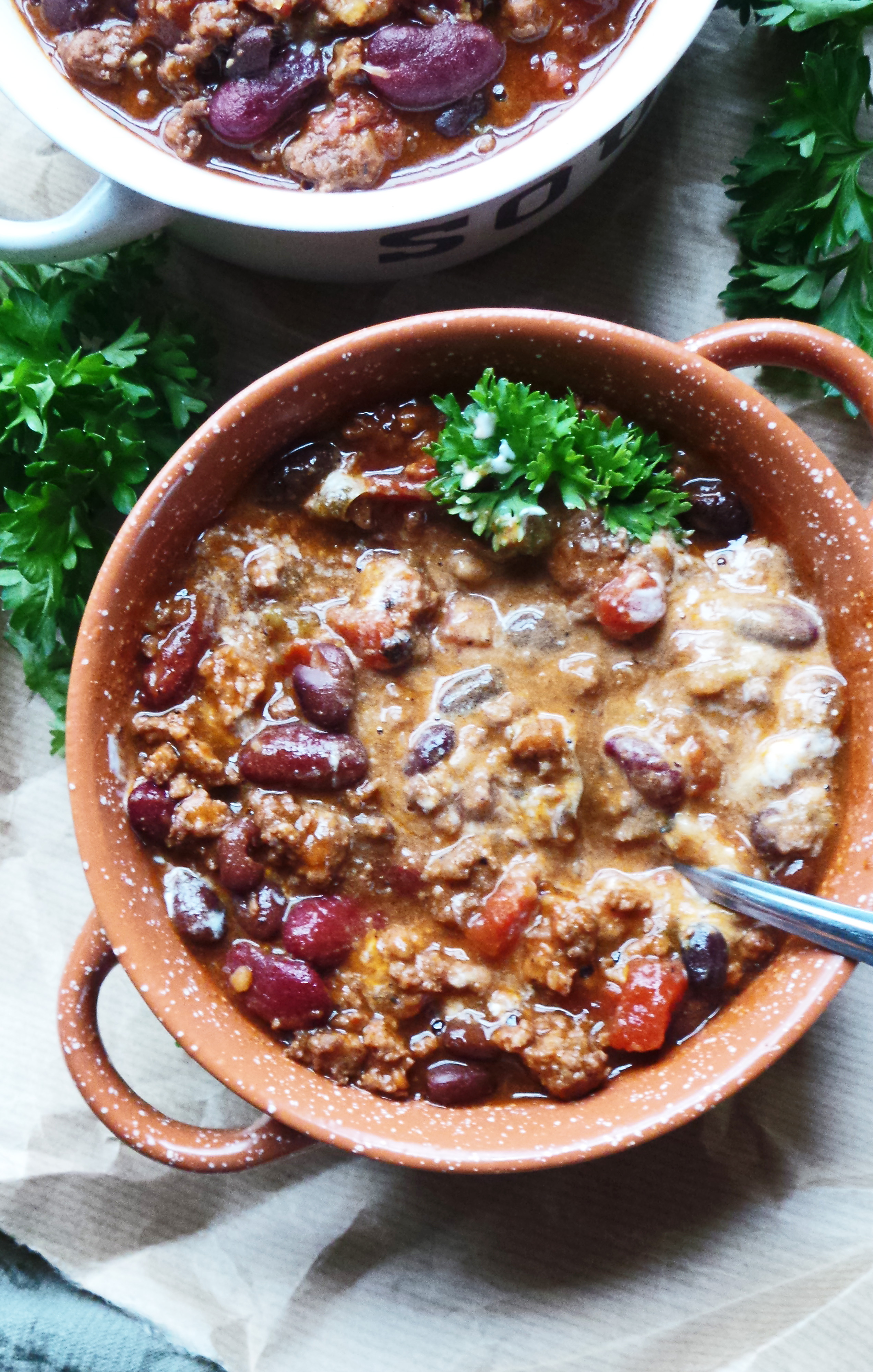 If you can, make this the day before and re-heat over low heat two hours before serving. Chili is always best the next day! I set up a little self-serve station with sour cream, cheddar cheese, and bacon bits. The friends go crazy. Whether you use this recipe or add your own touch, there is nothing better than a comforting bowl of chili while watching your team edge their way in the playoffs. Happy Football everyone – enjoy!
Triple Meat & Ale Chili
2015-01-04 20:13:54
Serves 8
Ingredients
3 pieces of thick cut bacon
1 lb. 80% lean ground beef
1 lb. ground pork
1 onion - small dice
1 green bell pepper - small dice
3 cloves garlic - minced
15 oz. can kidney beans
15 oz. can black beans
32 oz. crushed tomatoes
1 bottle stout or ale (I used about half of the bottle)
2 T. chili powder
1 T. sweet smoky paprika
1 t. dry mustard powder
1 t. garlic salt
1 t. crushed black pepper
generous pinch of cocoa powder
Instructions
In a dutch oven or heavy bottom pot render the bacon over medium heat. Once crisp, remove and set aside.
Add the onion and peppers and saute in the bacon fat until soft, about 4 minutes. Add the garlic and cook until fragrant, about 30 seconds. Add in the seasonings and combine.
Crumble the ground pork and beef into the pot. Cook until browned, stirring often. This will take about 10 minutes depending on how big your pot is. Drain as much fast as possible, I like to leave a little in there.
Add the beer to deglaze - if using a bitter beer use about half a bottle.
Add the beans and tomatoes and bring to a simmer. Reduce to low and allow to cook covered for at least two hours until thick and rich.
Just before serving crumble in the reserved bacon and add a dash of cocoa powder (I do a tablespoon). This is just a little something I learned years ago - totally optional.
Serve with sour cream and cheddar cheese...enjoy!
Notes
Home Goods always has a great deal on sweet smoky paprika!
I never drain my beans, just add the whole thing in.
Make this a day in advance if possible. Chili always tastes better the next day, yum.
http://www.vodkaandbiscuits.com/