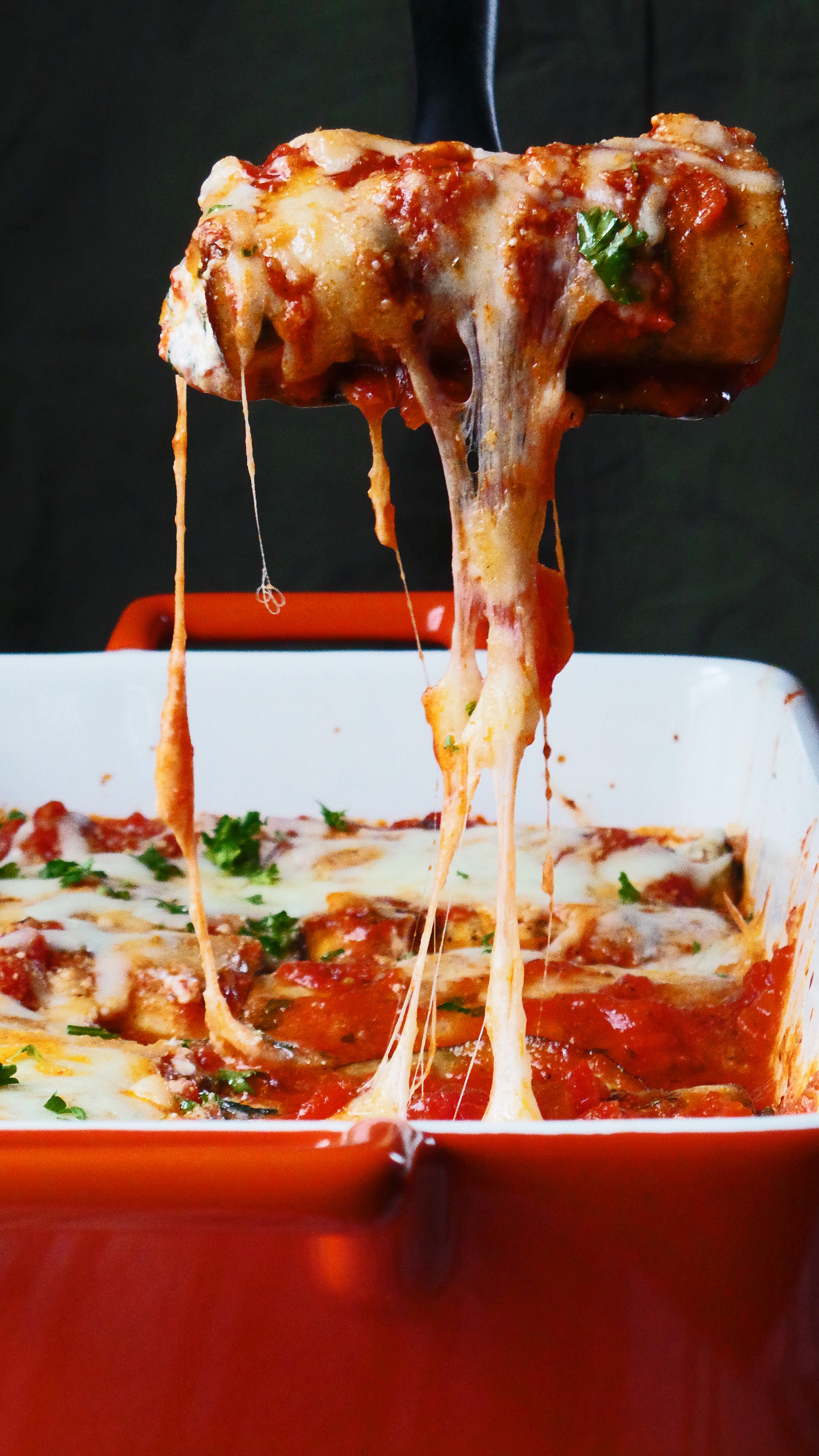 So since I'm not using pasta I can add extra cheese…right?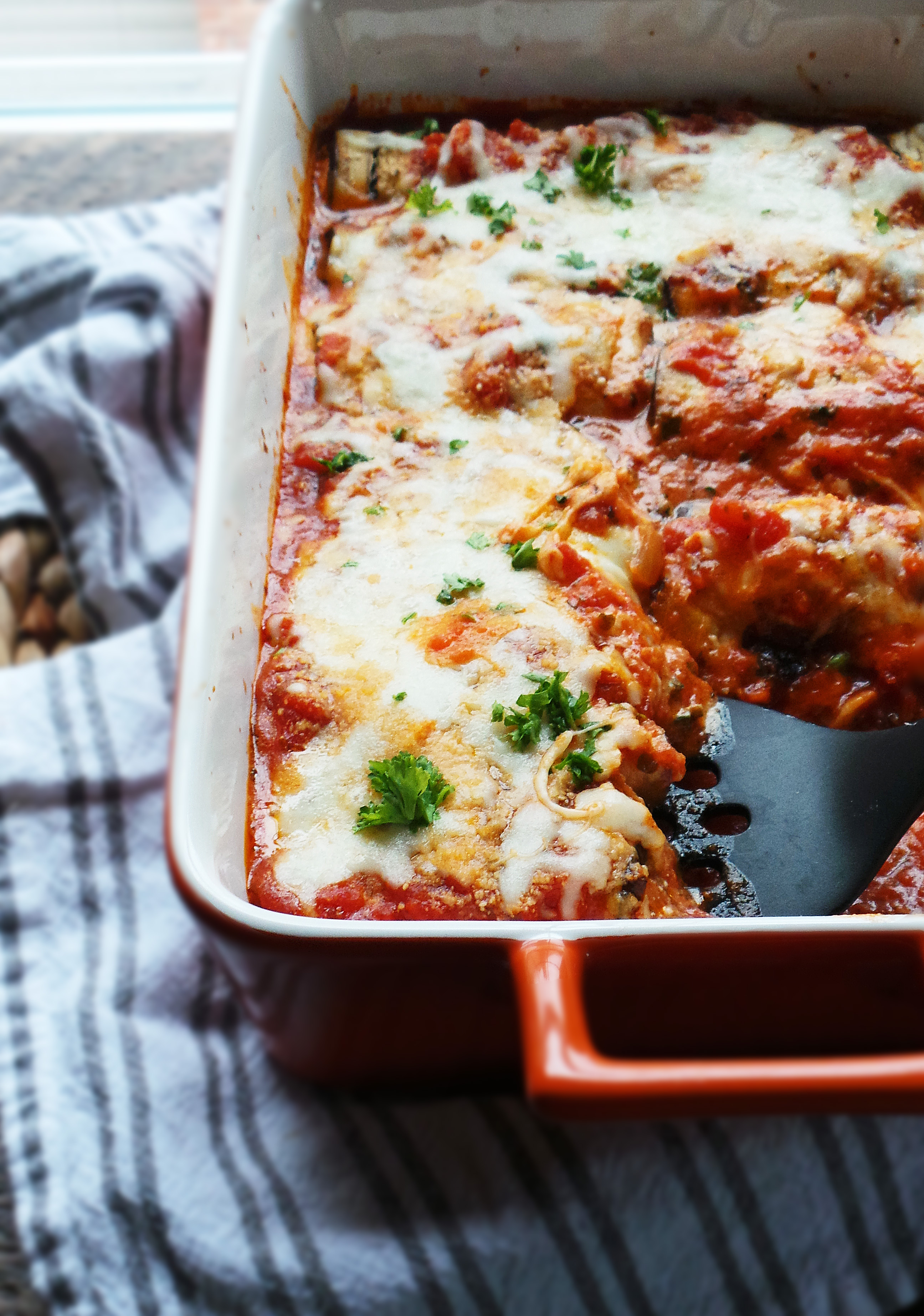 If you're as big of an eggplant fan as I am, you're in for a cheesy treat. Everything that you would find in lasagna you'll find here, with the exception of the pasta of course. Thinly sliced roasted eggplant wrapped around an herbed blend of ricotta and spinach, then baked in a tomato sauce with a layer of melted mozzarella. You droolin' yet?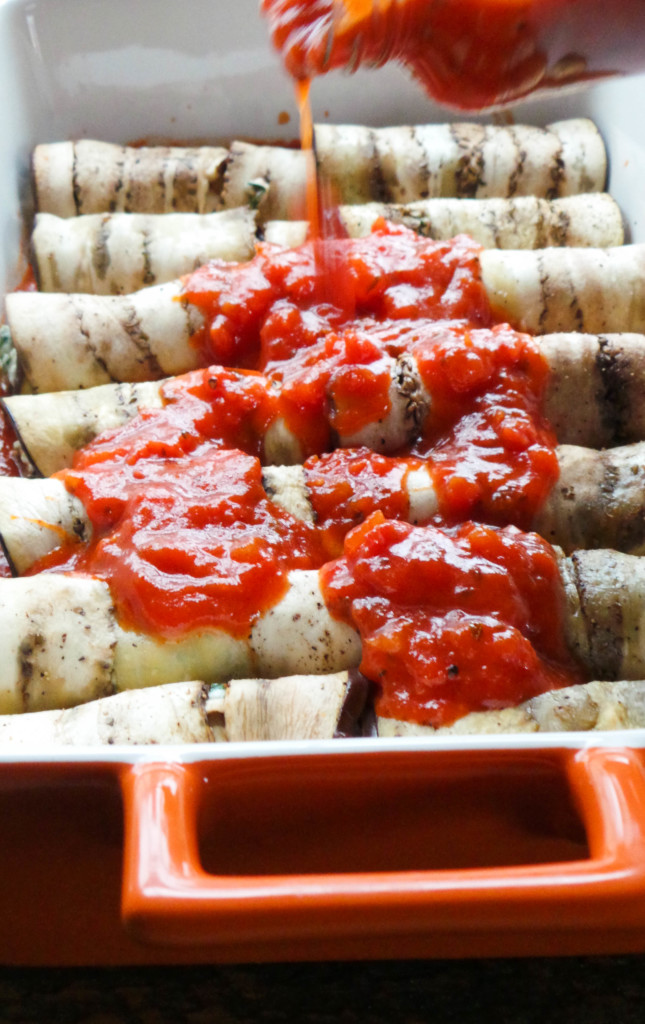 If you don't like eggplant, replace with zucchini or heck go all out and use the pasta. Add meat to your sauce or keep it vegetarian with sautéed mushrooms. Cut down the labor and make this the traditional way instead of rolling. There's lots of ways to get creative with this recipe. If one thing's for sure, it's the perfect weekday meal.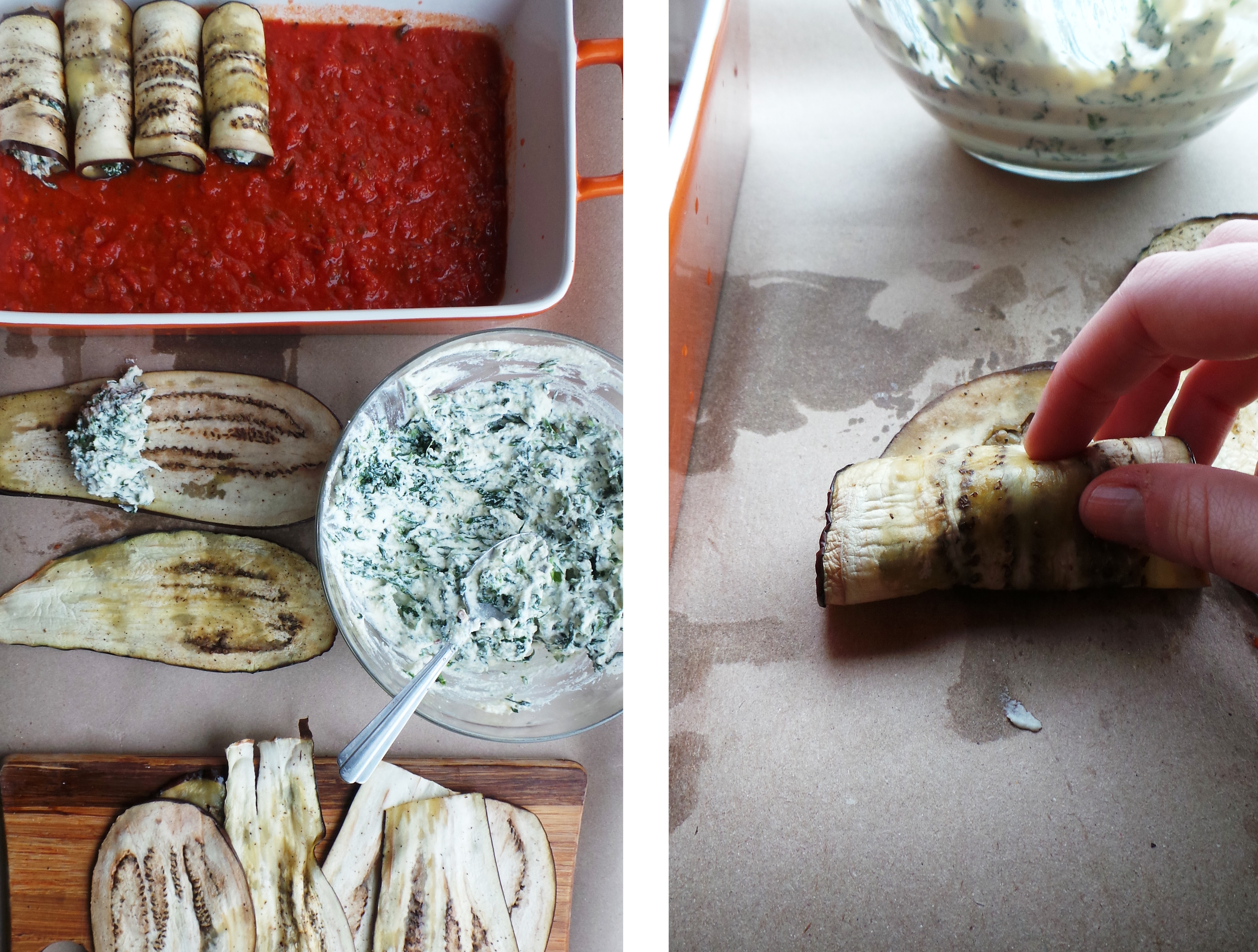 The only time consuming part of this recipe is the eggplant. I used my meat slicer to slice a quarter inch thick slices, but you could also use your mandolin or chef's knife (if comfortable). Salting or "sweating" the eggplant is essential to help the eggplant cook properly, just always remember to rinse and dry after it sweats. Roasting the eggplant slices for a quick ten minutes help the eggplant to roll easier and also adds flavor, don't skip this part!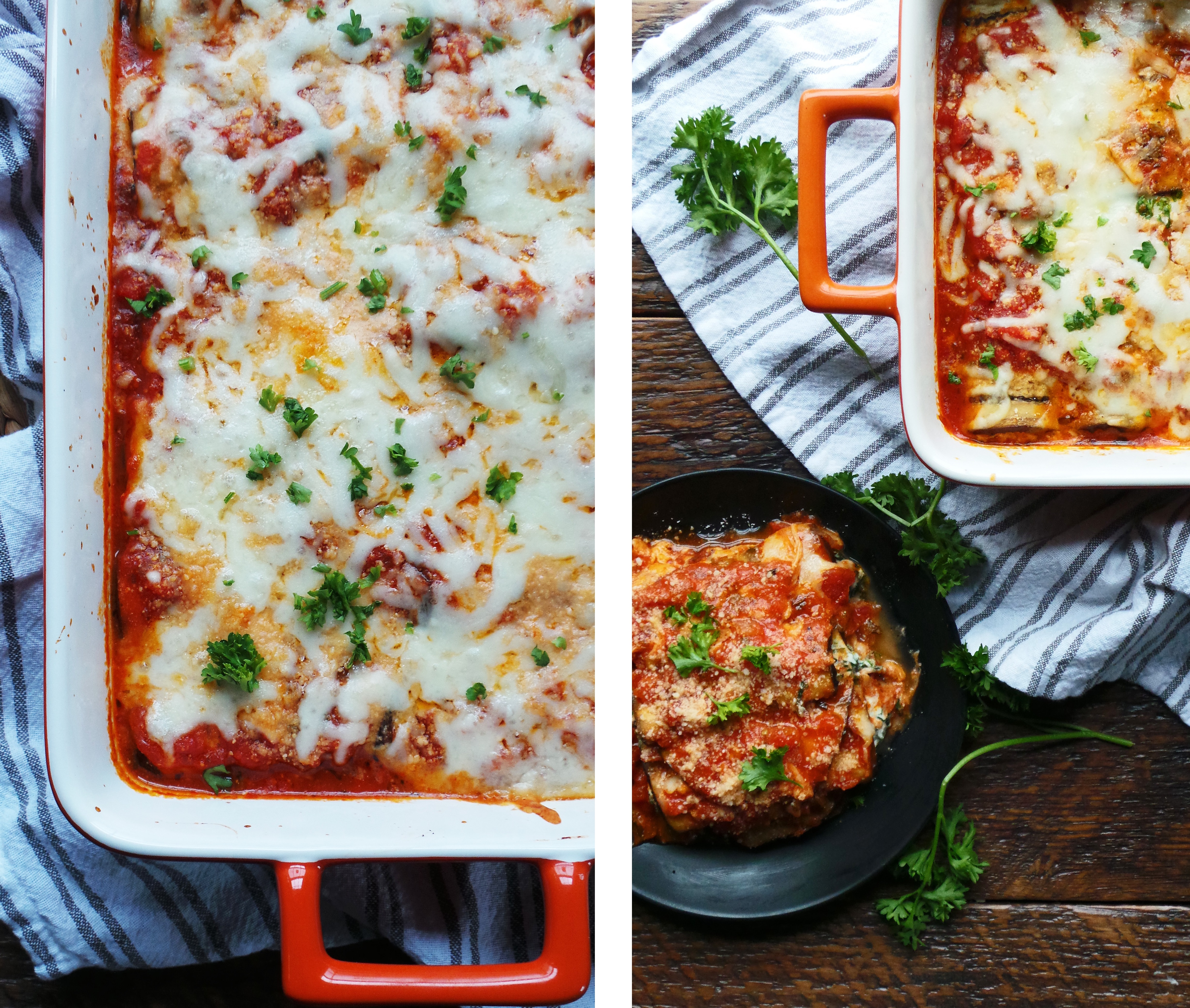 I flavored my ricotta cheese with Parmesan, garlic, seasonings like red pepper flakes, parsley, and spinach. As soon as the eggplant slices are finished roasting, a quick roll is it all it takes before this hits the oven. I'm trying this new thing where I don't overwhelm myself cooking, so in this recipe I used a jar of my favorite tomato sauce.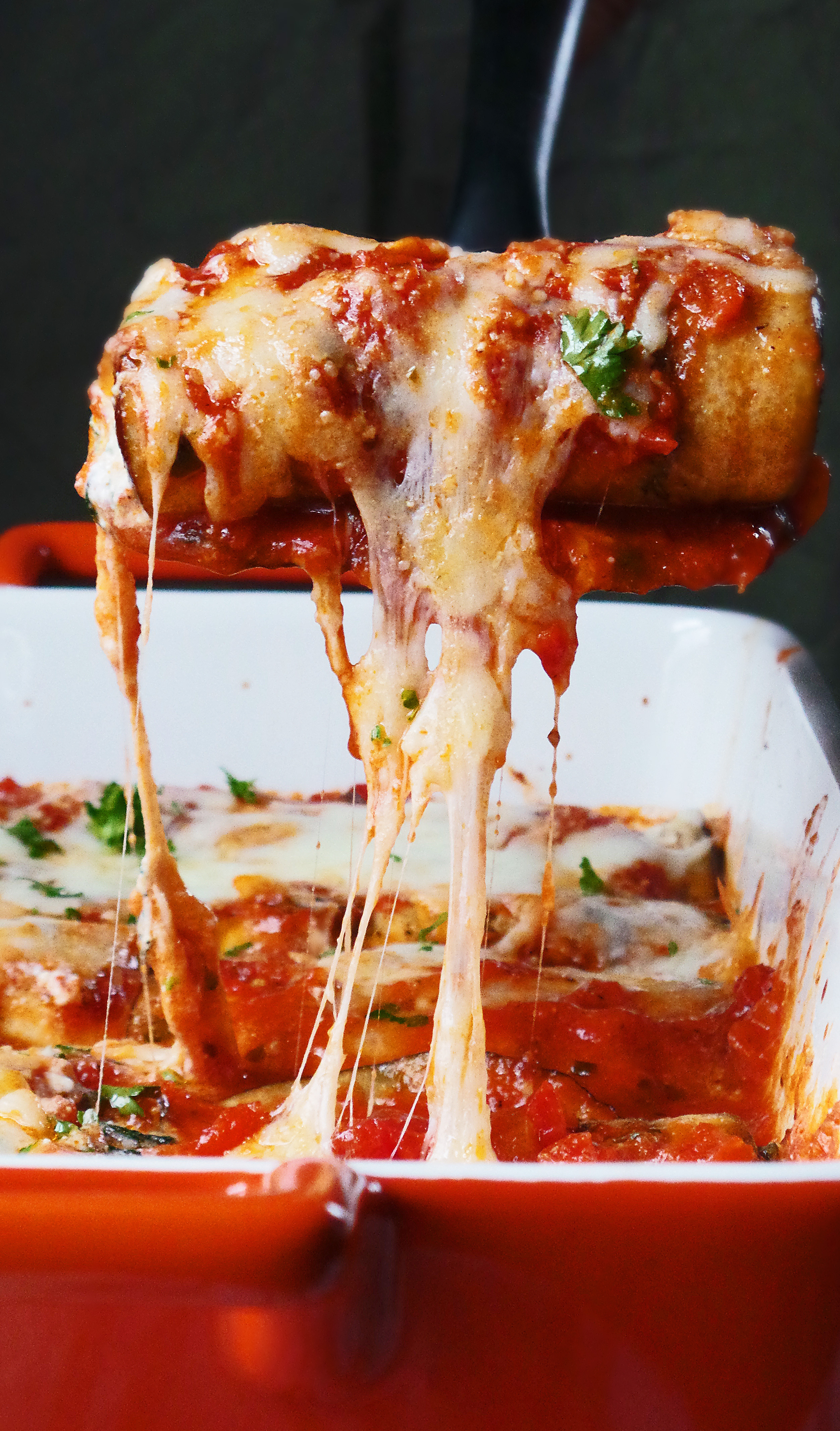 Whether you're using eggplant or traditional pasta noodles, this recipe and technique is great. Rolling up the pasta can help control portion sizes and is much easier to serve. You know cutting and serving things like lasagna or cake make me sweat? Like the mini panic attack sweats. Like the mini panic attack sweats I get when making left turns. Yah, no worries here. Enjoy!
Spinach & Ricotta Eggplant Rollatini
2015-01-12 15:24:27
Serves 6
Ingredients
2 medium eggplants
kosher salt, as needed
pepper, as needed
15 oz. part skim ricotta cheese (1 container)
12 oz. frozen spinach package
1 egg, beaten
1 T. parsley - chopped
1/4 c. grated Parmesan cheese
2 cloves of garlic, minced (or 1 t. garlic powder)
pinch red pepper flakes
1 jar tomato sauce
2 c. shredded mozzarella cheese
Instructions
Preheat the oven to 400
Remove the stem end of the eggplant. Using a meat slicer, mandolin, or chef's knife, cut the eggplant lengthwise in 1/4" inch pieces. Generously sprinkle both slides of each slice with kosher salt and allow to "sweat" for 15-20 minutes.
Rinse each slice with water and pat dry. Sprinkle with olive oil, salt, and pepper. Lay slices on a baking sheet and bake 10-12 minutes.
In the meantime, zap the frozen spinach in the microwave for 3-4 minutes to thaw. Ring in a paper towel to remove moisture.
Add the spinach to a bowl with the ricotta. Add the parsley, Parmesan, garlic, salt, pepper, and red pepper flakes. Before adding in the egg, taste for flavor.
Once the desired flavor is achieved, mix in the egg. Safety first!
Add half of the pasta sauce to a baking dish and spread to coat.
To roll the eggplant, place a heaping spoonful of ricotta mix on a slice of eggplant (I placed mine just under half of the eggplant slice, if that even makes sense). Roll and place into the sauce.
Continue with remaining slices and cover with remaining sauce.
Reduce the heat to 350. Sprinkle with mozzarella cheese and bake for 30 minutes, or until cheese is melted and bubbly.
Dig in!
Notes
The salt will remove excess moisture from the eggplant allowing it to cook better.
I didn't peel my eggplant, but you most certainly can!
Two eggplants for me made 14 plus rollatinis. My pan would only fit 14, but I easily could have made four more. Nutritional information shows the 14 serving six people (2.5 per person). ONE roll is 84 calories and 6 grams of fat. One more thing, the nutritional label only shows up in a desktop. Trying to fix it asap!
http://www.vodkaandbiscuits.com/