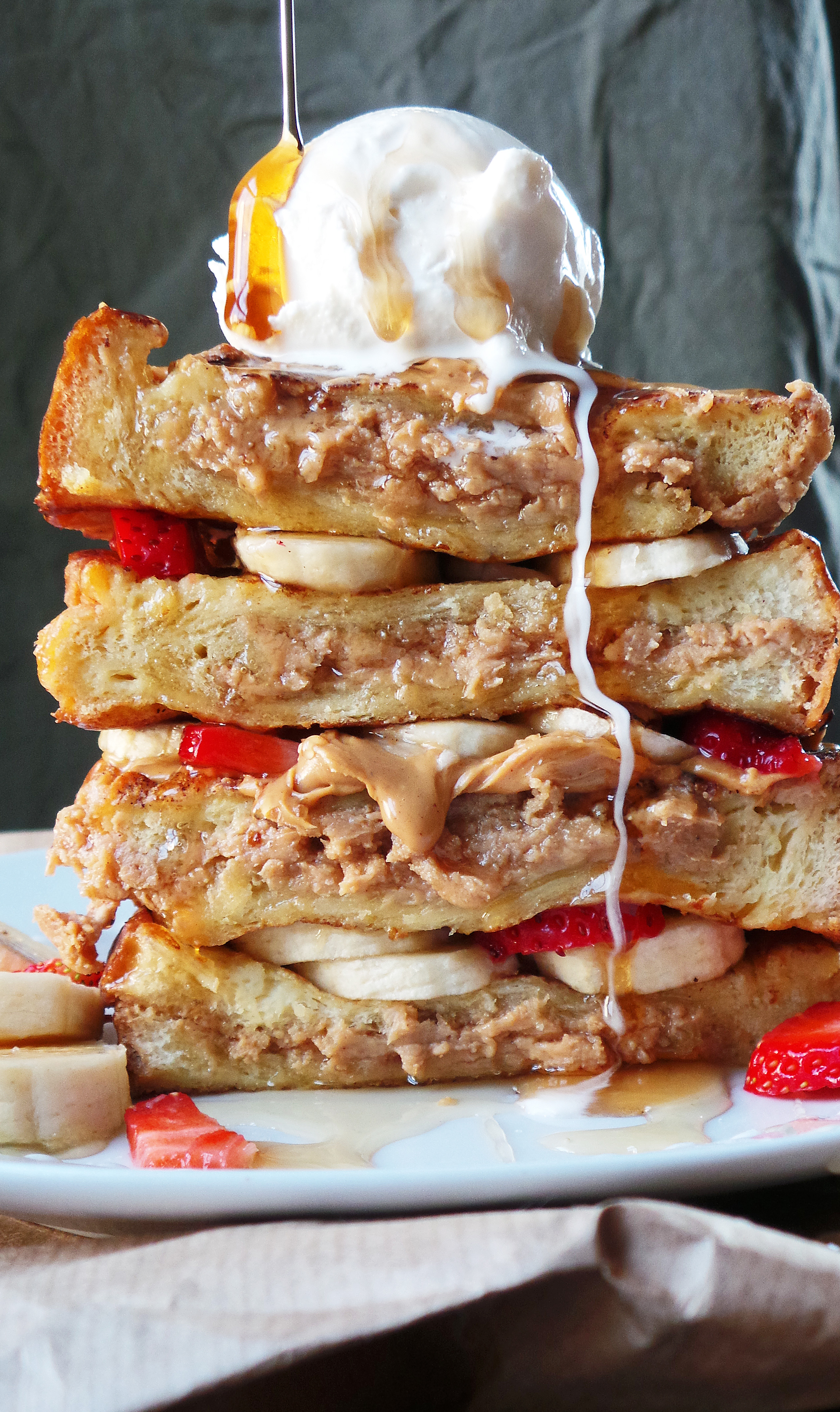 As if French Toast needed to get any better.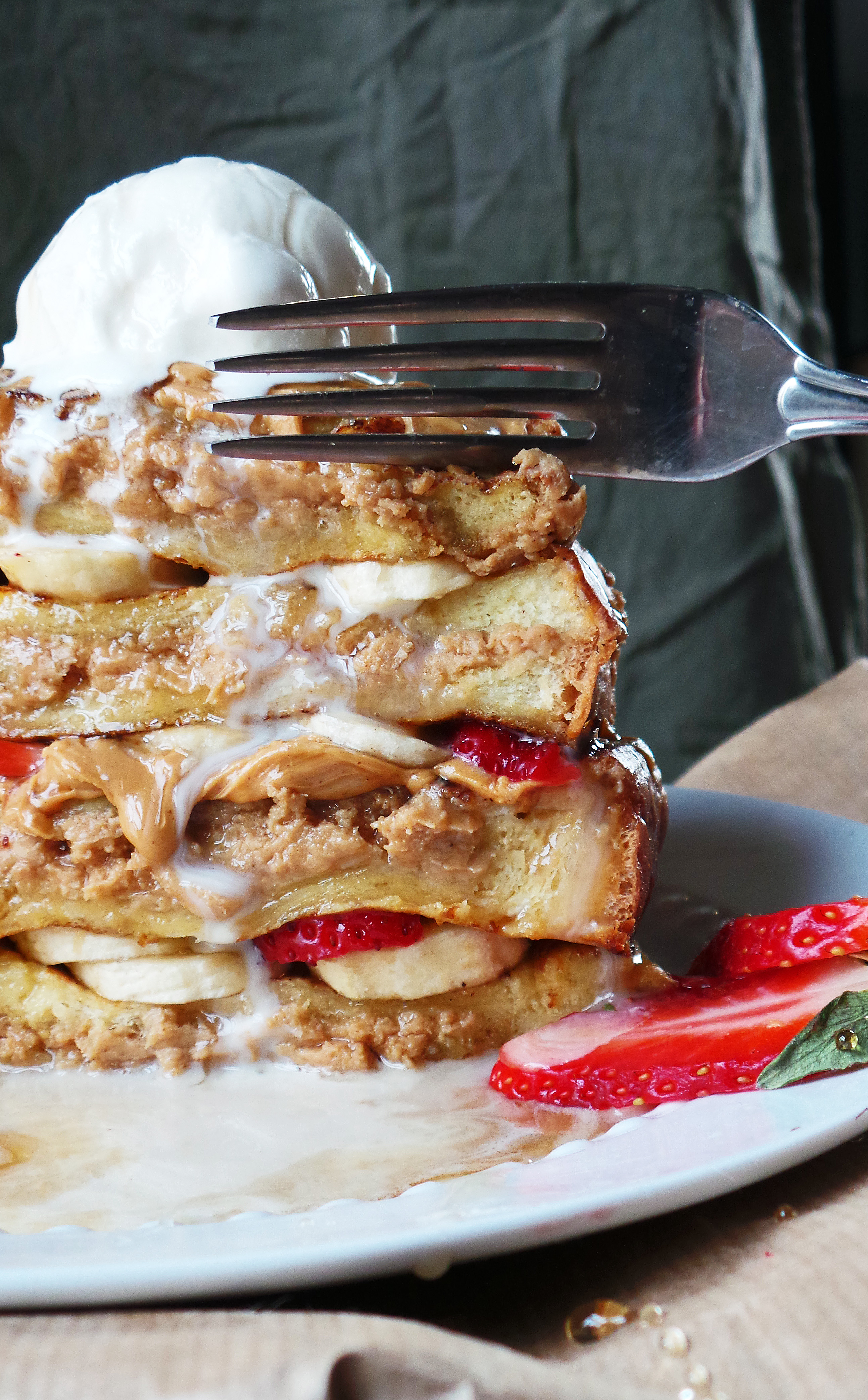 I went to Charleston a few months back with a couple girlfriends for the first time. Talk about food lover's paradise. Between 82 Queen's fried sweet potato cake and gumbo served with practically a whole chicken, and Taco Boy's a la cart taco menu, I don't think I consumed a bite of nutrition that weekend. Our one attempt to eat healthy was breakfast at a cute little cafe called Three Little Birds, which quickly failed after reading they had a Peanut Butter & Banana Stuffed French Toast. Sold.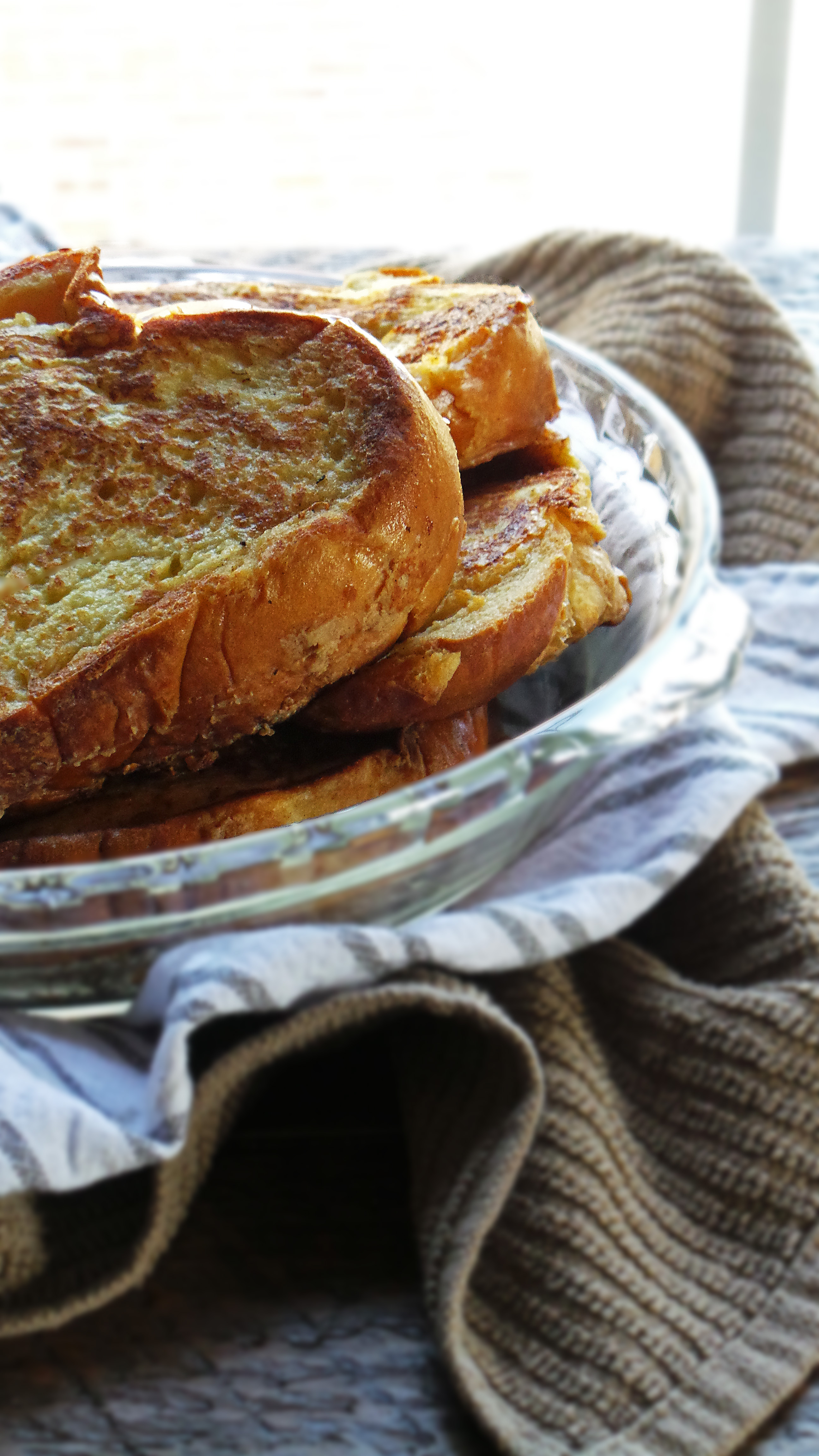 What kind of food blogger would I be without recreating this holy goodness?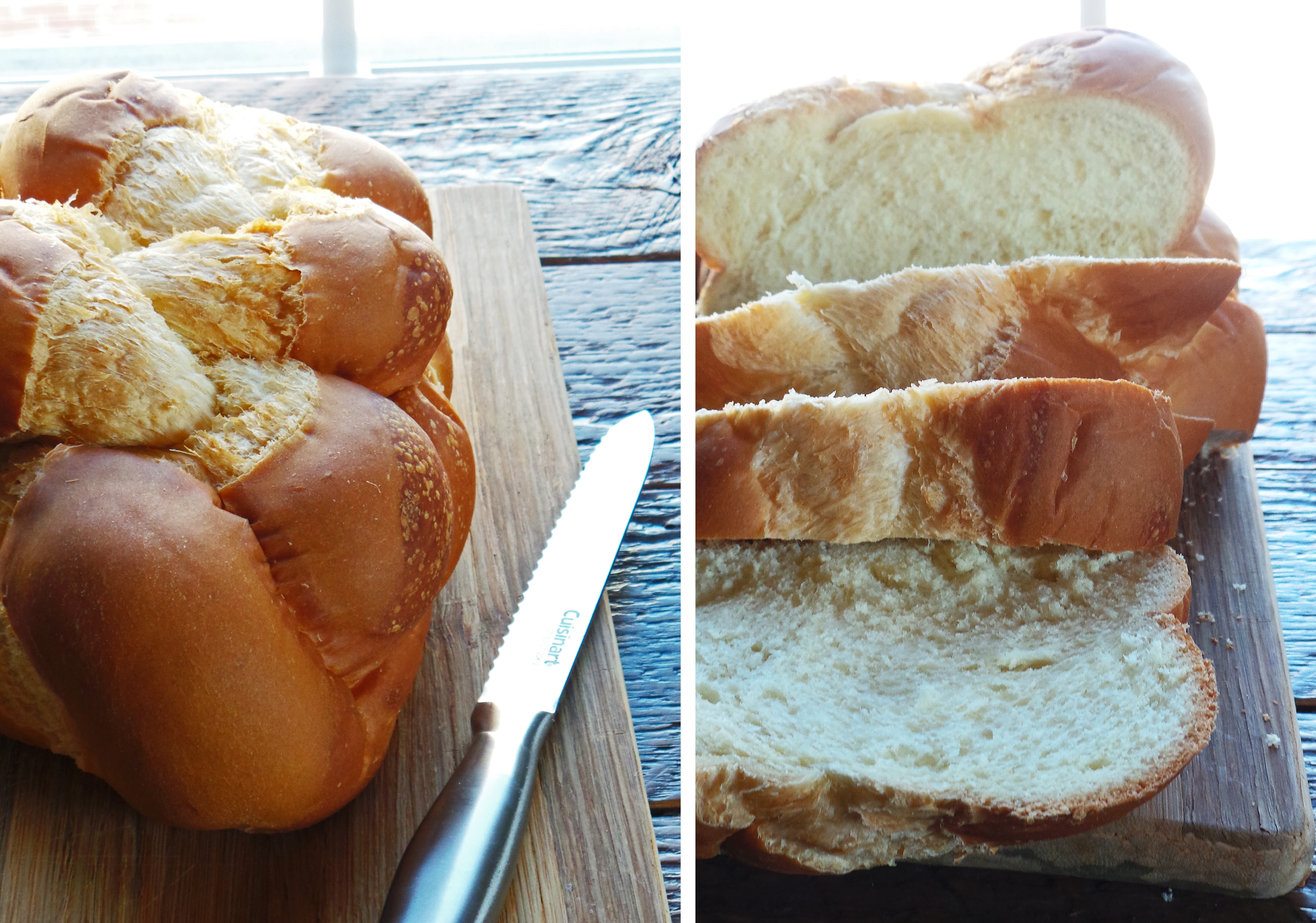 So that's how I bring to you my version of the Stuffed French Toast.
In my opinion, the key to a delicious French Toast starts with the bread. Nothing makes it better like a fresh loaf of Challah bread. This sweet buttery braided bread can be found at most grocery stores in the bakery, I've even found it for sale at Einstein's Bagels! You could always make your own too. I actually tried that not too long ago and experienced the top kitchen fail of all times. I'd tell you what it came out of the oven looking like but it's a little inappropriate. Let your mind wander with that one.
Oh and before you go on, Challah is pronounced Holla. Just saying because I wish somebody told me the C is silent before I asked the baker if he had any CHA LAH bread my first trip making French Toast. Kinda like I wish someone told me the D in Django is silent. That's a story for another time, let's just say I'll never forget that trip to the movies.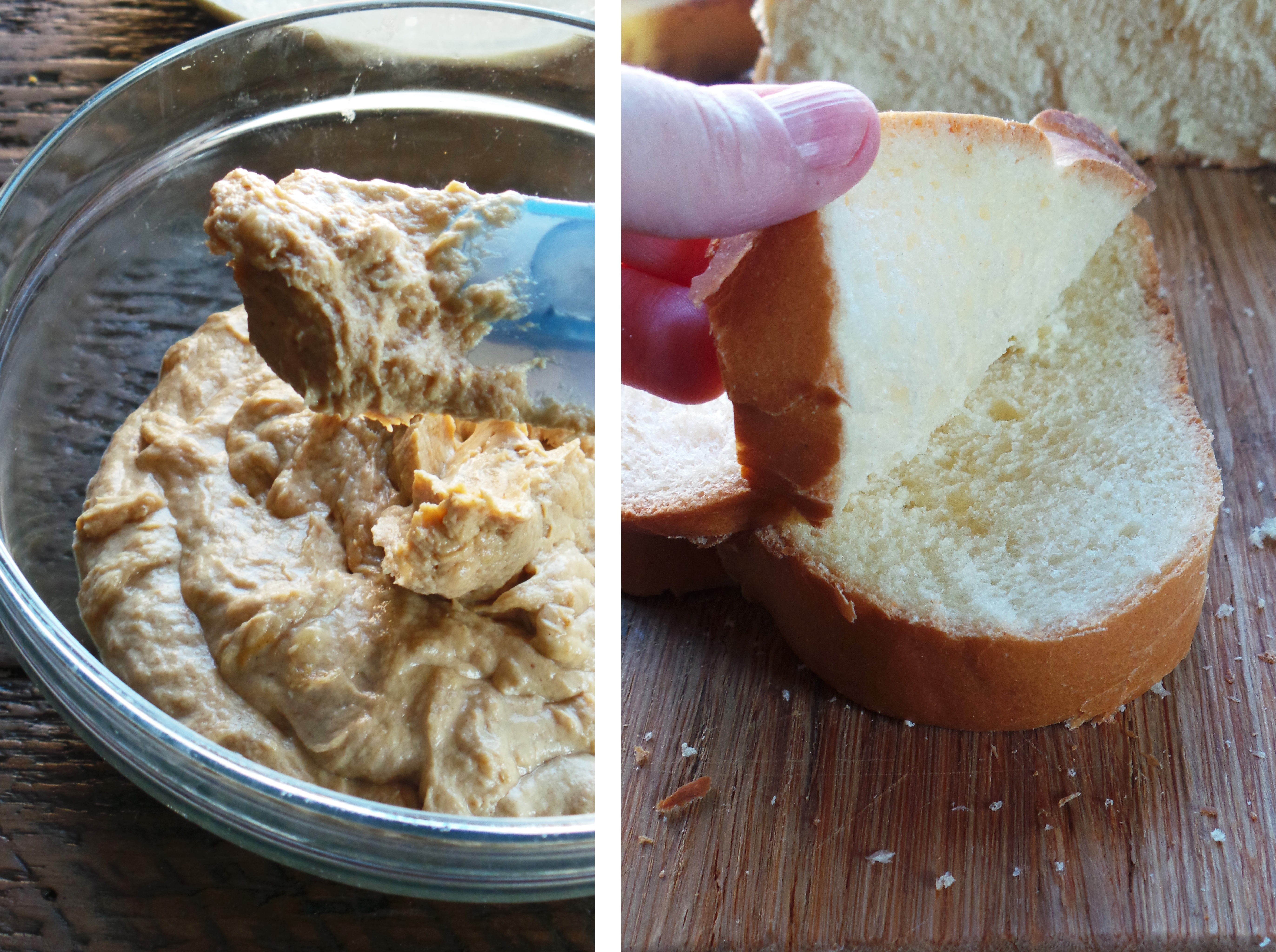 To stuff the bread all you have to do is cut a pocket, almost as if you're butterflying a chicken breast. I added my peanut butter and bruised bananas to my mixer with a little cream cheese. I thought that mixing all of that together to form a creamy spread would help it spread easier on the delicate bread. I was kinda right. Kinda.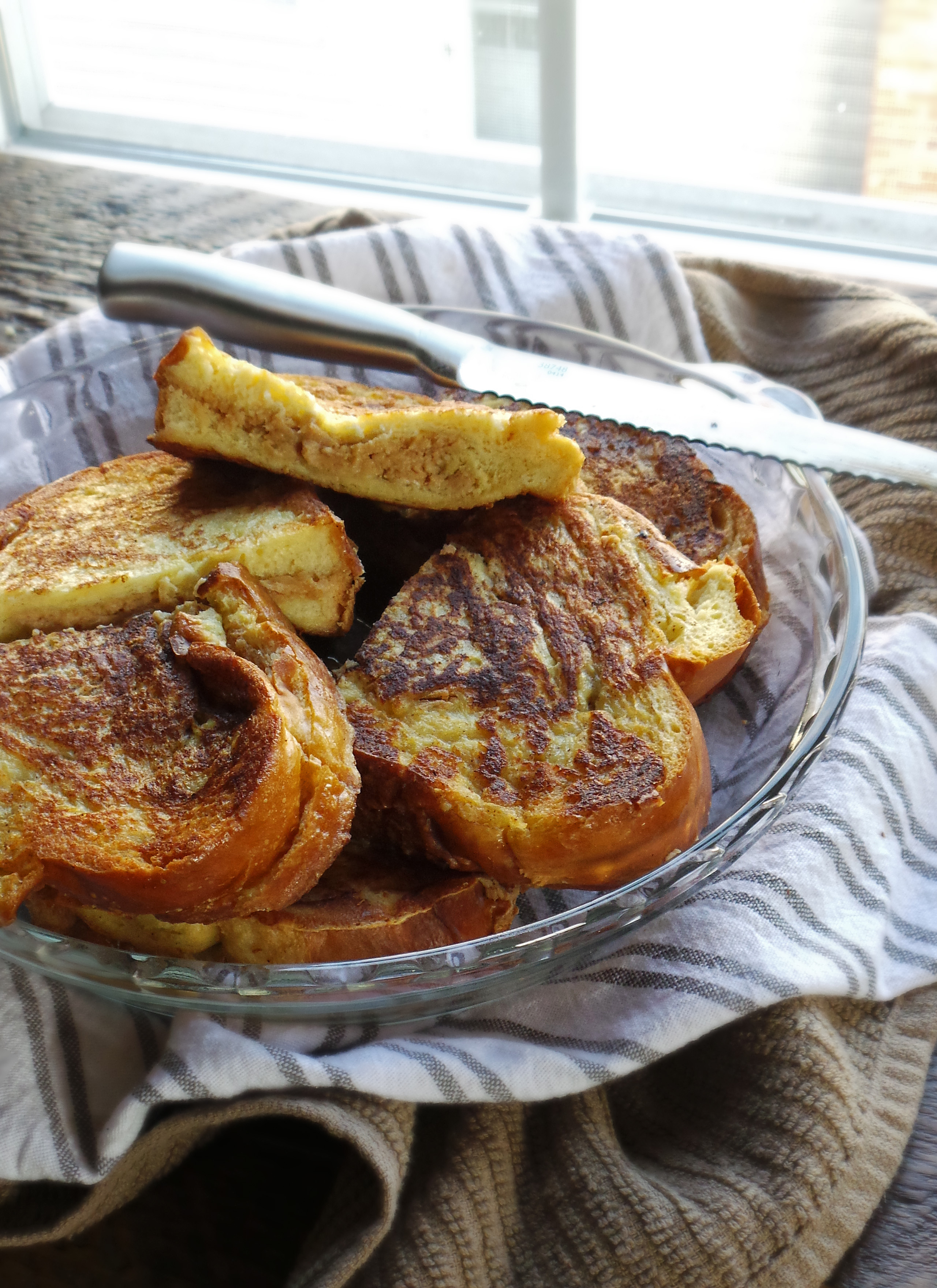 The mix did spread much easier and still tasted great, but I didn't like the texture after it cooked. I think next time I'll just spread in the peanut butter and stuff in thin slices of banana, in fact that's how I will write this recipe. You know if you're not a fan of peanut butter or bananas, you can spread cream cheese and strawberries, blueberries, or whatever you're feelin'.
The other key to an awesome French Toast is the dip. I dip mine in a combination of non-fat milk, vanilla, eggs, and cinnamon. I find simple is best but there's so many tricks in making it even better. Instead of the milk, use heavy cream or half and half. Before cooking, steep a vanilla pod in the cream to bump up some flavor. You could also grate in some fresh nutmeg, lemon, or orange zest!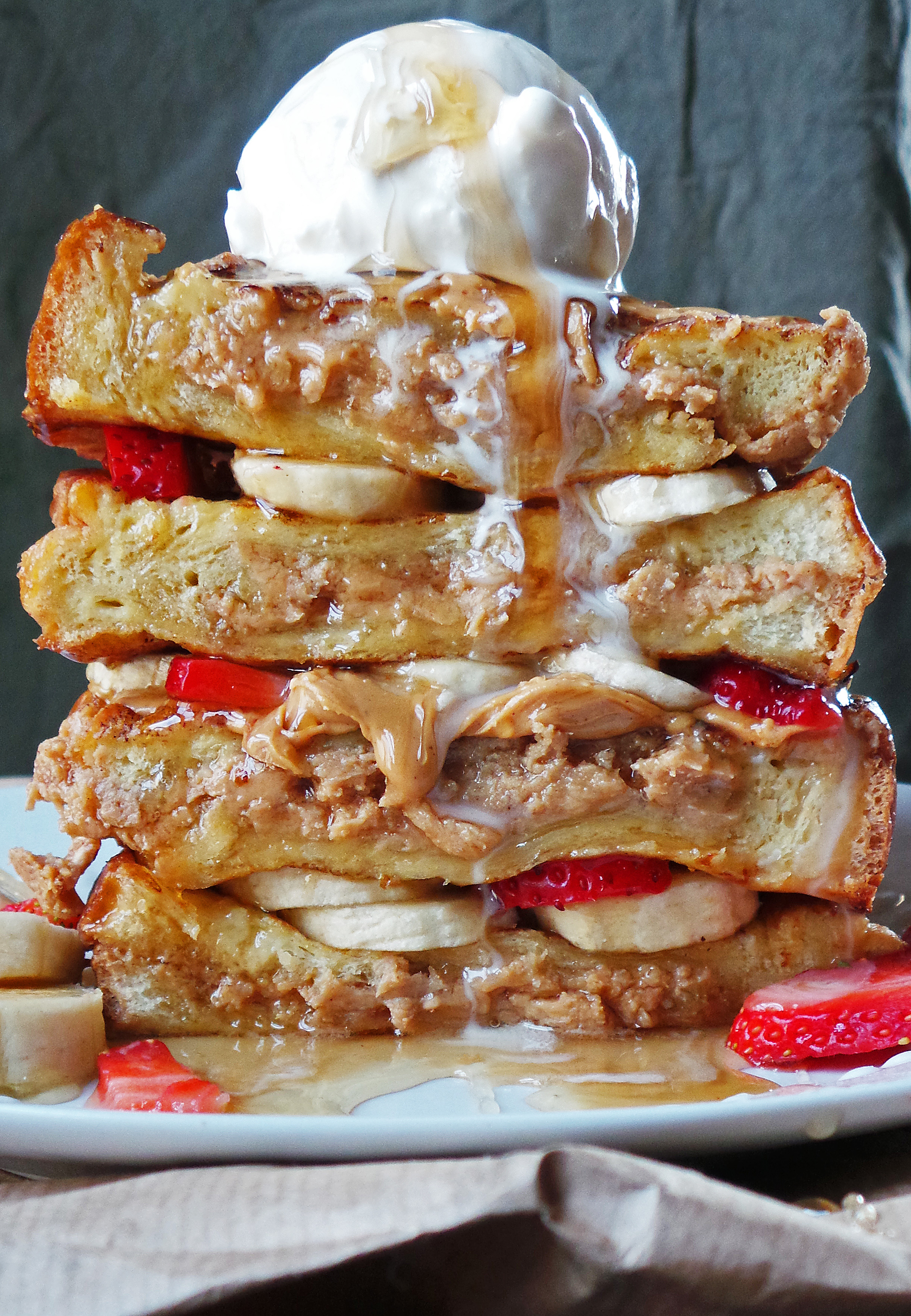 Whatever you stuff inside your French Toast will be delicious because in the end, anything covered in honey or maple syrup and topped with a scoop of ice-cream is drool worthy.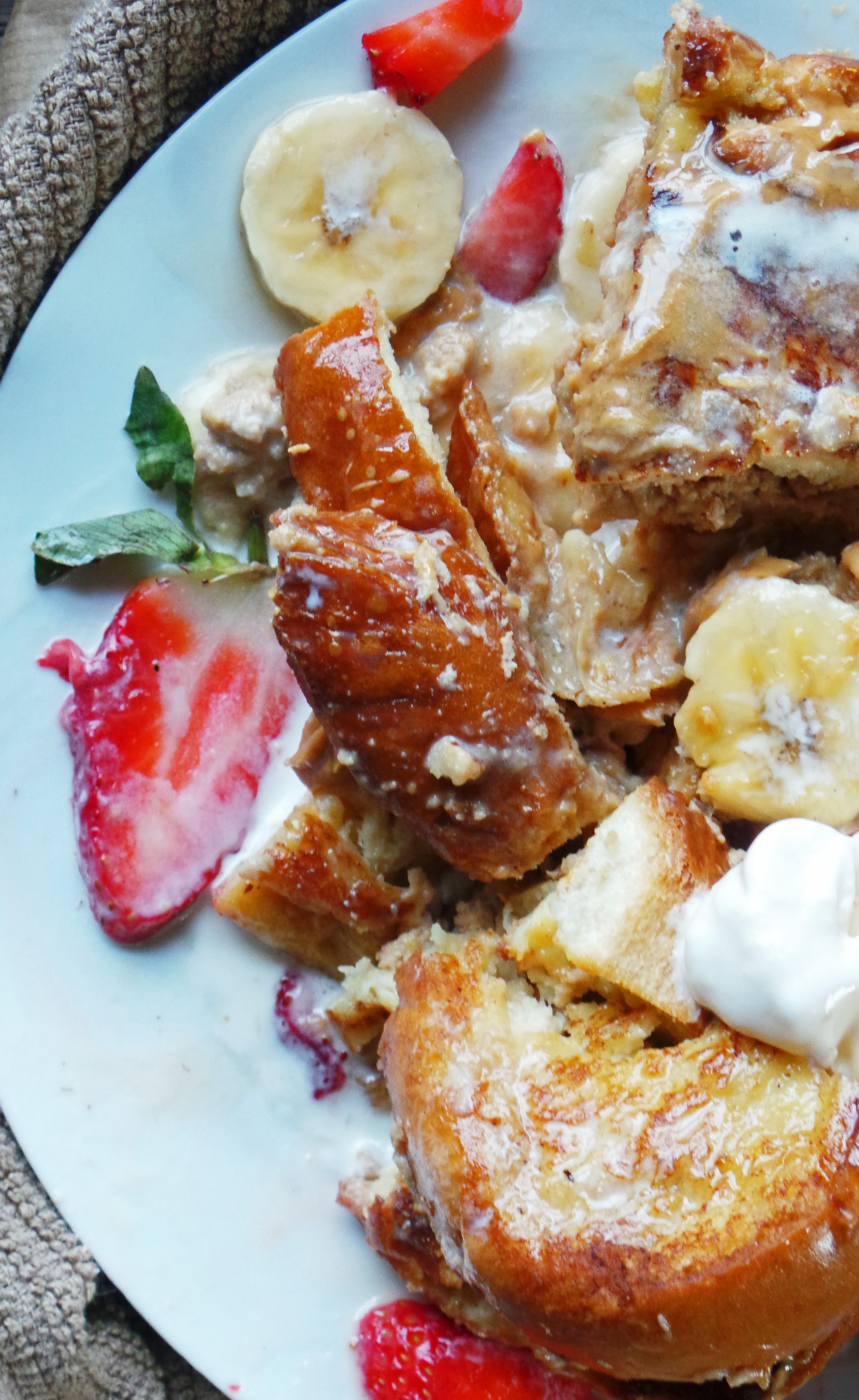 Oh yes I did. Ice-cream on my French Toast because I suck at nutrition. Enjoy!
Stuffed French Toast
2015-01-19 16:41:48
Serves 8
Ingredients
1 loaf Challah bread - sliced in 2" slices
1 c. low-fat milk
3 eggs
2 t. vanilla
1/2 t. cinnamon
3/4 c. creamy peanut butter
2 bananas - sliced thin
4 T. of butter - divided
honey as needed (can use maple syrup)
Instructions
Preheat the oven to 350
Mix together the milk, eggs, vanilla, and cinnamon until the eggs are combined. Set aside until needed. See notes below for additional options!
Carefully use your knife to cut a pocket in the Challah slices, kinda like butterflying a chicken breast. Don't cut all the way through the bread!
Spread the peanut butter on the inside pocket and stuff in banana slices. Repeat for remaining bread.
Heat a large skillet over medium heat. Spray with cooking oil and melt a tablespoon of the butter. The spray will keep the butter from burning. Once hot, dip the stuffed bread in the eggwash dip on both sides, then transfer to the skillet.
Cook 2-3 minutes on each side or until brown and crispy. Transfer to the oven to keep warm while finishing the remaining slices. Melt a tablespoon of butter at a time before cooking the other slices!
Serve with fresh berries, honey, maple syrup, whipped cream, or ice-cream!
Notes
You can use light cream or half and half instead of milk OR use just egg yolks for a creamier base.
You can also stuff with cream cheese and fresh fruit and serve for dessert!
My loaf made me 8 slices so I reflected the nutrition on each slice cut at 2".
http://www.vodkaandbiscuits.com/