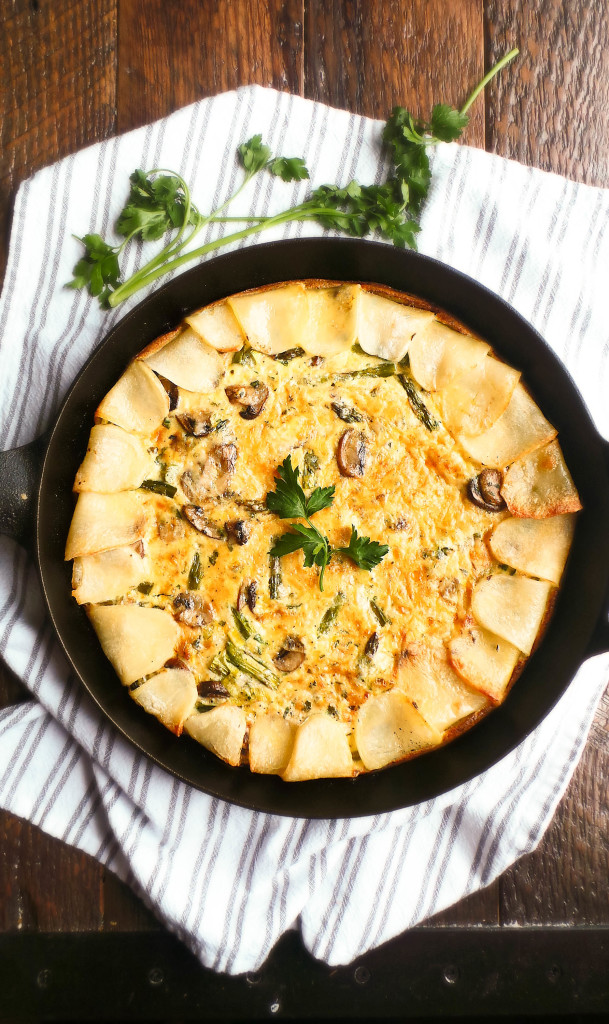 Valentine's Day is a few days away and boy do I have the perfect recipe for you and your love bug.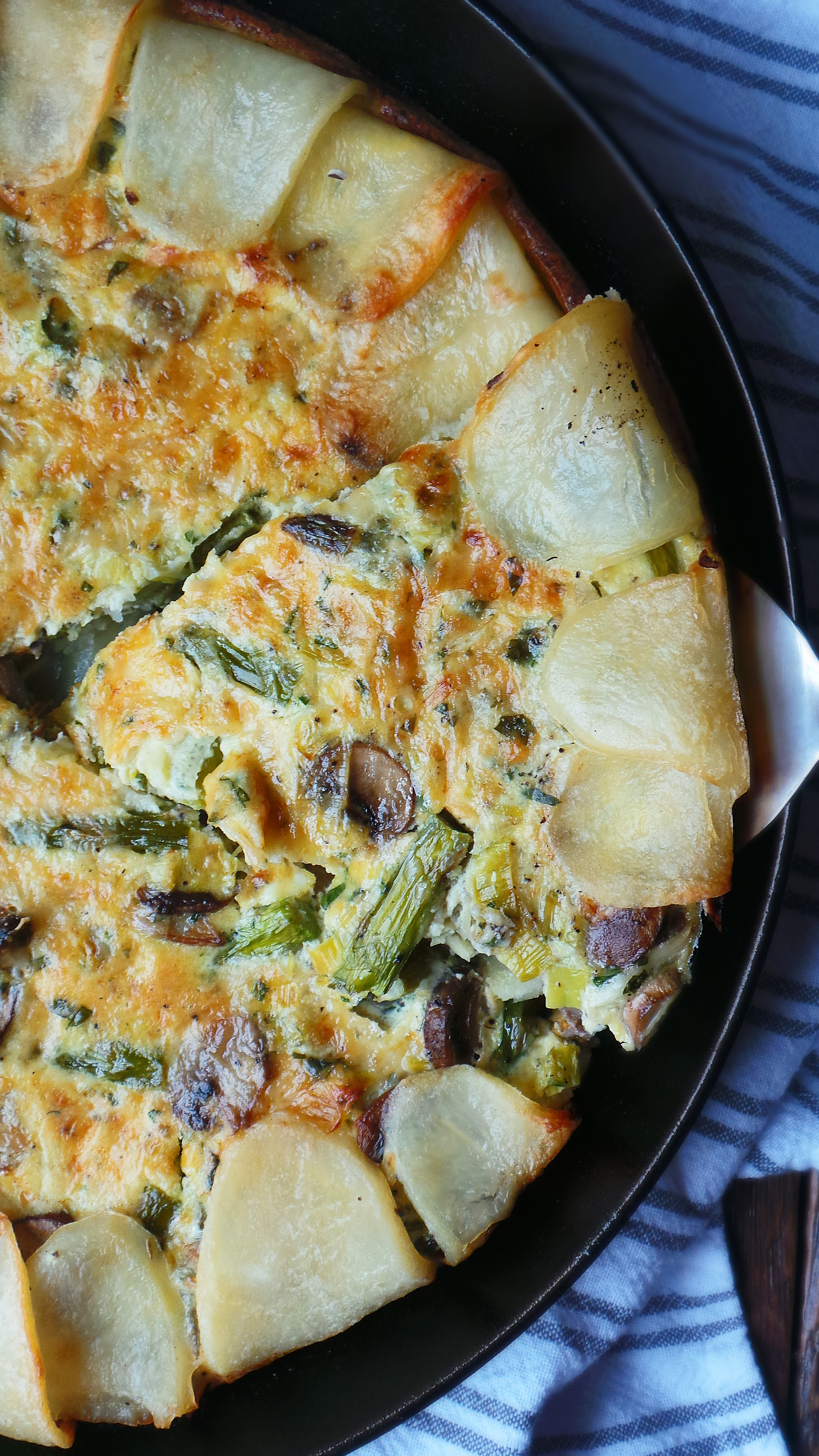 A few Saturdays ago the Sascha's team was catering a Bourbon event at one our favorite venues. With it being a Saturday and knowing I had to be at work early afternoon, I did nothing that morning but lay around and watch Food Network. I can't be the only one who binge watches that network Saturday mornings. Ree was on there making her Cowgirl Quiche and for someone who isn't keen on quiche, it had my attention.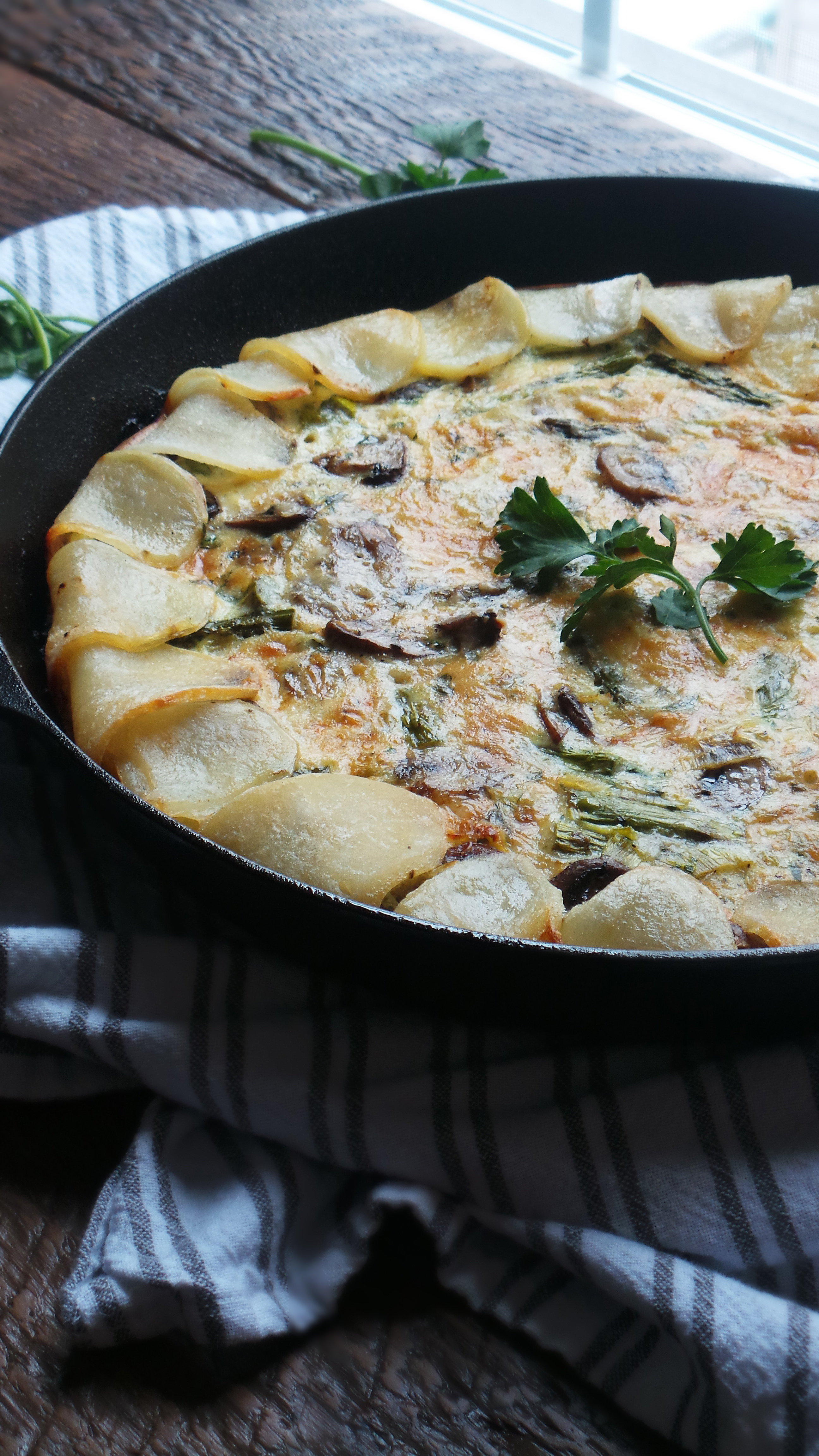 For some reason quiche doesn't do it for me, so I put it in the back of my mind. After arriving to Sascha's, the other catering sales manger Jane (my side kick), was talking about the quiche she saw on Food Network that morning and of course being me I overreacted, oooooohmygod I saw the same thing, since when do I want quiche, it's a sign I MUST MAKE IT.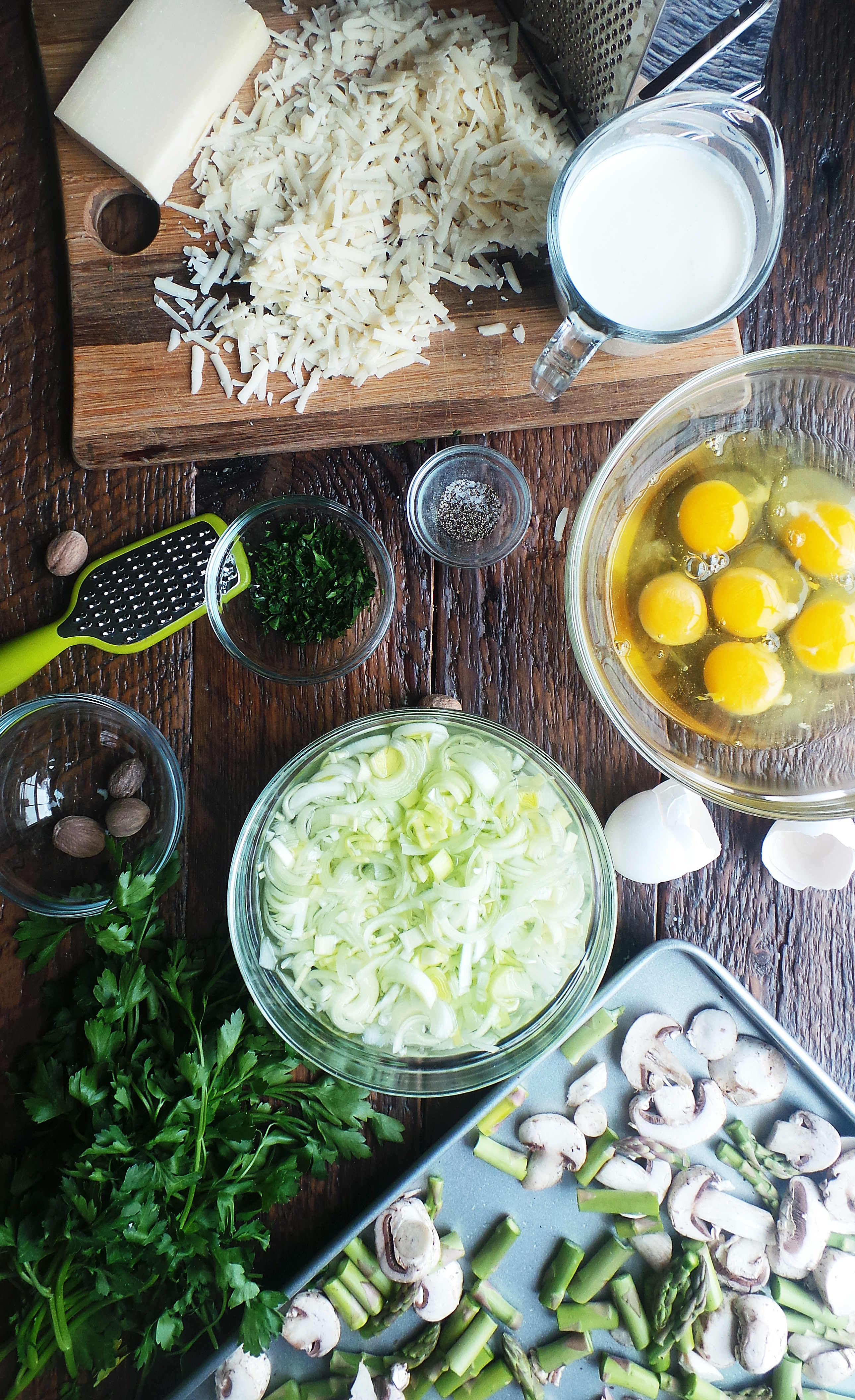 Aannnd that's what brings us here.
I used Ree's recipe as a guideline and added my own personal touches. This quiche is a combination of eggs, cream, freshly grated cheese, and roasted vegetables. Instead of pouring into a prepared crust, I wanted to fancy things up a bit with potatoes. There's some prep work involved in this recipe which makes it ideal for you and love on Valentine's morning making and enjoying breakfast together. A door bell.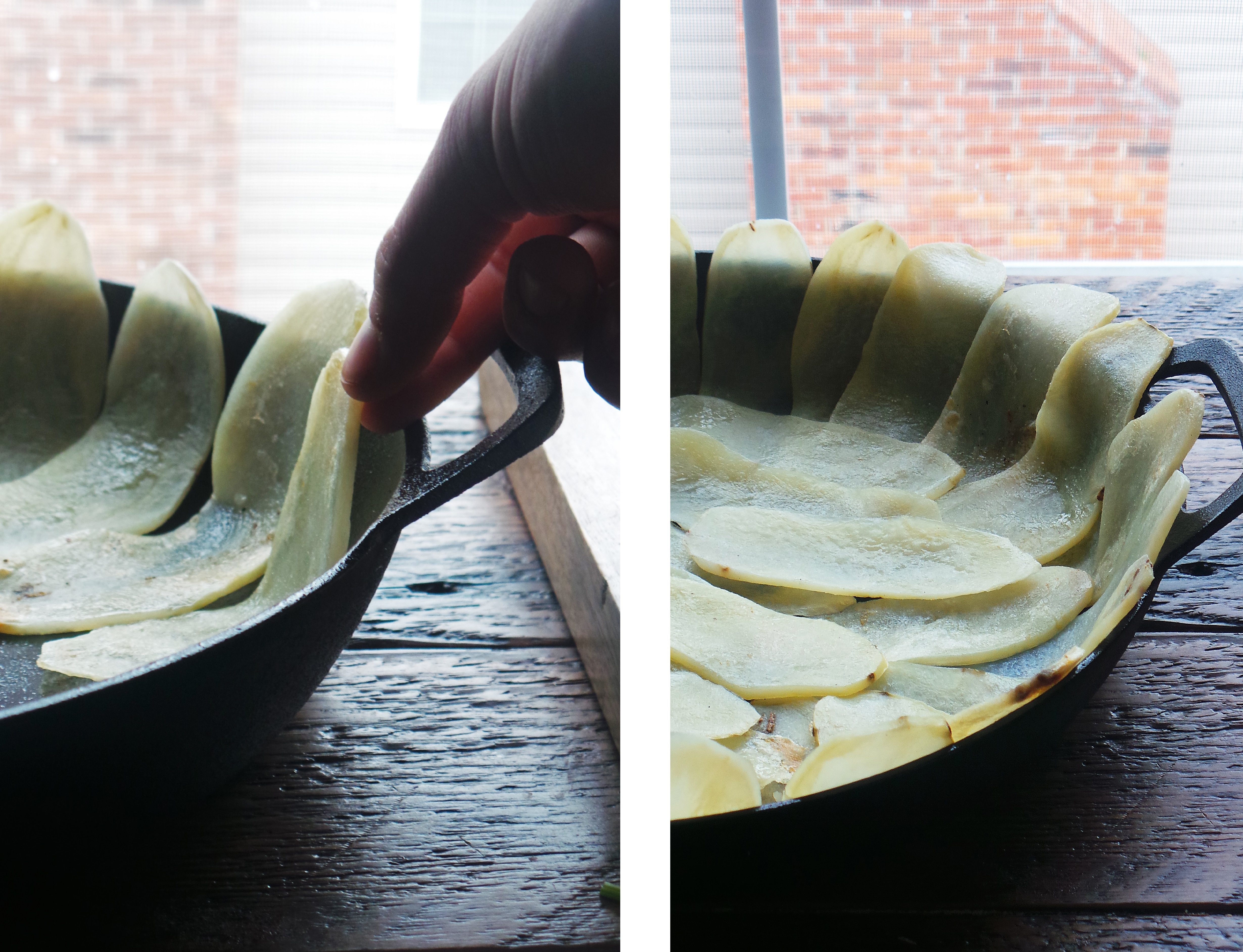 A door bell is my new way of saying adorable. Nobody ever gets it. Carry on.
The potato slices need to be sliced thin, so I recommend using a meat slicer, mandolin, or your food processor with the proper attachment. I gave them a quick roast in the oven for a few minutes before shaping. If they're cooked raw with the quiche, it won't be done in time. I wanted to cook them just before they got crispy, the best way to judge is to take it out of the oven before it starts to brown. I laid the slices on the outside rim of my cast iron skillet (you can use a pie pan) leaving an inch or two hanging over, then covered the bottom with the remaining slices. Three potatoes gave me plenty to work with.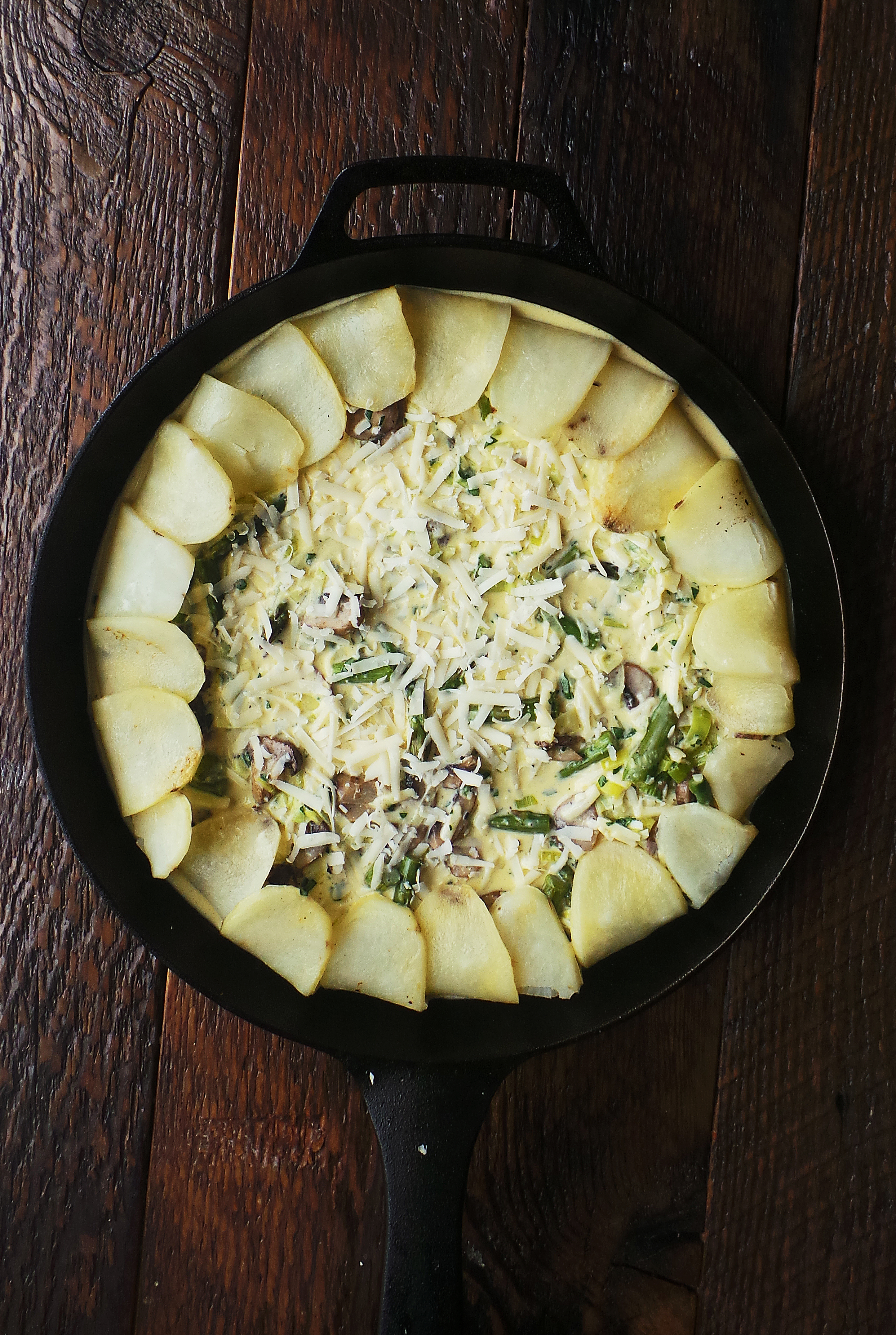 Once the vegetables are done roasting, leeks are sauteed, and cheese is grated, I whipped together the quiche and poured it into the pan. I folded over the excess potato and it looked be-a-ufitul.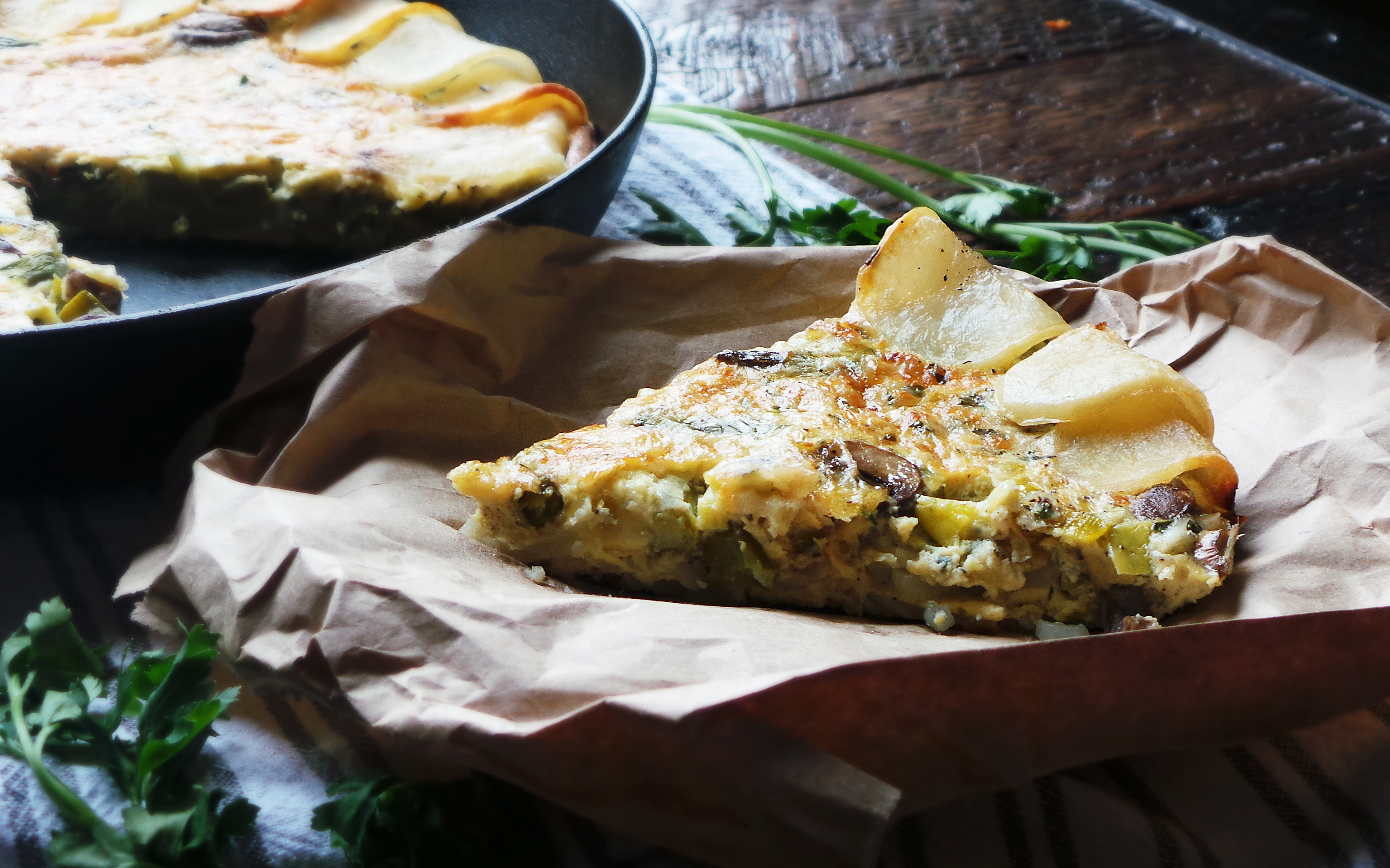 After an hour hovering down watching it bake with impatience, I was for the first time EXCITED to eat quiche.The sharpness of the Gruyere, perfectly seasoned vegetables roasted tenderly, sweet sauteed leeks, aromatic nutmeg, crispy yet tender potatoes, had my opinion on quiche forever changed. Have fun in the kitchen with this and customize however you'd like. Ham, spinach, cheddar, broccoli, whatever. All I know is you'll have fun making and eating this. Happy Valentine's Day!
Potato Crusted Quiche
2015-02-01 10:26:06
Serves 8
Ingredients
1 bunch asparagus
8 oz. sliced white mushrooms
1 leek, can use onion to substitute
6 eggs
1 c. heavy cream
4 oz. grated Gruyere cheese
4 russet or baking potatoes, peeled
1 T. butter
2 T. fresh parsley, minced
salt and pepper as needed
pinch of nutmeg
olive oil as needed
To prep
Preheat the oven to 400
Prep the asparagus by snapping off the tough ends, then cutting the asparagus into one inch pieces. Transfer to a baking sheet with mushrooms. Drizzle with olive oil, salt, and pepper. Roast for 25-30 minutes until tender (this can be done the night before).
Prep the leeks by trimming off the stem and the green tough leaves. Remove the outer loose/bruised layers. I usually rid like two layers.
Cut the leek in half length wise, then cut leeks to make thin slices. Transfer to a bowl of water to remove any grit and dirt. Rinse and dry.
Heat a saute pan to medium heat with olive oil and the butter. Once hot, add the leeks. Season with salt and pepper. Cook until tender, 6-7 minutes. Set aside.
Prep the peeled potatoes by slicing lengthwise in 1/8" pieces. For ease use a mandolin or meat slicer. Transfer the sliced potatoes in water to prevent browning. When finished, rinse, dry, and transfer to two greased baking sheets. Brush over olive oil and season with salt and pepper. Bake 15-20 minutes until tender, but not browned.
The quiche
Spray a cast iron skillet or pie pan with cooking spray. Start by covering the rim of the pan or skillet with potato slices, leaving 1" of potato hanging over the edge. Use the remaining slices to cover the bottom, filling any holes.
In a large bowl, mix the cream and eggs. This will be super thick! Add the grated cheese, parsley, cooked vegetables, and leeks. Combine. Season with salt, pepper, and dash of nutmeg.
Reduce the oven to 350
Transfer to pan and bake covered with foil for 40 minutes. Remove the foil and bake an additional 10 minutes. At this point my quiche was finished, however I left it in longer to allow it to brown.
Allow to sit for a few minutes before serving away!
Notes
Seasoning the vegetables from start to finish with salt and pepper is the key to building flavor.
http://www.vodkaandbiscuits.com/