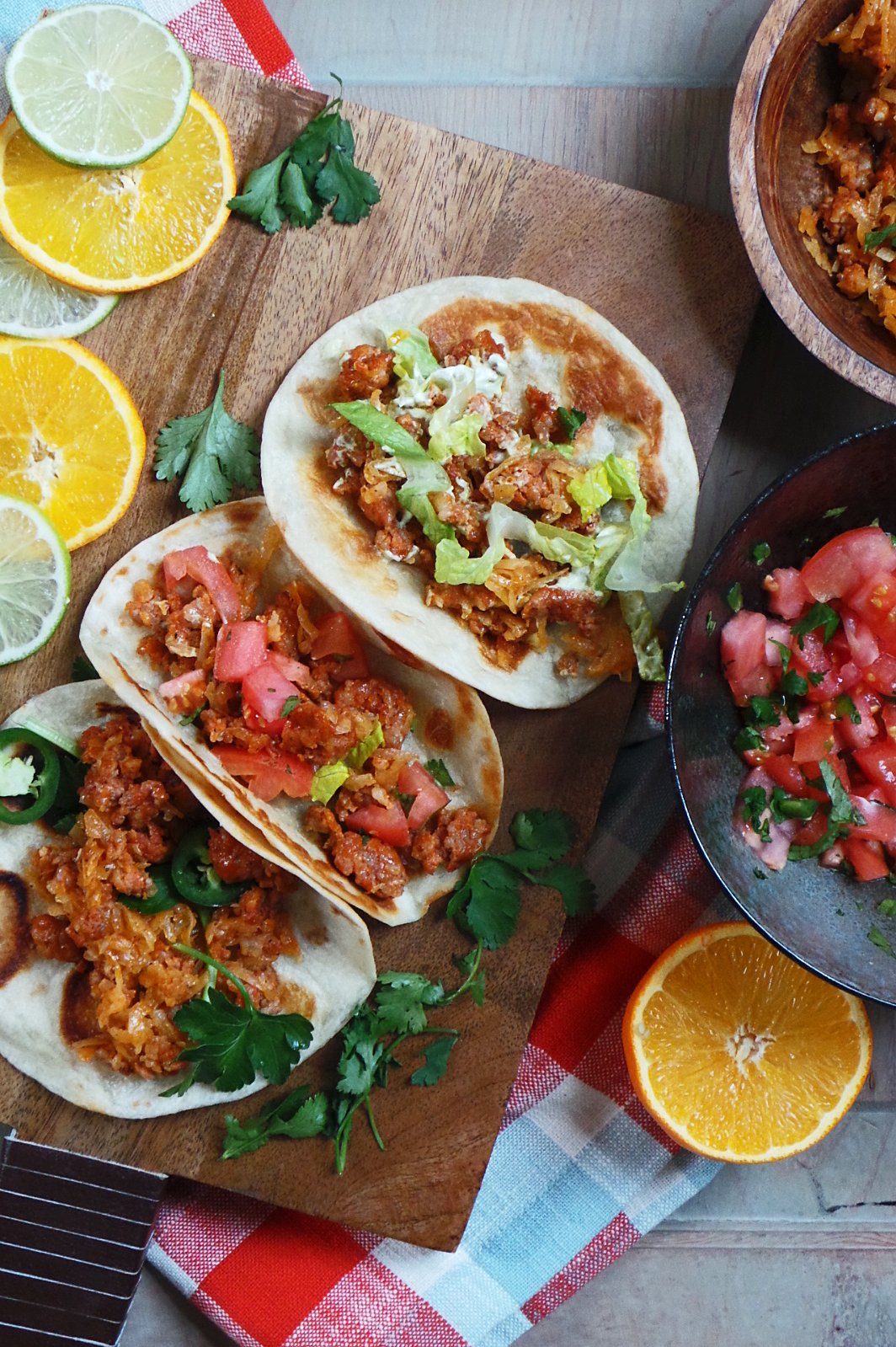 Potato and chorizo tacos where have you been my whole life? Was I the only one unaware of this ridiculously delicious combination? Anything else I'm missing out on?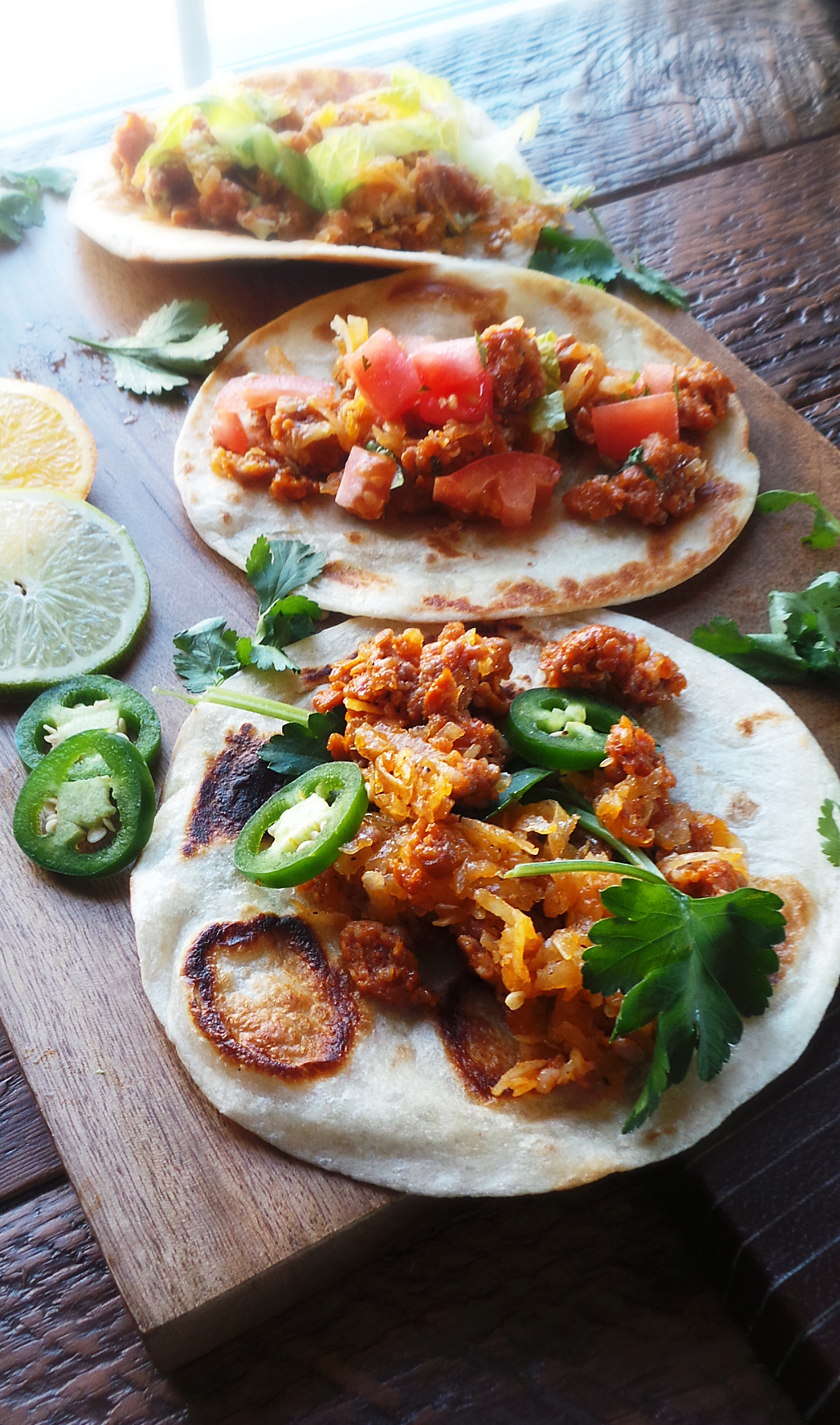 A couple months back I visited Charleston, South Carolina, the good ol' culinary capital of America. Needless to say I fell in love every twenty minutes because it was every twenty minutes that weekend where I was shoving my face with something different.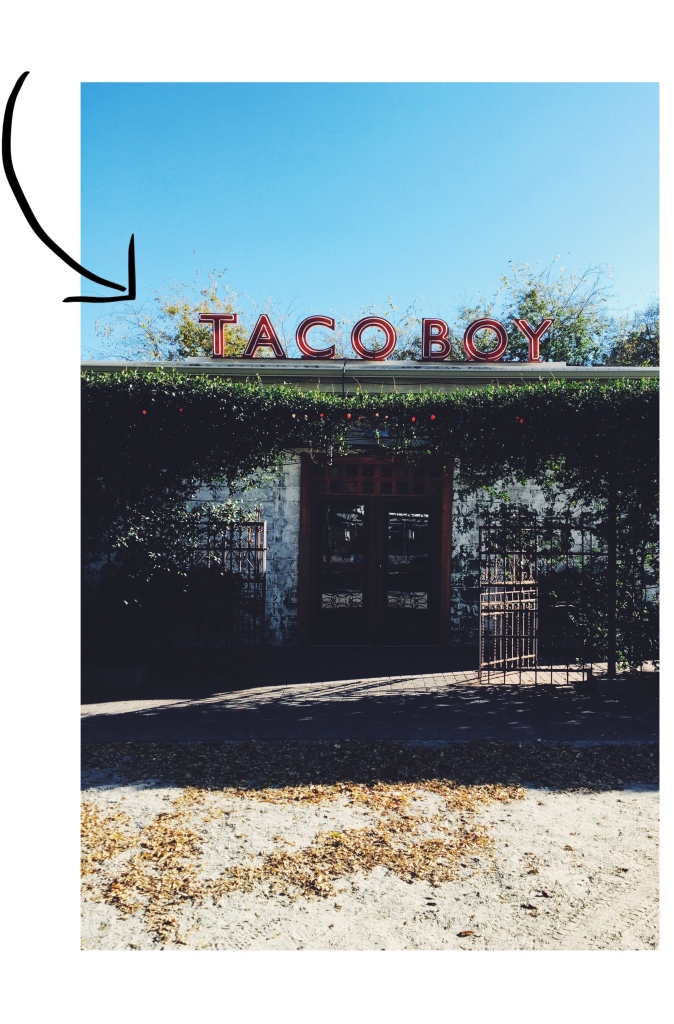 Our first stop was this adorable Mexican restaurant Taco Boy known for their distinctive A la Carte taco menu. Let's just say I hope to find a man who can light up my face the way that menu did. Endless combinations of everything you can imagine, by far the most tempting menu I came across that weekend. There was so much I wanted to order, like potato & chorizo tacos, but I thought what fun it would be to write down a couple combinations, let my mind wander, and create them myself. Only makes sense as a foodblogger right?
It was that inspiring lunch that led me here a few months later with all the potato chorizo tacos to myself. Let's start cookin'.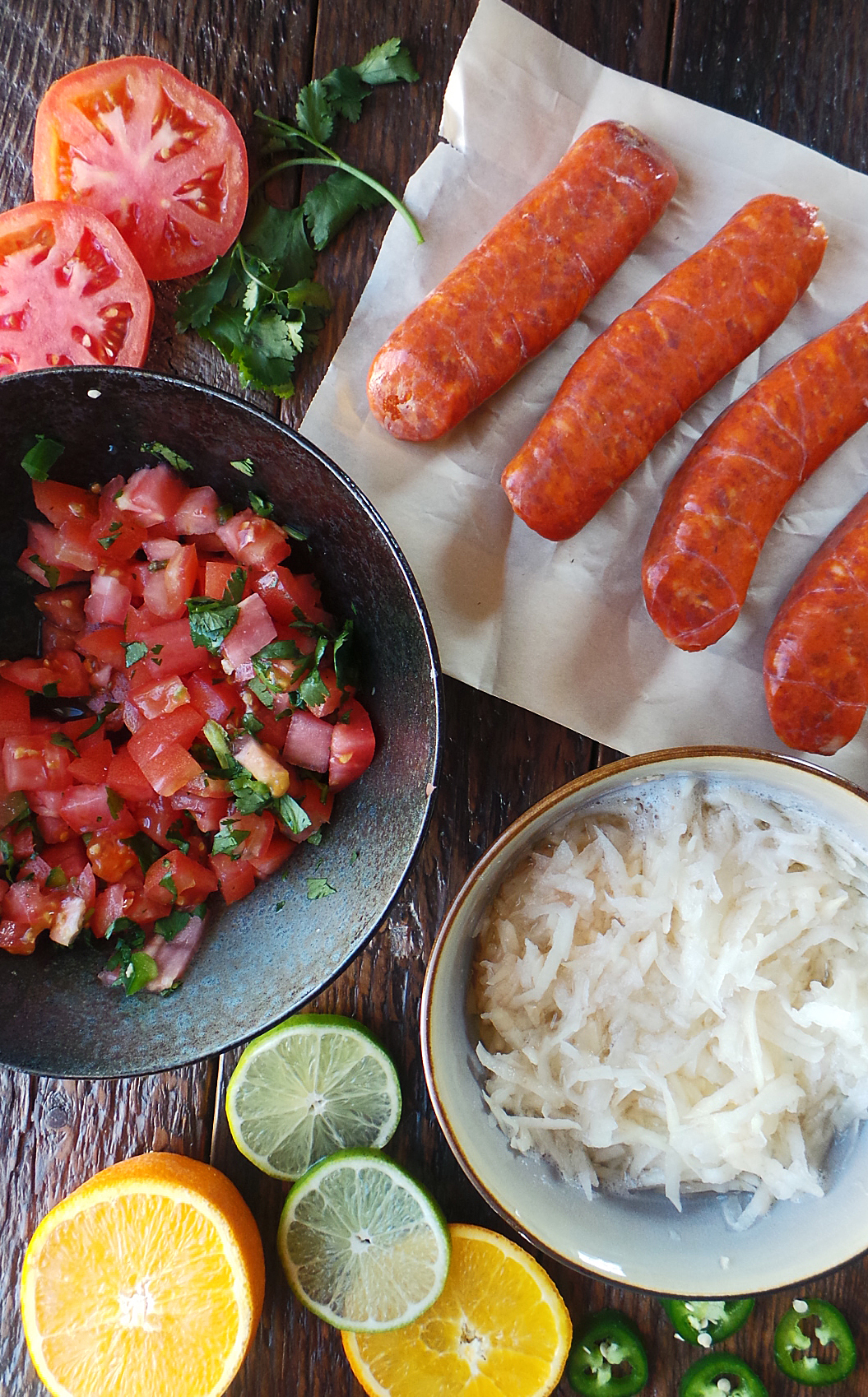 I love chorizo sausage so so much. In the summertime I like to grill the sausage then throw it on a pizza with some grilled peppers, goat cheese, and a basil vinaigrette – YUM. I also take full advantage of it's flavors whenever I'm making paella and now thanks to this, I'll be sure to be enjoying it in my tacos. You can buy chorizo individually at the meat display or in a package with about 5-6 links. Go for the pack!
Every nation's cuisine has a sausage of its own and chorizo happens to be Spain's. The sausage is bright red due to all the smoky paprika which just so happens to be my favorite spice. I love this recipe so much because there's so few ingredients since we allow the sausage to season the dish on its own. The only flavor you'll need to add is some salt to finish. Are you loving it already?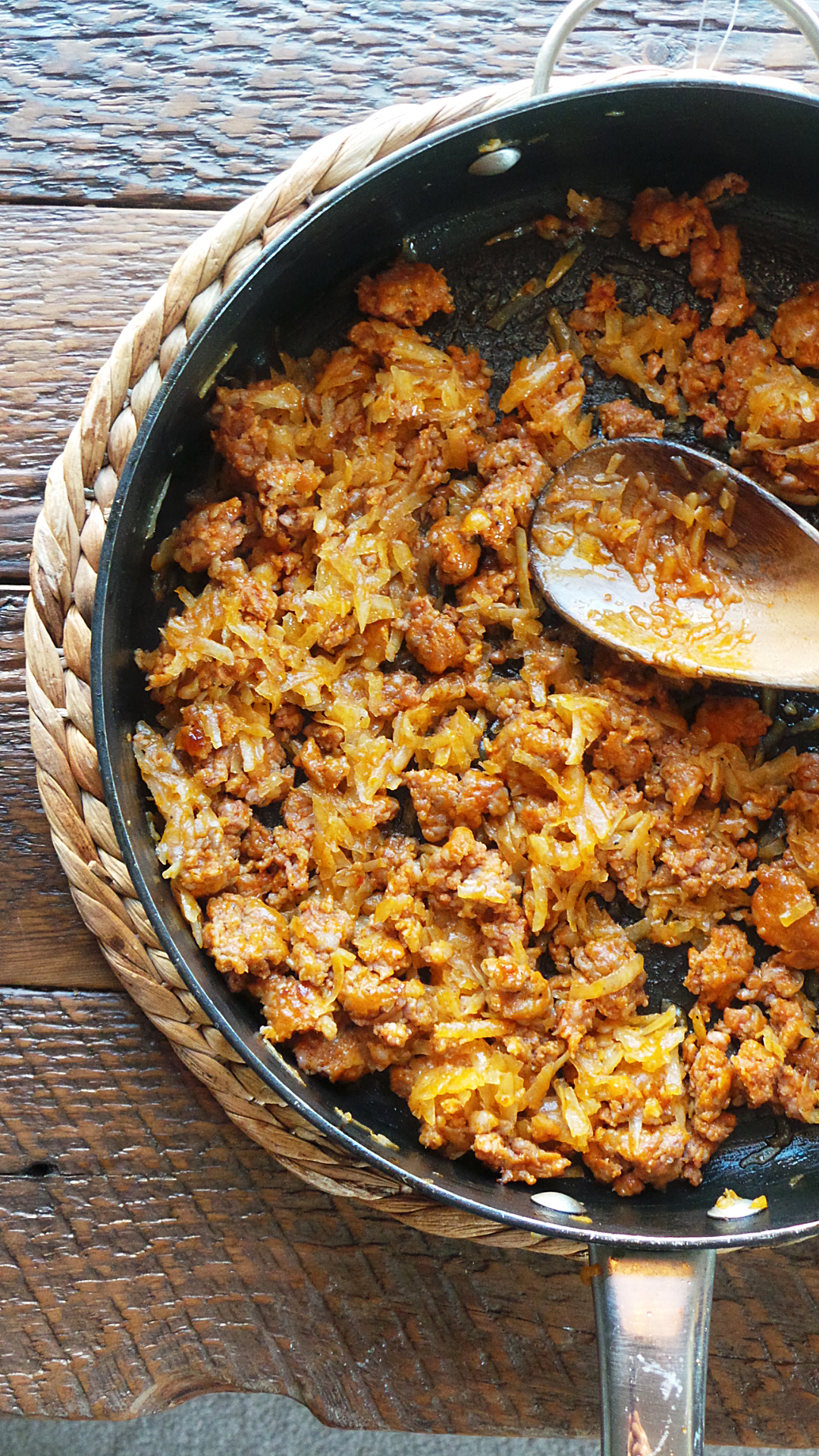 The other highlight of the dish is the potatoes. I peeled and grated one large russet baking potato and added it to my crispy sausage. You can easily dice the potato up, I just thought the grated potato would give some interesting textures. Interesting indeed! Although I loved it, I think next time I'm going to try it out with diced potatoes. Just thinking about crispy creamy little potato bites is making me hungry again. Do whatever you feel comfortable with!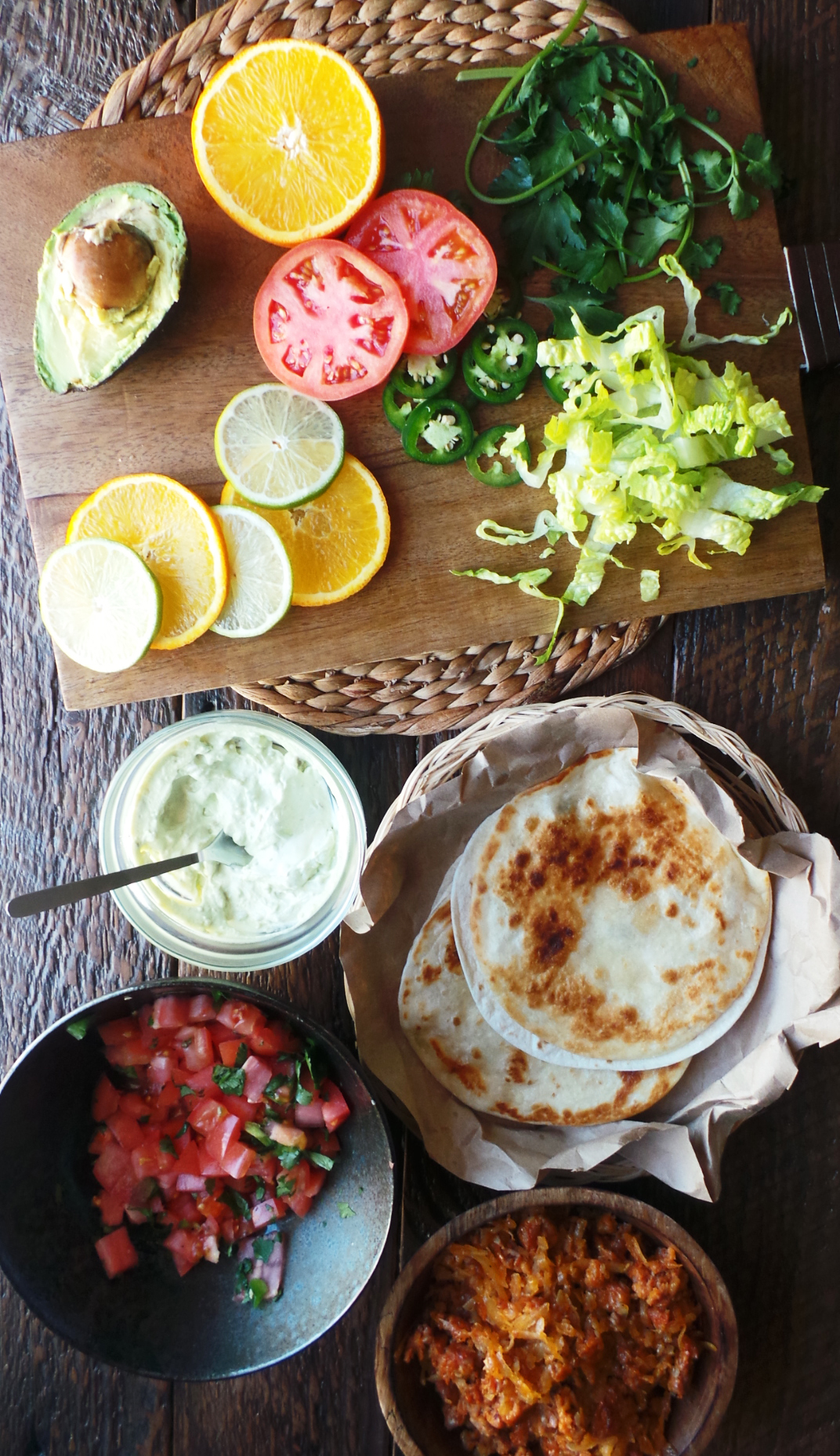 The sausage and potato took about 15 minutes to cook all together. I wanted to keep the base of the tacos simple leaving some wiggle room for creativity in the toppings. I'm not going to list all of the toppings in the recipe because I encourage you to whip up a few fun ones. Here are some of my favorites:
Tomato Citrus Salsa: diced tomatoes, red onion, cilantro, orange juice, lime juice
Avocado Crema: sour cream, mashed avocado, dash of hot sauce
Sliced jalapeno, goat cheese, lettuce, cheddar cheese, cilantro leaves and stems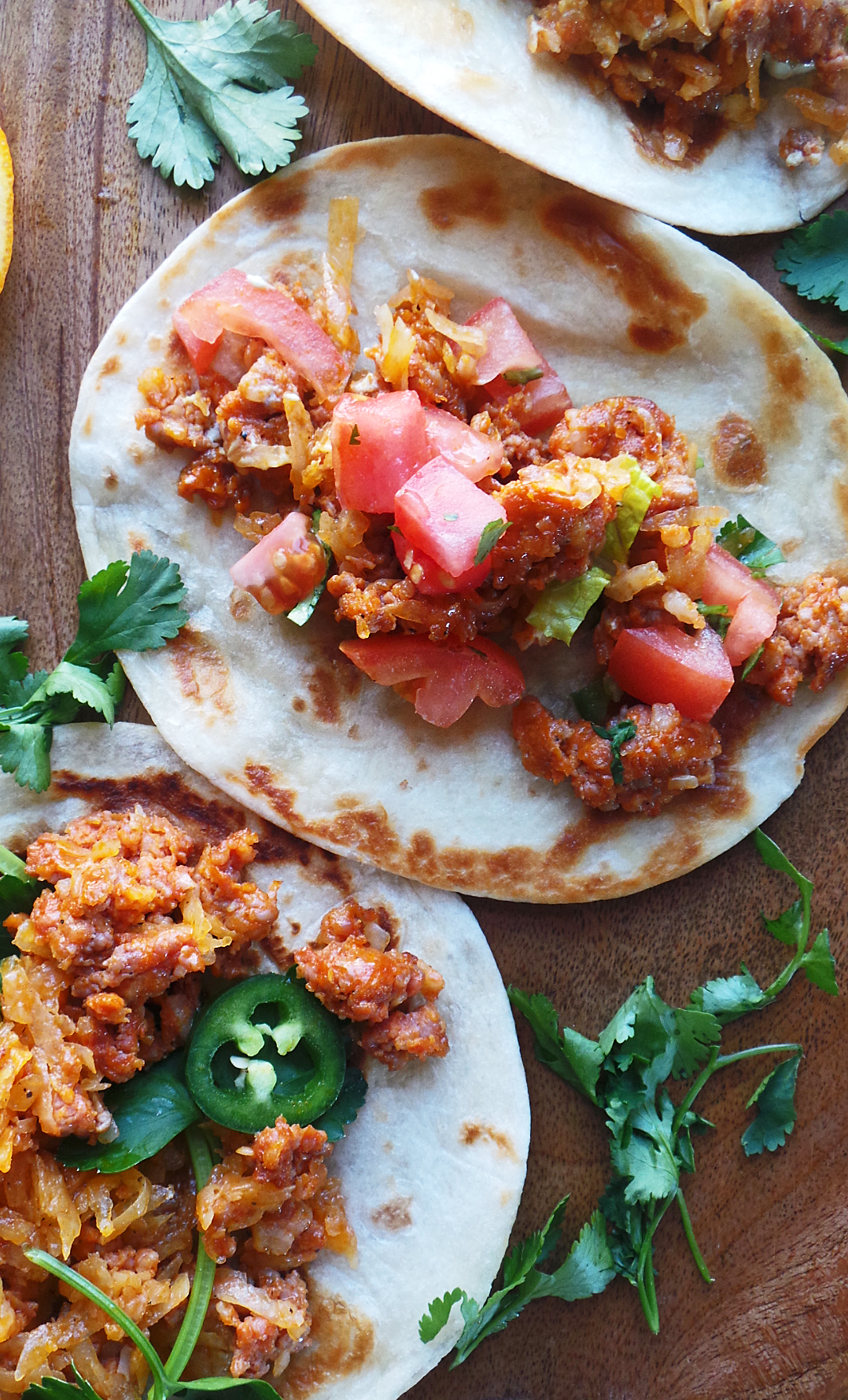 There are so many endless toppings you can top off your taco with so get fun and creative with it! I have two life saving taco tips appropriate for any taco of any sort:
1. Use the stems
2. Mix everything Together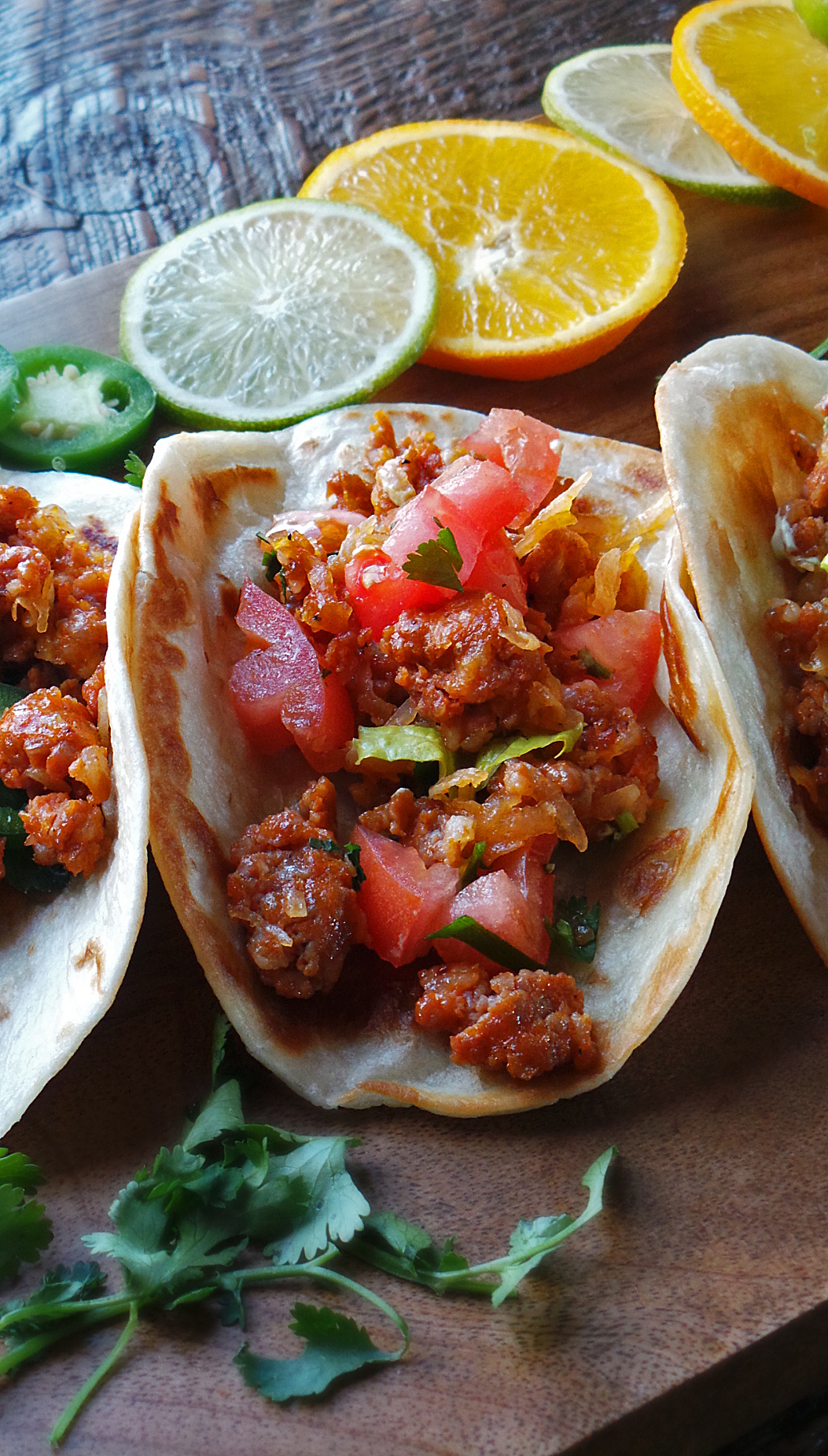 If you've never bit into a cilantro stem you are missing a PUNCH of flavor and not to mention a little pleasant crunch. Tossing the taco mix with your toppings before throwing it into the tortilla takes your taco to the next level. OH one more! Crisp up your tortilla in a little oil over the stove or throw it over the grill.
Crispy, smoky, spicy chorizo with tender potato slices stuffed inside a charred tortilla will take over the world. Enjoy!
Potato & Chorizo Tacos
2015-02-15 19:02:17
Serves 8
Ingredients
5 pork chorizo sausage links
1 russet baking potato
2 garlic cloves, smashed
flour tortillas
canola oil as needed
kosher salt as needed
toppings of choice, see post
Instructions
Heat some oil in a large skillet over medium high heat.
Peel the potato and grate with box grater OR cut into a small dice. Whichever you prefer! To prevent browning add the potatoes to a bowl of water, just be sure to rinse and dry before cooking.
Remove the sausage from the casing. Crumble the sausage into the hot skillet and break apart with a wooden spoon. Cook until crispy, 5-7 minutes.
Add the potatoes and smashed garlic, cooking over medium heat for 10 minutes until the potatoes are tender and no longer have a raw potato taste. If you are using diced potatoes, par boil them for 4-5 minutes before adding to the sausage. You can also just zap them in the microwave with a half cup of water for 5 minutes.
Taste the taco mix and adjust salt if necessary. Remove the smashed garlic.
Heat a tablespoon more of oil in a separate pan and crisp the tortillas for 2 minutes on each side, if desired.
Stuff tacos and top with toppings of choice. Read the post for great suggestions!
Notes
This mix had enough to fill at least 10 small tortillas, so adjust ingredients as necessary!
If you've never had chorizo, buy an individual link at the butchery and test it out 🙂
http://www.vodkaandbiscuits.com/