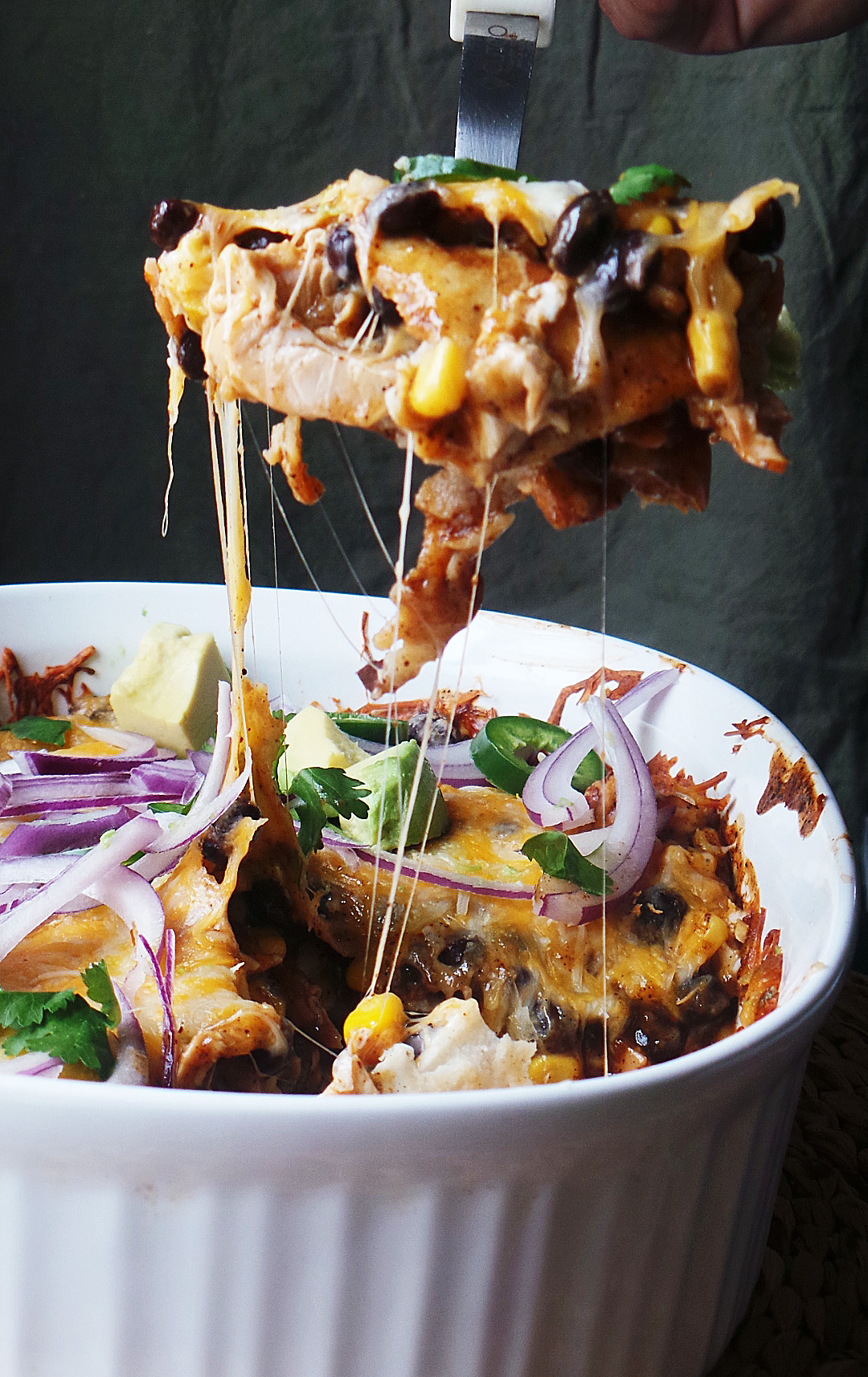 I think I know what the world wants from me and it's pictures and recipes with cheese. I made this CHA-EEZY Chicken Enchilada Casserole during a snow storm a few weeks back so we can have something to munch on. Let's just say I'll never make a casserole during a snow storm again because when I'm stuck in the house for an entire day with nothing to do and a casserole in front of me….I'll let you finish that in your mind.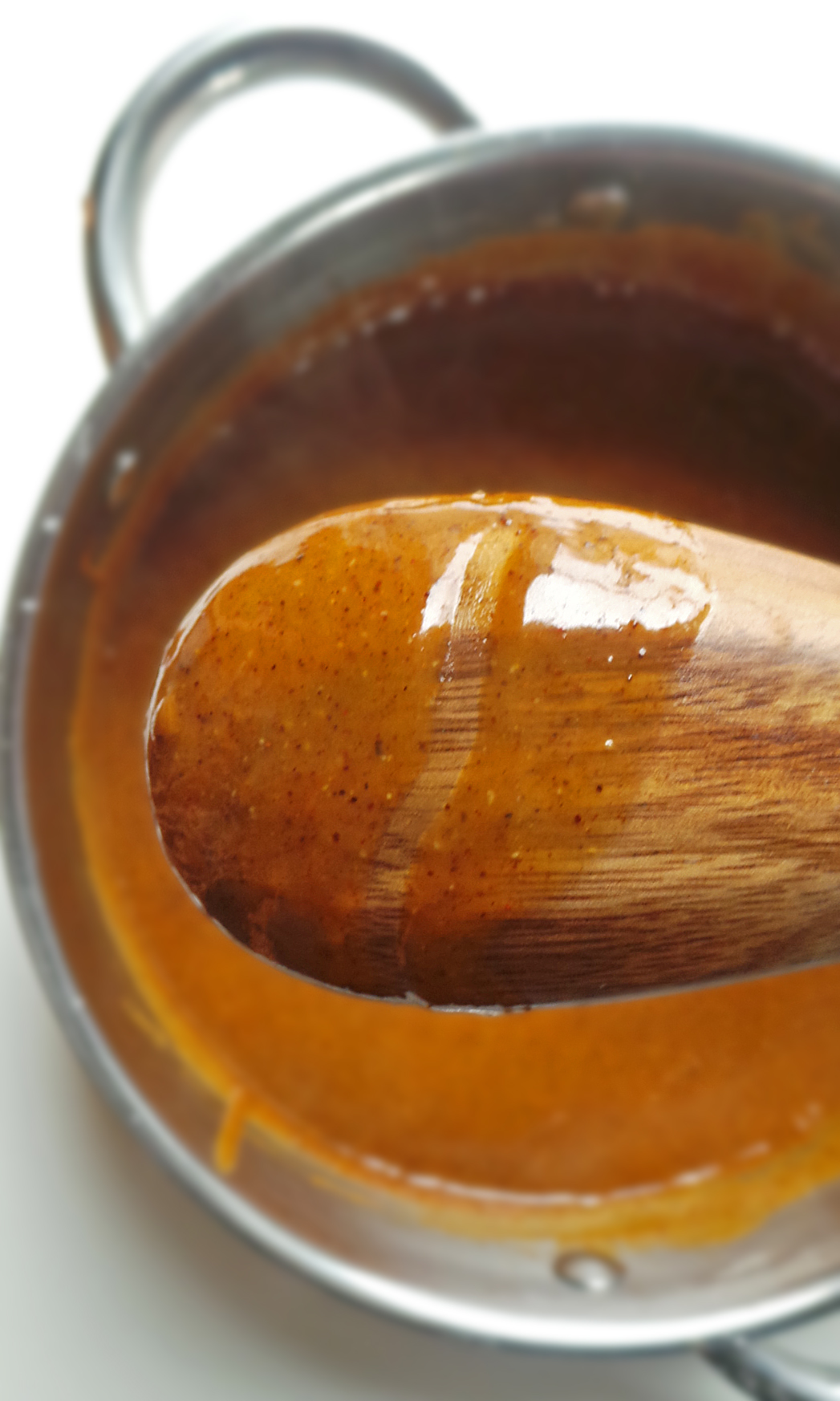 I really didn't intend on this being as good as it was, so I took a few (literally two) pictures and threw the recipe up on Vodka & Biscuit's Facebook page. Every once in a while I'll share a recipe on there that's not on here, but after this one was featured on the feedfeed and BLEW UP, I had to give it a home base.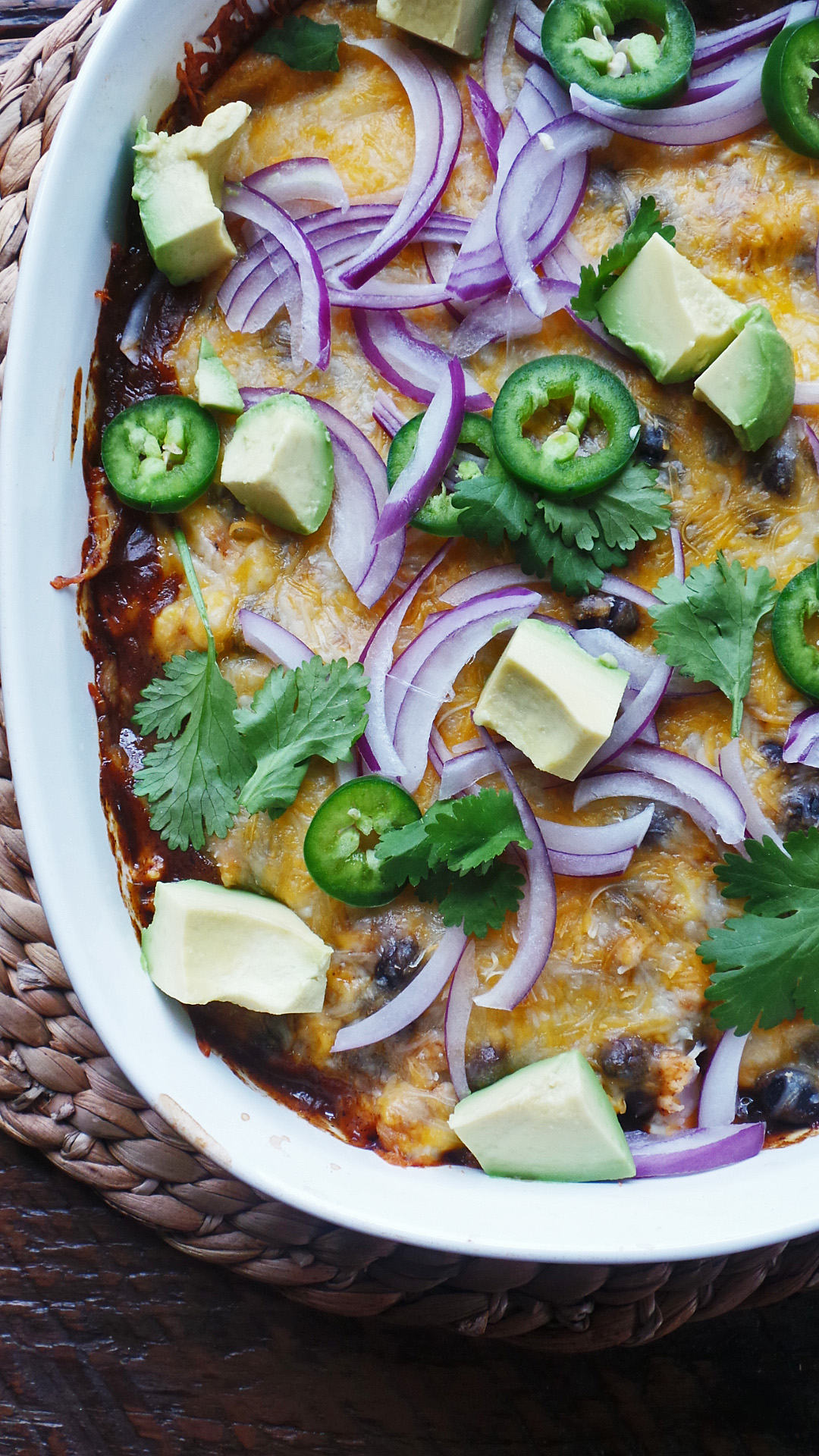 So here I am with three pictures and a simple recipe to convince you to make this easy and amazing chicken enchilada casserole. It's like 300 calories a serving and you can get as fancy as you'd like with the toppings. Also not to mention this homemade enchilada sauce is life changing but I'll let you figure that one out. 'njoy!
Homemade Enchilada Sauce
2015-03-12 06:18:17
Serves 8
Ingredients
2 T. butter
3 T. all purpose flour
2 T. chili powder
1 t. cumin
1 t. garlic powder
1/2 t. black pepper
1/4 t. cayenne pepper
pinch of cinnamon
pinch kosher salt
2 c. low sodium chicken broth, cold
Instructions
Make a roux by melting the butter and whisking in the flour. Let it cook for two minutes over low heat. The best way to tell if your roux is ready to work with is to smell it! Once you no longer smell raw flour - or only smell butter - it's ready!
Toss in the seasonings and cook another minute stirring to coat in the roux. This will toast the seasonings, YUM.
Whisk in the cold broth until there are no longer any lumps. Bring to a simmer then reduce to low until thickening. Keep warm until needed.
Notes
double to make extra because nobody has ever complained about too much of this sauce!!!
http://www.vodkaandbiscuits.com/
Cheesy Chicken Enchilada Casserole
2015-03-12 06:22:05
Serves 8
Ingredients
3 c. cooked chicken, shredded or diced
2 c. homemade enchilada sauce, see attached recipe
1 can corn, drained
1 can black beans, rinsed and drained
2 c. low-fat mexican cheese
6 corn tortillas, halved
Optional toppings
jalapeno slices
light sour cream
avocado chunks
lettuce
tomato
cilantro
Instructions
Preheat oven to 350
Mix together the beans and corn, then have remaining ingredients ready to build the casserole. Spread enough enchilada sauce to cover the bottom of a casserole or baking dish. This will use about 1/4 to 1/2 cup of sauce, depending on the size of the dish. Evenly spread out half of the chicken, third of the cheese, and half of the corn mix. Top with halved corn tortillas.
Repeat until all the ingredients are used and the dish is filled. Finish the final layer with cheese.
Bake until bubbly and the cheese has melted, about 25 mins. Top with desired toppings.
Notes
You can also mix the chicken, corn, and beans, into the sauce before layering!
http://www.vodkaandbiscuits.com/