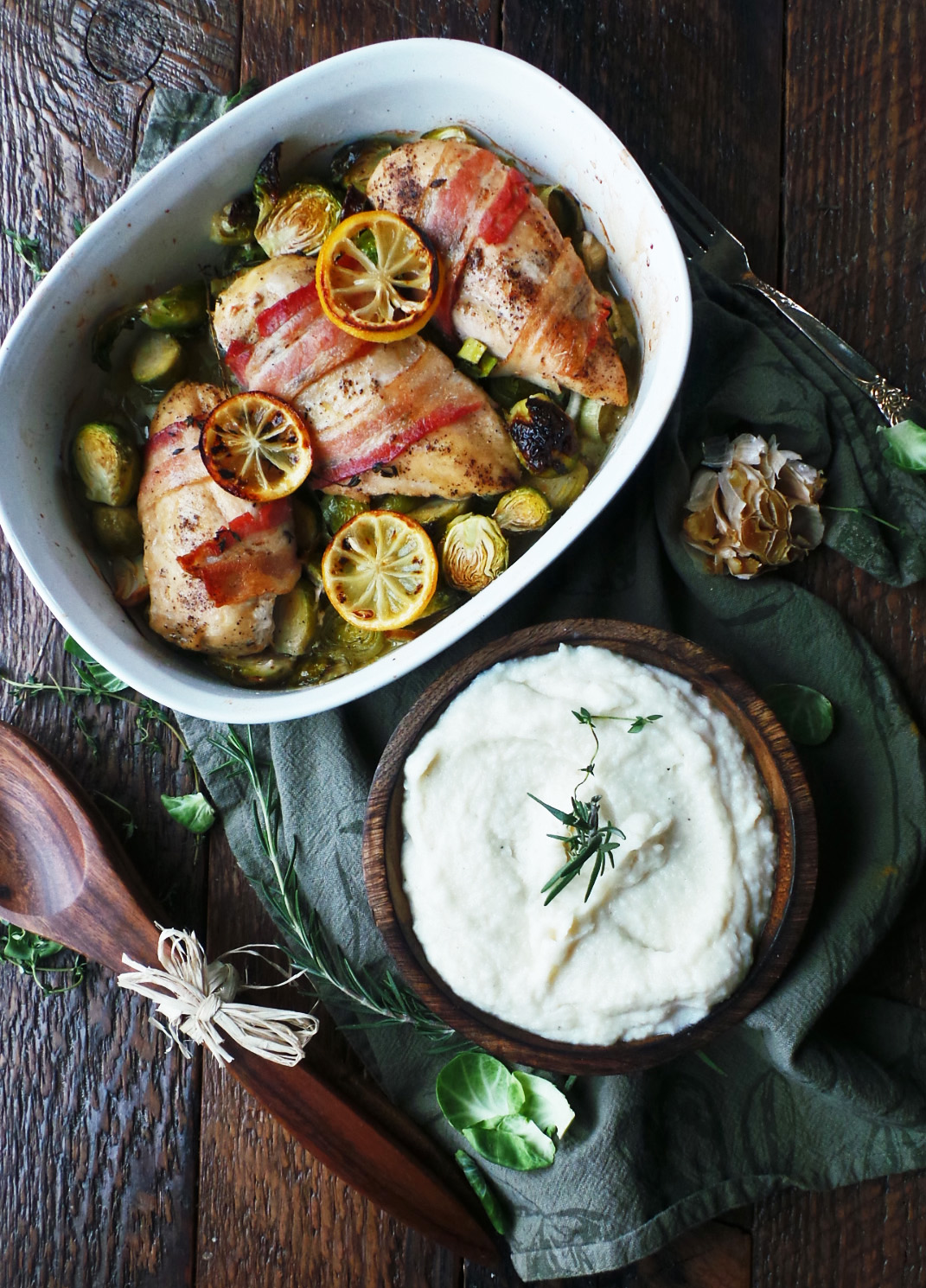 There is nothing more satisfying than a piece of tender juicy chicken, roasted vegetables, and a glass of white wine – LET ME JUST TELL YOU.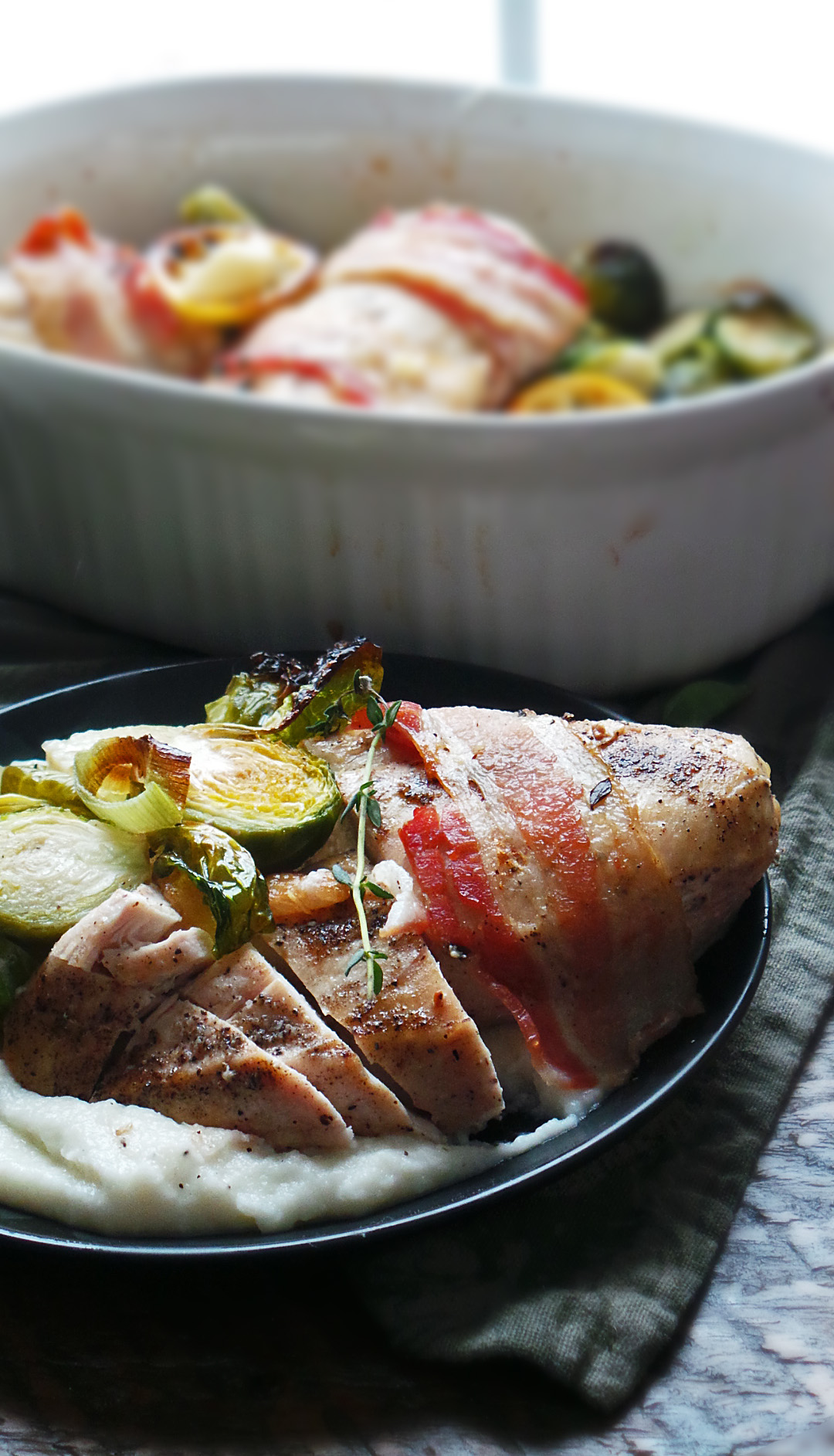 Just when you thought it couldn't get any better, this Roast Chicken & Brussels Sprouts are all done in one-pan, for all those who really want a home cooked meal but just don't feel like cooking (me mon-fri).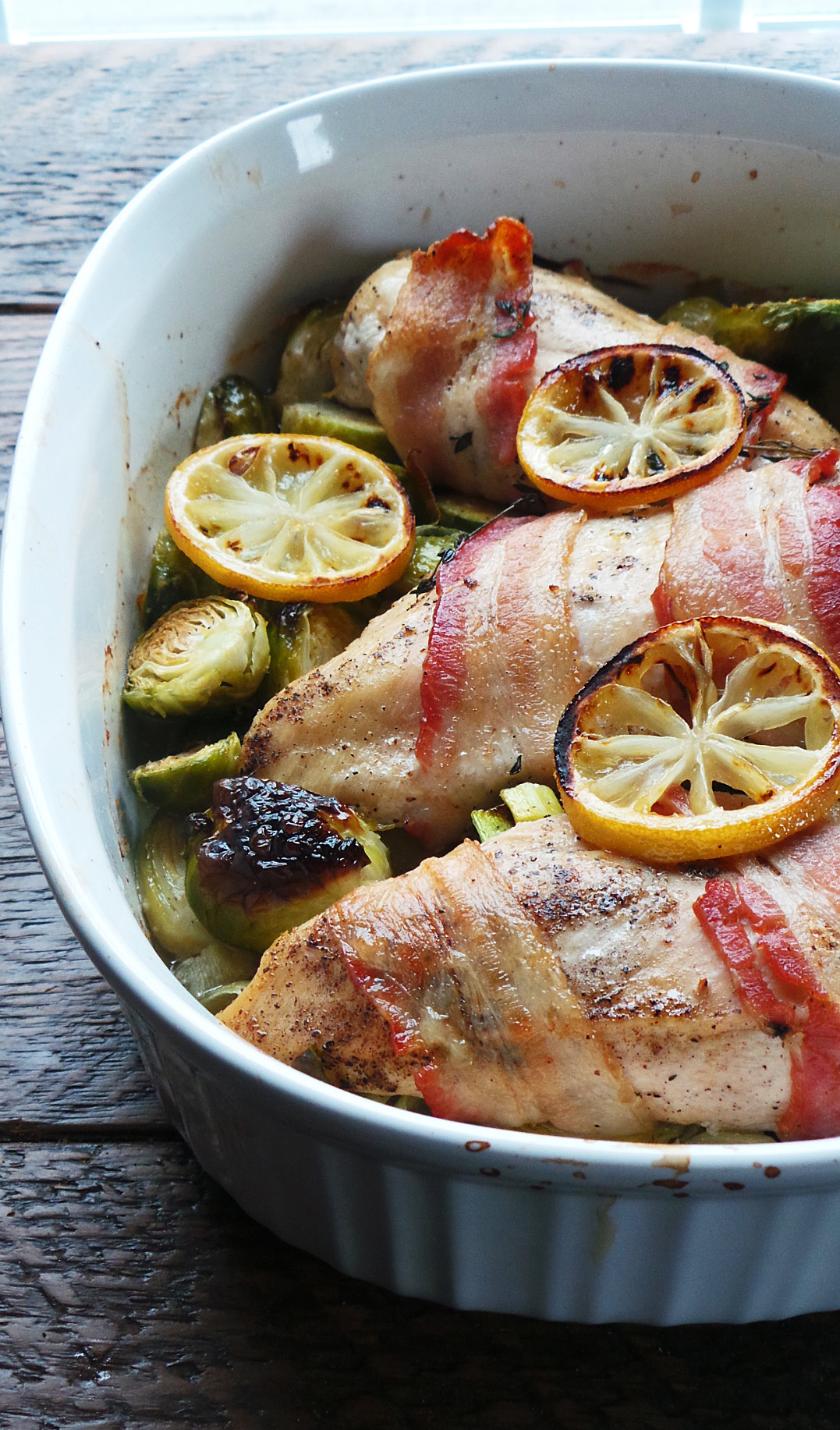 Or should I say that it CAN be done in one pan, since I did brown the chicken before baking but we'll get to that.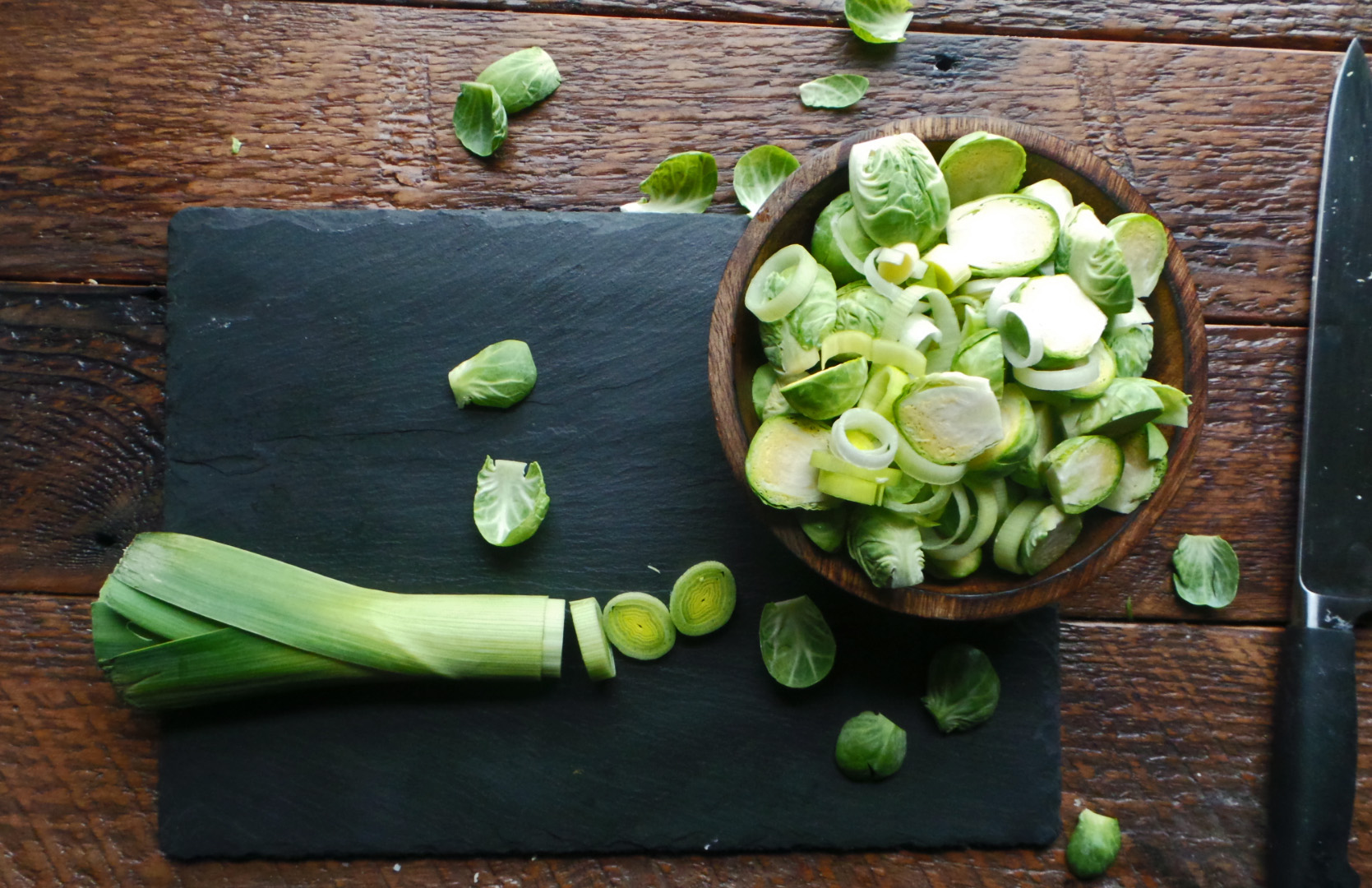 February and March are prime brussels sprouts time making this not only delicious and easy, but seasonally appropriate. I added in some leeks because this girl loves her some leeks.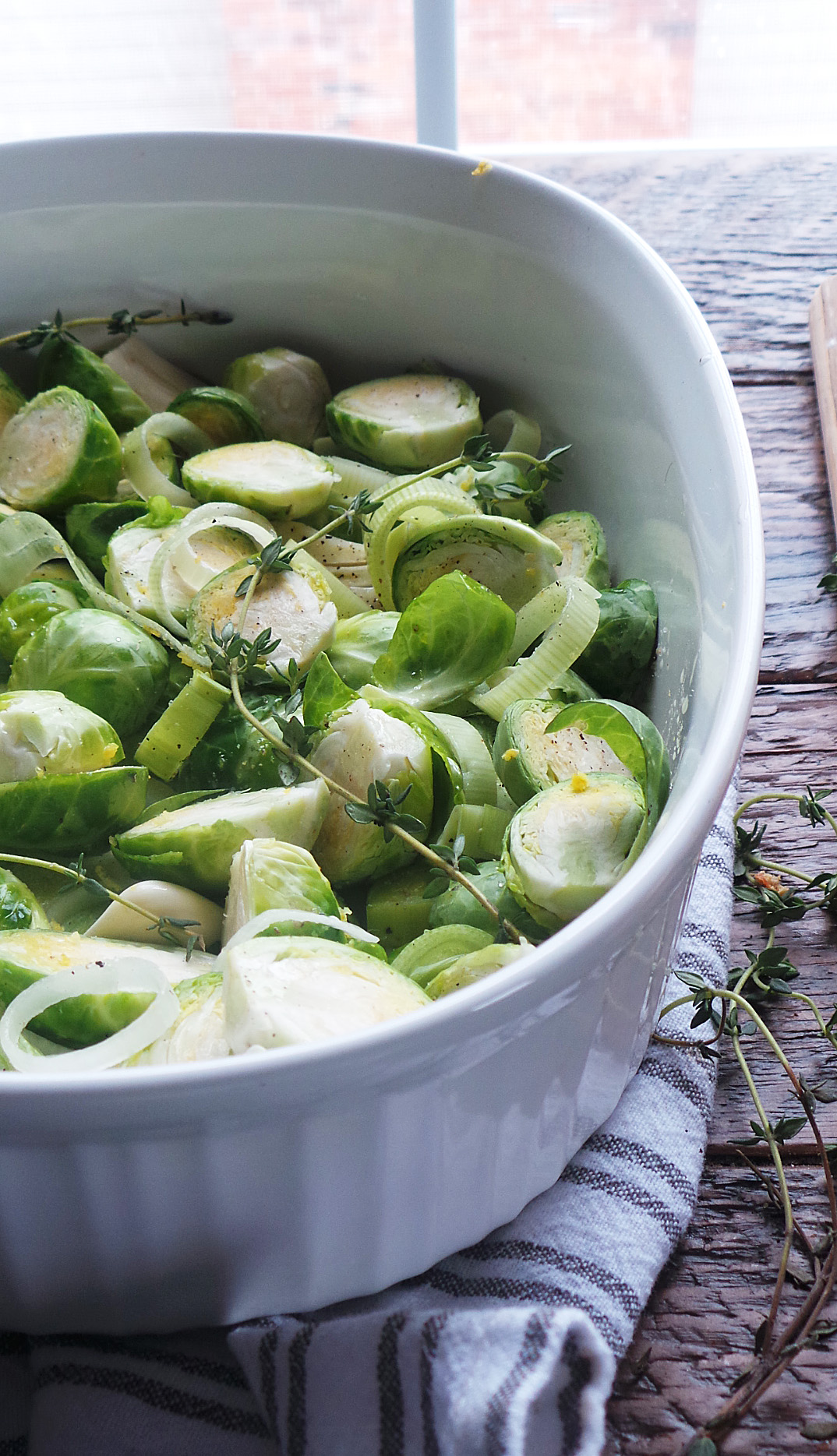 Once your vegetables are prepped, add them to the baking dish and drizzle with a good amount of olive oil, salt, and pepper. Throw in however many cloves of garlic you'd like and a few sprigs of fresh thyme. If you have any rosemary, use that too!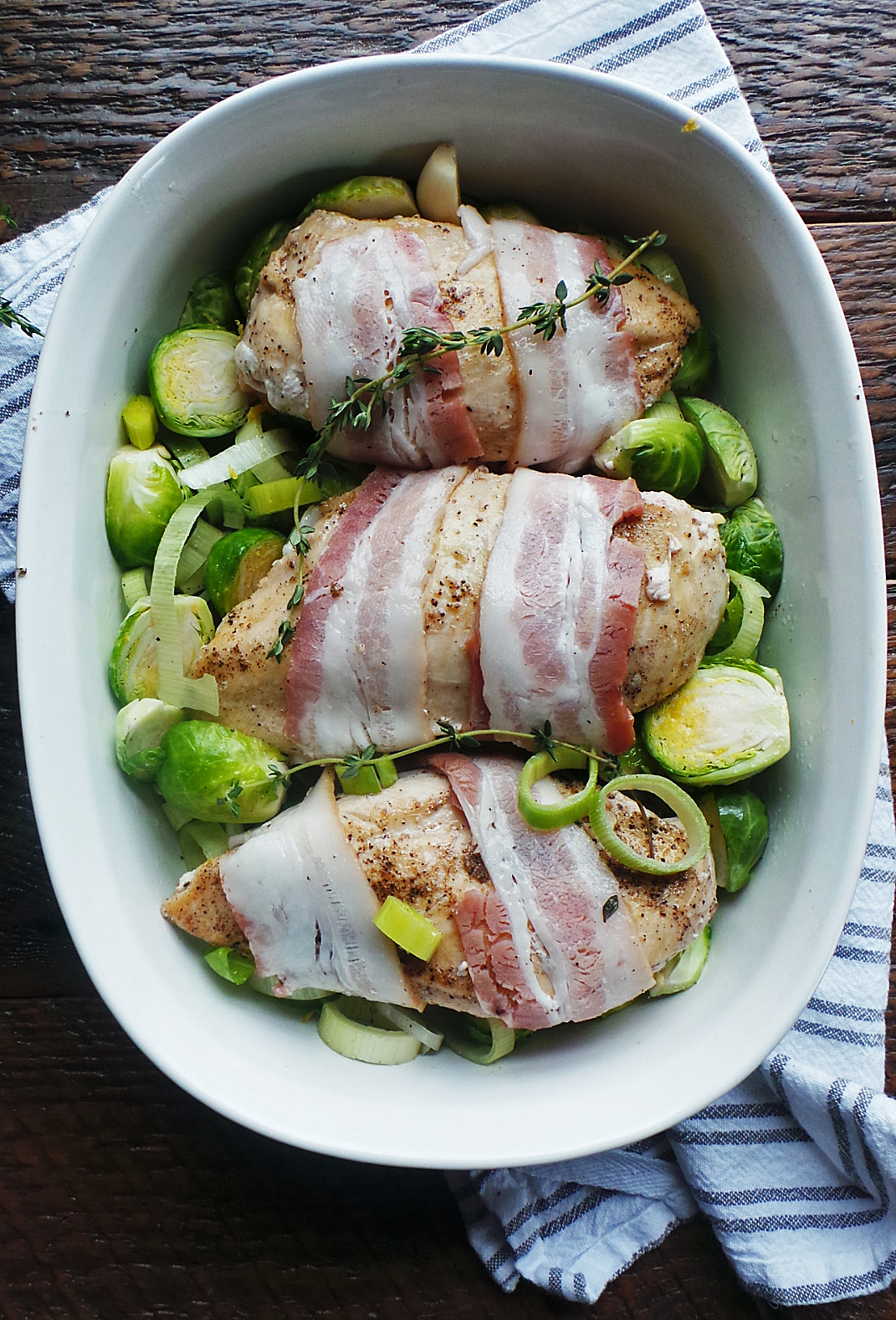 There's a few ways you can go about this part. I had some boneless skinless chicken breasts I had to use up so I decided to wrap mine with bacon while baking. Of all the meats out there, I find boneless skinless chicken breasts the most challenging to cook. In my opinion, it takes skill, preperation, and timing to successfully bake or grill these lean pieces of meat without turning them into rubber. Whenever I'm cooking chicken I always make sure to buy it with the bone and skin attached, unless I'm making a quick saute.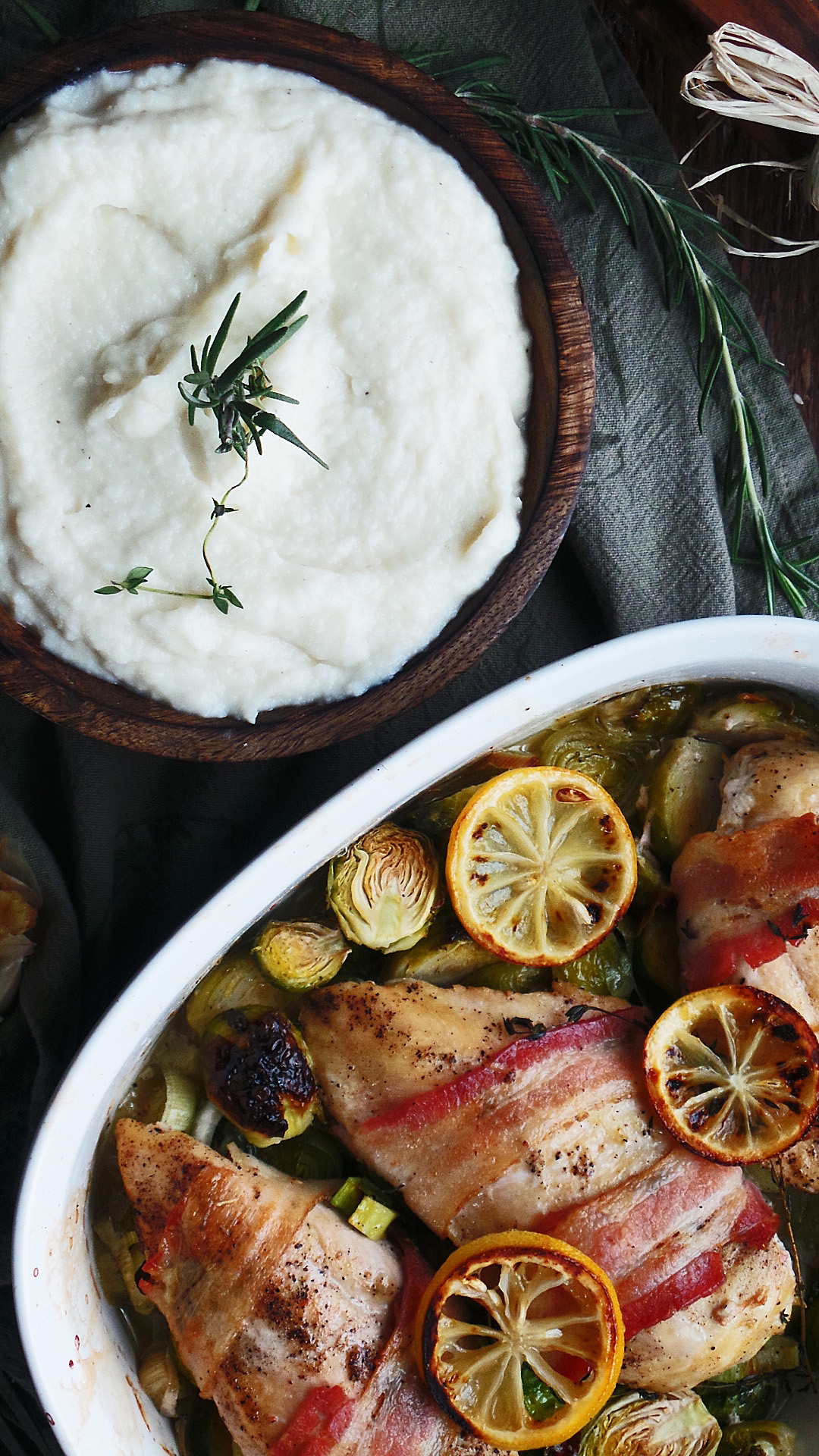 The bone and skin helps trap moisture keeping the chicken juicy throughout. If I'm using plain chicken breasts, the best way to ensure juicy chicken is wrap it with some fat. You can use pancetta, proscuitto, or bacon. Since i'm a big believer in no color no flavor, I brown my meat before putting it in the oven. You can skip this step completely, brown the chicken then wrap with bacon, or brown the chicken already wrapped with bacon. Do whatever you'd like!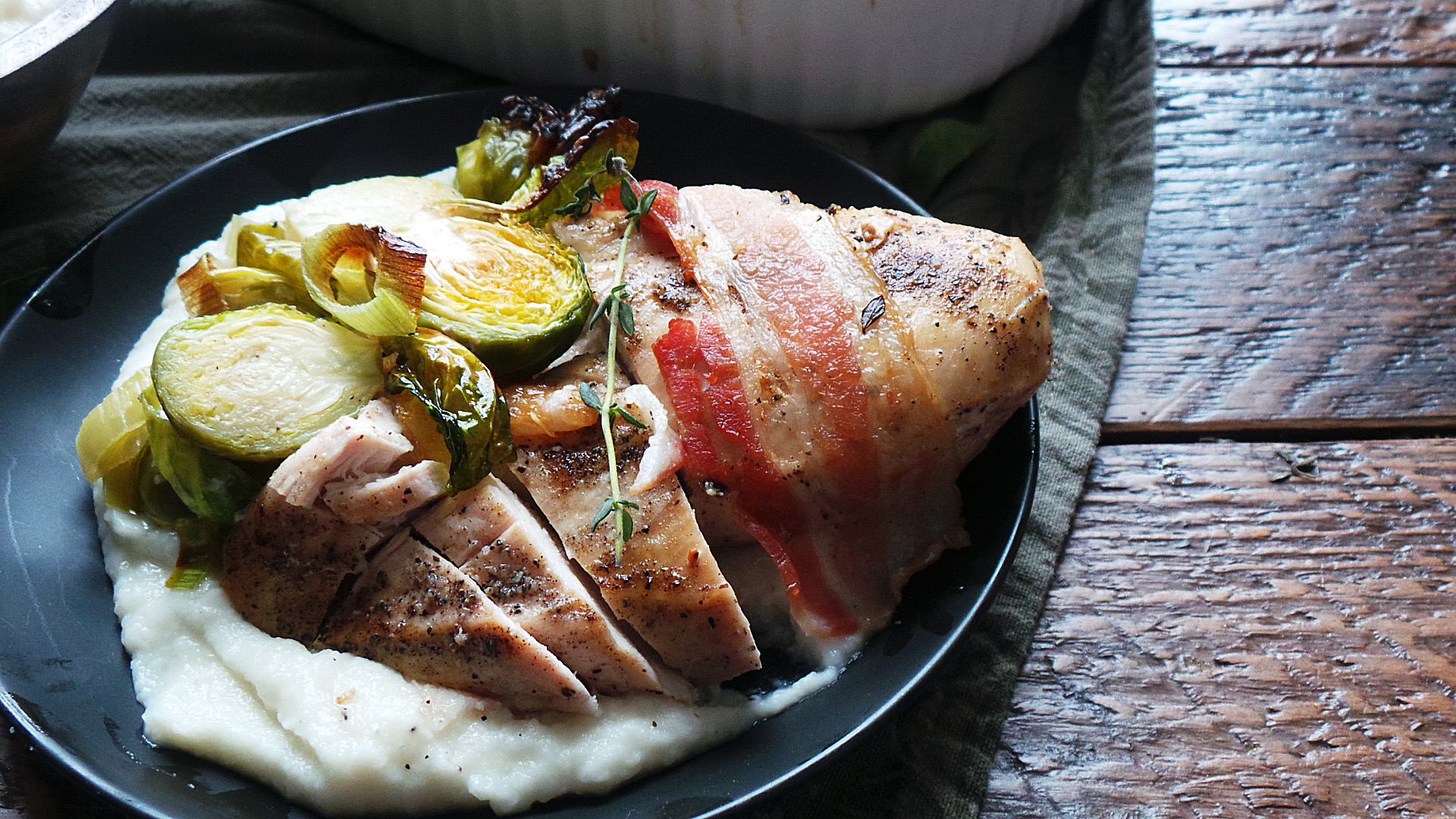 Everything gets added together, baked together, and eaten together. It's a win for all. I served mine over some cauliflower mashed potatoes and had the ultimate mouth party ever. SPEAKING OF, hope you're ready for more cauliflower recipes next week. Enjoy!
Roast Chicken Breast & Brussels Sprouts
2015-03-19 18:58:40
Serves 4
Ingredients
4 chicken breasts
4-8 pieces of bacon
1 lb. brussels sprouts
1 leek
4 garlic cloves
3 lemon slices
1/2 c. chicken broth
salt and pepper
3 sprigs of thyme
canola oil as needed
2 T. olive oil
Instructions
Preheat the oven to 400
Prepare the brussels sprouts by cutting off the stem end then cutting each in half.
Prepare the leek by cutting off the stem end, then slicing the leek into rounds using the white and light green parts only. Add to a bowl of water to rid any dirt, then dry and transfer to a baking dish with the brussels sprouts.
Drizzle the vegetables with olive oil and season with salt and pepper. Set aside until needed.
Add enough canola oil to coat a saute pan, then heat to medium.
Sprinkle each breast with salt and pepper then transfer to the hot oil. Allow to brown 3-4 minutes on each side.
You can wrap the bacon before or after this step, totally up to you, just allow the chicken to slightly cool if you're doing it after browning.
Transfer the bacon wrapped chicken to the dish with the vegetables. Add the garlic, lemon slices, thyme, and chicken broth. A splash of wine wouldn't hurt either!
Bake for 25-30 minutes or until your meat thermometer reaches 160. If you want your bacon to be extra crispy, crank up the broiler and allow to cook under the broiler for a few extra minutes.
Serve over creamy mashed potatoes and enjoy!
Notes
To help get the bacon super crispy you can wrap it around the chicken before browning, you may just need a toothpick to hold it together!
If you wan't to make this a true one-dish meal, just add the vegetables, wrapped chicken, and remaining ingredients to the pan and throw it in the oven. The baking time will increase about 20 minutes. You don't have to brown the chicken prior!
http://www.vodkaandbiscuits.com/