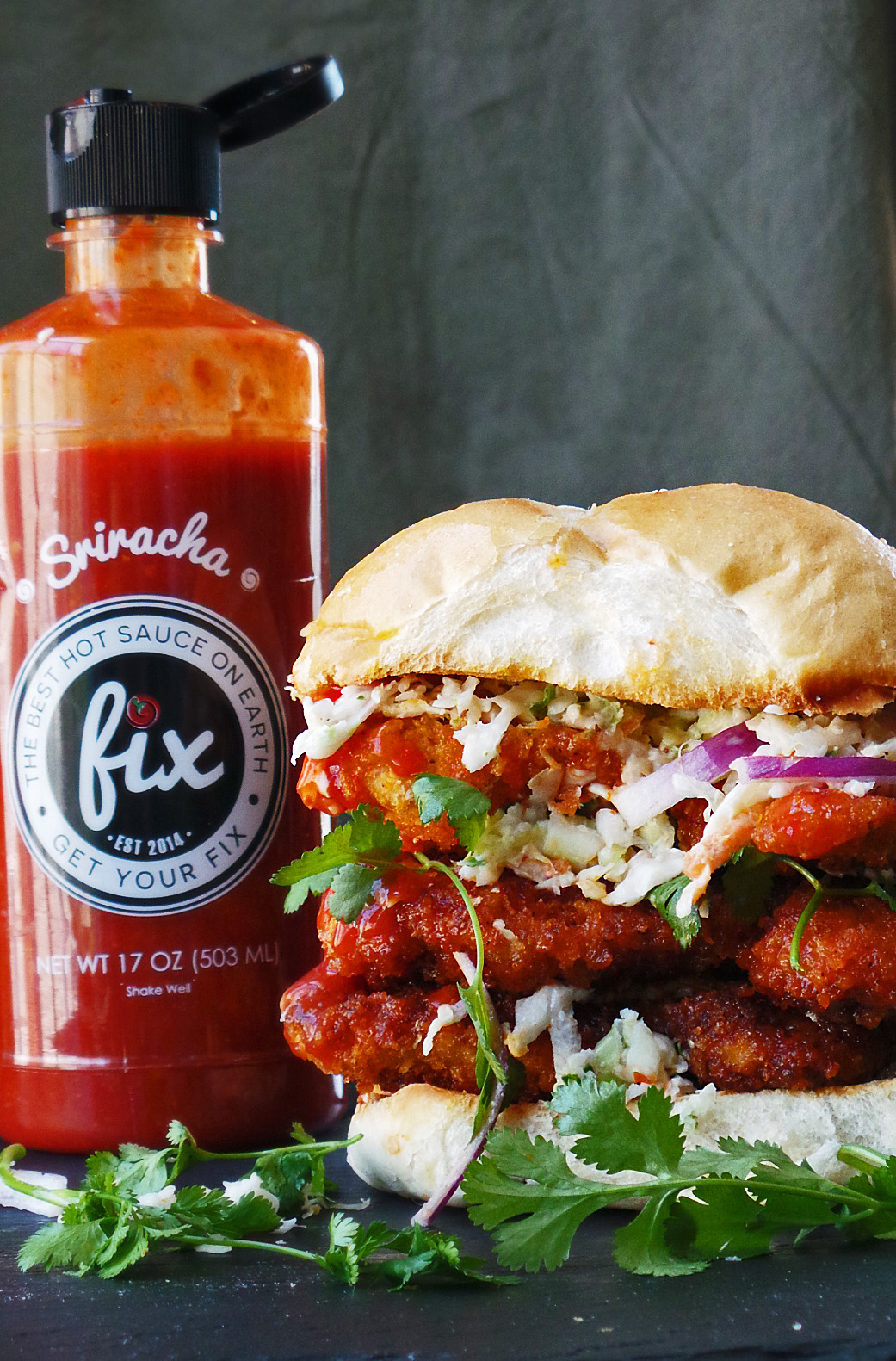 I hope you like it spicy cus' things are about to get hot.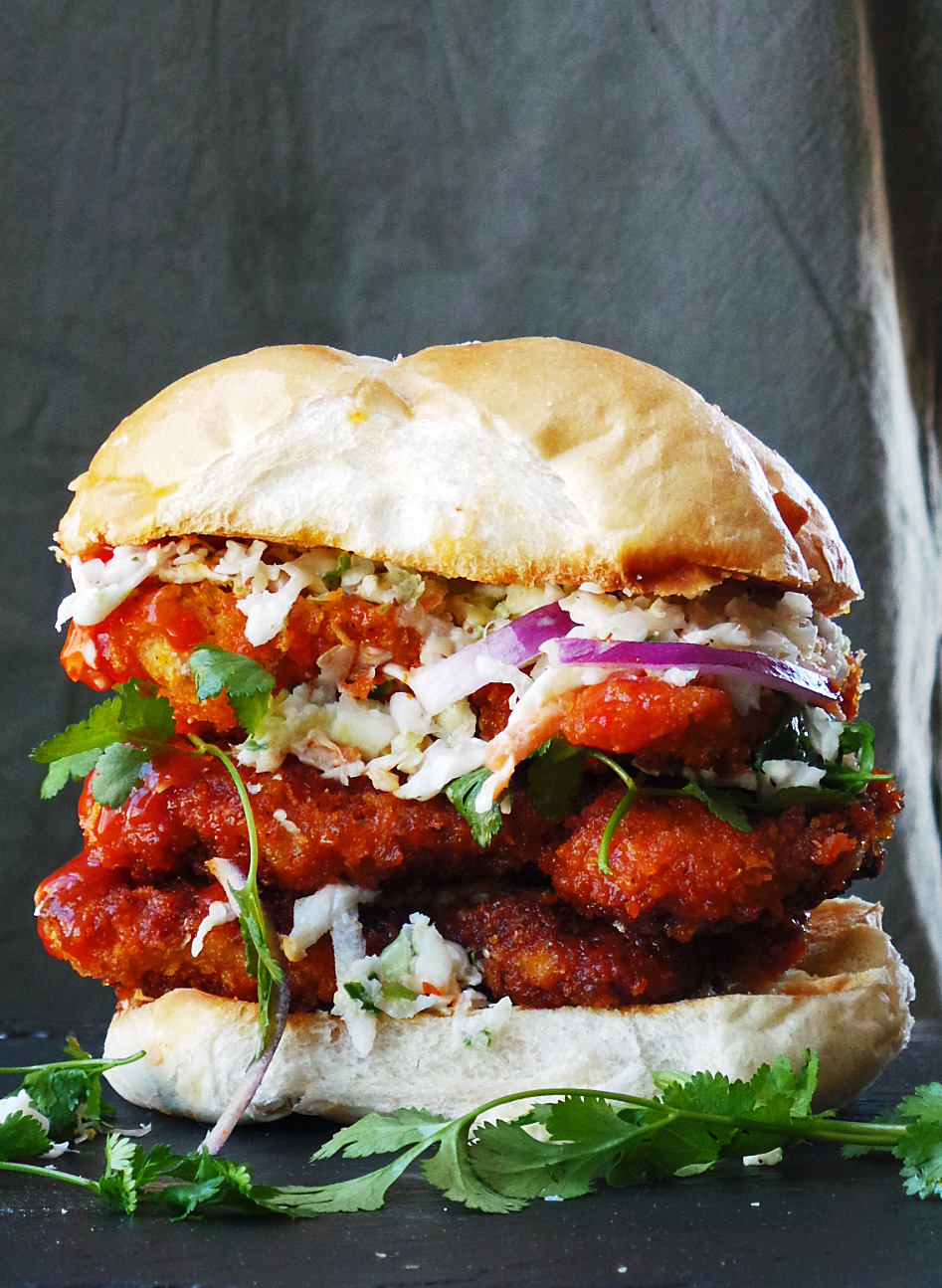 I was recently introduced to Fix Sriracha hot sauce and now my taste buds demand a Fixin' with every meal. This stuff is bomb and I hope by the end of this post you'll be craving some like I am.
I've been on a hot sauce frenzy lately and the Fix team noticed. When they shared with me their product and passion for all things spicy, literally telling me they live and breath hot sauce – I knew they spoke my language and I wanted to try this stuff out immediately.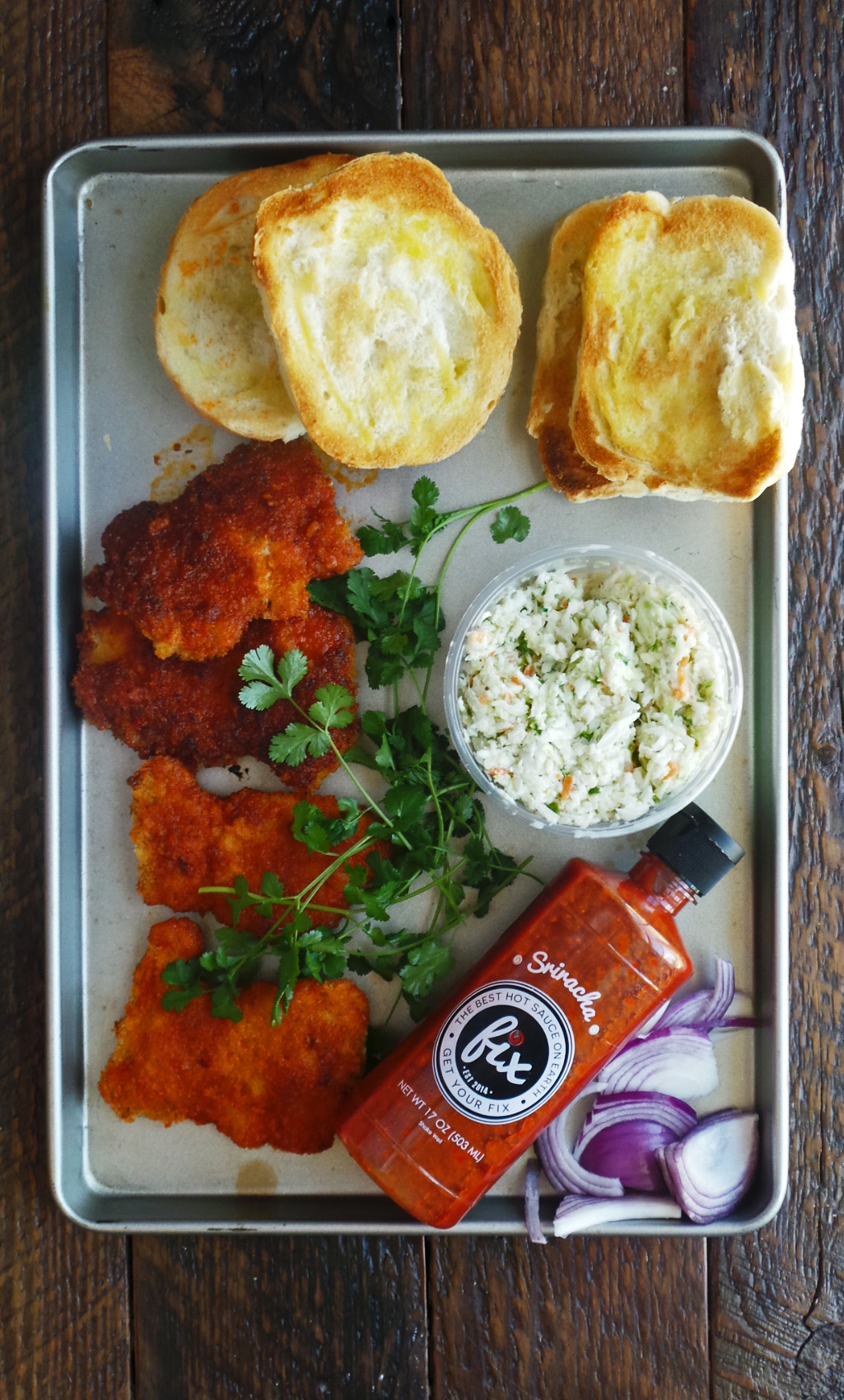 Their mission was to create a Sriracha hot sauce with bold and authentic South Asian flavors and needless to say, they nailed it.
The inspiration behind this Sriracha Chicken Sandwich came from my friend who recently went on a road trip down south. I'm still hearing her talk about all the food, but what stuck out to me most was a flaming hot chicken sandwich she had. Chicken brined, battered, and fried, then drenched in a hot sauce and thrown between two toasted rolls with crisp coleslaw. I knew instantly I wanted to recreate her mouthwatering sandwich with a little Fix.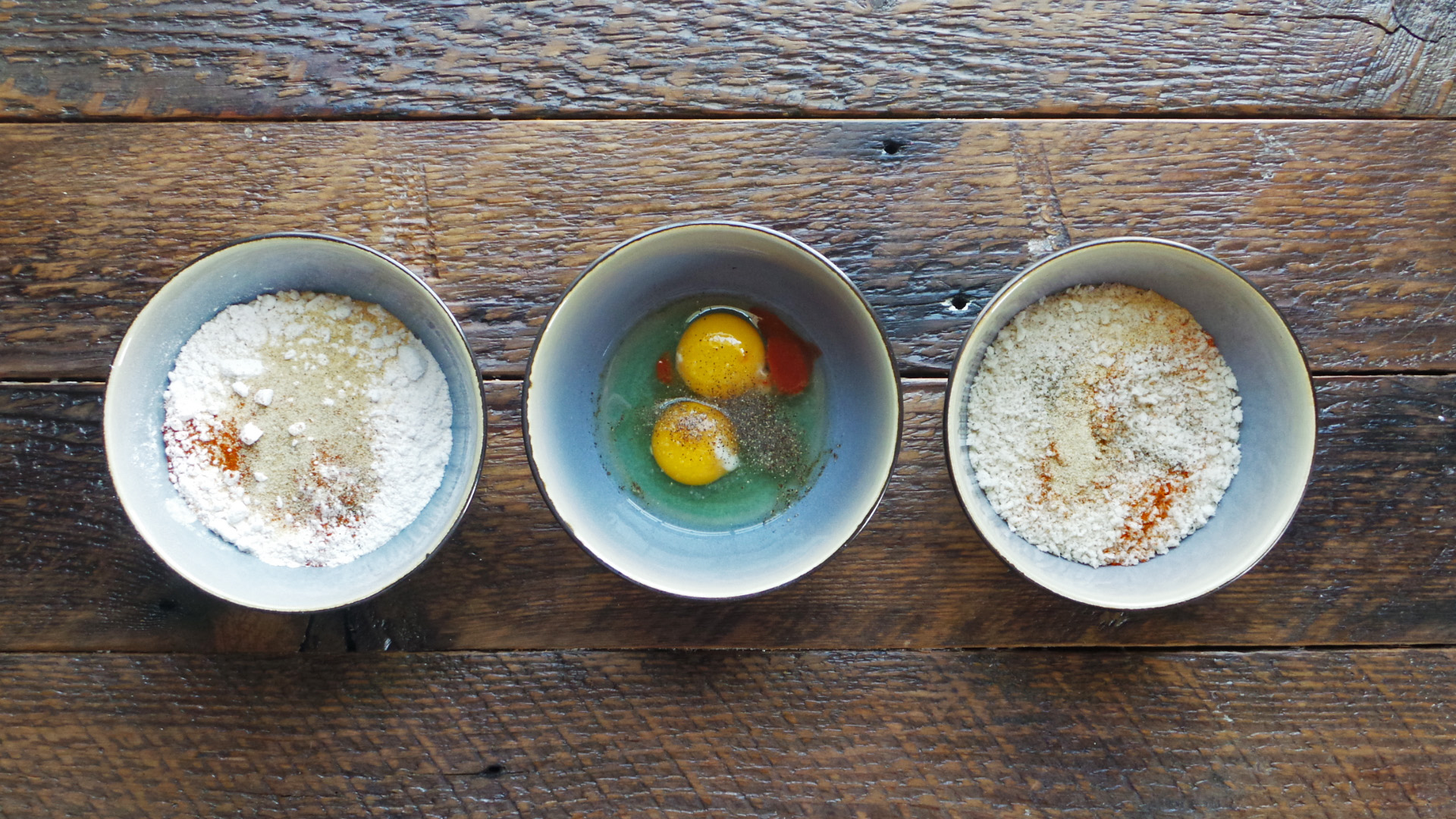 I used boneless skinless chicken thighs for a few reasons. One, they're already uniform in size so there is no need to cut or pound out the chicken – and two, you know I love my flavor filled dark meat. I wanted the chicken to be crispy with a crunch so I used the standard breading procedure (flour, eggs, breadcrumbs) with Panko breadcrumbs. I'm a big fan of buying plain Panko crumbs and seasoning them myself. I used a combination of garlic powder, salt, pepper, paprika, and poultry seasoning. Do your thing!
I also flavored the eggs with a little salt, pepper, and hot sauce. Take advantage of any chance you get with flavor.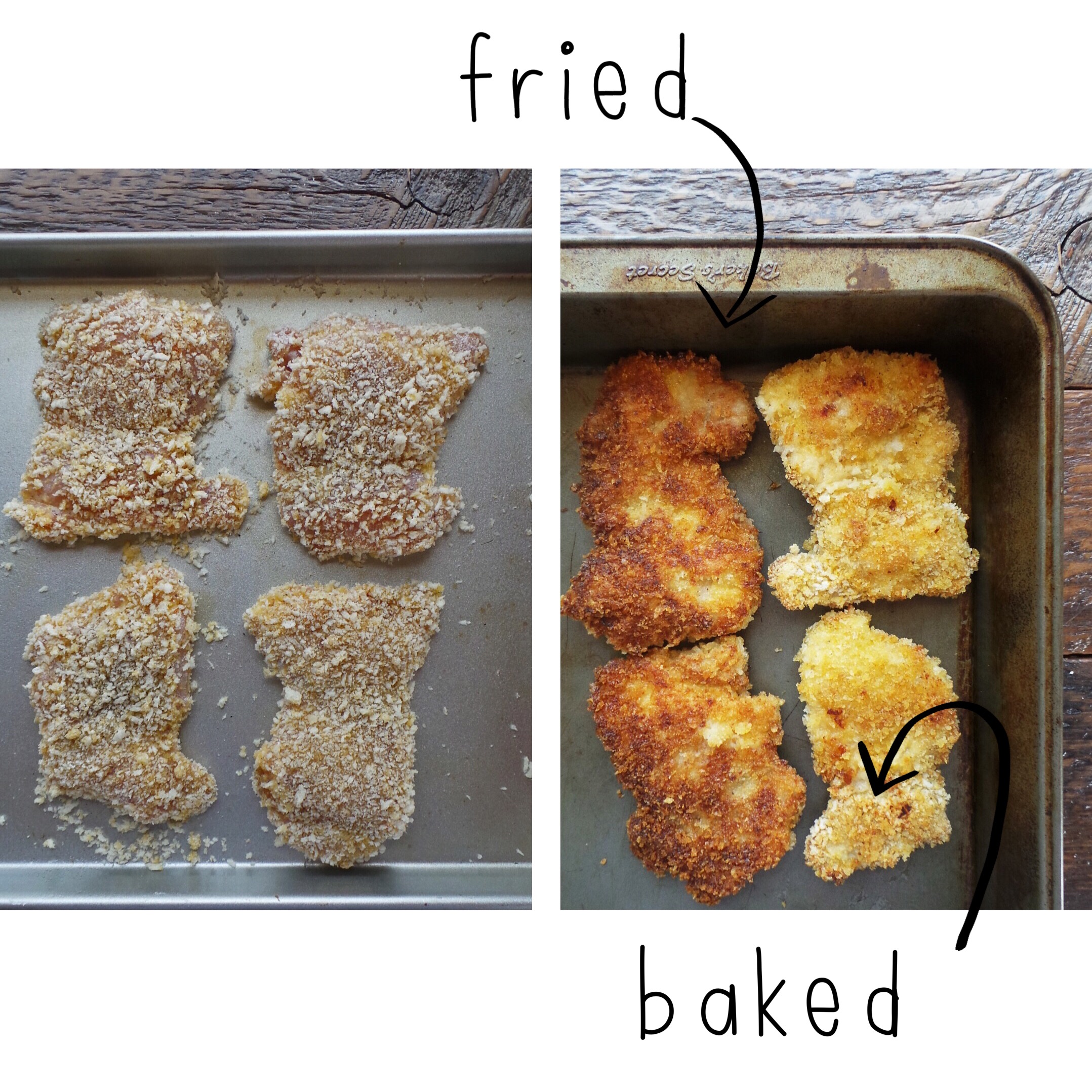 I went ahead and cooked the chicken two different ways: pan-fried and baked. I had a few girlfriends over while making this and they tried both versions and couldn't have been happier with either. Regardless of how you cook your chicken, it'll taste great. I do like pan frying because it takes a heck of a lot faster and gives the chicken a crunchier texture. Although the baked chicken did still come out crunchy, it takes about a half hour in the oven. It still wasn't as golden brown as I'd want it, but I was afraid any longer in the oven it would dry out.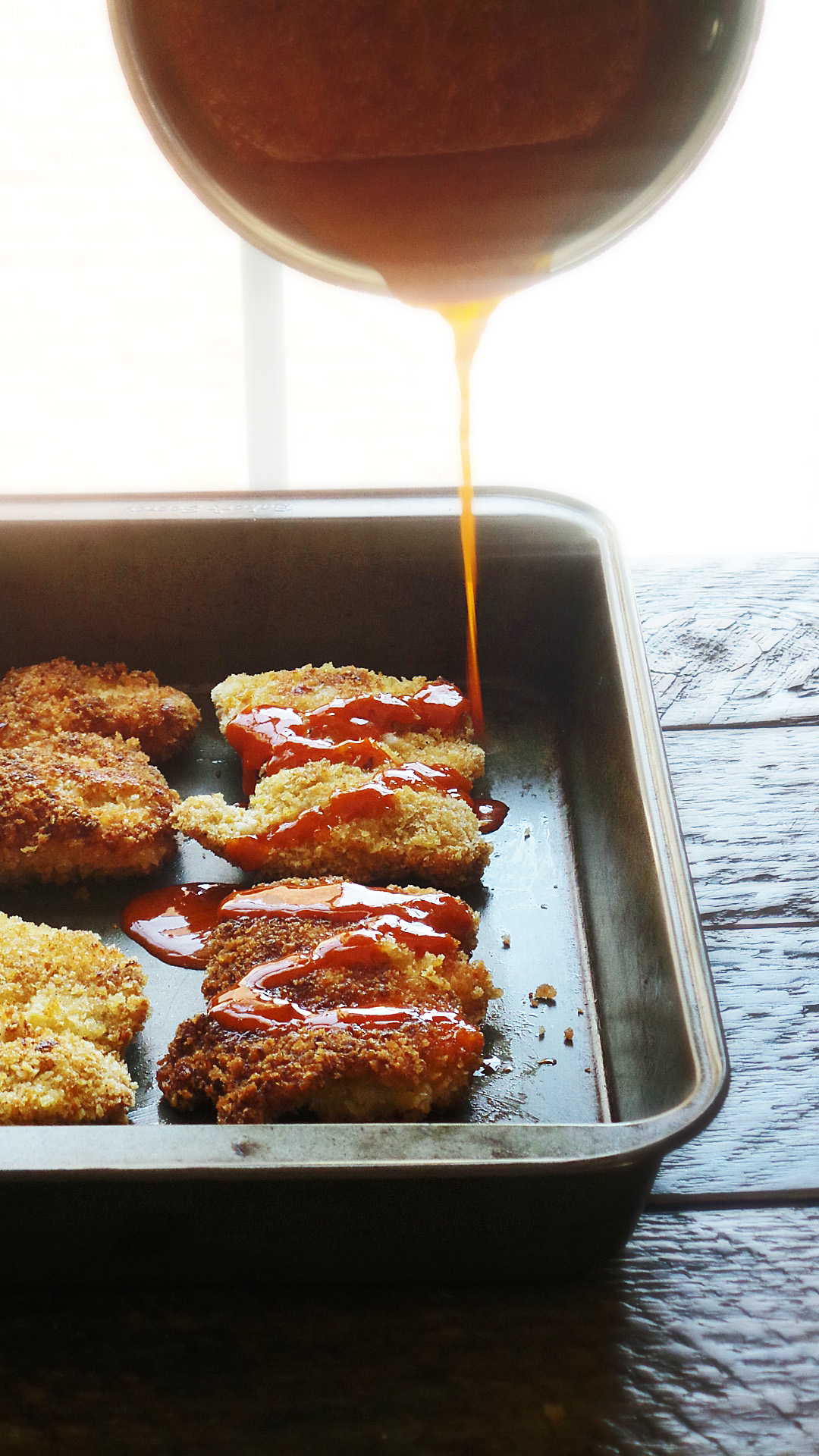 As far as the sauce goes, I didn't want to kill my taste buds with a sauce made straight of hot sauce so I mellowed it out with a little melted butter. You can do this for any hot sauce you'd like and I definitely recommend doing this for buffalo sauce if you haven't already. DROOLS.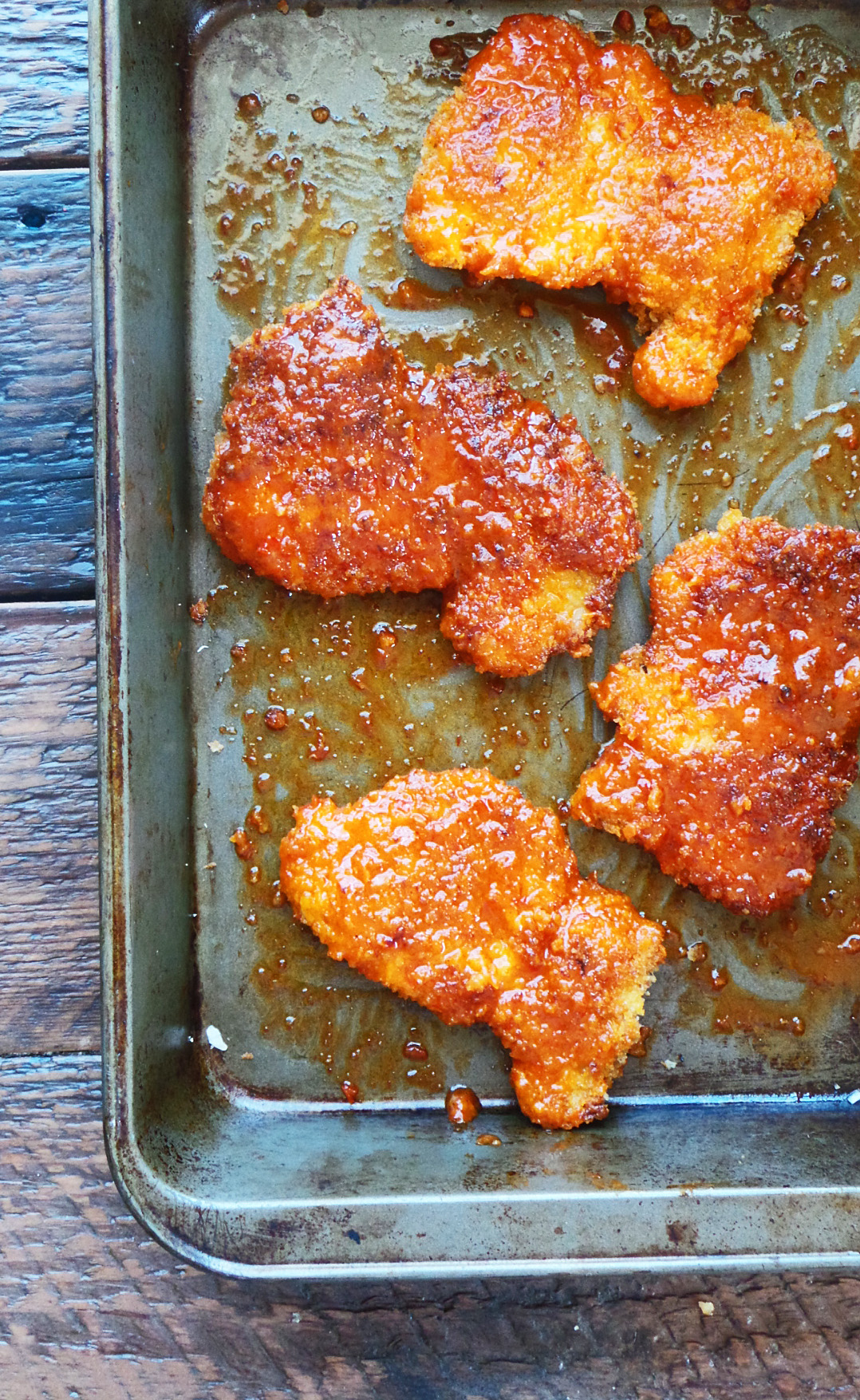 You can use as little or as much sauce as you'd like, just remember it's gonna be spicy. I threw mine between two toasted rolls topped with coleslaw, red onion, and cilantro. If there's a spicy sandwich in heaven it's this one.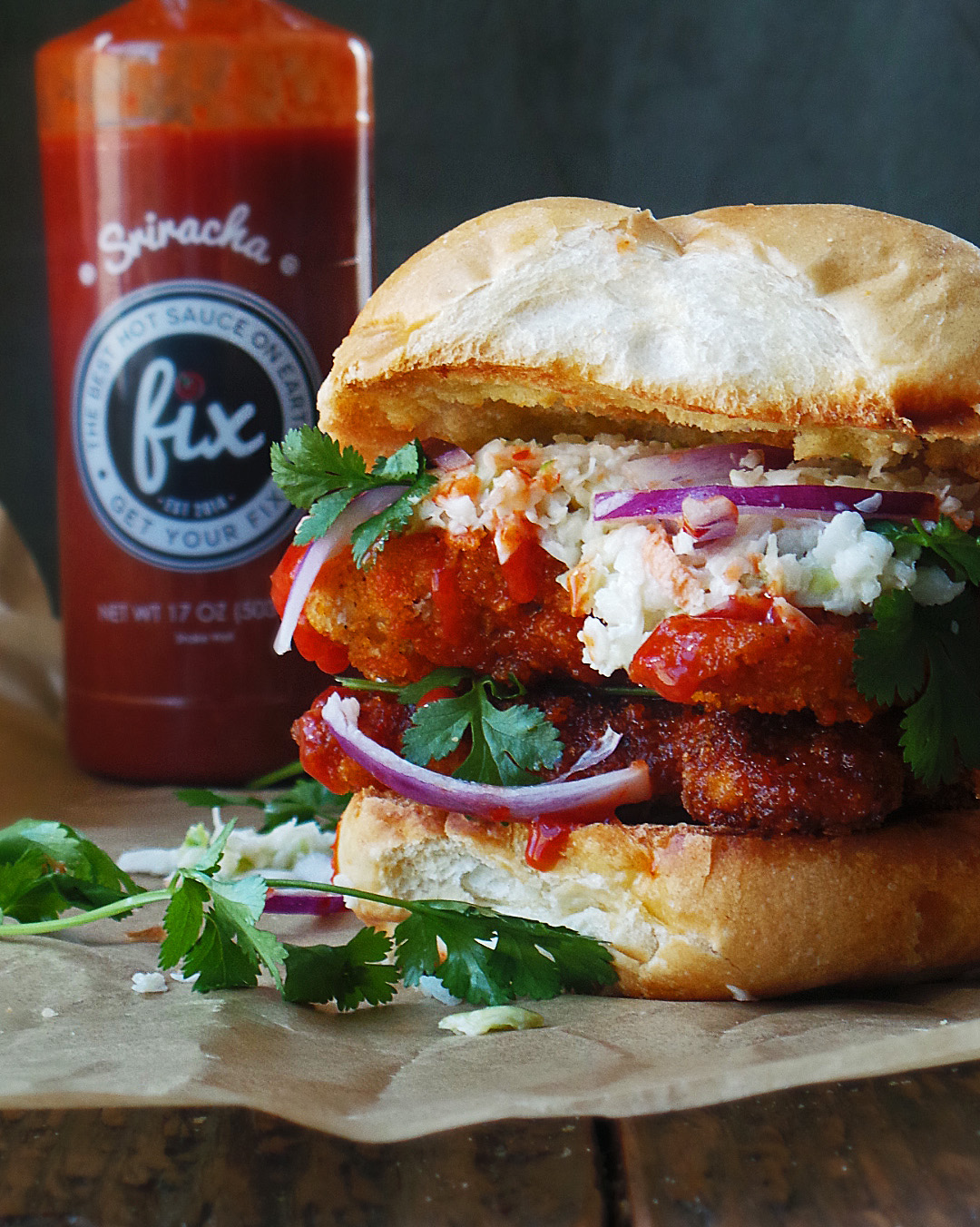 This hot sauce is so much more than your average hot sauce. It's more peppery than the green lid Sriracha and it has hints of garlic with a subtle tang of vinegar. It's delicious, it's spicy, and if you're craving this as much as I am, check it out here. Enjoy!
Sriracha Chicken Sandwich
2015-04-20 09:05:16
Serves 6
For the Chicken
6 boneless skinless chicken thighs
1/2 c. all purpose flour
2 eggs, beaten
1 1/2 c. panko bread crumbs
Seasoning of choice (see notes below)
1/4 c. Fix Sriracha hot sauce
3 T. butter
canola oil if frying
For the Sandwich
6 sandwich rolls - toasted
Coleslaw (optional)
Red onion (optional)
Cilantro (optional)
Instructions
Preheat oven to 375 (if baking the chicken)
First set your breading station. Have three wide bowls ready in the following order: flour, eggs, breadcrumbs. Season the flour and bread crumbs to taste (I used salt, pepper, garlic powder, paprika, poultry seasoning). I added a dash of hot sauce and salt/pepper to the eggs as well!
Wash and dry chicken, then dredge in flour, eggs, and panko breadcrumbs. Repeat until the chicken thighs are fully coated.
IF PAN FRYING, add enough oil to cover a skillet and heat to medium. Once hot (add a few breadcrumbs and if they sizzle they are ready), add the chicken thighs and cook 3 minutes on each side or until golden, crispy, and fully cooked. This method is much faster than baking.
IF BAKING, lay each chicken thigh on a baking sheet and bake 30-35 minutes, flipping half way through.
For the sauce, melt the butter in a small saucepan and stir in the Sriarcha sauce. Add as little or as much sauce to the chicken as you'd like.
Build the sandwich however you'd like, I added some coleslaw to cut the heat, cilantro for flavor, and red onion for crunch.
Enjoy!
Notes
You can use whatever seasoning you would like for the flour/bread crumbs. I used garlic powder, salt, pepper, paprika, and poultry seasoning.
http://www.vodkaandbiscuits.com/