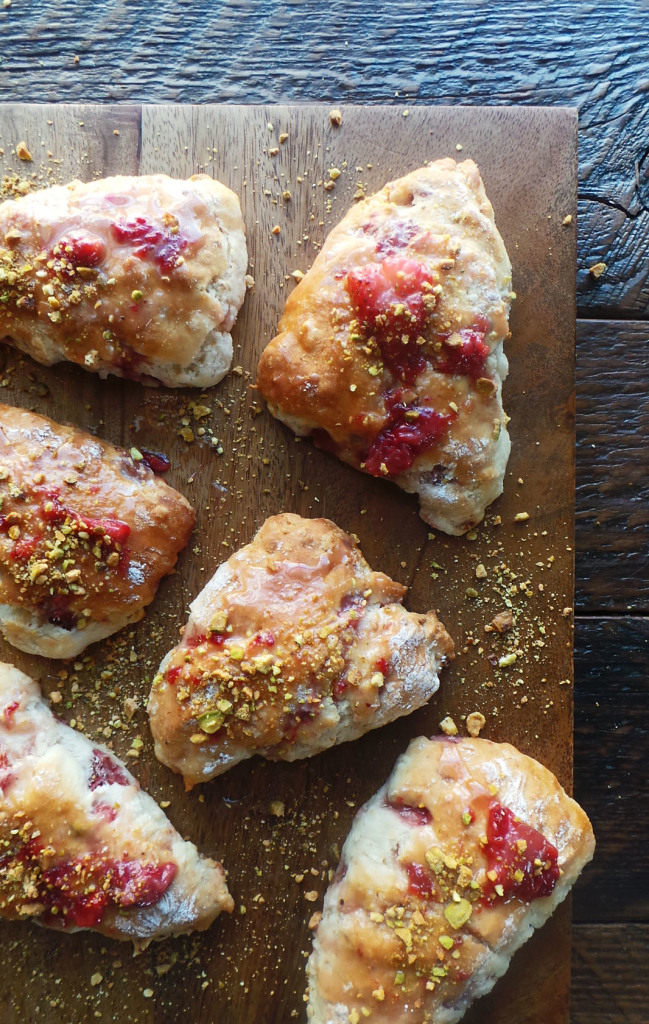 Roasted strawberries, as if strawberries needed to get any better.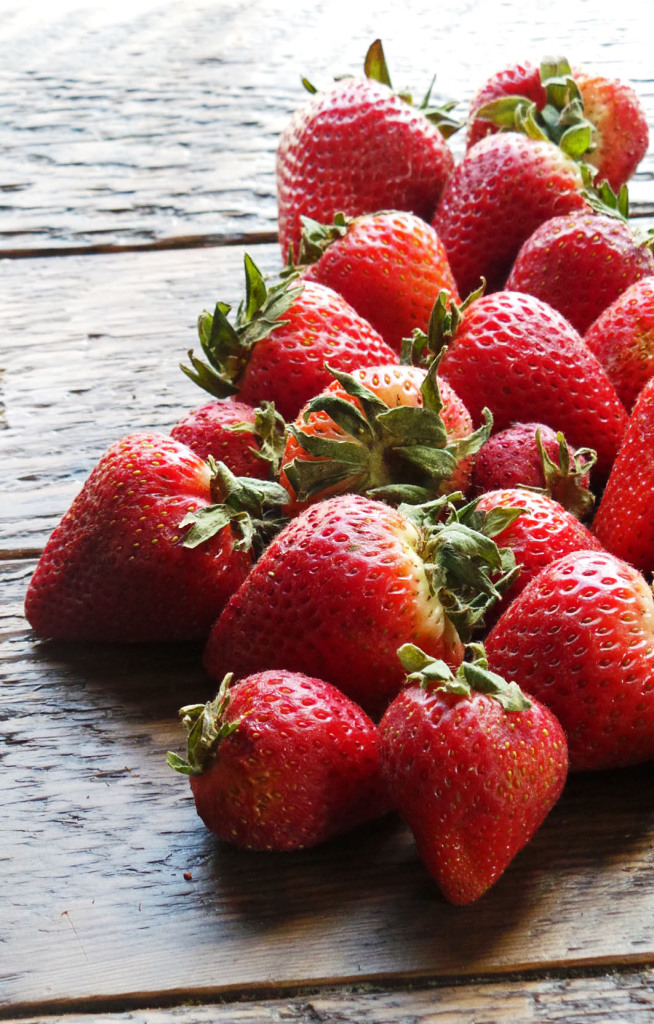 I've been seeing pictures of strawberries pop up all over social media from food bloggers all over the country. Needless to say, strawberry season seems to come a bit early and I ain't mad about it.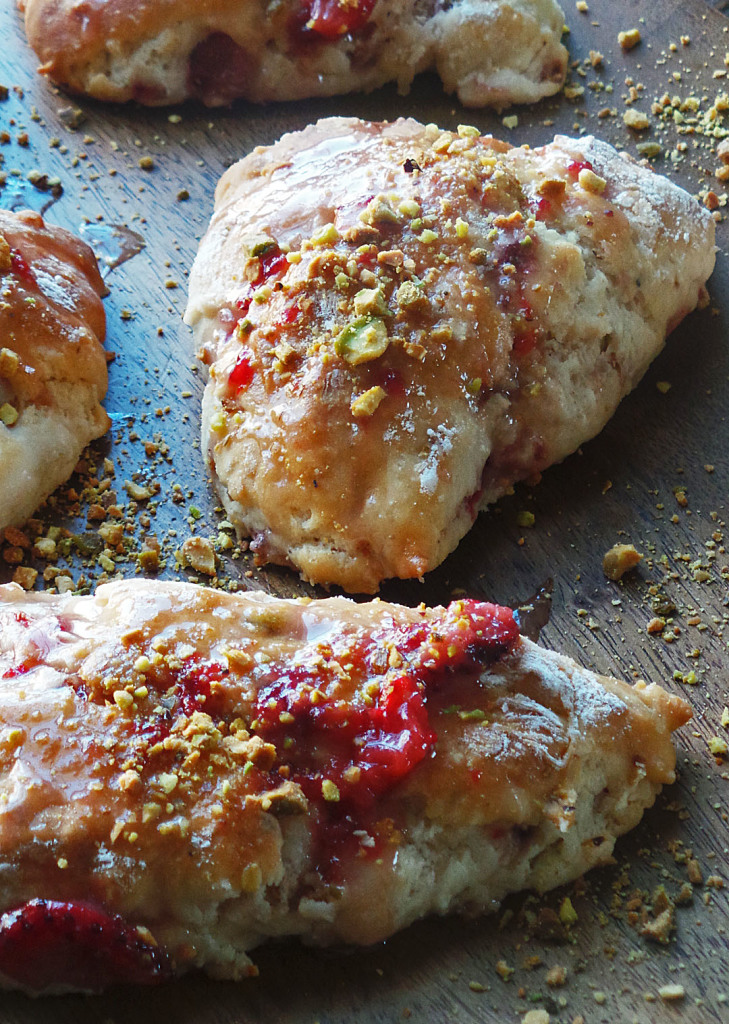 I recently stumbled across an article listing fun things to do with strawberries. For someone who is overly satisfied with the berries in their natural state, I knew I'd go crazy over jazzed up strawberries. What caught my eye the most was roasting them. I mean let's be real, roasting anything is a beautiful thing let alone strawberries. Within an hour of reading that article, I had a full sized pan of roasted strawberries screaming for my attention.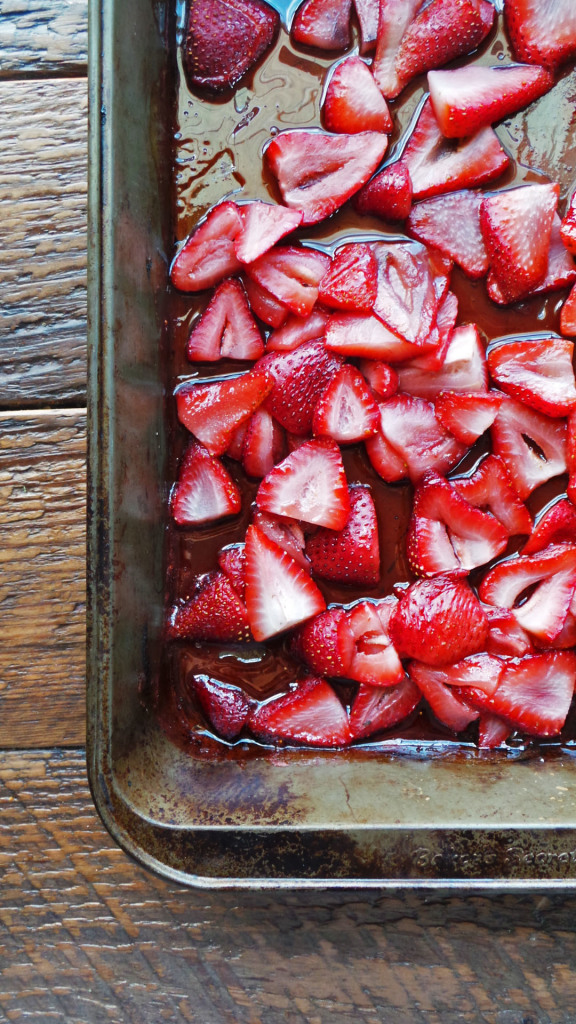 The process is super simple. All you have to do is slice your strawberries up – toss with granulated sugar and vanilla – stick in the oven for 25 minutes.
So, I know you're wondering. Why roast strawberries when they're delicious on their own?
As you can see they do lose their texture after baking. They will not be the fun plump fruit you can pop in your mouth for a juicy bite. Instead their tender and filled with intense flavor. During baking, the water in the fruit releases which concentrates the natural flavorful sweetness in the fruit. The berries also leave behind a flavorful syrup that can be enjoyed in so many ways!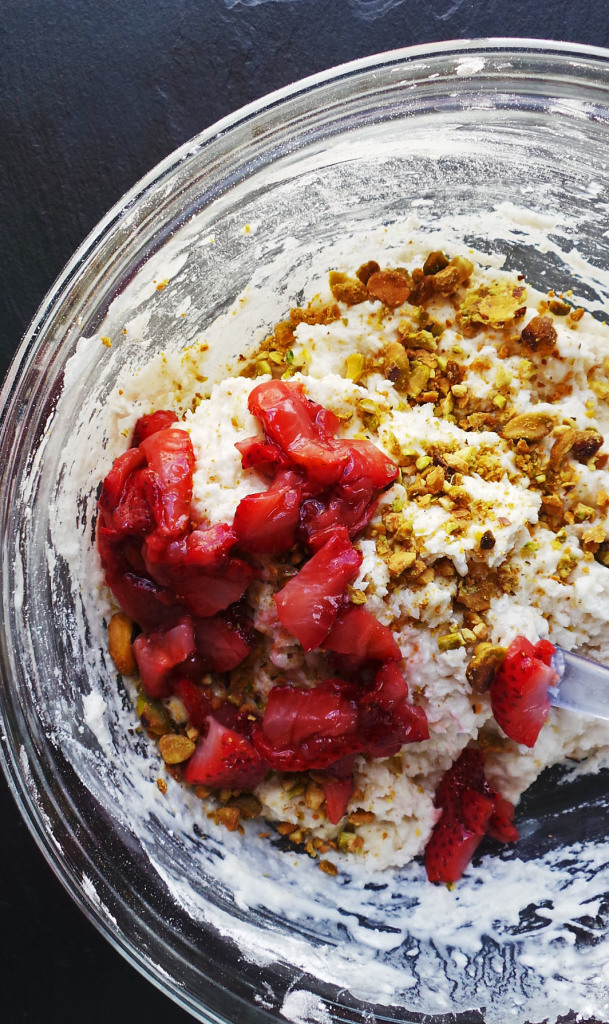 There is so many fun things you can do with these. I'm sure your mind is spinning just as fast as mine: pancakes, biscuits, whipped cream, ice-cream, yogurt, salads, SO MANY THINGS. I wanted to turn mine into scones and had every intention to post this before Mother's Day (because what says Mother's Day better than scones), but life happens.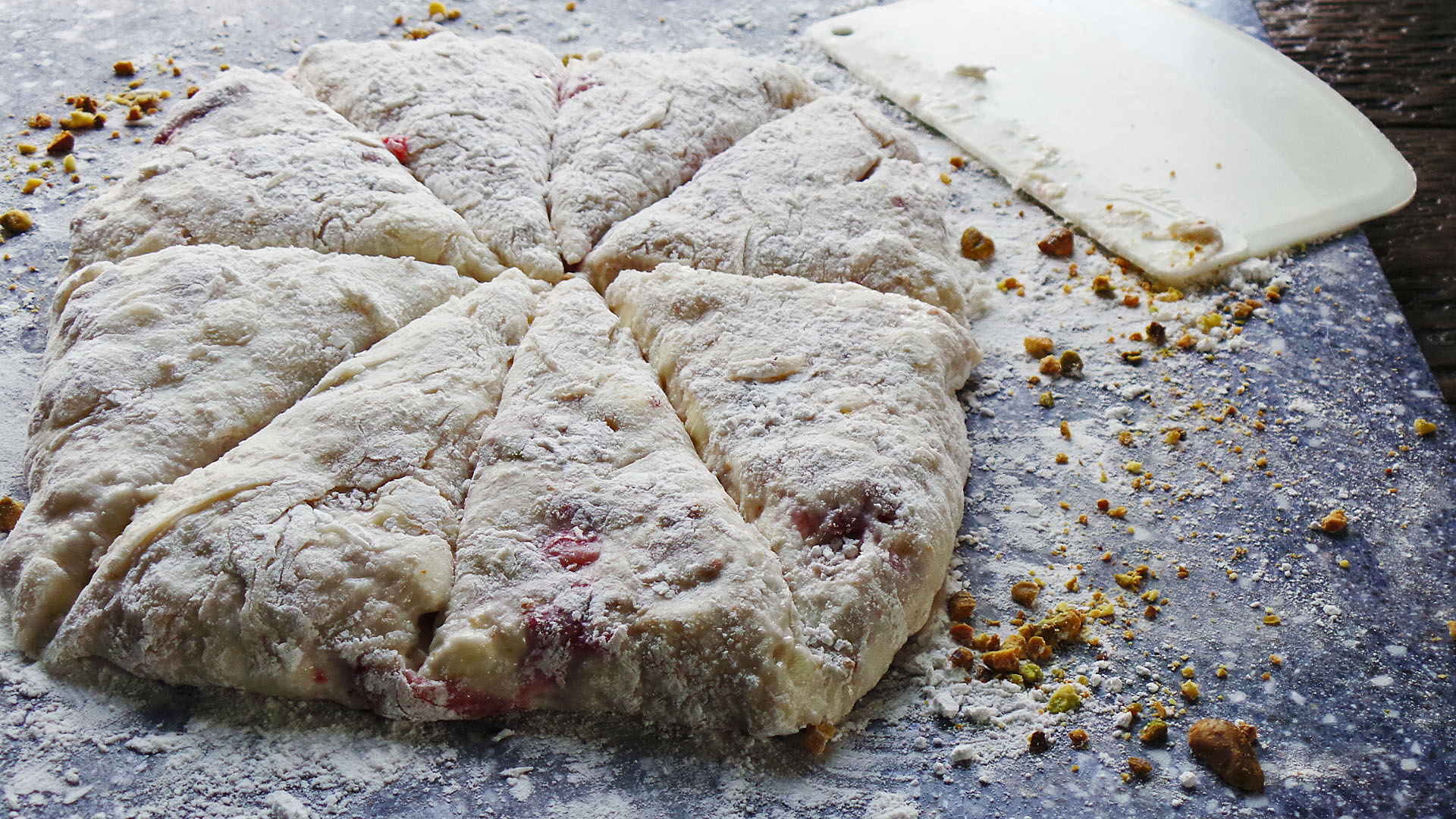 Roasted strawberry scones sounded AMAZING and the addition of salty crunchy pistachios sounded irresistible.
I used my basic scone recipe which is so easy and only requires your hands. I press my dough out into a rectangle and cut it like an 8-piece pizza. I've used this recipe to make 16 scones so just know you can yield more by cutting smaller portions.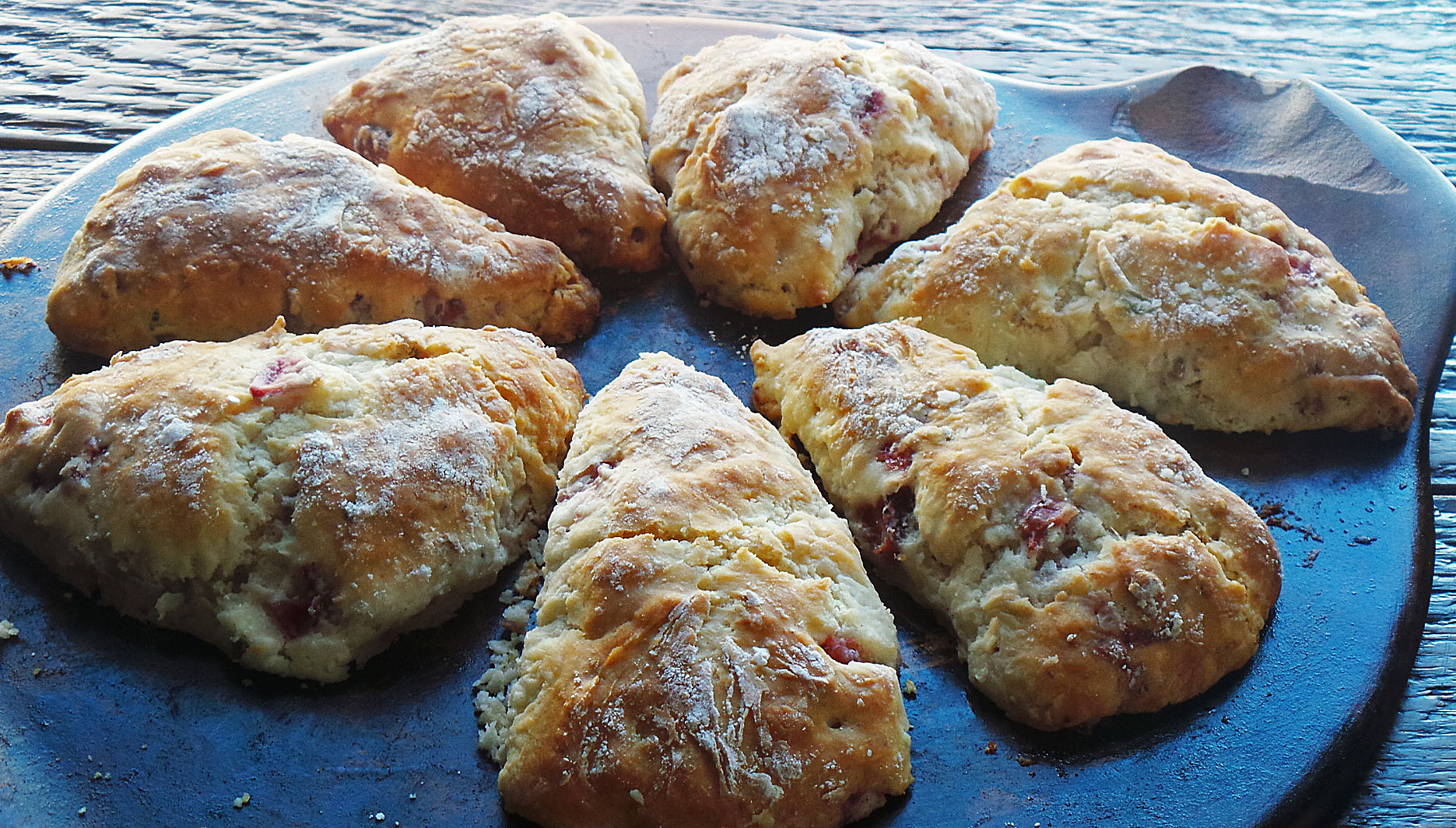 After they bake there's only one thing left to do: make a glaze.
The glaze in the recipe is nothing more than your typical powdered sugar glaze, except I used the sweet syrup the roasted strawberries left behind. It also doesn't hurt to save a few extra strawberries to swirl into the glaze. I'm alllll about the pretty things.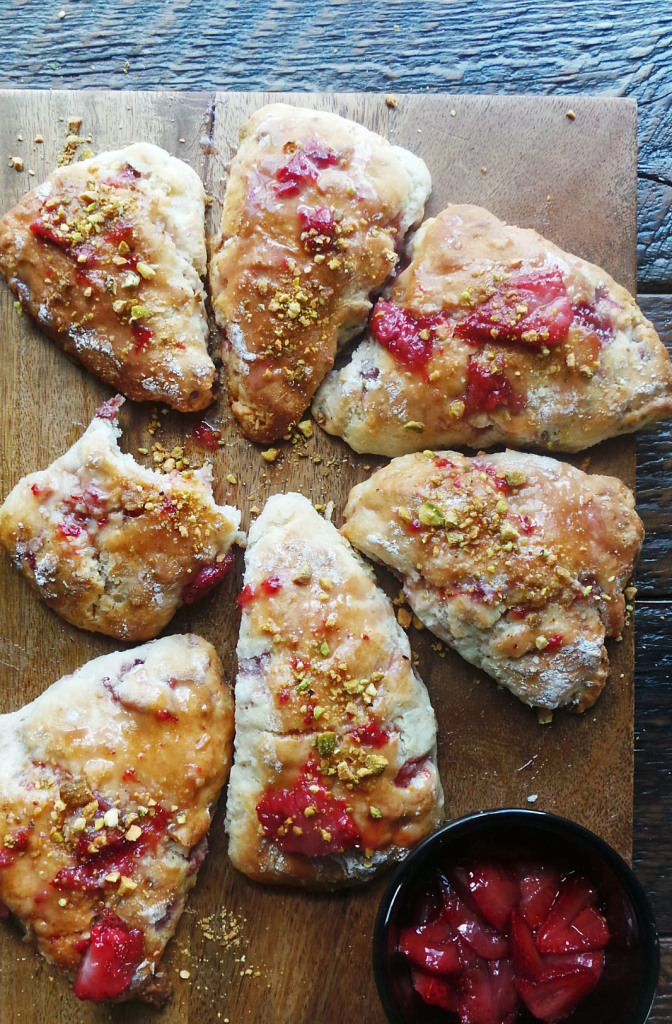 The scone recipe is my favorite – it's buttery, flaky, and tastes exactly how a scone should taste. The roasted strawberries add the perfect strawberry sweetness and the pistachio gives it the salty-nutty bite. This combination is everything and I SO recommend making extra roasted strawberries because you're morning yogurt needs it. Enjoy!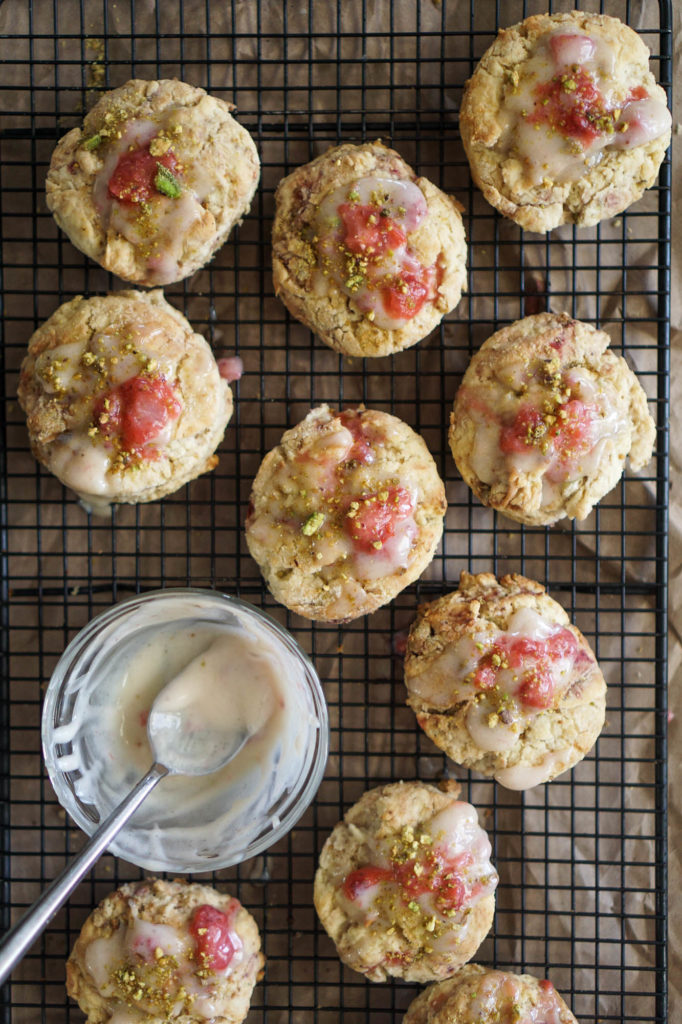 UPDATE! You can also use a biscuit cutter for round scones, which will yield more and last longer – wink wink!
Roasted Strawberry & Pistachio Scones
2015-05-12 06:37:58
Serves 8
A delicious and flaky scone flavored with sweet roasted strawberries and nutty pistachio.
For the Roasted Strawberries
1 cup strawberries, chopped
1 tablespoon sugar (coconut or cane sugar is perfect too)
1/2 teaspoon vanilla
For the Scones
2 cups all-purpose flour
1 tablespoon baking powder
1/2 teaspoon salt
2 tablespoons sugar
5 tablespoons unsalted butter, cubed, very cold
1 cup heavy cream
1/2 cup roasted strawberries
1/4 cup pistachios, minced (plus more for garnish)
For the Glaze (optiona)
1/2 cup powdered sugar
1/4 cup heavy cream
2 tablespoon roasted strawberry syrup
1 teaspoon vanilla (or the pods from 1 bean)
spoonful of chopped roasted strawberries
crushed pistachios for garnish
For the Roasted Strawberries
Preheat the oven to 375.
Toss the strawberries with the sugar and vanilla. Pour into a small baking pan and roast 25 minutes. The longer you roast, the more syrup is extracted.
Spoon out two tablespoons of syrup and set aside. If desired, set aside a spoonful of the strawberries for garnish.
For the Scones
Increase the oven to 400 degrees
Sift together the flour, sugar, baking powder, and salt.
Using a pastry cutter, two forks, or your hands, cut in the butter until the butter is fully incorporated and resembles pea sized crumbs.
Make a well in the center and pour in the cream. Gently fold together just until batter forms. Treat these like biscuits, do not overwork the dough! If needed, add in a splash of cream. Fold in the strawberries and pistachios.
For traditional triangle scones, lay the dough on a floured surface and press into a rectangle. Cut the dough in half, then in half once more to create four squares. Cut each square in half on a bias to create a triangular scone shape.
For round scones, lay the dough onto a floured surface. Press into a square, then use a biscuit cutter to cut out your circles. You may reuse the scraps for more scones.
Lay on an ungreased baking sheet and bake for 25-30 minutes or until golden brown, checking frequently. I brushed mine with heavy cream 1-2 times while baking.
To make the glaze, combine the heavy cream, vanilla, syrup, chopped strawberries, and powdered sugar. Adjust the consistency by adding more sugar or more cream.
Top each scone with glaze and sprinkle over chopped pistachios.
Notes
I recommend doubling the roasted strawberries as leftovers are delicious in smoothies or yogurt.
I like to stick my cubed butter in the freezer before prepping so make sure it is nice and cold
The scones can also be made in a food processor, just be careful not to overmix.
http://www.vodkaandbiscuits.com/