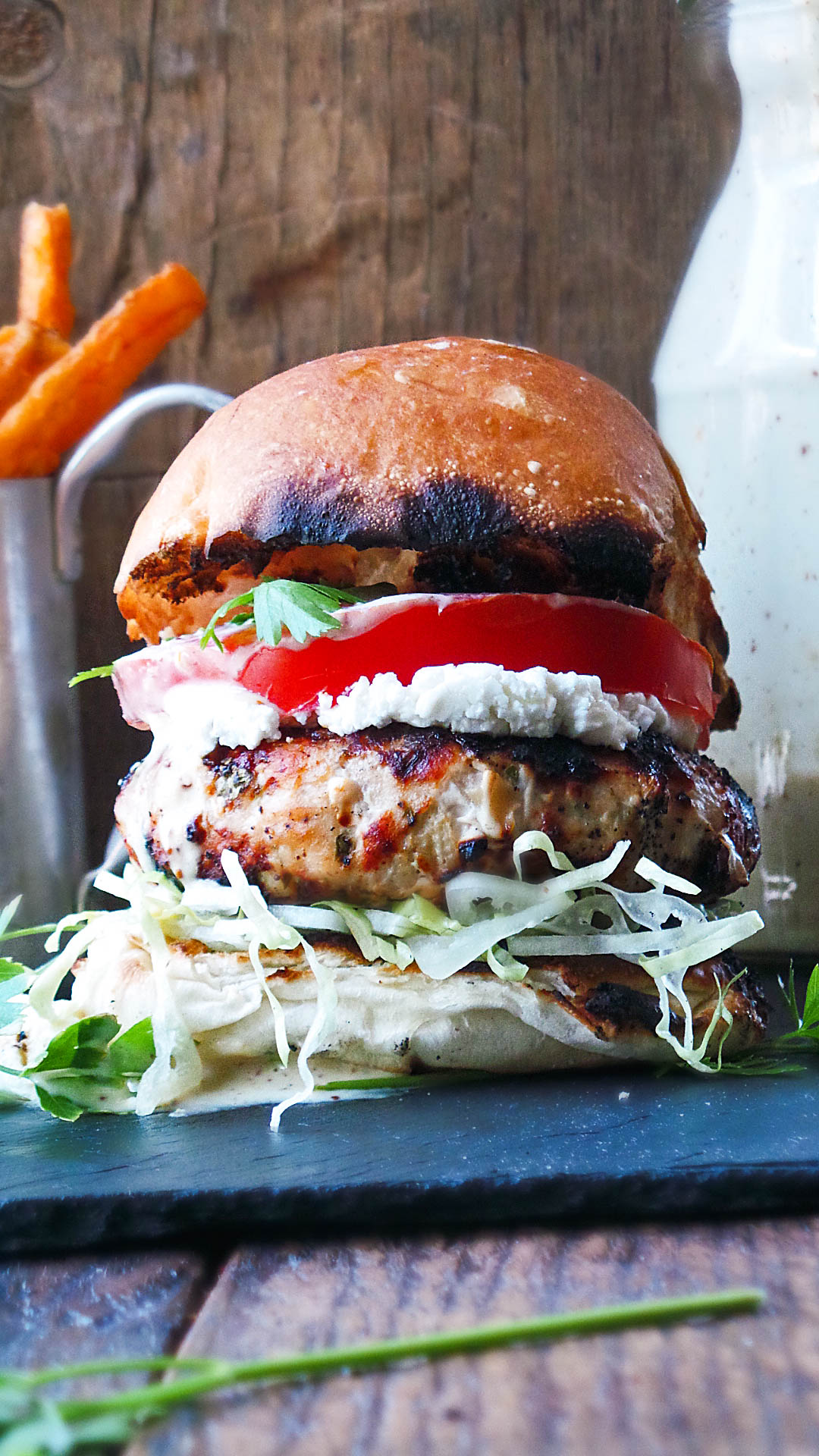 Let's be real. Turkey burgers are not and never will be the juicy beefy burgers we eat when we crave red meat. Obviously. However when we crave a burger and want to be healthful about it, sometimes turkey is our option. I don't know about you, but I find turkey burgers to be a hit or miss which leads me to my love hate relationship.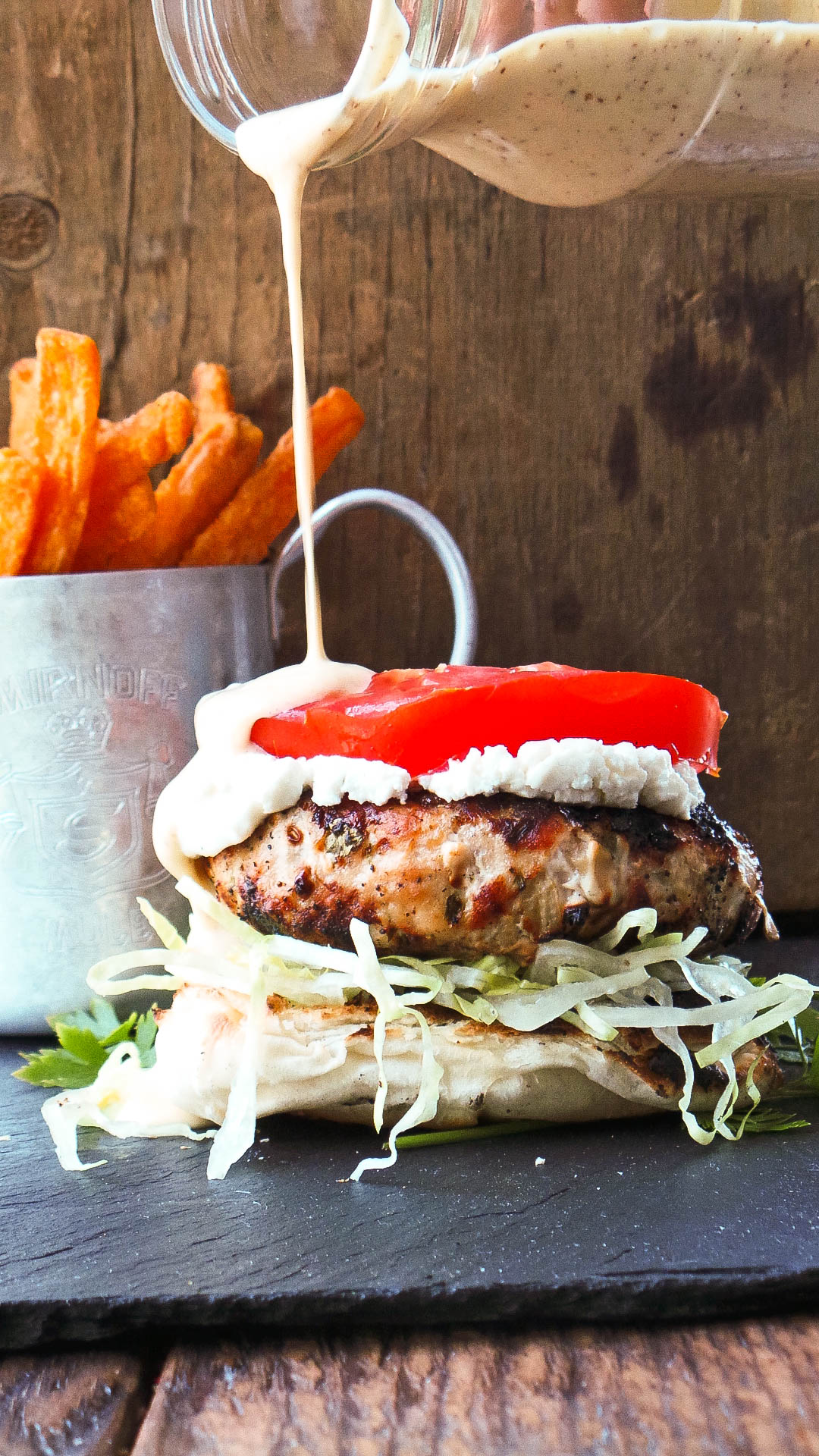 Love that they're half the calories and can be equally delicious, hate that they can be twice as challenging to cook. Turkey is poultry and like chicken, it's lean and therefore lacks the fat that not only aids in flavor but keeps the burger juicy throughout.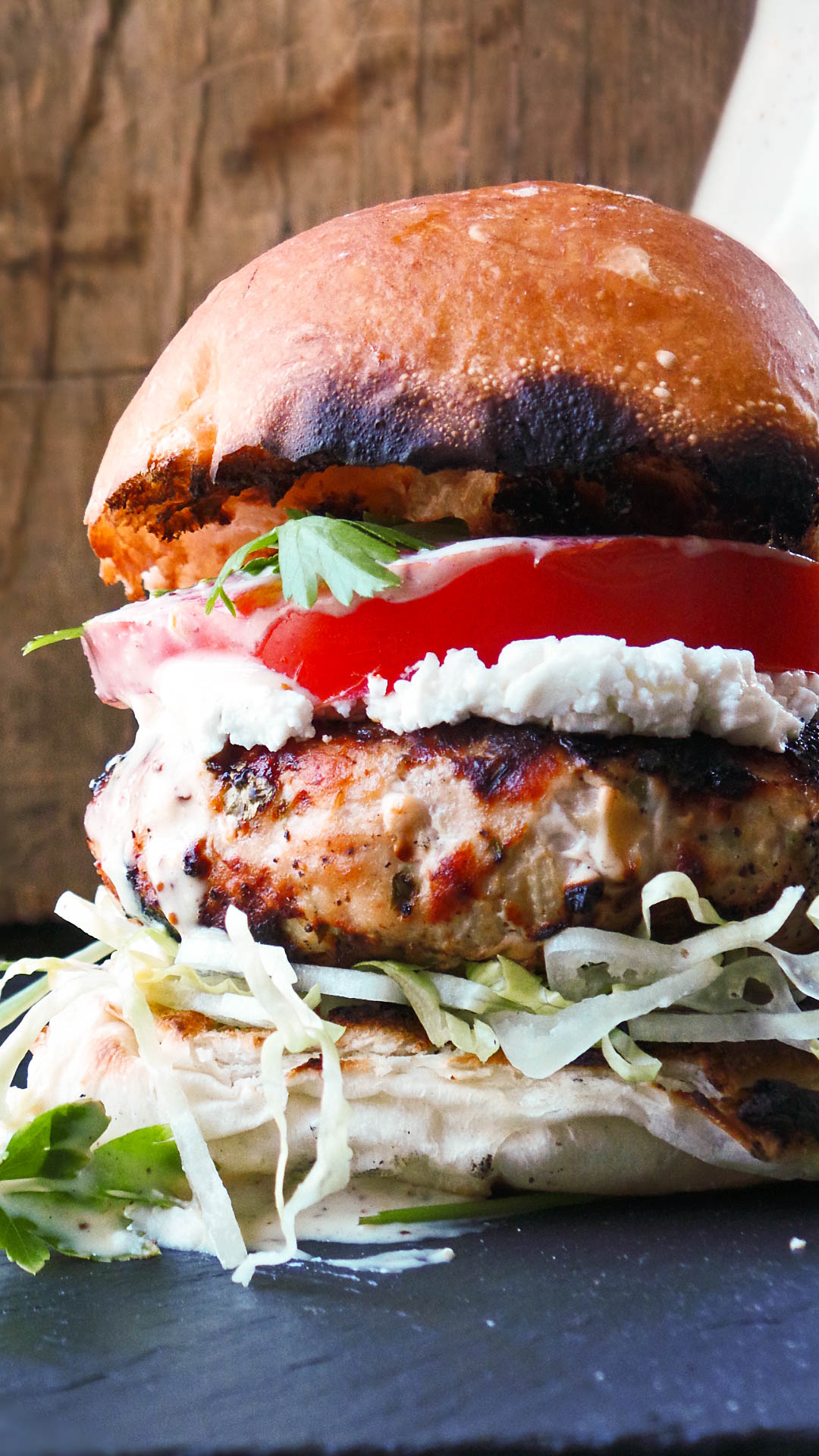 A juicy turkey burger is not impossible and can be rather easy with a few simple tricks. I'm narrowing it down to four categorizes to make one bad ass turkey burger: the meat, the flavorings, the cooking method, and the toppings. Who's hungry?
The Meat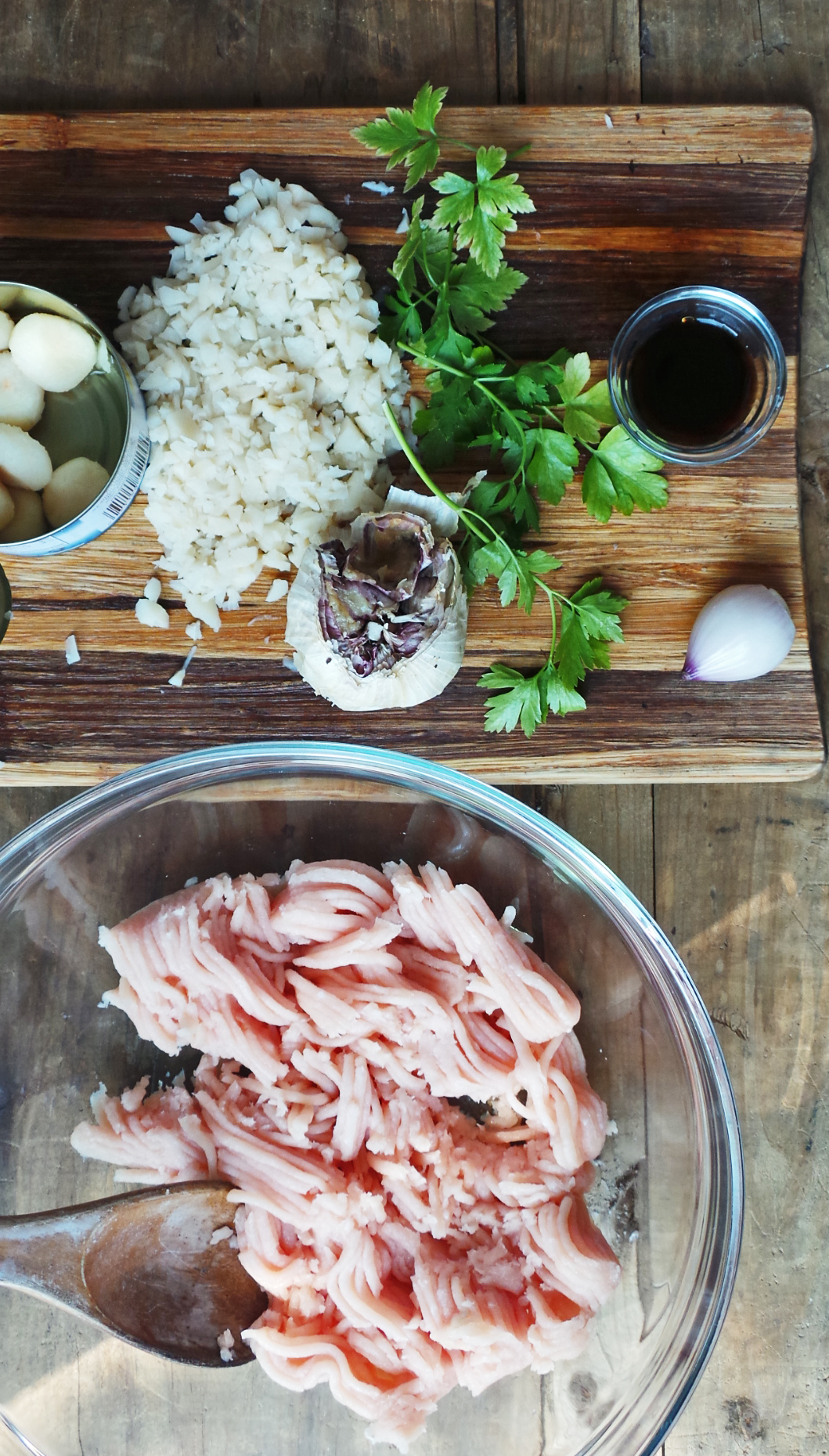 When you're buying ground turkey meat you'll come across a few percentages, the most common being 99% and 90% lean.
The 99 percent lean meat means the meat has one percent of fat, meaning it's made from the breast – the most lean – and the easiest to overcook. Use this stuff for taco night or spaghetti sauce when it has a little something extra to help out with its moisture.
The 90 percent lean meat is made with both white and dark parts of the bird (the dark meat is where the fat comes from). If you're hesitant because you want to be as healthy as possible – it only has 6 grams of fat so it's still pretty freakin' lean. Even with it's extra fat you still have a lean burger with a little help in moisture and flavor. When it comes to burgers, buy this stuff.
So why is fat so essential when making a burger you ask?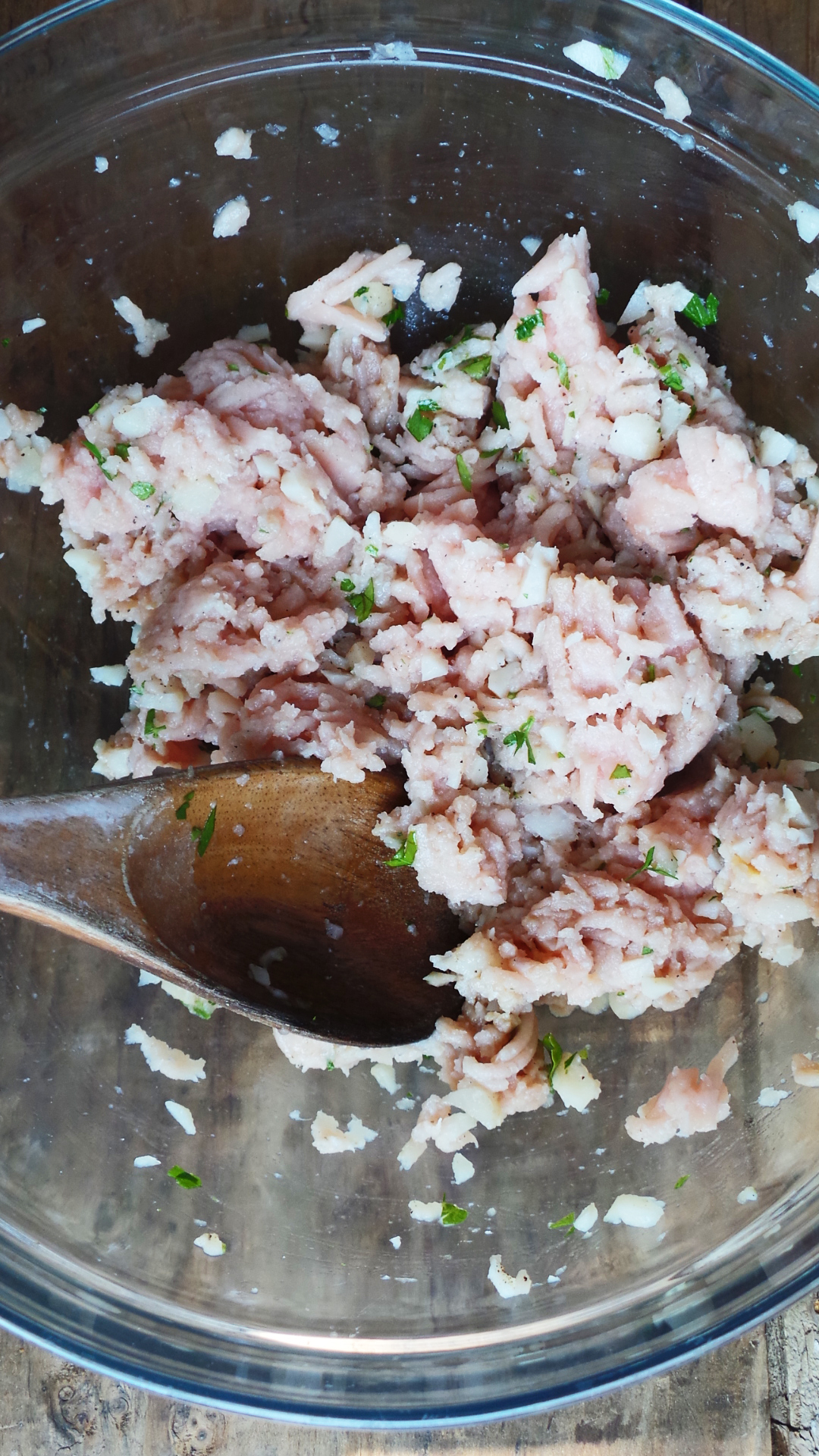 Burgers only need 5-7 minutes to cook which isn't a lot of time. It's natural for burgers to loose moisture in that short time period, so the burgers with the more fat will have the most moisture left behind opposed to the burgers with less fat. Now, 90 percent lean meat is still pretty low and we still risk a hockey puck, so how do we avoid that? Drum roll please.
Flavorings
Not only does the flavoring help make the burger taste good, it helps add moisture. I'm sure by now you realize the fattier the meat, the juicer and tastier the burger. When it comes to making beef burgers, I use nothing more than salt and pepper since the meat is so flavorful on it's own (80 percent lean, meaning double the fat and flavor of turkey meat). However as you read above, turkey meat needs a little work.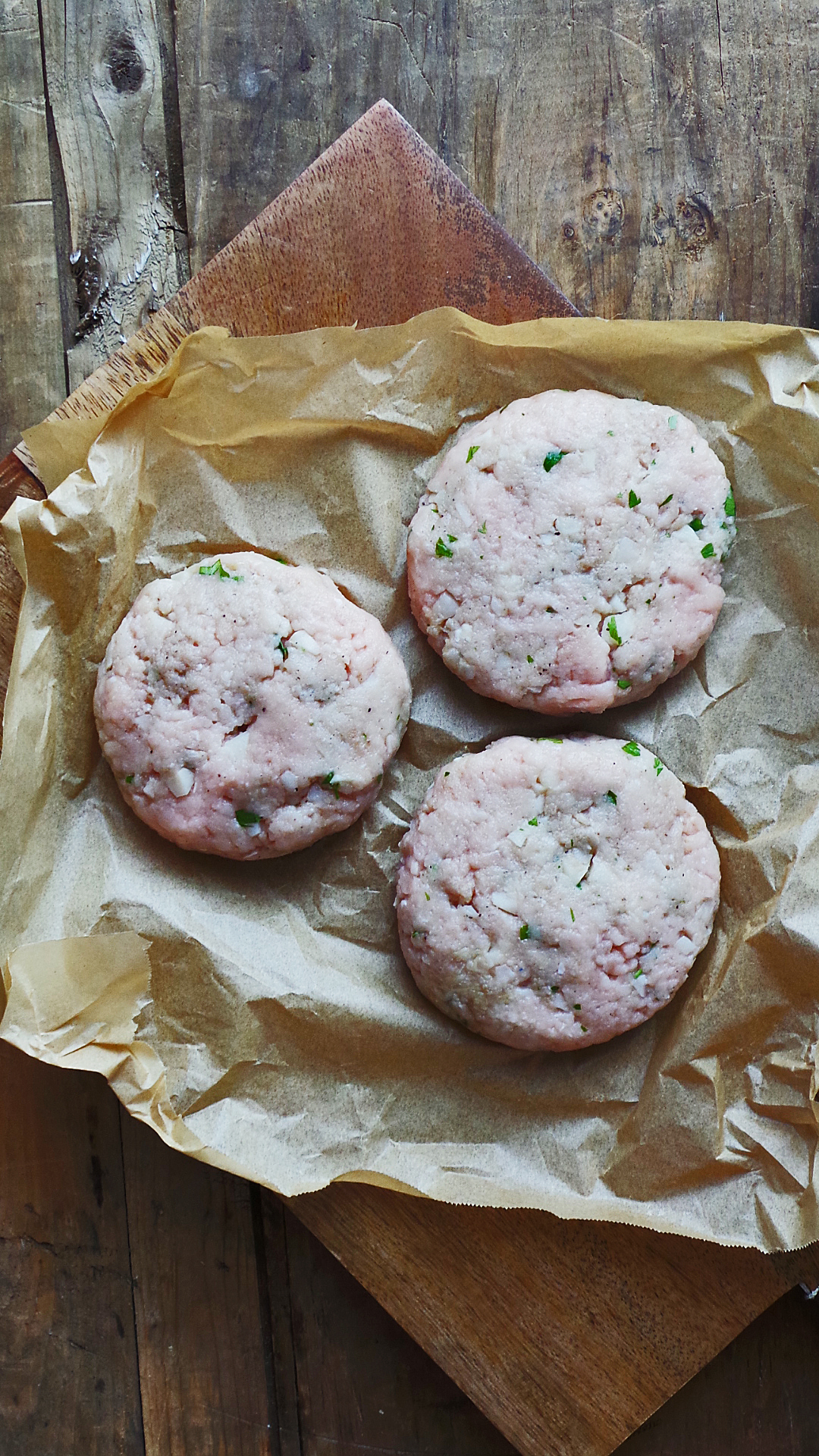 The most common additions for moisture are sauteed onions, peppers, or mushrooms. Depending on the flavor profile I'm aiming for, I sometimes add sauteed spinach. In my recipe I added sauteed onions and water chestnuts recommended by Anne Burrel.
These crunchy little guys found most in Chinese food are great additions for moisture and crunch. You could also use celery! I also added Worcestershire, parsley, roasted garlic, salt, and pepper. You can do soy sauce, Sriracha, ginger, red pepper flakes, roasted red peppers, or even as a friend suggestion Lipton's French Onion Flavoring. Um, awesome idea! If you do use 99% lean ground turkey, I recommend adding three tablespoons of fat. This could be anything from olive oil to bacon fat, but I'm assuming if you're eating turkey meat to be lean, you probably don't want bacon fat.
The Cooking Method
Like any burger it's important to not over work the meat when shaping into patties. I have better detailed tricks and tips here, but I really want to talk about cooking these suckers.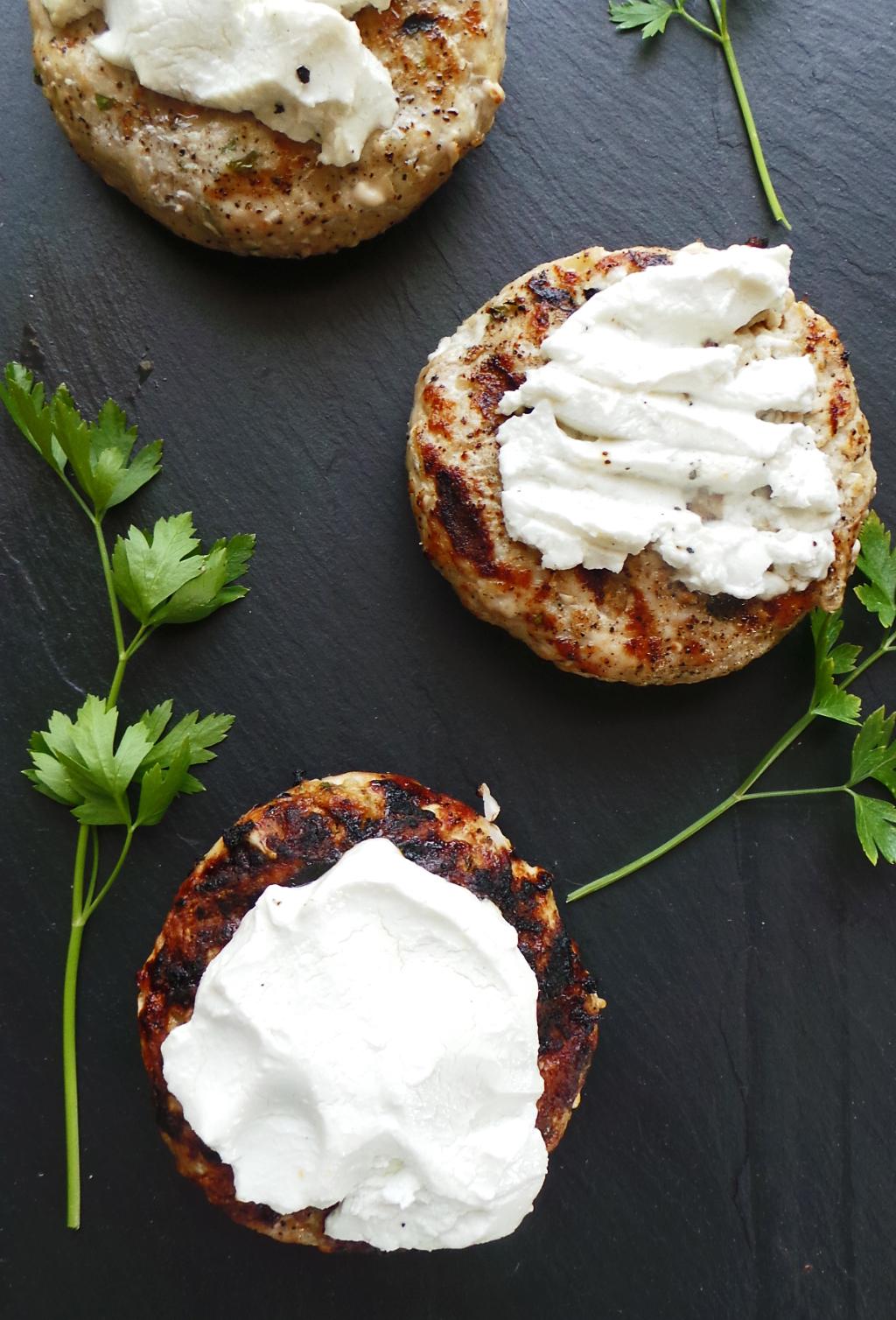 Turkey burgers are best cooked seared in a pan or over the grill. Either way it's important to cook over medium heat. High heat will leave you with hockey pucks and hockey pucks do not taste good. They're only going to take 5-6 minutes on each side. Always remember: flip once and never press down! Since they're poultry you really need to cook them until their desired doneness which is 165 degrees. The safest and easiest way to tell if you're burgers are done is to invest in a meat thermometer. Check out this one from my favorite brand Taylor. I pull mine off the grill a few degrees below 165 and let it rest until it hits that.
The Toppings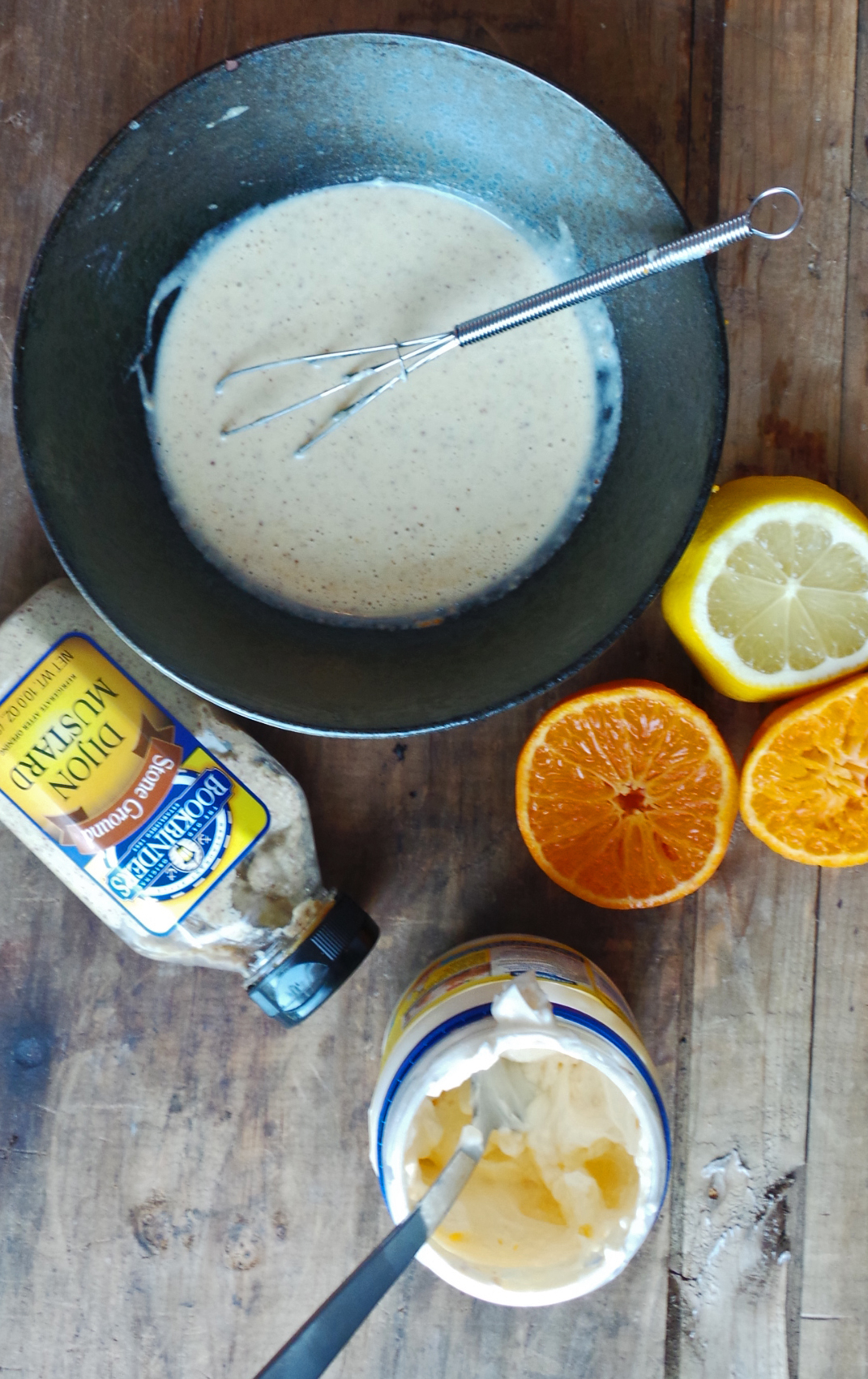 I will always be a fan of my go-to burger toppings which is lettuce, tomato, caramelized onions, cheddar cheese, and barbecue sauce. That and a crispy bun and you have yourself a meal. I had a log of goat cheese in the fridge so I decided to use a little Bobby Flay as inspiration. In one of his recipes he topped off his turkey burgers with goat cheese and a lemon honey mustard. Drooling right? It's nothing more than fresh squeezed lemon juice, orange juice, dijon mustard, and honey. To die for!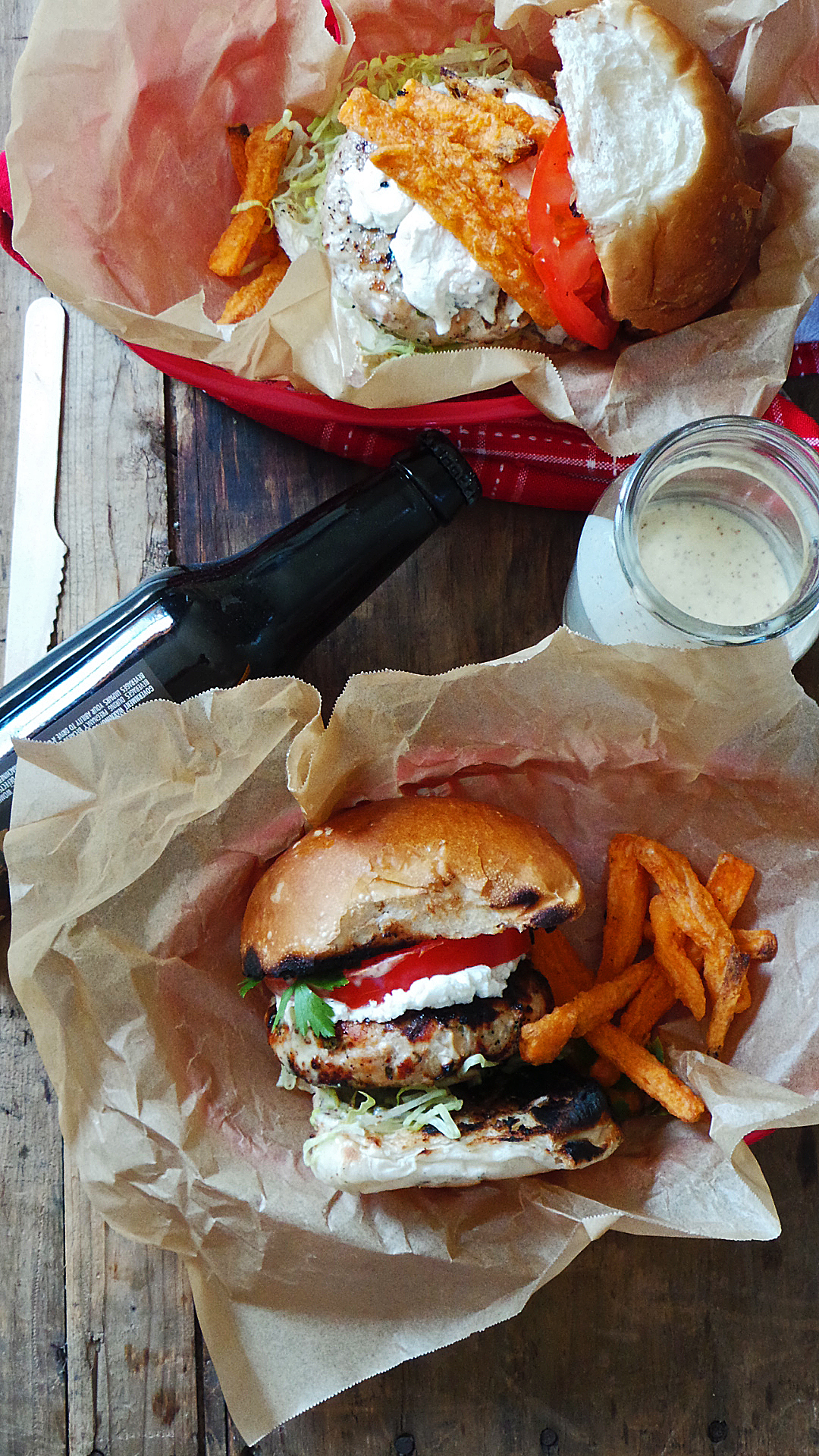 If you wanted to switch it up a little, goat cheese and grilled fruit (peaches or pineapple) are delicious. Brie and jam are also good on a turkey burger! Basically you want to add something with a juicy bite to add a little moisture whether it's a dressing, tomato, or a piece of grilled fruit.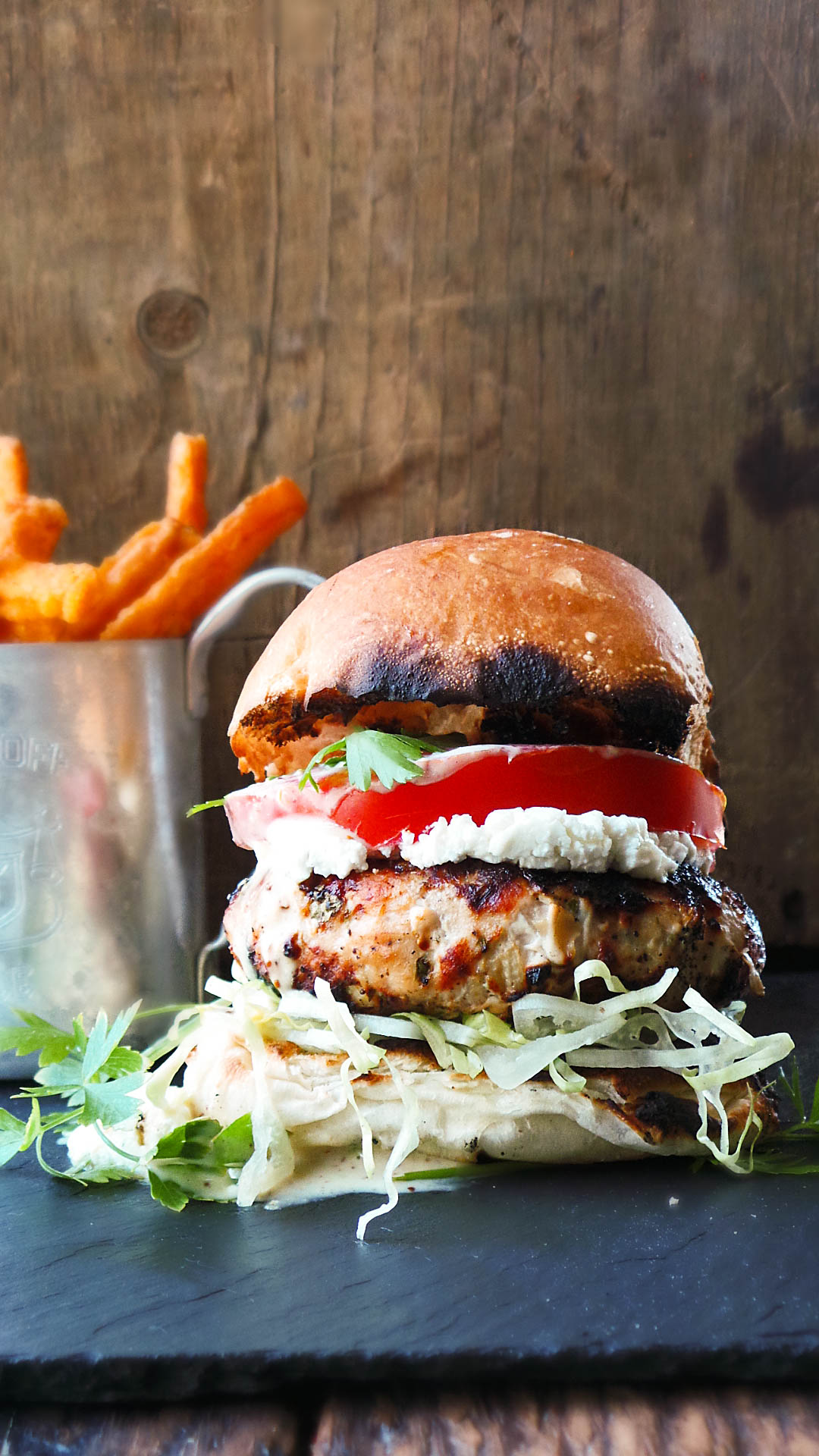 Now hopefully you're craving a turkey burger because it's time to get cooking. Enjoy!
Turkey Burger
2015-06-19 16:52:52
Serves 4
For the Turkey Burger
2 T. olive oil
1/2 onion - chopped
1.5 pounds 90% lean ground turkey meat
3 cloves roasted garlic - see notes below
3 T. chopped parsley
2 t. Worcestershire
1/4 c. chopped water chestnuts
canola oil as needed
Kosher salt and pepper as needed
4 Buns - preferably toasted
Optional Toppings
Goat Cheese
Lettuce
Tomato
Lemon Honey Mustard (see attached recipe)
For the Turkey Burgers
Heat the oil over medium high heat and saute the onions until translucent, about 5 minutes.
Add the onions to the turkey meat with the additional flavorings. Mix until just combined.
Form into 4 six ounce patties and refrigerate for at least 30 minutes, making sure to take out of the fridge 15 minutes before cooking.
When it's time to cook, heat your grill or skillet to medium heat. If grilling, brush each burger with canola oil, if pan searing add 2 T. to the skillet. Sprinkle each burger with salt and pepper on both sides.
Cook 5-6 minutes on each side until temp reaches 165.
Top with desired toppings and serve between a crispy bun.
Enjoy!
Notes
To roast garlic all you have to do is stick the entire bulb of garlic (not prepped in any way) in a 375 degree oven for 30 minutes or until tender. If you don't want to roast, just mince raw garlic.
If you are using 90% lean turkey, add 2 tablespoons of oil with the flavorings.
http://www.vodkaandbiscuits.com/
Bobby Flay's Lemon Honey Mustard
2015-06-19 17:00:17
Serves 4
Ingredients
1/4 cup Dijon mustard
1 heaping tablespoon clover honey
1 tablespoon fresh orange juice
1/2 teaspoon lemon zest
1 teaspoon fresh lemon juice
Salt and freshly ground black pepper
Instructions
Whisk together in a small bowl the mustard, honey, orange juice, lemon zest, lemon juice and season with salt and pepper. Cover and refrigerate for at least 30 minutes and up to 24 hours to allow the flavors to meld.
Notes
I added a little mayonnaise to thicken this up, totally optional.
http://www.vodkaandbiscuits.com/