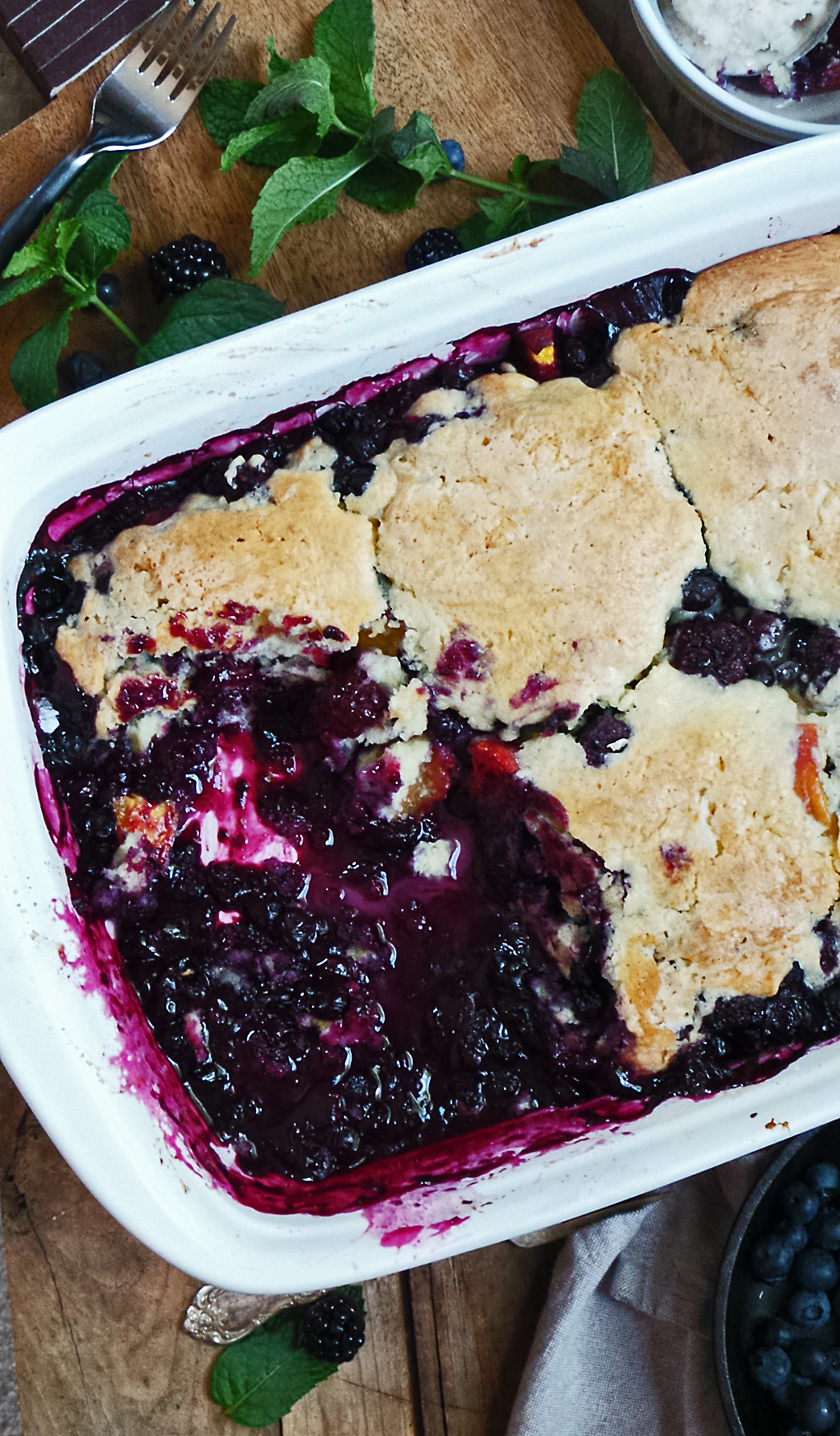 Excited because not only do I now have an entire baking dish of cobbler to enjoy these next few days BUT I've FINALLY made a successful cobbler.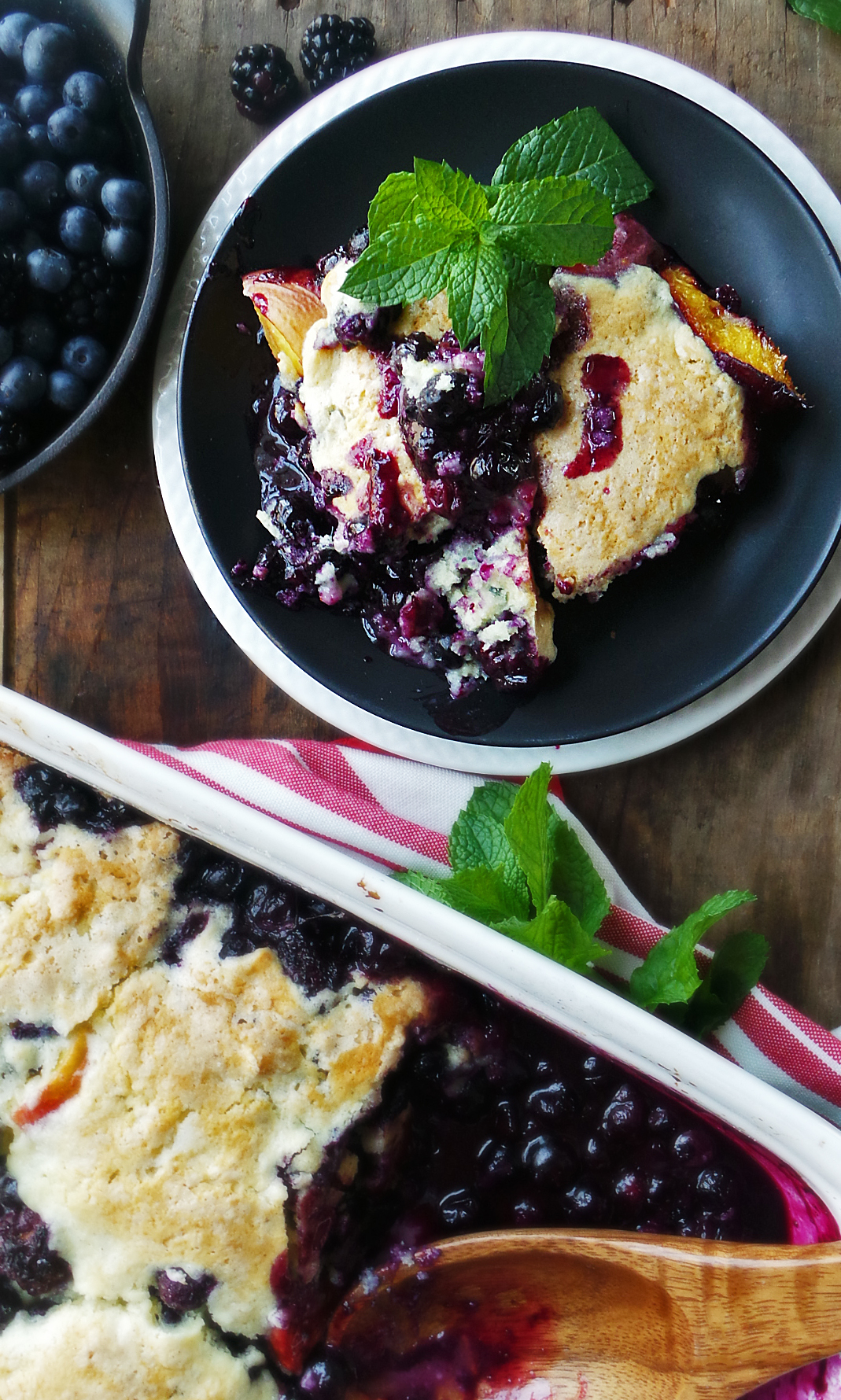 Really though, aren't these supposed to be one of the easier things to bake? I've had fail after fail, some fails turned out delicious, others just pathetic. I've always had a vision of how I wanted cobbler to turn out and with this recipe it's been nailed.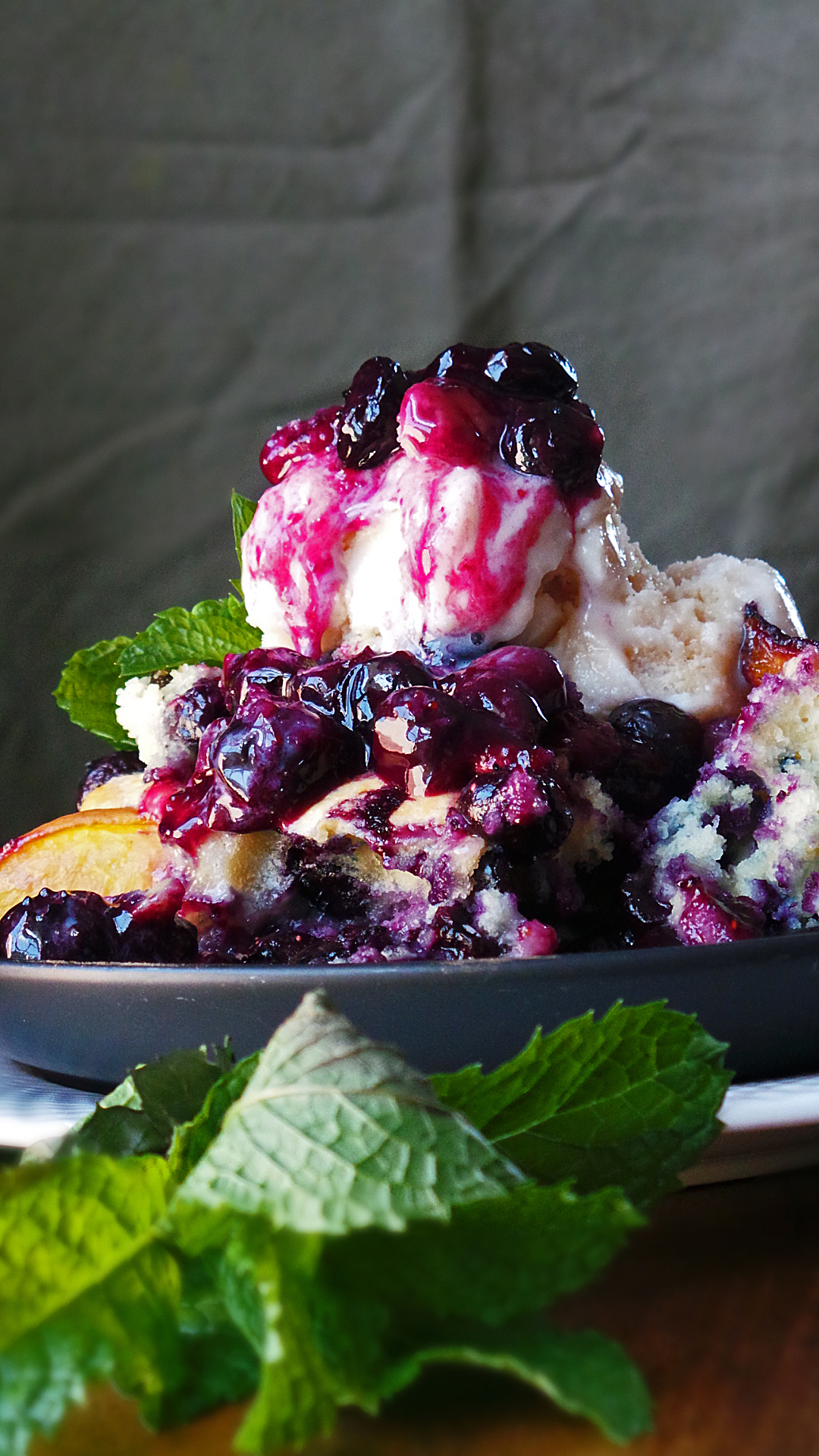 I don't focus much on baked-goods than I do savory ones so when it came to making cobbler I was a little clueless. After reading several recipes I realized there are a few different ways to make them, like dropping the fruit in batter or vise versa. My first attempt at a cobbler (Strawberry-Cobbler-Inspired Cake) turned out to be less fruit and more cake (hence the name), which is opposite of what I wanted it to be. It still was delicious and I still use that recipe, see here for other ways I've switched it up!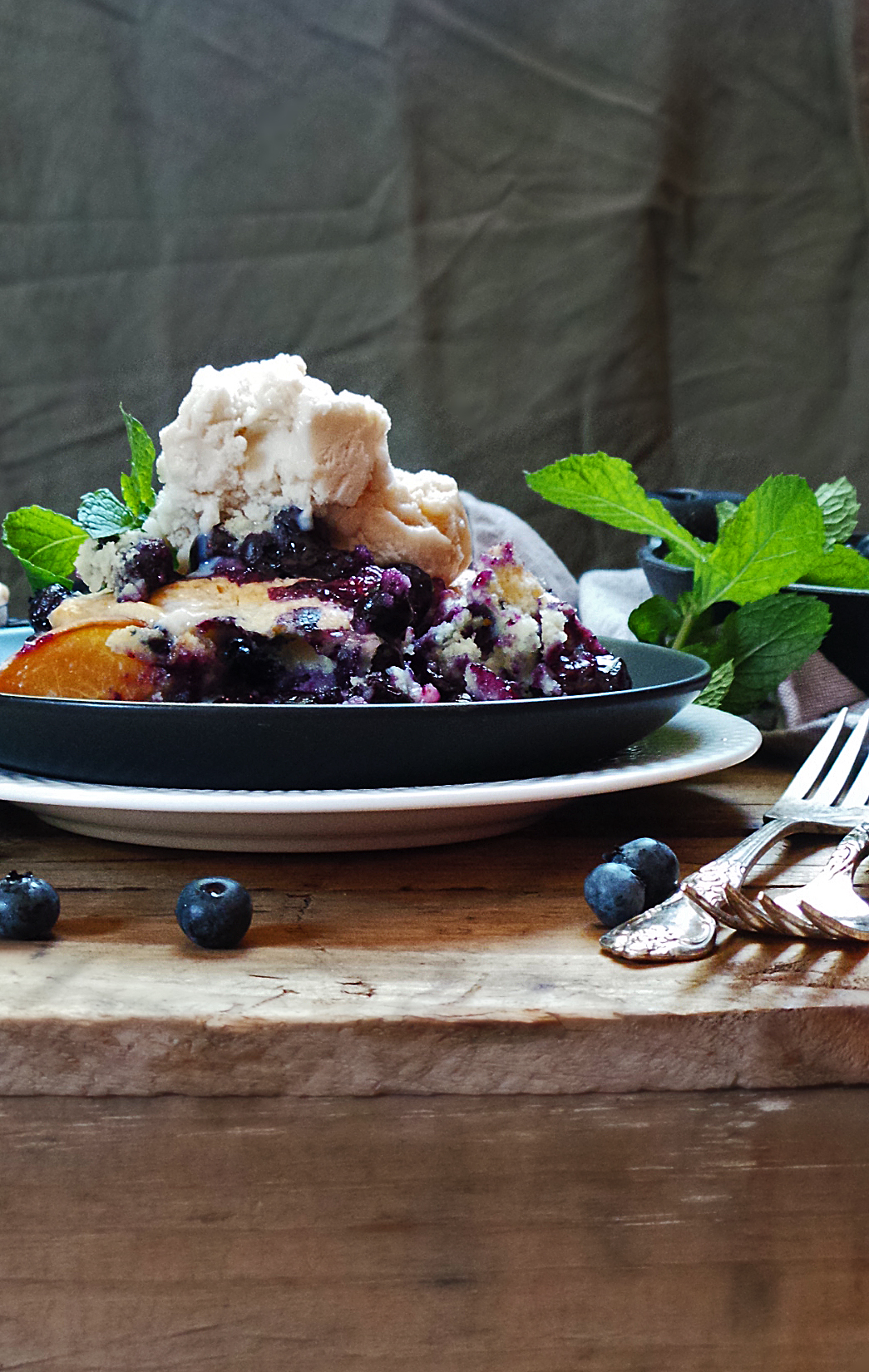 I've been elbow deep in famous Chef Thomas Keller's cook book Ad Hoc at Home and came across his Blueberry Cobbler. It looked like everything I've ever wanted. LOTS of juicy fruit topped with drops of cake-like biscuits. With a fridge full of fruit, I was sold.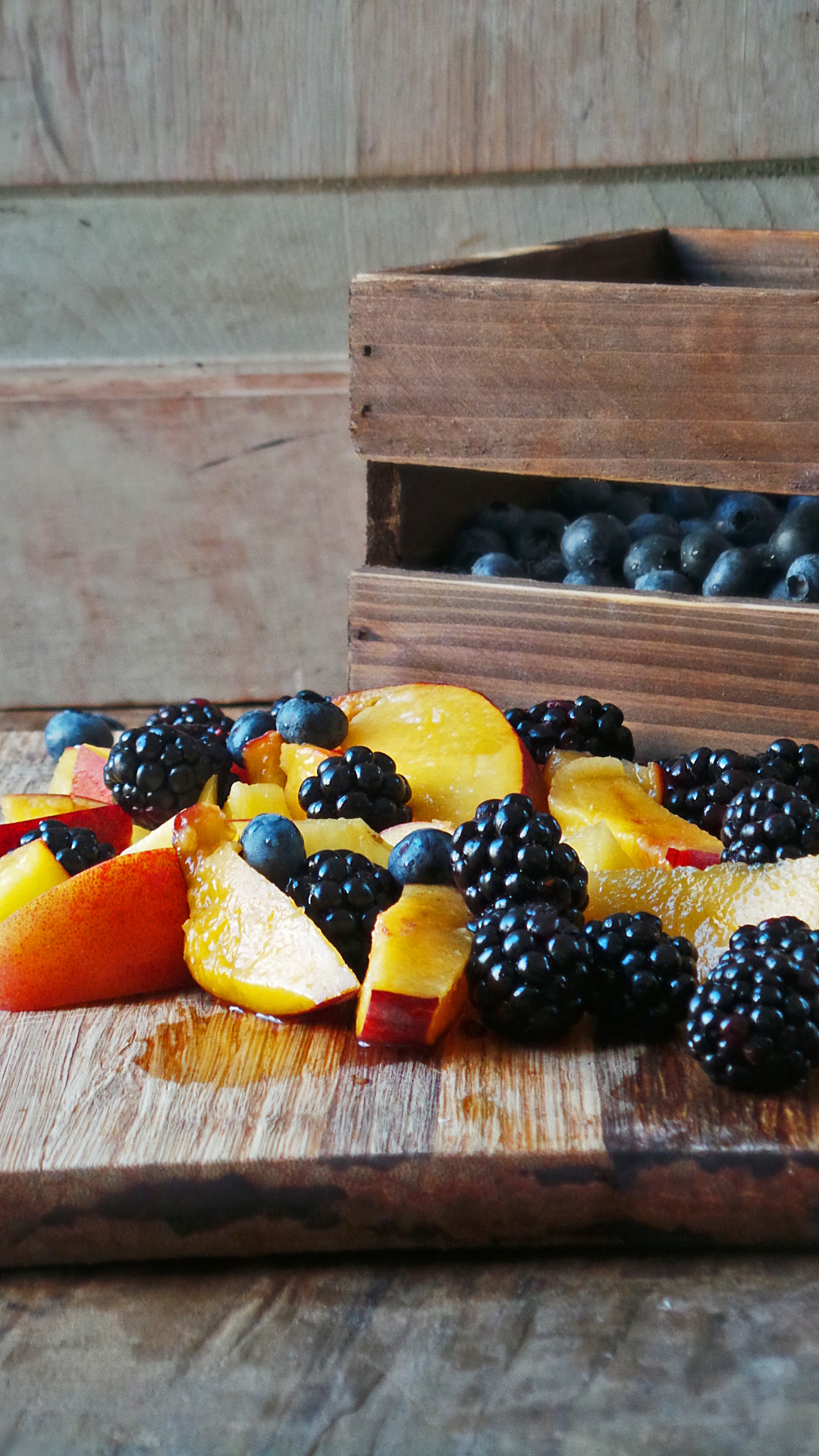 His recipe used blueberries but as you know you can use whatever fruit you want. I had some peaches on hand so I used those and a handful of blackberries. With cherries in season, you can use cherries, strawberries, or even try some rhubarb!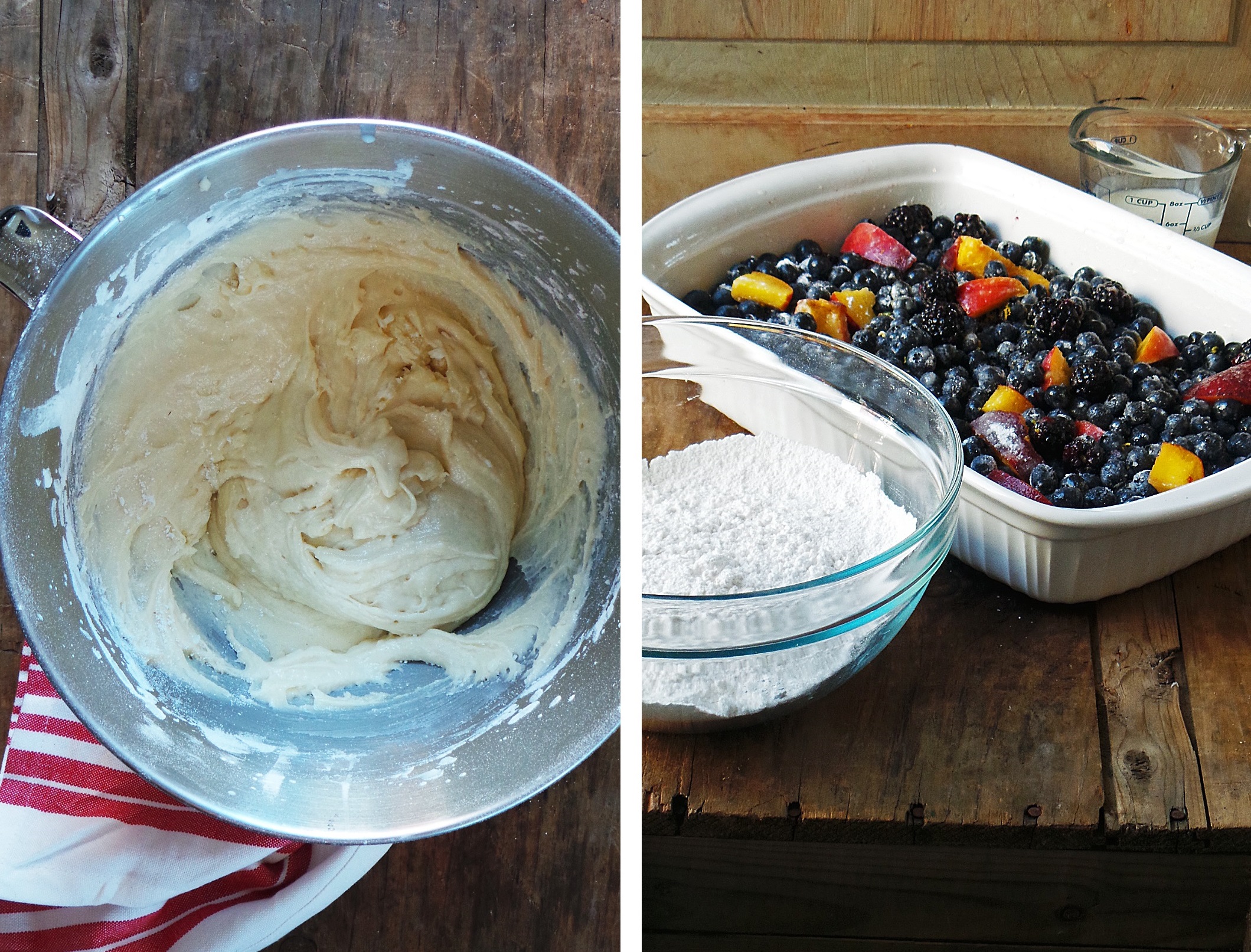 The topping is realllllly simple and only requires a standing or hand mixer, preferably with the paddle attachment. All you have to do is cream together sugar and butter until fluffy, add some eggs, and alternate between sifted flour and buttermilk. Why alternate flour and liquid? It has something to do with air bubbles, but when you have more flour than liquid alternating (starting and ending with the flour) ensures a lighter product. By the way, if you're ever pouring flour into a mixer it's so much easier to pour the flour if it's on parchment paper. I'm just here to make your life easier.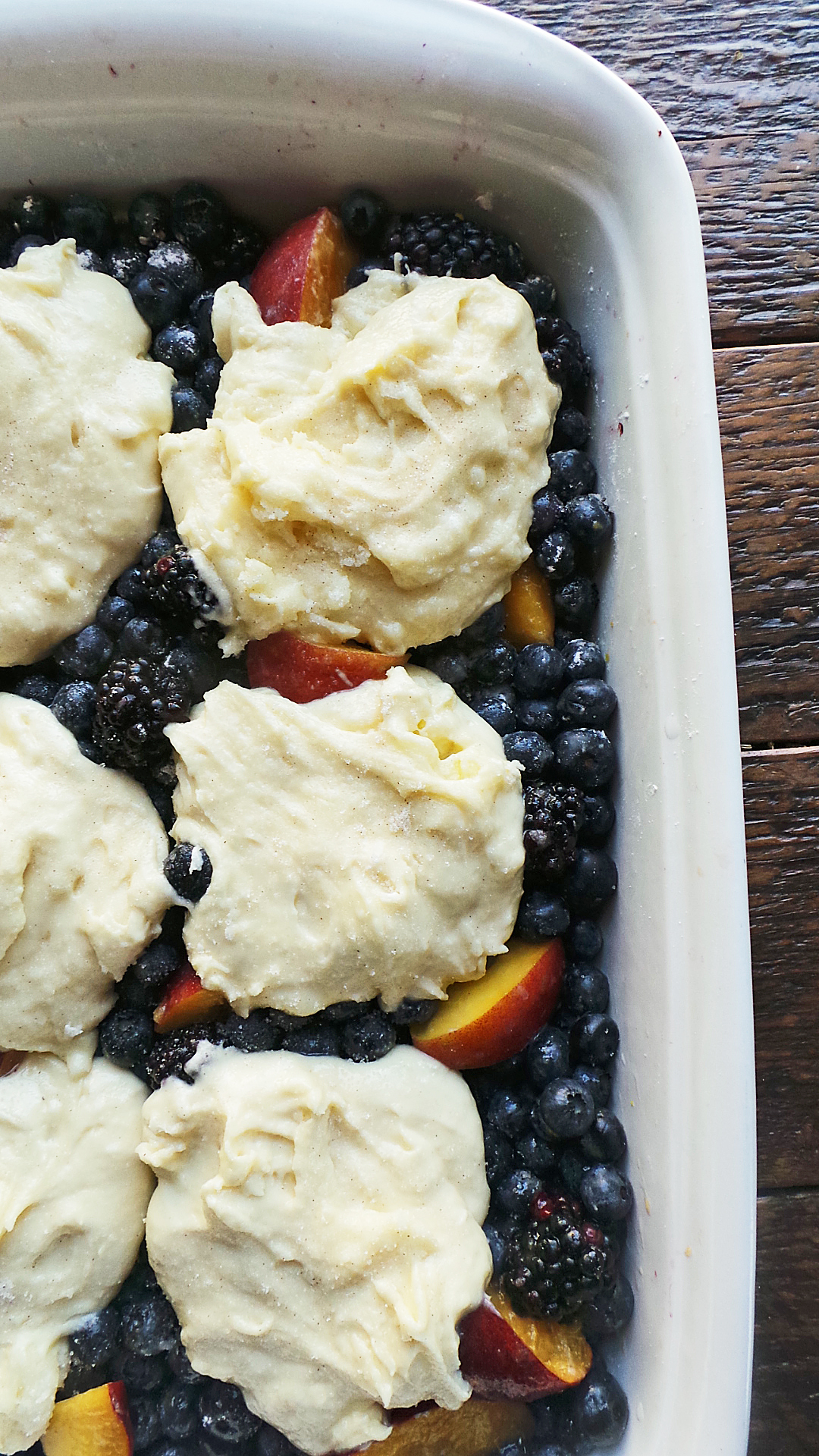 The batter is going to come out thicker than a cake batter, but thinner than a biscuit. If you're down for risking worms, it tastes sweet like vanilla cake. I added in the notes below that next time I make this (because I'm totally doing this again), I'm going to add a splash or two of vanilla. If you were to do this, add it with the eggs! I sprinkled mine with cinnamon/sugar but I couldn't taste it in the end product, maybe I should be a little more generous with my sprinkle?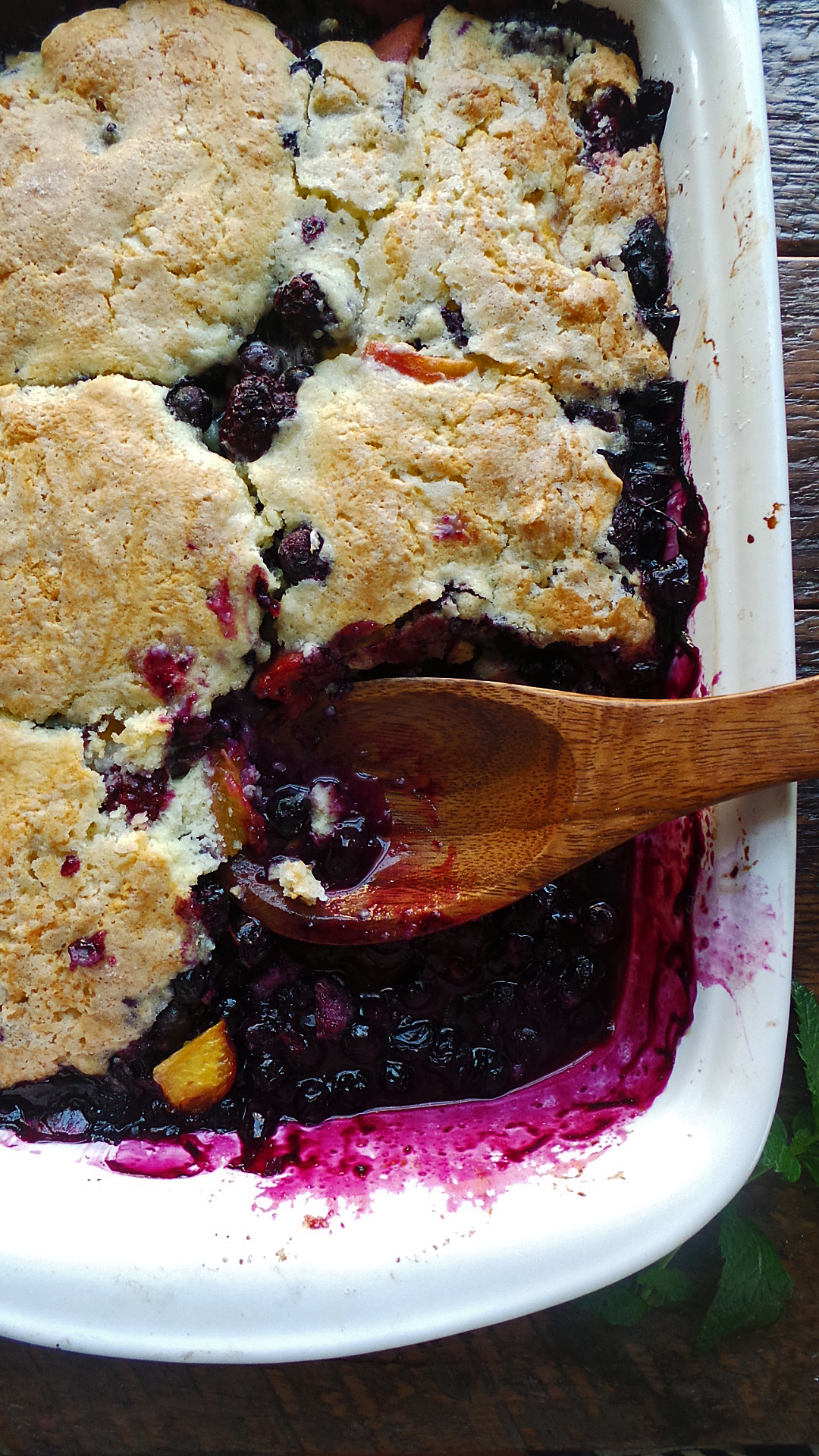 In the original recipe cooking time is between 35-40 minutes, however mine took 1 hour and 10 minutes. Maybe it's because my oven is slightly broken or it should have been baked at a higher temp. Just know it may take some patience and it's ready once the cake is cooked through and golden brown.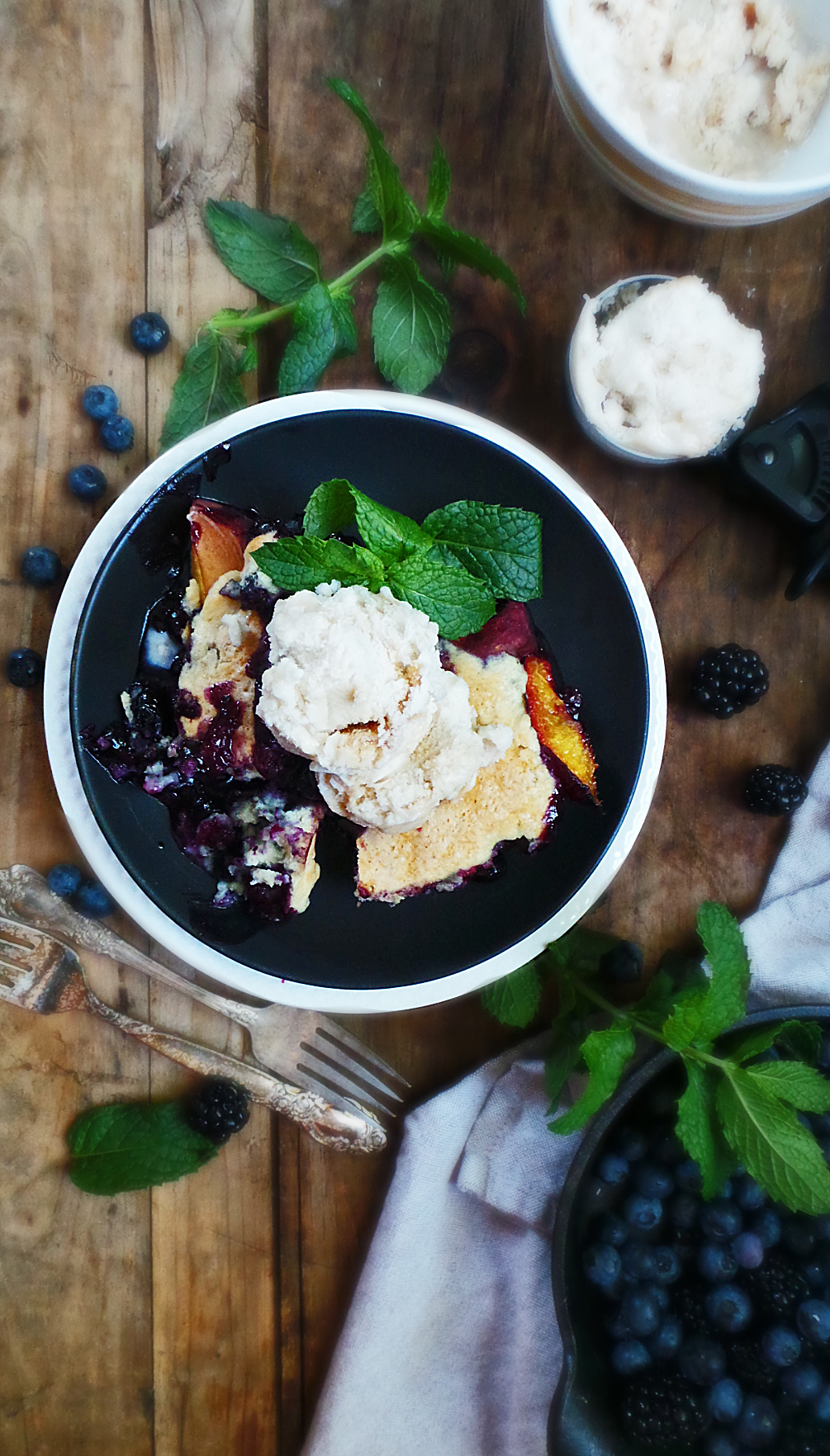 When it is golden brown you're going to start jumping because that's what cobbler straight out of the oven makes you do, especially if it's your first successful cobbler.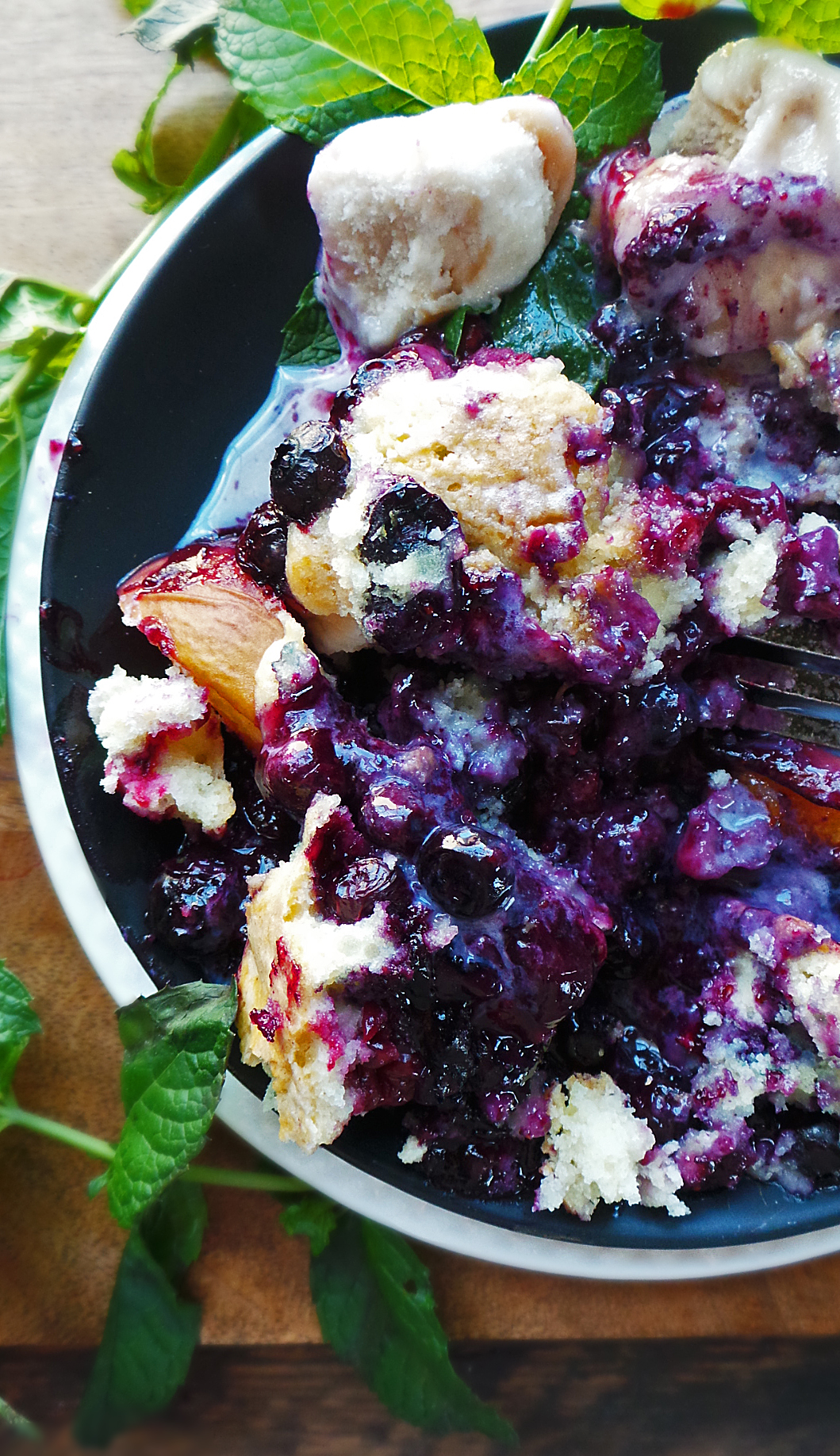 I topped mine with ice-cream and LEMME just say, the sweet cake with a chewy biscuit bite, the juicy fruit hot from the oven, combined with the chilling cold ice-cream is to die for. Still jumping. Enjoy!
Blueberry and Peach Cobbler
2015-06-26 05:25:58
Serves 8
For the Fruit
2 lbs. blueberry
4-5 peaches, sliced
1/4 c. sugar
2 T. all-purpose flour
1 T. lemon zest
1 T. sugar
1/4 t. cinnamon
For the Topping
1 3/4 c. all-purpose flour
1/2 t. baking soda
1/2 t. baking power
3 oz. or 6 T. unsalted butter, softened
3/4 c. sugar
2 eggs
1/2 c. buttermilk
Instructions
Preheat the oven to 350 degrees
First, mix together the blueberries and peach slices with the 2 T. flour, 1/4 c. sugar, and zest. Spread into the bottom of a 9x13 baking dish or 11" square. Allow those fruit to juice!
Sift together the 1 3/4 c. flour, baking soda, and baking powder. Set aside until needed.
In a standing mixer with the paddle attachment (or hand mixer) cream the sugar and butter until creamy, about 3 minutes. Add the eggs one at a time until combined.
Alternate between adding the flour and buttermilk, adding the flour THREE times and the buttermilk TWICE (start and end with the flour). Add the flour to parchment paper for an easy pour!
The batter will be thick. Spoon six large dollops over the cobbler and sprinkle with cinnamon/sugar.
Bake for 50 minutes to 1 hour, or until the topping is golden brown and fully cooked. Mine took about 1 hour and 10 minutes! Serve with fresh mint and ice-cream for extra deliciousness.
Notes
You can add any fruit you would like, just be sure you have enough to fill the bottom of a 9x13 baking dish. I tested the fruit out before adding the sugar/flour and ended up removed about a cup of fruit.
I think next time I'm going to make this I'm going to add a splash of vanilla to the topping, totally up to you.
http://www.vodkaandbiscuits.com/