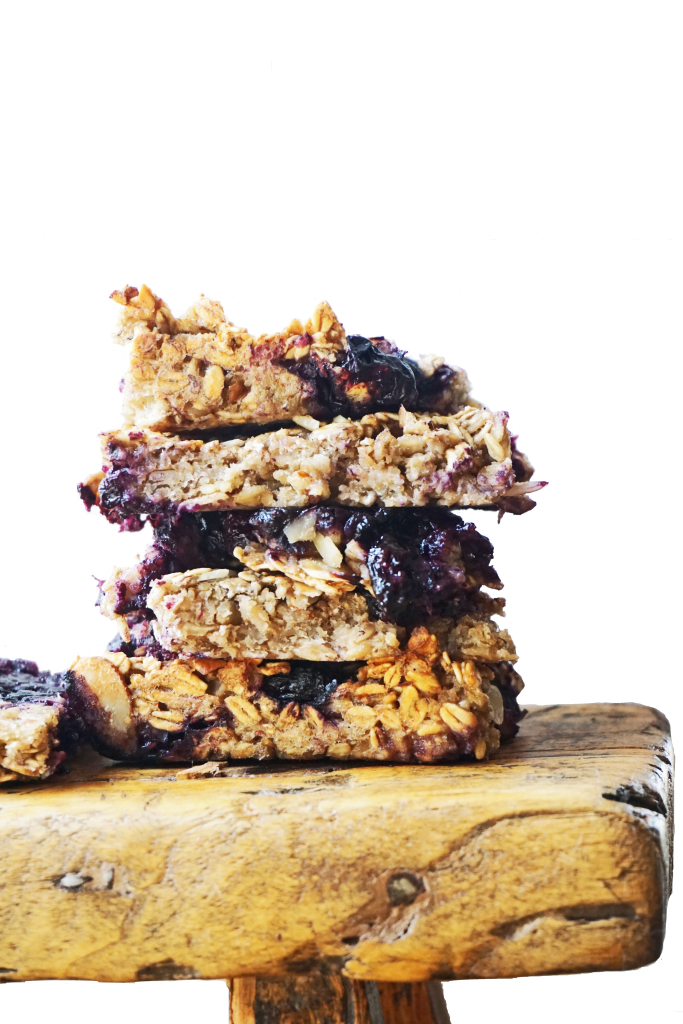 Because I know you've been craving blueberry breakfast bars, especially blueberry breakfast bars that are all nat-u-ral.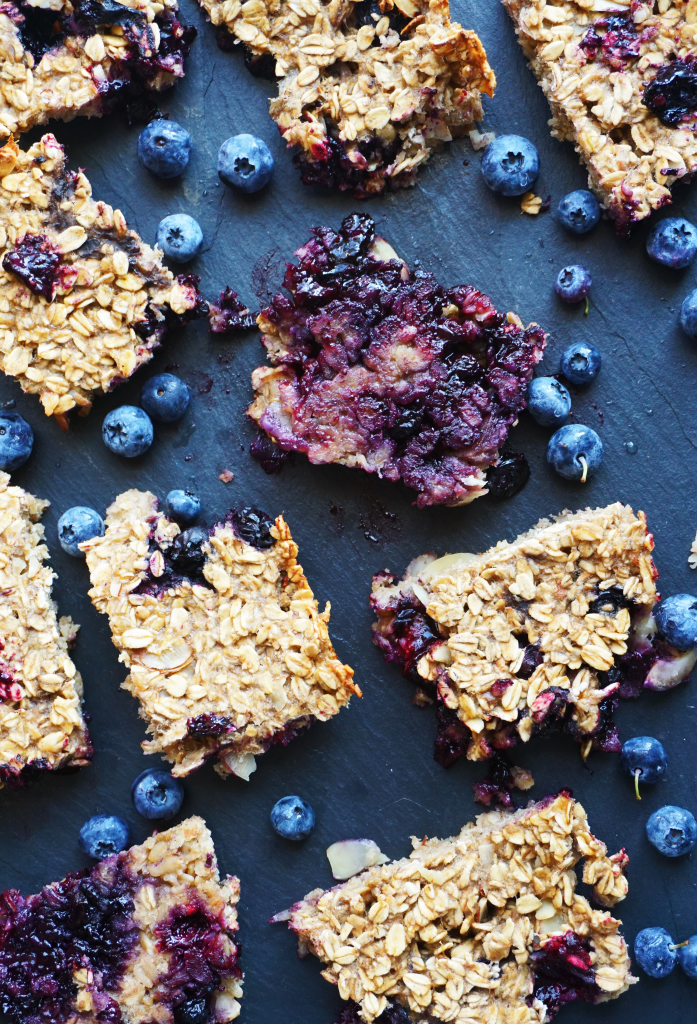 Shout out to all of my teacher, student, and industry friends because this one is for you. Here's to being used to relaxing by the pool during down time, to turning around and the school year has began and you don't even know what the words down time means. AMIRITE?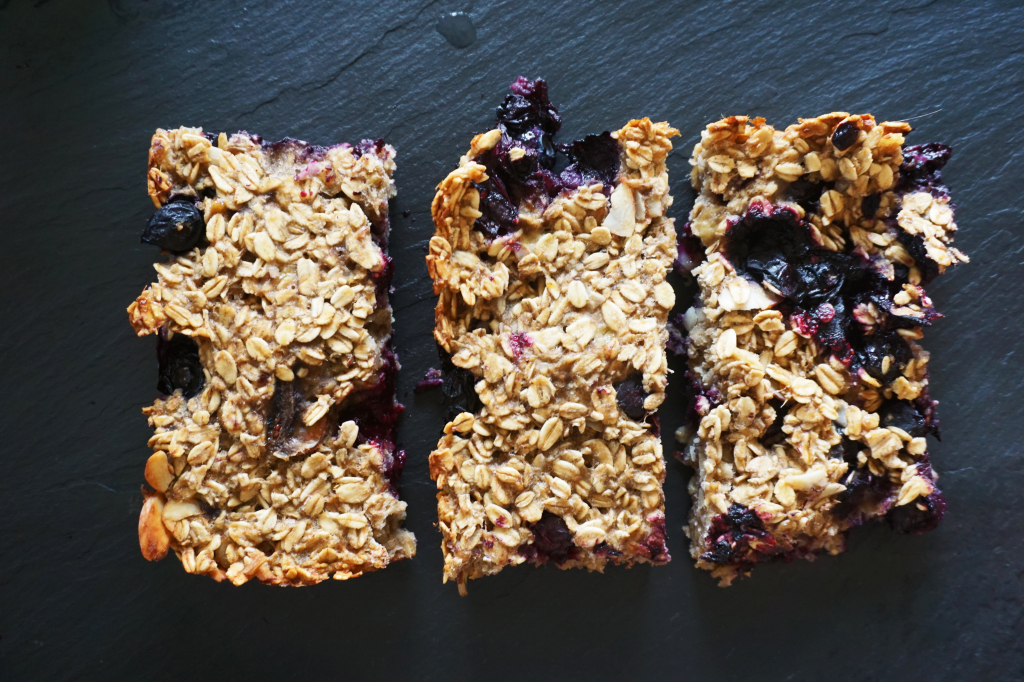 I recently shared an article on my Facebook page giving all the busy bees a kitchen-prep survival guide. That post is what led to these breakfast bars. With three weddings approaching in less than three days (ohmygod), I could use something that's easy to make (literally made these in less than an hour before work), easy to eat (typing with one of these in my hand), ), and healthy (refined sugar, where you at?).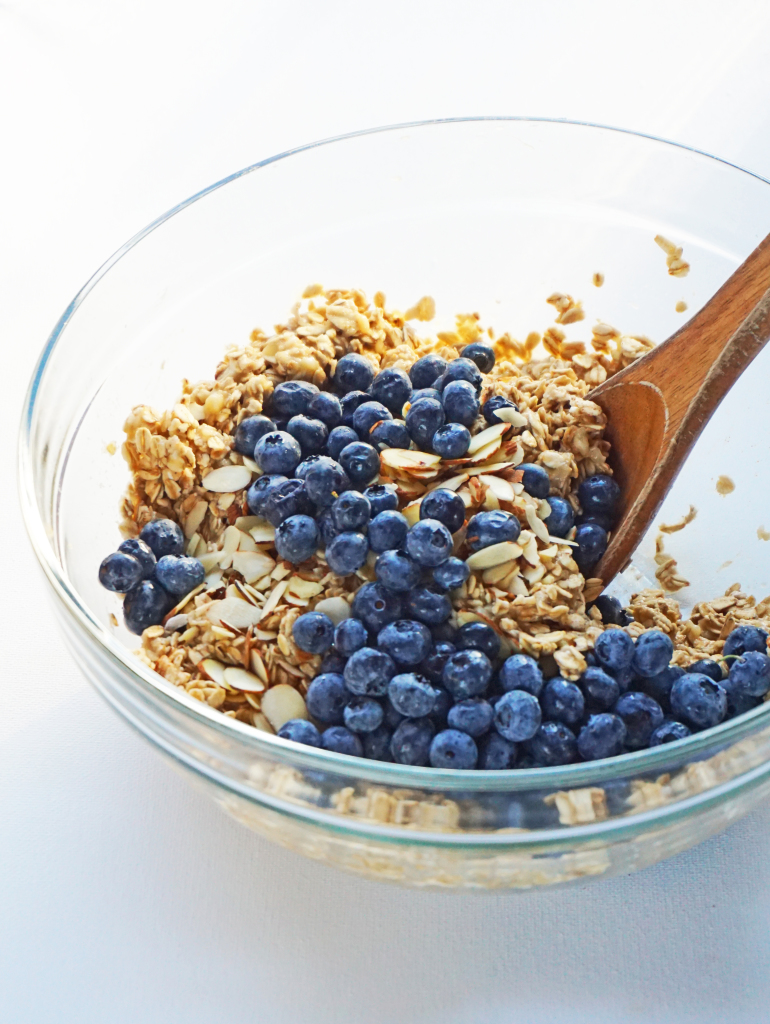 I combined a few recipes that I love to create these all-natural, minimal ingredient blueberry almond breakfast bars. They're made with only oats, ripe bananas, apple sauce, honey, cinnamon, a pinch of nutmeg, and optional add ins like blueberries and almonds.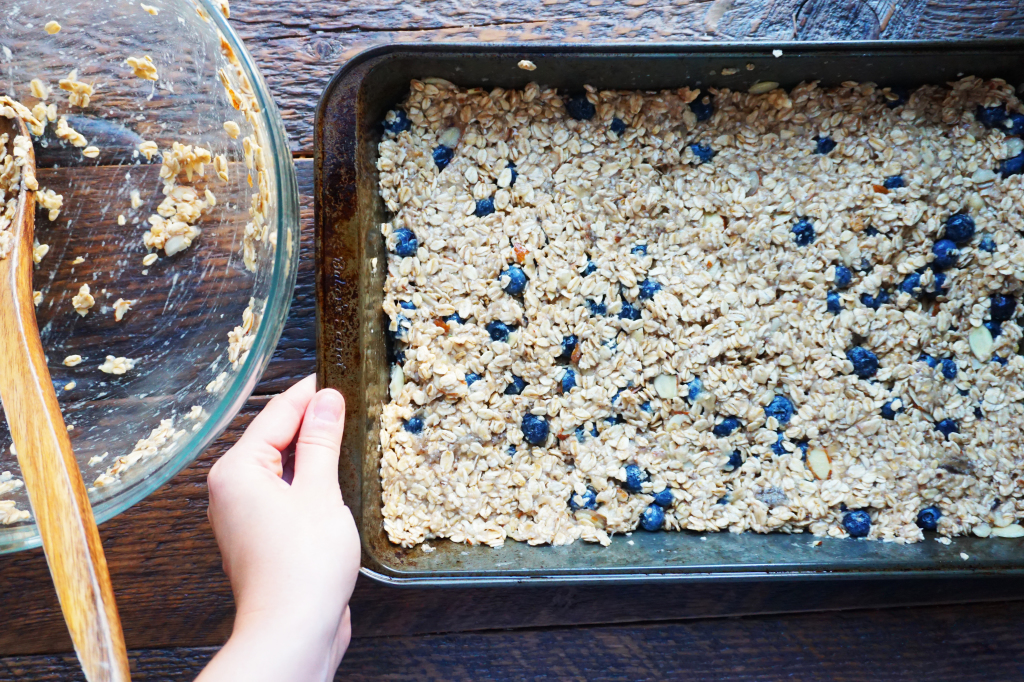 The oats, bananas, and apple sauce gets mixed together before add in the cinnamon, nutmeg, oats, and add-ins. The fun with these is you can add WHATEVER YOU WANT. Dried fruit, assorted nuts, strawberries, peaches, whatever. That all gets pressed in a baking sheet and baked until golden, about 30 minutes.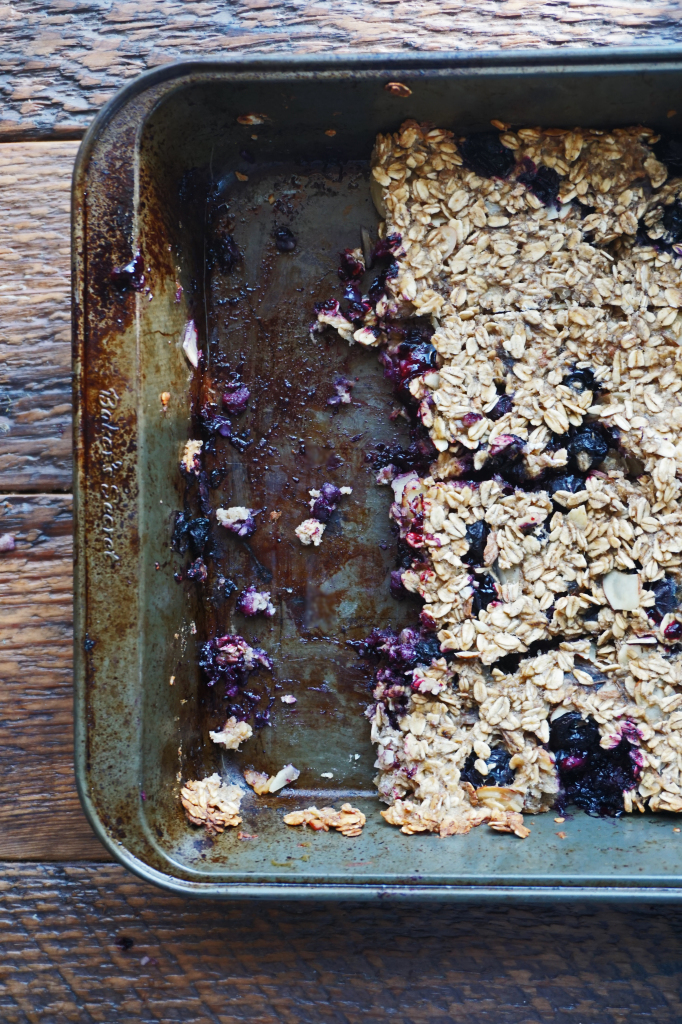 I used all natural ingredients to sweeten these to eliminate the use of refined sugar (table sugar, brown sugar, etc.). If you want these sweeter, by all means do what you have to do. Before making these, just know they are not designed to be a dessert. That's what donuts are for. These have an earthy natural feel-good taste.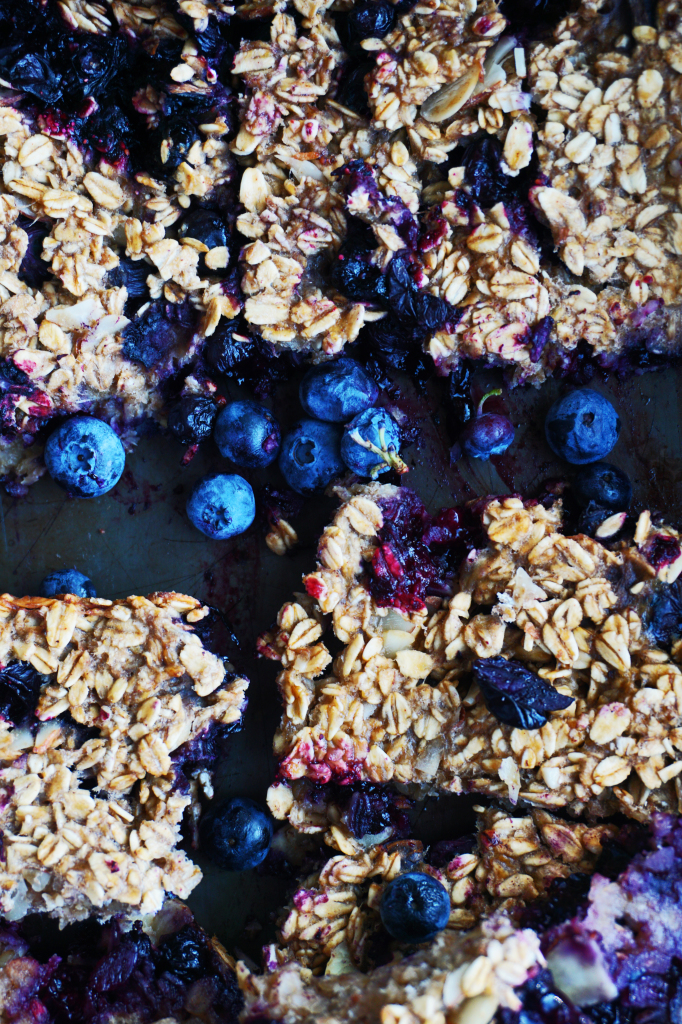 Let's not forget their texture. They're chewy meaning you can eat these in the car to your way to work without making a mountain of granola crumbs (insert the praising hands emoji).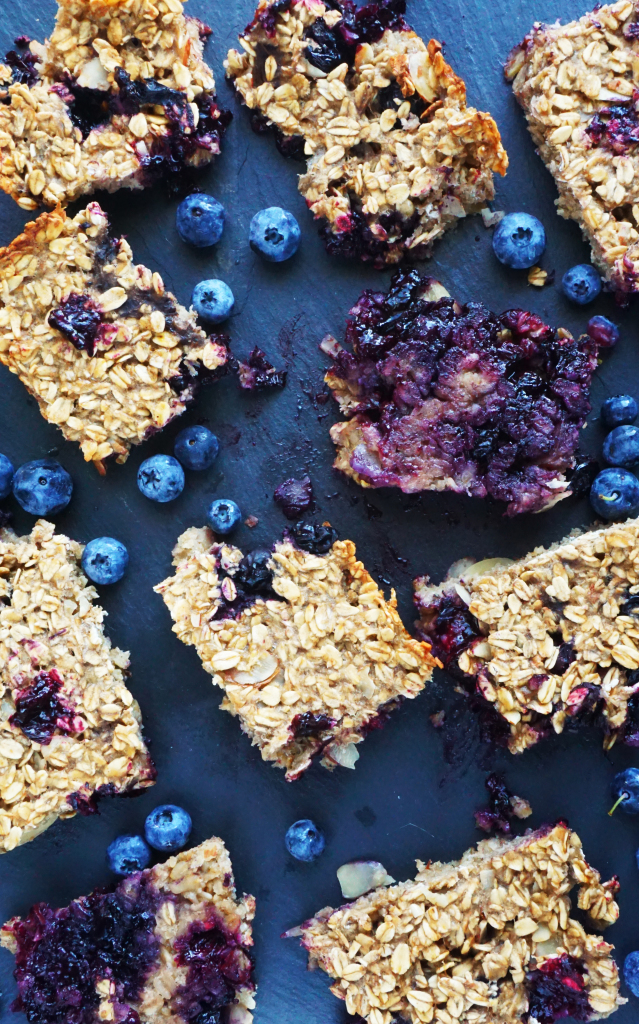 Before baking, taste the mix to see if it's sweet enough for you. Add some more honey or cinnamon if you'd like or toss in more fruit. You can't really mess these up and you can do whatever you want with them. I've ate them as they are, drizzled some with honey and coconut flakes, and threw it in my yogurt, and it all is equally delicious. Since this does make a boat load, wrap some up and throw it in the freezer!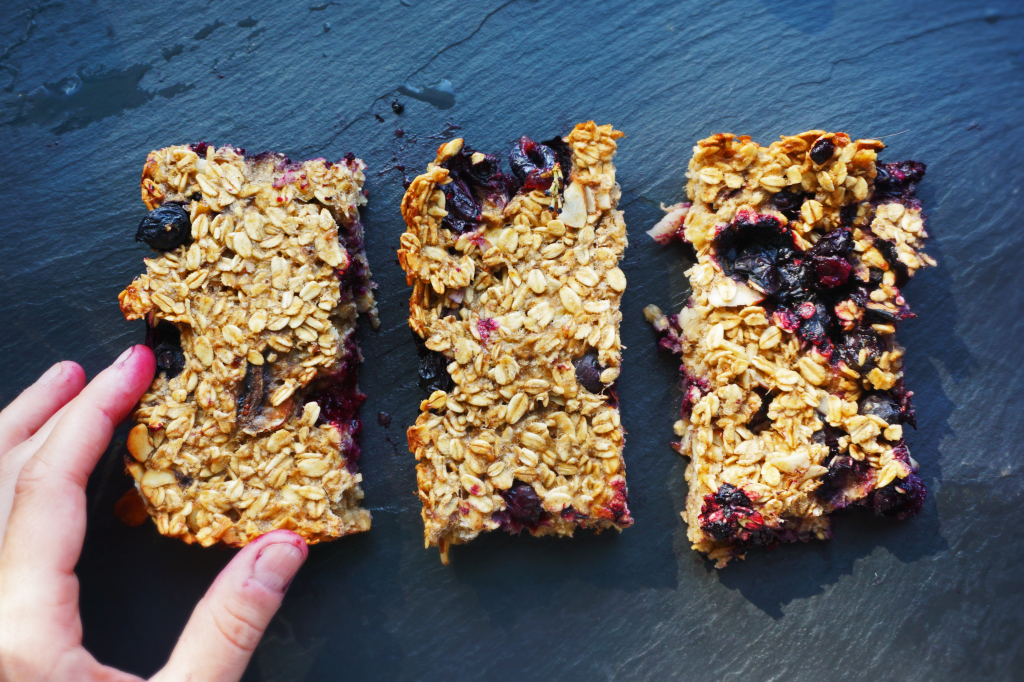 However you make these, just be sure to enjoy!
All-Natural Blueberry Almond Breakfast Bars
2015-08-26 09:30:36
Serves 16
Ingredients
3 cups dry rolled oats (Quaker is great)
3 very ripe bananas
1/2 cup unsweetend apple sauce
1/2 teaspoon cinnamon
1/4 t. nutmeg
1/2 teaspoon almond extract
1/2 teaspoon kosher salt
1/4 cup honey
1 cup fresh or frozen blueberries
1/2 cup almond slivers, preferbly toasted
2 tablespoons coconut oil, melted
Optional add ins: coconut, dried cranberries, pumpkin seeds, etc.
Instructions
Preheat oven to 350
In a standing electric mixer with the paddle attachment, mash the bananas. Add the apple sauce, honey, extract, cinnamon, nutmeg, and salt. Mix to combine. (can be done by hand if preferred)
Add the oats and mix until well combined.
Using a rubber spatula, fold in the blueberries and almonds.
Taste for sweetness and adjust as necessary.
Coat a 9x13 baking pan with the oil. Press mix into pan. Bake for 35 minutes or until edges are brown.
Cut into squares and/or bars and enjoy with yogurt!
Notes
Add whatever fruit, nut, dried fruit you'd like!
You may individually wrap and freeze the bars for later use 🙂
http://www.vodkaandbiscuits.com/