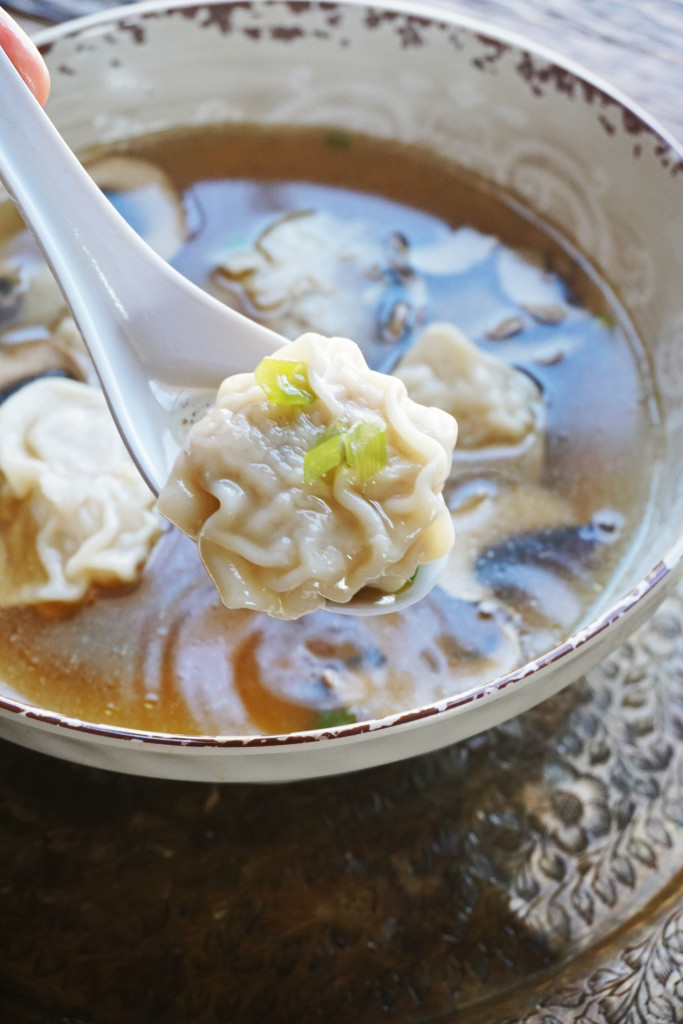 Guilty for being obsessed with wonton soup. Also guilty of being on a first name basis with the Chinese carry-out lady.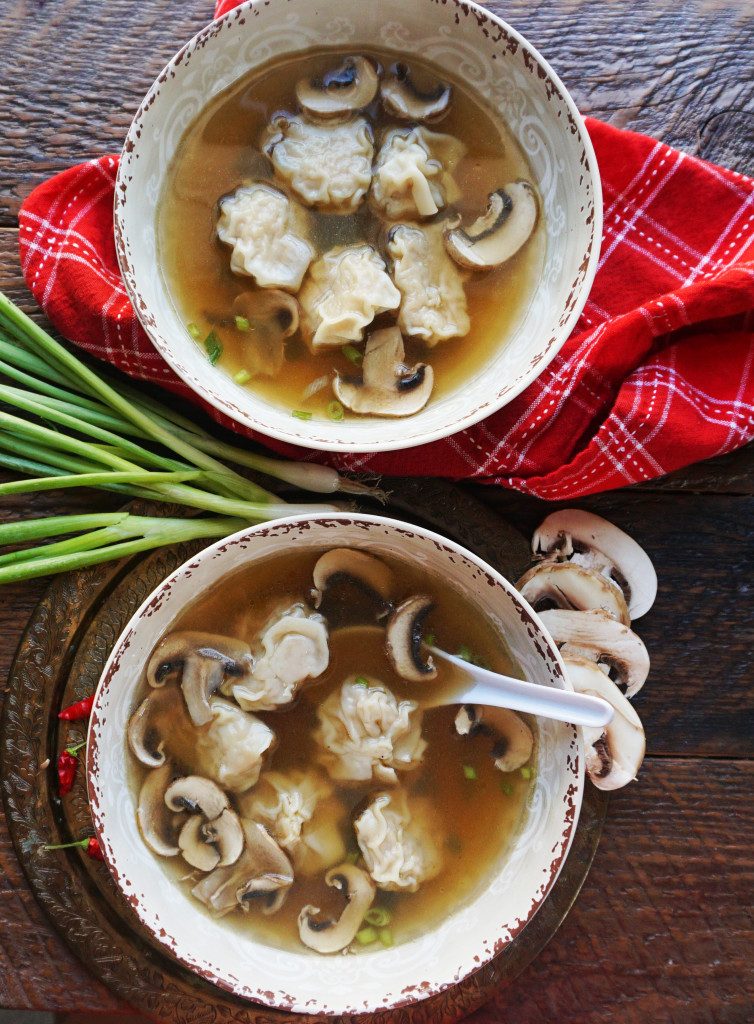 NO JUDGING ALLOWED.
Although wonton soup seems like a hassle to make, it's incredibly easy, fun, and calls for the perfect date night project.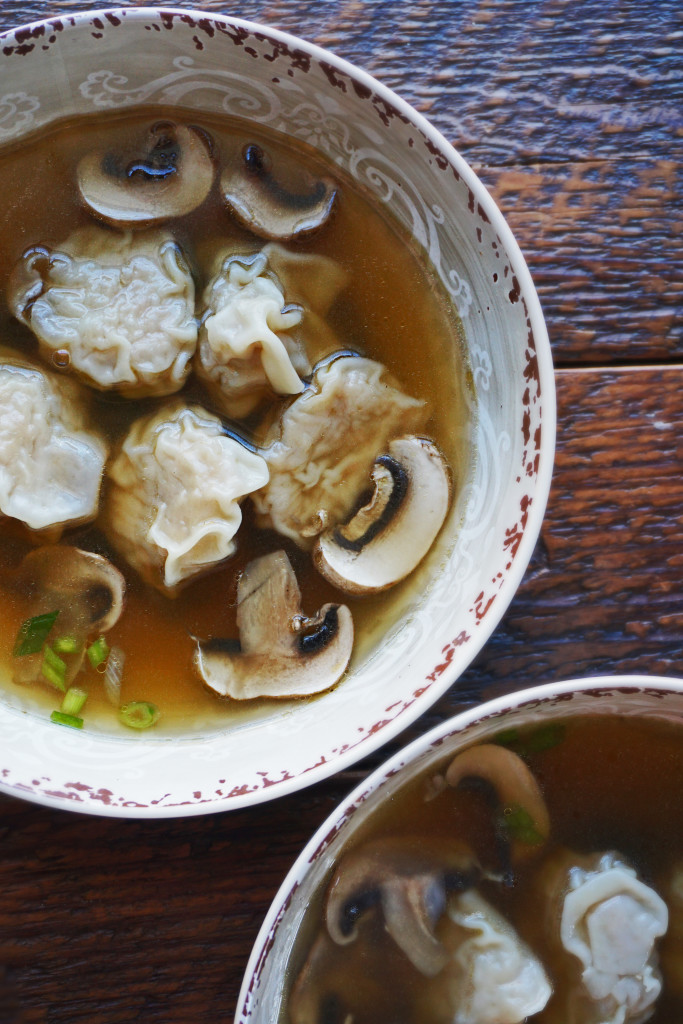 I actually experimented with wonton soup a few years ago in my early cooking days. I've taken the techniques I used back then and added a little flavor to create this recipe. Grab a friend, boyfriend, girlfriend, or family member, pour some white wine or sake, turn up some jams, and get cooking because you will be in for a treat. Let's start with the wontons.
The Wontons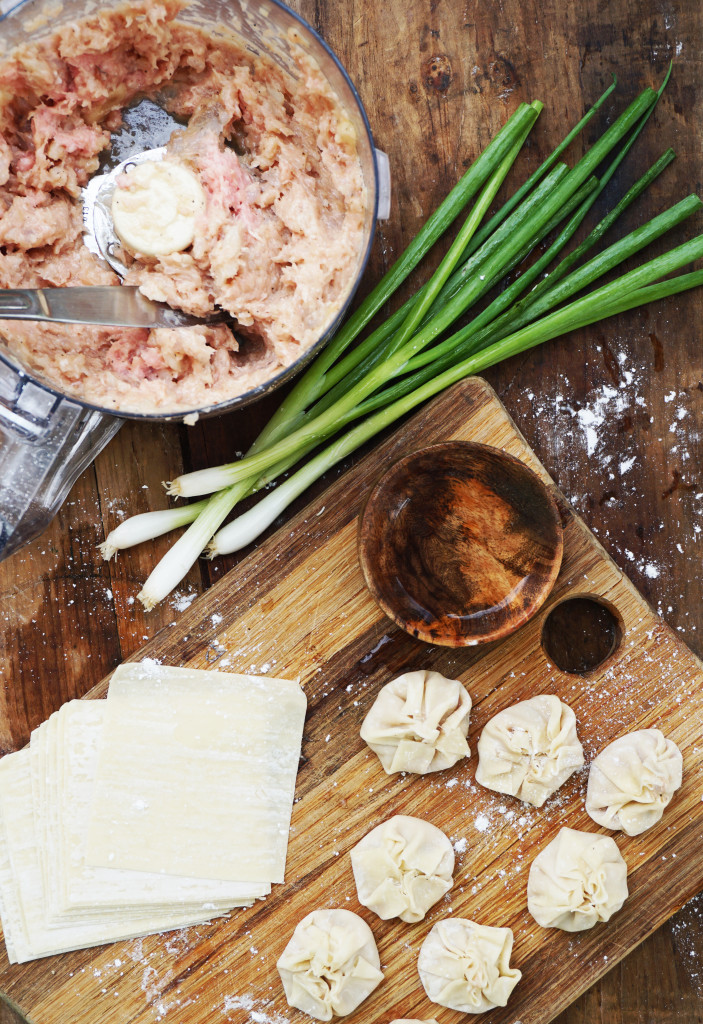 For the filling I used equal parts shrimp and ground pork, which is what you'll find in a traditional wonton. For texture I added water chestnuts, and for flavor I added ginger, soy sauce, sesame oil, a little bit of sugar, salt, and pepper. I went through a period of studying oriental cuisine and recall authentic wonton soup recipes adding a pinch of sugar here and there, in case you were wondering. Throw this in a food processor or stand mixer and mix until it looks how it does above, well mixed.
You'll see I used half a pound of both pork and shrimp and my recipe yielded a good 40 wontons. If this is too much, just divide by half! You can also freeze whatever you do not use, and as Serious Eats suggests:
To freeze the wontons, place them on a parchment-line plate, cover them loosely with plastic wrap, then place them in the freezer until completely frozen, about 1 hour. Transfer them to a plastic bag. They can be cooked directly from frozen, just add 1 to 2 minutes to the cooking time.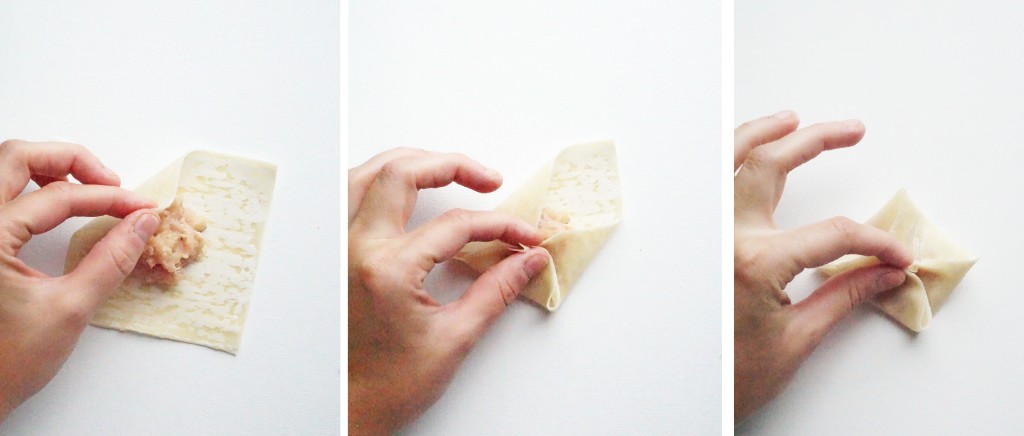 Before you begin folding make sure you have your filling, wrappers, and a small bowl of water or beaten egg. There are SO MANY WAYS to fold a wonton. For instance there's the traditional triangle fold where the two edges get pinched together, or a ravioli fold, or an envelope, or my fold which is a result from someone who pretends like they know what they're doing and realize after the first three they do not, let's call it the pathetic purse wonton.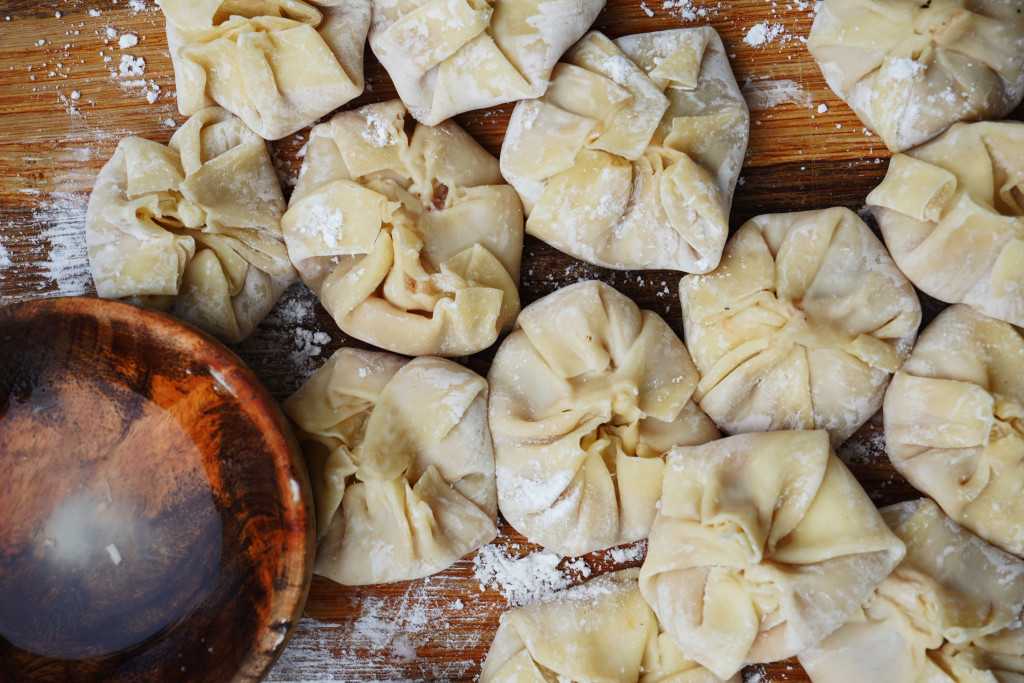 However you fold it, just make sure there's not a lot of air left in the pocket. A good indicator of when the wontons are finished cooking is when they float, however sometimes with the amount of air in them (due to a result of bad folding), can cause them to float unfinished. Just cut a few in half and once they're no longer pink, they are done! To be certain, I waited 2 minutes after they rose to the surface. Better safe than sorry!
PS: Click here for a great article on several different step-by-step wonton folds.
THE BROTH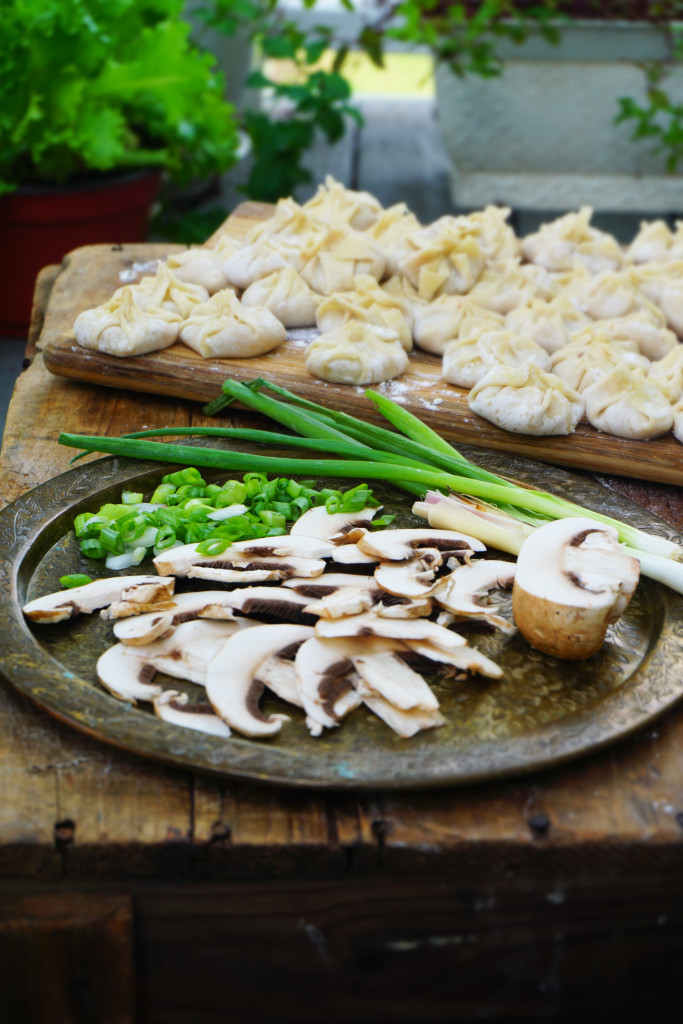 The broth is important because it's the base of the soup and where the flavor comes from. The trick to getting the broth a rich color is a splash of sesame oil and soy sauce. Heat a large stock pot or Dutch oven over medium high heat, add a splash of sesame oil, soy sauce, sprinkle of salt, pepper, and sugar, and a crushed stalk of lemongrass. Let that do it's thing for about 30 seconds, then add in the chicken broth. You'll notice right away the broth will get that golden brown color.
The lemongrass stalk just adds a pop of lemon and as you'll see in the recipe, it's totally optional. Just remember to discard the stalk before serving! Just before I add in the mushrooms and scallions, I crank up a pot of water to start my wontons.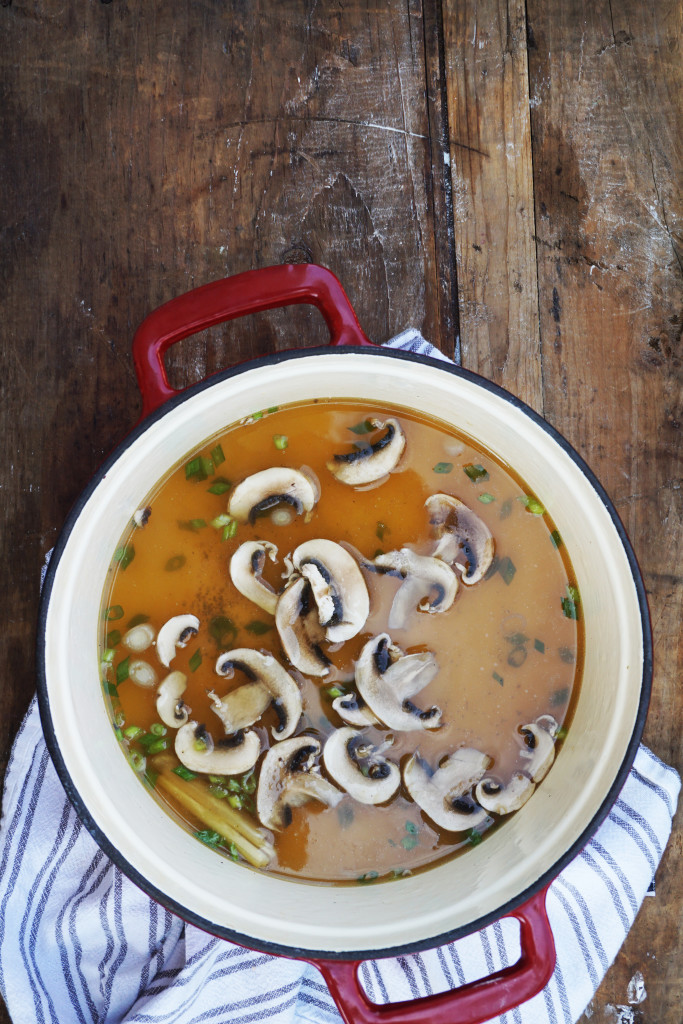 Don't get me wrong, you can go ahead and add your wontons directly to the soup. Like I mentioned above, a good indicator when they're done is when they float, but do check one or two to make sure they are cooked all the way through.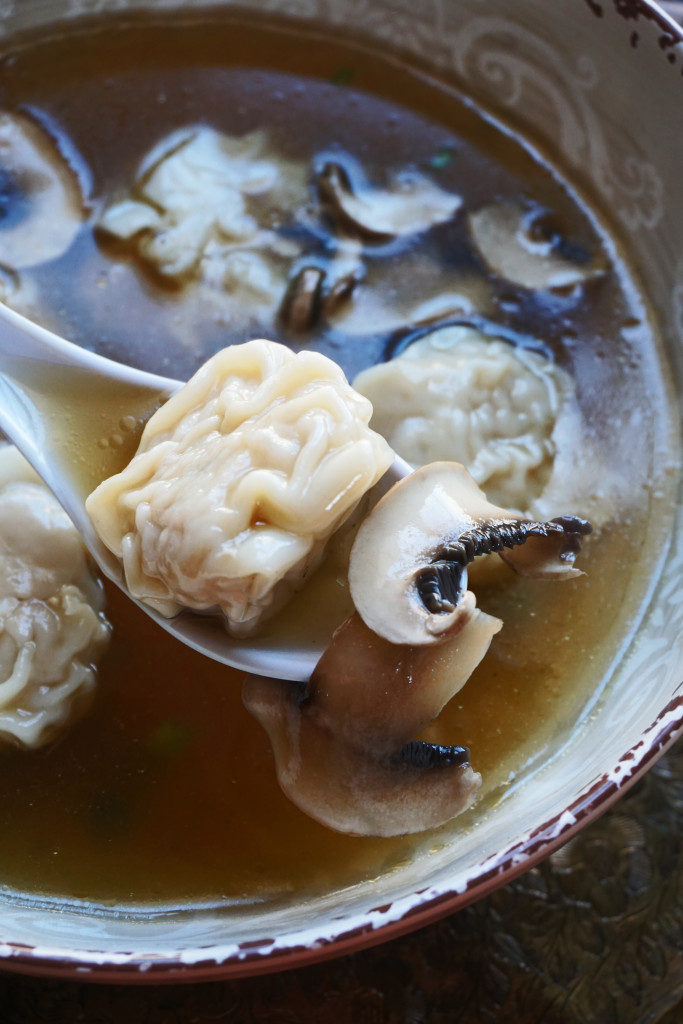 I knew I wasn't going to use all of my wontons for the soup, so I went ahead and cooked them all separately in boiling water. To serve the soup, add a few cooked wontons to a small bowl and ladle over the broth. Just like that you're ready for a bowl of DECADENT and rich homemade wonton soup. But now, what to do with all them extra wontons?
The Extra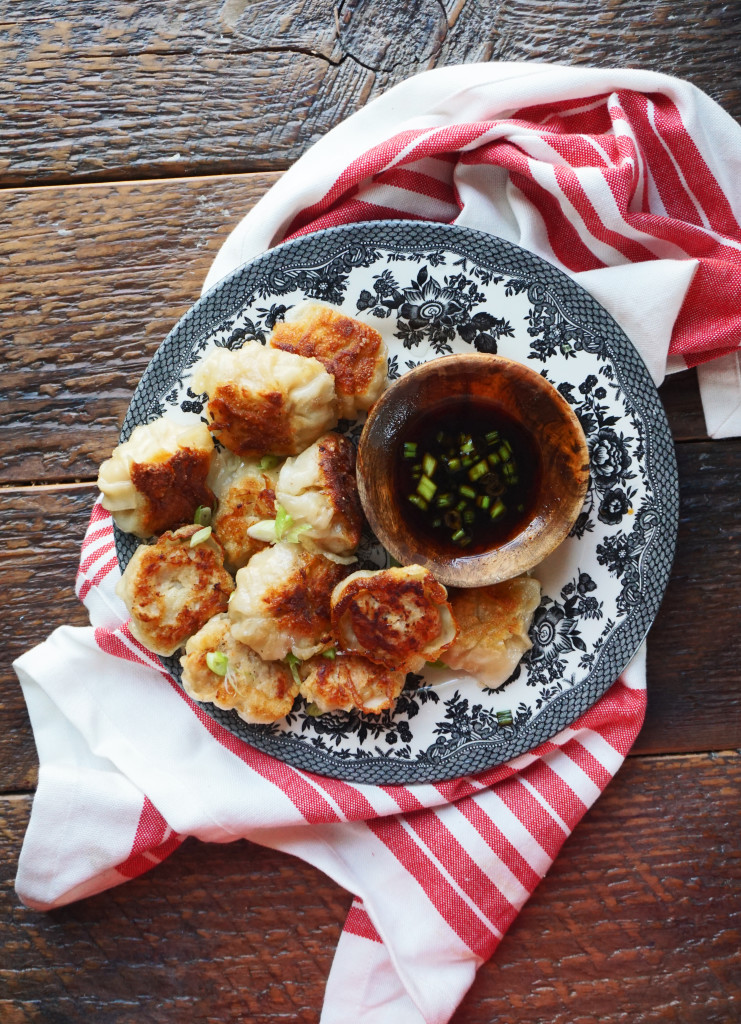 Once you've boiled all your wontons you can eat them as is which are delicious especially if you're a fan of steamed dumplings OR you can pan fry. Heat two tablespoons of oil in a small skillet and once hot, transfer the wontons from the water to the skillet. They only take a few minutes to cook, once they're crispy they're ready to go! Make a dipping sauce with soy sauce, scallion, honey, and Sriracha and you'll have crispy wontons that you and your cooking buddy will fight over. I seriously recommend doing this.
Also, not to overwhelm you or anything, but since you've already spent all that time in the kitchen, why not go all out and pair this with my Sweet & Sour Chicken?!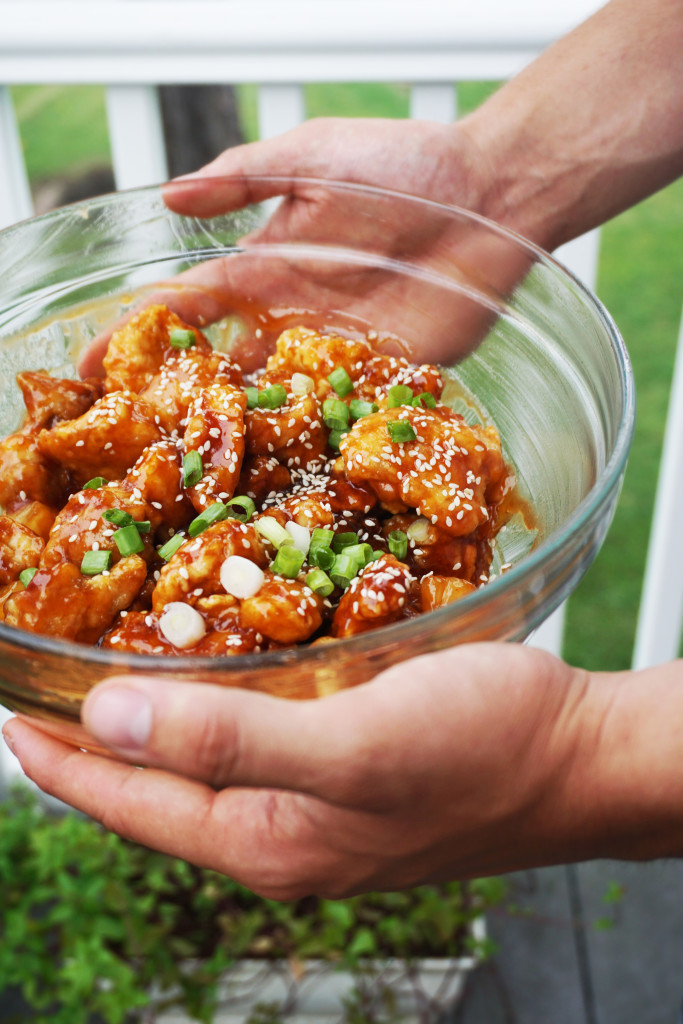 By the end of the day you may be covered in flour, tipsy off wine, but I promise you'll make the best darn dinner you've had in a lonnnnng time. Enjoy!
Wonton Soup
2015-09-08 08:28:00
Serves 8
Ingredients
For the Wontons;
1/2 pound shrimp, peeled and deveined
1/2 pound ground pork
1 teaspoon grated ginger
8 ounce can of water chestnuts, roughly chopped
1 teaspoon soy sauce
1/2 teaspoon sesame oil
1 teaspoon sugar
1 egg
pinch of salt and pepper, preferably garlic salt
1 pack of wonton wrappers (this recipes yields about 40)
For the Soup
8 cups chicken broth (about 2 boxes)
3" stem of lemon grass, smashed with chef's knife (optional)
1/2 teaspoon sesame oil
1 teaspoon soy sauce
pinch of salt
pinch of pepper
pinch of sugar
1 bunch scallions, sliced thin
1/2 cup shiitake or white mushrooms, sliced thin
Water to boil wontons
For the Wontons
Add all of the ingredients except the wrappers in a food processor. Pulse until the shrimp and pork are mixed well and the ingredients are incorporated throughout.
Remove a few wonton wrappers from the package and lay on a dry surface. Have a small bowl of water next to you to help mold.
Put two teaspoons of filling in the center of the square wrapper. Paint the edges with a wet finger. To make a traditional wonton, fold one side over to create a triangle, then pinch two corners together. I places my wonton in the center of my palm, and pinched the corners up to make a wonton-purse (see post for details).
Continue until all of the filling has been used. Lightly dust the wontons with cornstarch (optional), and place in the refrigerator until needed.
For the Soup
Heat a large stock pot or Dutch oven over medium high heat and add the sesame oil, soy sauce, pinch of salt, pepper, and sugar. Add the chicken broth and smashed lemon grass stalk, if using. Bring to a simmer.
Add the sliced scallions and mushrooms, simmer until mushrooms are tender, about 5 minutes.
Add water to a large pot for the wontons and bring to a boil. Add the wontons and cook until finished, about 6-7 minutes. A good indication is when they float, however that doesn't always mean they're done cooking. Cut one in half and when it's no longer pink, it's done!
**You can also add the wontons to the soup directly, I did not because I wanted to pan fry my extra**
Discard the lemon grass stalk from the broth. Add three-four cooked wontons to a soup bowl and ladle over the broth. Eat away!
For the Extra Wontons
You can boil or steam wontons and enjoy as is with a dipping sauce of soy sauce, honey, Sriracha, and scallions OR you can add the raw wontons to a skillet with a 1/4 c. of water, cook until the water has evaporated, then add a tablespoon of oil quickly to pan fry. I also have boiled mine, then transferred to a hot oiled skillet to fry! So many options!
Notes
The recipe yields 35-40 wontons. I did not use them all for the soup, I steamed/pan fried some for an appetizer. Reduce the recipe to yield less!
http://www.vodkaandbiscuits.com/