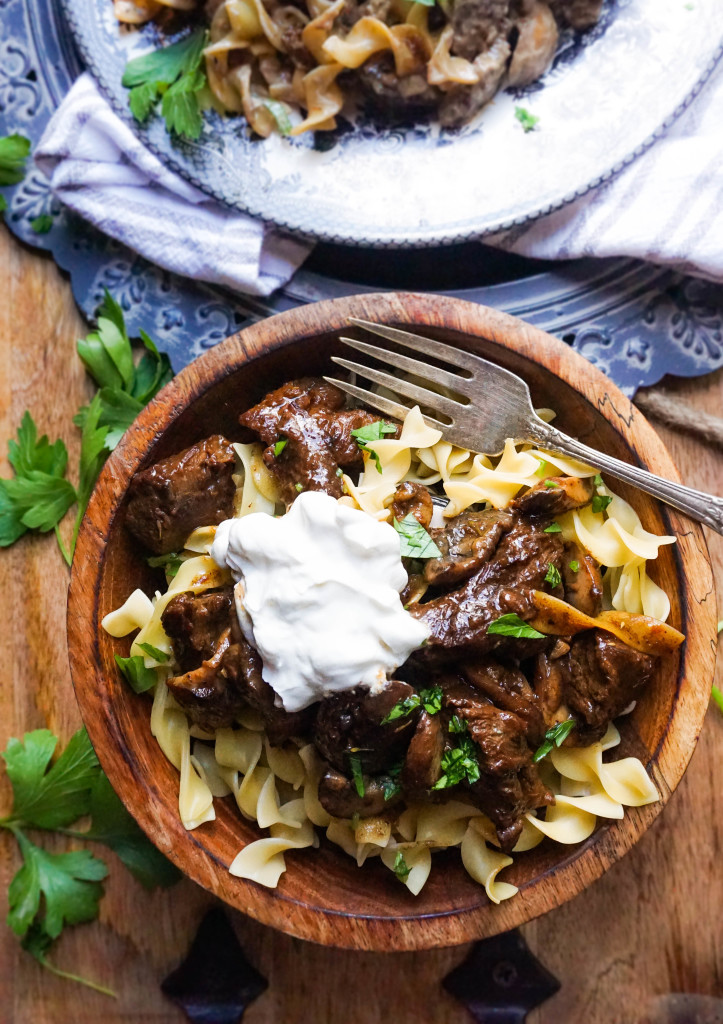 Comfort food so good you'll wanna give it a hug.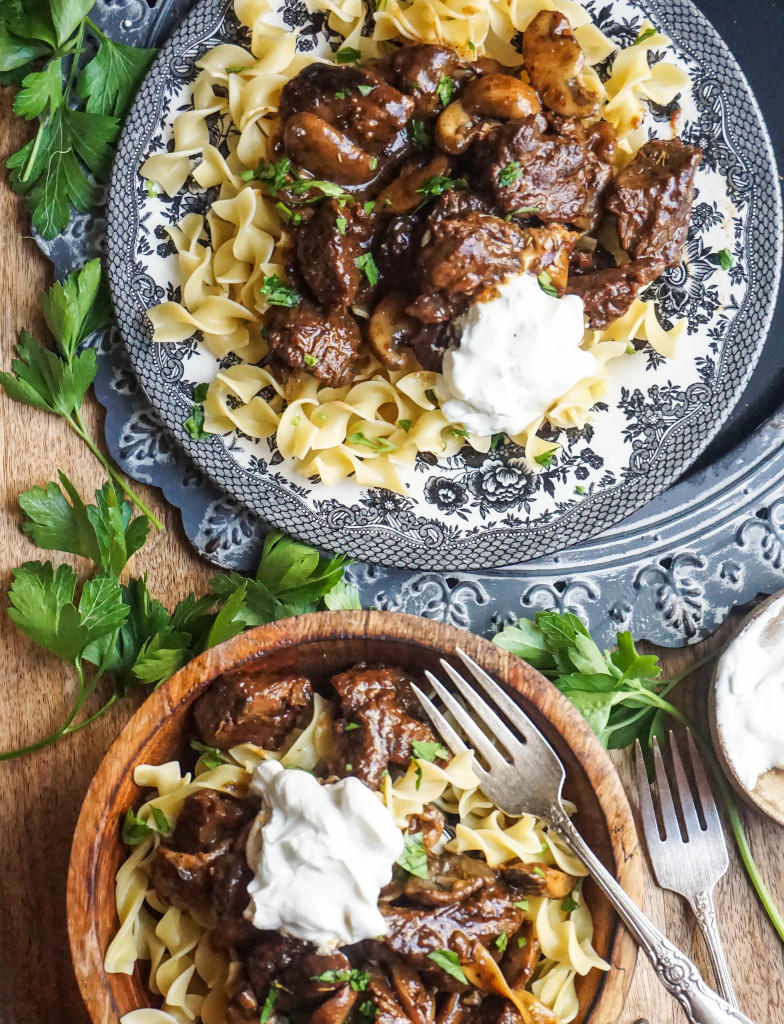 Actually, now that we are on the subject, my problem is all food is comfort food lately. Wedding season has me like woah. Is stress eating a hobby? Just wondering.
Enough of my pity, let's talk about this MOUTH GASM of a meal – Pot Roast Stroganoff. Imagine everything you've ever wanted in life piled into a bowl with a dollop of sour cream.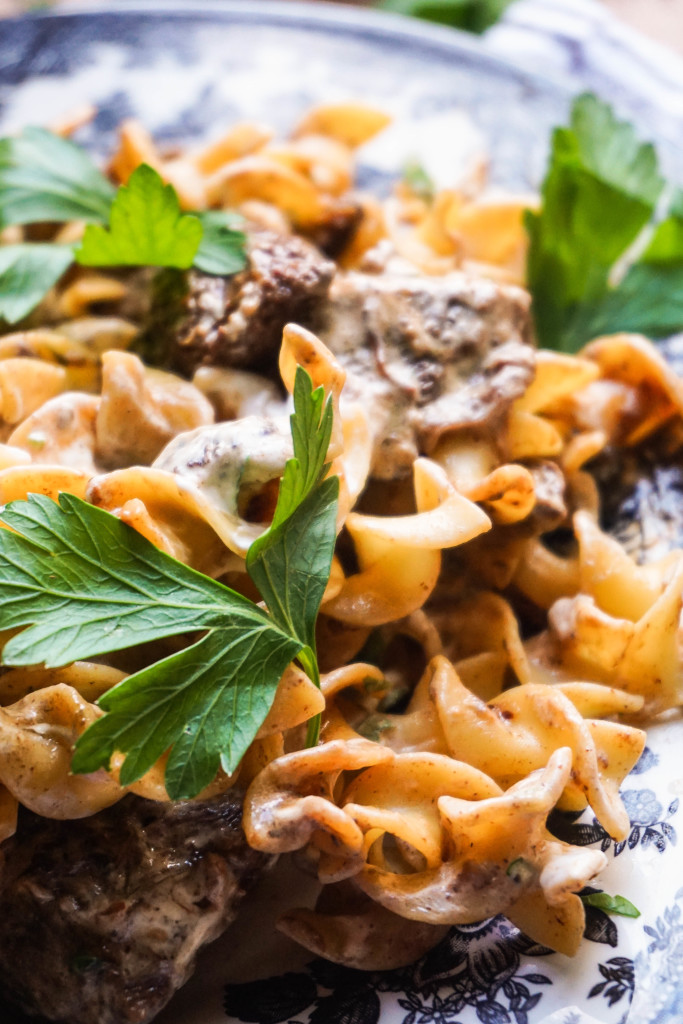 As you may or may not know, Stroganoff is a dish made with (typically) sauteed beef and mushrooms, egg noodles, and sour cream. For years I called this, Tuna Noodle Casserole, and Frozen Pot Pies the single-man meal because growing up after my parents divorced it was the only thing my dad knew how to make. Also, every bit of this hits every one of his taste buds. It's meaty, it's filling, and now that I've introduced the pot roast flavors, it's damn delicious. Let's start cooking!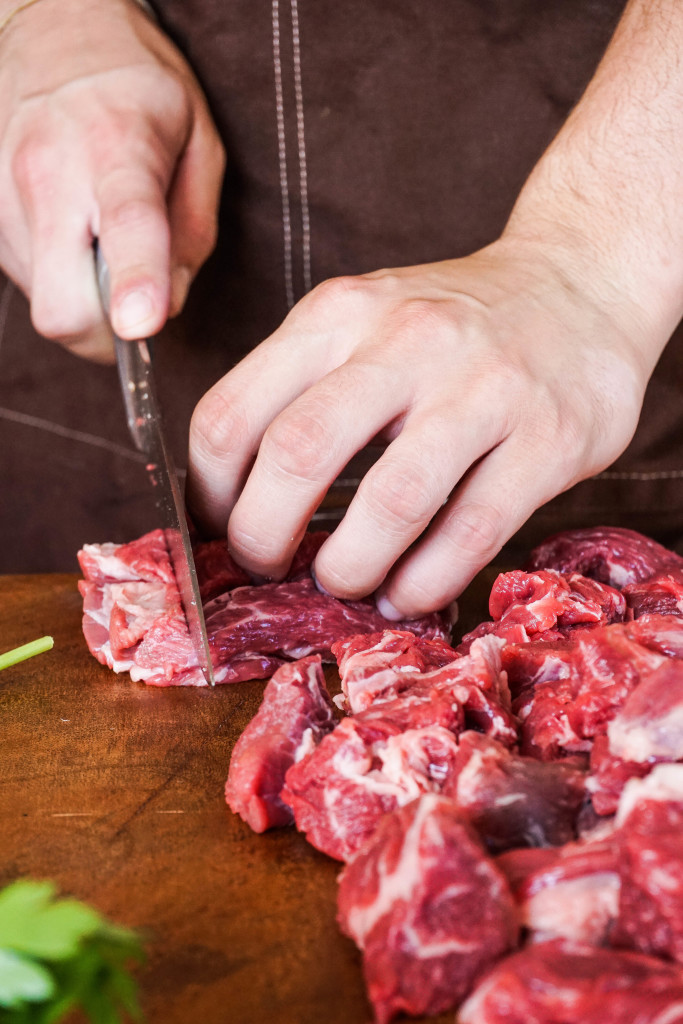 Traditionally this meal is made in under thirty minutes with a fast-cooking cut of beef, like sirloin. The problem with that is you can't overcook it or you'll have chewy pieces of beef. Yuck. I wanted to bump this up with a flavorful cut of beef that cooks to tender perfection. Are you thinking what I'm thinking? Chuck roast.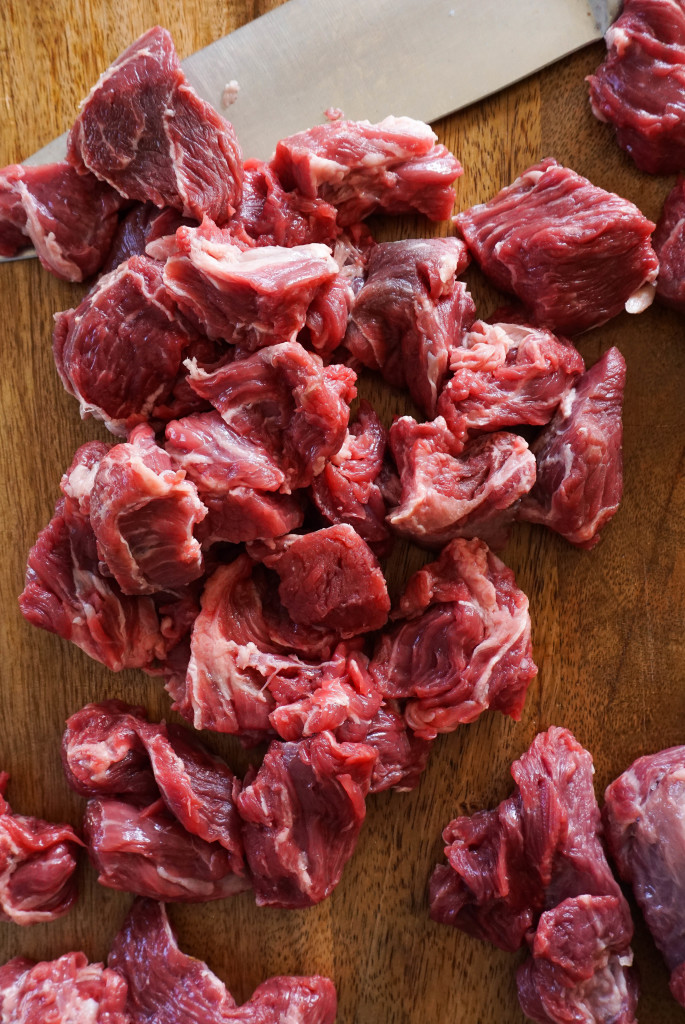 All that marbling guarentees you a fatty, flavorful, and tender piece of beef. I recommend buying a 2 lb. chuck roast and cutting it into cubes. Sure you have to trim a little excess fat, but at least you know exactly what you're using. I never trust the pre-cut chunks of "stew meat."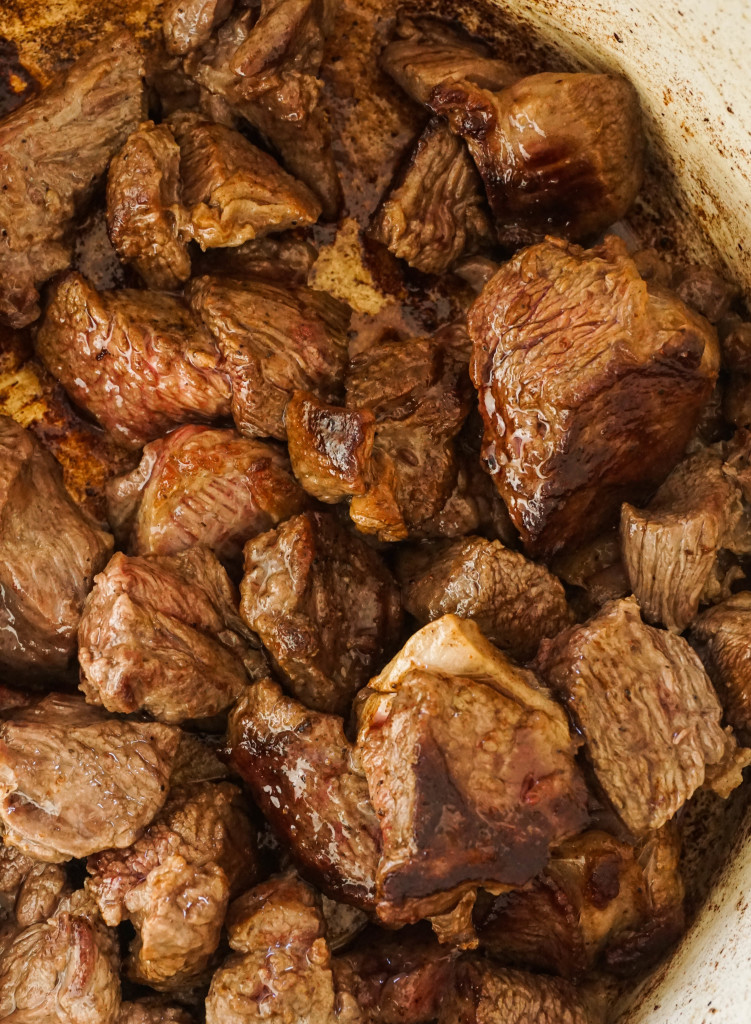 In a Dutch Oven (most preferred), the meat gets browned in some canola or vegetable oil. A few tips when browning meat:
Very generously season the chunks with salt and pepper. The sear will lock in the seasoning, flavoring it from within.
NEVER crowd the pot! Add enough chunks to make one layer, and repeat until all the chunks are caramelized. This recipe took me two batches.
The beef will tell you when it's time to toss around. It'll release from the pot naturally, don't force it!
Sear all sides of all chunks, about 5-7 minutes per batch.
Once the meat browns, it gets cooked a few more minutes with onion and garlic, then some flour is added. Flour helps to thicken up the stock creating a gravy from the au jus that you'll be licking from a spoon later. Trust me. After the flour cooks a bit, about 4 cups of stock is added. Whenever I'm buying store bought stock I like to bump up the flavor a bit by simmering it with fresh thyme, bay leaf, and carrots. It'll be in the recipe, but totally optional! That gets cooked on the stove top partially covered for one and a half to two hours. Mine took exactly 1 1/2 hours!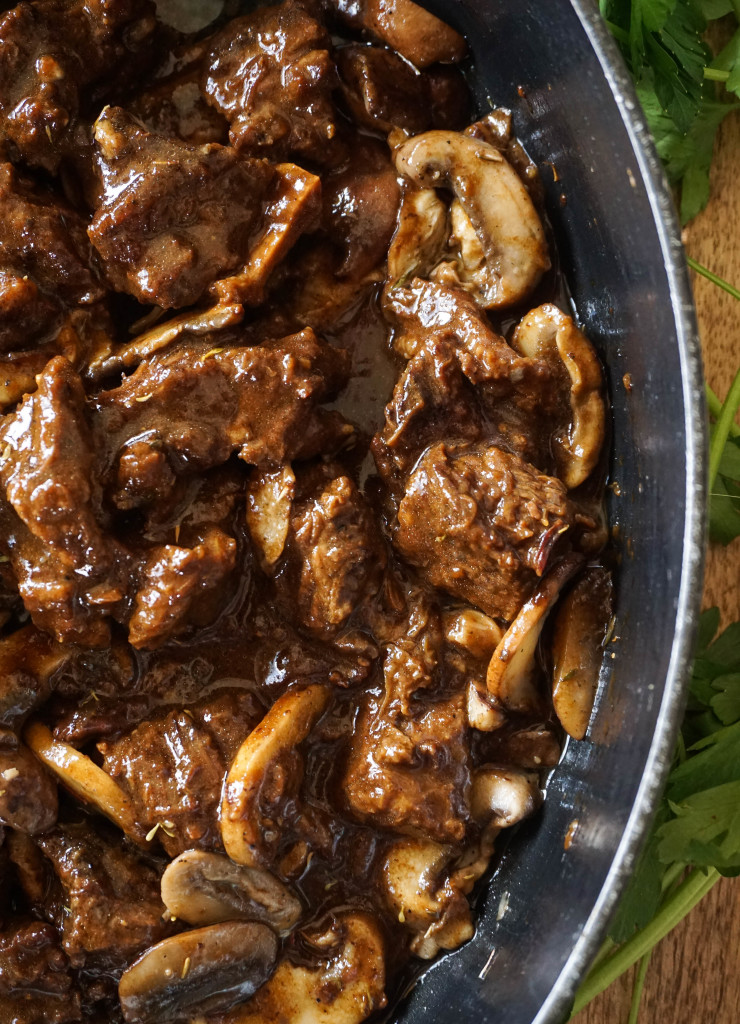 Leaving the pot partially covered helps to reduce and concentrate the stock, while it also tenderizes and cooks the beef. You don't want to go too far from the kitchen because it's important to constantly keep checking on the beef. If it reduces too much, say because you're heat is too high, it could end up burning. Just keep checking on it and if you feel you need to add a little more stock, go for it!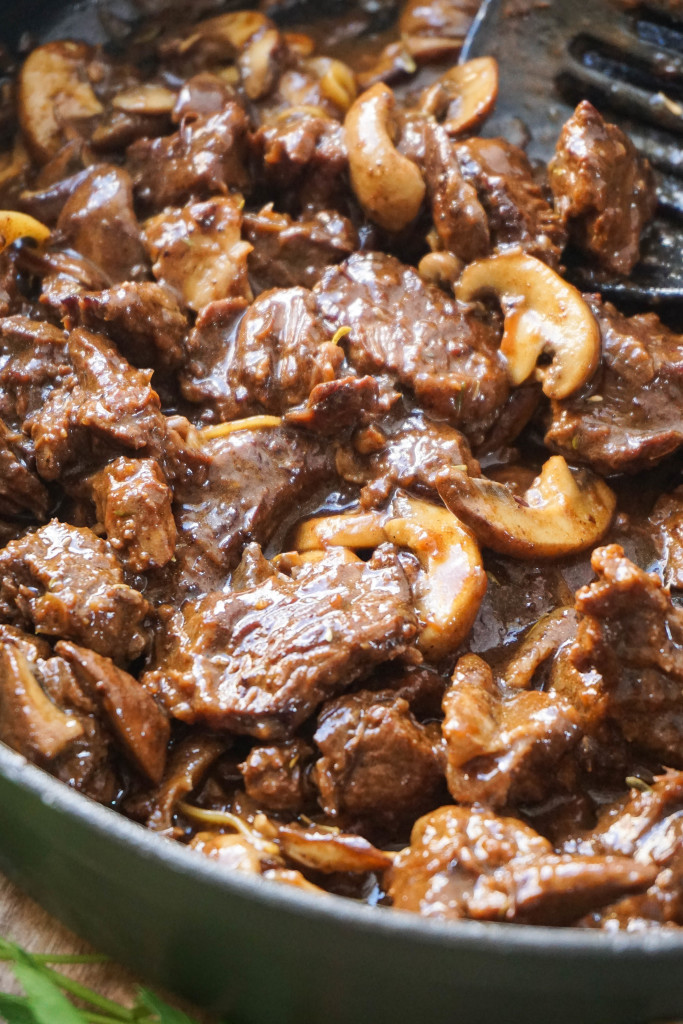 You'll know the beef is ready by tasting it. After an hour and a half, mine was perfectly tender. You could let it cook for another half hour and it will be melt in your mouth – shred with a fork tender. Once I knew my beef was getting close, I melted some butter in a skillet and sauteed a bunch of assorted mushrooms. I've seen several recipes where the mushrooms get stewed with the beef, however I think they hold (and taste) better when cooked separately. While those are cooking, boil your egg noodles. And then just repeat to yourself how alllll the dishes will be worth it.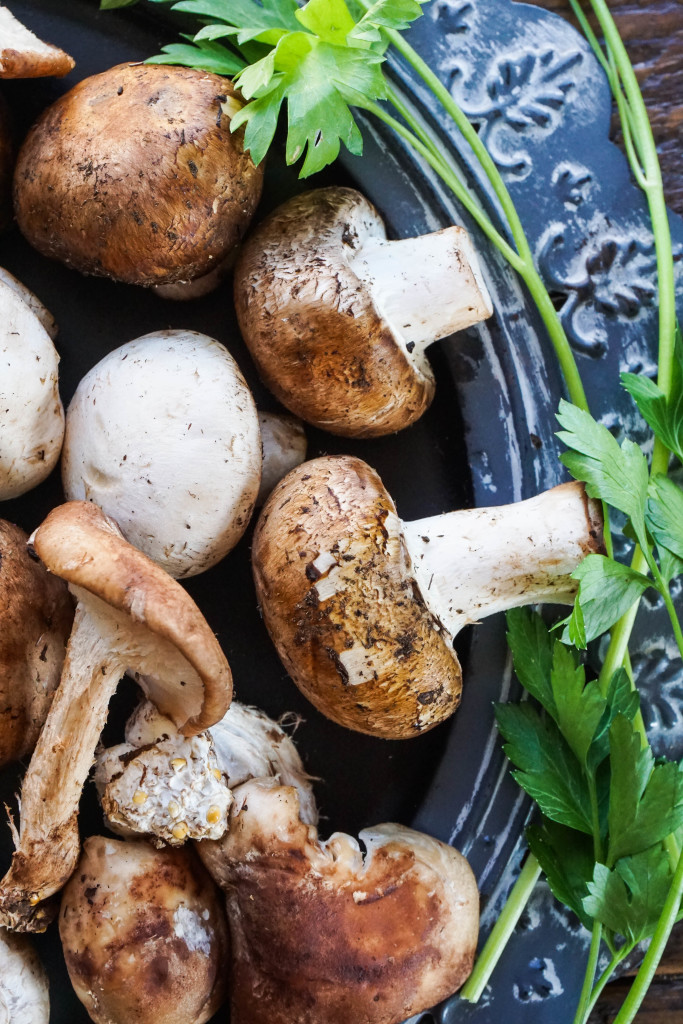 PS: I went to the market and picked up an assortment of shitake, white, and button mushrooms. May or may not have thrown in a couple exotic looking ones too. Buy whatever you'd like! When you're ready to wash them, just dampen a paper towel and gently scrub them down. They're fragile little things.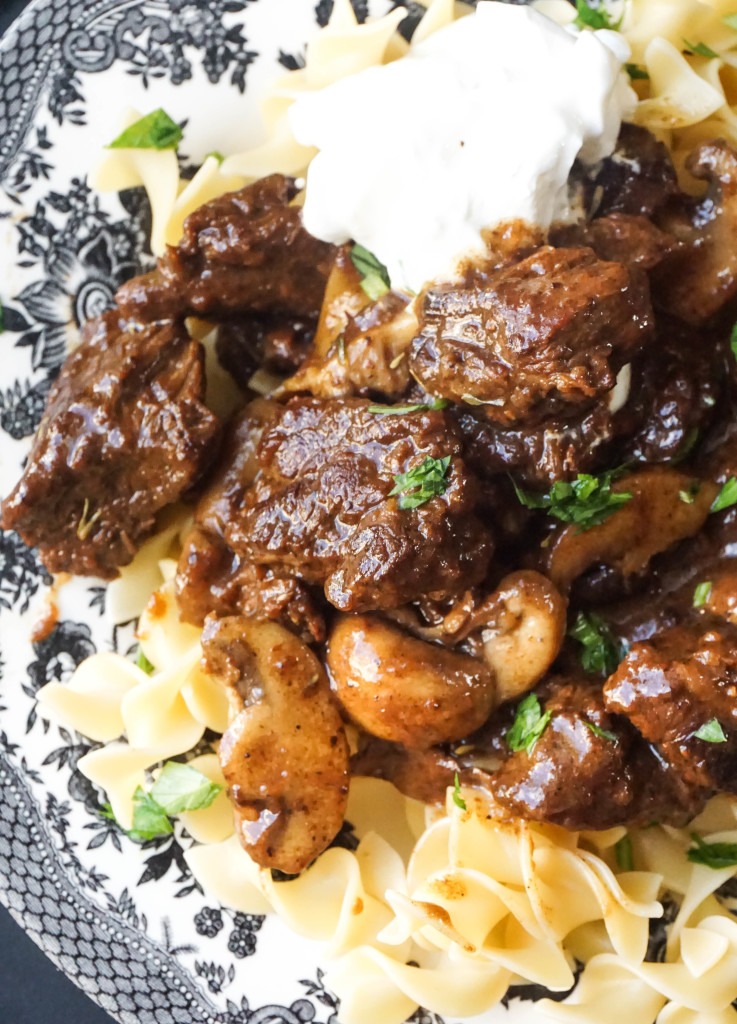 Alllll the goodness gets piled on top noodles, then topped with a dollop of sour cream.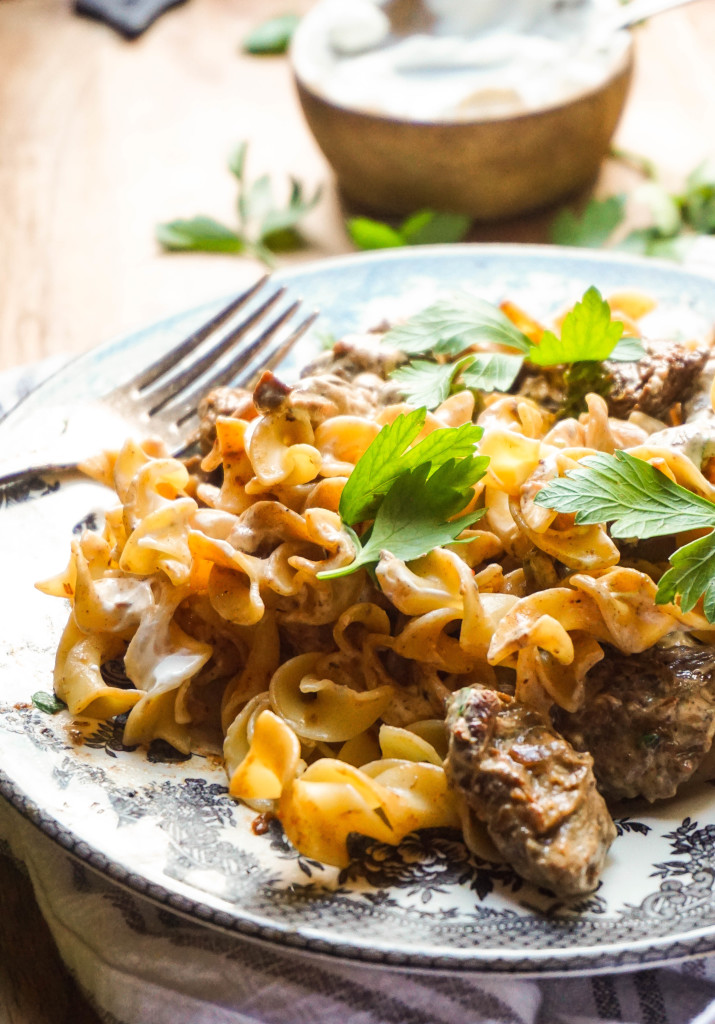 Mix it up and watch as a creamy gravy unfolds before your eyes. You'll be so glad you skipped the thirty-minute sirloin recipe and went for the 2-hour pot roast. Every minute (and dish) was worth the wait.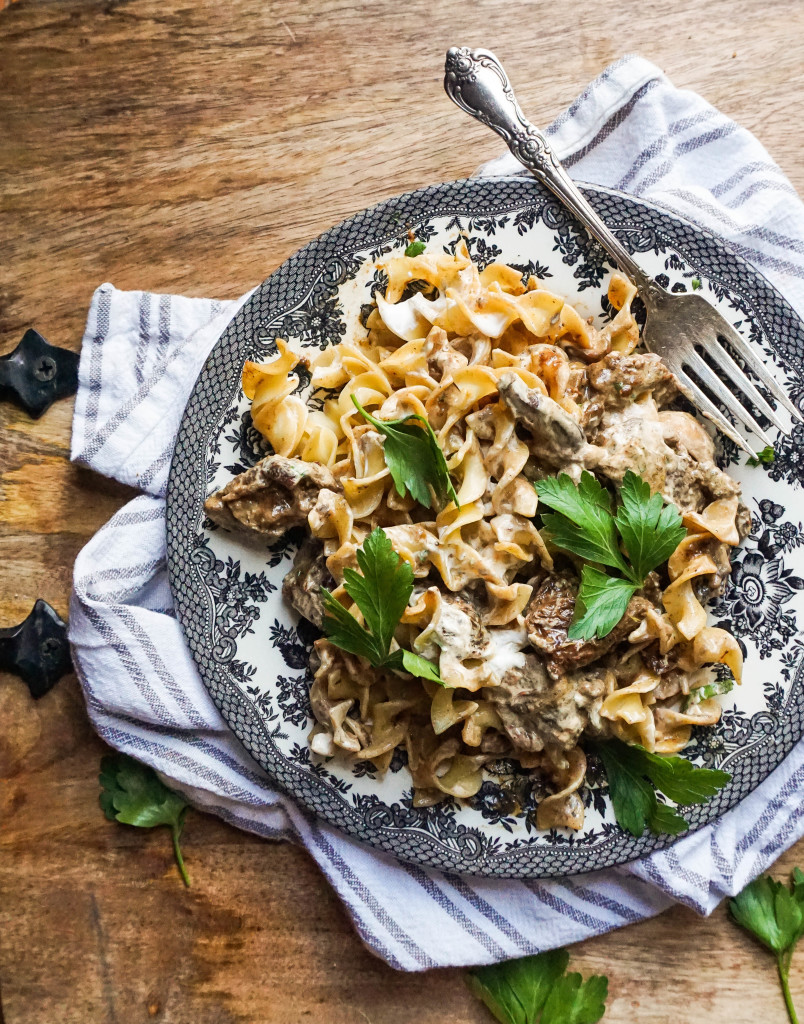 There is nothing more that I want on a chilly fall day than a comforting meal and this my friends is what it takes to warm you and your taste buds up. Katy, how bad do you wish you took off this day? Wink wink.
Bon Appetite!
Pot Roast Stroganoff
2015-10-18 19:21:24
Serves 6
Ingredients
4 cups beef stock
1 large carrot, chopped into 2" chunks
1 sprig thyme
1 bay leaf
2 pounds chuck roast, trimmed of excess fat and cut into 2" cubes
1 medium onion, small dice
3 cloves garlic, minced
2 tablespoons flour
1 pound assorted mushrooms, sliced
2 tablespoons of butter
1 teaspoon dried thyme
1 package of egg noodles
1/2 cup sour cream
salt and pepper as needed
canola or vegetable oil as needed
Instructions
Add the stock, carrot, thyme, and bay leaf to a small pot and bring to a simmer.
In a Dutch oven add two tablespoons of oil and heat to medium heat. Season the chunks of beef on all sides with salt and pepper. Once the oil is hot, add the chunks being careful not to crowd the Dutch oven. This can be done in two or more batches.
Sear the meat on all sides, about 5-7 minutes per batch. Add all the meat to the pot and add the onions and garlic. Cook 1-2 minutes until fragrant.
Sprinkle over the flour, toss, and cook 2 minutes. At this point, if you have a splash of Brandy on hand add it and allow it to cook for 2 minutes. Totally optional!
Discard the thyme, bay leaf, and carrots from the stock and pour it over the beef. Bring to a boil, then reduce to a low simmer (medium low heat). Cover the pot partially and allow to simmer for 1 1/2 - 2 hours, until tender. It's very important to check on the beef every half hour, making sure the stock has not fully reduced. Add stock, a cup at a time, if you feel the need to.
Just as the beef is tender and nearly done, melt the butter in a large saute pan. Add the mushrooms, salt, pepper, and dried thyme. Cook until tender and caramelized, about 5 minutes. Add to the beef. Mushrooms can be done the day before!
Clean out the pot used for the stock and add water (trying to save you some dishes over here!). Bring to a boil and cook the noodles. Drain.
To plate, add the noodles, beef, and a dollop of sour cream. Mix it all up, garnish with parsley, and slip yourself into a food coma. Kidding, don't do that. Enjoy!!
Notes
*You may want to buy a chuck roast slightly bigger than 2 pounds to account for any waste (like silverskin, fat).
http://www.vodkaandbiscuits.com/