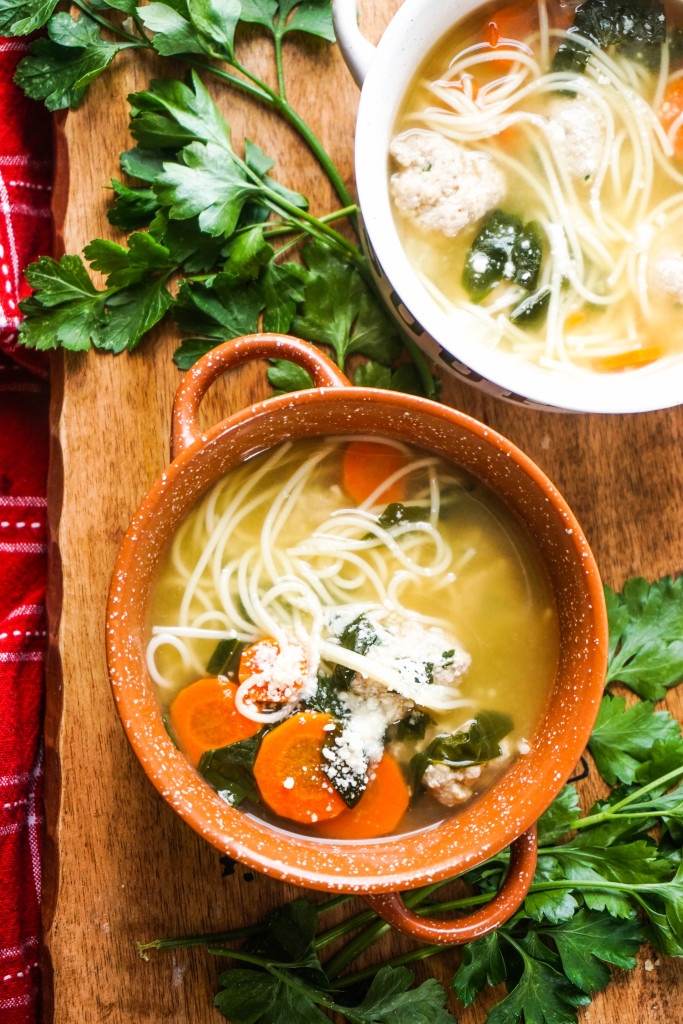 K weather you're not only messing with me physically but now emotionally.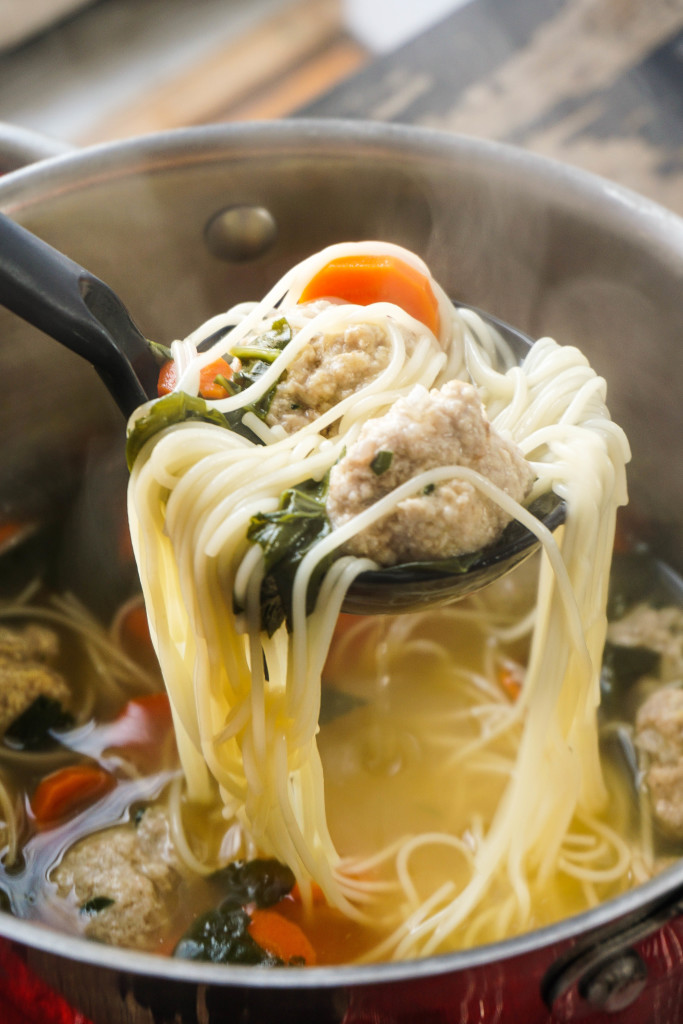 This has now been my third week in a row where I've broken into my spring clothes while getting dressed for work. Capris in November? Me and my legs were not ready for this.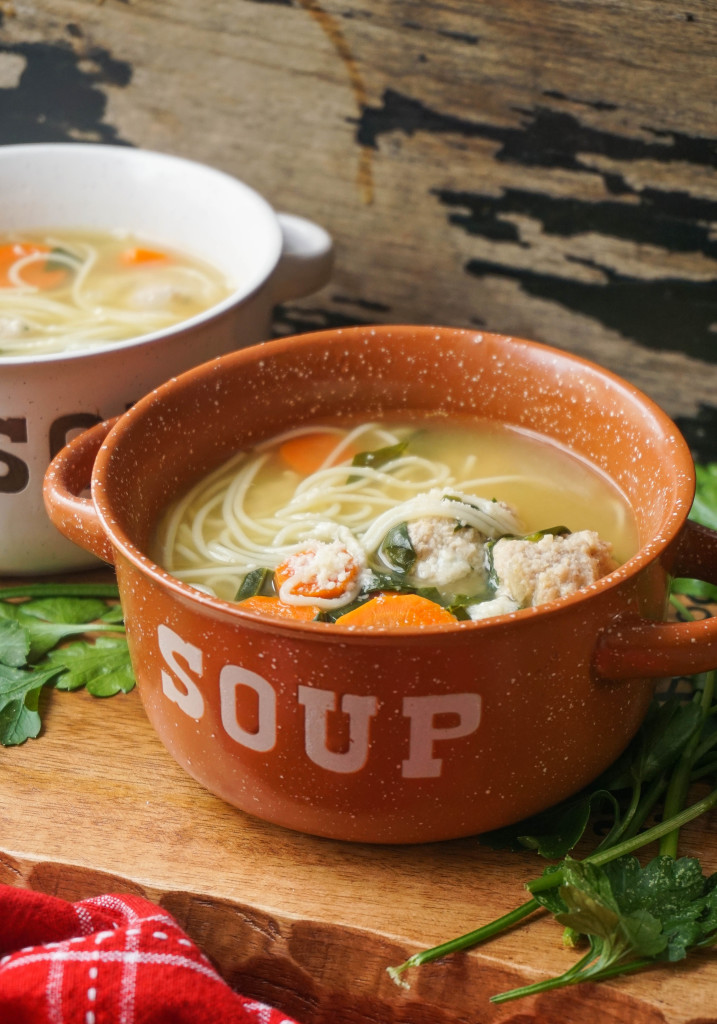 To top it all off, everyone around me is sick. Work, home, friends – I'm literally on the verge of drinking my hand sanitizer. K that's gross. When people get sick you make chicken noodle soup and buy ginger ale, right? That's why this weekend I made a big ol' batch of my twist on chicken noodle soup – Feel-Good Turkey Meatball Soup. It's hearty, filled with nutrients, and packed with flavor. Sick or not, you're gonna love this.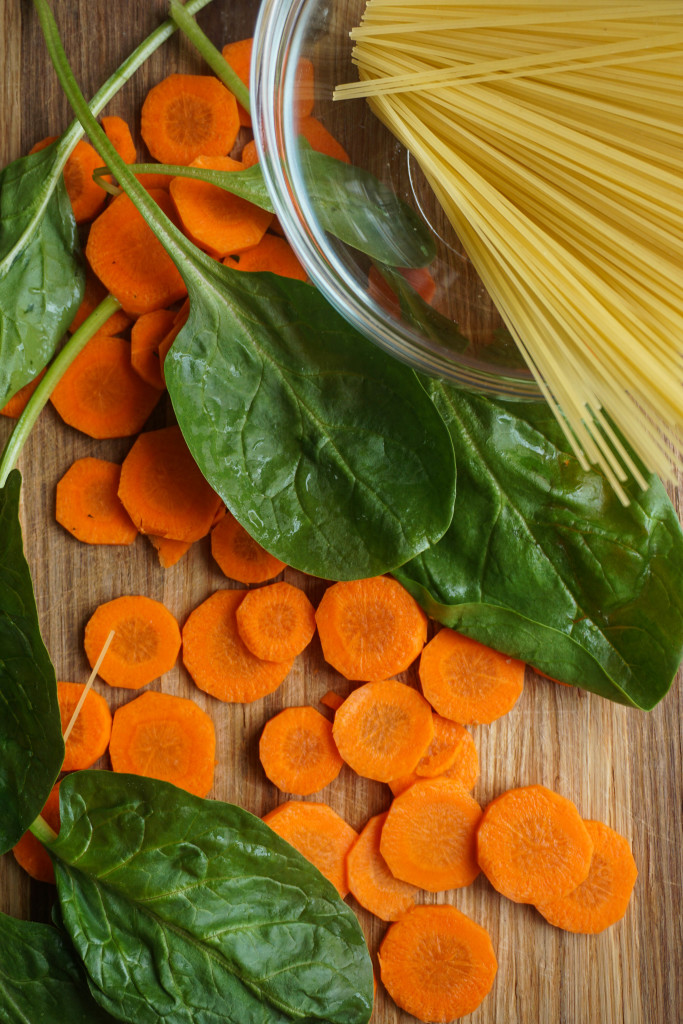 The base to the soup is a rich chicken broth. Of course homemade is always preferred, but you can take store bought to the next level by simmering it with herbs like fresh parsley, bay leaf, and peppercorns. In the recipe I talk about a sachet which is nothing more than herbs wrapped in cheese cloth and tied with kitchen twine. It makes it easier so you don't have to strain the soup. You could also make a bouqyet garni which is just wrapping the herbs together with twine, you'll just have to fish out the peppercorns. Or leave them in there like I did and hate yourself after you've biten into one later on.
I kept the add-ins simple: fresh spinach, rounds of carrots, thin spaghetti noodles (like angel hair pasta or capellini), and flavorful turkey meatballs.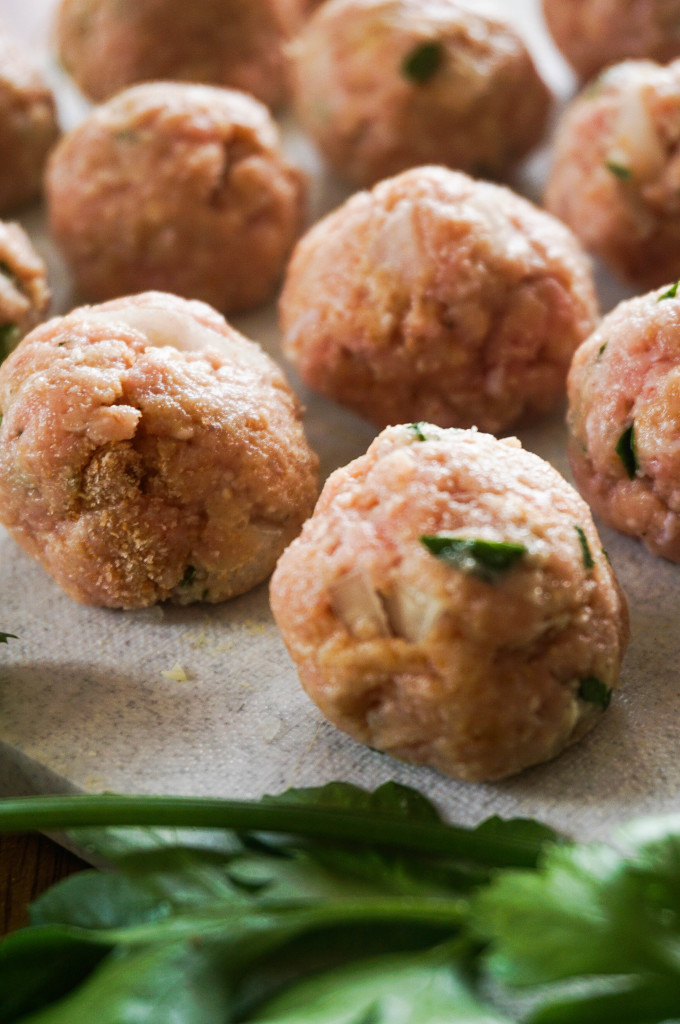 I used ground turkey but you can also use ground chicken. I flavored these with onion, garlic, parsley, breadcrumbs, milk, and lots of seasonings like garlic salt, pepper, and red pepper flakes. You can add a little poultry seasoning and basil too! The more flavor, the better. You want to make sure each meatball is even in size and about 1″ in diameter. I used a heaping teaspoon full of meat which yielded me about 20 meatballs. If you have any extra, read the notes in the recipe!
Quick note, if you want to use ground beef I would brown them in a skillet and finish cooking in the soup. Ground beef has too high of a fat content to simmer in soup. Who wants a greasy soup anyways?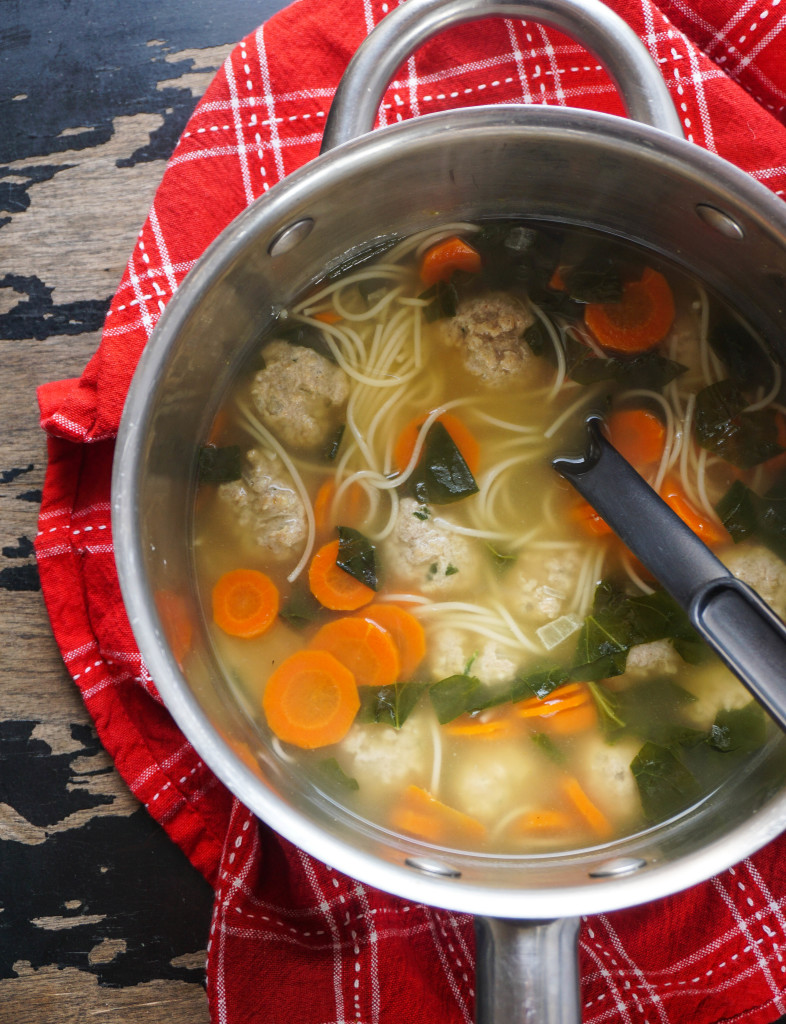 Once the base is finished simmering with flavor and your meatballs are all shaped, the soup comes together rather quickly. I add the carrots first, then the spaghetti and meatballs, then the spinach last. It will all take about 15 minutes. The meatballs are finished when they are floating and no longer pink. Just cut one in half to be sure!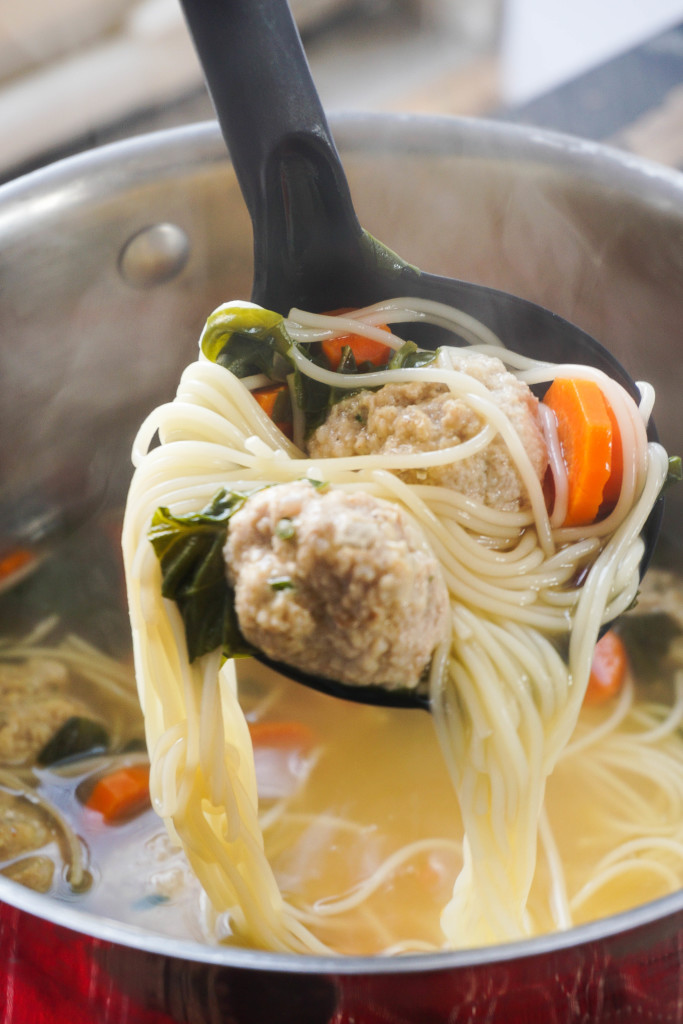 This soup is by far my new favorite and I can't wait to make it throughout the season. It's comforting and filling and them meatballs? Flavorful little things.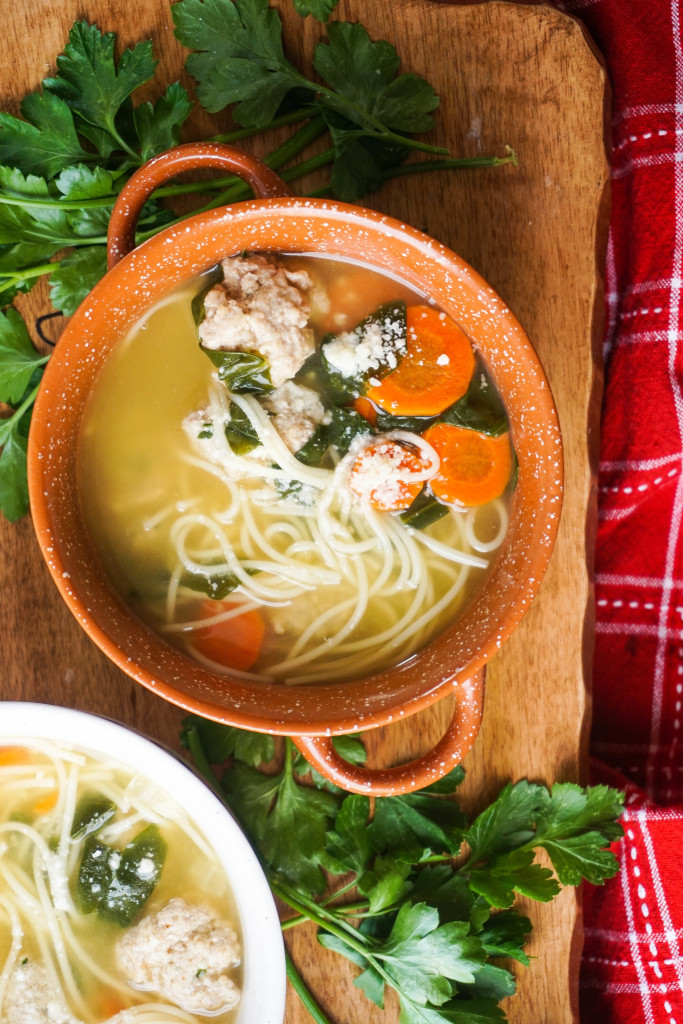 Sprinkle your soup with a spoonful of grated parmesan cheese and you're in for a treat. The spinach is tender, the carrots melt in your mouth, the meatballs are garliky, and the noodles add a fun texture. I could eat this soup every dang day.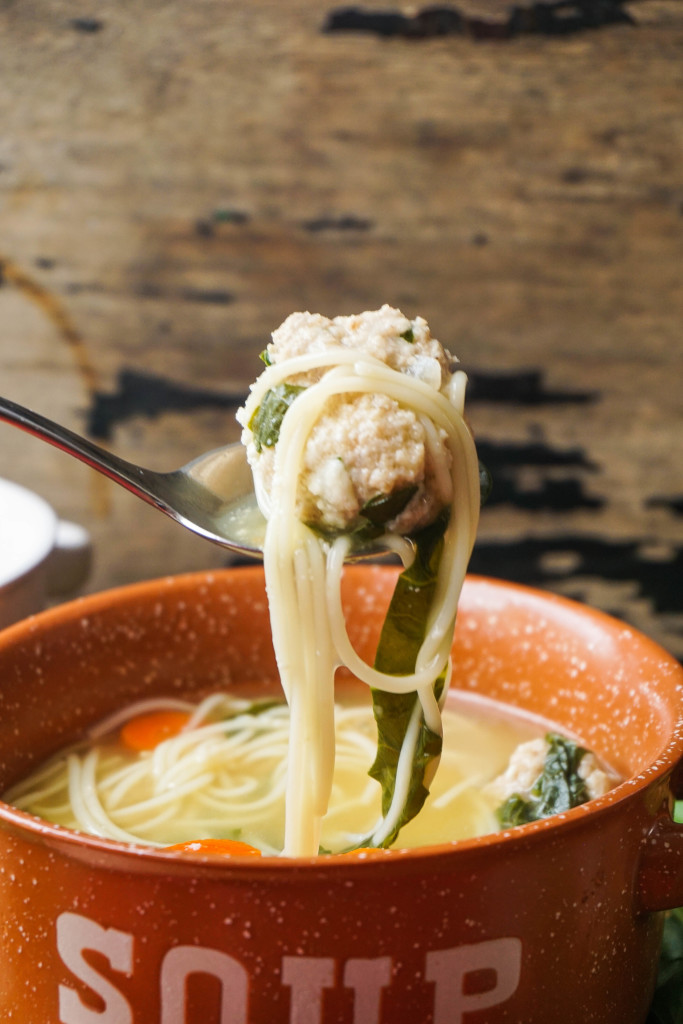 Enjoy!
Feel-Good Turkey Meatball Soup
2015-11-01 13:32:49
Serves 4
Ingredients
8 cups chicken broth (two 32 oz. cartons)
1 bay leaf
5 peppercorns
2 stems of parsley with leaves attached
3 carrots - peeled and chopped into 1/4" rounds
3 cups spinach - cut into strips
4 ounces thin spaghetti noodles (about 1/4 of the box, or more if desired)
For the Meatballs
12 ounces ground turkey meat
2 cloves garlic - minced
1/2 onion - minced
1/4 cup breadcrumbs
2 tablespoons milk
1 egg
1/4 cup grated Parmesan cheese, plus extra for garnish
2 tablespoons chopped parsley
1/2 teaspoon kosher salt
1/4 teaspoon black pepper
Optional seasonings: red pepper flakes, basil, poultry seasoning
Instructions
Add the broth to a large pot and heat over medium low heat. If you have cheese cloth, make a sachet of the bay leaf, peppercorns, and parsley stems. Add to the broth and simmer while you are prepping the remaining ingredients (see notes below).
Prepare the meatballs by combining all of the ingredients into a large bowl. Mix with your hands to incorporate the ingredients, do not over work it! Shape into 1" size meatballs (a heaping teaspoon full). Set aside until needed (see notes below).
Discard the sachet and add the carrots. Simmer for 10 minutes.
Break the spaghetti in half and add to the soup with the meatballs. Cook for 5-6 minutes, then add in the spinach. OPTIONAL: sear the meatballs in 2-counts of olive oil before adding to the soup if you prefer more color.
Cook another 5 minutes until the spaghetti and spinach are tender and the meatballs are fully cooked through (no longer pink).
Taste for salt and pepper. When ready to serve, sprinkle over a spoonful of grated Parmesan cheese.
Notes
A sachet is just a bouquet of herbs wrapped in cheese cloth and tied with cooking twine. If you don't have cheesecloth (I didn't), just strain the soup and discard the herbs before adding in the carrots, meatballs, etc.
I used one pound of turkey meat knowing I would have extra to make meatballs for leftovers. If you have extra, shape into 2" meatballs, lay snug on a baking sheet with a drizzle of olive oil, and bake for 30 minutes at 350 degrees. Use for recipes throughout the week.
http://www.vodkaandbiscuits.com/