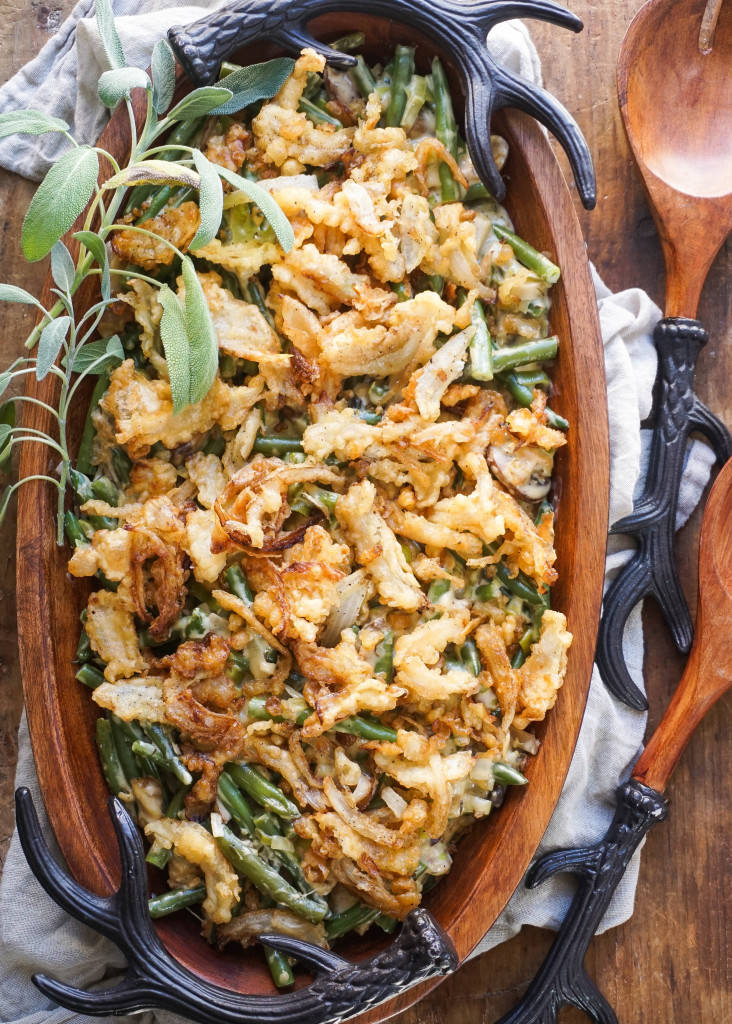 Push your canned cream of mushroom soup and your packaged fried onion strings aside. Forget it ever existed.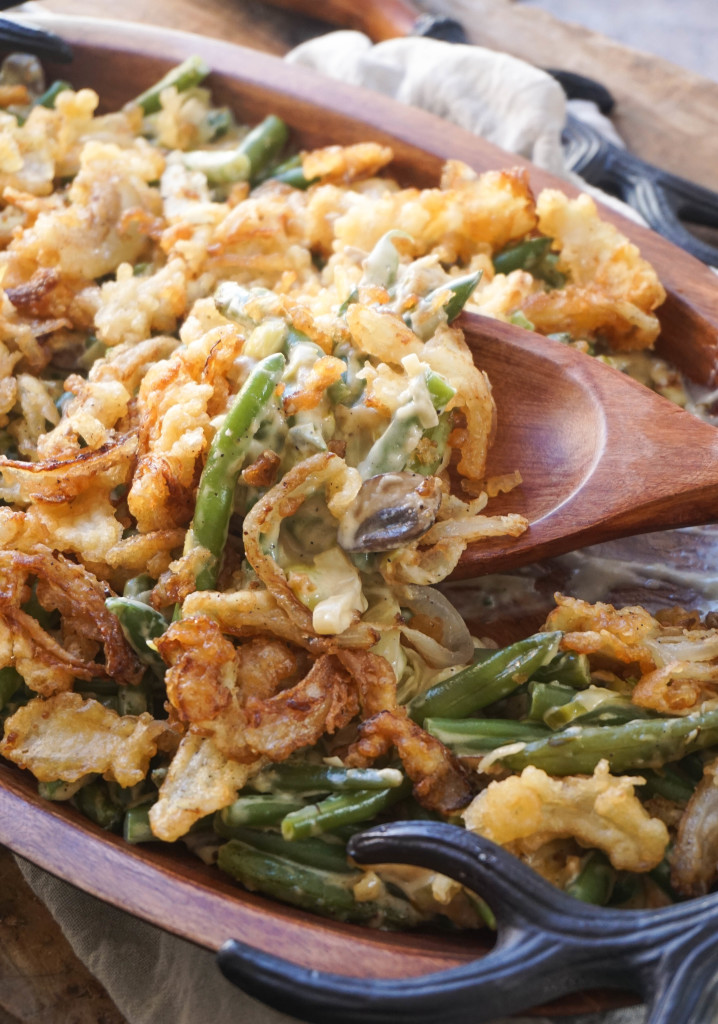 I'm stepping up the green bean casserole game with two things: a SIMPLE homemade mushroom cream sauce and tempura battered onion strings.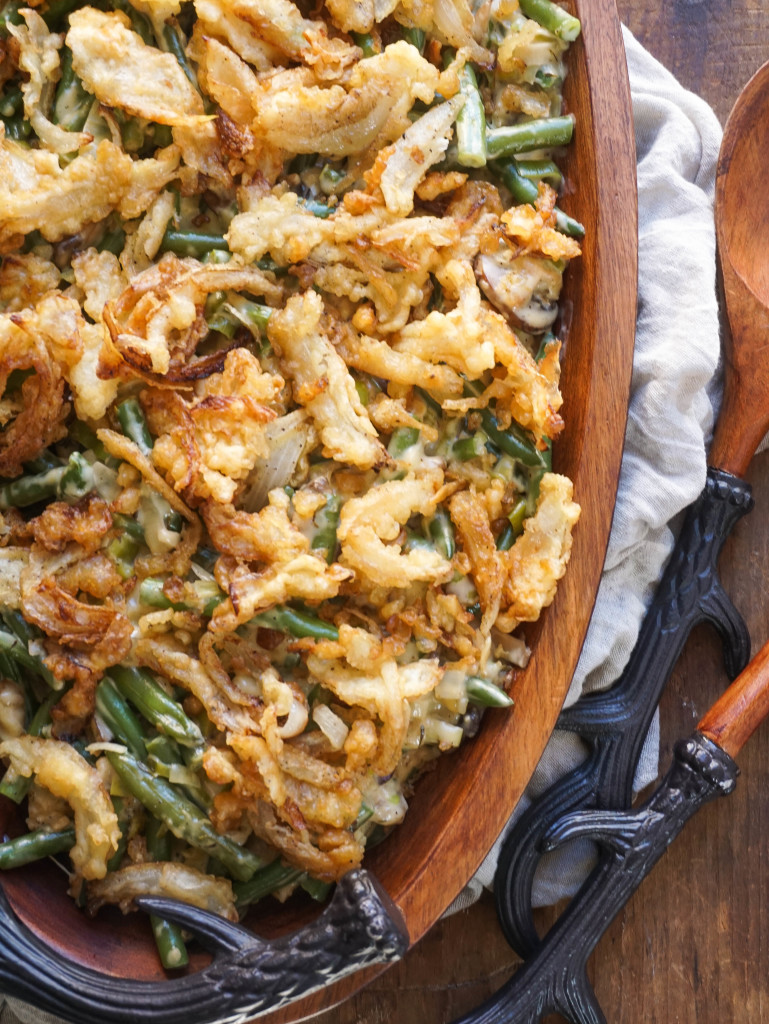 This will be the second year where I bring this dish to the table. It's creamy, it's crunchy, it's crispy, and it will forever change your green bean ways. Let's cook!
The Green Beans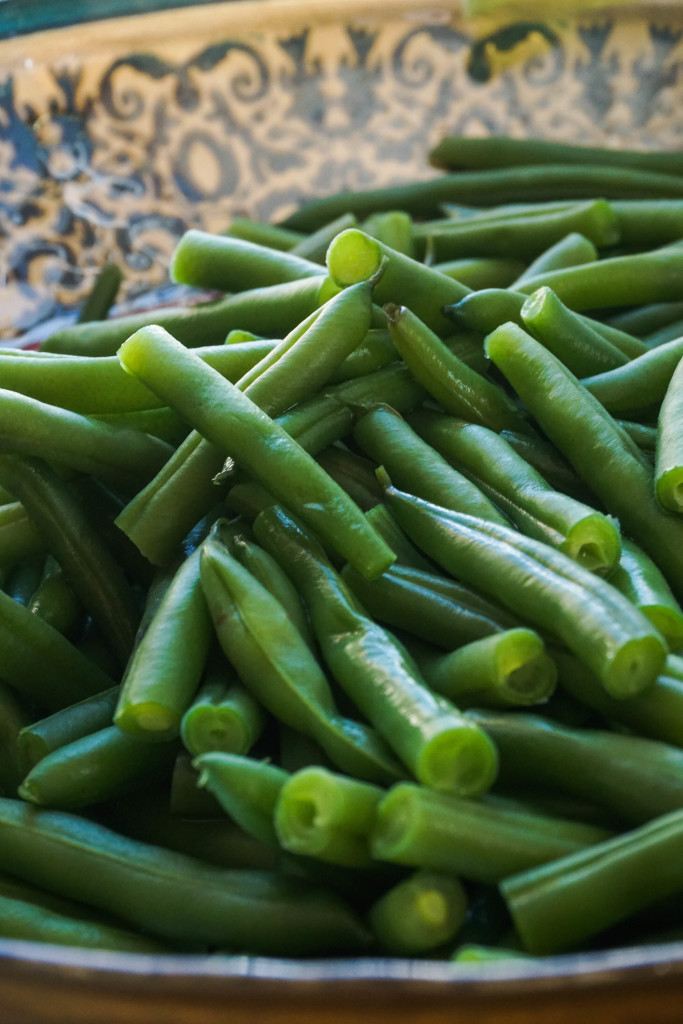 I bagged up a little over a pound of fresh beans. Fresh is best, but they're not ready to eat as bought. Peel off the stringy end, and depending on how long your beans are, cut in either half or thirds. I like mine to be about 2″ long. The only other prep is blanching. This method is nothing more than boiling the green beans for a few minutes until they're vivid in color and al dente, then transferring to an ice bath to stop cooking. Make your life easier and do this the day before!
The Cream Sauce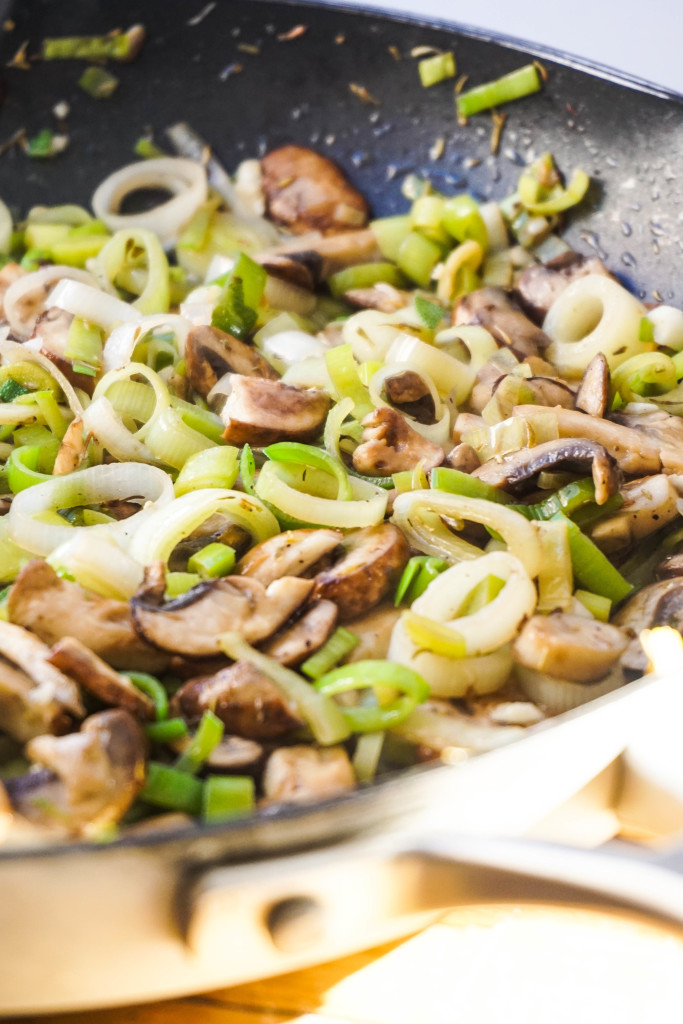 My sauce is made up of mushrooms, leeks, and garlic. You can substitute the leek for a chopped onion or shallot, but if you are using leeks make sure you clean them! They're dirty little things so I always have a bowl of water next to me when slicing. Add the slices to the water and allow to sit until all the dirt falls to the bottom. Just drain and pat dry before sauteing!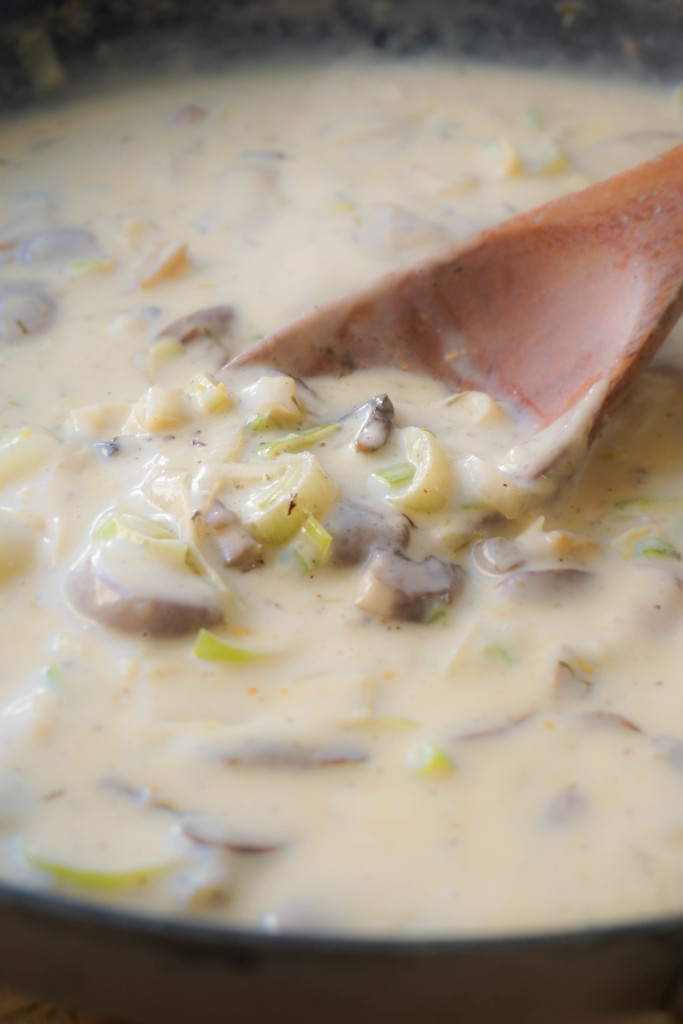 The sauce goes something like this: saute your leeks and mushrooms, sprinkle over flour, add chicken stock, simmer until thick, stir in cream, and adjust seasonings. You'll never use a can of cream of mushroom soup again, promise! I sometimes make a little extra because this stuff over a strip steak is to die for. I season mine with a combination of garlic sea salt, black pepper, thyme, and nutmeg. Have all your seasonings out and ready and be flavoring from start to finish. I'm starting to salivate.
The Onions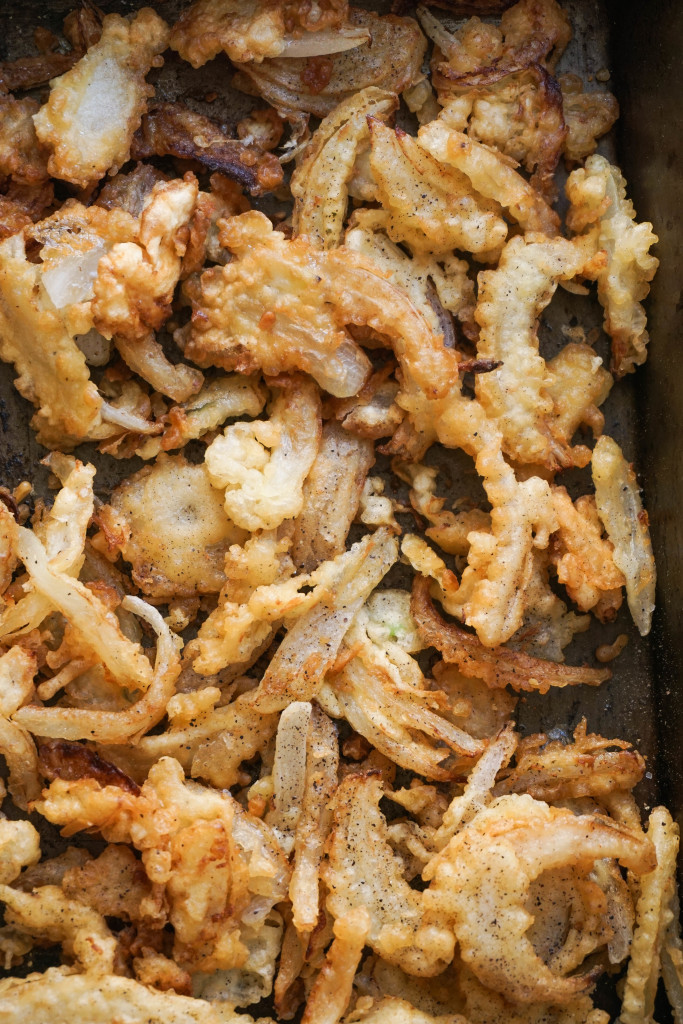 Tempura is the perfect combination of fluff and crunch, I mean just LOOK at it. The best part is it's nothing more than flour, egg, and water. This will be the most time consuming part, but hey it's Thanksgiving and I'm sure you have someone offering you an extra hand in the kitchen. One large onion took me 3 and a half batches of frying. Just fill a cast iron or skillet with a half inch of oil – no deep fryer needed! I recommend making this the day of or else it will lose its texture. Nobody has time for you, soggy onion strings.
The Casserole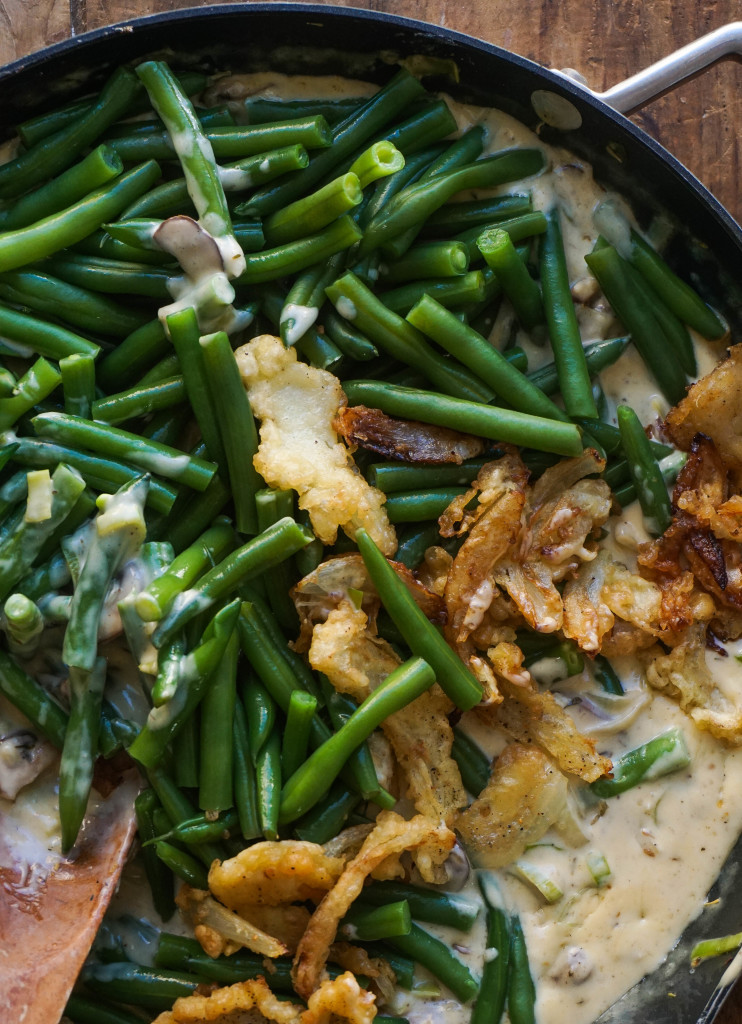 Once everything is finished, the next part is bringing the casserole together. I fold in a quarter of the onion strings into the casserole to get that flavor in every bite. Ugh. I want to relive this.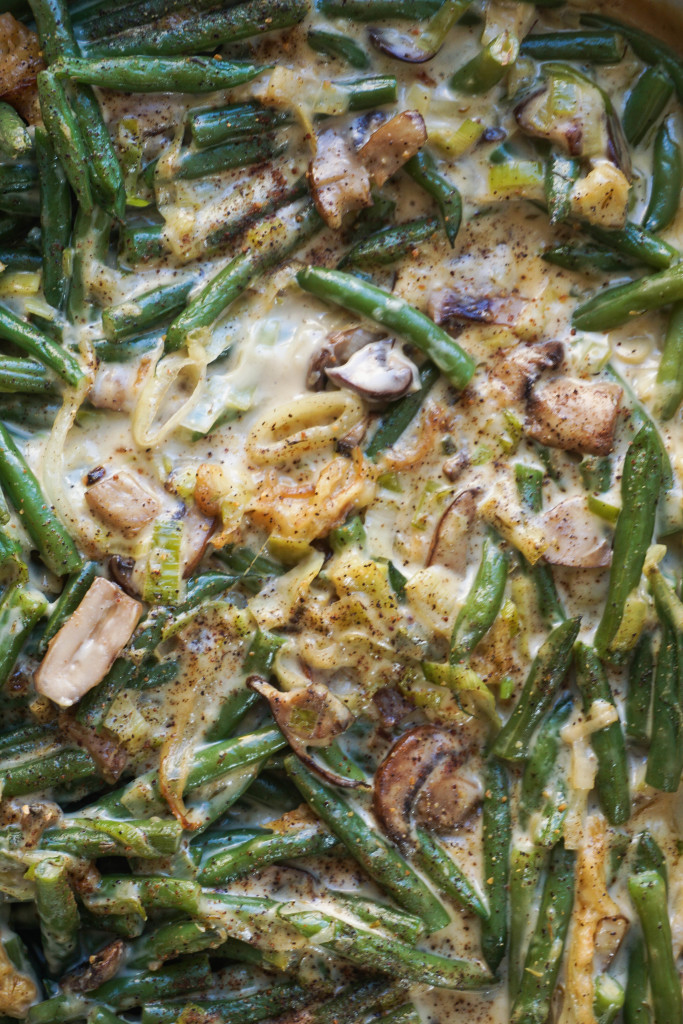 After it all gets mixed up throw it in the oven for 15 minutes or until the sauce starts to bubble. I could sleep with that picture under my pillow. I do like to reserve the onions for after the casserole finishes baking, although I did keep them warm in the oven on a separate dish. As soon as the onions hit the beans, they'll start to sog in a matter of time so definitely wait until last minute to garnish.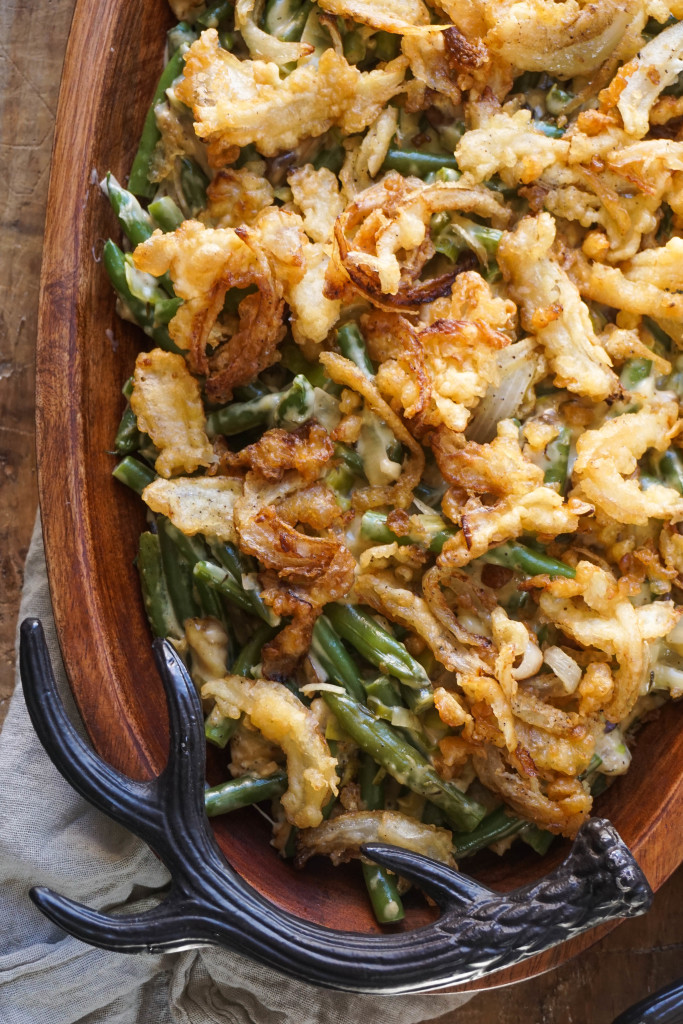 Let's just say driving 45 minutes to your grandmother's on thanksgiving with a dish of green bean casserole next to you is tempting and yes, like last year, I will probably show up with a casserole that has a section of onion strings missing.
PS: stay tuned. sweet potato casserole is next!
Green Bean Casserole with Tempura Onion Strings
2015-11-12 05:51:17
Serves 8
For the Onions
1 large onion - thinly sliced
1/2 cup all purpose flour
1/2 cup water
1 egg
1 teaspoon garlic salt
1/2 teaspoon black pepper
Oil as needed (preferably vegetable or canola)
For the Green Bean Casserole
1 1/2 pounds green beans, ends trimmed and cut in half
4 leeks (white part only), thinly sliced
8 oz. button mushrooms, thinly sliced
1 tablespoon butter
2 tablespoons olive oil
2 cloves garlic, minced
dried thyme as needed
pinch of nutmeg
4 sage leaves, chopped
salt and pepper as needed
2 tablespoons all purpose flour
1 1/2 cups chicken broth
1/2 cup heavy cream
For the Onions
Combine the flour, water, egg, salt, and pepper and mix until combined.
Add enough oil to a skillet to cover the bottom by 1/2" (use a high heat oil preferred for frying) and heat to medium high heat.
Add the onion slices to the batter then transfer to the hot oil, being careful not to crowd the pan. Cook 2 minutes on each side or until crispy and brown. Transfer to a baking sheet lined with paper towels, and repeat until all onions are finished. One onion took me 3 batches.
Add to a low heat oven to keep warm.
For the Green Bean Casserole
Preheat the oven to 400 degrees
Prepare an ice bath and set aside.
Bring a large pot of water to a boil and add one tablespoon of kosher salt. Add the green beans and cook until bright green and crisp, 3-4 minutes. Immediately transfer to an ice bath and allow to cool. Drain and reserve until needed.
Heat the butter and oil in a large skillet over medium high heat. Add the leeks and mushrooms and cook until soft and tender, about 5 minutes. Have all your seasonings out and ready and season with a sprinkle of each.
Add the garlic and cook until fragrant, about 30 seconds. Add the flour and toss to combined. Cook for one minute, then pour in the chicken broth. Increase the heat and simmer to thicken, stirring occasionally.
Stir in the cream. Taste and adjust seasonings.
Stir in the green beans and a quarter of the fried onions. Transfer to a baking dish and bake for 15 minutes or until bubbly.
Top with the reserved onions and eat away!
Notes
Saute the vegetables and blanch the green beans the day before to make cooking an ease. I recommend making the green beans the day of so they maintain their crispiness.
Blanching the green beans will help to reserve their color and texture for the casserole.
The onions will go FAST, so grab a helper and double the recipe if you'd like.
http://www.vodkaandbiscuits.com/