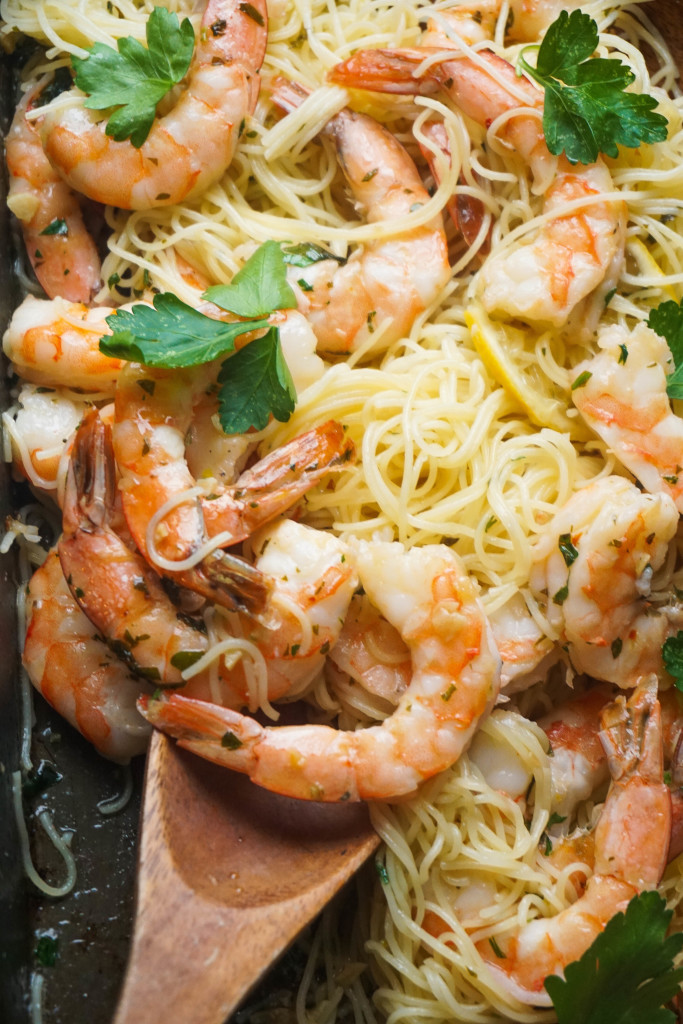 Shrimp baked with a garlicky buttery lemony love sauce served as either an appetizer with toasted bread OR tossed with pasta for the perfect weekday meal. This recipe completes me.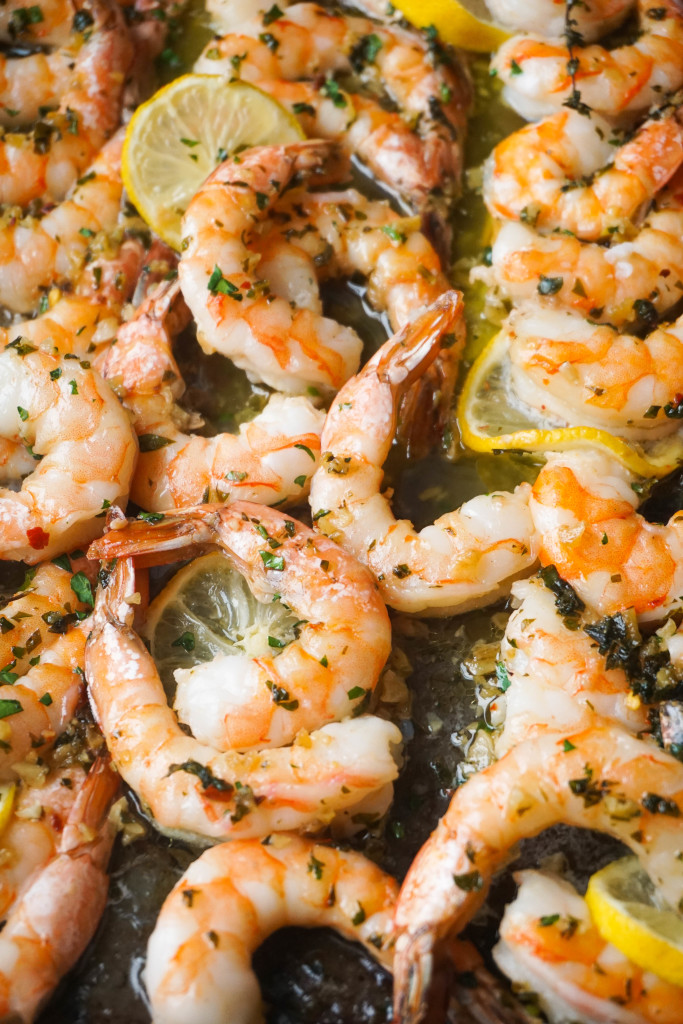 Mom and I received word over Thanksgiving that we are hosting Christmas this year and once again I am PUMPED.
Last year we hosted a traditional English dinner – traditional as in standing rib roast, popovers, and English trifle. Super old school and delicious, but I think our family missed mom's herb crusted filet. We're back at this year with not only the filet, but mom's shrimp & grits with tasso ham. Like stop.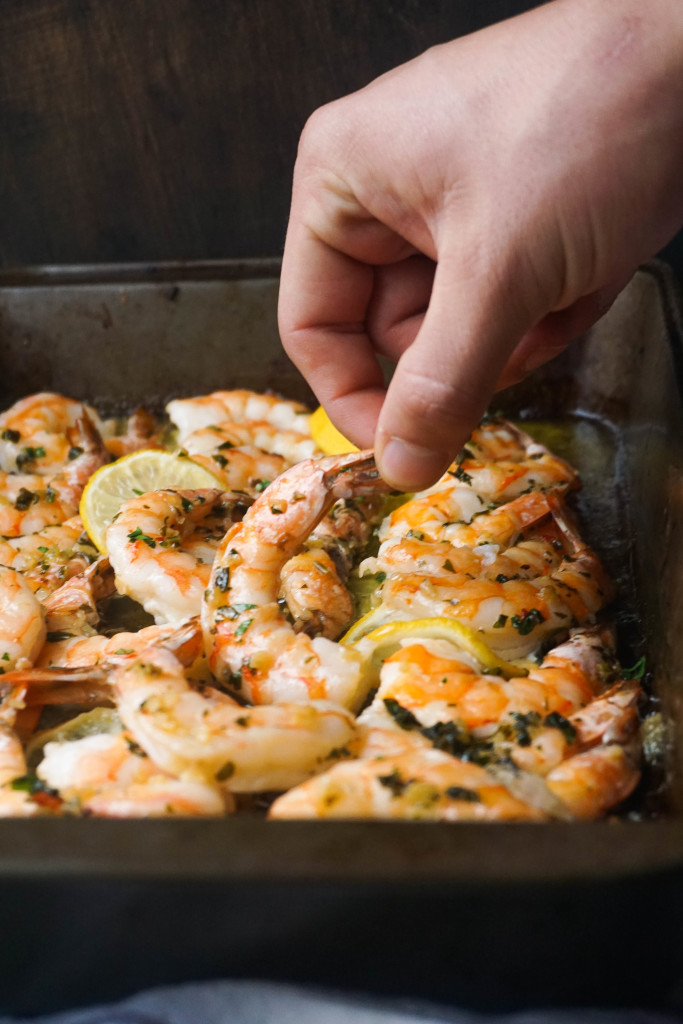 I started writing up the appetizers and side dishes and figured since we are starting to prep so early, I have plenty of time to share the menu and recipes with you. I was worried having shrimp for an appetizer is too much (considering the shrimp & grits for dinner), but then I remembered we're from Maryland and there's no such thing as too much shrimp.
Although this isn't officially on the menu yet, it's a great recipe to share for more than one reason. Not only can this be made as a quick and easy appetizer for entertaining, but you can take one extra step and turn this into a 10-minute week day meal. Let's get cooking!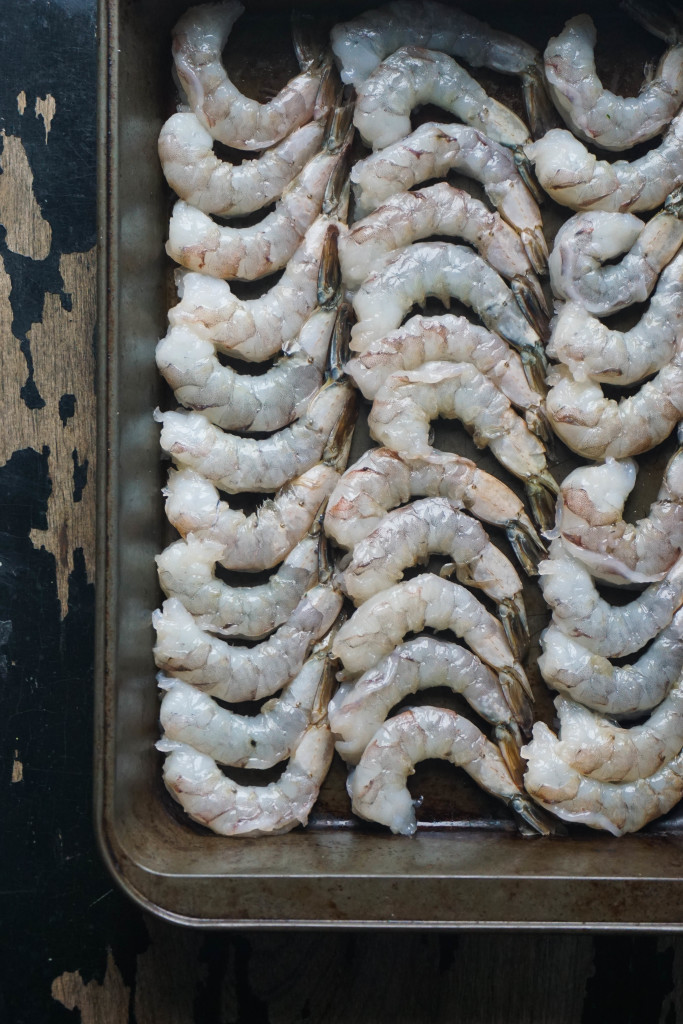 I bought two pounds of unpeeled 21-25 count shrimp (AKA medium). That means you'll have about 25 shrimp per pound, so for this recipe anywhere between 45-50. If you read my recipes you know I'm a fan of buying unpeeled shrimp to save and freeze the shells for stock, but to make life easier buy it either peeled or with the tail still attached. I think the tail makes it easier to eat (as an appetizer) plus a nicer presentation. If you're making this for the scampi, go ahead and pop off the tails. Or leave them on and get death stares from your family because there's shrimp tails in their pasta.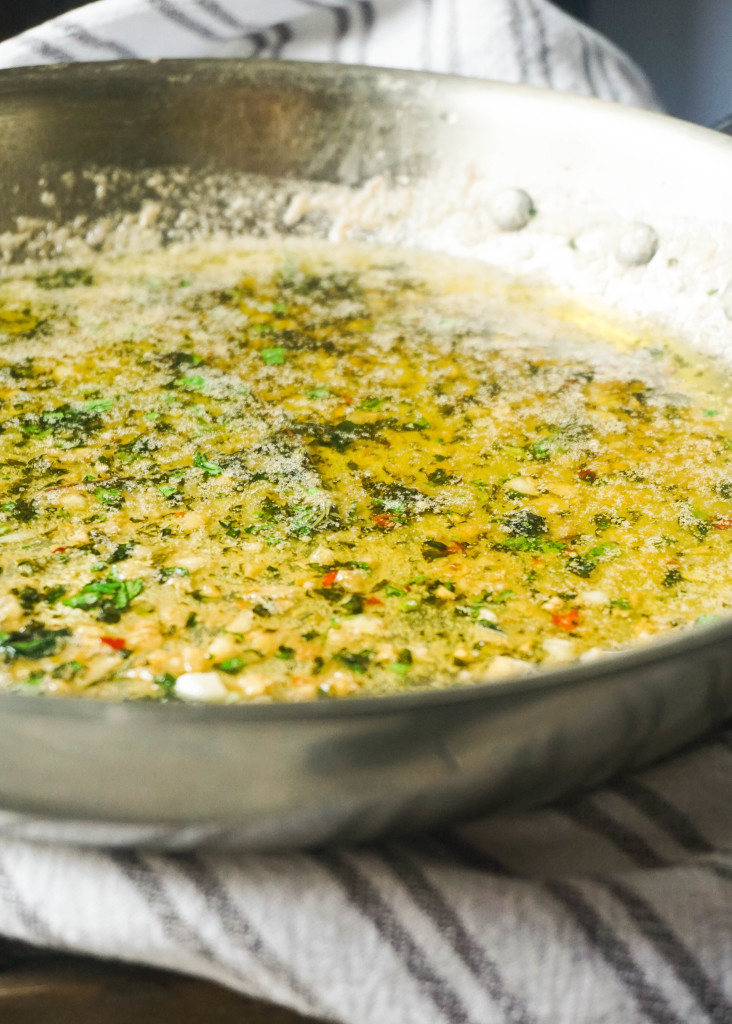 After the shrimp gets all snug in the baking dish it's time to make up the sauce. This part happens quick so have all your ingredients out and ready! It's nothing more than butter, garlic, red pepper flakes, wine, lemon, and parsley. Yup, try not to bathe in it.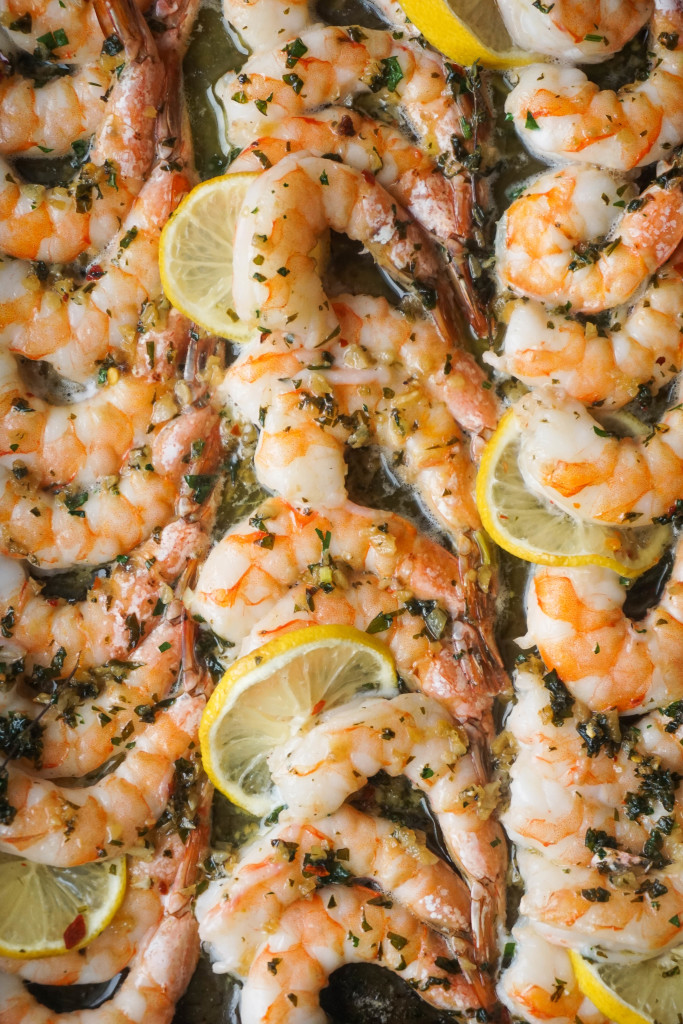 Pour the sauce over the shrimp, add a few slices of lemon, and bake for EIGHT minutes at 400 degrees. Just like that, you'll have a pan of beautiful pink shrimp smothered in the most incredible butter sauce. You can toast up a few slices of French bread and call it a day OR…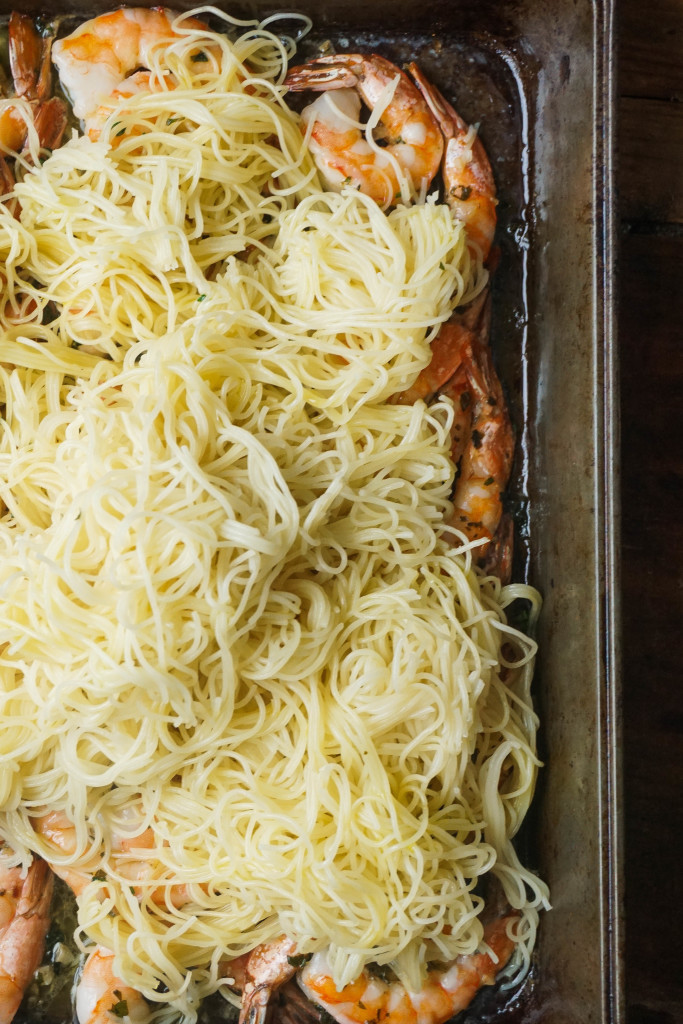 Add some angel hair pasta right to the pan, toss it all around, and indulge in a one-pot shrimp scampi.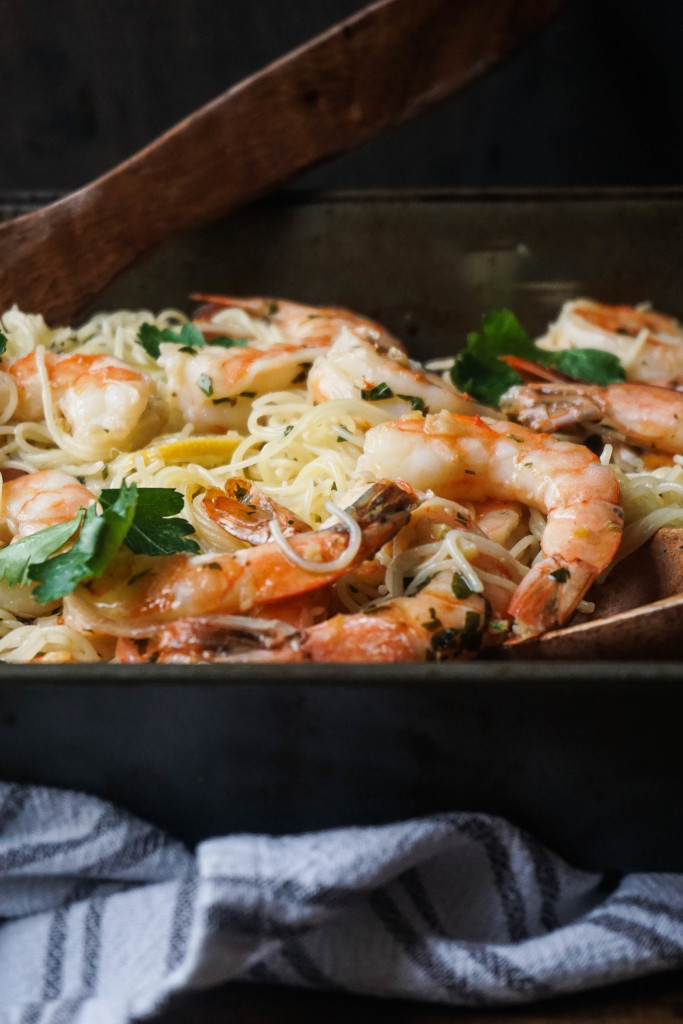 I added a squeeze more of lemon juice and a garnish of fresh parsley and served this as dinner right in the pan. While the shrimp were baking I boiled up my noodles so from start to finish this took me under 20 minutes.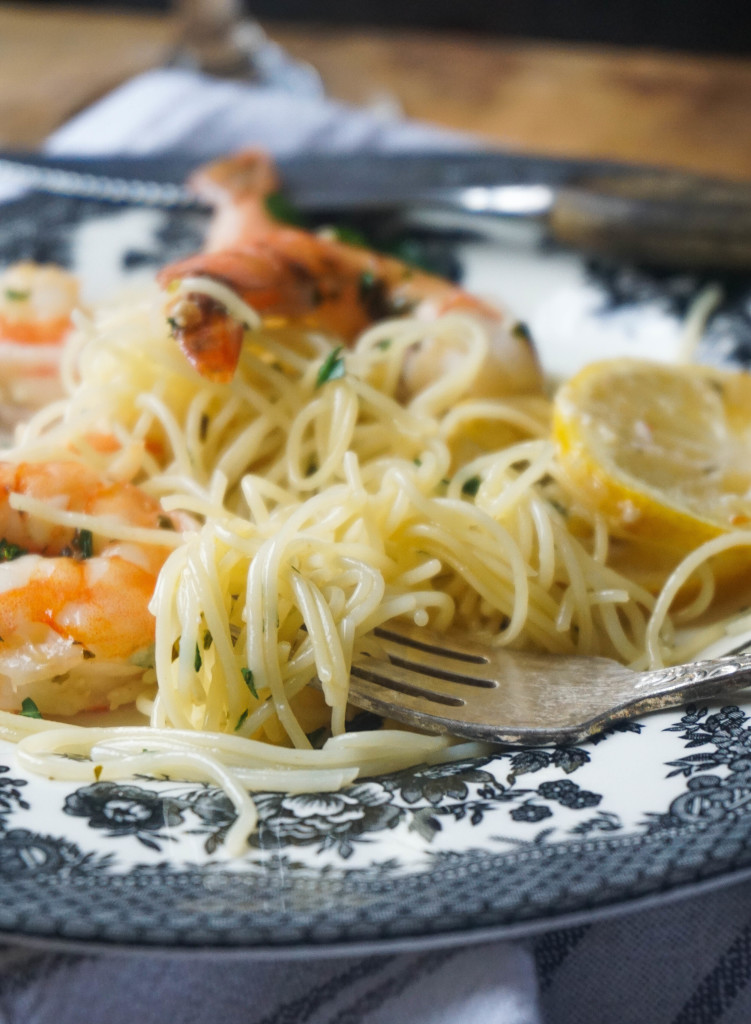 Whether you serve this as a shrimp appetizer or as a scampi for dinner, your family is in for a treat. Enjoy!
Note: this will serve 8 people as an appetizer or 4 people with the pasta for an entree.
Roast Shrimp Scampi (Two-in-One Recipes)
2015-12-01 07:51:29
Serves 4
Ingredients
2 pounds medium shrimp, deveined and tail left on (if preferred)
6 tablespoons butter
6 cloves garlic, minced
2 tablespoons parsley, finely chopped (reserve a spoonful for garnish)
1 large lemon, cut in half
pinch red pepper flakes
splash of dry white wine (about 1/4 cup)
black pepper as needed
8 oz. angel hair pasta (or thin spaghetti noodle)
Instructions
Preheat the oven to 400.
Lay the shrimp snug in a baking dish in one layer, only allowing the tails to overlap. See photo in post. Cut one half of the lemon into 4-5 slices and arrange over shrimp.
Melt the butter in a saute pan over medium heat. Add the garlic and red pepper flakes and cook until fragrant, about 45 seconds. Add a squeeze of the other lemon half, splash of white wine, and the parsley. Season with black pepper to taste.
Drizzle the butter sauce evenly over the shrimp and bake for 8 minutes until pink. Serve as is with toasted bread in the baking dish to allow guests to dip bread in the sauce, or proceed in the recipe.
Bring a large pot of salted water to a boil. Cook the pasta according to package directions. Drain and add directly to the roasted shrimp. Toss to coat in butter sauce. Garnish with reserved parsley for garnish and a squeeze more of lemon. Enjoy!!!
Notes
This will serve 8 people as a roasted shrimp appetizer or 4 people with the pasta for an entree!
http://www.vodkaandbiscuits.com/