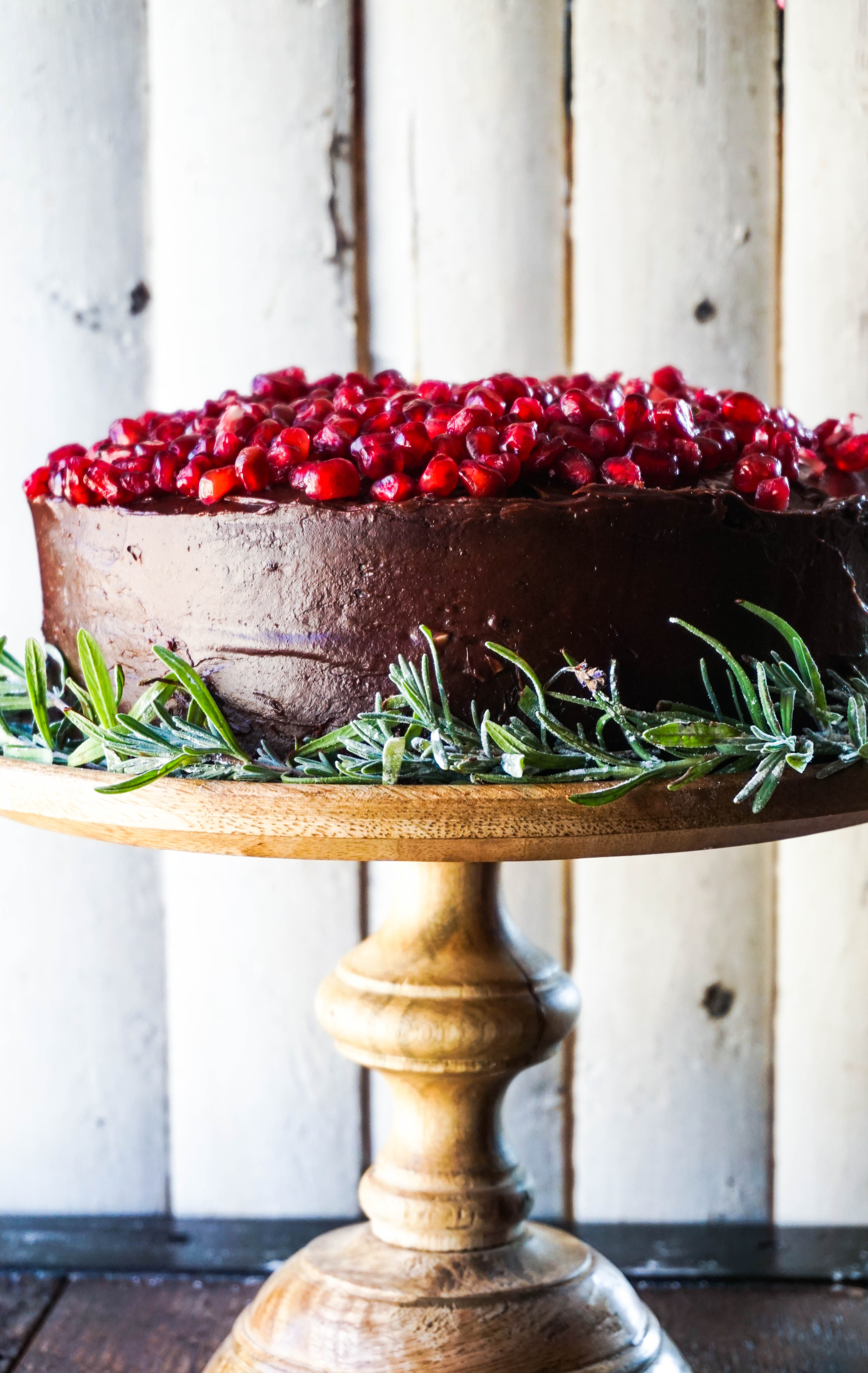 Hi you decedent chocolate cake that I've been eating for breakfast, lunch, and dessert for the past three days. Remember that time I said I was cutting out sweets til Christmas? Yeah wrong.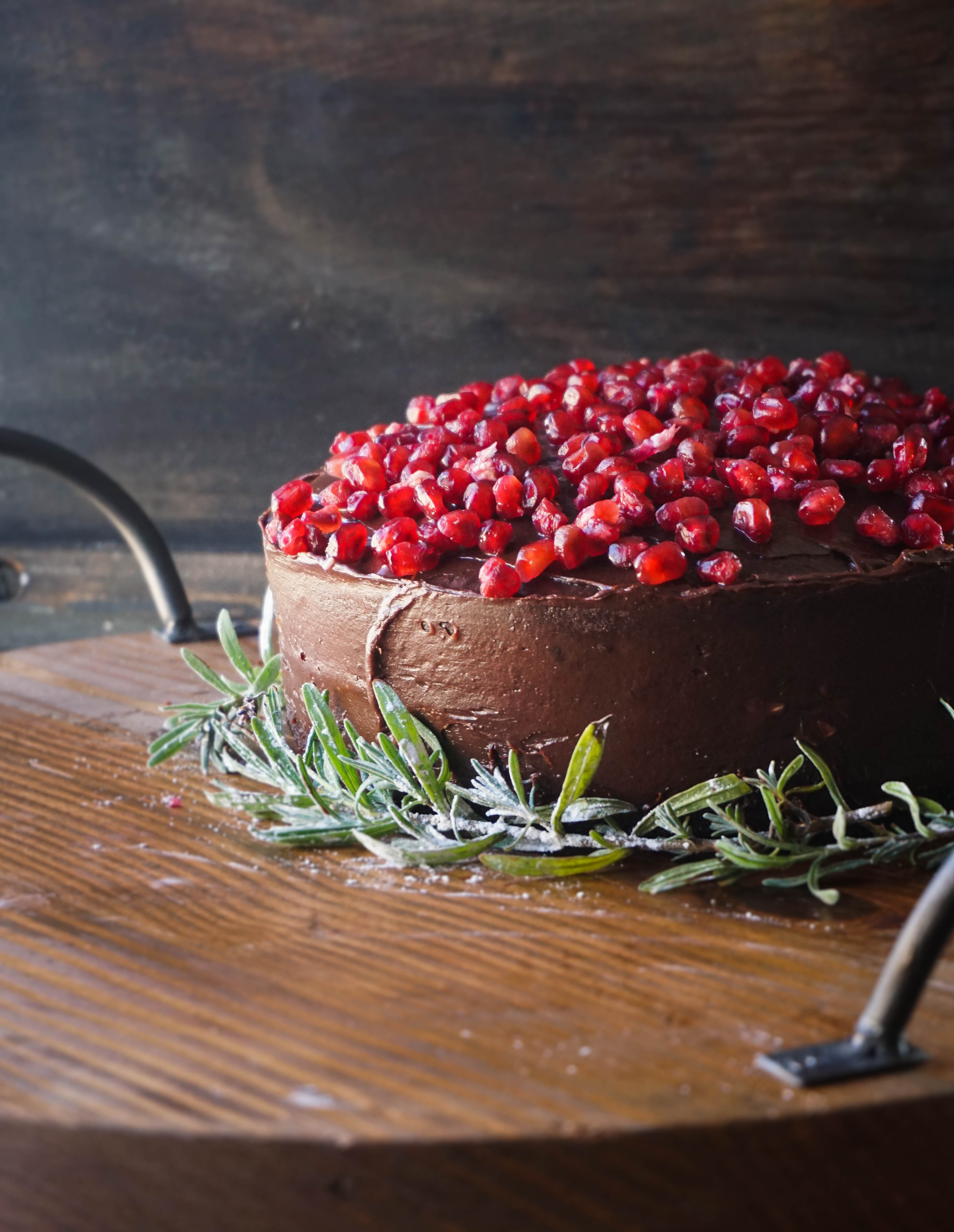 I recently purchased Ina Garten's Make It Ahead cookbook and I can't believe I waited so long to buy it. Everything about it is perfect. Her array of recipes, creativity, and simplicity is why I believe Ina is my spirit animal.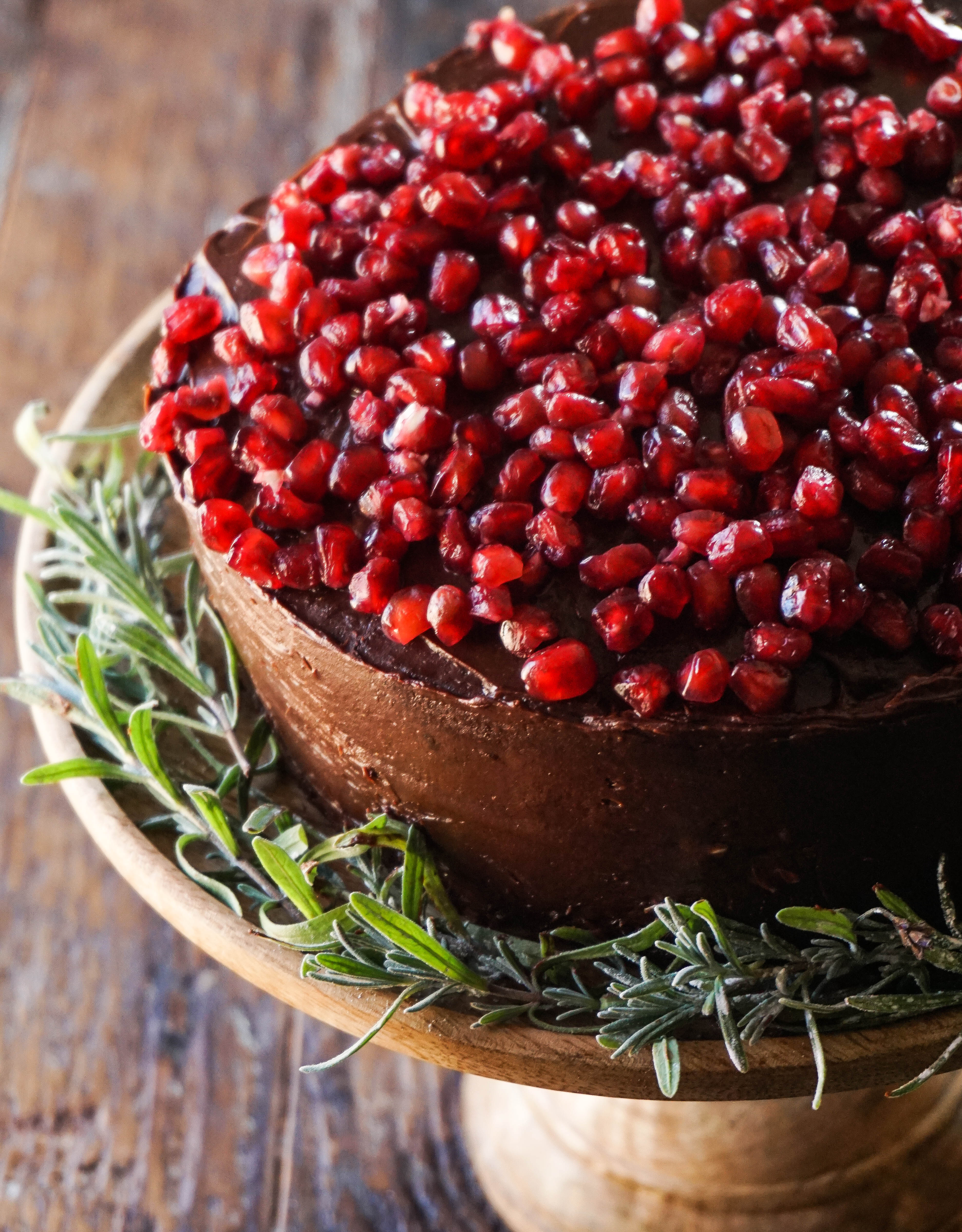 These next few weeks I'm focusing on holiday related recipes and Ina's cookbook inspired me with pretty much all of them – especially this one. What better way to end Christmas dinner with a slice of DOUBLE chocolate cake and coffee? Like really.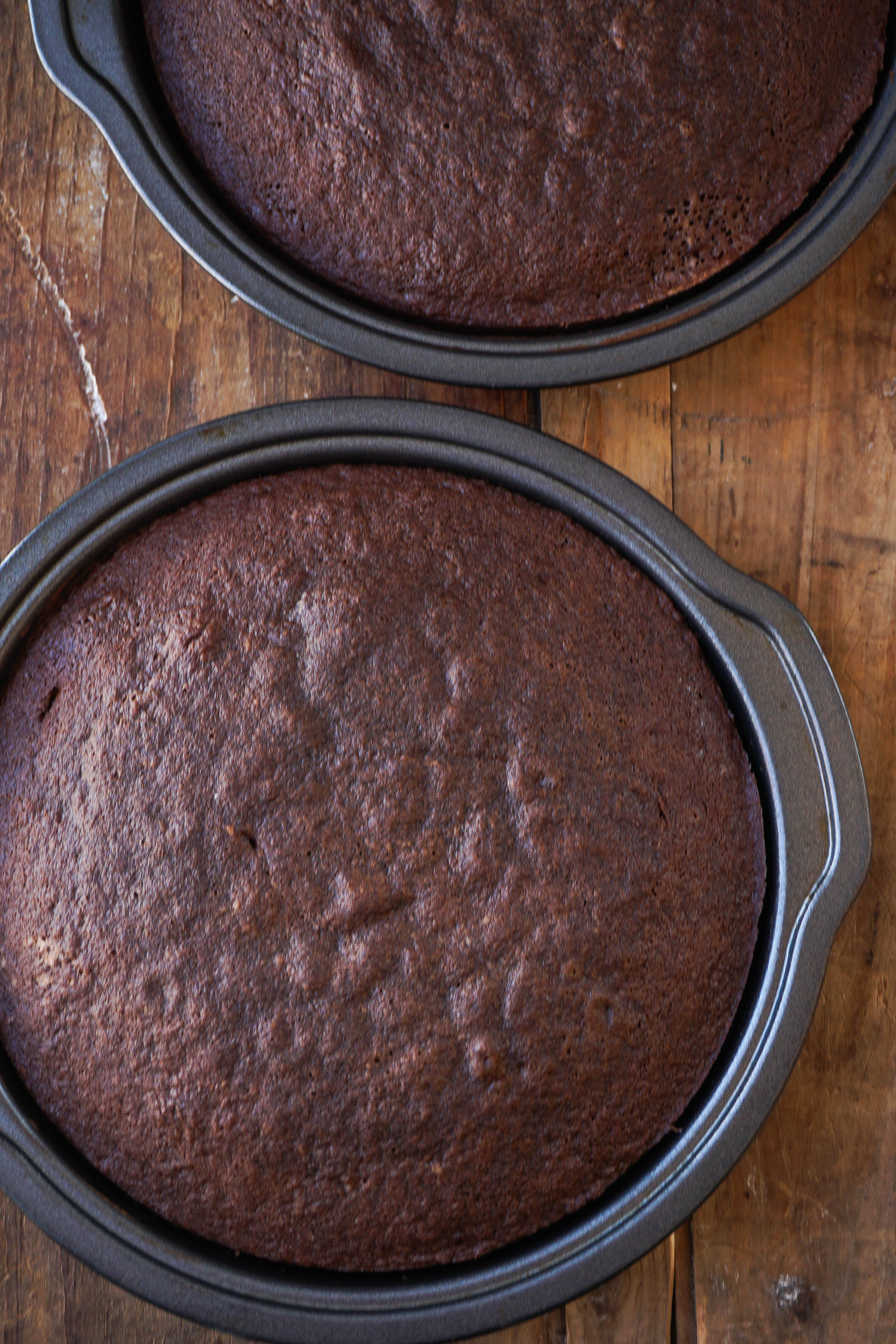 This will 100% be on my menu, but if you know me I can't just bake a cake for an occasion without testing it first. Let's just say if I (the girl who has a baker's green thumb) can make this, you can.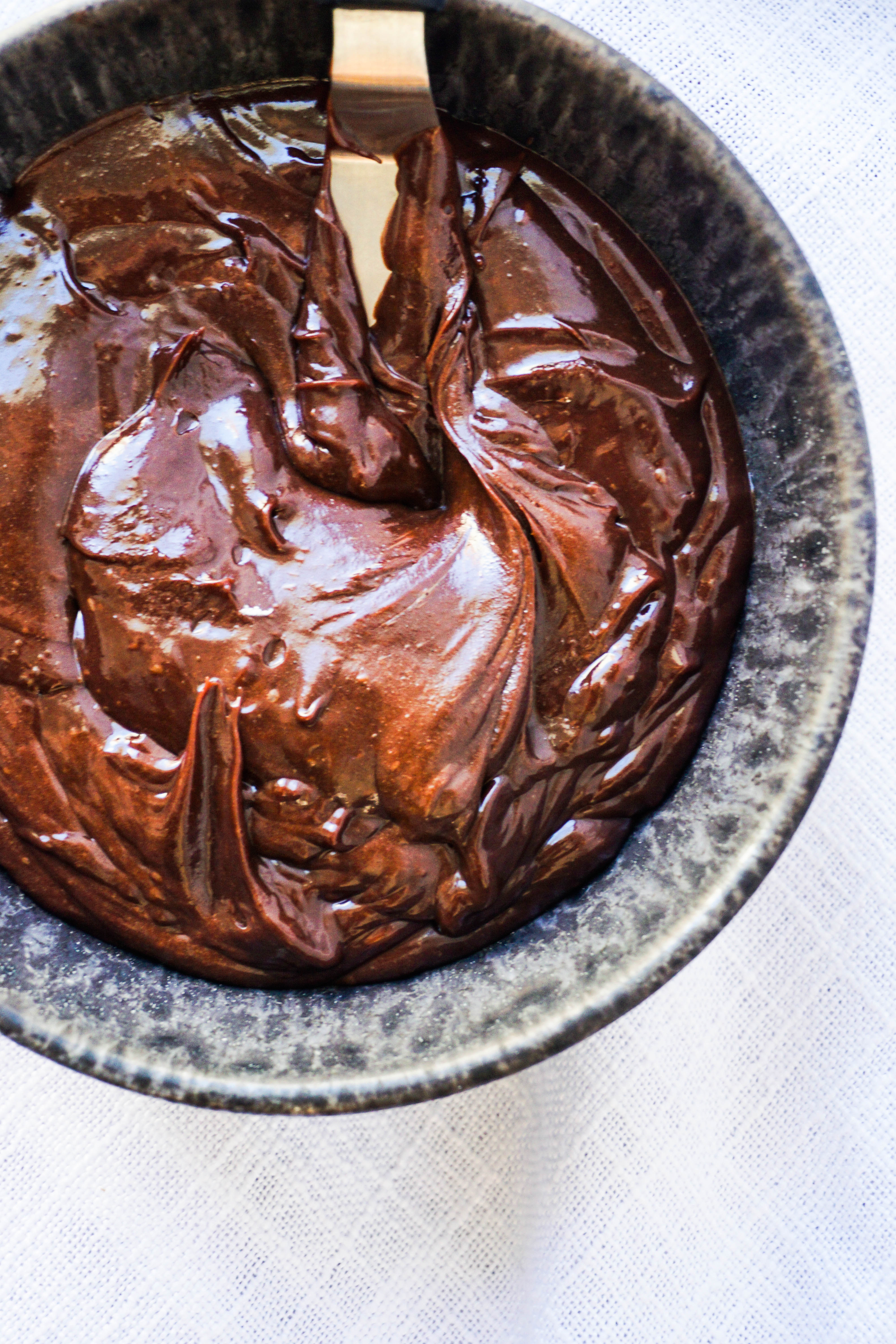 The cake is made with everything you'd expect to find in a chocolate cake: the flour, baking soda, cocoa powder, eggs, etc.
The icing was the most exciting part for me. Imagine that. Hot cream gets poured over chopped chocolate then stirred until a ganache-like sauce is created. That gets chilled (for 30 minutes as Ina suggests), and lightly beaten before being topped on the cake. It's a three-step process but it's totally worth it! Let's also not forget to mention a little Kahlua is added. Again, she's my spirit animal.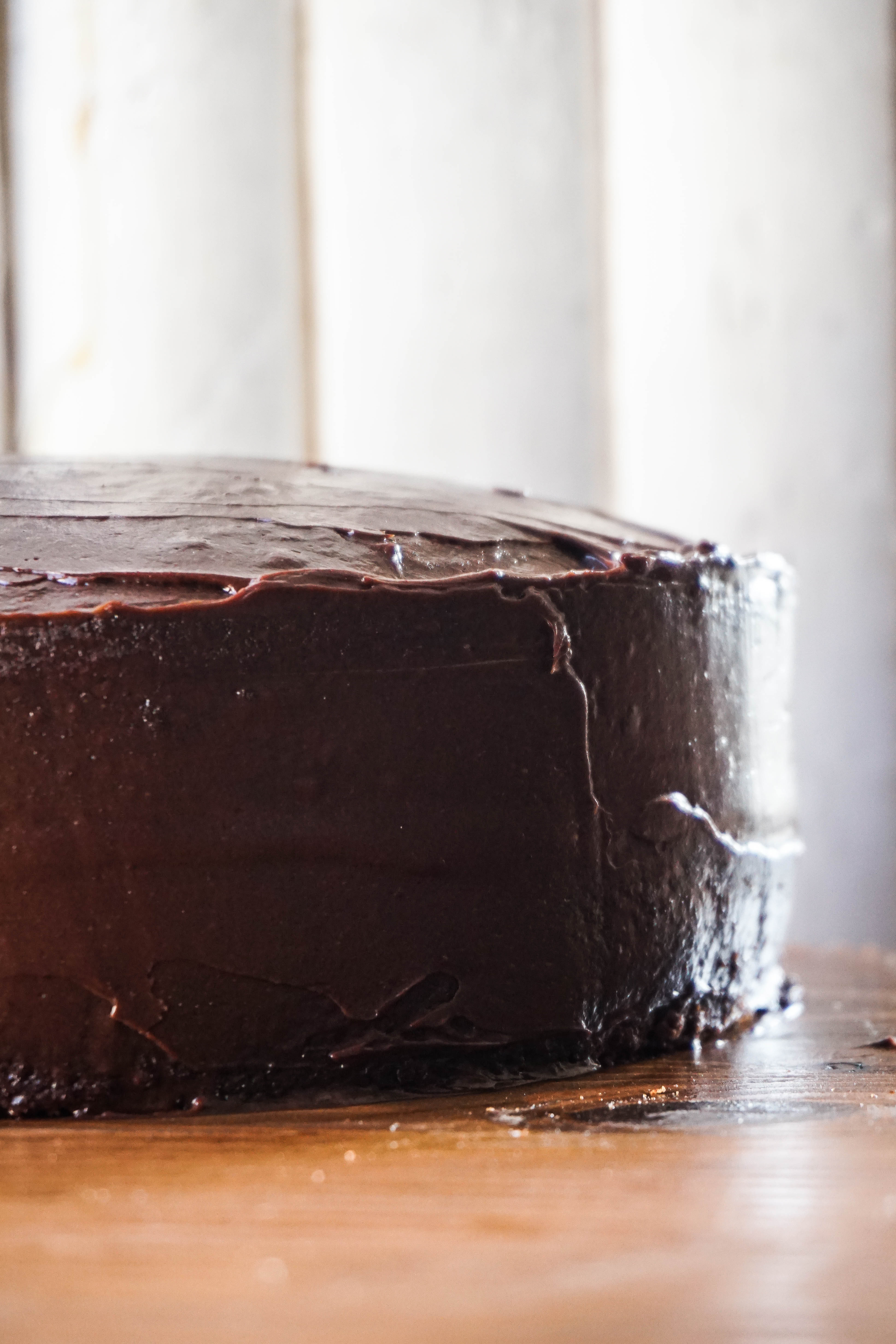 Ina's recipe calls for a 9×13″ baking sheet AKA a sheet cake. I visioned a round cake so I used 2 9″ cake pans and crossed my fingers because this baking thing frightens me. Luckily it worked!
Next time I make this I will take it out of the oven a few minutes earlier. I baked my cake(s) the same time suggested for the sheet cake. Although delicious, I may have done it a minute or two too long, oops! This is what trial-runs are for right?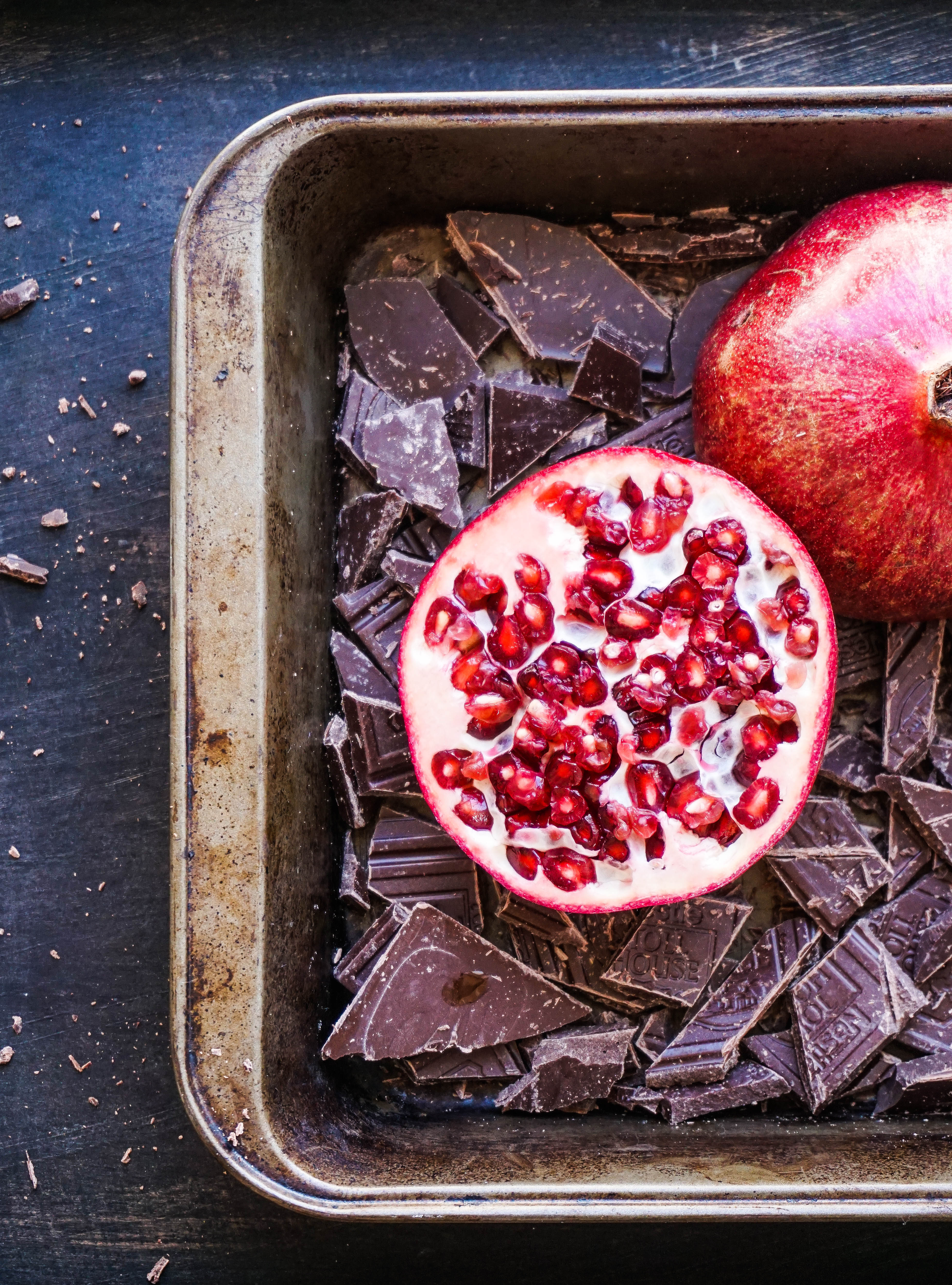 I picked up a pomegranate from the store and used some powdered-sugar dusted lavender leaves from the garden as garnish. I'll save this for another time but HOW and WHY our herbs are still alive in December is beyond me.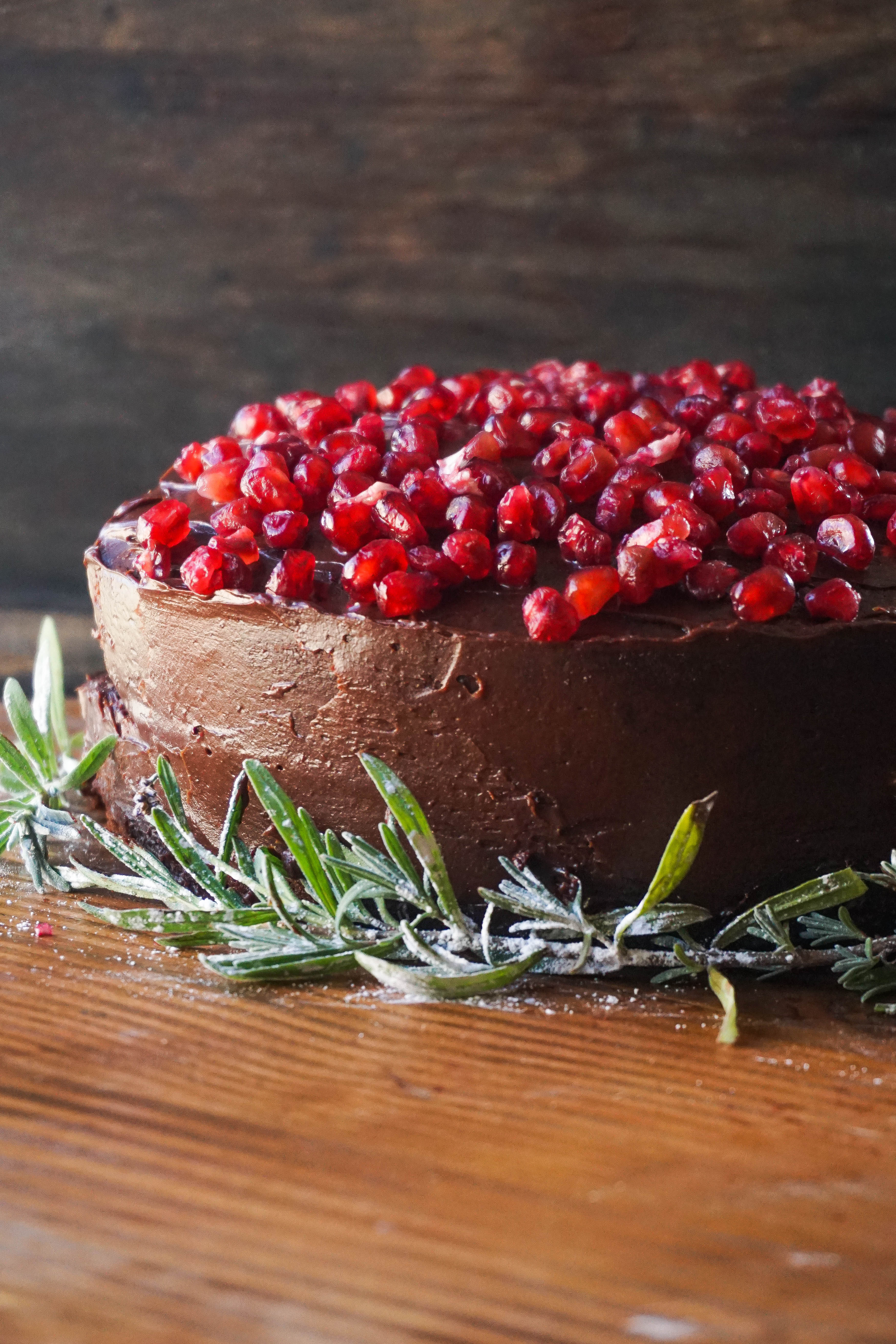 Personally I love pomegranate but for some it's risky so for Christmas I'm going to sprinkle my cake with crushed candy canes. Chocolate and mint AND coffee? Squealing.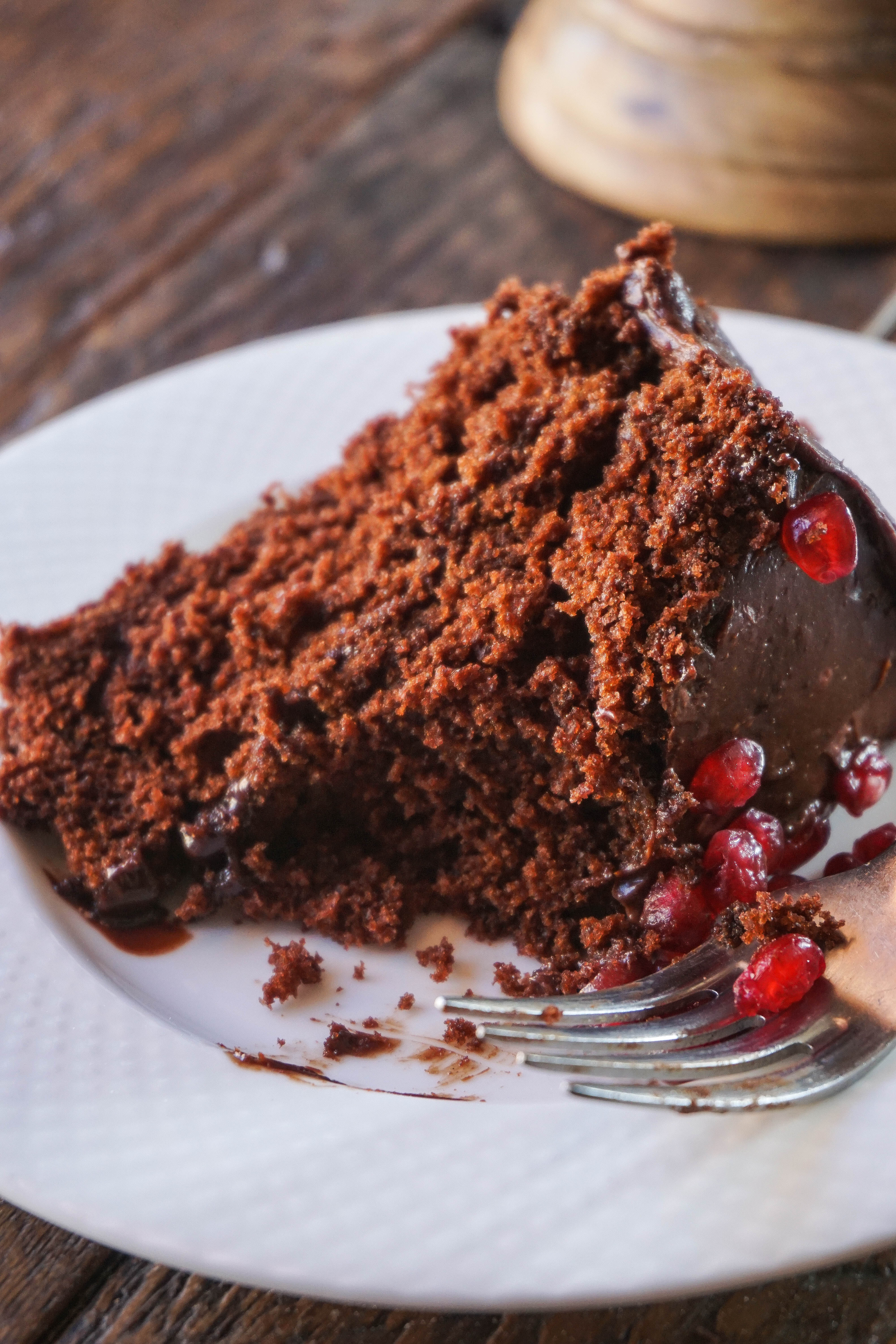 This chocolate cake is it. Never will I look any further! The icing is light and airy and compliments the rich chocolatey cake wonderfully. It's been two days and I'm still indulging probably because I can't get enough. For someone who can't bake, this was simple and rewarding. I can't wait to make this for family in a few weeks and I also can't wait to convert some anti-chocolate family members because I have every ounce of faith this cake will do it.
Check out Ina's cookbook here! PS: it'll make an awesome gift, just saying!
Ina's Chocolate Cake with Mocha Frosting
2015-12-07 05:46:40
Serves 12
For the Cake
1 1/2 sticks unsalted butter (6 oz) - room temperature
2 cups sugar
1 tablespoon vanilla extract
3 large eggs - room temperature
1 3/4 cups all-purpose flour
1 teaspoon baking soda
1 teaspoon kosher salt
2/3 cup hot tap water
2/3 cup unsweetened cocoa powder
1 teaspoon instant espresso powder
2/3 cup half and half
Mocha Frosting (see below)
For the Mocha Frosting
12 ounces bittersweet / semi sweet chocolate - chopped
3 tablespoons unsalted butter - diced and room temperature
2 teaspoons instant espresso powder
1 1/4 cups heavy cream
1 tablespoon Kahlua
1 teaspoon vanilla extract
For the Cake
Preheat the oven to 350. Grease a 9x13" baking dish or two 9" cake pans.
Cream the butter and sugar in an electric mixer with the paddle attachment until light and fluffy, about 5-7 minutes. On medium speed, add the vanilla and eggs one at a time until fully incorporated. Batter will be nice and smooth!
Sift the flour, baking soda, and salt in a medium bowl.
In another bowl, whisk together the hot water, cocoa powder, and instant espresso powder. Add the half and half, whisk until smooth.
With the mixer on low, add the flour and chocolate mixes alternately in thirds, starting and ending with the flour. Scrape down the sides of bowl with a rubber spatula to be sure batter is incorporated.
Pour into prepared pans, smooth the top, and bake 25-35 minutes until a cake tester comes out clean. I baked mine for 35 in two 9" pie pans and could have gotten away with only 30 minutes!
Cool completely in the pan. Turn on a flat surface and frost the top with frosting (if a sheet cake), or the middle, tops, and sides for a round cake. There will be plenty of frosting either way!
For the Mocha Frosting
Place the chocolate, butter, and espresso powder in a bowl. Heat the cream to a simmer and pour over the chocolate, stirring occasionally until melted. If the chocolate has not melted, zap in the microwave for a minute.
Stir in the Kahlua and vanilla and stir until smooth. Cover and refrigerate for 30 minutes only.
Scrape down the sides of the bowl and beat with a hand mixer until soft peaks form, about 20 seconds. Any longer the frosting may curdle, so be careful!
Adapted from Make it Ahead
http://www.vodkaandbiscuits.com/