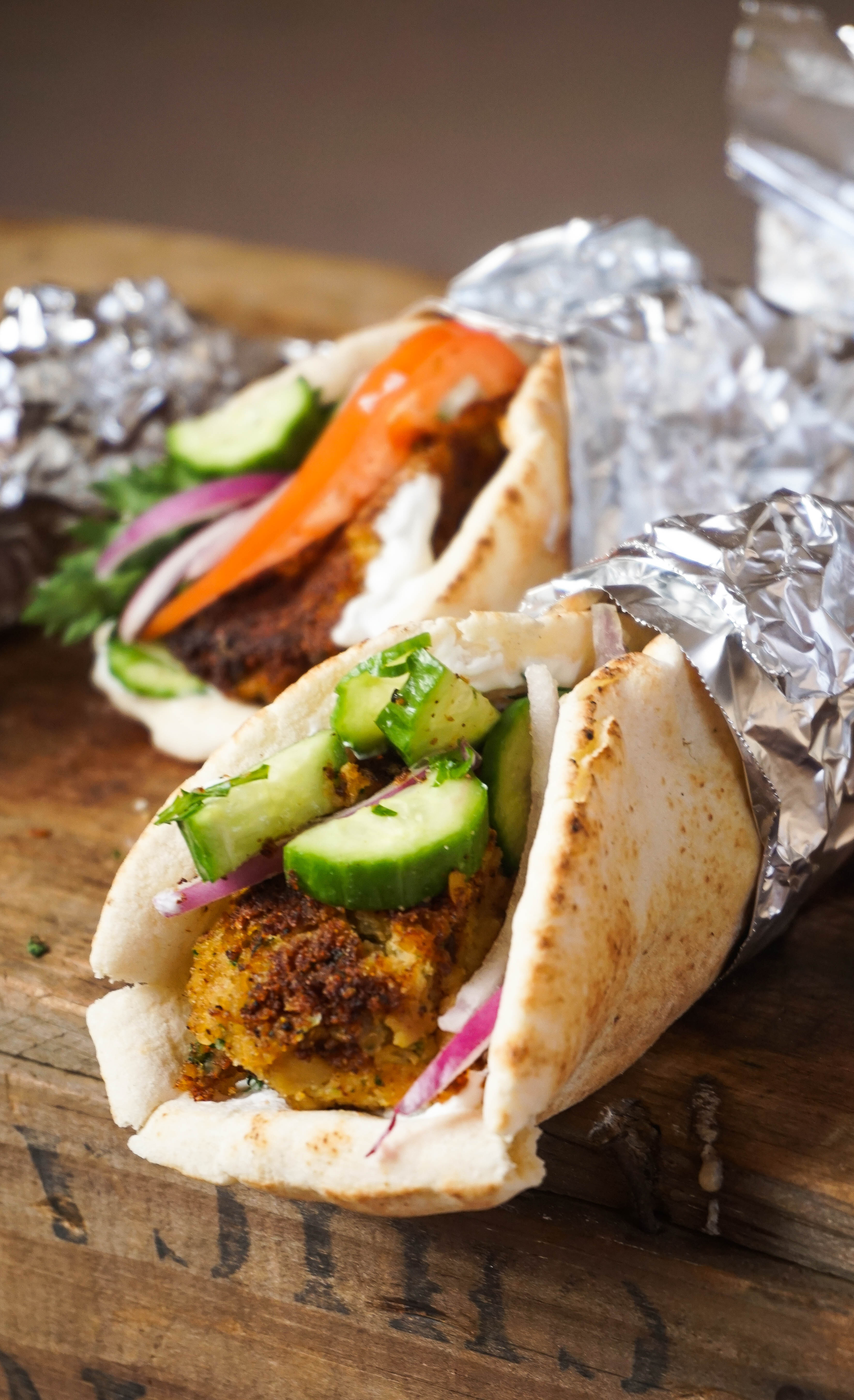 Sweet potato falafel: burgers, patties, cakes, fritters. You don't even want to know how many times I've changed the name of this recipe.
This recipe started out as being traditional falafel. A fried ball of chickpea herbal deliciousness tucked into a pita with all sorts of yums. The day before I hit the kitchen to prepare, I shared the recipe with my work buddies. Jane mentioned how just that morning she saw a sweet potato chickpea burger on Food Network AND JUST LIKE THAT EVERYTHING CHANGED.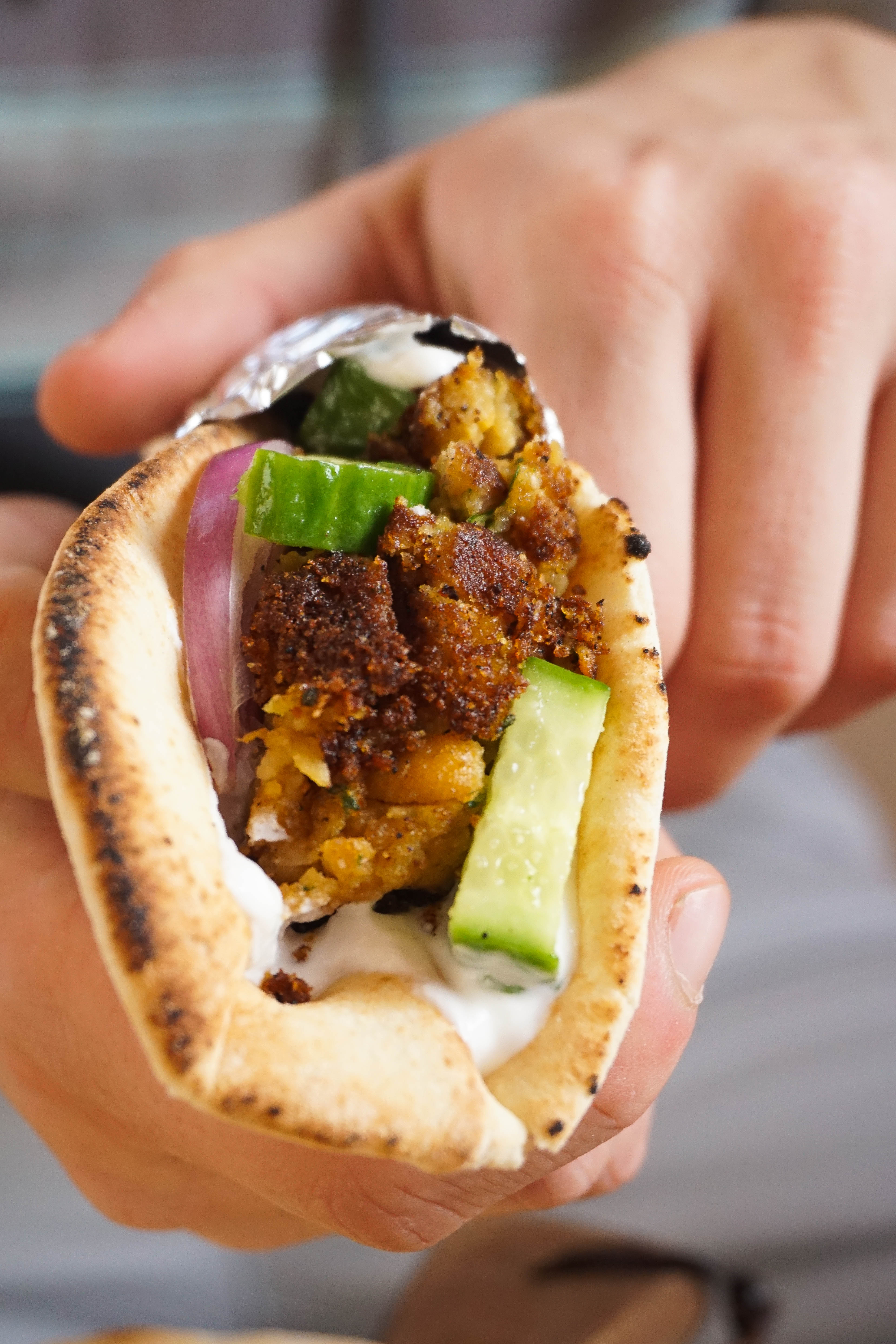 Our Chef happened to be sitting in and I showed her my falafel recipe and asked it'd be possible to add one or two roasted sweet potatoes, she said YUP, and that's all I needed to hear. So. Here we are.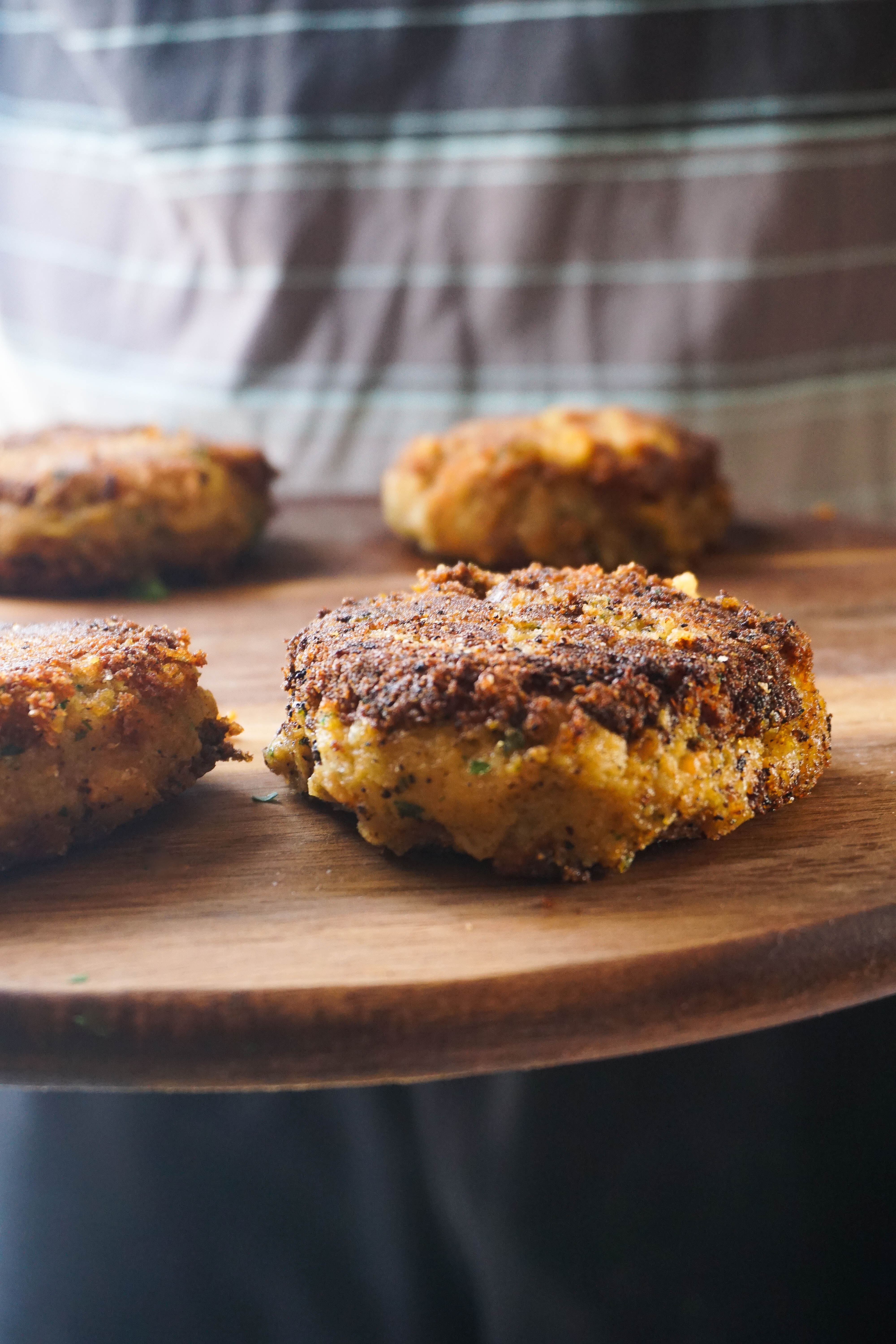 Let me just say, these are the most delicious tasting things I've had in a while. The spices combined with the herbs, the bite of the onion, and the sweetness of the potatoes create one tasty bite. The recipe is very similar to any simple falafel it just has the addition of a sweet potato. You feeling it? Let's discuss.
The Ingredients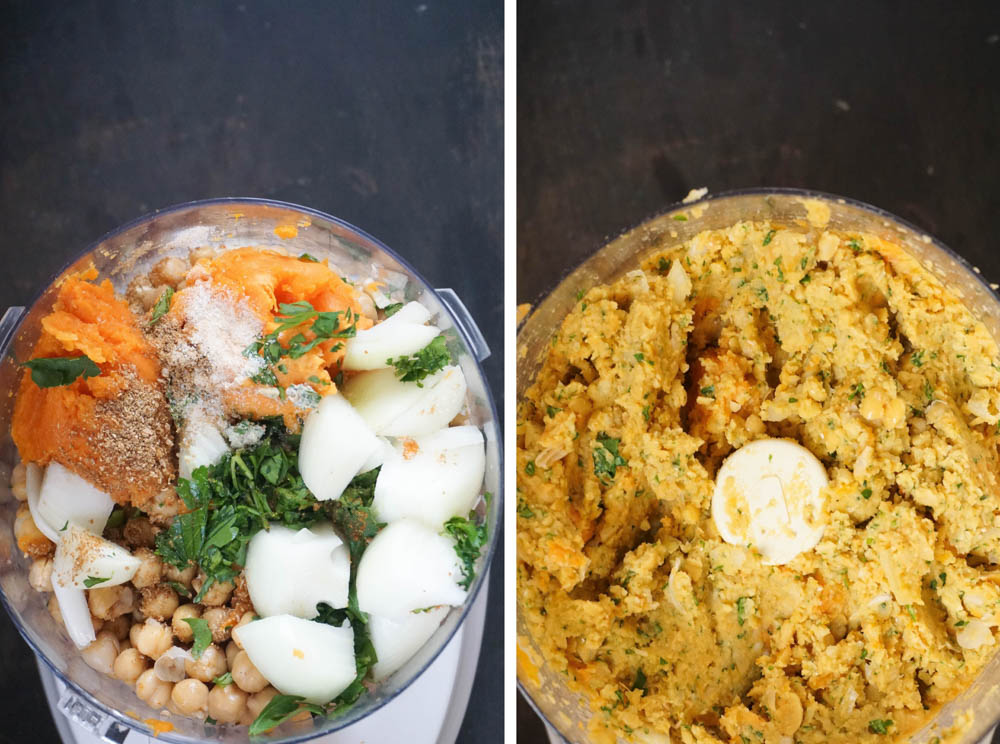 I love this because all you do is throw everything into a food processor, blend it up, and you're done! Of course you have to roast the sweet potatoes, but do that the morning of or the day before. Throw in a few more than you need because having extra roasted sweet potatoes in your fridge is *key*
I have toasted cumin & coriander seeds in the recipe, however you can easily substitute for ground cumin & coriander! The other ingredients are chickpeas, parsley, cilantro, onion, garlic, and a little flour and baking soda. Simple. My Chef said when she makes falafel she uses baking powder and always doubles what the recipe calls for (gives it more fluff) and substitutes AP flour for chickpea flour. MIGHT have to keep that in mind.
The Cooking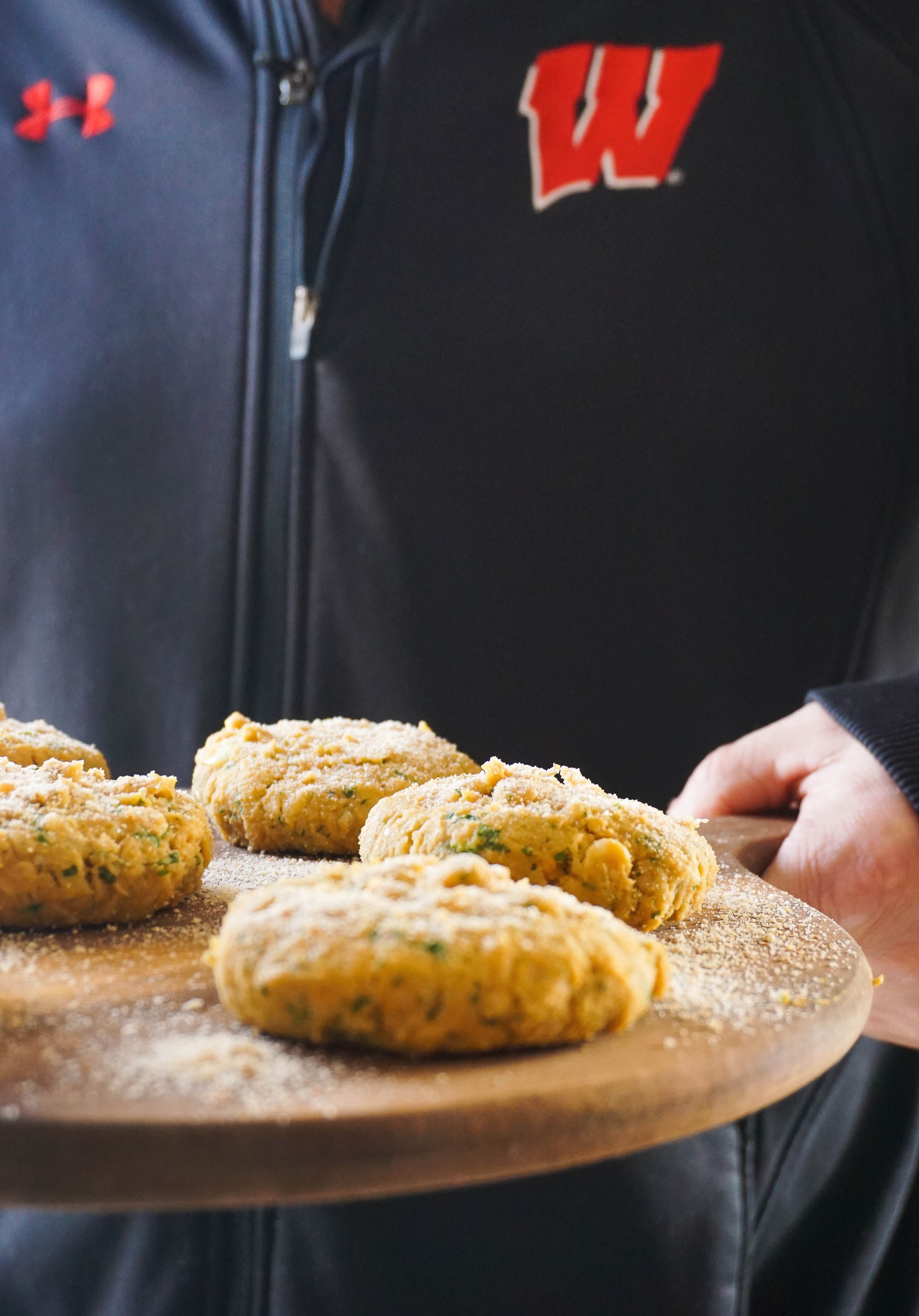 So I tried being traditional and rolling these into balls and deep frying. Epic fail. The sweet potatoes give these way too soft of a texture to handle deep frying, so I switched it up a bit. That's probably why original falafel recipes prefer using soaked chickpeas opposed to canned (maybeeeee?).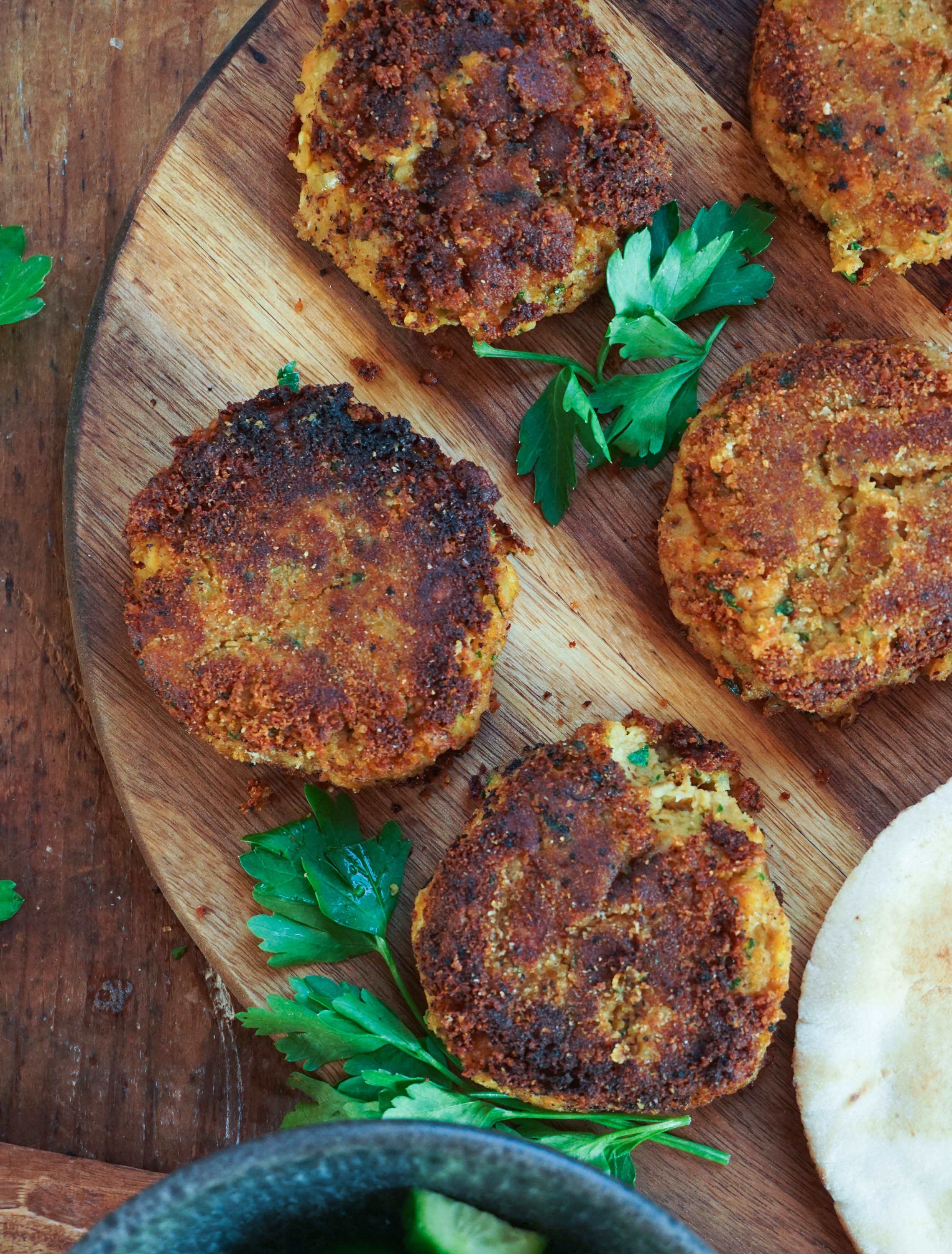 Since these do have a softer texture I figured pan-frying would be ideal and it was. Shape them into patties, give them a dip in breadcrumbs, and cook just as if you were making burgers on the stove.
The Fun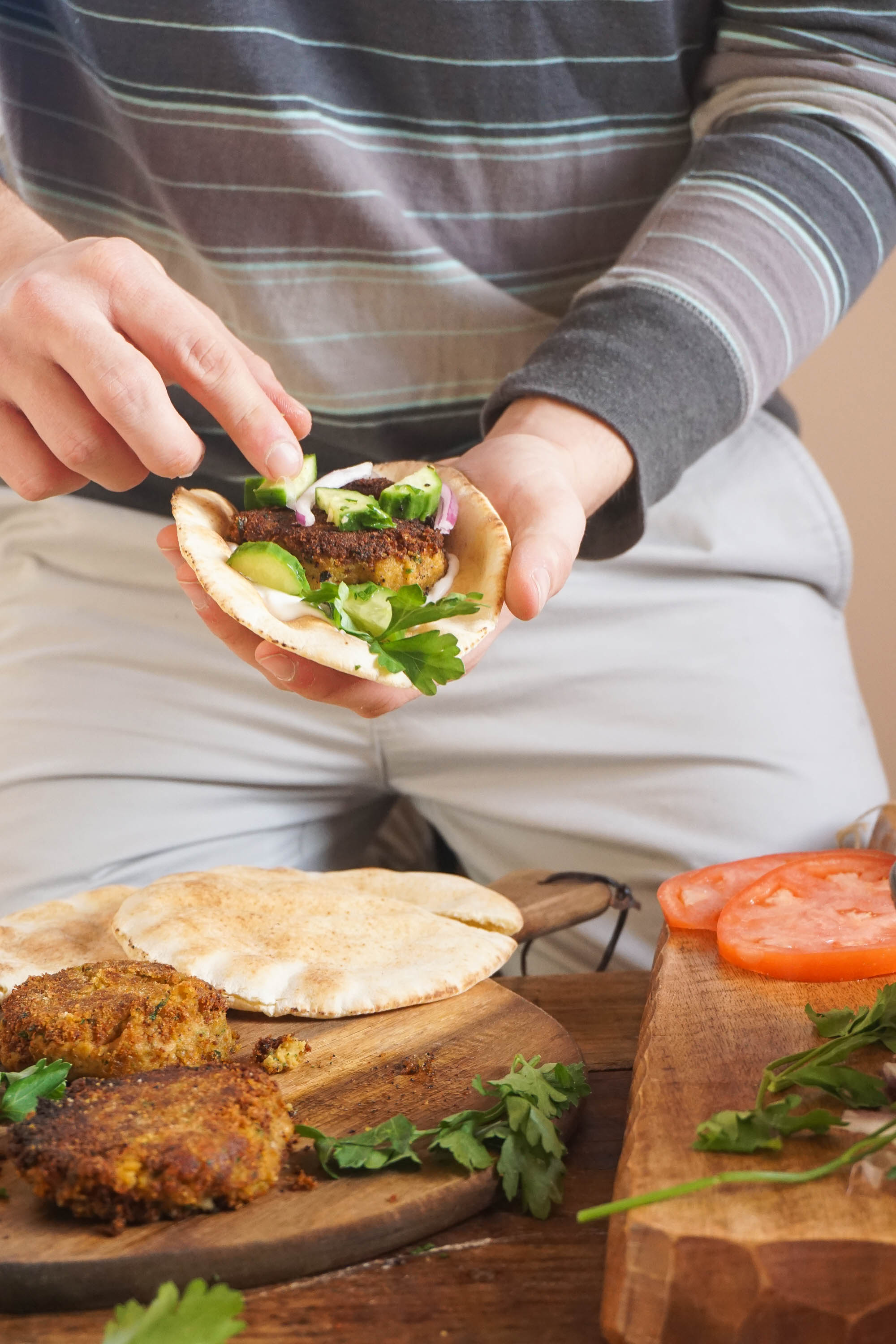 Because this is the fun part.
My first bite of this was during the epic-fail deep frying. Although what came out of the pot looked like the 90's toy Bumble Ball (seriously), I still gave it a taste (because nothing stops me), and I was SO excited with what I was experiencing. I even ran down and grabbed my brother, don't look at this JUST EAT IT. Once I knew the flavor was nailed, I was oober excited about the patties.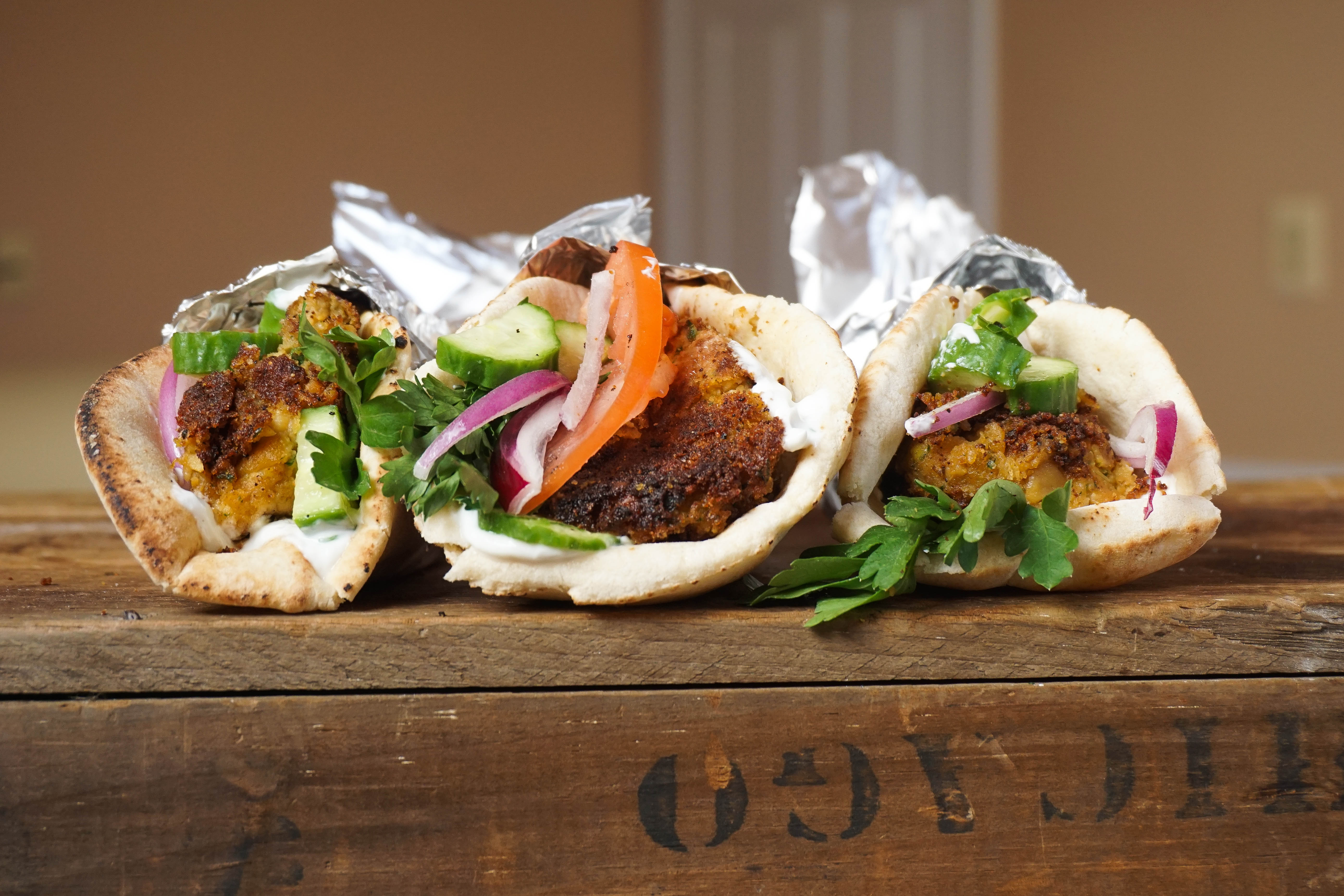 NOW LET ME WARN YOU. These are made of sweet potatoes and mashed chickpeas, so if you don't like certain creamy foods because of their texture these are not for you. Yes the outside crisps up, but you still have a creamy bite. I don't mind it, especially when its' thrown in a pita with all sorts of crunchy yums.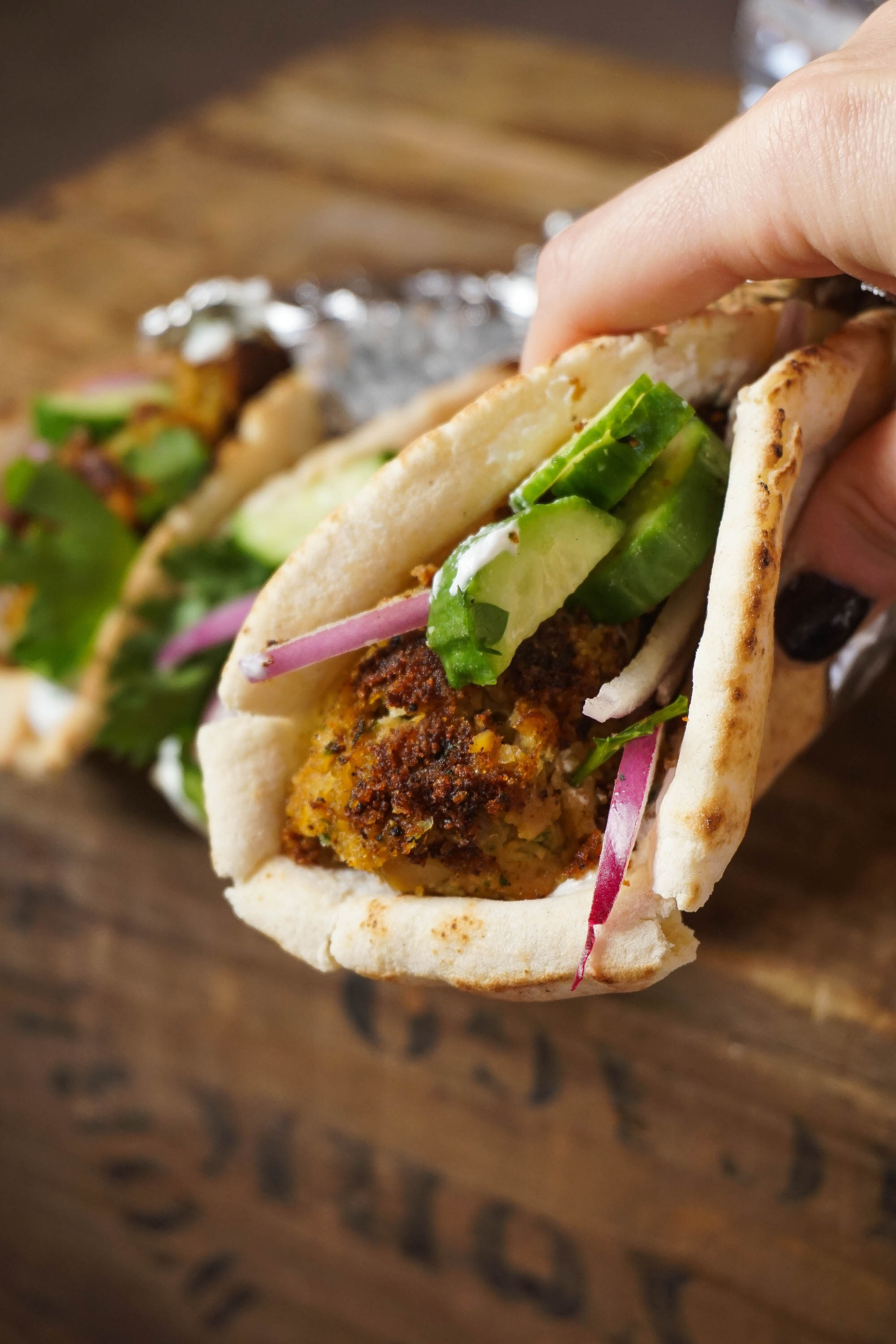 However you eat this is up to you. I bought all of my ingredients before deciding to switch up the recipe, so I stuck with pita, a cucumber salad, and a lemony yogurt sauce. You can eat these as it, throw it on top of a salad, with an egg in the morning (delicious), or eat it like a burger with tahini. I'm gonna leave the toppings up to you. However you do this, make a few more because you're gonna love it.
Enjoy!
*Note Reading Nutritional Information: the nutritional label is based off of ONE falafel cake. The recipe yields TEN and serves FIVE people (2 cakes per person). Double/triple the information if you are eating 2, 3, etc.
Vegan Sweet Potato Falafel Cakes
2016-01-09 14:09:38
Serves 10
Ingredients
2 small sweet potatoes or 1 large
olive oil as needed
2 cans chickpeas, drained
1/2 small yellow onion, roughly chopped
3 cloves garlic
1 handful parsley stems (or as much/little as preferred)
1 handful cilantro stems (or as much/little as preferred)
1 teaspoon garlic salt
1 teaspoon cumin seeds (or ground cumin)
2 teaspoons coriander seeds (or ground coriander)
1/4 teaspoon cayenne pepper
1/2 lemon
2 teaspoons baking soda
2 tablespoons flour
1 cup breadcrumbs flavored with salt and pepper
canola oil as needed
Instructions
Preheat oven to 400 degrees. Poke holes in the sweet potatoes 3-4 times with a fork, rub with olive oil, and place on baking sheet. Roast for 1 hour or until very fork tender. Scoop out the insides and transfer to a bowl. You want about 1 cup. This can be done the day before!
If using cumin & coriander seeds, toast in a saute pan then finely ground in a spice grinder. If not, the ground spices work just as well!
Add the onion and garlic to a food processor and pulse 1-2 times. Add the chickpeas, sweet potatoes, fresh herbs, seasonings, and a squeeze of lemon. Pulse until the ingredients are combined. The mix should be wet enough to hold together, but still maintain its texture. Use a spatula to scrape down the sides if needed.
Transfer to a large bowl with the baking soda and flour. Mix until you no longer see white. Shape into 10 balls and place on baking sheet. Flatten with spatula.
Add enough oil to coat the bottom of a skillet and heat to medium heat. When it's hot (throw a tiny pinch of breadcrumbs to see if they sizzle), dip the patties in breadcrumbs on both sides shaking off any excess. Add to the oil and cook 2 minutes on each side until crispy brown.
Repeat with the remaining.
Serve with favorite burger/falafel toppings. I recommend Tzatiki, Tahini sauce, coleslaw, or a cucumber salad.
http://www.vodkaandbiscuits.com/