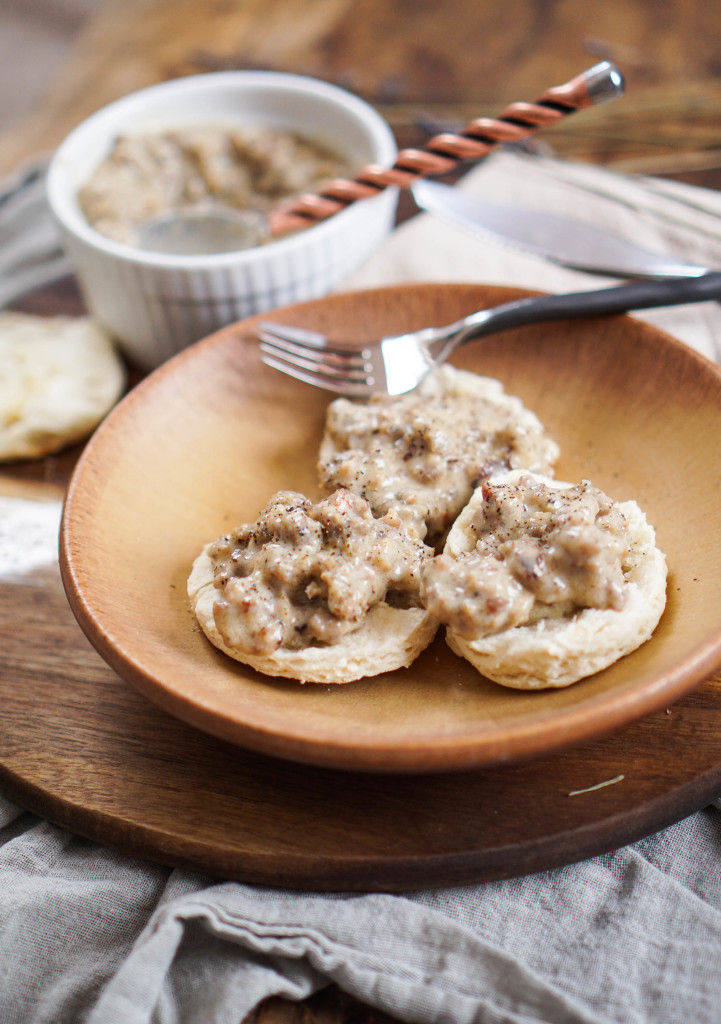 Confession: just because my blog is named Vodka & Biscuits DOES NOT mean I drink a lot of vodka or am an expert biscuit maker.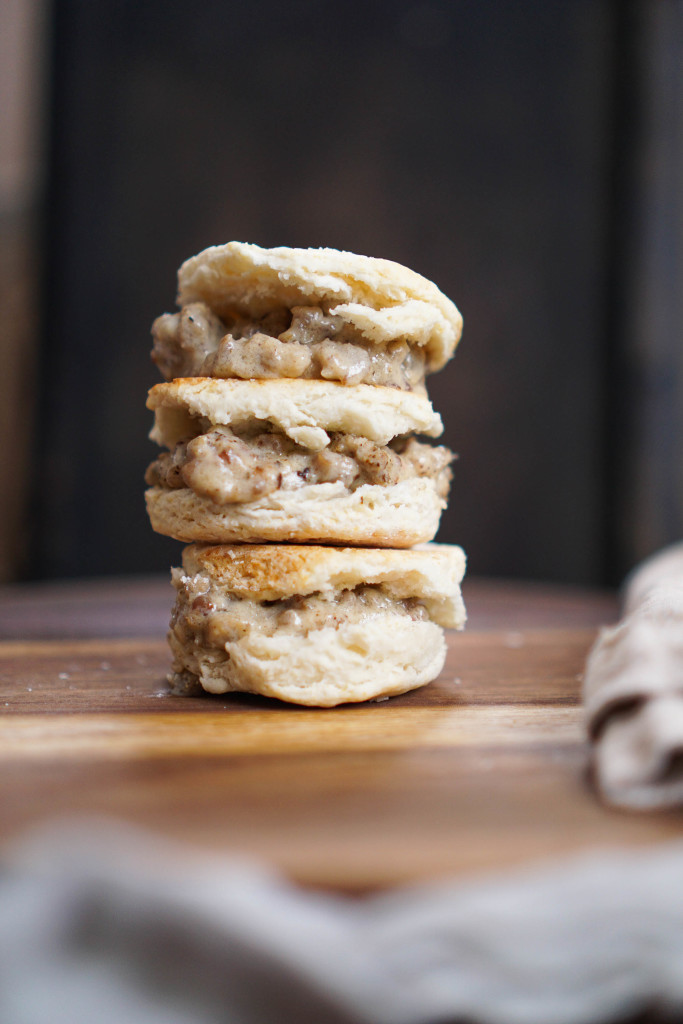 K maybe I do like drinking vodka but let me tell you, I am the COMPLETE opposite of an expert biscuit maker. We'll get to that.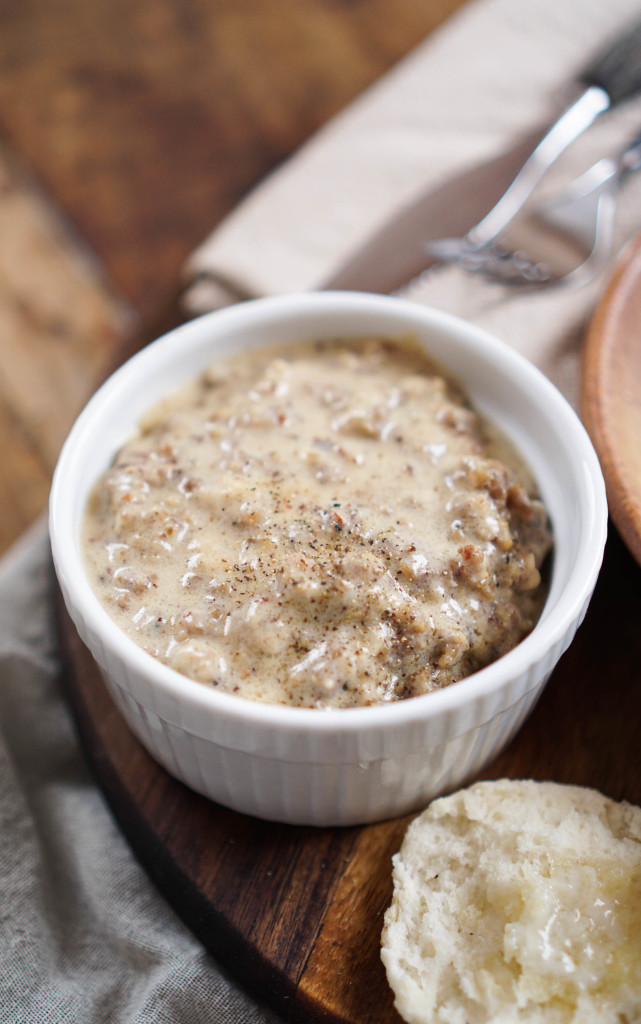 I'll save the "how my blog name started" story for another time because I really want to get into this soul comforting, finger lickin' breakfast. This is one of my all-time favorites and after you make it once and realize how incredibly easy it is, it will be marked one of your favorites too…if it isn't already.
The second I heard we were expecting a blizzard I immediately thought of this classic breakfast treat. Creamy spicy sausage gravy atop warm biscuits. What could be better ESPECIALLY after you've just shoveled your life away?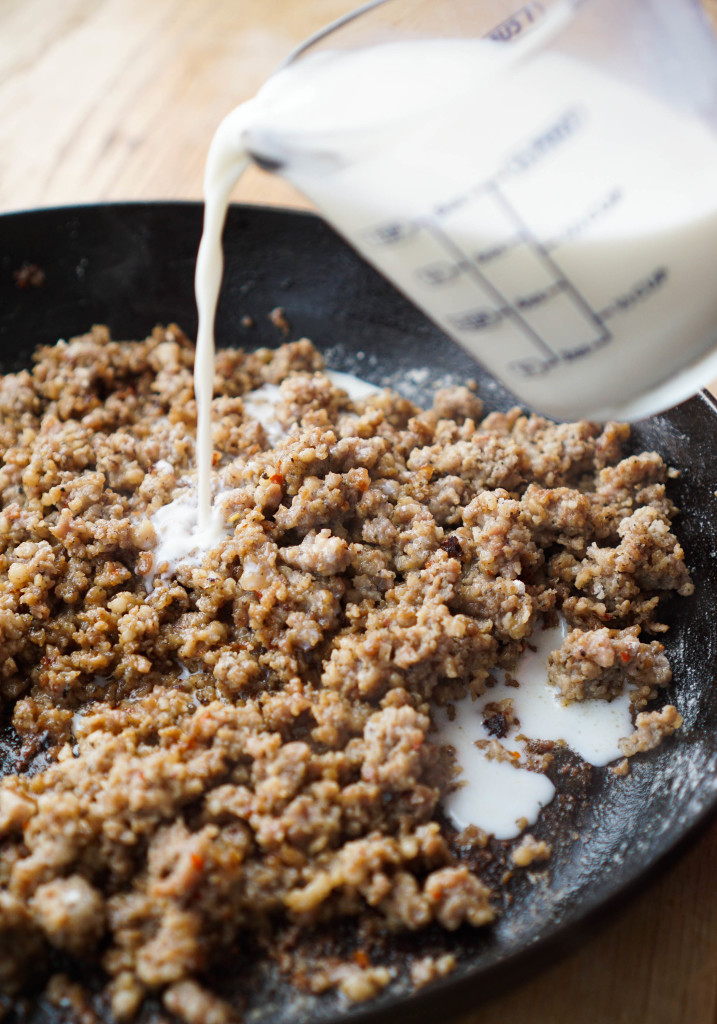 The real show stopper here is the gravy, but really it's so simple that there's not much to talk about! All you do is cook up some sausage, sprinkle over flour, and add a little milk and pepper. That'll come to a simmer and before you know it you've just made sausage gravy. Why can't everything in life be this easy?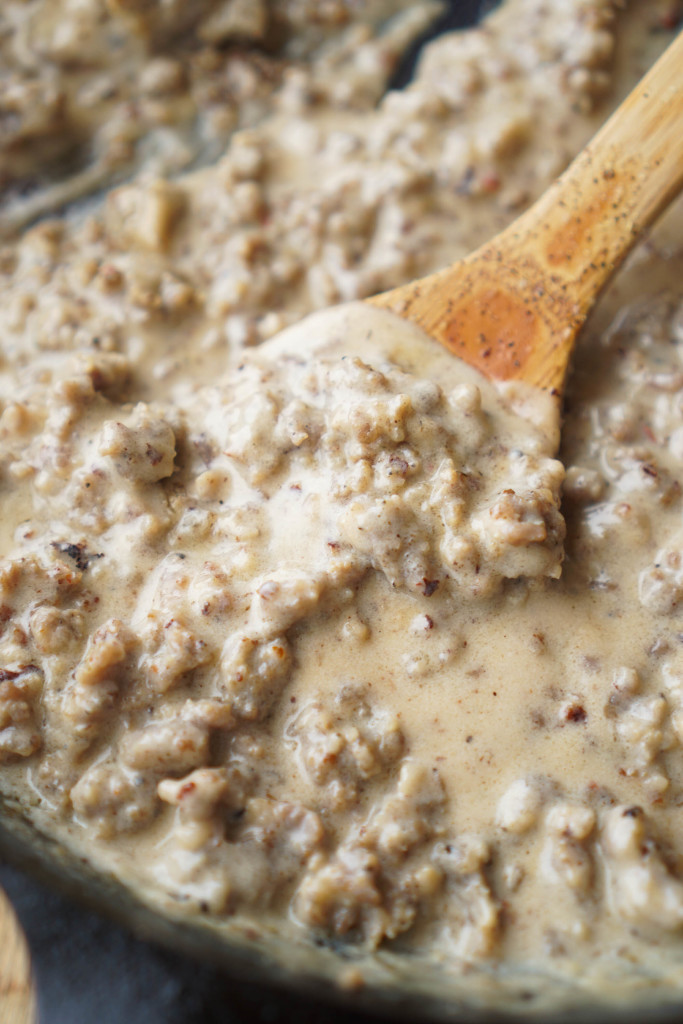 When you're buying sausage you'll find all sorts of stuff. Go for the ground breakfast sausage which you will often find in a package or wrapped up in tube. Jimmy Dean is the most popular brand and he's got all sorts of flavors to choose from. I go for sage!
Um, fun fact, Jimmy Dean once wanted to date my grandmother. This was like wayyyyy back when, wayyyy before he started to get into the breakfast game. Not to brag or anything.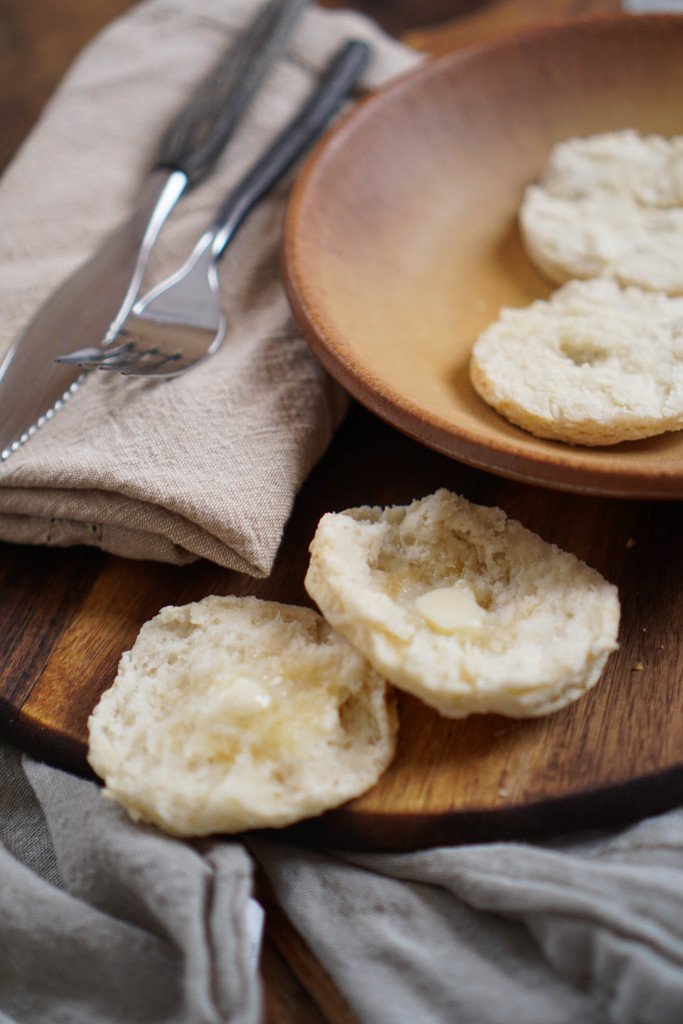 Anyways.
While your gravy is cooking whip up your biscuits. I attempted making Alton Brown's Buttermilk Biscuits, however I didn't properly prepare for all of my ingredients and by the time I started cooking I was already buried in snow. My biscuits didn't really turn out the way I wanted them to however once they were topped with gravy it didn't really matter. I'm going to put Pillsbury biscuits in the recipe, but go ahead and use your trusted biscuit recipe. And then share it with me because apparently I need help.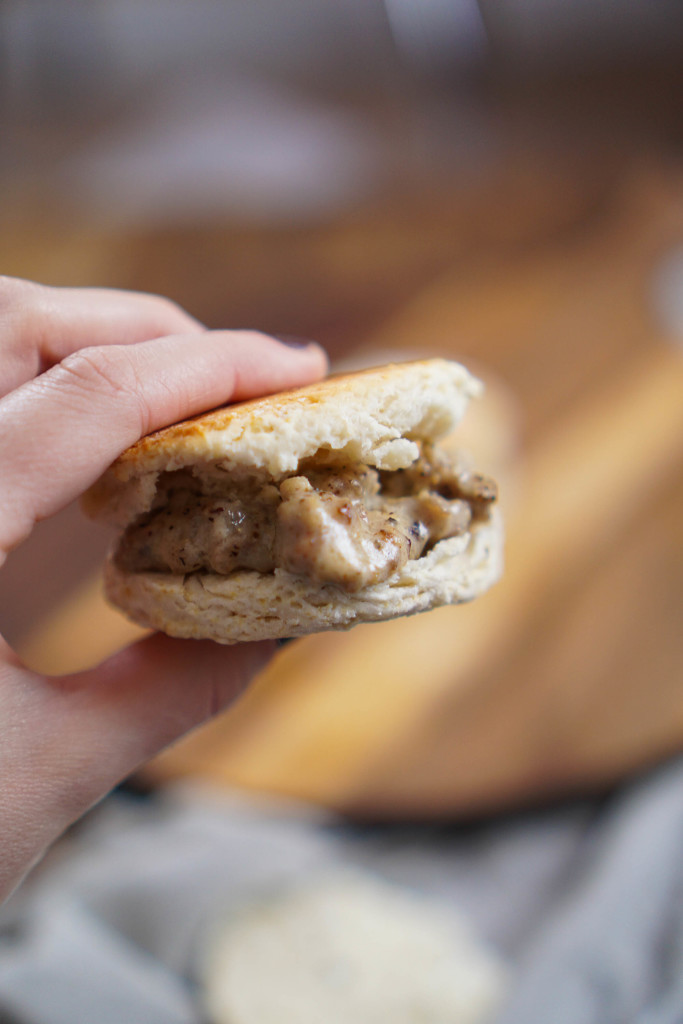 You can smother your biscuits in the gravy and eat as is OR make a killer sausage gravy biscuit breakfast sandwich. There's something about being able to eat breakfast with your hands.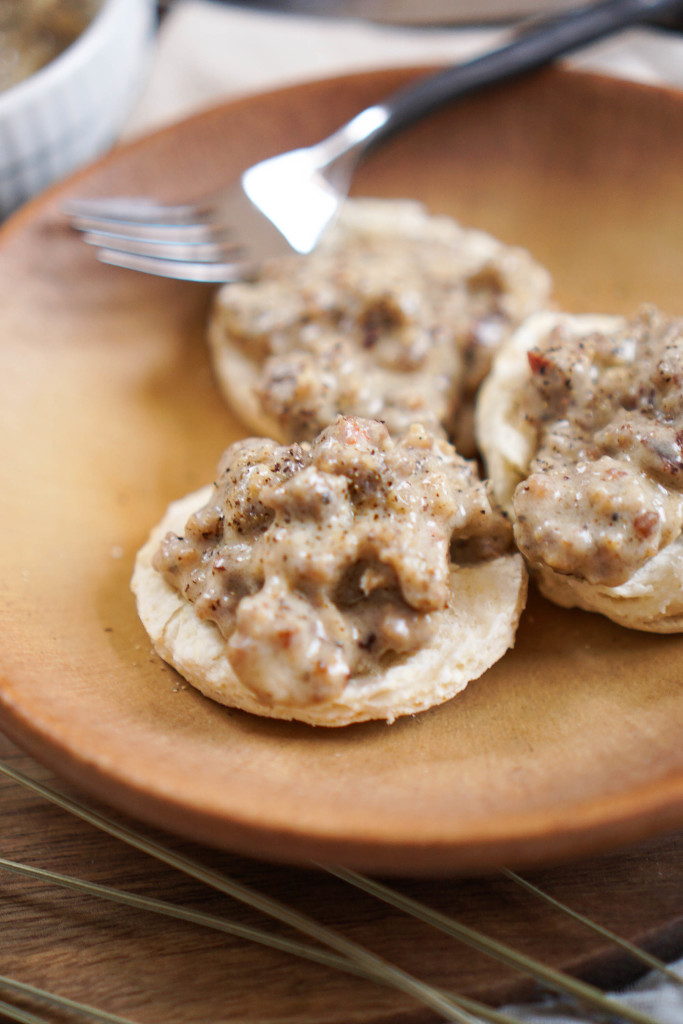 However you decide to eat this I know you're going to enjoy it. Next snow storm they're calling for be sure to put this on the grocery list.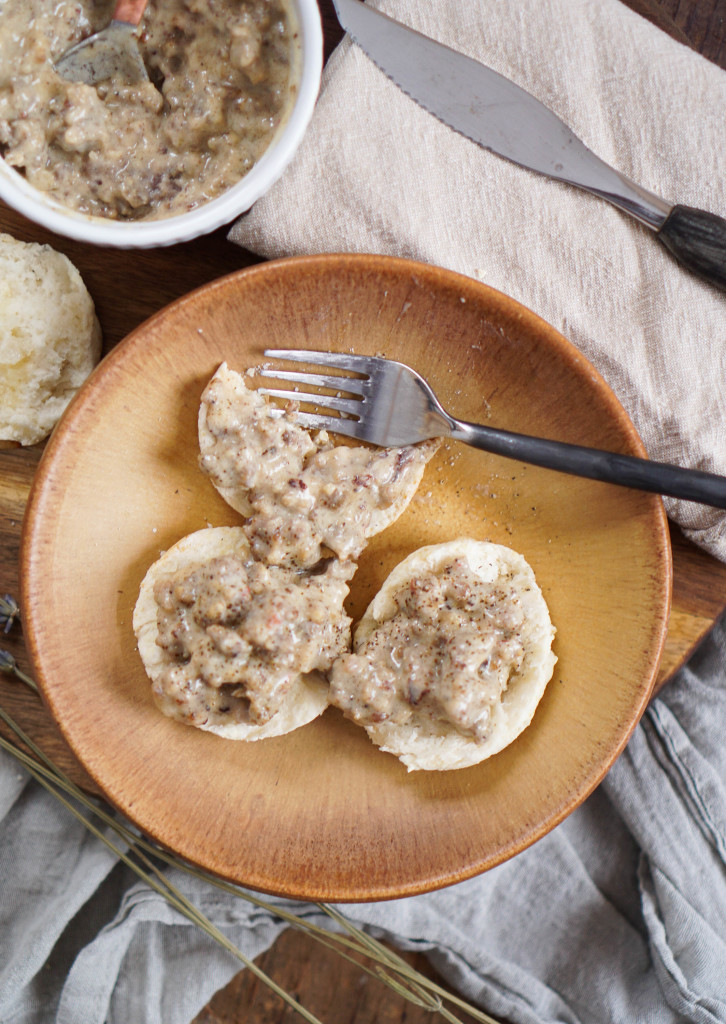 Enjoy!
Snowman's Sausage Gravy & Biscuits
2016-01-25 19:05:53
Serves 6
Ingredients
1 lb. ground pork breakfast sausage, preferably savory sage
3 tablespoons all-purpose flour
1/2 teaspoon black pepper, or more to taste
1 1/2 cups low-fat milk
1 tube Pillsbury Flaky Biscuits (or preferred biscuit recipe)
Instructions
Cook the biscuits according to package directions.
Heat a large skillet, preferably cast-iron, over medium high heat. Add the sausage and crumble with wooden spoon. Cook 8-10 minutes until no longer pink.
Sprinkle with flour, stir to combine, and cook for 2-3 minutes. The flour will tighten up any fat that was released from the pork.
Increase heat to medium-high. Add the milk and bring to a simmer. Allow to simmer for 7-10 minutes until thick. Be sure to stir often to prevent any sticking/burning. Be patient as it will take a few minutes before the gravy starts to thicken!
Sprinkle in the pepper and taste for seasonings. Adjust as necessary. Serve over warm biscuits, or serve as a breakfast sandwich. Yummy!
http://www.vodkaandbiscuits.com/