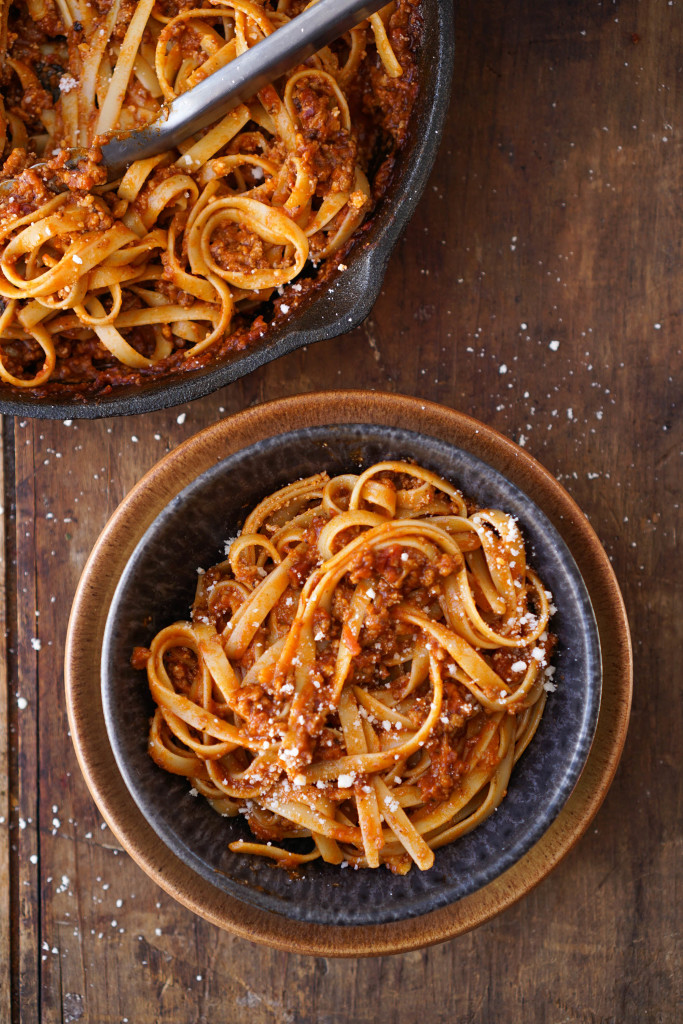 Bolognese AKA Ragu AKA meat sauce AKA the best thing that's ever happened to my taste buds.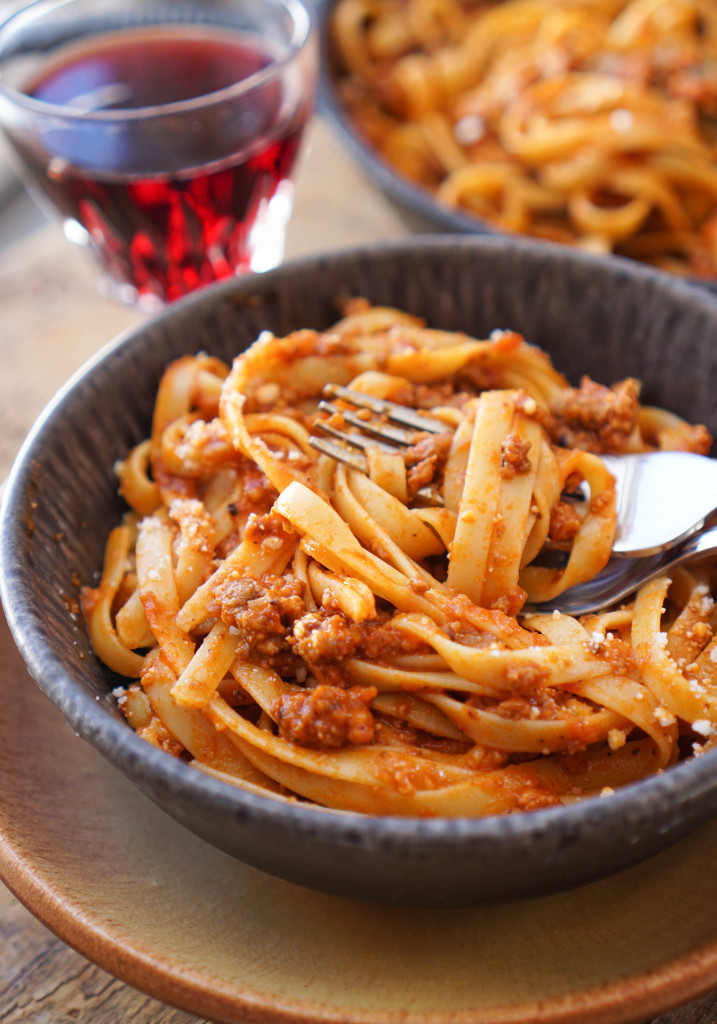 This girl LOVES her some Italian food and many of you may (or may not) know it is my favorite cuisine to study, cook, and eat!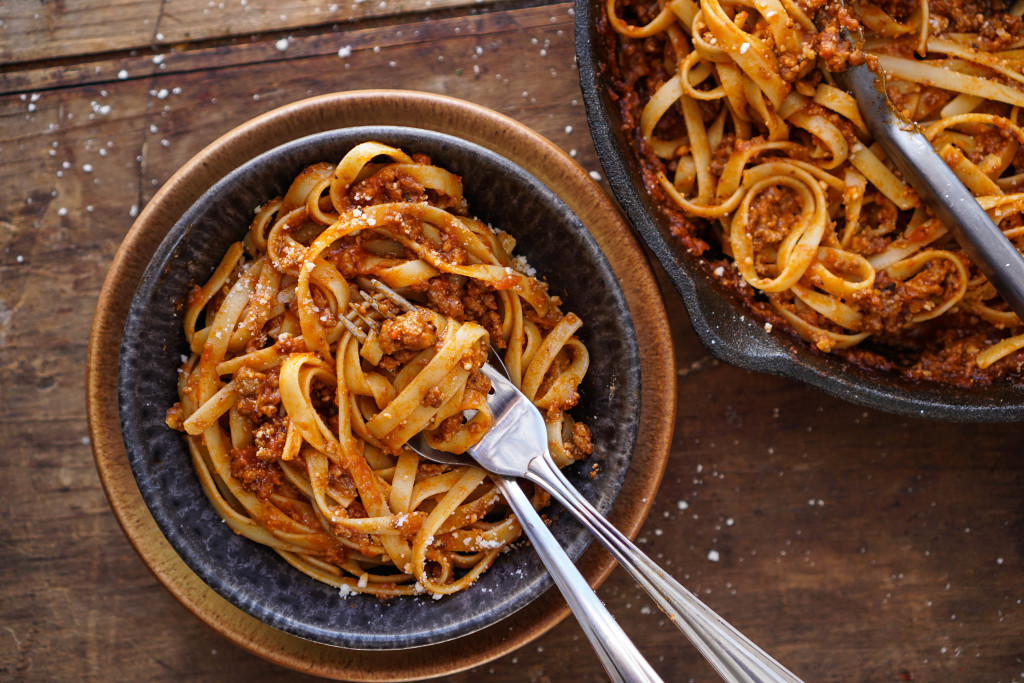 I used to say that I hated baking because I'm too impatient. After experimenting with Italian recipes, I really think it's my love for developing flavor of a recipe from start to finish that I get when cooking that I don't often feel when baking. I've found that Italian cuisine has tested (and improved) my patience – from making a stock from scratch, to reducing pounds of tomatoes, to simmering a sauce for hours. All of these things take time, a little patience, but create something so incomparable in flavor that the hours lingering around my kitchen don't even phase me.
Let's just say this sauce isn't a fast one.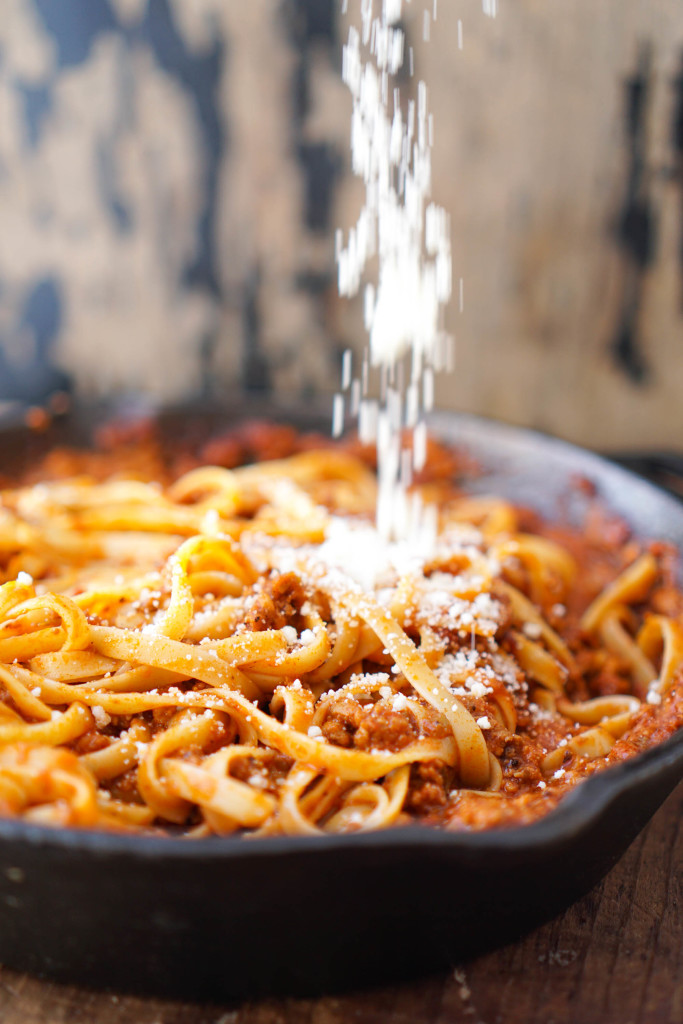 Three types of ground meat simmered for hours in a combination of aromatic vegetables, San Marzano tomatoes, and a splash of white wine. After you read the recipe you'll be impressed with how simple the sauce is – so, give me your trust and let me talk you into this mouthgasm of a meal.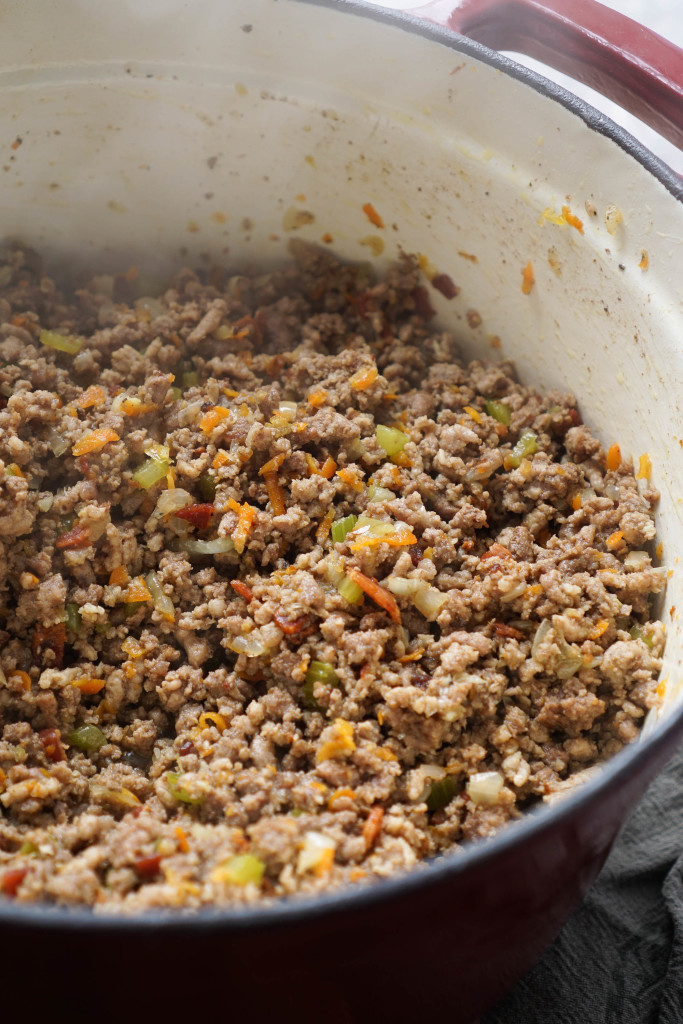 There are SO many ways you can prepare bolognese or ragu. You'll find various recipes throughout the internet – some with red wine, some with chicken livers, some with stock. I whipped out one of my favorite old school cook books and read recipes from a few of my favorite Italian chefs to come up with this.
I start the recipe sweating (cooking at a medium heat to prevent any browning) celery, carrots, and onion (mirepoix). After twenty minutes I remove the veggies from the pot, then cook diced pancetta until crisp. That gets removed, then the meat is added. It may seem like a lot of meat at first, but I promise the fat will melt down and in about 15 minutes it'll all get browned. The yums get added back to the meat and the most crucial part of the recipe: letting it mingle for 15 minutes.
You'll get the mingle vibe throughout the recipe. You want the ingredients to realllly get to like each other so give it some time! The next ingredients are simple: tomato paste, white wine, and two big ol' cans of San Marzano tomatoes. That'll do it's thing for nearly 3 hours. The sauce will go from starting out a little loose to deep red and rich. Don't make any plans in those three hours because you'll want to be tasting and seasoning with salt and pepper as you go. Another important step!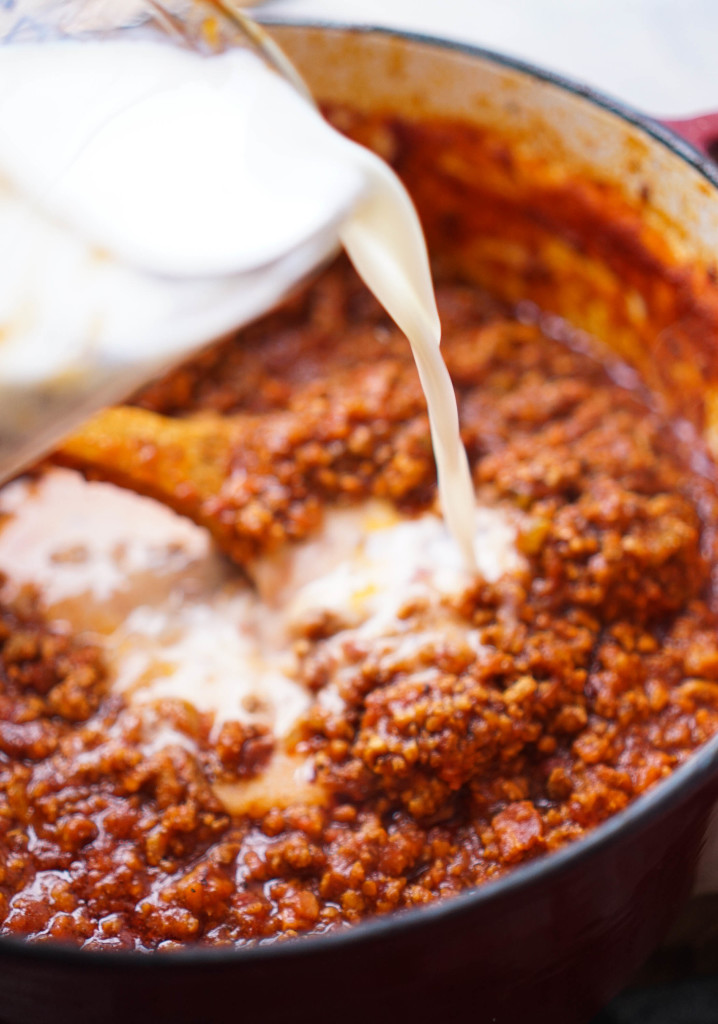 Once your comfortable with your sauce a cup of milk is added in. The sauce itself is already incredibly rich so I didn't feel the need for heavy cream, but knock your socks off!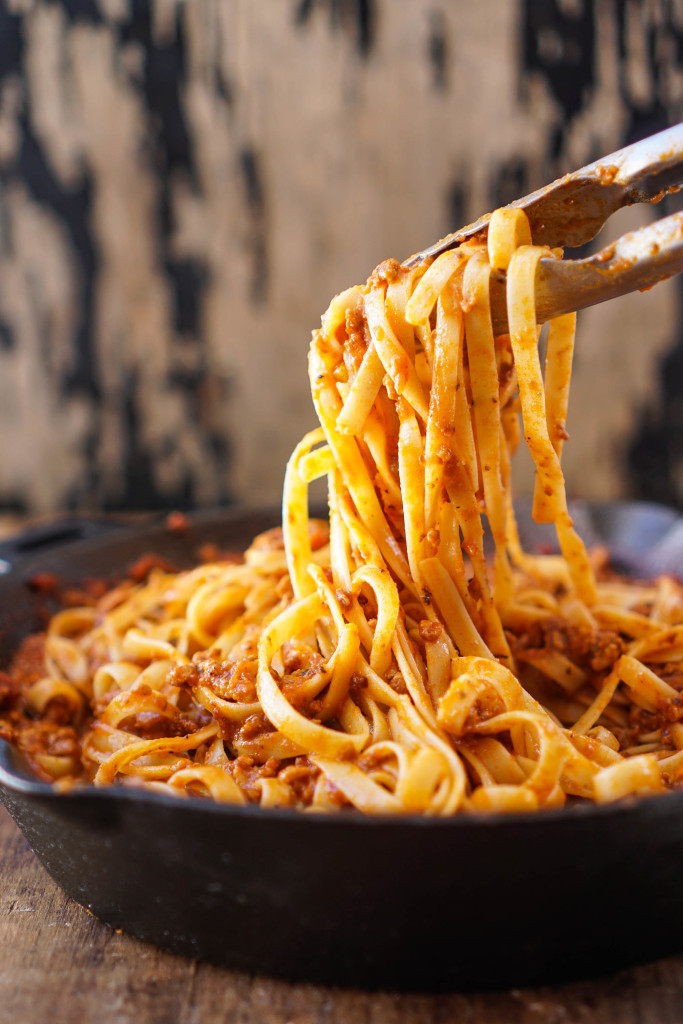 Just as my sauce is about to get done I boil up some pasta. You can use whatever pasta you'd like but I totally recommend paparadelle or fettuccine. YUM!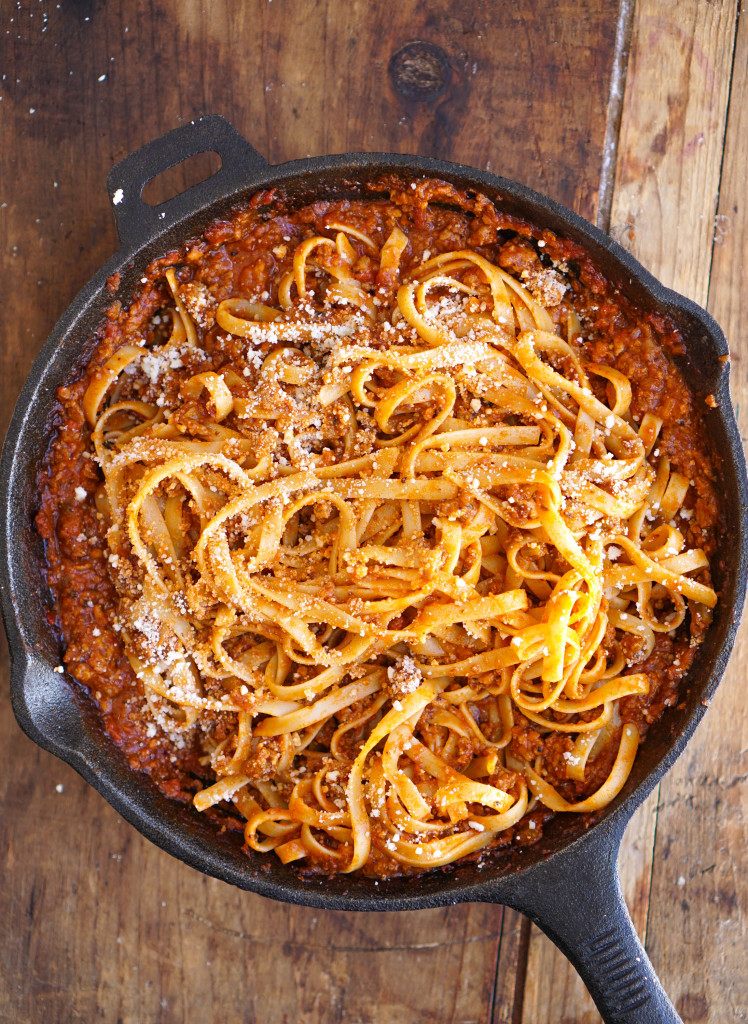 I add a few ladles of sauce to a skillet, a tong full of pasta straight from the pasta water, and let that mingle on the stove top with a sprinkle of Parmesan before serving. Ugh. The best part.
An important note to mention! You will most likely end up with more sauce than you need (no complaints on this end). You can freeze it, turn it into lasagna, use it for a meatball sub, or whatever your creative mind comes up with.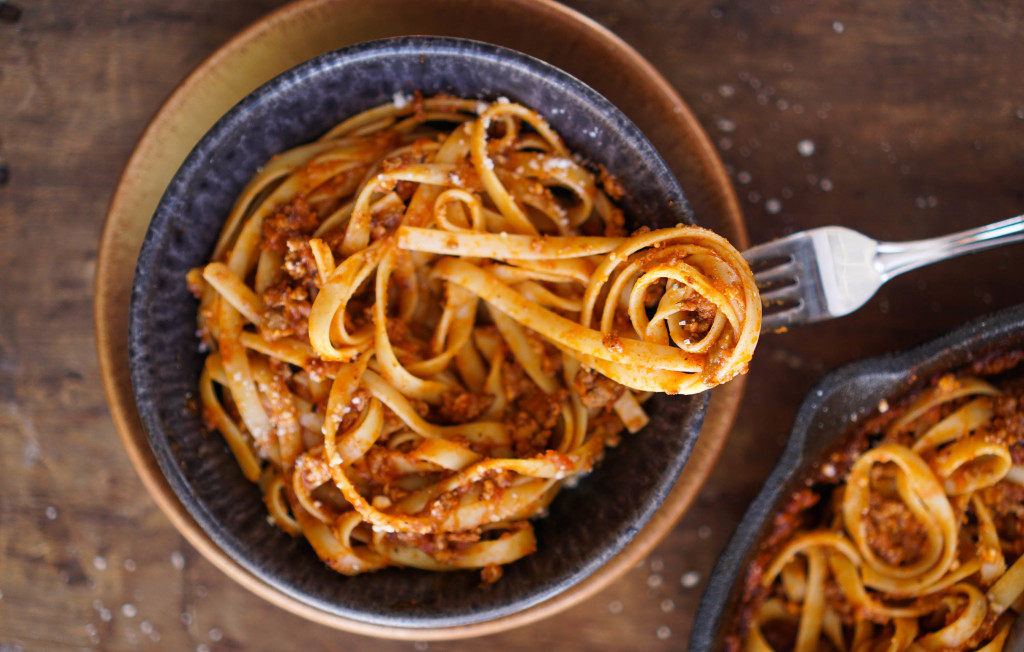 I made this the first day of snow storm Jonas and it may have been the best worst decision ever. Three days stuck inside with a rich and meaty pasta sauce may have tortured my waist line but soothed my soul. Clear your schedule because this has to happen. Enjoy!
Fetuccine alla Bolognese
2016-01-24 06:19:04
Serves 10
Ingredients
1 tablespoon olive oil
4 tablespoons butter
1 onion, small dice
3 celery stalks, small dice
3 carrots, grated
3 cloves garlic, minced
4 oz. pancetta, diced
1 lb. ground beef, preferably chuck
1 lb. ground pork, preferably shoulder
1 lb. ground veal
6 oz. tomato paste
1/2 cup dry white wine
2 28 oz. can San Marzano tomatoes, crushed or blended in a blender
1 cup milk
1 lb. fettuccine, paparadelle, or tagliatelle pasta
kosher salt, pepper, and nutmeg as needed
Parmesan Reggiano as needed for garnish
Instructions
Add the butter and olive oil to a dutch oven and heat over medium heat. Add the onion, celery, carrots, and garlic (will be referred to as mirepoix). Toss to coat in the fat, and sweat* for 15-20 minutes until tender, stirring frequently (see notes below). Sprinkle with salt and pepper. Transfer vegetables to a bowl.
Crank the heat to medium high heat and add the pancetta to the same pot. Cook 15 minutes, scraping the pancetta with a wooden spoon, until brown and crisp. Transfer to the bowl with the mirepoix.
With the heat still medium high, add the beef, pork, and veal. Cook 20 minutes until the fat melts and the meat browns, using your wooden spoon to break the meat into crumbles. Sprinkle with salt, pepper, and a fresh grating of nutmeg (or a pinch of ground nutmeg).
Once you know longer see pink, mix in the mirepoix and pancetta. Lower the heat to medium, set your timer for 15 minutes, and allow the meat to caramelize and meld with the mirepoix. Stir about half way through and scrape any bits of meat that sticks to the bottom of the pan. Starting to smell yummy!
Add the tomato paste and mix to combine. Cook for 10 minutes.
Add the wine to deglaze and cook until evaporated, less than 5 minutes.
Add the crushed or blended tomatoes. Stir. Reduce heat to low and cook for 3 hours, checking often.
When ready, the sauce will be a deep red and very meaty. Very little tomato sauce should be loose. Taste for seasonings and adjust salt and pepper as needed. Just before serving, stir in the milk (or heavy cream if desired) and allow to cook until evaporated.
Cook the pappardelle or fettuccine according to package directions. Heat a small saute pan to medium heat and add a ladle of bolognese. Transfer a tong-full of pasta from the pasta water to the saute pan, and toss until combined with sauce. Garnish with Parmesan Reggiano and enjoy!
Notes
*when you sweat vegetables you want them to cook tender without picking up any color or caramelization. this is done over medium heat and often with a lid half way on your pot or pan to release their liquid. this recipes calls for 20 minutes, giving the vegetables a good amount of time to get to know each other.
*You will have extra sauce if you decide to serve this with fetuccine. I would say one pound of pasta can serve 4-6. Read the post for suggestions if you do have leftover sauce. If you decide to make lasgana alla bolognese, this sauce will yield exactly enough for a 9x13" pan, which can serve 10.
http://www.vodkaandbiscuits.com/