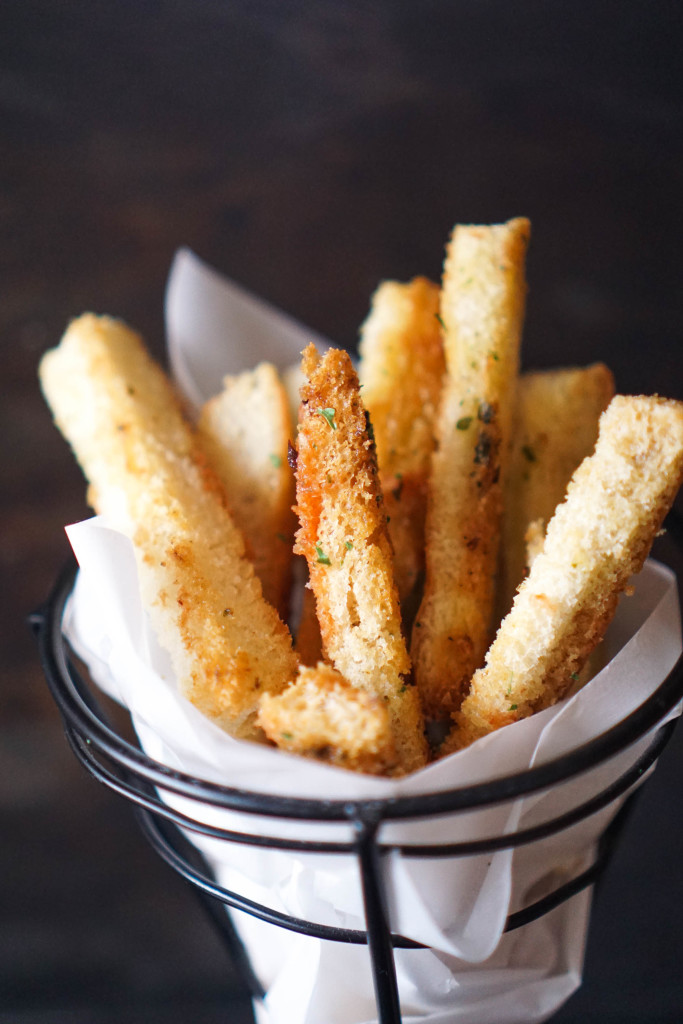 …garlic bread ways forever changed…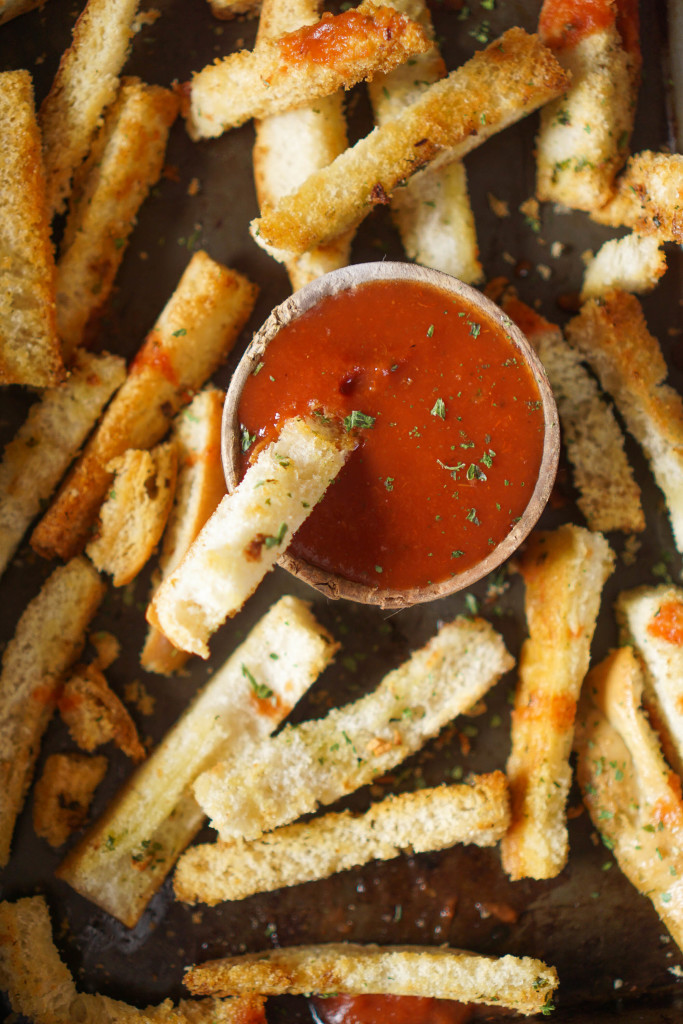 I'm getting ready to head off to Colorado in a few days to see the boy and I'm squealing with excitement.
We have an agenda full of plans but I'm really looking forward to the weekend where we are hosting a dinner party with two of his closest Colorado friends. You know me and the second we decided on hosting dinner I immediately hit the books for inspiration.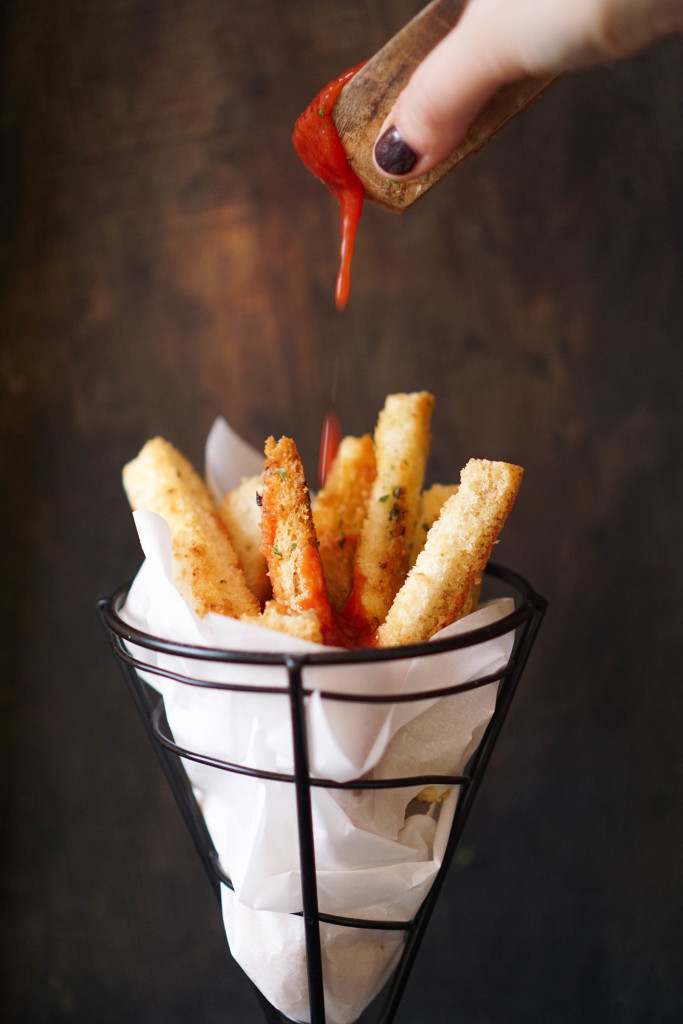 Since Christmas I've been glued to Ina Garten's Make It Ahead cookbook. It is absolutely perfect especially if you enjoy entertaining. When creating a menu for dinner parties I like to be as useful as possible with the ingredients. Like, if I'm using bacon in one course and I know I have to buy a whole pack, I might as well use it in another course. Same goes for cheese, herbs, etc., but the trick is balancing the ingredients so the menu isn't overwhelming.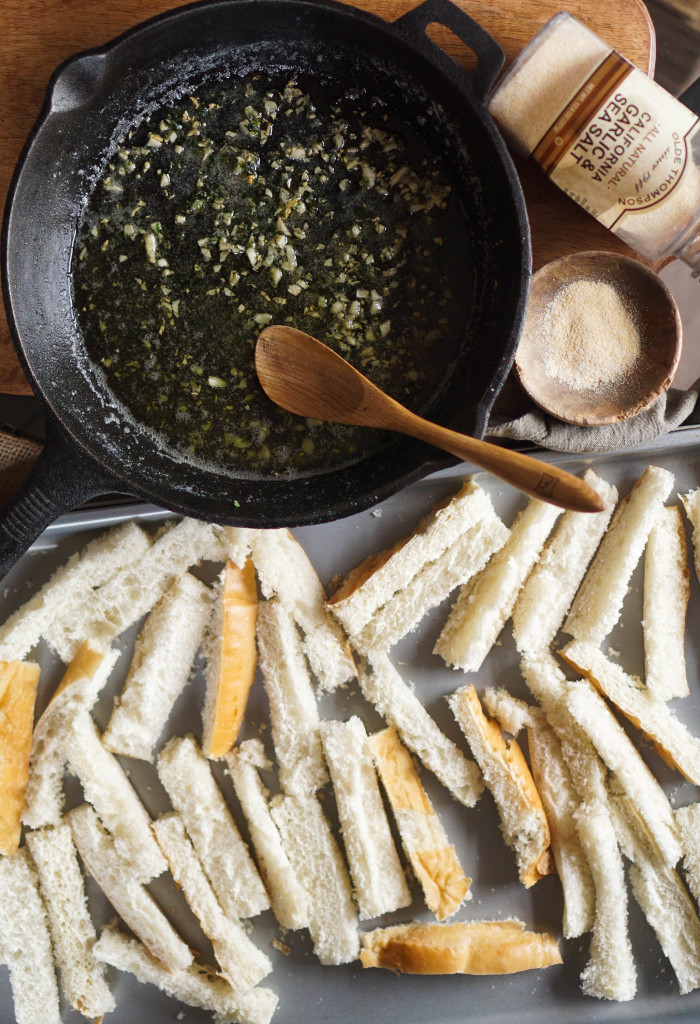 So with all of that in mind Scott and I came up with this menu:
First Course – Herb Roasted Shrimp with Garlic Bread French Fries
Salad Course – Ina's Caesar Salad with 6 Minute Egg, Parmesan, & Bacon
Entree – Roasted Balsamic Chicken Risotto with Ina's Asparagus & Bacon Bundles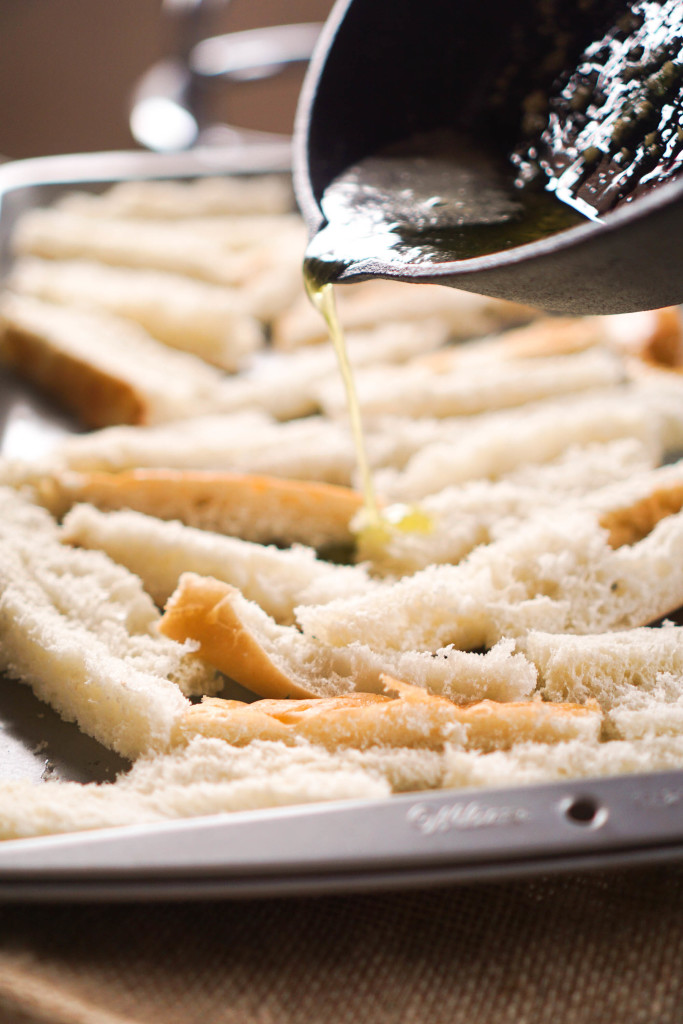 All of those recipes are tried and true, especially that balsamic chicken risotto. The roasted garlic shrimp is something I've been hooked to and recently made it last week in another cooking class. It's a one-dish appetizer that's guaranteed to leave people licking their fingers. The shrimp is roasted & served in the same pan and left with a to-die-for butter sauce. I suggest in the recipe to serve it with toasted french bread BUT because I'm entertaining and want to switch things up, I had this insane urge for garlic bread french fries which I recently saw in a Bon Appetit magazine.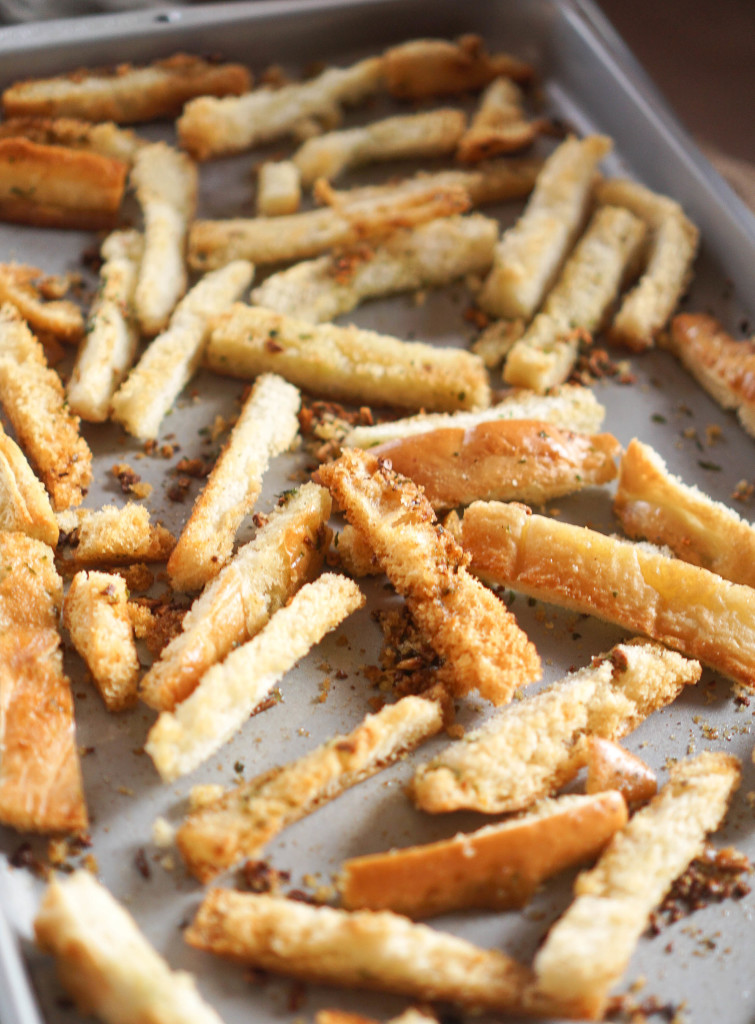 This is nothing more than garlic bread cut into matchsticks for a french fry appearance. Everything you do with garlic bread you do here except cutting the bread up into sticks. Throw this in a french fry holder and at first glance people won't even know the difference.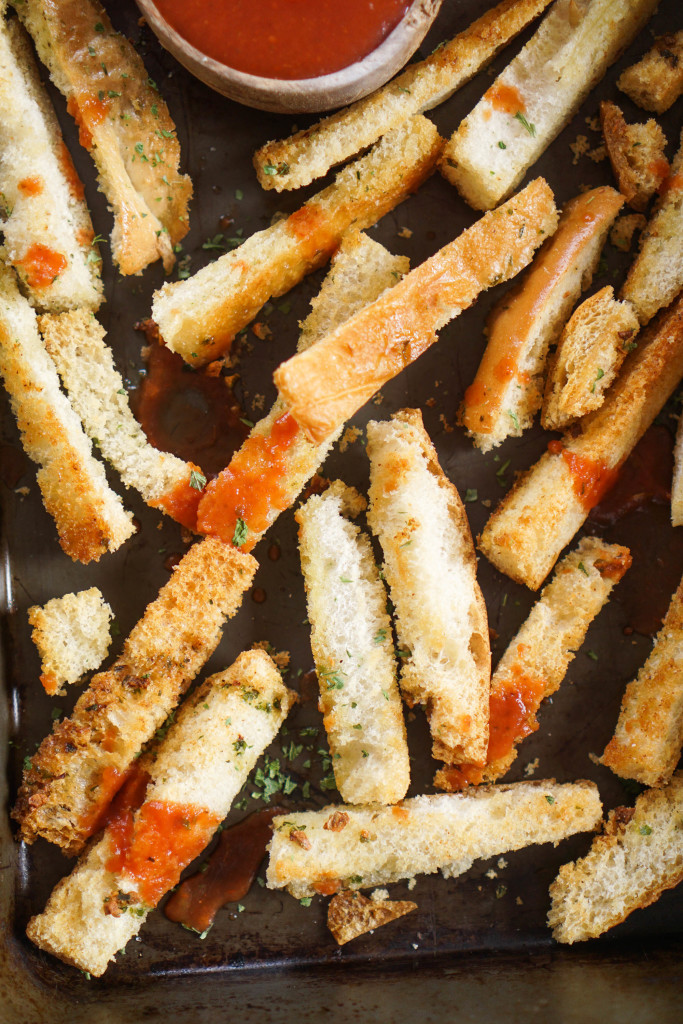 Having garlic bread in french fry form is not only fun to eat, it's easier to eat! It's perfect for dipping – whether you serve it how I'm serving with the garlic shrimp and butter sauce, or if you want to serve it with marinara as a play on ketchup.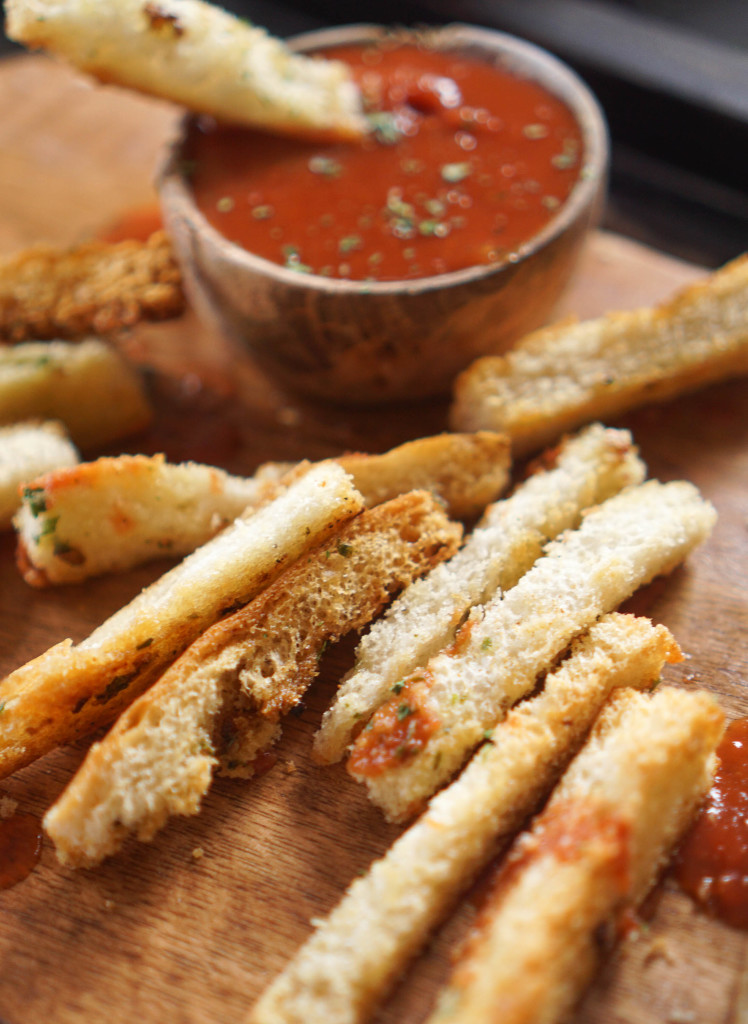 Taking little things like garlic bread and switching up its appearance is what makes food and entertaining fun. Whether you entertain, have kiddos, or just want to have a little fun, I know you're going to enjoy these.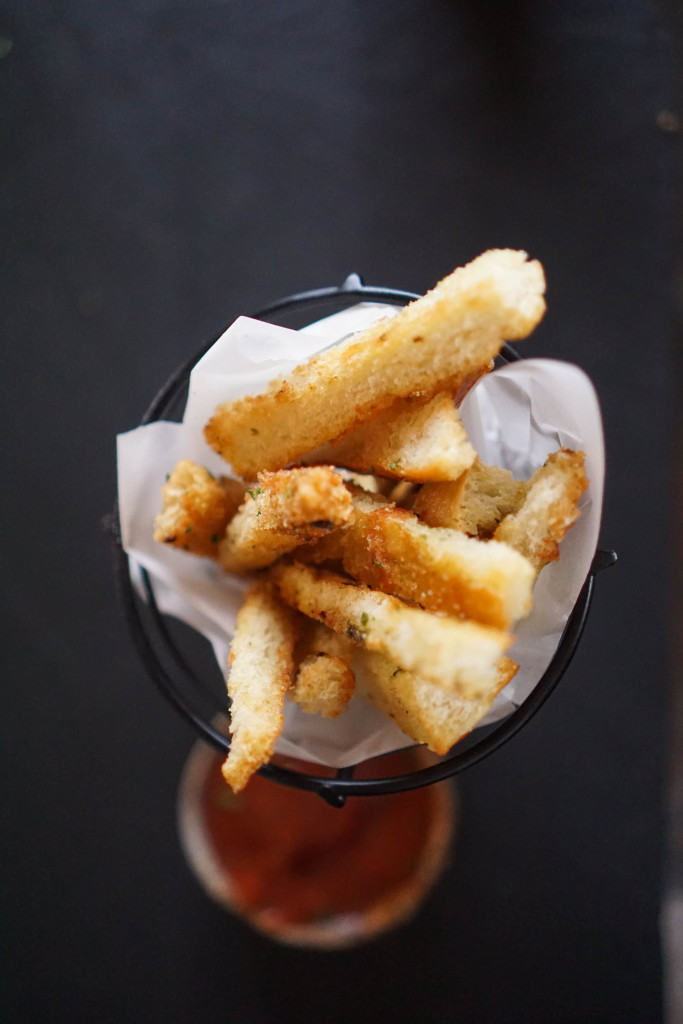 Andddddd it's just like that as I'm now thinking about my dinner menu that I realized I forgot about dessert. I'm going to go handle that. Enjoy!
Garlic Bread French Fries
2016-02-15 07:05:09
Serves 6
Ingredients
1 loaf French bread*
6 tablespoons unsalted butter
2 tablespoons olive oil
3-4 garlic cloves, minced
1 tablespoon chopped parsley
1/2 teaspoon kosher salt
black pepper to taste
Marinara sauce for dipping
Instructions
Preheat the oven to 375
Cut the bread into 3" matchsticks. This is easily done by cutting the bread in half lengthwise, then repeat twice until you achieve a width of 1/2". From there, cut 3" long matchsticks. Add to a baking sheet.
Melt the butter and olive oil over medium high heat. Add the garlic and cook until fragrant, about 45 seconds. Add the parsley, salt, and pepper. You can also add some oregano and a pinch of red pepper flakes if preferred.
Drizzle the butter sauce over the bread sticks and use your hands to toss the sticks to coat. You may not have to use all of the butter sauce depending how big your loaf is.
Bake for 20-25 minutes, flipping the sticks half way through, until golden brown and crispy.
Serve as is, use for dipping, or serve with marinara sauce.
Notes
You can use any loaf of bread desired, but I prefer using a wide loaf of French bread.
http://www.vodkaandbiscuits.com/