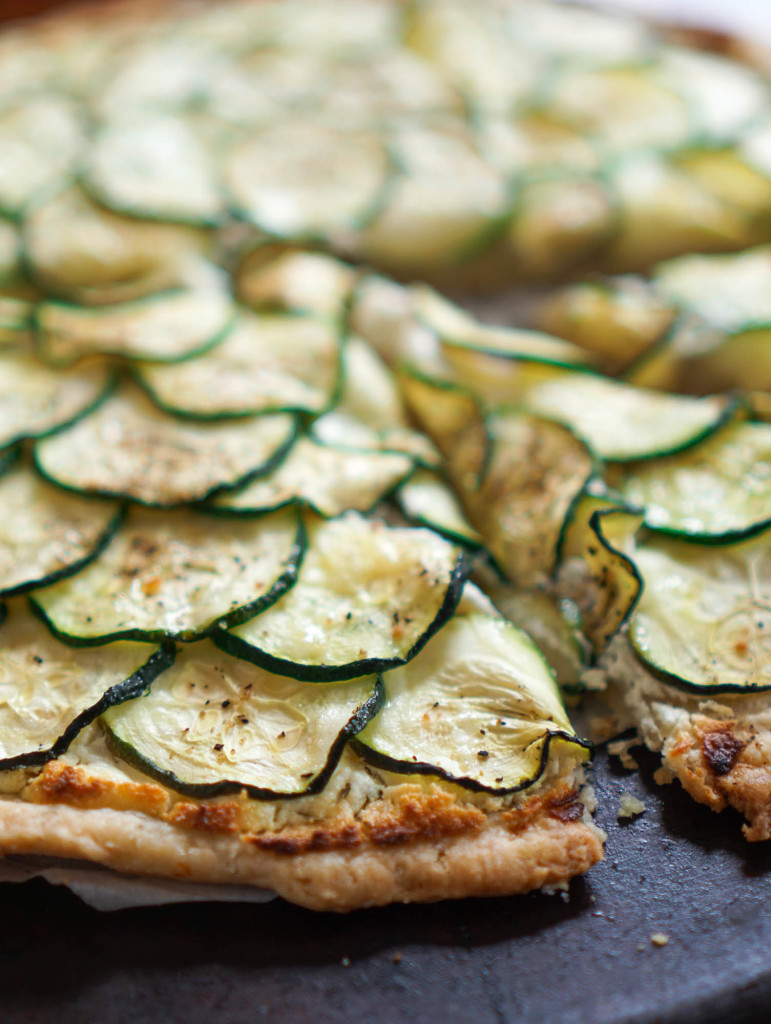 Hey friends! Quick one here today.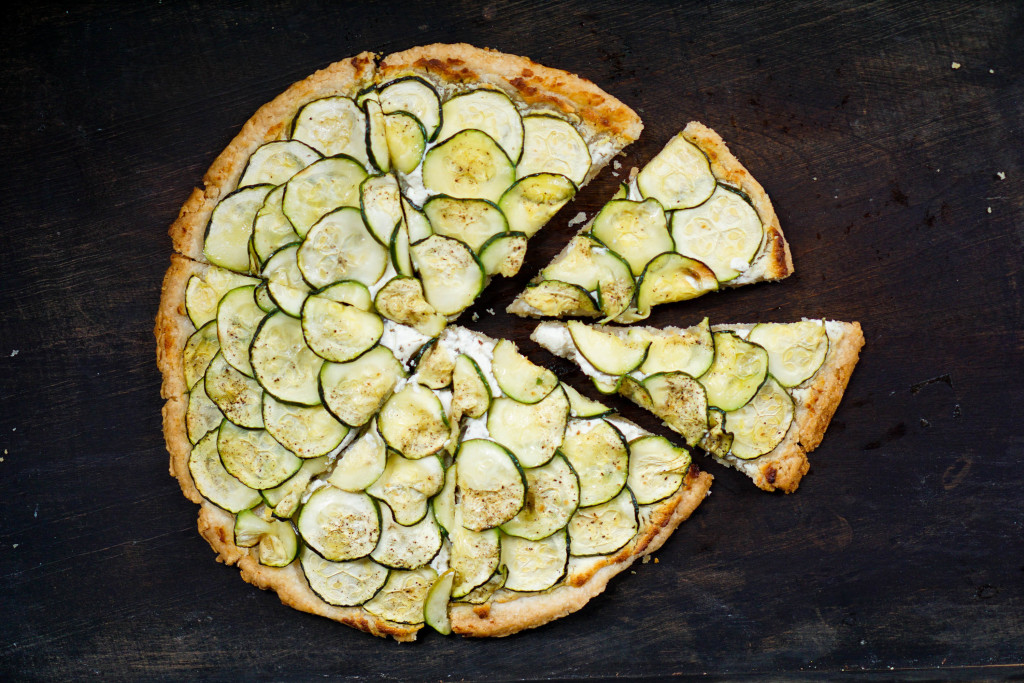 I'm here hoping that someone out there still is in need of a yummy appetizer. Probably because you do what I normally do and put the appetizers on the back burner until three days before you're hosting dinner and suddenly you're buried knee deep in online recipes going back and forth with what you want to make. AMIRITE?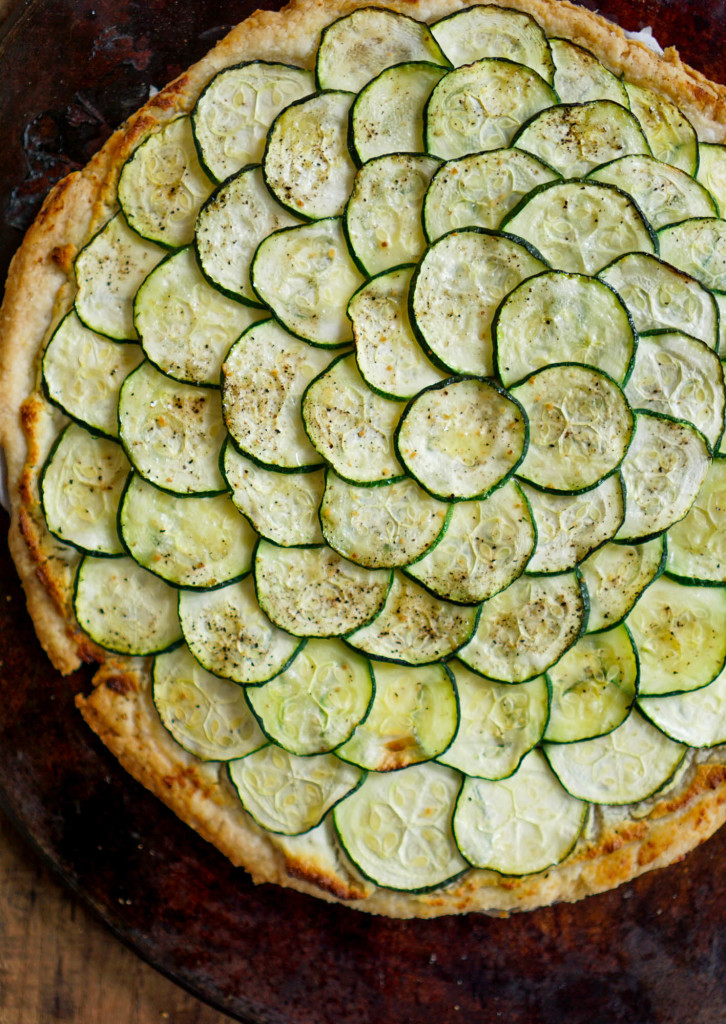 A few months back I warned you that I would be blasting you full force with Ina's Make It Ahead recipes. If I haven't yet convinced you to buy this book I'm doing it all wrong.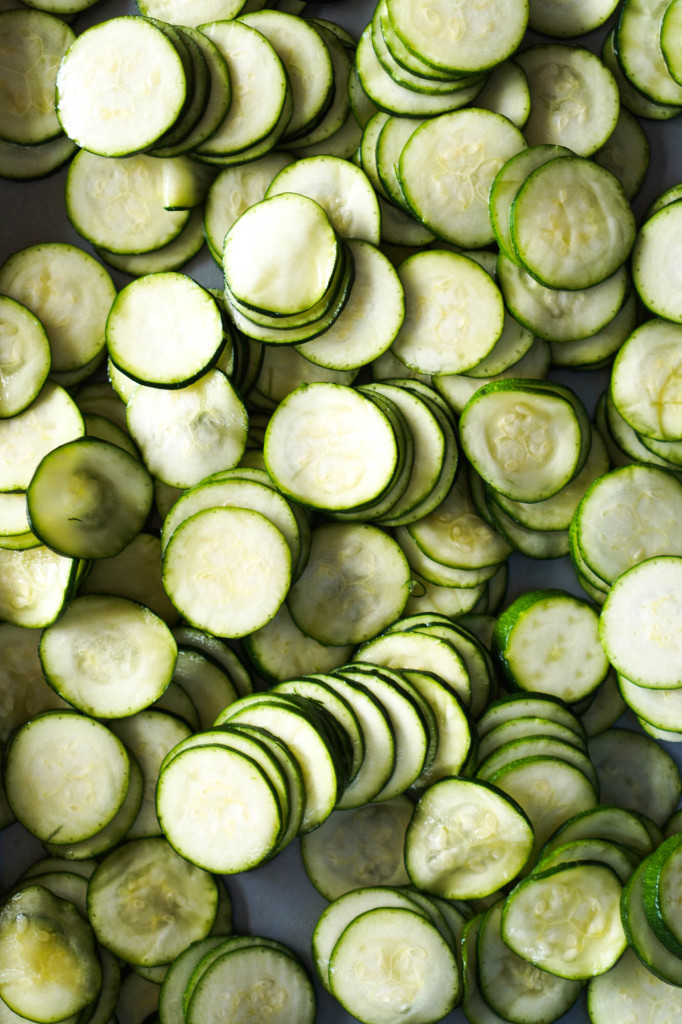 I'm obsessed with all of her appetizers and her entertaining tips and tricks, andddd you've probably read me refer to her as my spirit animal, best friend, and kitchen soulmate. This Goat Cheese and Zucchini Tart is just ANOTHER recipe why I love her.
Thin slices of zucchini beautifully layered on top of lemony herbed goat cheese all baked on top the most divine and simple butter crust you can ask for.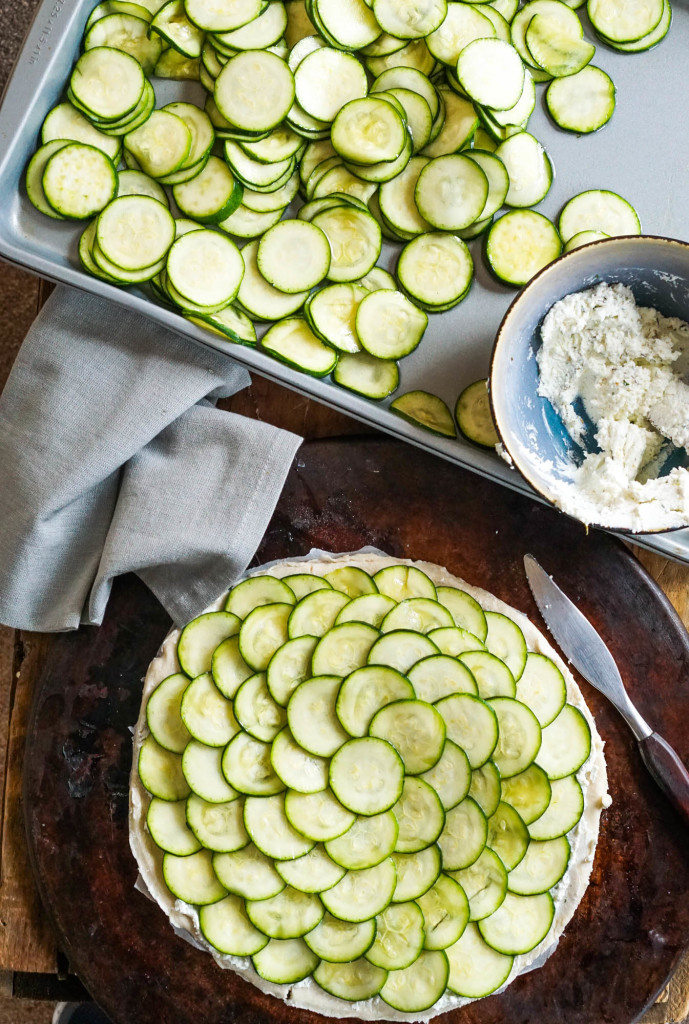 There is some prep involved here but it's nothing you can't knock out the day before. I suggest cutting the zucchini with a mandolin or meat slicer. I also suggest only cutting two zucchinis instead of four or you will be eating zucchini chips for the next year (trust me). The cheese mix is nothing more than goat cheese that's been flavored with thyme, garlic salt, pepper, and lemon. If your family isn't big on goat cheese use cream cheese! I've found with most crowds goat cheese is a hit or miss.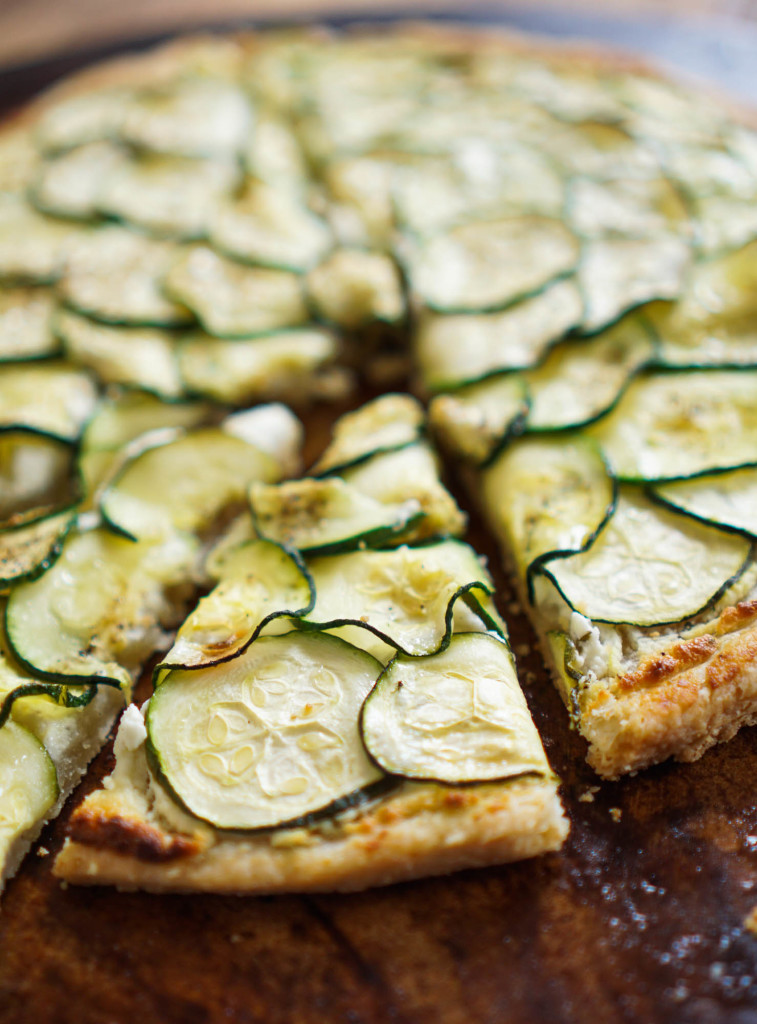 I don't even need to talk about the crust because it's so simple. Let's just say it will forever be my go-to tart crust.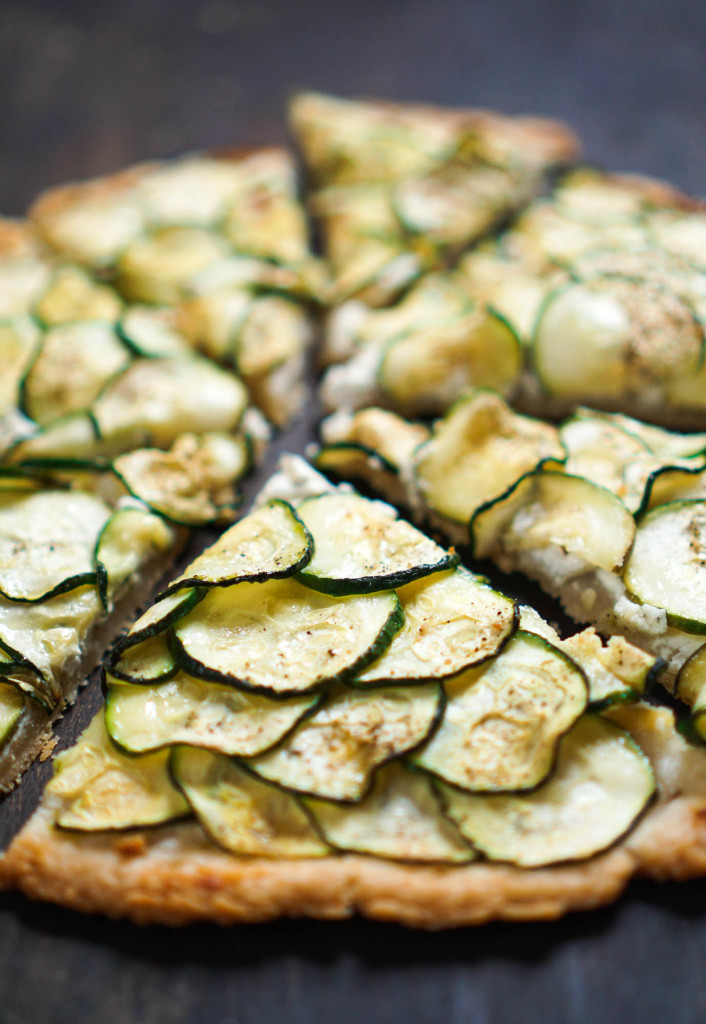 This is delicious and I was eating the leftovers for days. I'm making this Sunday for Easter but I'm going to switch it up a bit. I'll probably cut the goat cheese with a little cream cheese and I'm also going to layer with yellow squash and Roma tomatoes in addition to the zucchini. It needed just a bite of something juicy and the tomato will do the job. I'll follow up with a picture post Easter!
If you're STILL contemplating on what to make, here are some more appetizers inspired by Ina that are so appropriate for Easter entertaining. Enjoy!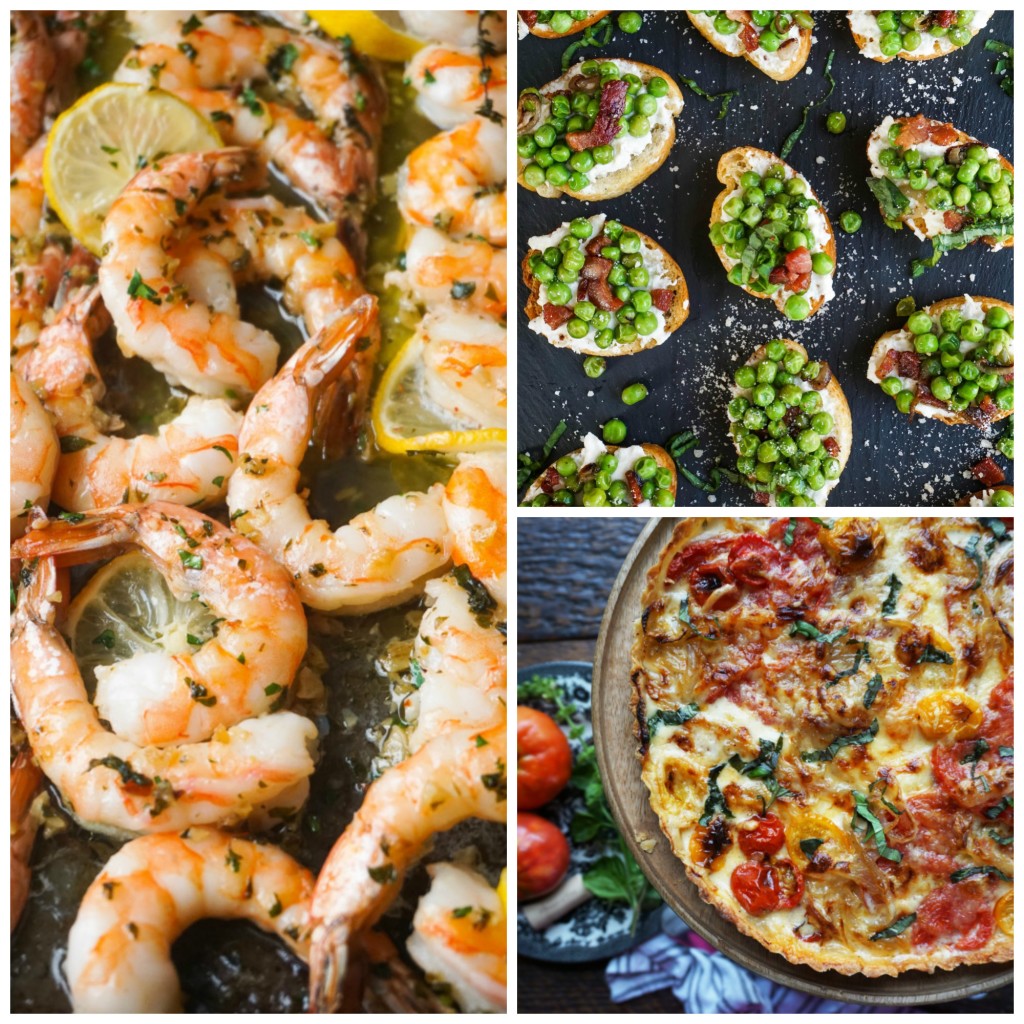 Pea & Pancetta Crostini – I make this ALL the time. I just add caramelized onions, spread on pita bread, bake, and cut into wedges!
Happy Easter!
Goat Cheese and Zucchini Tart
2016-03-24 06:30:52
Serves 6
For the Dough
1 1/4 cup all purpose flour
1 1/4 sticks unsalted butter, cut into cubes, cold
3/4 teaspoon kosher salt
1/2 teaspoon white wine vinegar
5-6 tablespoons ice water
For the Toppings
2 zucchinis, sliced 1/8" thick*
8 ounces plain creamy goat cheese, such as Montrachet, at room-temperature*
1 teaspoon fresh thyme leaves, minced
1/4 teaspoon grated lemon zest
olive oil as needed
kosher salt as needed
black pepper as needed
For the Dough
Add the flour, salt, and butter in the working bowl of a food processor fitted with the steel blade. Pulse 12-14 times until the butter is evenly distributed and the size of peas. With the processor running, pour in the vinegar and the water one tablespoon at a time until the dough comes together. It will look crumbly.
Dump the dough to a floured board, form into a disk, wrap with plastic wrap, and chill for 30 minutes.
For the Toppings
Place the sliced zucchini in a colander set over a plate. Sprinkle with two teaspoons of salt, toss, and set aside for 30 minutes to "sweat" the zucchini.
Spread the zucchini on a clean dish towel, roll it up, and gently squeeze to rid of the excess moisture. Add to a bowl and toss with a drizzle of olive oil.
Add the goat cheese, thyme, lemon zest, a 1/2 teaspoon salt, and 1/4 teaspoon of pepper to a bowl. Cream together with a fork or back of a spoon. Taste and adjust ingredients as needed.
To Ensemble
Preheat the oven to 400 degrees
Roll the dough on a floured board to an 11" circle (see note), and place on a baking stone lined with parchment paper.
Spread the dough with the cheese mixture, leaving a 1/2" border.
Lay the zucchini slices in overlapping circles, starting at the very edge of the cheese working its way to the center. Once the whole tart is covered, drizzle with a tablespoon of olive oil, and sprinkle once more with pepper.
Bake 40-50 minutes until the dough is golden brown. Cut into wedges and serve hot, warm, or room temp.
Notes
Slice with a mandolin, slicer, or carefully by hand.
You can substitute for cream cheese or use half goat/half cream cheese.
To form the circle, I laid a 9" circle pie pan over the dough and used kitchen shears to help shape the circle.
You can also add yellow squash slices and Roma tomatoes!
Adapted from Make it Ahead
Adapted from Make it Ahead
http://www.vodkaandbiscuits.com/