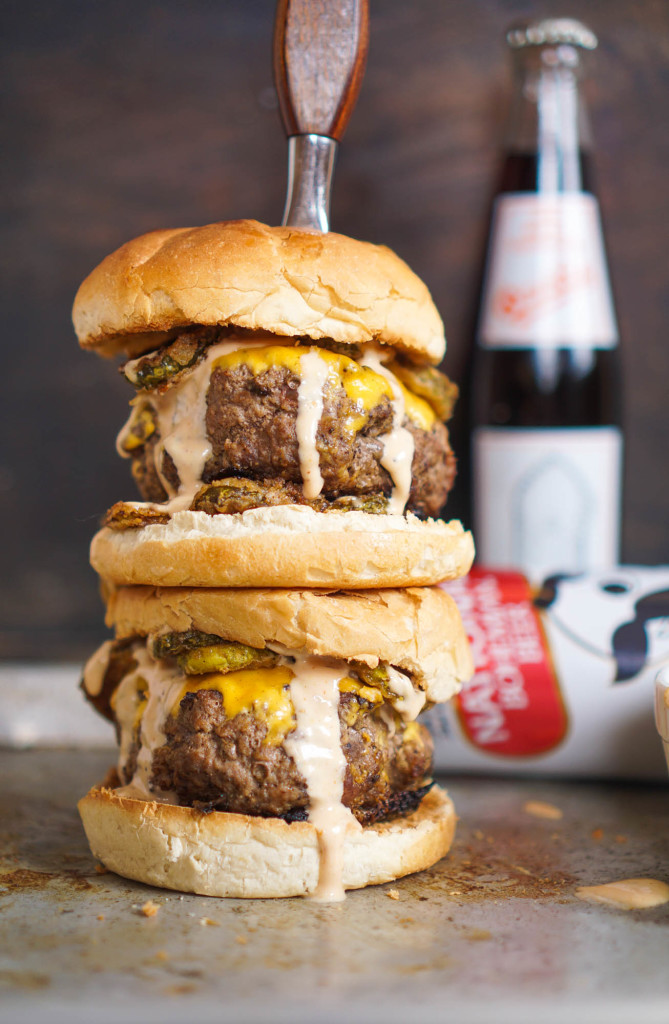 Today is Monday April 4th and if you're in Baltimore you know exactly what that means.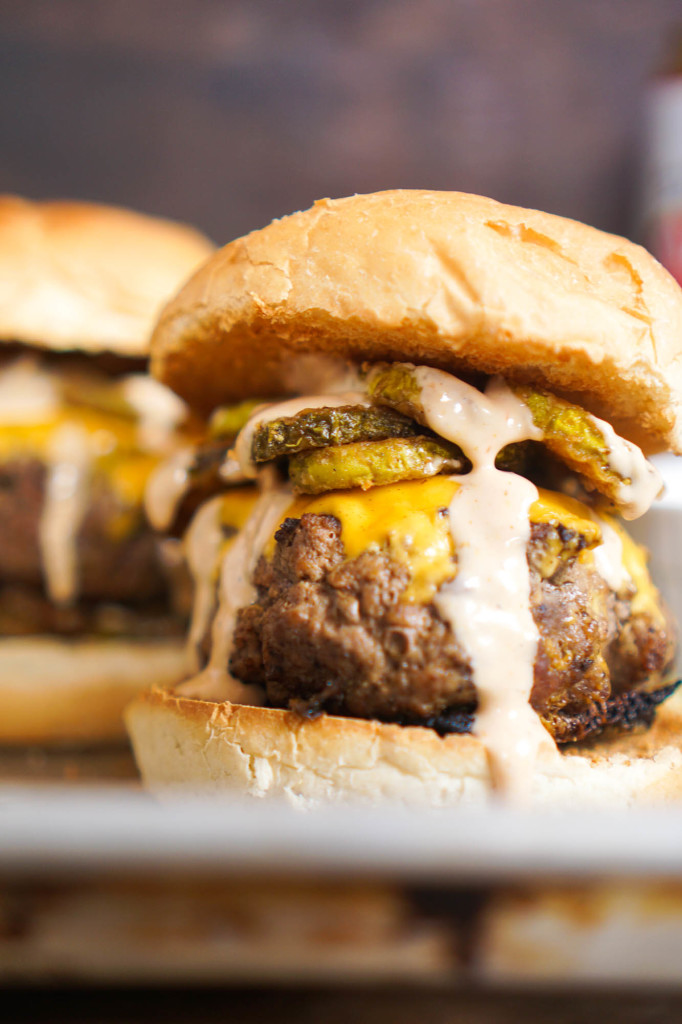 We've been counting down this day as if it were Christmas and that's because it pretty much is at OPACY. This is the day where you drink beer instead of coffee and replace lunch with beer and we do it all together, wearing orange, in the greatest city ever, at the greatest bar ever, Pickles Pub.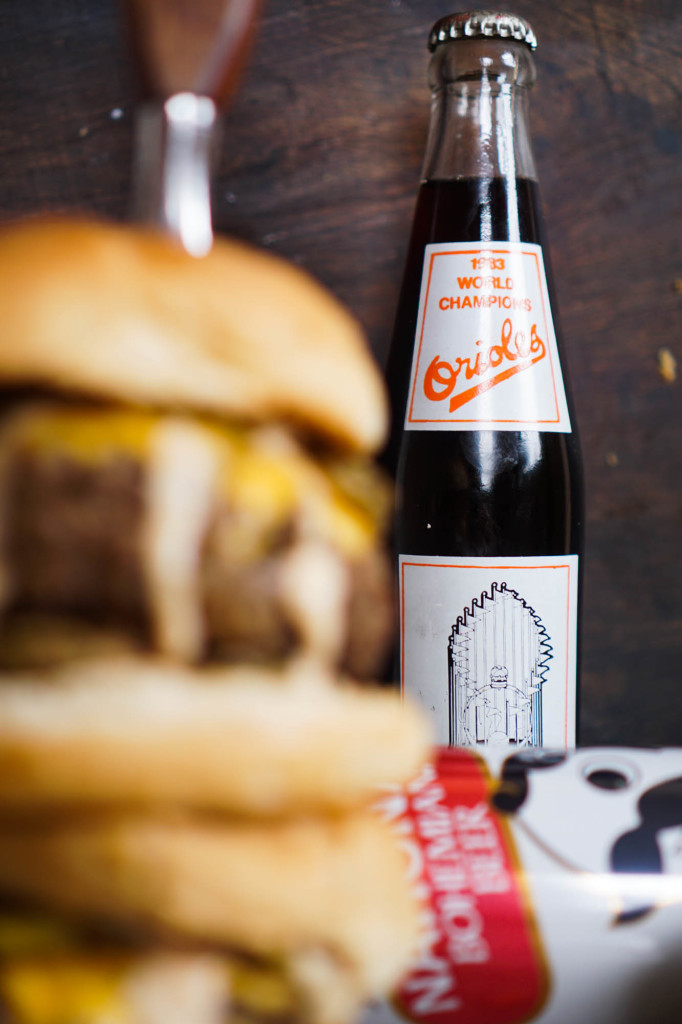 Those of us who couldn't get a hold on any game day tickets envy those who did, but we hold the fort down right across the street at the block everyone associates baseball season with.

Sports brings us together in Baltimore and I wouldn't want to be anywhere else in the world today. In honor of this special day I've created something so dangerous and ridiculous but so dang good. My Beyond Basic Burger recipe piled high with the easiest fried pickles and Burger Bomb Sauce that will change your burger ways. Let's get in this.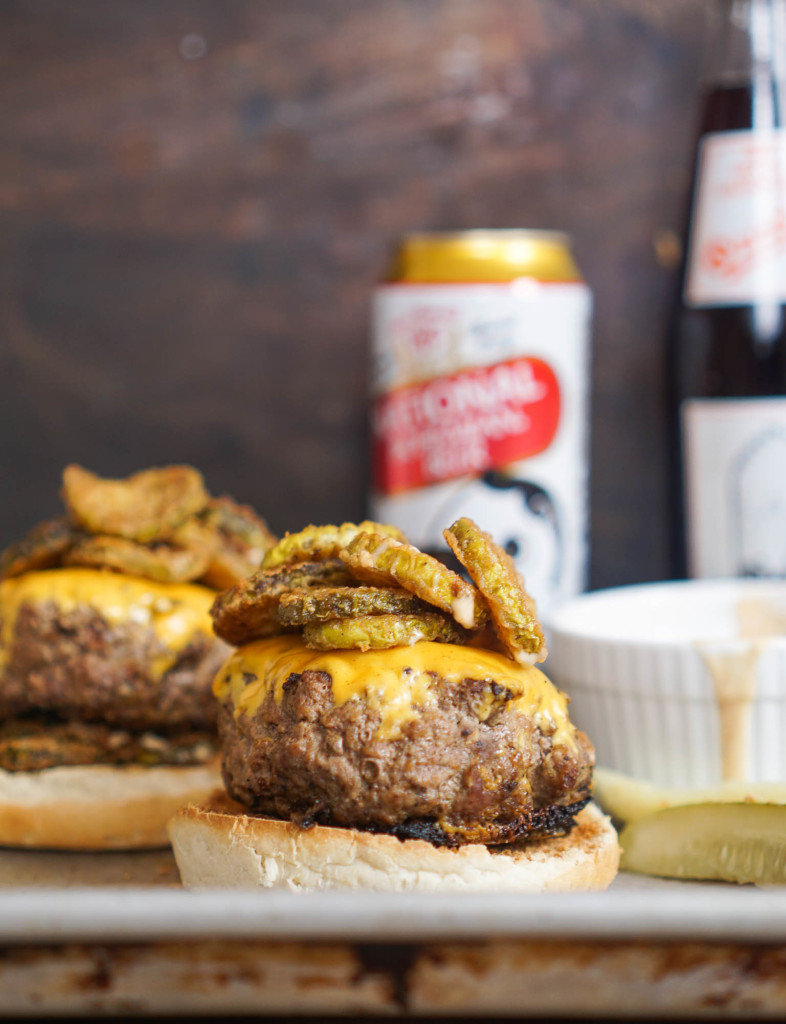 Last year I posted a how-to-burger recipe titled Beyond Basic Burger. This is my go to and I have it printed in my kitchen for whenever I'm in the mood to whip up some burgers. The post has tips on everything from buying meat, to shaping the patties, to seasoning, and of course cooking. I do have the recipe below, but I highly recommend giving that post a read! For this recipe I've made my beyond basic cheeseburger with a nice slice of cheddar cheese and nothing more than sea salt and pepper. Click the photo above to direct you to the recipe!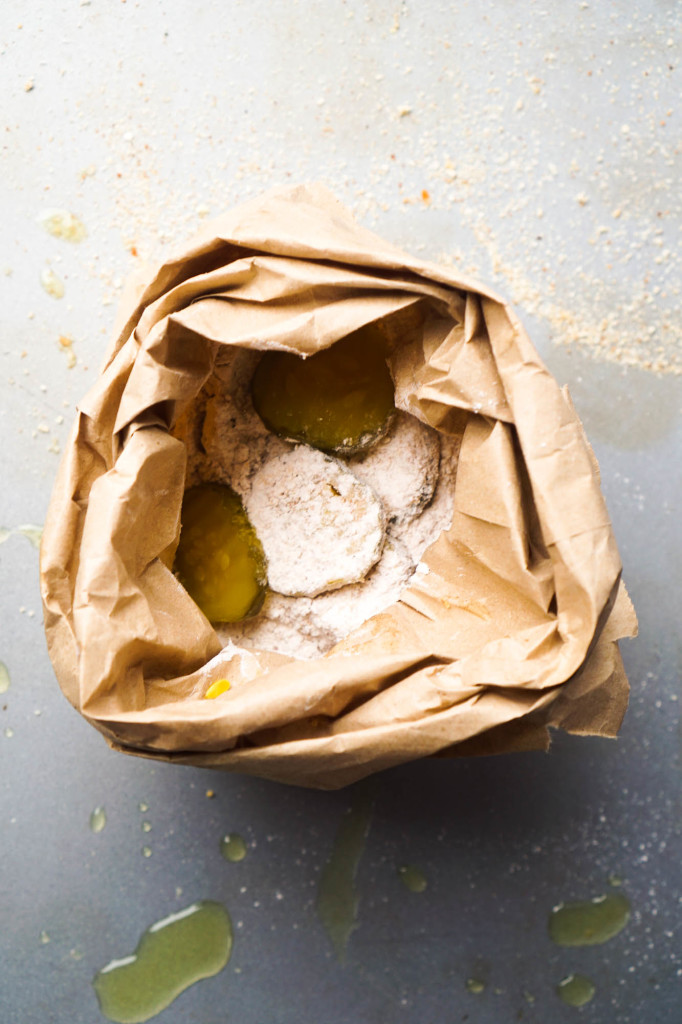 What really makes this recipe special is what's piled on top. Whether you make these pickles for the burger or for a snack, do keep this recipe on file as they are the easiest fried pickles ever. You literally throw flour, breadcrumbs, and seasonings into a brown or ziplock bag, add some drained pickles, shake it all up, and gently pan fry them in your skillet. No deep fryer needed!
I used dill pickles but if you're a bread & butter type person, go for it! The pickles only take a few minutes to fry and they come out perfectly golden and crunchy. We put pickles on our burgers so why not take it to the next level? If you've never had fried pickles on top your burger you're in for a treat.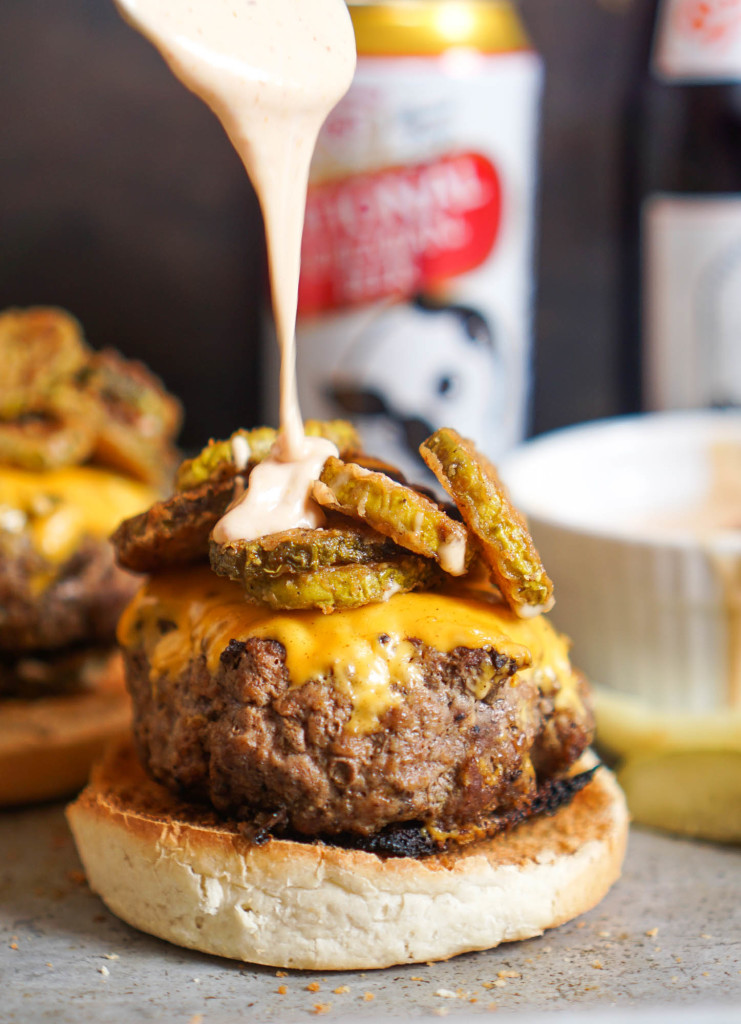 You can't have an awesome burger without a sauce so that's why I'm sharing my favorite burger sauce. This sauce is made up with nothing but condiments, or what I say everything you'd find in a single man's fridge which is why one summer I called this the "man sauce" til I said it out loud and realized that scared people away.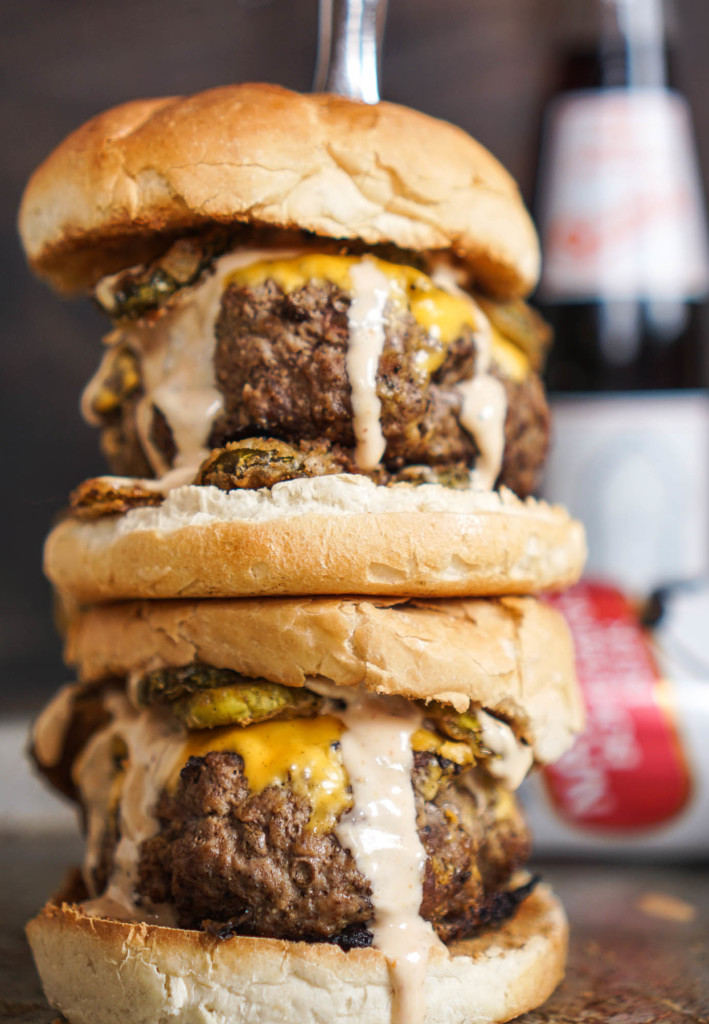 It's nothing more than ketchup, mayo, mustard, barbecue sauce, garlic, hot sauce, and the secret: pickle juice. You can call this Everything Sauce because that's exactly what it is. A few summers back we were having a cookout and I literally threw all of the condiments together in a bowl and people were raving. You can even chop up some pickles and throw it in there! Do make this sauce.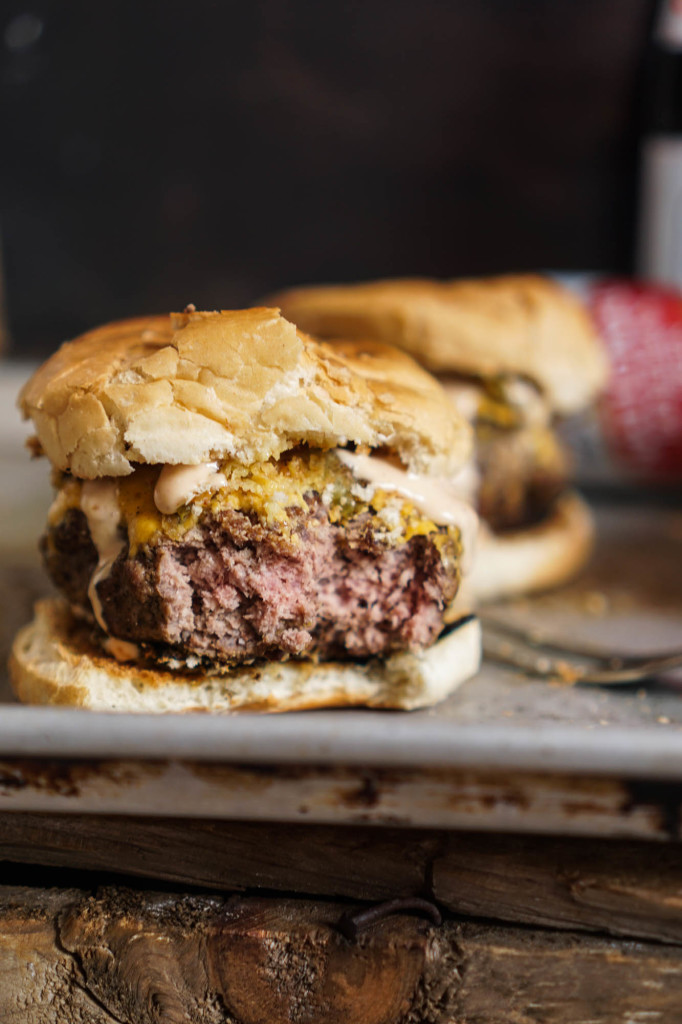 So, there you have it, the juiciest burger topped with a crispy fried pickle and a sauce that give hint of hot sauce and barbecue. Seriously the only thing that can make this day better is a win. Happy Opening Day to all the baseball fans out there anndddddddd……

Note about the Recipes: I wrote all three recipes separate as a convenience, so just keep scrolling down!
Beyond Basic Burger
2016-04-04 05:45:23
Serves 4
Ingredients
1 1/2 lbs. ground beef 80/20
olive oil
salt and pepper
Instructions
Divide the burgers into four 6 oz. portions. Cuff patties in hand and loosely form patties.
Using thumb, create indent in center of each patty.
Chill in fridge for 30 minutes. This makes perfect time to get your desired toppings ready!
Fire up the grill to medium high heat.
Brush each patty with oil, then generously season with salt and pepper.
Once the grill is hot, place down each burger and LEAVE ALONE!
After 3-4 minutes on the grill, flip over once.
After one minute on the opposite side, top with cheese and grill another 2-3 minutes for medium.
Allow to rest a few minutes before topping with pickles and sauce (below!)
http://www.vodkaandbiscuits.com/
Fried Dill Pickles
2016-04-04 05:46:36
Serves 4
Ingredients
1 cup flour
1/2 cup breadcrumbs
1/2 teaspoon paprika
1/2 teaspoon garlic powder
1/2 teaspoon sea salt
1/4 teaspoon black pepper
1 jar dill pickle slices
Canola oil as needed
Instructions
Add the flour, breadcrumbs, and seasonings to a brown or ziplock bag. Shake it up to mix everything together.
Drain the pickles, reserving the juice, and pat dry. Add the pickles to the bag and toss to coat in the flour mixture.
Add enough oil to coat the bottom of a skillet, heat to medium high heat. Once hot, remove & shake the pickle slices to rid excess flour. Working in batches, add to the oil and cook 2-minutes on each side until brown and crispy.
Transfer the crispy pickles to a plate lined with a paper towel to drain. Top on a burger or enjoy with Burger Bomb Sauce!
http://www.vodkaandbiscuits.com/
Burger Bomb Sauce
2016-04-04 05:47:16
Serves 4
Ingredients
1/4 cup ketchup
1 tablespoon spicy brown mustard
2 tablespoons mayonnaise
1/2 tablespoon barbecue sauce
1 tablespoon dill pickle juice
1/2 teaspoon garlic powder
dash of hot sauce
Instructions
Mix together all the ingredients. Taste and adjust as needed.
http://www.vodkaandbiscuits.com/