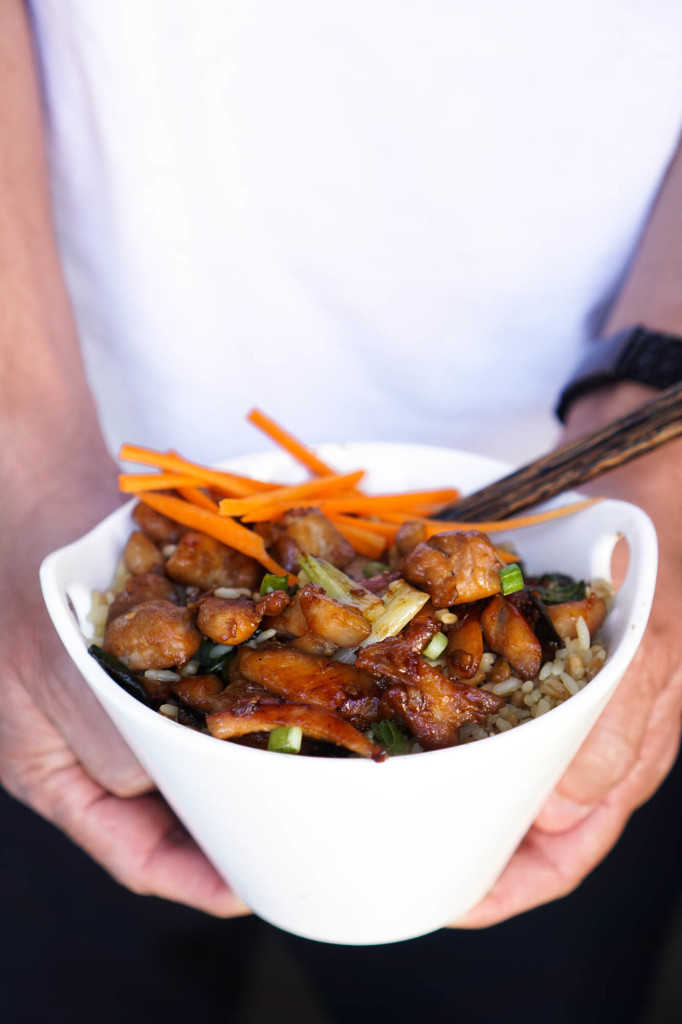 Hiiiiiiii, member' me?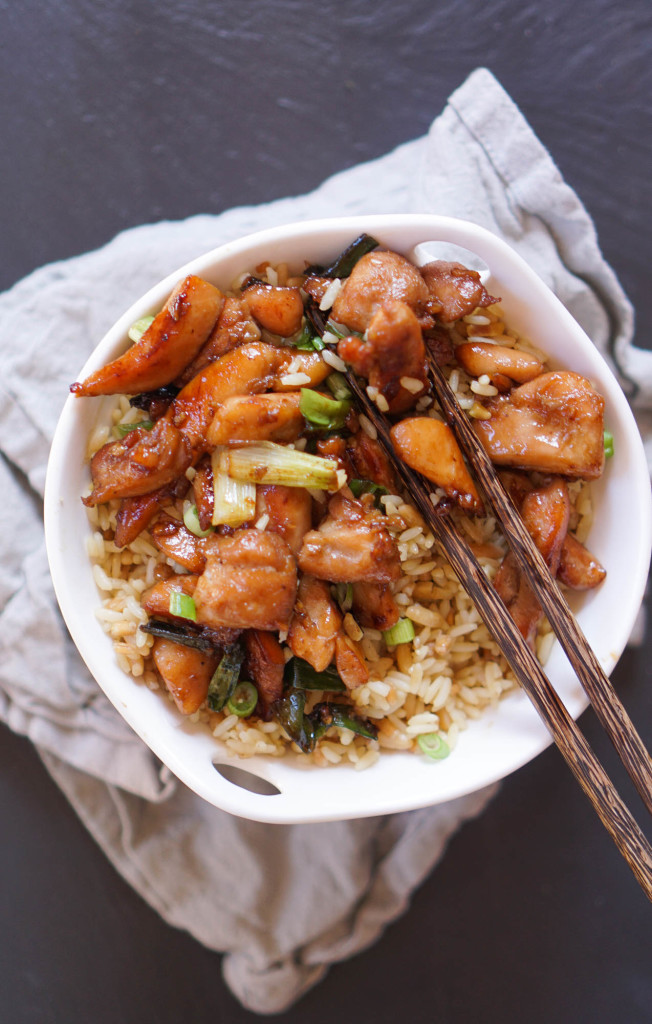 I've been MIA in the food scene lately because wedding season has officially BEGUN! I've literally been knee deep in all things wedding and that's not changing anytime soon.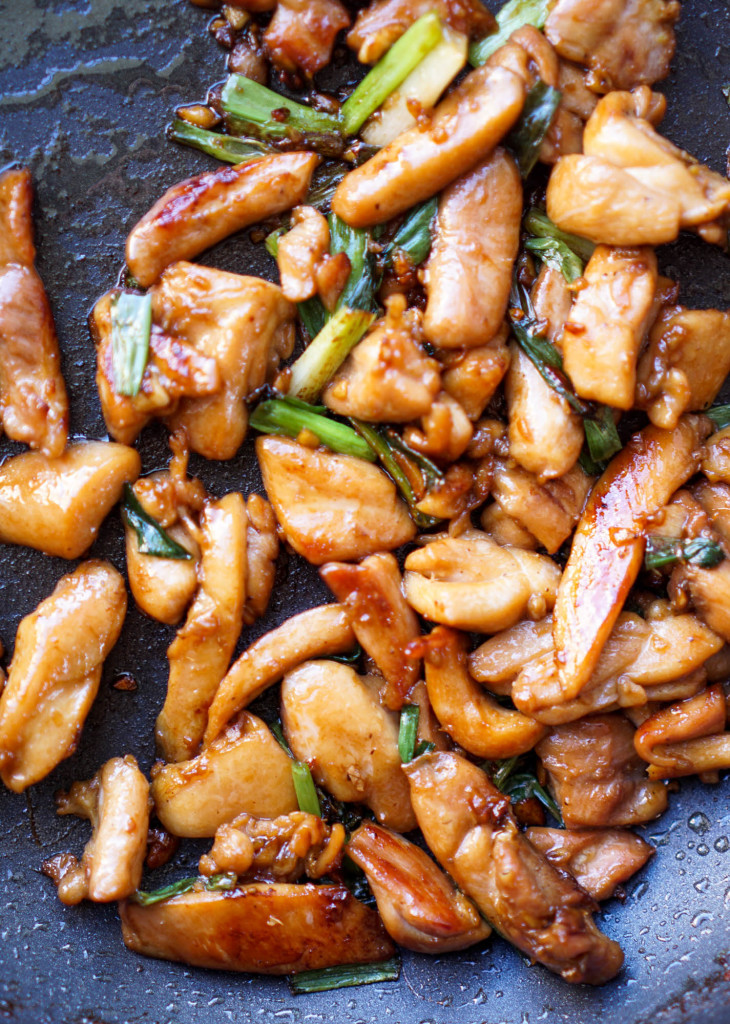 Busy weekends also means busy week nights, and for me long days planning and getting ready for the weekends usually means carry-out. I also have to secretly remind myself, while I'm elbow deep in carry-out, that bikini season is around the corner and THIS AIN'T GONNA WORK.
SO. These next few weeks I'm sharing some of favorite quick & easy recipes that are easy to prepare, quick to cook, and finger-lickin'-good – like this Chicken & Scallion Stir Fry.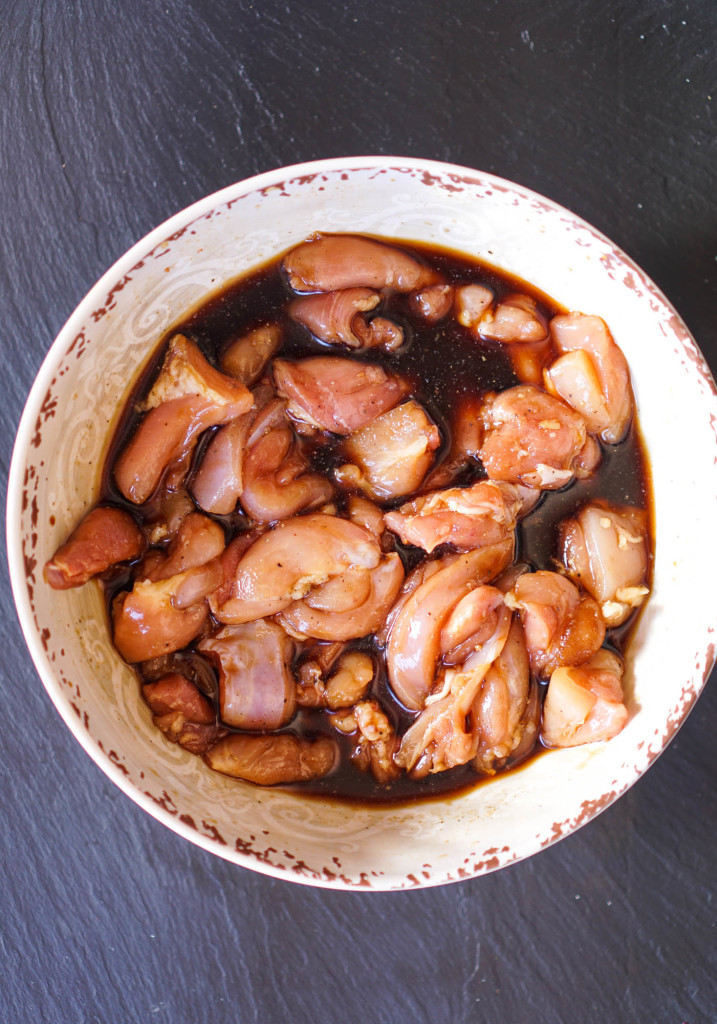 I actually got this recipe a few years back when I took a few classes at my local culinary school. I've been making it consistently for two years now, I've shared this recipe in two cooking classes of my own, AND you've probably seen me post this several times on insta. Well, here she finally is on her own blog post (wa-hoo!).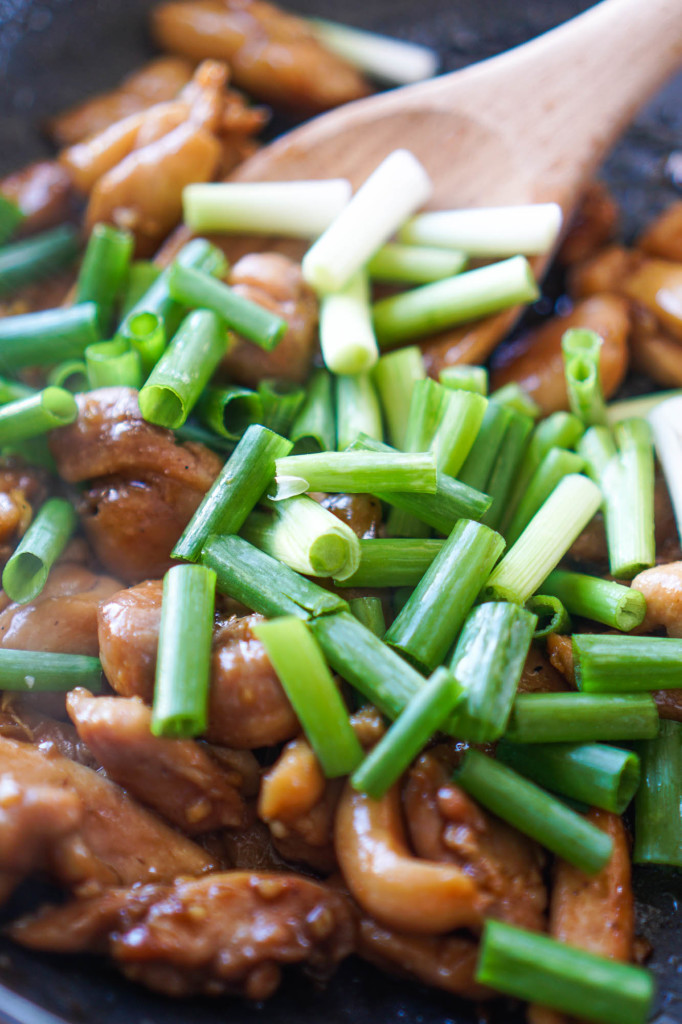 The first thing you did is shift some corn starch over bite size pieces of chicken, then marinade it in a little soy sauce and a little sugar. Easy.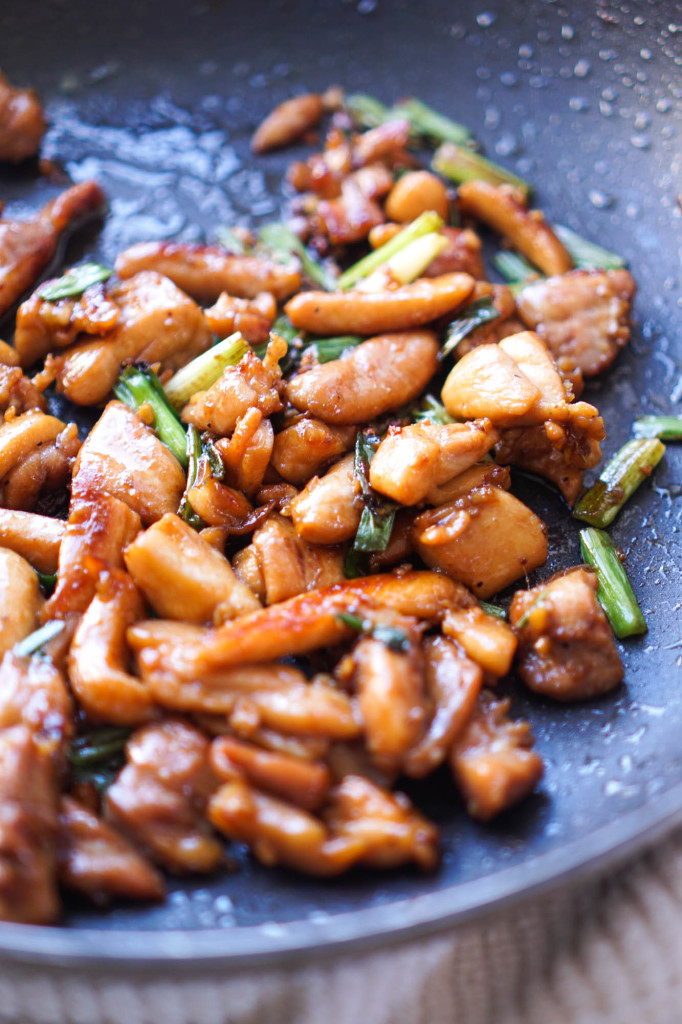 I use chicken thighs but I have made this with chicken breasts too. Whatever you prefer will work! After that sits for about an hour I crank up the heat and begin cookin'. The recipe goes like this: saute the chicken until brown, add some garlic, ginger, and scallions, let that cook for a minute or two, then deglaze with mirin and chicken stock. Wa-la!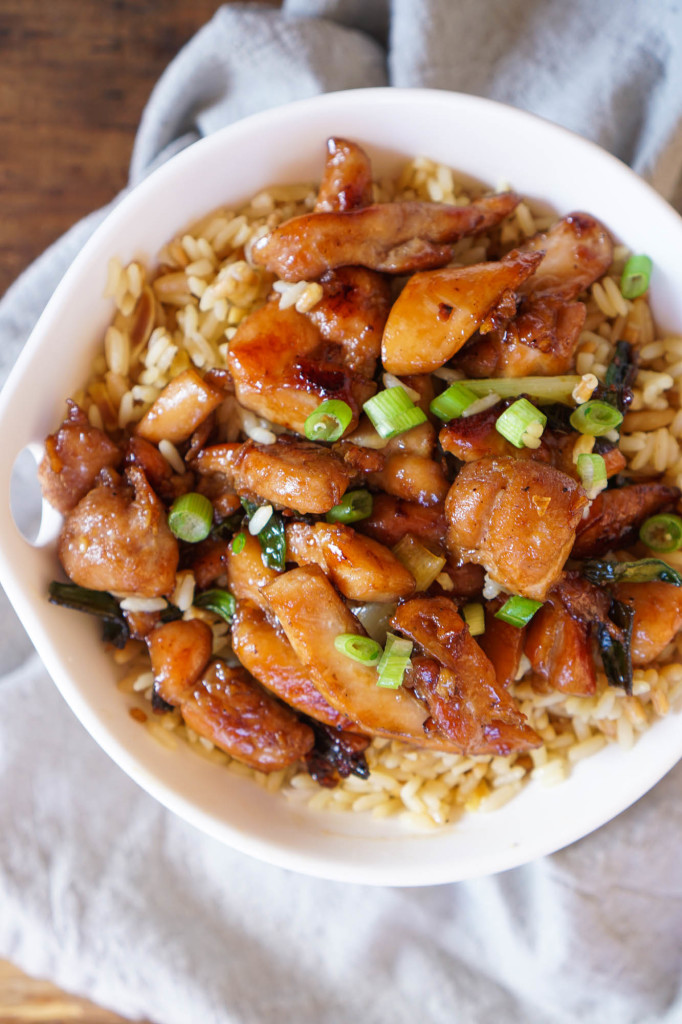 If you don't cook with oriental flavors often you may not have mirin which is totally fine. It's basically a sweet rice wine so a splash of white wine and a sprinkle of sugar will do.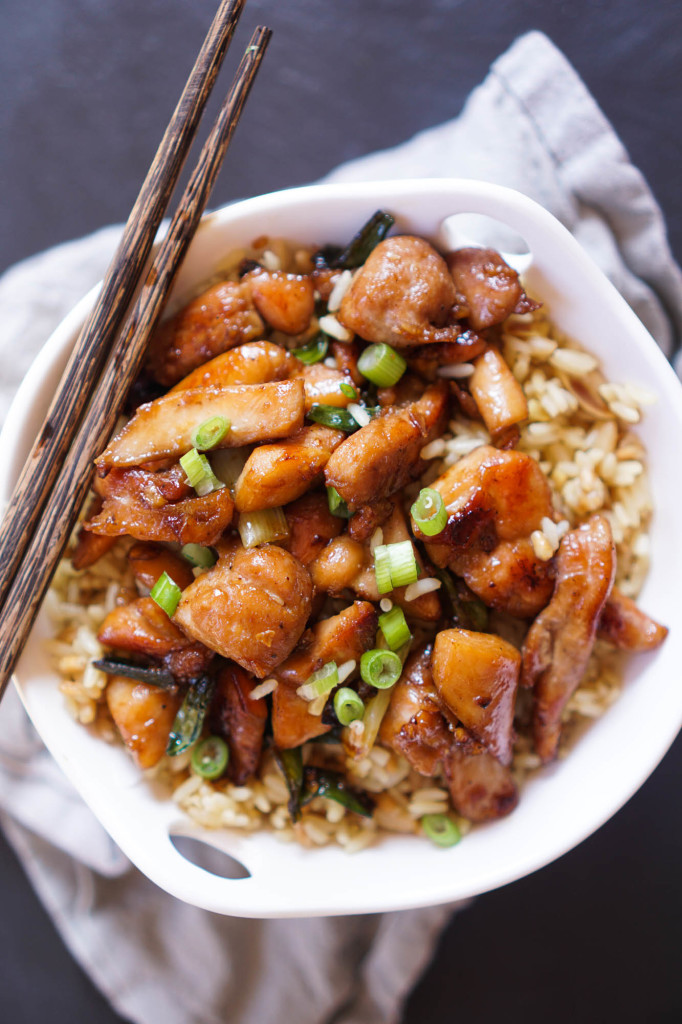 The chicken will almost resemble Chinese Bourbon chicken. It's sweet, it's salty, and with the tang of the onions and fragrance of the ginger and garlic, it's seriously addicting. I serve mine over brown rice but you can also eat it as a lettuce wrap. My brother, who often helps out on the weddings, begs for me to make this on a wedding day. When something is THAT good cold that's been sitting in your purse since the morning (welcome to wedding world), you know it's a keeper.
Enjoy!
Chicken & Scallion Stir-Fry
2016-04-12 06:03:36
Serves 2
Ingredients
4 boneless skinless chicken thighs (or two breasts) - cut into thin strips
Cornstarch as needed
1/4 cup low sodium soy sauce
2 tablespoons white sugar
Canola oil as needed
1 tablespoon minced garlic
5-6 scallions, cut into 1" pieces (both white and green parts)
2 tablespoons minced ginger
2 tablespoons mirin
1/4 cup chicken stock
Instructions
Using a sifter, dust the chicken pieces with cornstarch. Add to a bowl.
Combine the sugar and soy sauce and add to the chicken. Marinate in the fridge for one hour.
Heat a wok or saute pan to medium-high heat. Add a splash of oil and tilt the pan to coat all sides. If using a wok, the wok will start to smoke.
Add the chicken and stir quickly. Cook until all pieces of chicken are browned. See notes below, but cooking in a wok will be much faster than in a saute pan. I use a saute pan and this takes me about 5-6 minutes.
Add in the garlic and ginger and cook until fragrant, about 45 seconds. Add the scallion pieces and cook another 1-2 minutes until wilted and tender.
Add the mirin and stock to deglaze. The liquid will boil, then reduce down to create a sauce coating the chicken.
Serve over brown rice or wrap it up in a lettuce wrap!
Notes
This recipe was designed for a traditional stir-fry over high heat with a wok. If you have a gas stove, remove the cast iron burner grate and place the wok directly over the flame. Once the wok starts to smoke, cooking will very fast! I do not have a wok or a gas stove so I just use my little saute pan. Cooking just takes a few minutes longer, but it's still delicious!
http://www.vodkaandbiscuits.com/