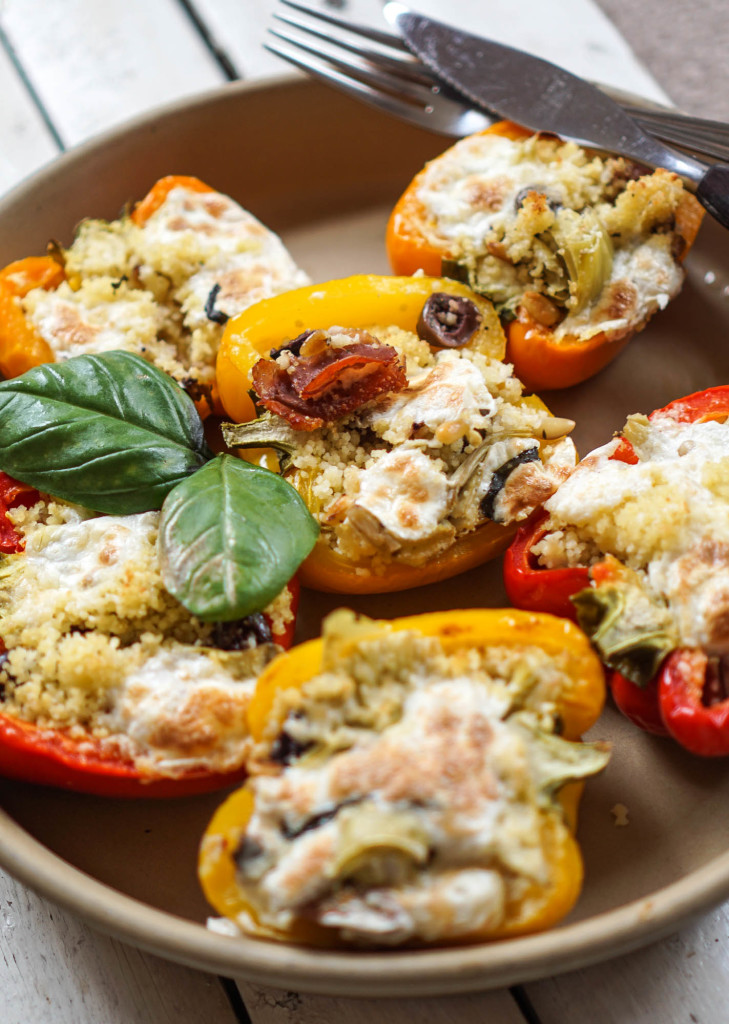 Okay there's a few things I'm learning with this recipe and not knowing how to spell Mediterranean is one of them.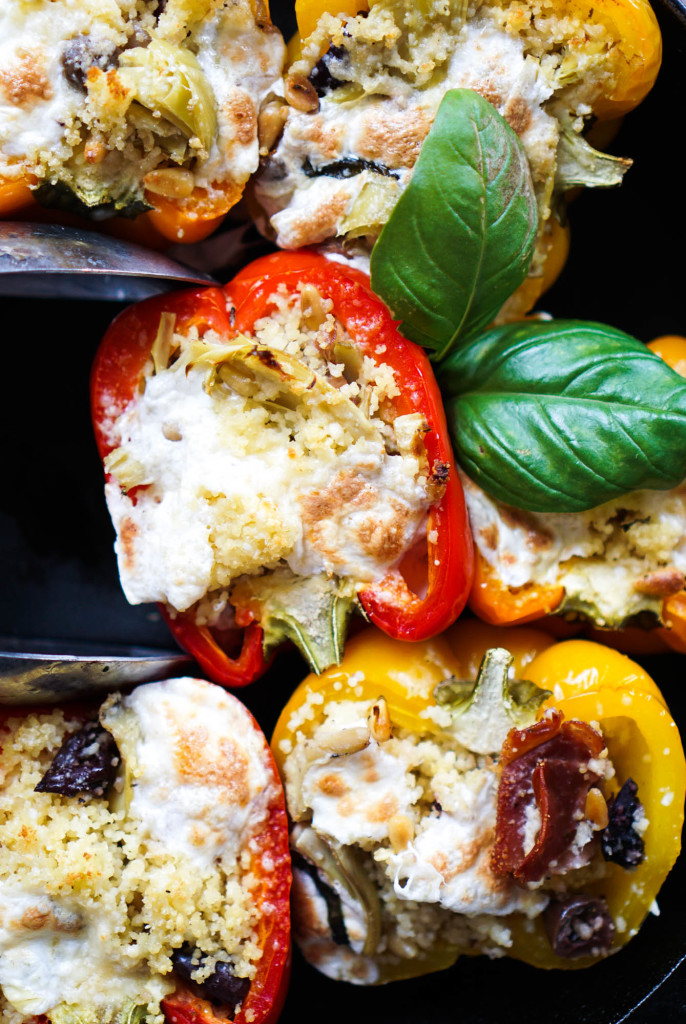 I've also recently discovered my love for olives. I remember being young and my mom telling me there's certain foods I don't like then, but will like later in life as my taste buds mature. She actually always said that about wine too as my curious 12 year old self would find a way to sneak a sip of her glass and wonder how in the WORLD anyone would drink that stuff, and now 13 years later I'm not sure how I'd live without it.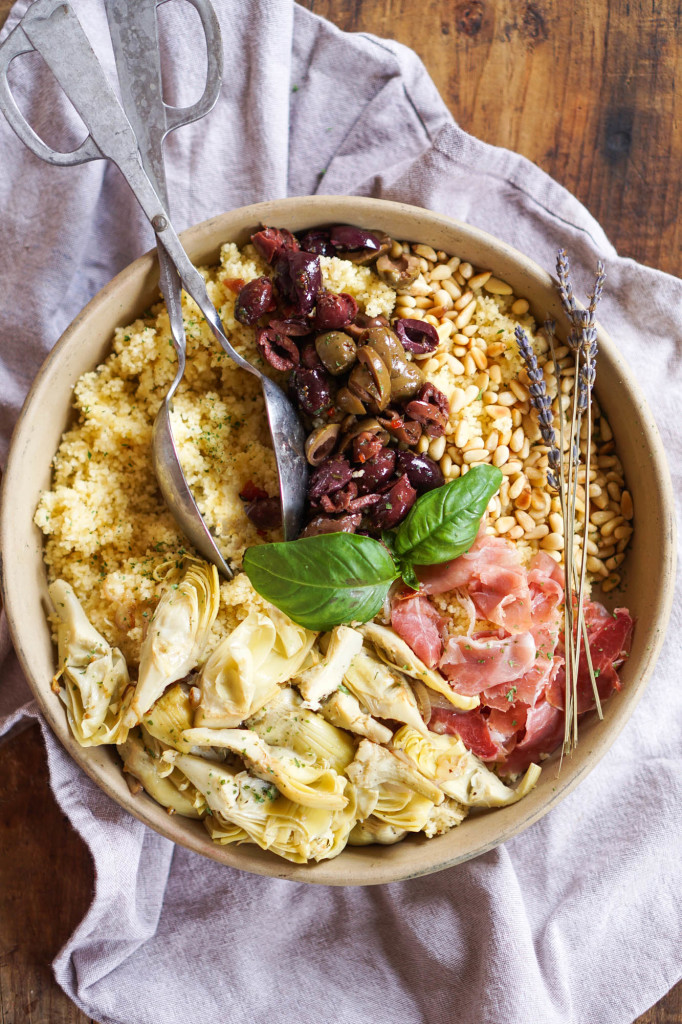 Now I'm not sure how I'd live without this recipe. DELICIOUS herbed olives, salty prosciutto, artichoke hearts sauteed with garlic and shallots, toasted pine nuts, and couscous all stuffed inside a pepper baked with mozzarella and Parmesan cheese. You hungry yet?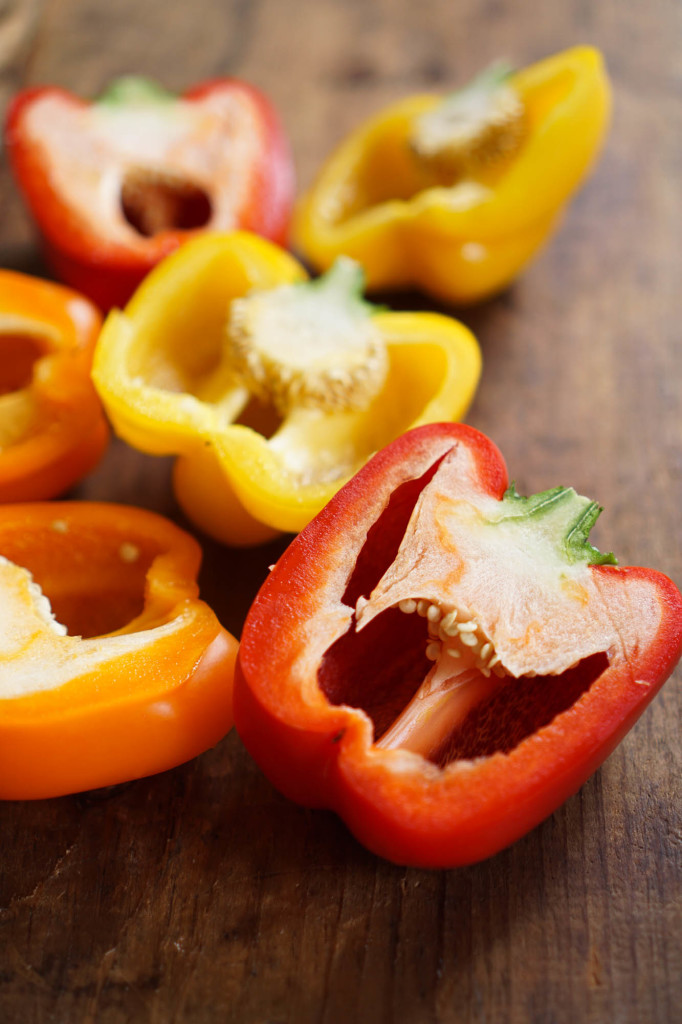 I wish I could say I thought of this but it's actually straight from one of my top 3 favorite cookbooks, The Lavender Cookbook by Sharon Shipley. All of her recipes are amazing, different, and can be done with your own twist with or without lavender. If you're searching for a new cookbook look no further.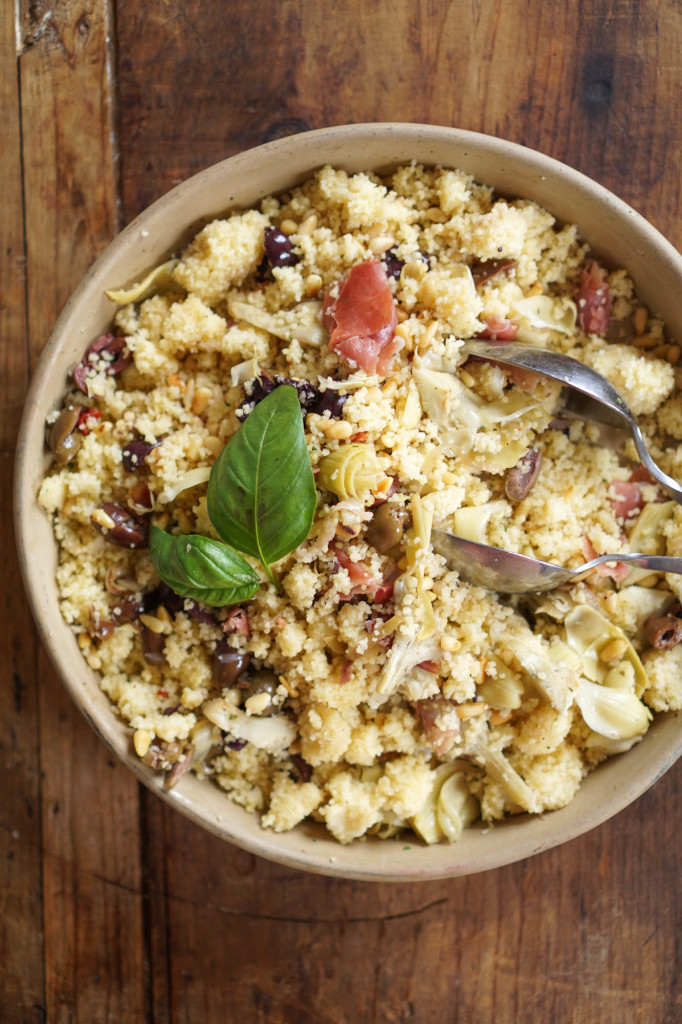 This recipe is really simple and I have some tricks to make it even easier. When I find myself in a pinch for dinner I pick up a box of Near East couscous which takes a whopping five minutes to make. I just cook mine with chicken stock and jazz it up my own way. You can use whatever brand of couscous you'd like or have on hand! The only other steps that require the stove are toasting the pine nuts, then sauteing the artichokes with a little shallot and garlic. I used Cento's quartered artichokes which you can find at almost any store! All these things can be done earlier in the day or even the night before.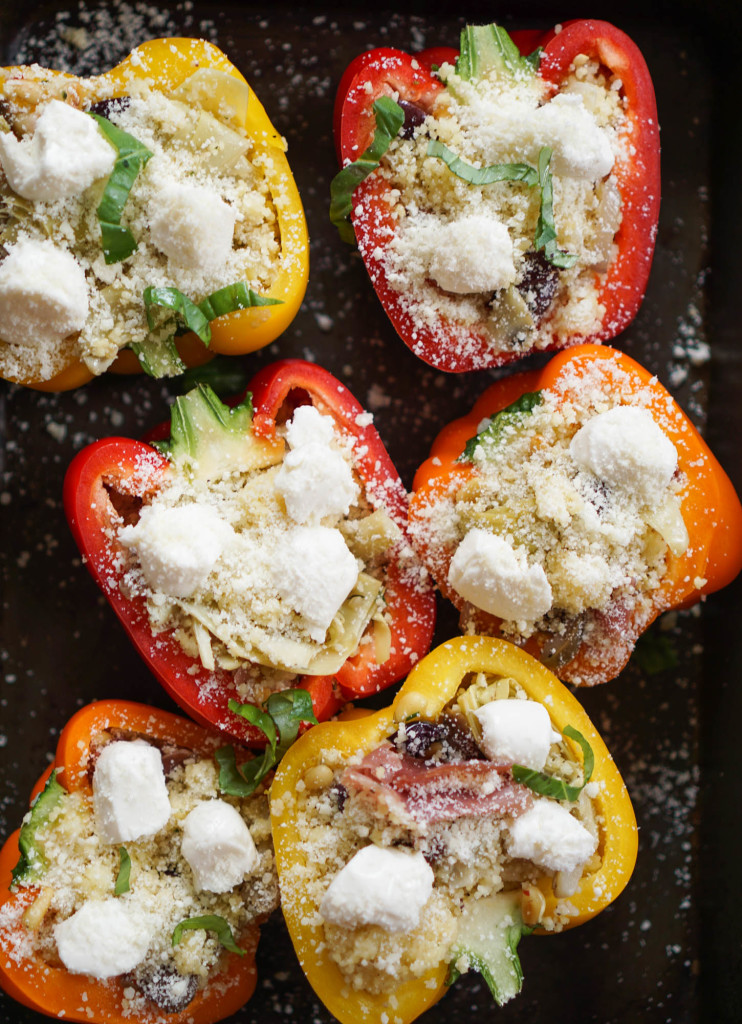 For the olives I picked up a jar that were brined in Greek seasoning to help bump up the flavor. I'll throw that in the recipe but feel free to use whatever olive you like, because as I'm discovering now there's SO MANY OLIVES OUT THERE. Remember, I'm new to this olive thing. Now the couscous tossed with the yums is good enough to eat on its own and probably something I'll make for a cookout this summer, but for a weekday dinner I totally recommend stuffing in bell peppers.
Halving the pepper is SO MUCH EASIER to eat than stuffing one whole pepper. I don't think I'll ever stuff a pepper any other way. Once they're stuffed, top it with some mozzarella and Parmesan cheese and it's ready for the oven.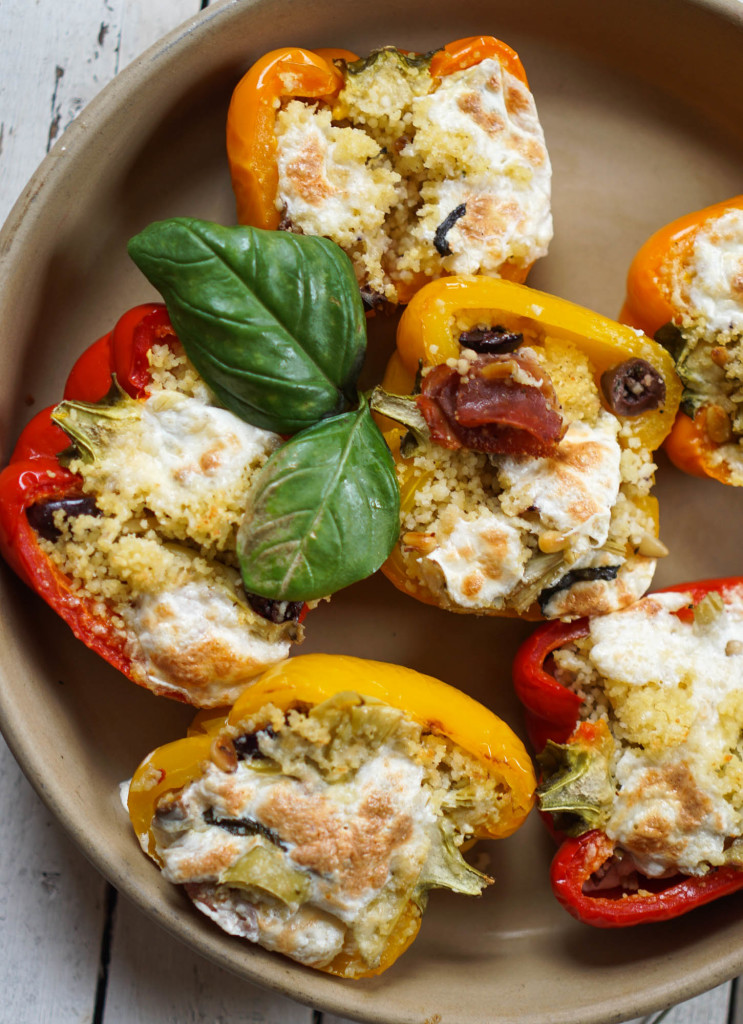 Soon enough you'll have perfectly tender cheesy stuffed peppers with alllll the delicious Mediterranean yums. The briny-ness of the olives and artichokes are perfect with every bite of garlicky couscous, the salty prosciutto and when you get a surprise bite of toasted pine nut you'll be like MHM.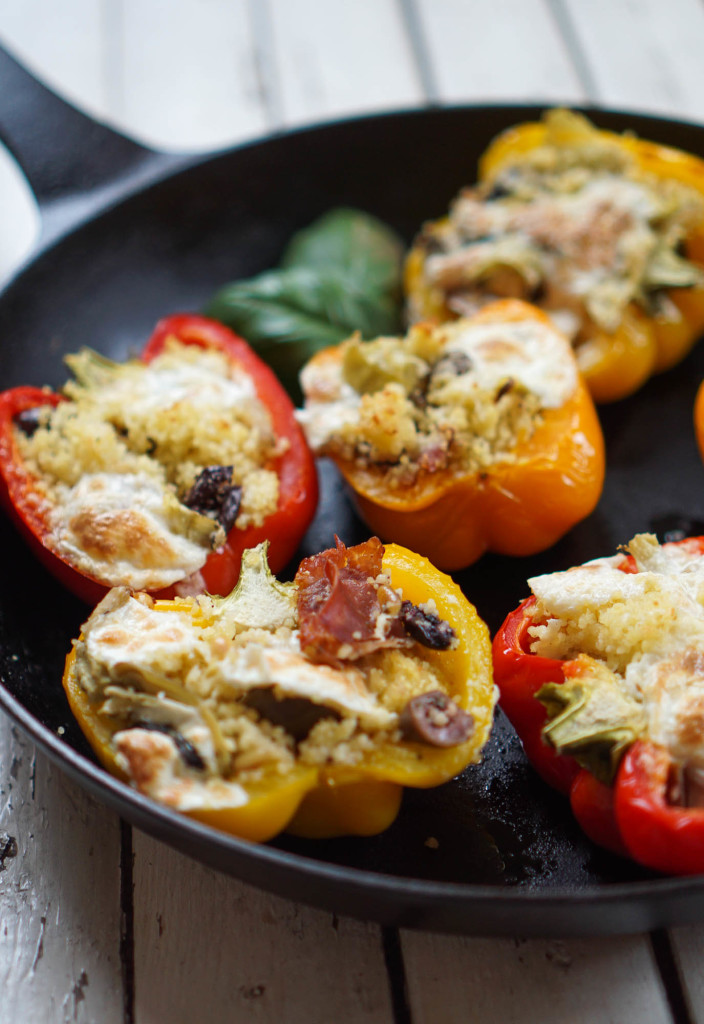 This with a side salad and grilled chicken is screaming your Monday night dinner. Enjoy!
Mediterranean Stuffed Peppers
2016-04-25 06:19:57
Serves 12
Ingredients
10 oz. box Near East original couscous
2 cups low sodium chicken stock
black pepper and garlic sea salt as needed
6 assorted bell peppers
2 tablespoons plus 1 teaspoon olive oil
1 shallot, sliced thin
1 garlic cloves, minced
1 (9-ounce) can Cento quartered artichoke hearts
4-5 slices prosciutto, chopped
1/4 cup Mediterranean seasoned olives, pitted and chopped*
1/2 cup pine nuts
1 ball fresh Mozzarella cheese, cut into small pieces
grated Parmesan cheese as needed
Instructions
Preheat the oven to 400 degrees.
Cook the couscous according to package directions. Once cooked, transfer to a bowl and sprinkle with a 1/4 teaspoon of black pepper. Toss and set aside until needed.
Cut the peppers in half lengthwise and remove any seeds/ribs. Rub the skin of the peppers with a teaspoon of olive oil and lightly season with sea salt. Transfer to a baking dish.
Heat a large skillet over medium heat. Add the pine nuts and cook, stirring often, for 3-4 minutes until toasted. There's no need to add any oil as the nuts will release their natural oils, causing them to toast. Transfer the nuts to the couscous.
In the same skillet, add two tablespoons olive oil. Keep heat to medium. Add the shallots and cook 3 minutes until soft and wilted. Add the garlic and cook 45 seconds until fragrant. Add the artichoke hearts and cook 5-6 minutes until starting to brown.
Transfer the artichoke mix to the couscous with the prosciutto and chopped olives. Mix together and taste for any seasoning, adding black pepper as needed.
Evenly divide the couscous mixture among the peppers.
Evenly distribute the mozzarella over the peppers, and sprinkle with Parmesan cheese as desired.
Pour 2 cups of water in the baking dish, cover loosely with foil, and bake 40 minutes until the peppers are tender. Garnish with basil and enjoy with grilled chicken or shrimp!
Notes
You can also use any Greek seasoned olives, found at most grocery stores.
You can serve the couscous as a salad without stuffing into peppers, just toss in some Feta cheese opposed to mozzarella and Parmesan and sprinkle with a drizzle of Greek vinaigrette!
Omit the prosciutto for a vegetarian dish!
Adapted from Sharon Shipley
Adapted from Sharon Shipley
http://www.vodkaandbiscuits.com/