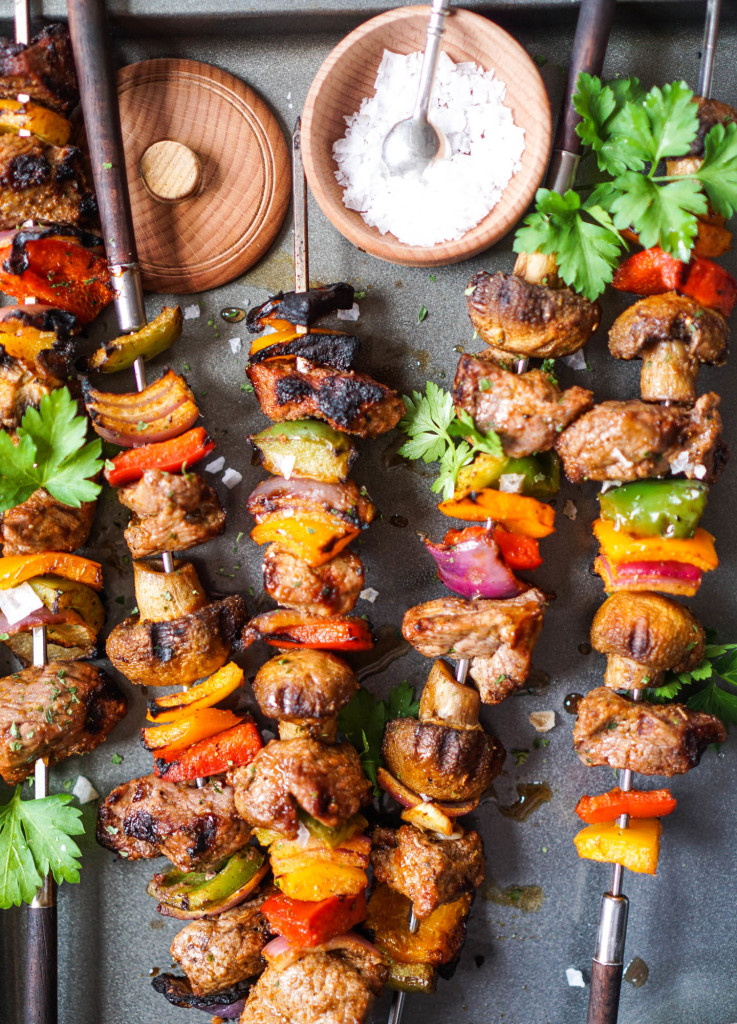 Okay I know this really has nothing to do with Cinco de Mayo but this recipe does make me want to entertain, it's colorful, and like everything else it makes me want to pour a cold one.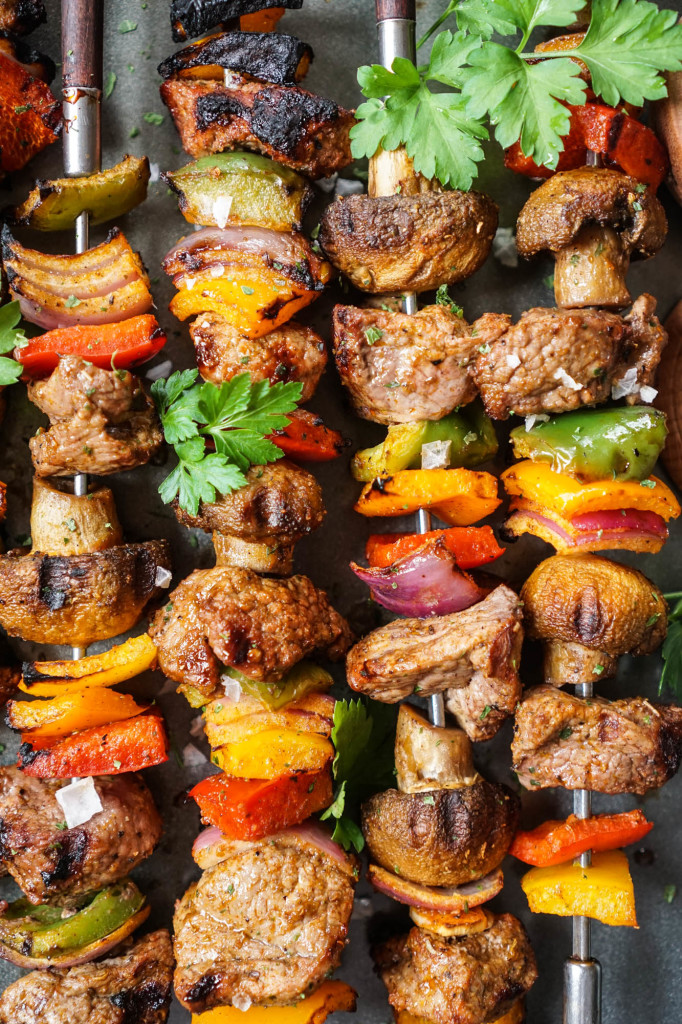 Bite size pieces of lamb, peppers, onions, and button mushrooms marinated in the most KILLER marinade, skewered, and grilled for a quick fifteen minutes. If you're entertaining this weekend or looking to switch up your weekday meals with a make-ahead dinner, this my friends is the recipe for you. Let's get cookin'.
The Shish Kabaob
This recipe originates from my culinary bible cookbook that I made some years ago in culinary class and haven't stopped making it since. I was making this for dinner one night and was like uh, whip out your camera and share this sh!t. And that's how we are here.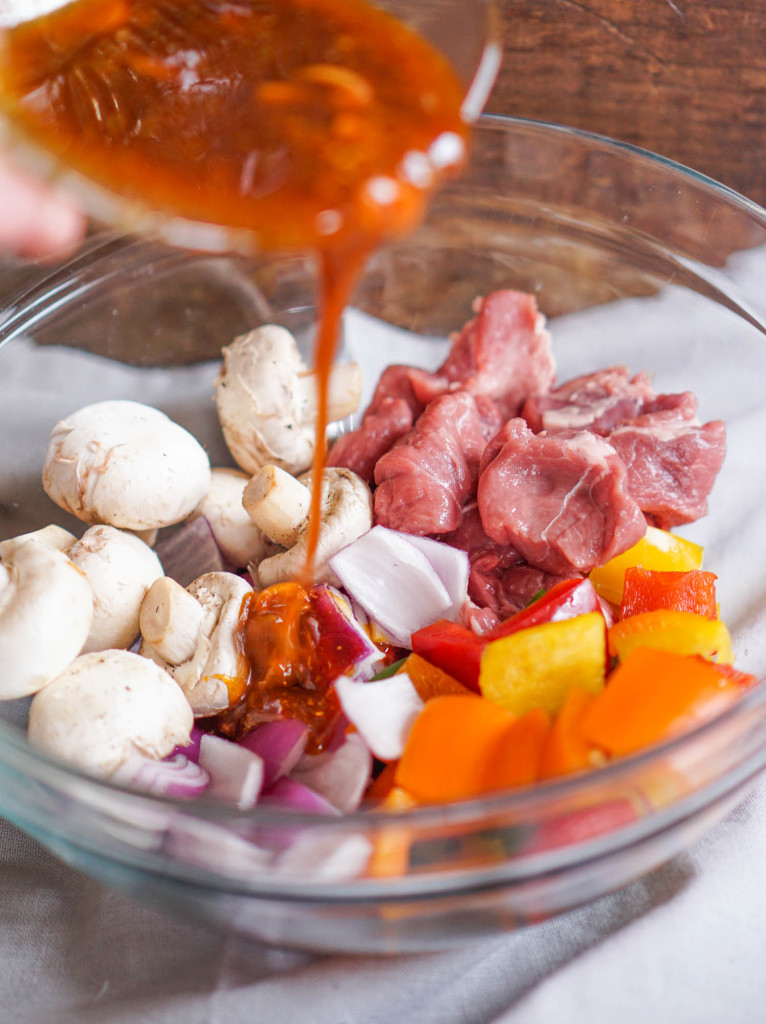 This is everything you'd find in your standard kabob' recipe, from the assorted bell peppers, onions, and mushrooms. If you do add mushrooms to your skewer, buy the button mushrooms and leave them whole. The mushroom lovers in your house will thank you.
As far as the meat goes, I bought a 2 lb. boneless leg of lamb, gave it a quick trim, and cubed it up. HERE'S THE THING. I love lamb so I don't mind sneaking it in wherever I can. If you're like EW NO, buy a steak and cube it up! Stay away from the pre-cubed meat cus who know what's reallllly in that thing plus almost always pre-cubed beef is for pot roast. I would definitely buy 2 lbs. of sirloin steak as it's lean, quick to grill, and will absorb allll the marinade yums. Speaking of.
The Marinade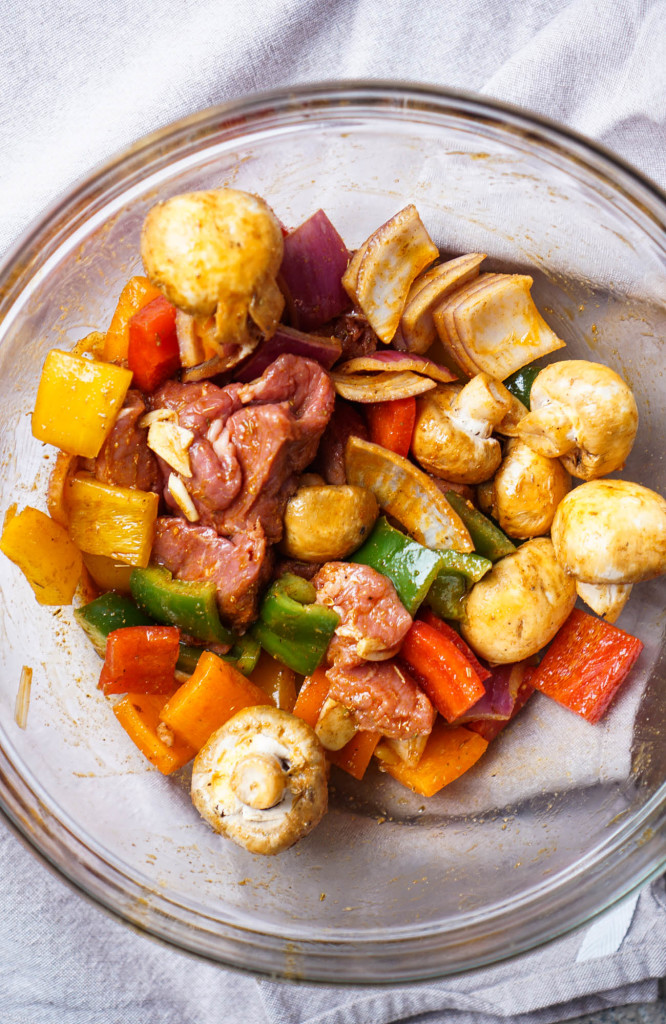 This marinade is SO simple I recommend using all of the spices involved. Let's just say paprika, coriander, cumin, and oregano make a killer combo especially after it's been mixed with lemon & garlic. DROOLING.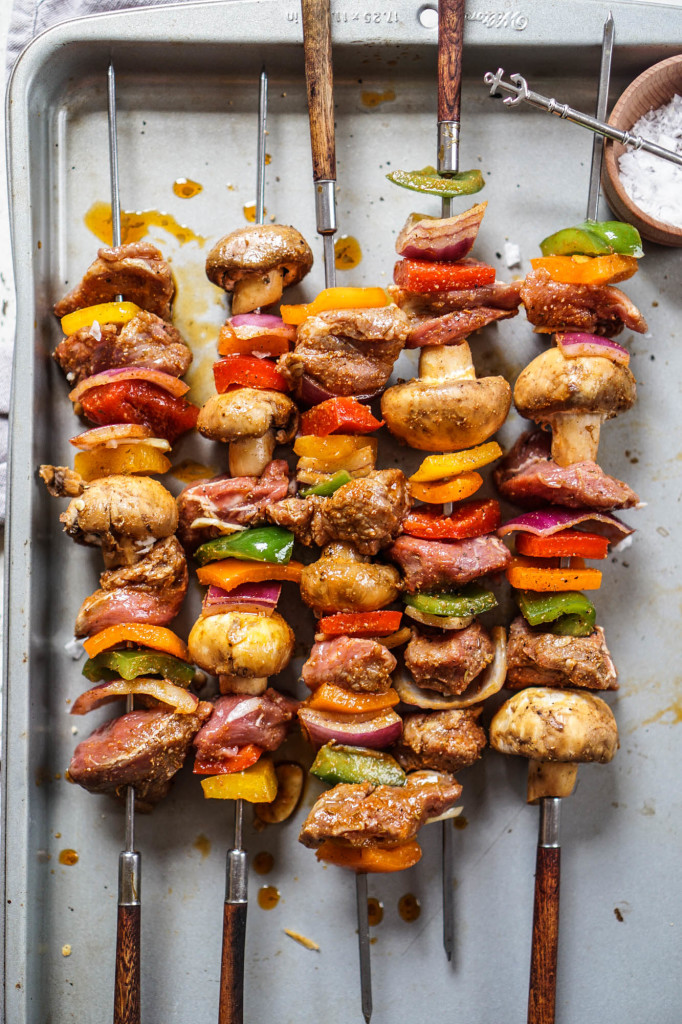 This all gets skewered, sprinkled with one more touch of salt and pepper, and gets ready for the grill! The grilling time is really up to you and it all depends on how you and your guests enjoy their meat. The good thing is either lamb or the sirloin won't take any longer than 15 minutes which is perfect for the veggies.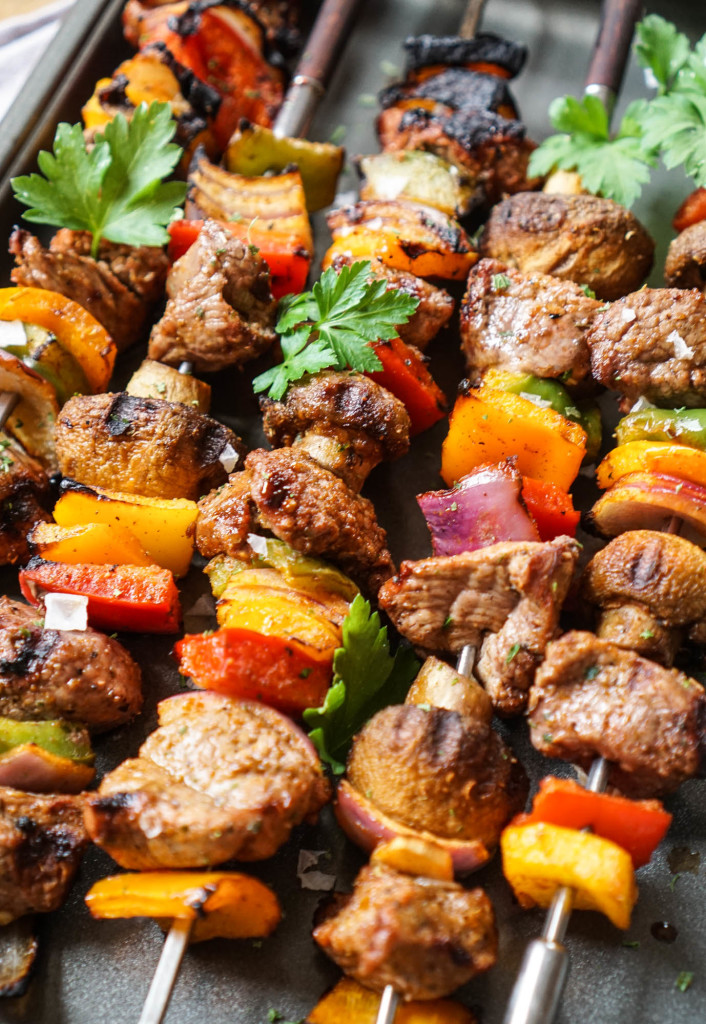 There's so many things you can do with this, like serving as is with a side of garlic aioli or tzatiki sauce. Or you can slide it right off the skewer and toss it with basmati rice for a delicious week day dinner, or even couscous with some feta cheese.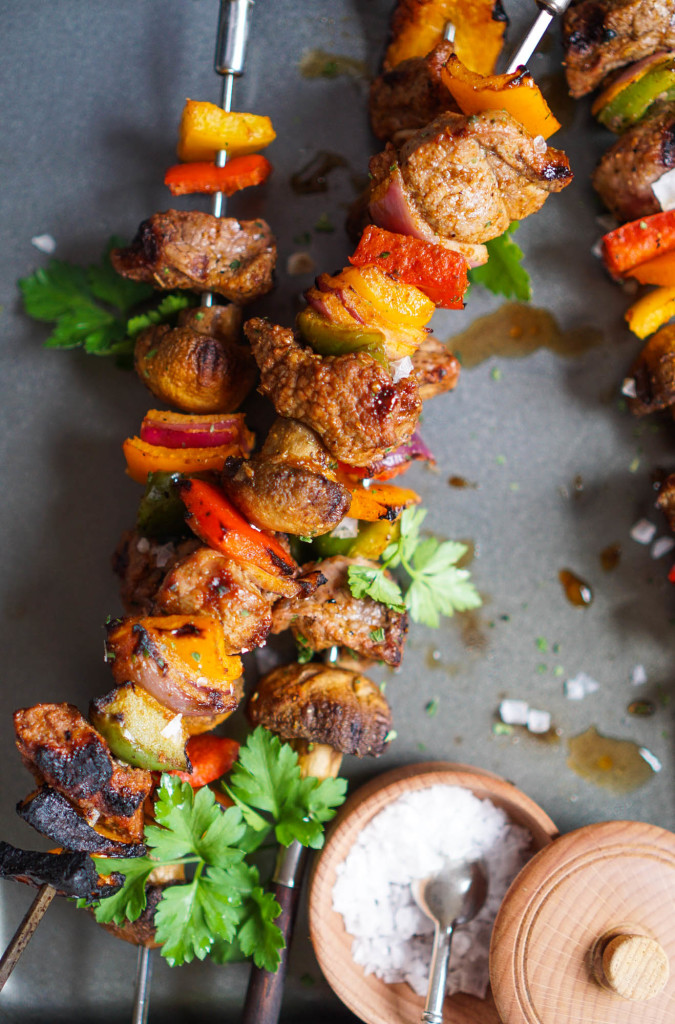 This is flavorful, the meat is tender, and paired with a cold beer, glass of white wine, or even a homemade margarita, is divine. This HAS to be your dinner in the neat future. Enjoy!
Marinated & Grilled Lamb (or steak) Shish Kabobs
2016-05-05 06:17:05
Serves 6
Shish kabobs with veggies, mushrooms, and lamb marinated in a to-die-for marinade and grilled to perfection. This is perfect for spring and summer entertaining!
For the Marinade
1/4 cup olive oil
2 tablespoons lemon juice
2 gloves garlic, thinly sliced
1 teaspoon paprika (preferably smoked paprika)
1 teaspoon ground cumin
1 teaspoon ground coriander
1 teaspoon salt
1/2 teaspoon oregano
1/4 teaspoon black pepper
For the Shish Kabob
2 lbs. boneless leg of lamb (or sirloin steak)
3 assorted color bell peppers, cut into 1" square
1 red onion, cut into 1" square
8 oz. white button mushrooms, whole
8 metal skewers*
Instructions
Combine marinade ingredients in a bowl and mix to combine.
Trim any excess fat or silver skin from the lamb (or steak if needed) and cut into 2" cubes. Add to a large bowl with the vegetables. Add the marinade and marinate in the fridge for up to two hours.
Assemble the skewer with the lamb, onion, bell pepper, and mushroom. Repeat, switching the sequence if desired. Season once more with a pinch of flaky sea salt and black pepper.
Grill 12-15 minutes, turning kabob to cook evenly. Garnish with cilantro.
Notes
If using wooden skewers, soak 30 minutes in water before grilling.
http://www.vodkaandbiscuits.com/