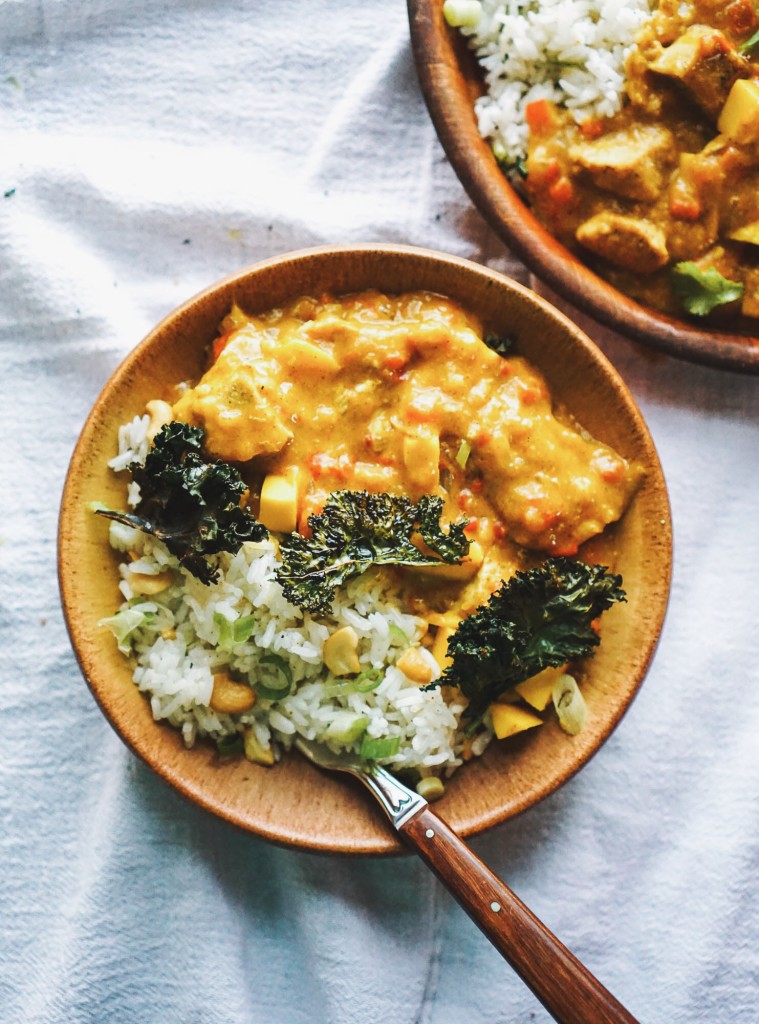 Curry, chicken, crunchy, chips, oh my! If you're feeling like spicing things up one night this recipe is for you.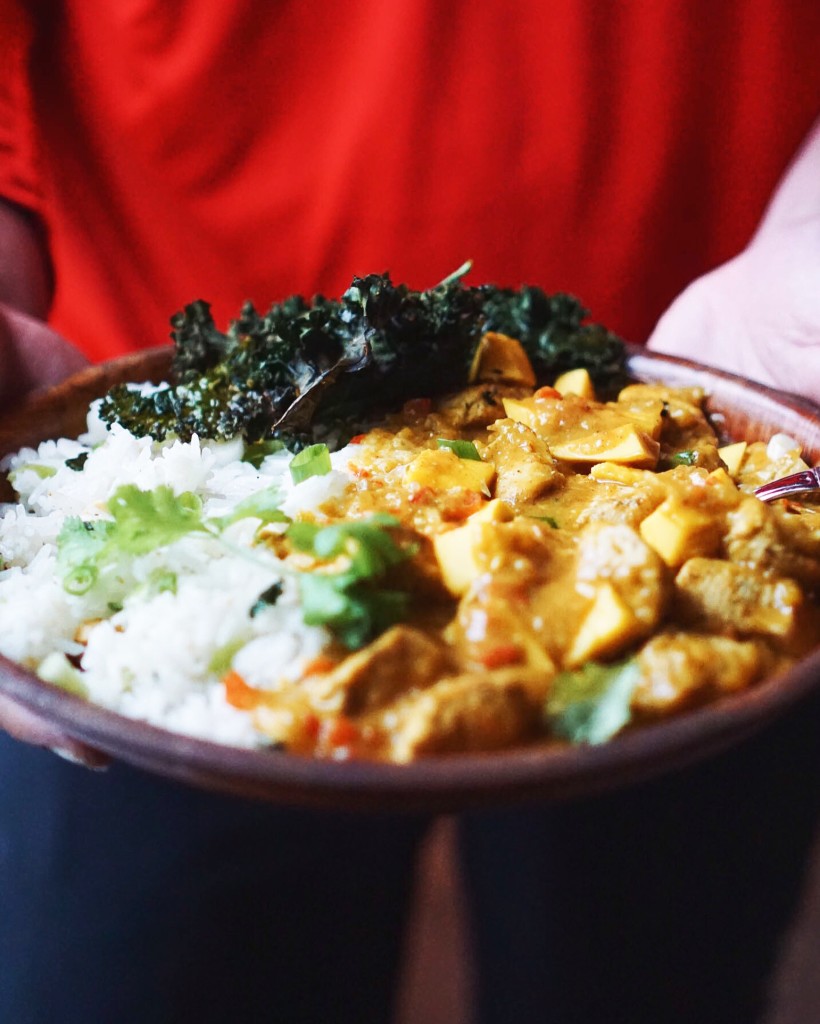 Chicken seasoned with a touch of curry and pepper, quickly sauteed, then simmered in a pureed sauce made of spiced onions and bell pepper, mango, and coconut milk. JUST WHEN YOU THINK THAT'S IT, it's then served on top rice mixed with scallions and toasted cashews (what) then garnished with curry crispay kale chips. YAS girl yas.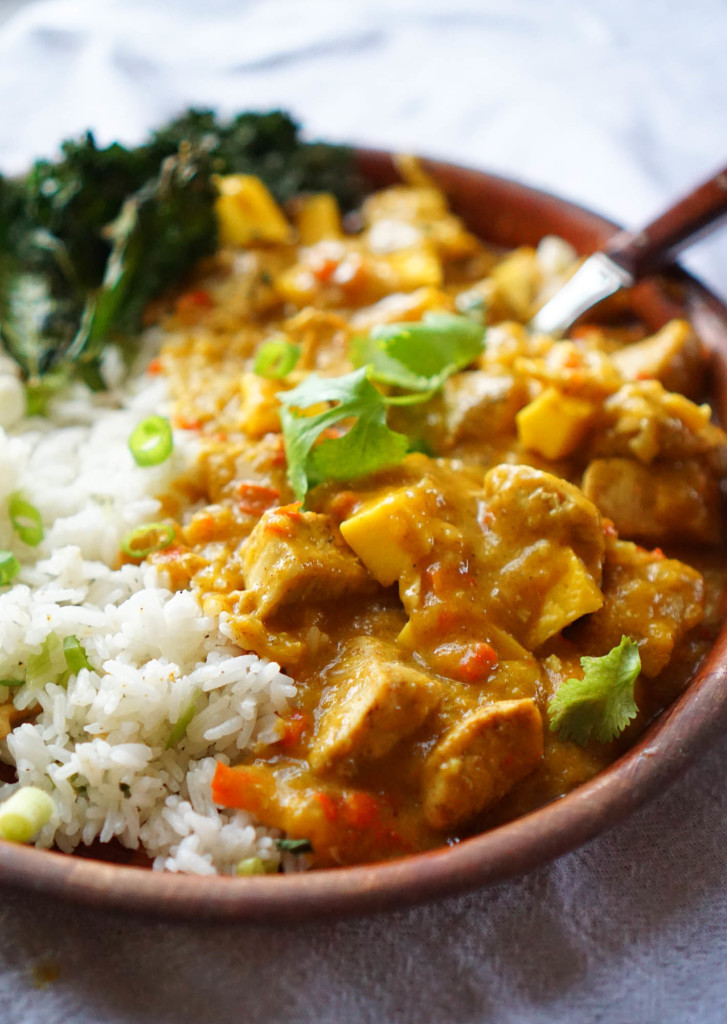 Curry may not be the prettiest thing ever but trust me it's the tastiest. The recipe is not as overwhelming as it seems and I'll break it down for you, but before I get into that keep your eyes peeled cus' there's two kitchen gadgets I'll be introducing in this recipe. You know I loveeeee talking about my life-savin' time-crunchin' kitchen tools. K let's get cooking.
The Curry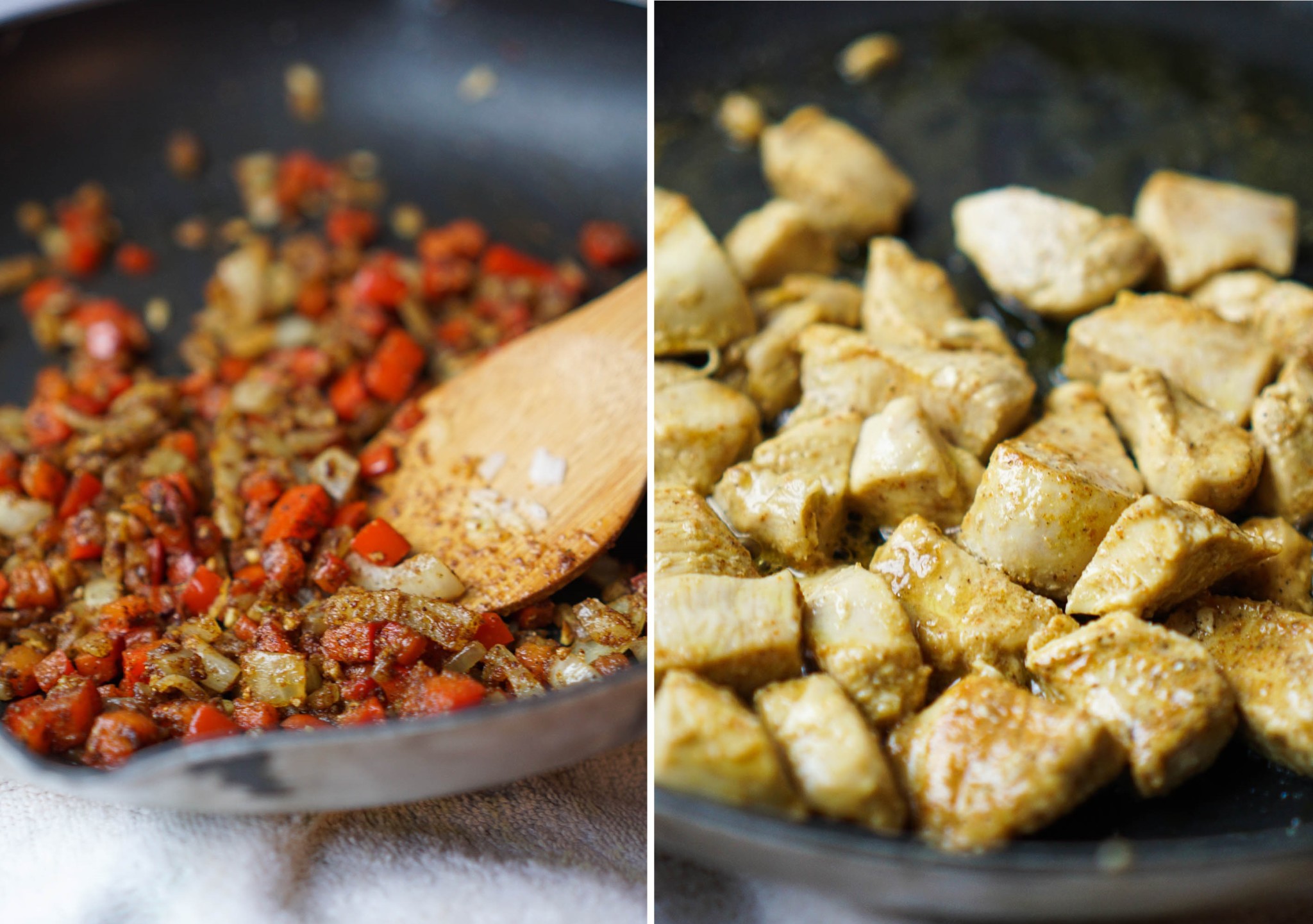 I use the same pan to saute bite size pieces of chicken that was quickly marinated in a sprinkle of olive oil and curry powder as I do the sauce. Once the chicken is cooked through, that gets set aside and the base of the sauce starts cooking. It's nothing more than diced onions, red pepper, ginger, and garlic that's been seasoned in a spice blend of curry powder, cumin, coriander, garlic salt, red pepper flakes, and cinnamon. Pretty freakin' drool worthy right?
Diced mango and a can of coconut milk gets added, simmered, then pureed. Chicken gets tossed back in to re-heat and voilia! Curry sauce = done.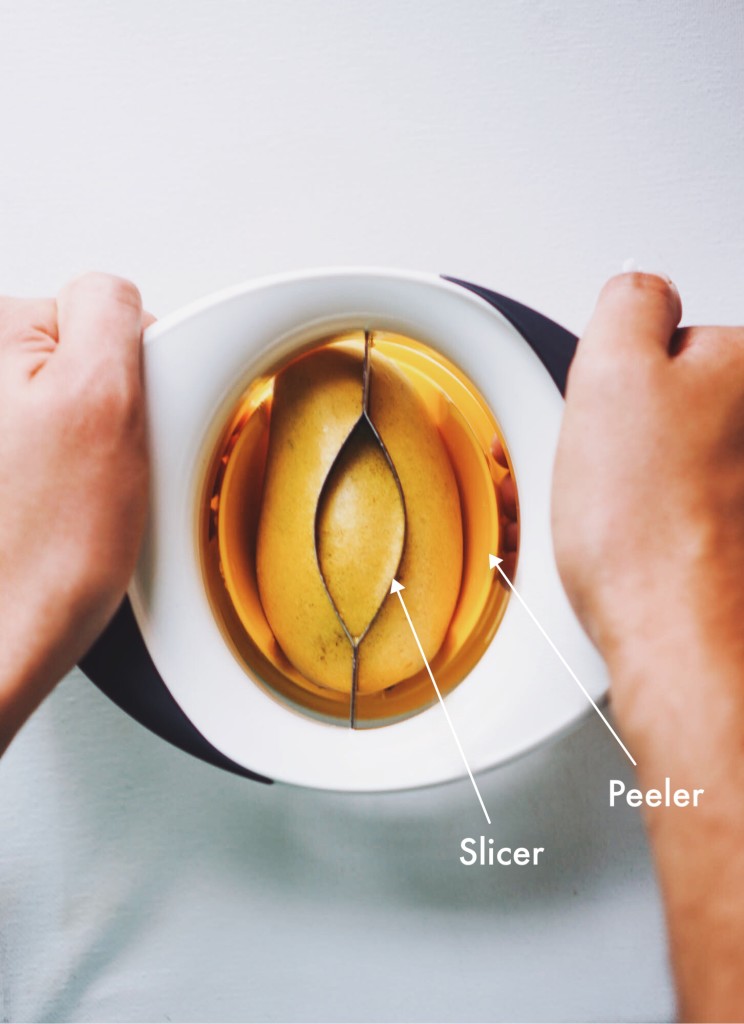 Before I go on can we please just admire the fact there's a tool to help us slice mango? This pit-remover, slicer, AND peeler is from Zyliss and should be renamed as the mango magic worker. Seriously. Your mango just slides right into the mold, you press down to slice out the pit, and those yellow edges that shape the mold are used to slide the mango right out of it's flesh. You not only get to slice mango with a breeze but your boyfriend can get a kick out of it too because it may or may not look like a piece of anatomy.
PS: check it out here.
The Rice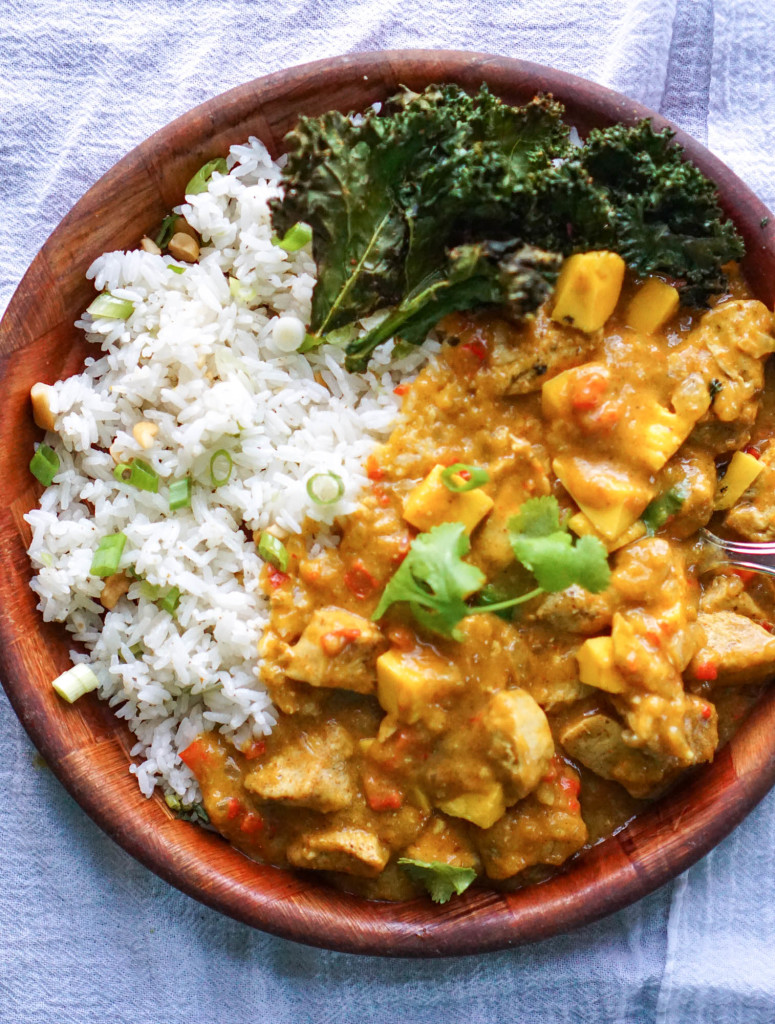 So you can't eat curry without rice, right? Well I attempted making coconut rice and that ended in a smoke detector and ruined pan. True story: I can't make rice. After that incident I nixed the coconut and just tossed plain rice with toasted cashews and scallions. They add a nice crunch and the cashews give the curry another flavor profile so even though it's optional, I recommend it!
The walnuts only take a few minutes to toast so while you're oven is cranked up for the kale chips, slide them right in and have the rice on the stove while you're cooking the curry. Speaking of.
The Kale Chips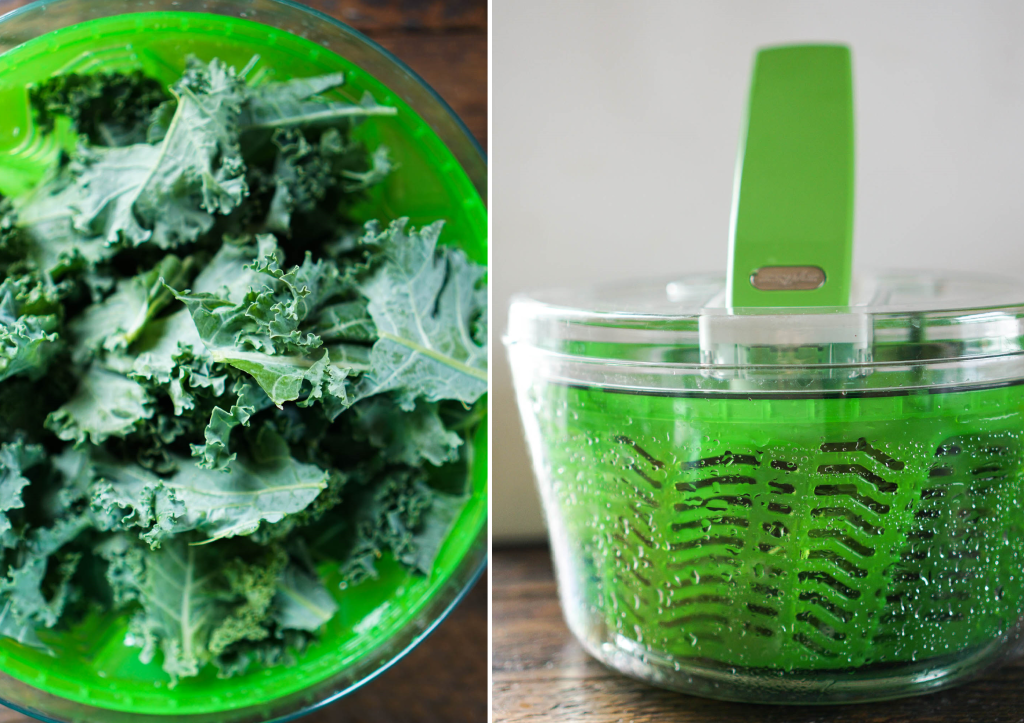 I loveeee me some kale chips and with a few tips they are SO easy to make. The first tip is a salad spinner.
You obviously need to clean the kale and it's important they're dry of water before they get baked and the only way to do this in a timely manner is with a good ol' salad spinner. PSA: every kitchen needs one of these. Mine is also from Zyliss and I can't say enough good things about it. The spinning action is better than any salad spinner I've seen, the easy push-to-dry handle that DOES lay flat on the lid for storage, and the rubber grip at the bottom so you're salad spinner doesn't fly out the window makes this one a winner winner salad spinner. Check it out here!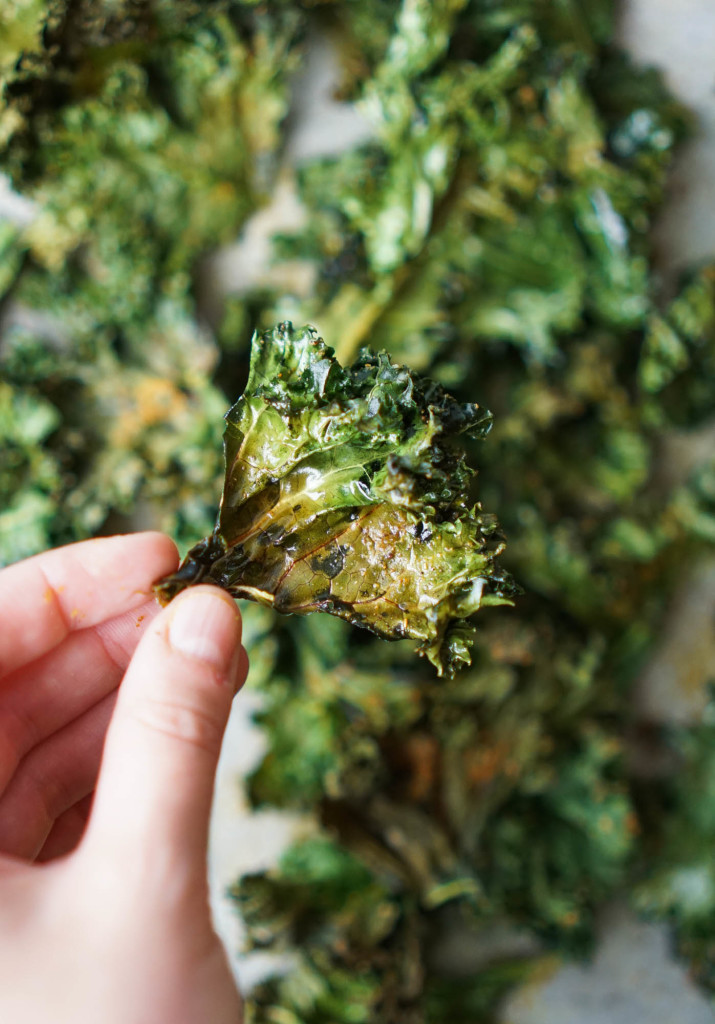 The second tip is spraying the kale chips with either a light olive oil or coconut oil. You can buy the spray bottle of oil in any grocery store right next to your olive oils. My favorite brand is Pompeian! Once the chips are sprayed, they get seasoned with a pinch of curry, garlic salt, and red pepper flakes, and baked for 10 minutes in a scorchin' hot oven. Crispy kale chips in ten minutes is life.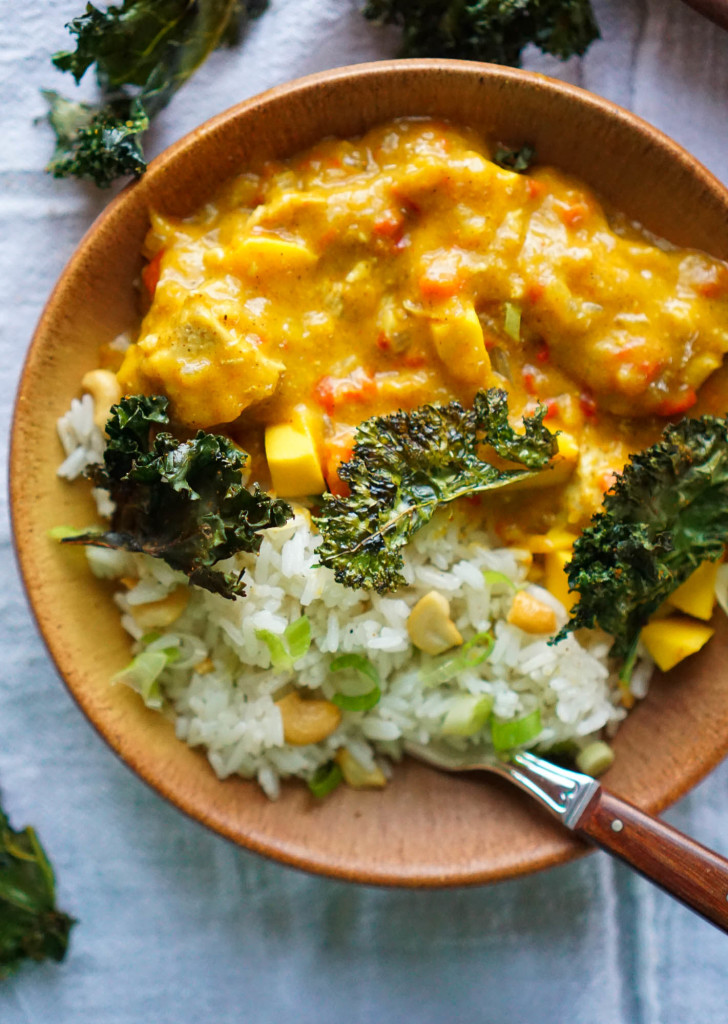 Once all your fixings are done, everything gets tossed together. Pour a glass of white wine, sit back, and dive into a bowl of spicy, sweet, citrusy, deliciousness. You can garnish with chopped cilantro, fresh lime, or even a dollop of sour cream. You can also sub the chicken for tofu or shrimp. There's so much you can do to this recipe and whatever you do, you won't disappoint. Whip out your curry and get cooking. Enjoy!
Mango Curry Chicken & Rice with Crunchy Curry Kale Chips
2016-06-22 07:22:08
Serves 4
Curried spiced chicken simmered in a sauce of mango and coconut, served over a bed of rice with toasted cashews and garnished with 10-minute crunchy kale chips.
For the Chicken Curry
2-3 boneless skinless chicken breasts, cut into bite size cubes
olive oil as needed (can substitute for coconut oil)
1/2 cup yellow onion, diced
1/2 cup red bell pepper, diced
2 garlic cloves, minced
1" knob ginger, peeled and minced
1 tablespoon curry powder, plus 1 1/2 teaspoons for chicken
1 teaspoon cumin
1 teaspoon ground coriander
1/2 teaspoon garlic salt, plus 1/2 teaspoon for chicken
1/4 teaspoon black pepper, plus 1/4 teaspoon for chicken
1/4 teaspoon cinnamon
pinch of red pepper flakes
1 cup of diced mango, divided
13 or 14 oz. can unsweetened coconut milk
For the Rice
2 cups long-grain rice
water as needed
3 scallions (white part only), thinly sliced
1/4 cup cashews, toasted
For the Kale Chips
4 cups kale, hand torn into chip size pieces
spray bottle of olive or coconut oil
1 1/2 teaspoon curry powder
1/2 teaspoon garlic salt
small pinch red pepper flakes
For the Chicken
Drizzle the chicken with a tablespoon of olive oil, the 1 1/2 teaspoon of curry powder, 1/2 teaspoon of garlic salt, and 1/4 teaspoon of black pepper. Mix and allow to marinate for 20 minutes.
Add two tablespoons of olive oil in a saute pan and heat over medium-high heat. Add the chicken and cook 10 minutes or until cooked through. Transfer to a plate and set aside until needed.
In the same pan, add the onions and bell pepper. If needed, add one more tablespoon of olive oil. Cook until soft and the onions are translucent, about 3 minutes.
Add the ginger, garlic, and the seasonings. Cook until fragrant, another 1 minute. Add the coconut milk and 3/4 cup of diced mango. Allow to simmer for 2-3 minutes.
Transfer the sauce to a blender and puree. See notes below! Add the sauce back to the pan and add the chicken. Keep at a low-heat until ready to serve.
For the Rice
Cook the rice according to package directions. Sprinkle with salt and pepper for flavor. Toss cooked rice with toasted cashews and sliced scallions. Set aside until needed.
For the Kale Chips
Preheat oven to 425
Wash the kale and dry in salad spinner. Lay on a baking sheet and spray with olive or coconut oil until all the chips have been glistened. You may need to cook in batches or use two trays.
Mix together the curry, salt, and red pepper flakes and sprinkle evenly over the chips. Bake for 10-12 minutes, flipping half way through. Keep and eye out they can burn easily!
They are finished when they are crisp to the touch*
To Ensemble
Serve the curry over the rice with remaining diced mango and garnish with crunchy kale chips. If desired, add fresh cilantro, lime juice, or a dollop of sour cream.
Notes
*Blending hot sauces can cause the blender to explode (too much steam builds up). Start very slow and gradually increase the speed until desired consistency is achieved.
*Recipe calls for more chips than you need as they are so delicious you'll want some for snacking!
http://www.vodkaandbiscuits.com/