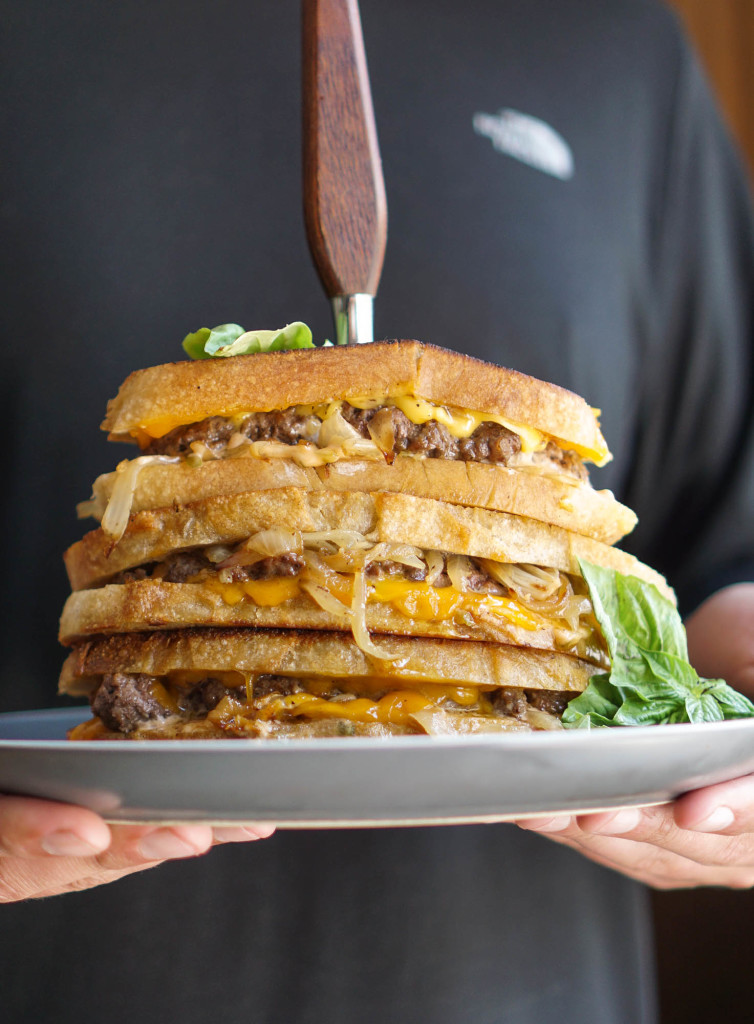 I'm just here to remind you Patty Melts do exist and they're just as amazing as they were the last time you had one.
For me, that was like 10 years ago.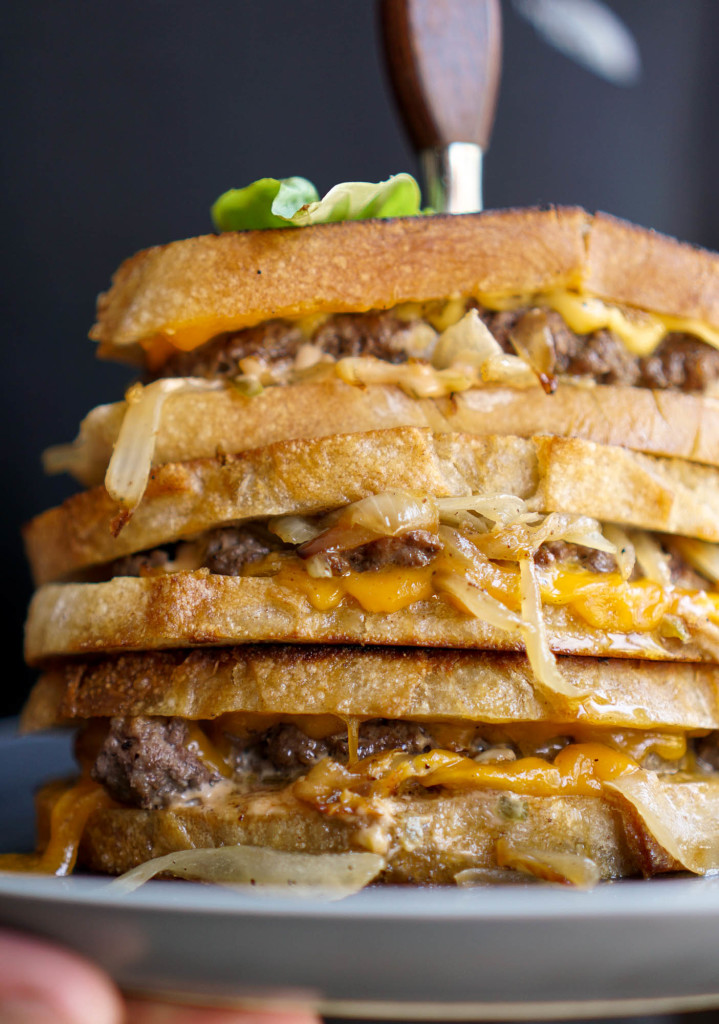 I'm one of those "let's defrost the three pounds of ground beef that I swear I'm going to cook for dinner then have nothing to do with it come dinner time." Right now it's summer and chances are I had a weekend full of cheeseburgers, it's too hot for baked ziti, and/or I'm making shrimp tacos later in the week. What the F am I supposed to do with this?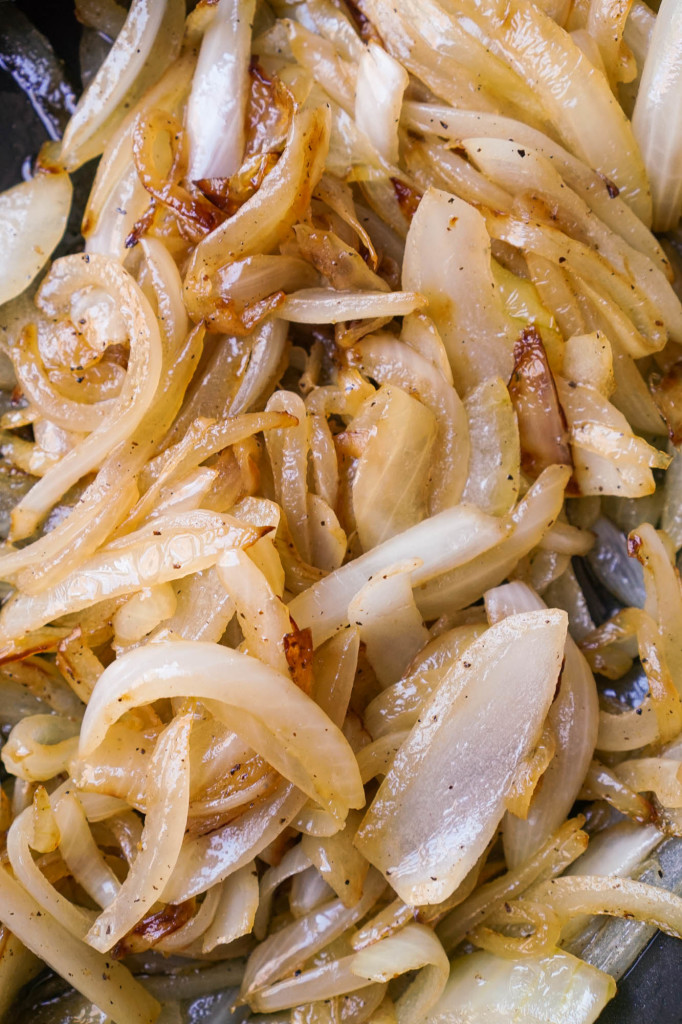 I was recently in that situation and thought back to a conversation I had with Jane at work. She had all this ground beef and was in the same scenario above and decided to make her hubby a patty melt that night. We both giggled (while eating our chopped salads, you know pretending to be healthy) at the thought of a fattening cheeseburger grilled cheese smothered in the most fearful calorie gut wrenching dressing: thousand island.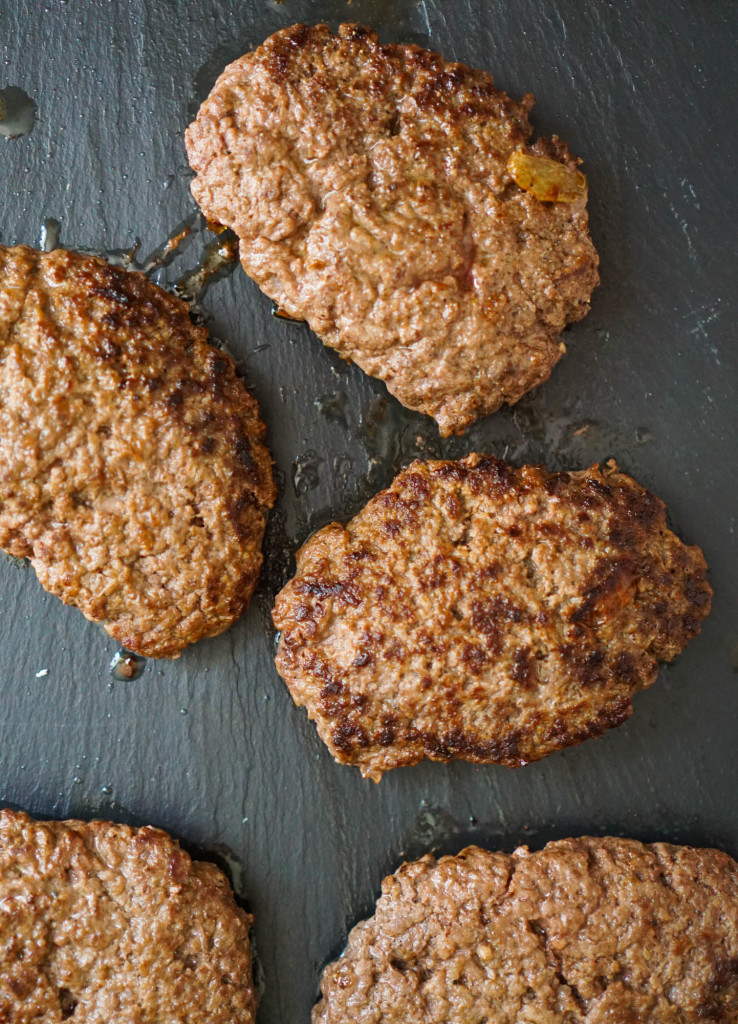 The more we thought & talked about it, the more our bowl of greens became less appetizing and the the thought of a crunchy sourdough grilled cheese with the twist of a flavorful burger, sweet caramelized onions, and a thousand island (which can be made at home) sounded AHMAZING. See ya, leafy green salad.
So, there I was standing in front of a huge amount of ground beef on a hot summer day and figured welp, patty melts it is. Come to find out patty melts, cold beer, and a hot summer day pair perfectly. Let's cook.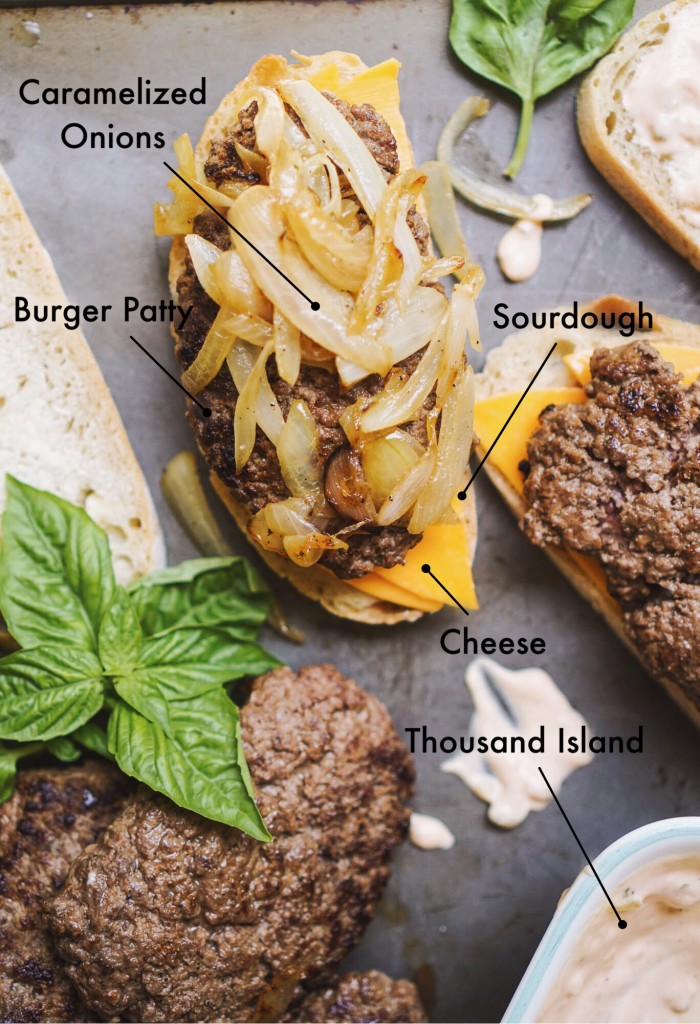 Cooking a Patty Melt is incredibly easy. Think of a grilled cheese with a few extra steps. The tricks lie within each technique and ingredient to ultimately create the most drool worthy mouth gasm sandwich.
For the bread you defiantly want to buy a loaf of sourdough. It sears beautifully and gives the sandwich a crusty yet chewy bite. The burger is ground beef seasoned with Worcestershire, salt, and pepper, formed into an oval and seared in your frying pan. I use the same pan that I cooked my onions in because flavor.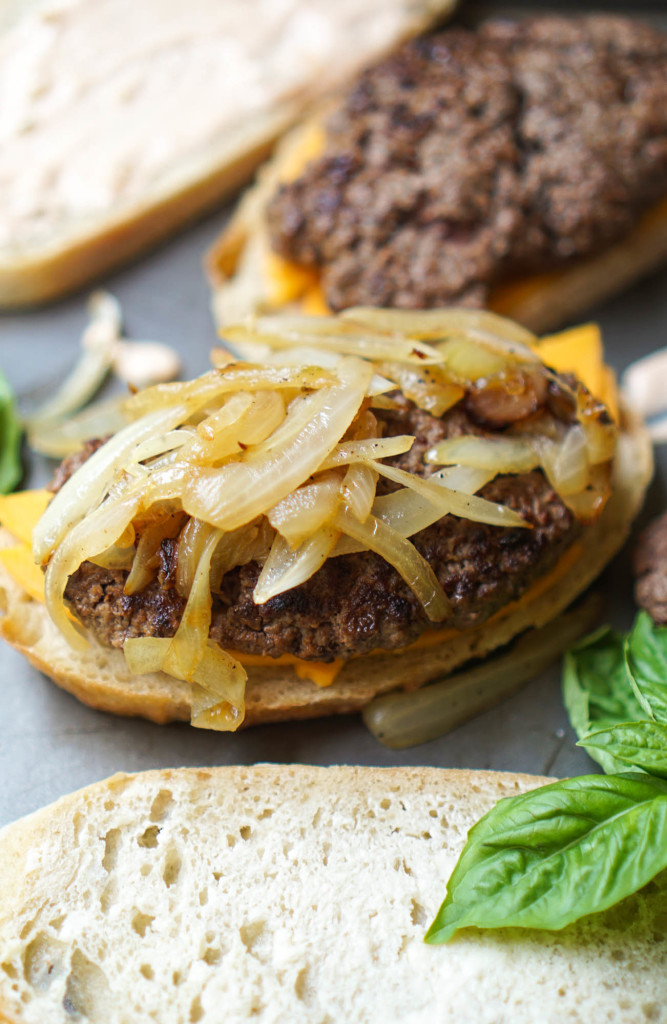 The onions do take the longest (give 25-30 minutes to caramelize two onions) so I knock that out first. While those are cooking slice up the bread, form the patties, arrange the cheese, and make the sauce. THE SAUCE. Literally mix together mayonnaise, ketchup, sweet relish (or chopped pickles), a squeeze of Dijon, and salt/pepper. Okay see you never store bought Thousand Island.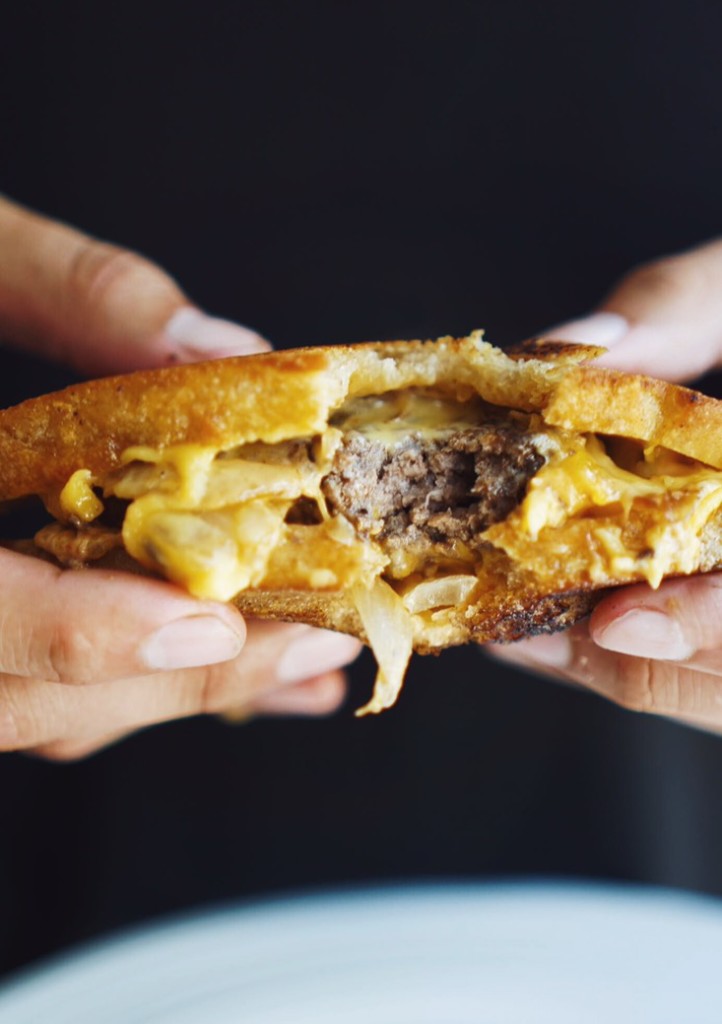 In the same pan the onions and burgers were cooked I fry up the sandwich exactly how I would a grilled cheese. This is a classic easy dinner that we often forget exists. People, treat yourself.
Enjoy!
Patty Melt with Homemade Thousand Island
2016-06-29 11:56:23
Serves 6
A classic patty melt with crispy sour dough, sweet caramelized onions, Colby Jack cheese, and homemade thousand island.
Ingredients
2 large yellow onions, cut into thin slices
2 tablespoons olive oil
2 tablespoons butter
2 lbs. ground beef, preferably 80/20
1 tablespoon Worcestershire sauce
1 loaf sourdough bread, cut into 6-8 1/4" slices
6-8 slices Colby Jack cheese (or more if desired)
1/4 cup light mayonnaise
2 tablespoons ketchup
1 tablespoon sweet relish (or chopped pickles)
1 teaspoon Dijon mustard
salt and pepper as needed
butter as needed*
Instructions
First prepare the onions. In a large saute pan heat the olive oil and two tablespoons of butter over medium heat. Add the onions and cook on medium-low heat for 25-30 minutes, stirring often, until golden, soft, and caramelized. Season with 1/2 teaspoon salt and 1/4 teaspoon pepper, adjusting seasoning as needed. You can also add a pinch of red pepper flakes for heat! Once finished, transfer onions to bowl and set aside. Do not clean pan.
While the onions are cooking, prepare the burger patties. Add Worcestershire, 1 teaspoon of salt and 1/2 teaspoon pepper to the beef. Mix with hands gently, about 4-5 times. Form a small handful of beef into an oval patty about 1/4" thick. Sprinkle both sides once more with salt and pepper.
When the onions are finished, crank the heat to medium-high, and cook the patties (in the same pan) for 5-6 minutes on each side until browned and cooked through. Repeat until finished, set aside until needed. Drain oil and wipe pan, but do not rinse & clean.
To make the sauce, combine and mix the mayonnaise, ketchup, dijon, relish, and a pinch of salt and pepper. Taste and adjust ingredients as needed.
Spread each slice of bread with butter on ONE side only. This will be the frying side.
Flip the bread slices over and begin to build sandwich. I like to start with cheese, then the burger topped with onions, and spread the thousand island on the second slice of bread. You can build however!
Put the sandwich together, making sure the outside slices of bread are the ones covered with butter. In the same pan as above, fry the sandwiches for 4-5 minutes on each side (medium high heat). The bread should be crispy and the cheese should be melted.
Serve with a cold beer (optional but highly recommended).
Notes
*I would keep one stick of butter out at room temperature and use as needed.
http://www.vodkaandbiscuits.com/