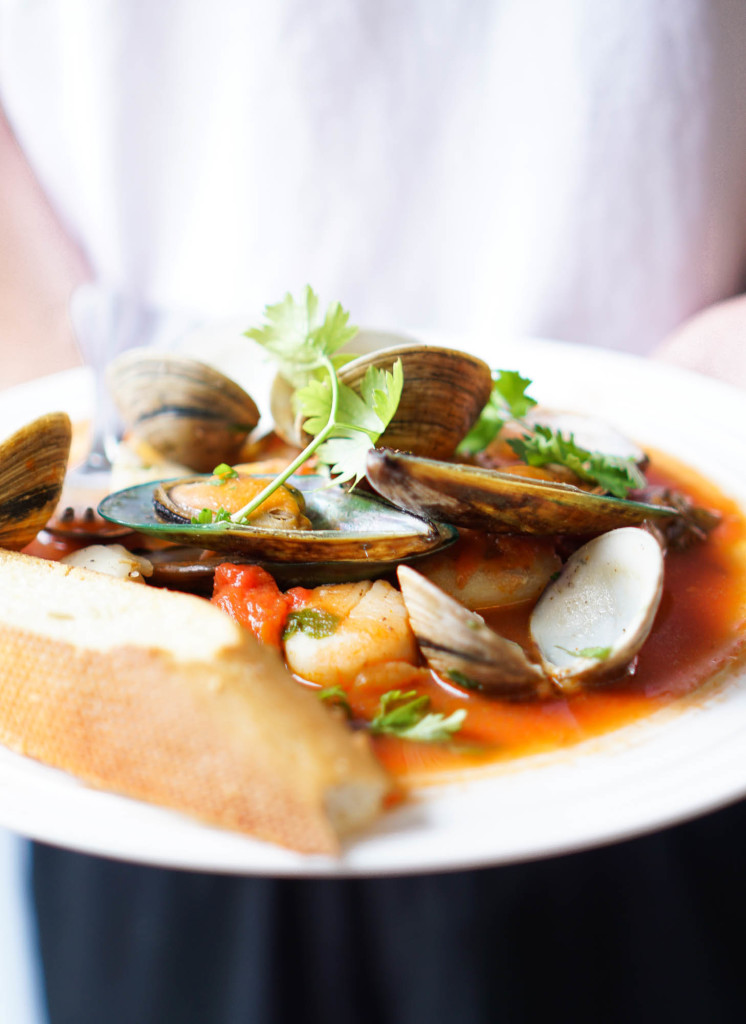 C-O-pino
Chio-pano
Cheo-peno
Okay so maybe I don't know how to pronounce this but I sure know how to make and enjoy the heck out of it.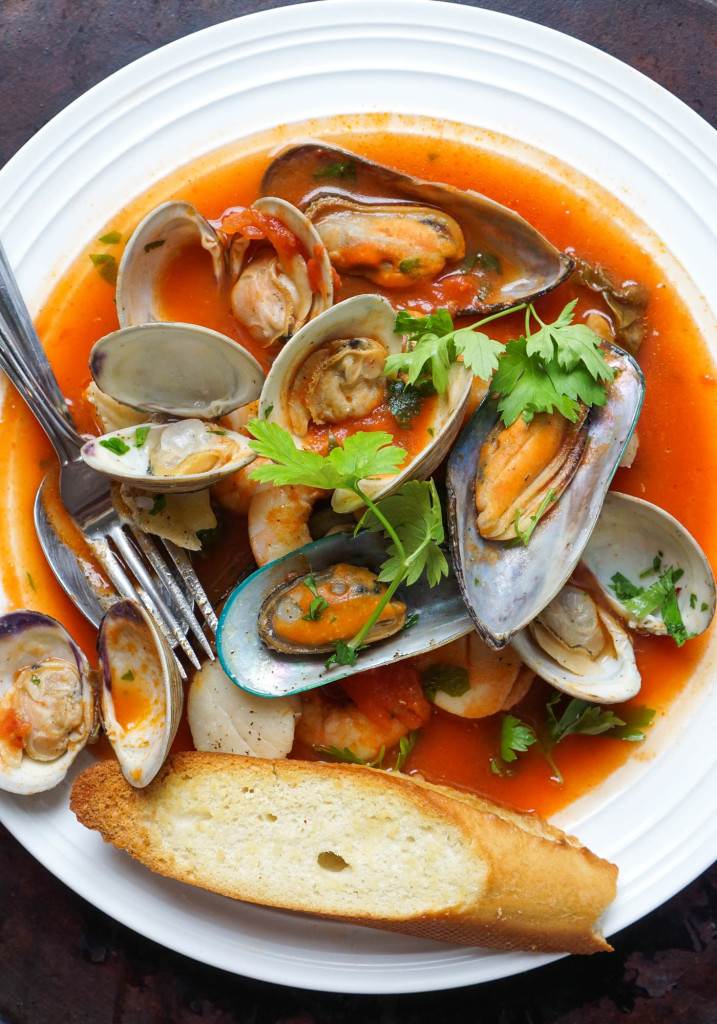 Any cioppino lovers out there help me out because for one, this is my favorite dish and I order it wherever I see it on a menu and chances are I say it wrong every.single.time. We all have that one thing we can never pronounce and end up pointing to the menu, holding it up to to the waitress "I want THIS." Oh, you want this? "Yep, that."
I've been waiting for the perfect time to post this recipe and believe it or not I've been brainstorming this one for over a year now. It's my favorite meal, it's my birthday week, and therefore to me it's the perfect time. Let's jump into this.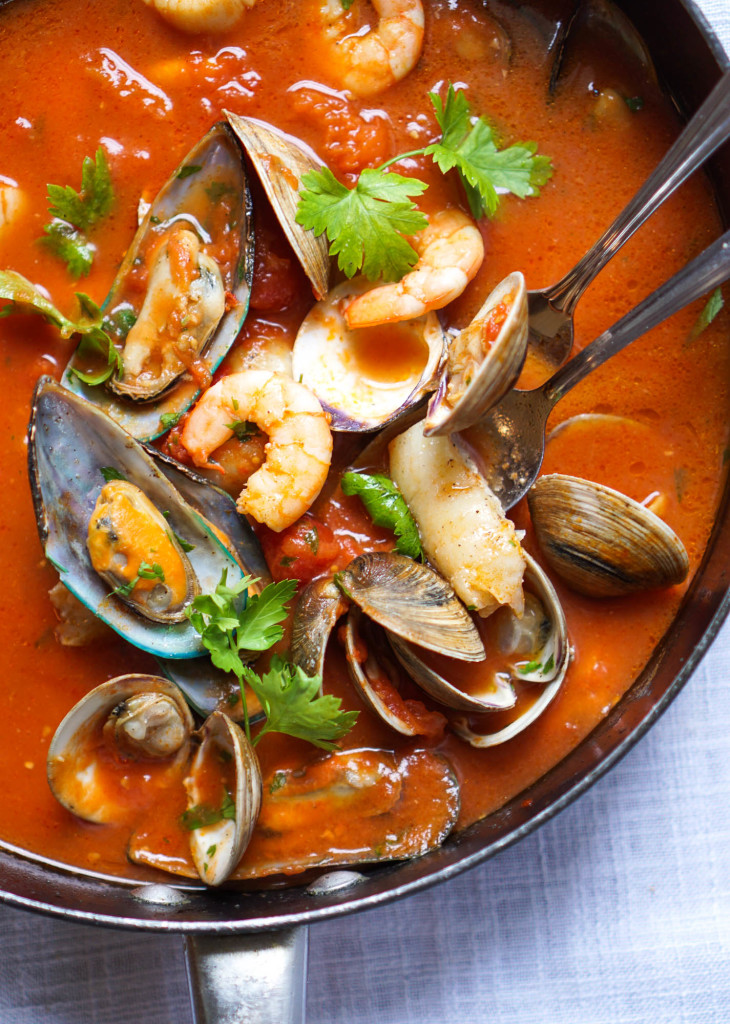 Cioppino is a San Francisco staple (even though I've never been there) and the perfect meal for a special occasion, a dinner party of four, or a summer entertaining appetizer. I'll get into all that in a bit, but if you're unfamiliar with this dish, it's basically a variety of seafood served in a decadent rich stock flavored almost always with tomatoes. I'll have short cuts, long cuts, and different ways to serve this so PUHLEASE stay tuned. Let's start with the stock.
The Stock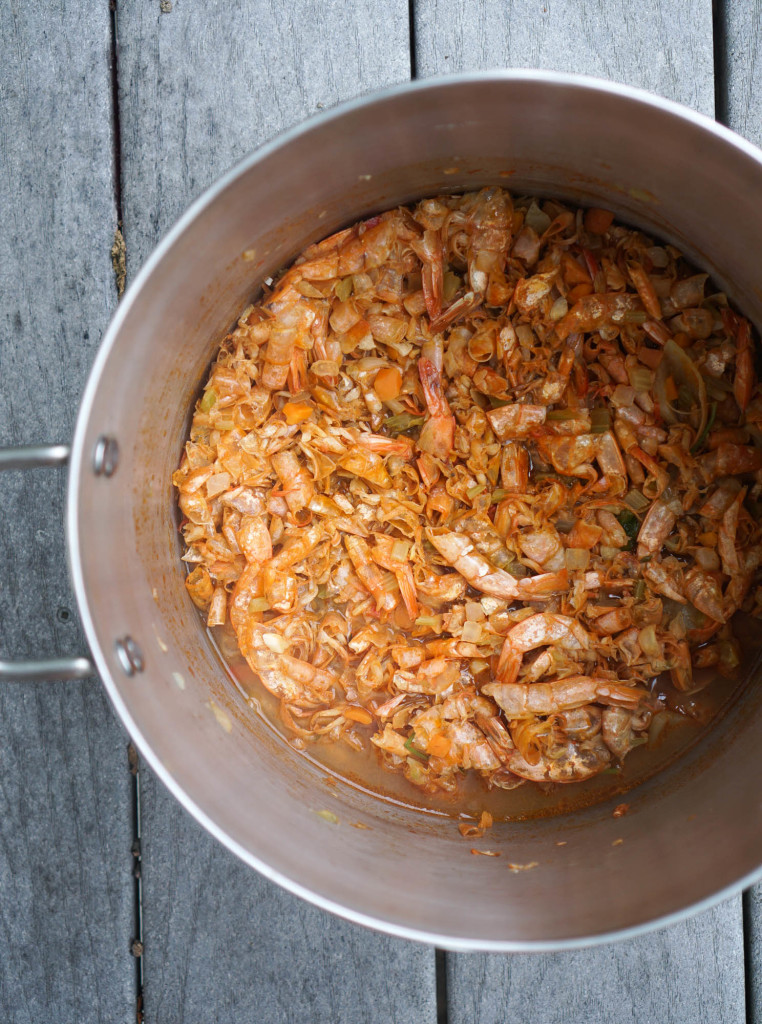 One of the reasons I waited so long to share this with you is because I wanted to get a good base of shrimp recipes to encourage you to SAVE YOUR SHELLS. I started saving my shrimp shells and making shellfish stock about 2 years ago and I'm hoping I've convinced someone to do the same. Eh sure you have to peel and devein some shrimps but the stock is so stinkin' worth it.
You can use it for risotto, or thicken it with heavy cream to make a seafood Alfredo, or use it as the base to your Paella or Maryland crab soup. There's SO much to do with stock but by far my favorite is a comforting bowl of Cioppino.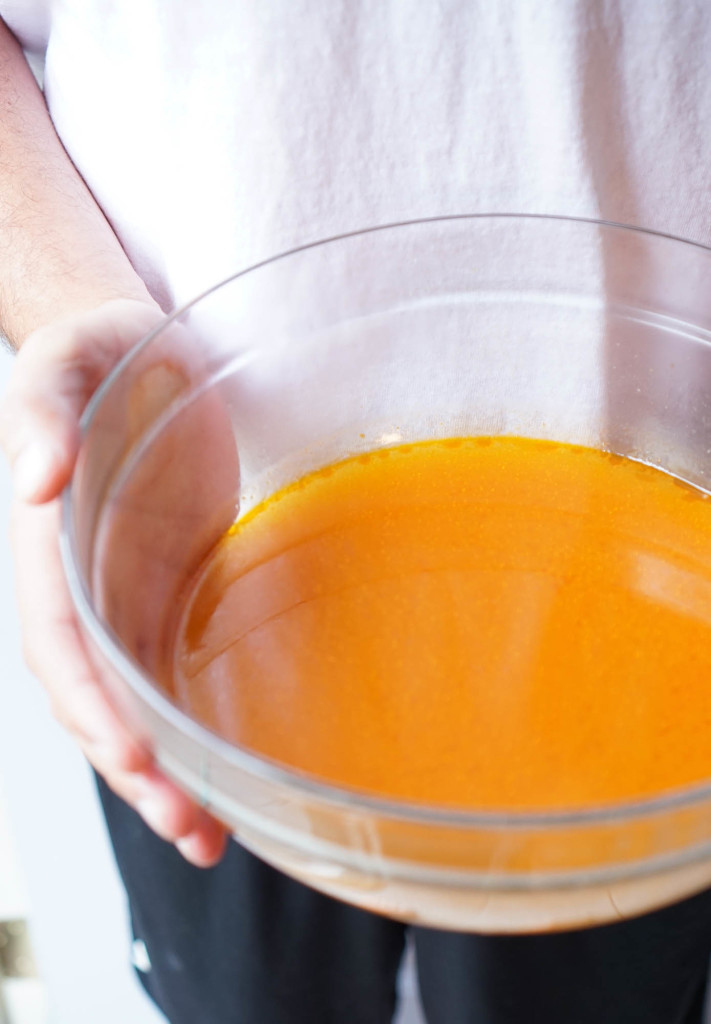 I wait until I have a large ziplock bag of shells before I whip up my stock which ends up being the shells from about 2 pounds of shrimp. DO NOT weigh out 2 pounds of shrimp shells because whew that's a freezer full and I wouldn't want to put anyone through that. The stock is made with common ingredients and for this recipe only I added some fennel for a touch of sweetness.
If you want to make the stock for other recipes just leave out the fennel!
My favorite part of the stock is it only takes 45 minutes TOPS to make. For once you we're not waiting over four hours for stock. Lemme hear a hell yeah.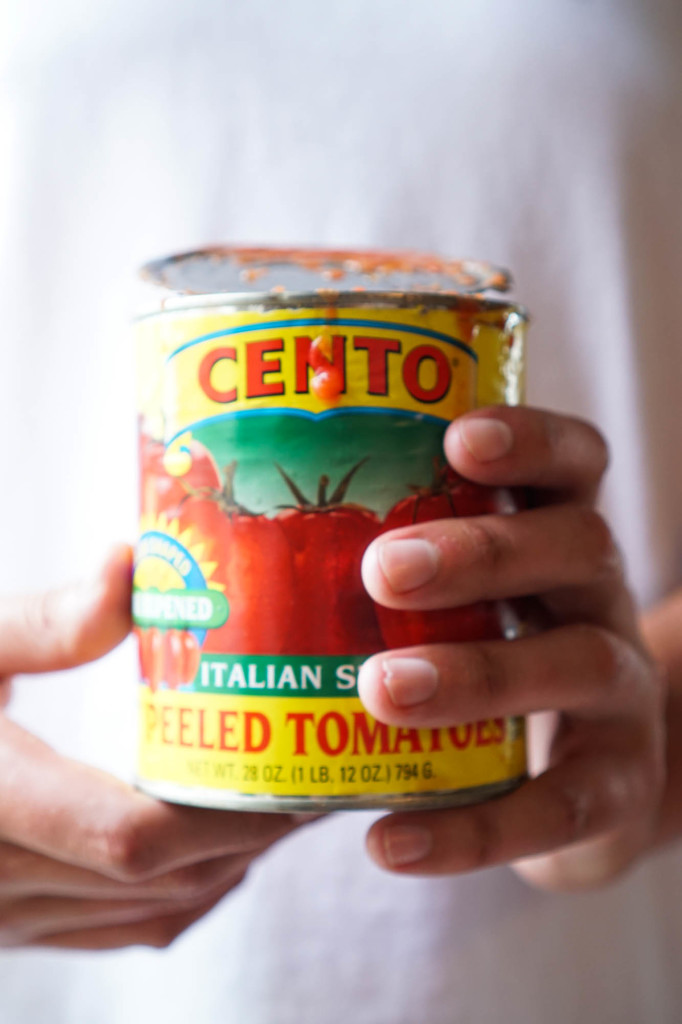 Once the stock has a deep orange color I strain it and add it back to the pot with a can of Cento (or San Marzano) tomatoes. Crush them by hand right into your stock and let that simmer while you whip up the rest of the seafood. And now for the easy part.
The Seafood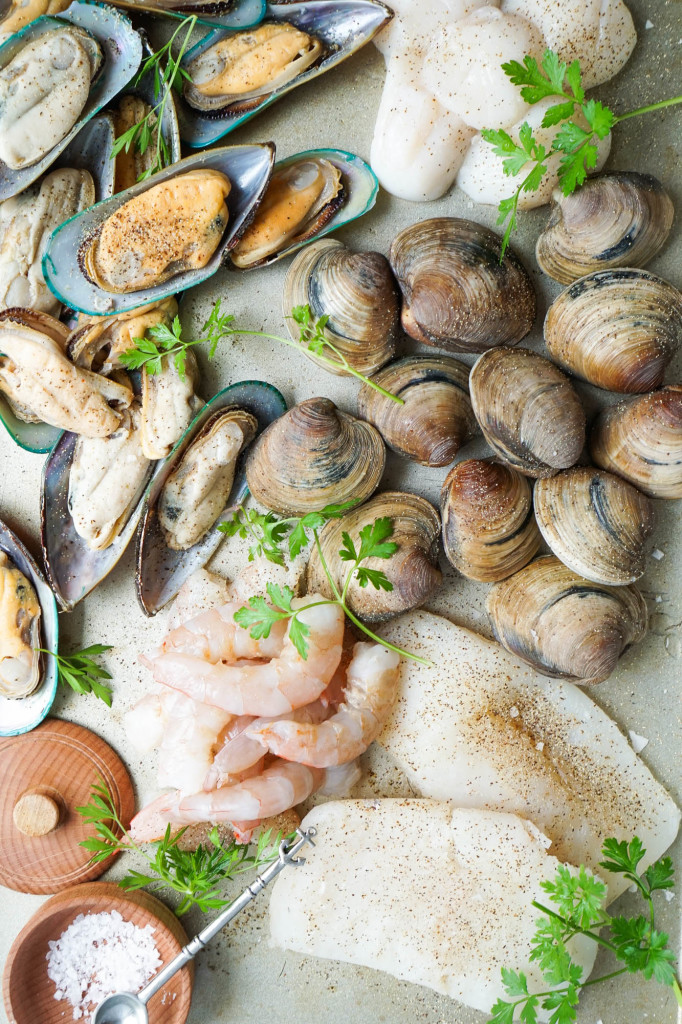 You can decide what you want and don't want to put in your Cioppino but my favorites are shrimp, white fish (like cod or halibut), scallops, mussels, and clams. The hardest part of this recipe is figuring out what type of seafood and how much you want in your dish.
My number one suggestion is scoping out your local seafood market and grocery stores to see what you can or can't buy in a custom amounts (ie. some places allow you to buy a dozen of clams while others they only sell it in 2-pound nets).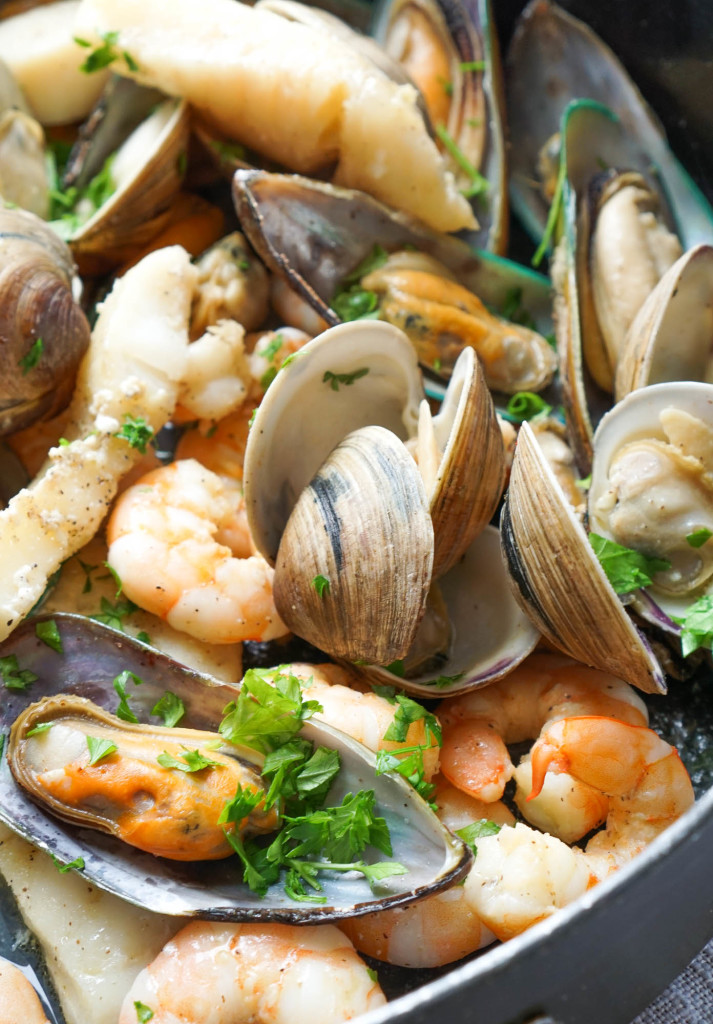 I knew a few weeks back that I would be making this recipe so I already had the shrimp and a few fish fillets in my freezer. I prefer to buy the rest fresh so the morning of cooking I bought half a pound of scallops, a pound of mussels, and a dozen clams. I swung by my local seafood market (Kent Island Crab in Pasadena, MD), knowing I can customize the amounts. Like I said earlier, just do a little research with where you buy your seafood!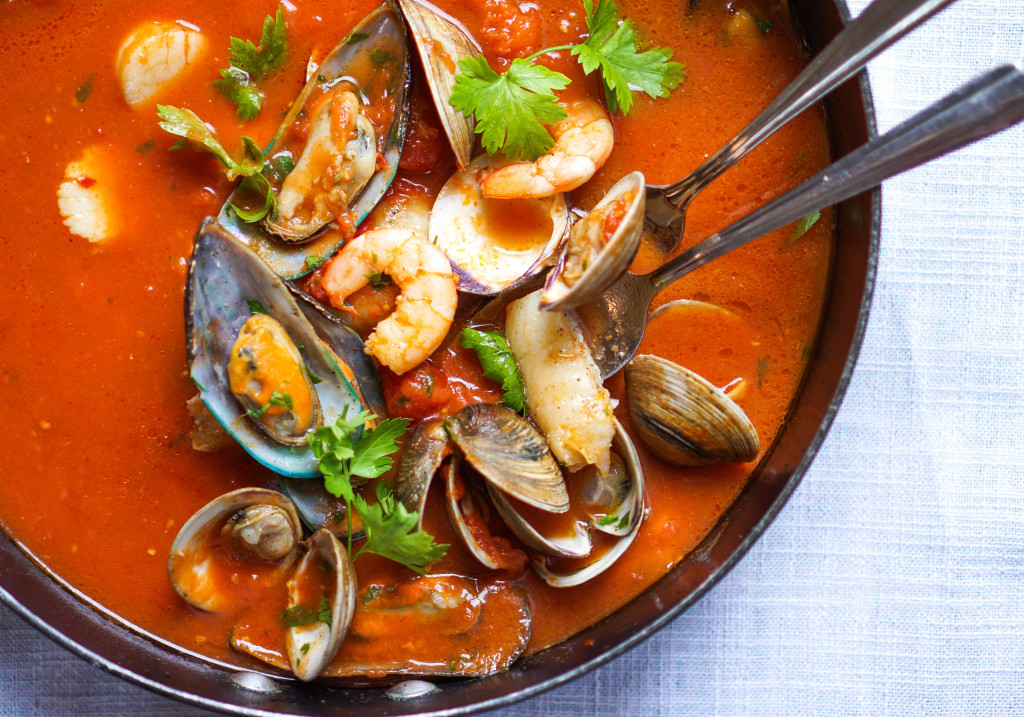 Before starting everything I prepped my clams and mussels by soaking & scrubbing them to filter & clean. I'll get into this in the recipe, but just know it's an important step! I then organized the seafood in the order I'd be cooking it since I wanted to cook everything in the same skillet. The fish and scallops were first, then the shrimp, then the clams/mussels. I seasoned all of this with salt, pepper, & red pepper flakes, used olive oil to cook, and kept it all in the same pan.
For short cut Cioppino use a seafood medley found in your grocery store's frozen seafood section!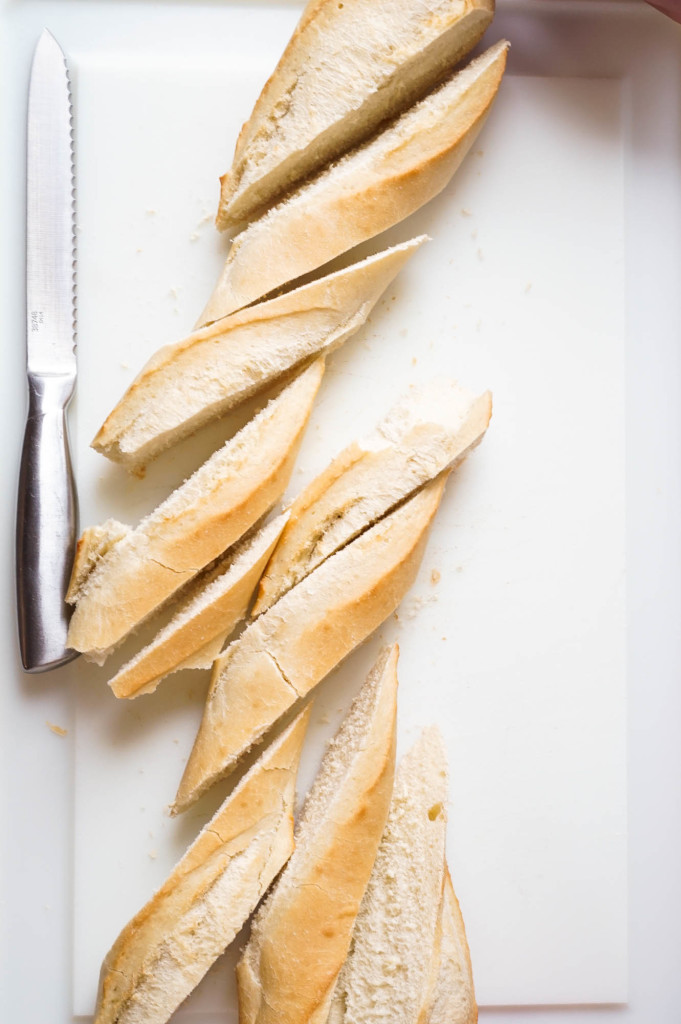 Once the seafood was cooked and the stock was combined with the tomatoes for a good 20-minutes I added an assortment of the seafood to a bowl, ladled over stock, and garnished with fresh parsley and served with a chard of French bread.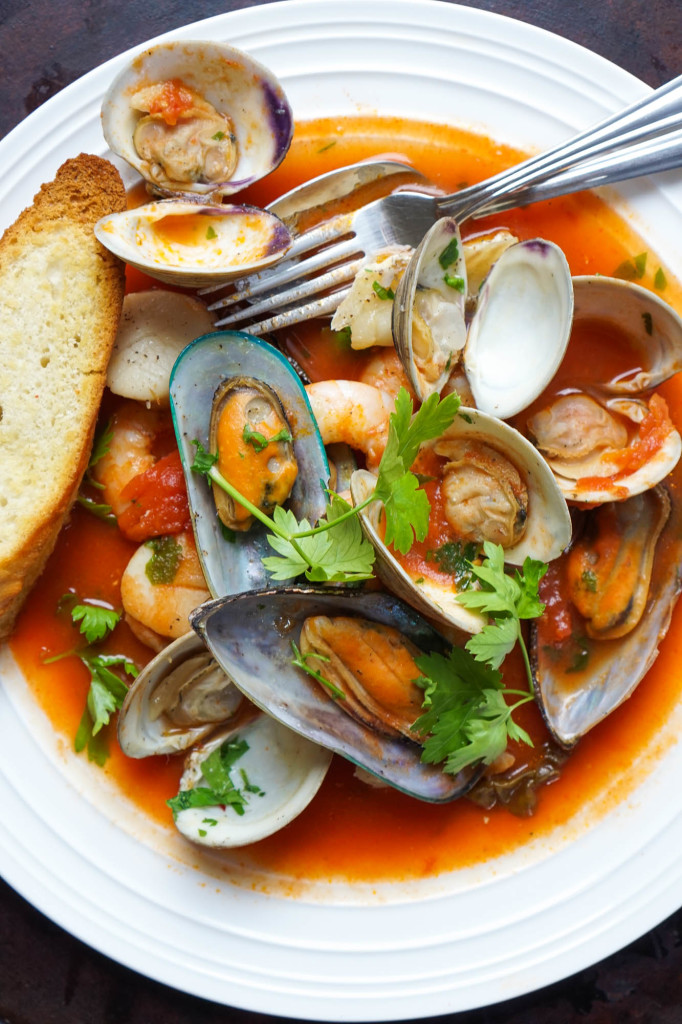 This recipe is my ideal bowl of Cioppino with the perfect ratio of stock to seafood. You best believe those pieces of bread will be gone in minutes as there is nothing better than soaking up bread in a rich seafood sweet tomato broth.
I enjoy the soup with nothing more than charred bread but it's also decadent over some Paparadelle pasta that's been glistened with olive oil, garlic sea salt, and grated Parmesan cheese, or over creamy risotto.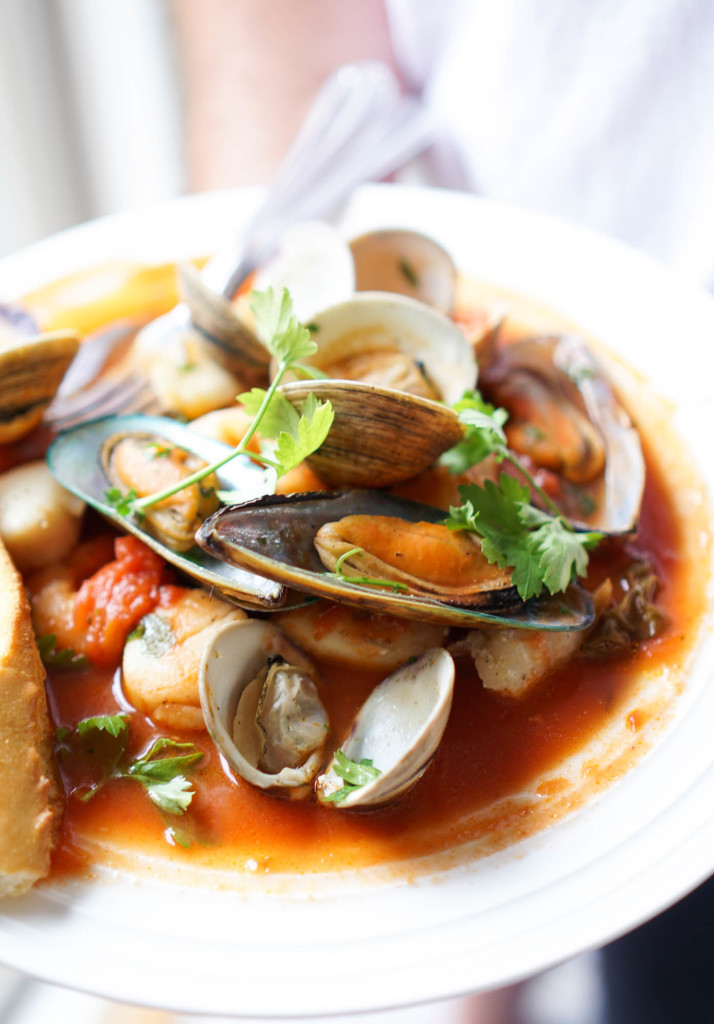 Serve this for a special dinner of four or serve it with small crostini for a summer entertaining appetizer for 8. I don't expect you to make this tomorrow so keep this recipe in the back of your mind, start saving those shells, and plan this for a special occasion with an ever-so special bottle of white wine. Enjoy!
Stay tuned for my next recipe to see what to do with all those extra mussles!
Homemade Cioppino (Seafood Stew)
2016-07-06 10:20:29
Serves 8
Assortment of fresh and local seafood served in a homemade rich shellfish stock that's been simmered with sweet tomatoes. Serve this with crusty French bread for a decadent meal!
Nutrition Facts
Amount Per Serving
* Percent Daily Values are based on a 2,000 calorie diet. Your Daily Values may be higher or lower depending on your calorie needs.
For the Shellfish Stock/Base
1 yellow onion - small dice
2 medium carrots - small dice
3 stalks celery - small dice
3 cloves garlic - chopped
1 bulb fennel - roughly chopped (about 1/2 cup chopped fennel)
Shells from 2 pounds of shrimp
¼ cup tomato paste
4-5 parsley stems
5-6 whole black peppercorns
½ cup white wine (preferably Chardonnay)
10 cups cold water
32 oz. can San Marzano or Cento whole peeled tomatoes
For the Cioppino
5 cups shellfish & tomato stock (recipe above)
2 fillets white fish (preferably cod or halibut)
1 dozen littleneck clams
1 pound mussles
1 pound shrimp - peeled
1/2 pound scallops
salt and pepper as needed
1/4 teaspoon red pepper flakes
splash of white wine
3 tablespoons minced parsley
olive oil as needed
Optional: toasted french bread, Paparadelle pasta, or risotto
For the Shellfish Stock/Base
In a 4-Qt stock heat 2 tablespoons olive oil over medium high heat. Add the onions, carrot, and celery and cook until the onions are translucent – about 3 minutes. Add the garlic and fennel and cook another 2-3 minutes.
Add the shrimp shells and toss to coat in vegetables. Add the tomato paste and use a wooden spoon to evenly distribute the paste. Cook 2-3 minutes to relieve any acidity.
Add the herbs, pepper, wine, and water. Bring to a boil, then reduce to a simmer for 45-minutes. The stock should be a deep orange color and have seafood flavor.
When ready, strain and discard any solids. Wipe the pot clean, then add the stock back to the pot. Stock should yield about 5 cups.
Add the can of tomatoes to the stock, crushing the tomatoes with your hand. Bring the stock/tomato to a simmer for 25-minutes. Prepare remaining dish.
For the Cioppino
Add the clams to a large bowl and the mussels to another. Cover each with cold water and allow to filter for 20 minutes. Drain and repeat once more. This helps to rid of any sand/dirt. Drain and scrub the shells and set aside until needed. (Do this while the stock is cooking).
Season the fish, shrimp, and scallops with salt and pepper on each side. I used about 1 ½ teaspoons of kosher salt and ½ teaspoon pepper.
In a large skillet (preferably 12 or 14") heat 3 tablespoons of olive oil over medium high heat. Add the fish fillets and and scallops and cook for 2-3 minutes, then carefully flip. Add the shrimp and cook an additional 3 minutes. The fish and scallops should be white and start to slightly brown. The shrimp should start to turn pink.
At this point, add the mussels, clams, red pepper flakes, and the splash of white wine. Cover and cook for 3-4 minutes until the mussels and clams have opened. Discard any that has not opened after 5 minutes.
Once the seafood is fully cooked through drain some but not all of the liquid. I keep about 1/2 cup left behind. Garnish with fresh parsley.
Add the seafood to a bowl and ladle over 2-3 ladles of the stock. Serve with oven-toasted French bread, over pasta, or risotto.
Notes
*Recipe serves 8 as an appetizers (recommend serving with small crostini) or 4 for a dinner.
http://www.vodkaandbiscuits.com/